In the past few months, Crumbl cookies have gotten so popular! Tiktok went crazy for them the second I shared my first chilled sugar cookie recipe on there. Since then I have put my baking expertise to test by going through their whole menu and bringing you the best Crumbl copycats found online! The hundreds of reviews on the Crumbl cookie recipes that have been posted throughout the past few months can be proof of that! In this article I have 39 Crumbl cookie copycat recipes to satisfy all your cravings, so get ready!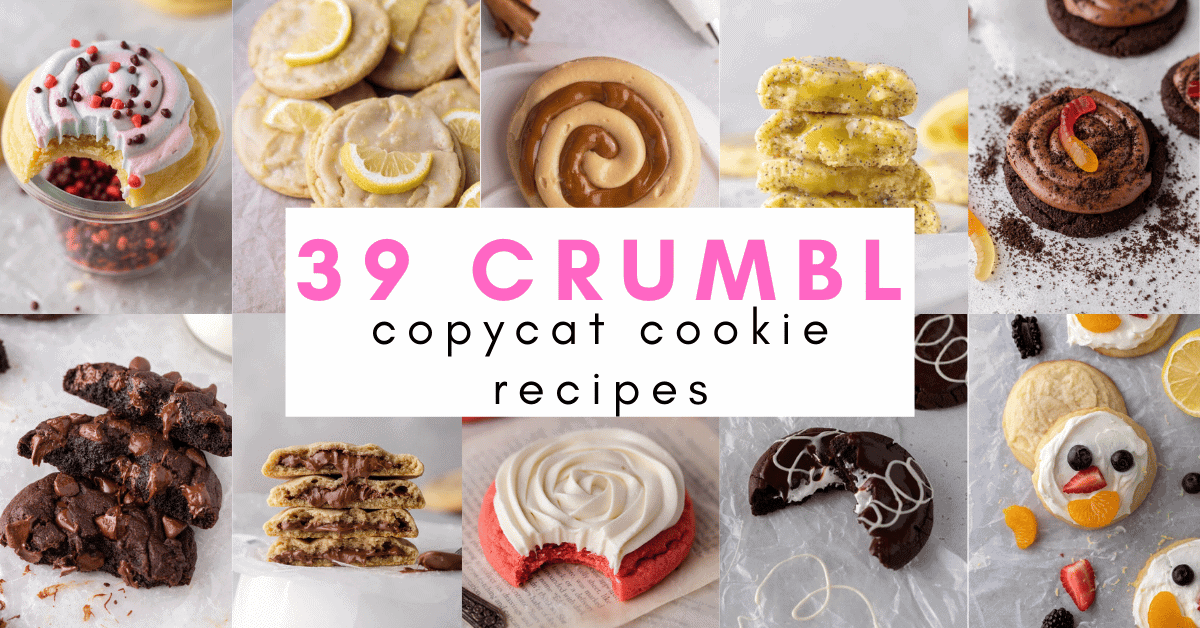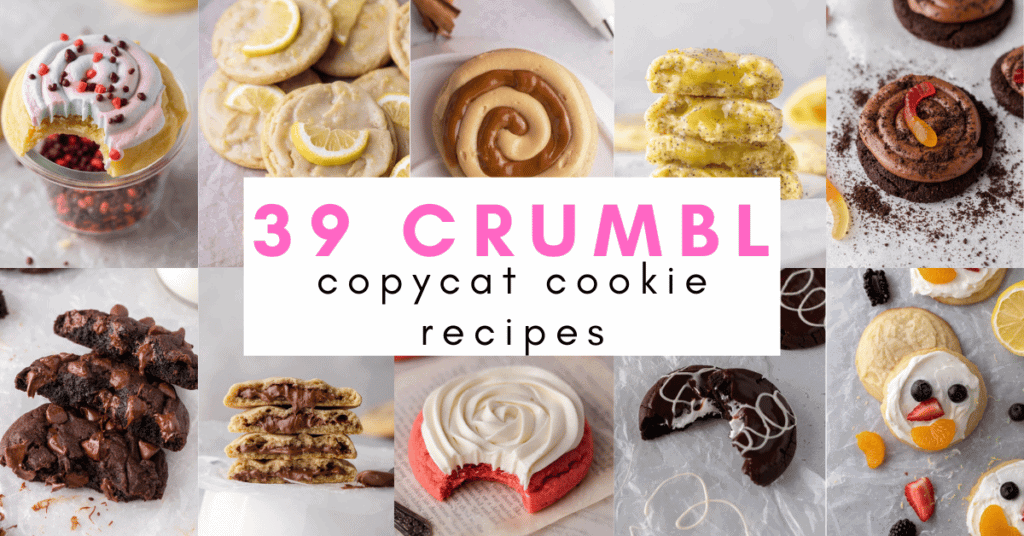 What are crumbl cookies/bakery?
Crumbl bakery is this super fast-growing cookie company that spread like wildfire in the US! Their giant cookies, rotating menu, and insane online presence helped them beat any competition while serving us the best warm cookies there is!
Crumbl Bakery has been expanding very quickly, but if you still don't have a Crumbl by where you live, the recipes I share will be your holy grail! Plus they will save you a ton of money as well.
What's the story behind Crumbl and where did Crumbl bakery start?
They went on a "perfect cookie quest" to find the best recipes to sell in their stores. They tested their cookies many many times, changing one ingredient each time, then having random people try the cookies and give them their thoughts.
They continued doing this until they were able to create the perfect cookie and started selling it in stores.
What's s special about Crumbl cookies?
The coolest thing about crumbl cookies is the fact that there are new flavors or at least rotating flavors every week. That rotating menu allows their customers to try new flavors every week. The only permanent/ semi-permanent ones were the milk chocolate chip cookies and the chilled sugar cookies, the rest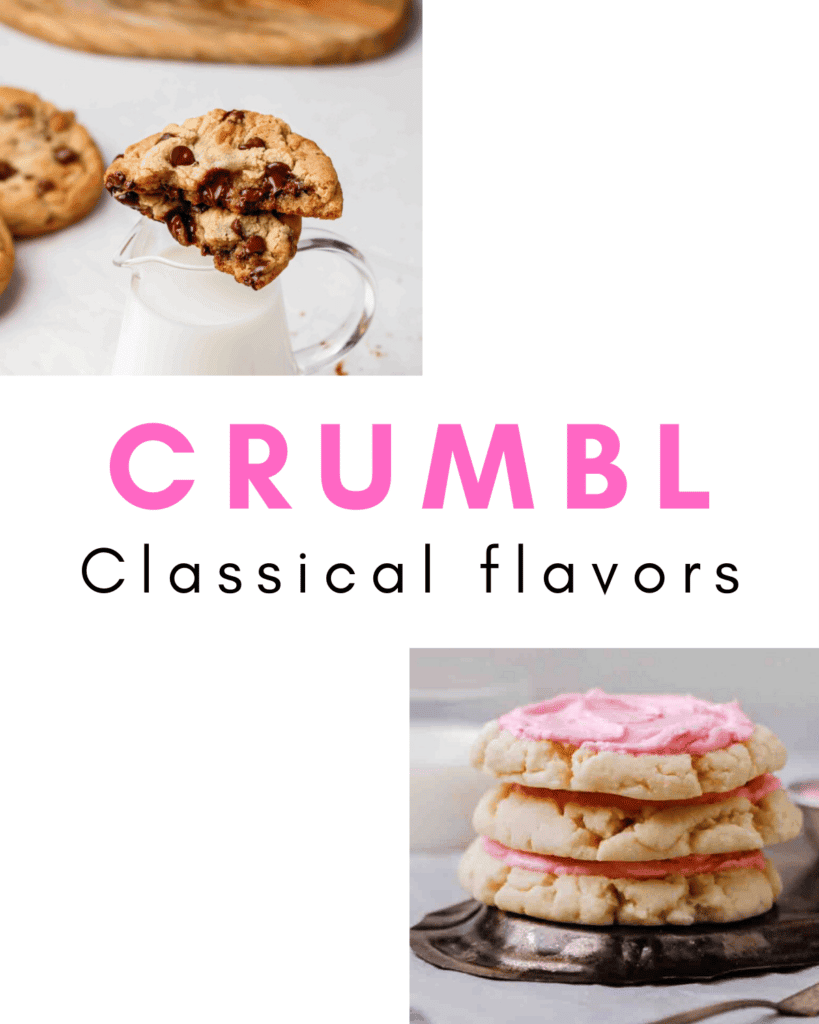 Crumbl's classical flavor staples
Since we talked a little about their rotating many already, let's touch on their permanent and semi-permanent cookies for a bit! Their award-winning milk chocolate chip cookies are one for the books. It was one of the first ones I tried and I literally became obsessed with them right then and there. The other flavor that is semi-permanent is their chilled sugar cookie. It is made with a butter Swig style sugar cookie base, and topped with a luscious pink almond frosting on top, so cute!
For someone that is obsessed with almond flavor anything, the Crumbl chilled sugar cookie was right up my alley. It is made with a thick buttery cookie that is topped with homemade pink buttercream. The beauty in making this Crumbl sugar cookie at home is the fact that you can control how much almond extract you put in there as well as what color you want your frosting to be!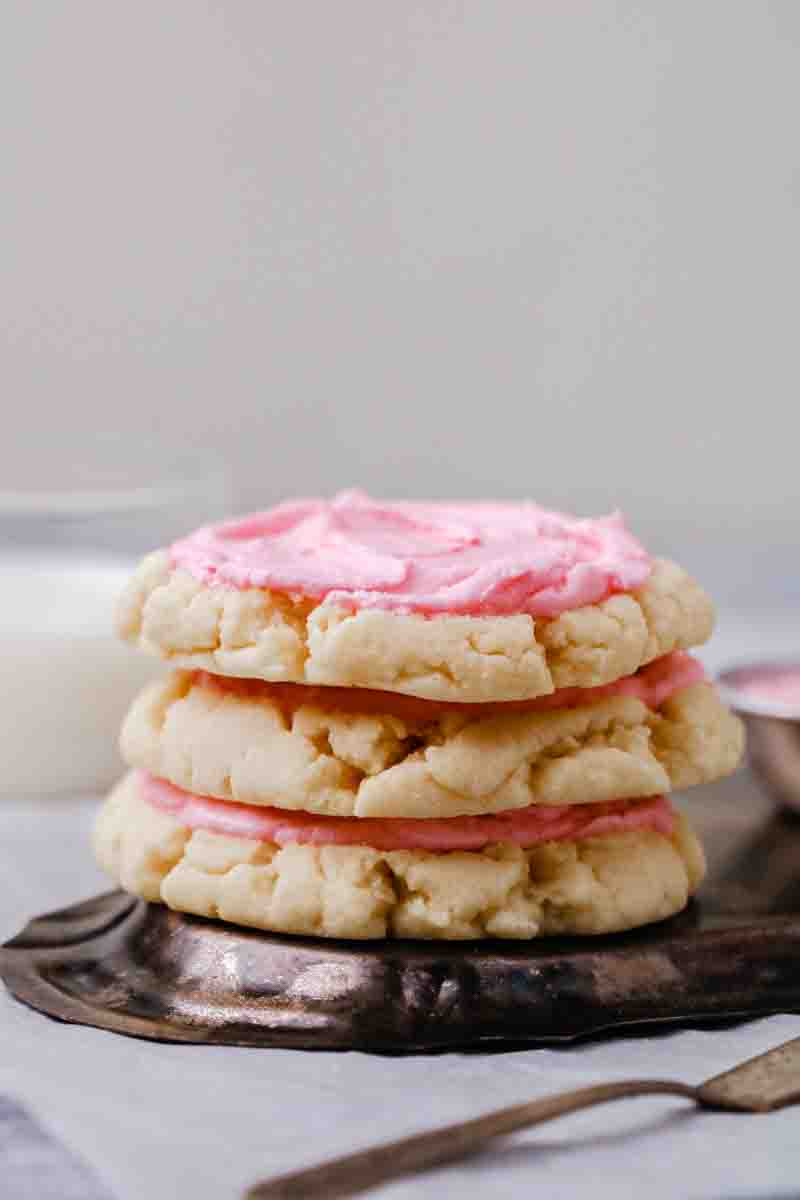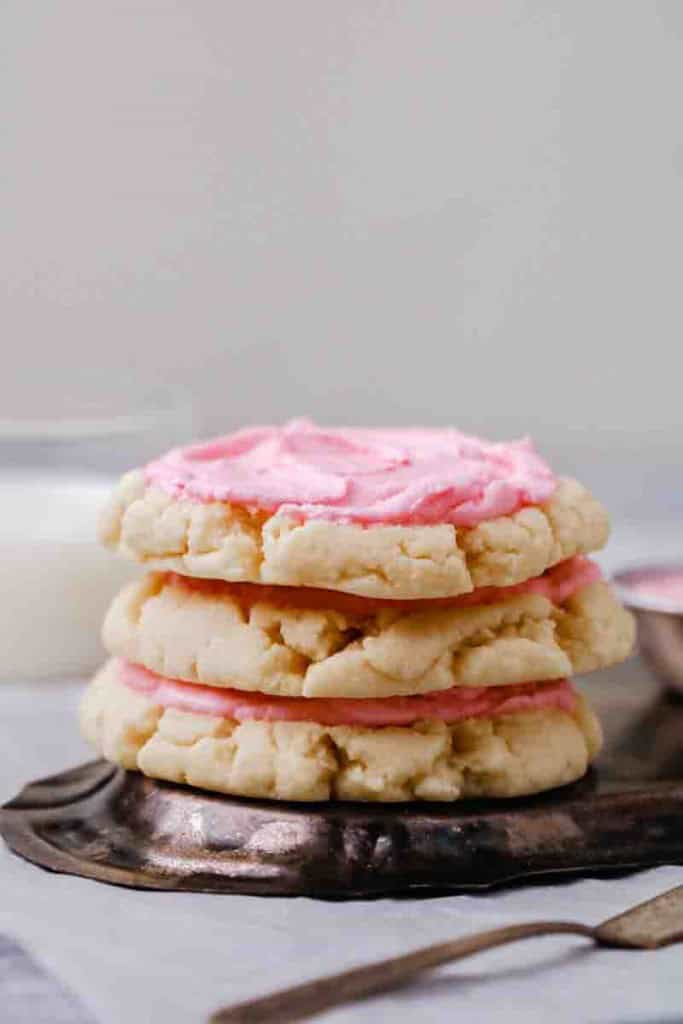 Let's move on to the cookie that stole my heart! This thick and chewy Crumbl milk chocolate chip cookie is an award-winning cookie that you can always find on their menu. It is served warm so it's chocolate chip cookie heaven! Definitely a must-try!
It is made with giant Guittard milk chocolate chips ( they spilled the tea on this one in one of their Instagram stories/lives and I couldn't be happier because it meant I could recreate something even closer)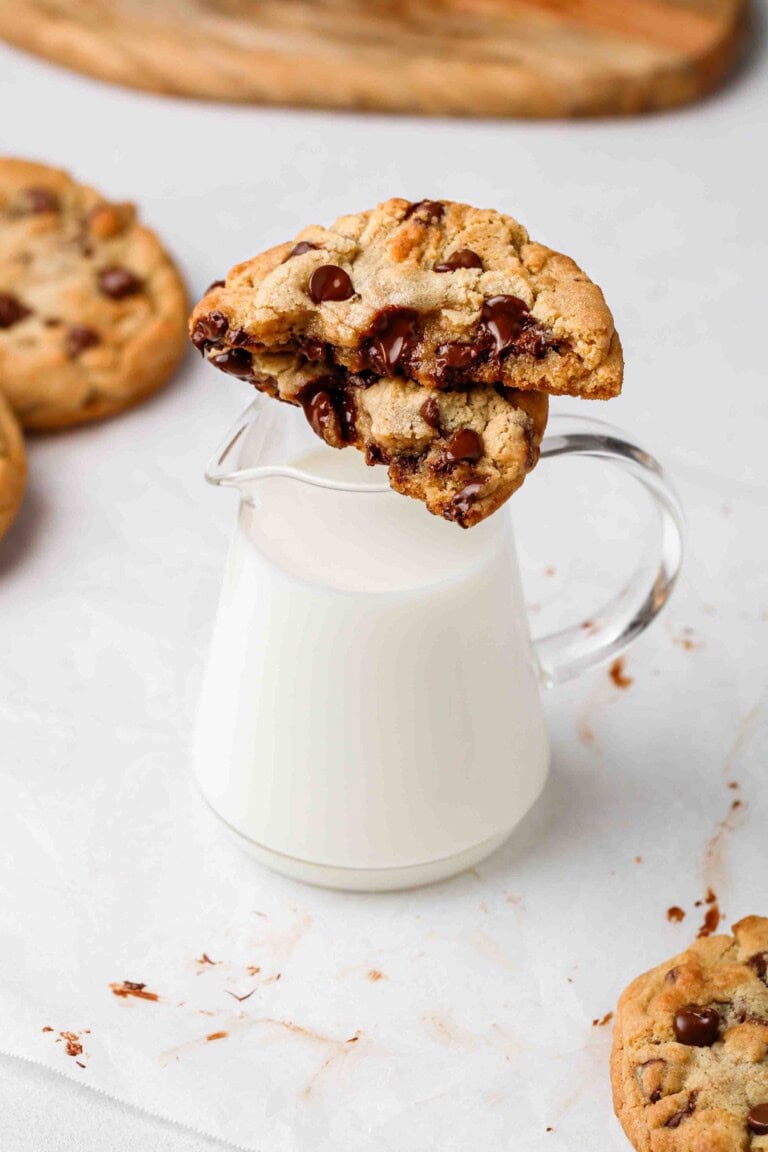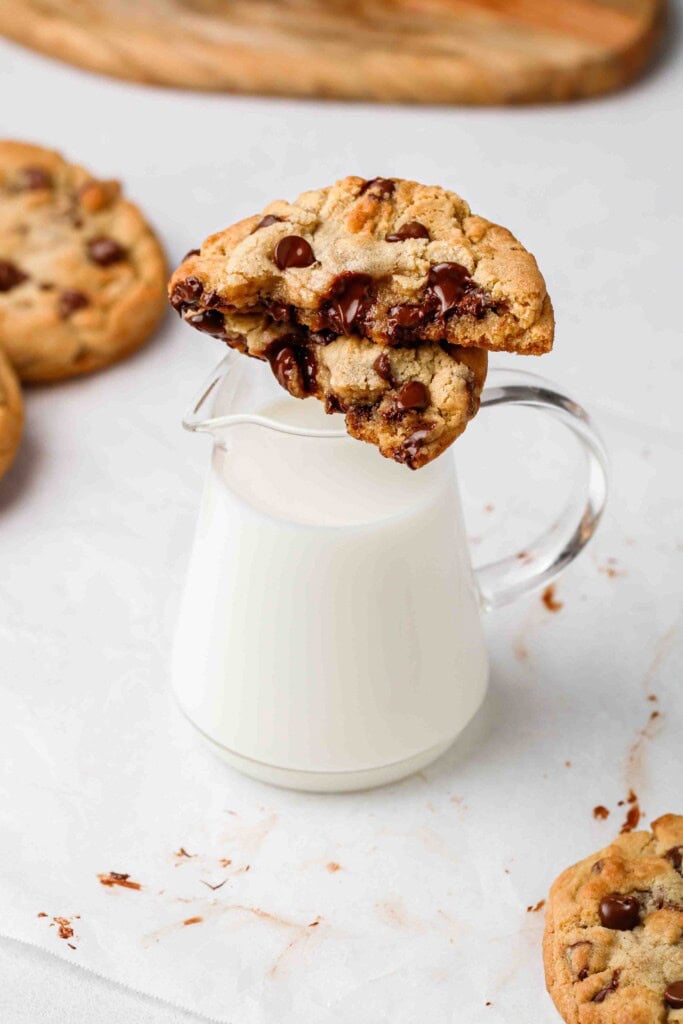 Now let's get to the fun stuff!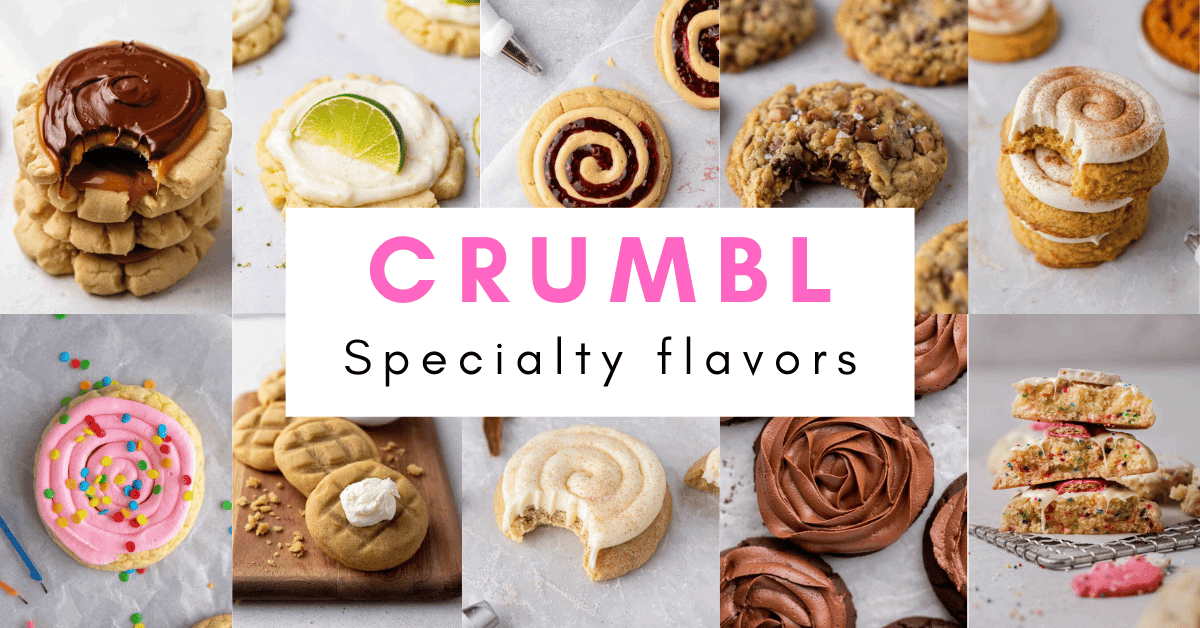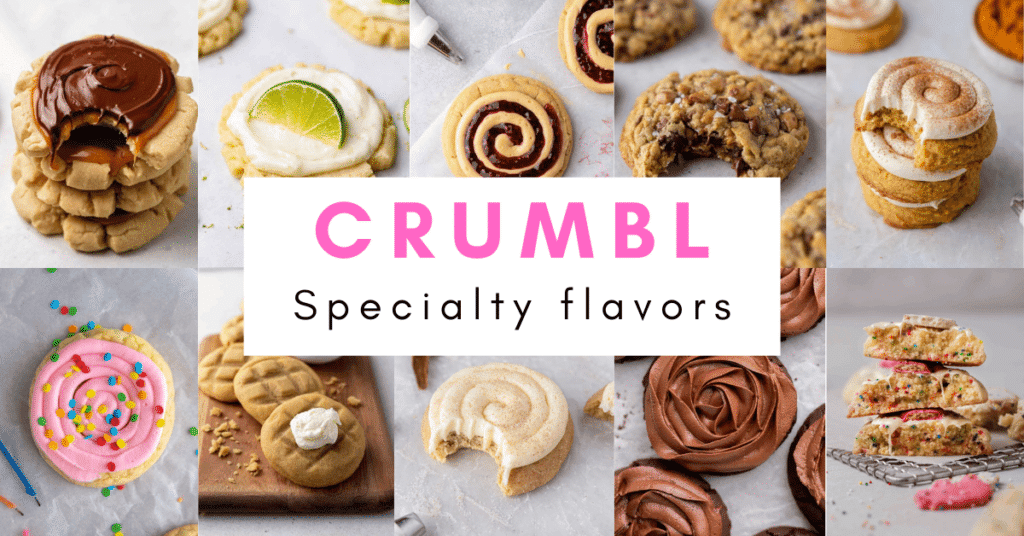 Crumbl's specialty flavors or rotating Crumbl cookie flavors
Now time for the specialty rotating menu flavors! These are the most fun because you never know what you're gonna get until Sunday between 5-6 PM PST. They usually release their newest flavors on the Crumbl app, Crumbl website, and on Crumbl's Instagram page.
This is especially awesome for u people that are totally addicted to cookies but don't want to repeat flavors or just want to be adventurous and try new things every week!
The only downside about the rotating menu is the fact that sometimes, your favorite cookie only comes around a few times a year… That's a no-go for me, which is why I recreate a lot of the specialty crumbl cookies around the clock so that you can enjoy your favorite flavor anytime! Even when it's not sold at Crumbl bakeries!
These Crumbl snickerdoodle cupcake cookies were to die for. The Tiktok video for these went crazy viral, it has almost 2 million views and it's for a good reason! They tasted out of this world!
The cookie base is a thick cinnamon snickerdoodle cookie topped with a homemade cream cheese frosting and a generous sprinkle of cinnamon sugar for crunch… If you're looking for a midweek pick-me-up dessert, I recommend these ones!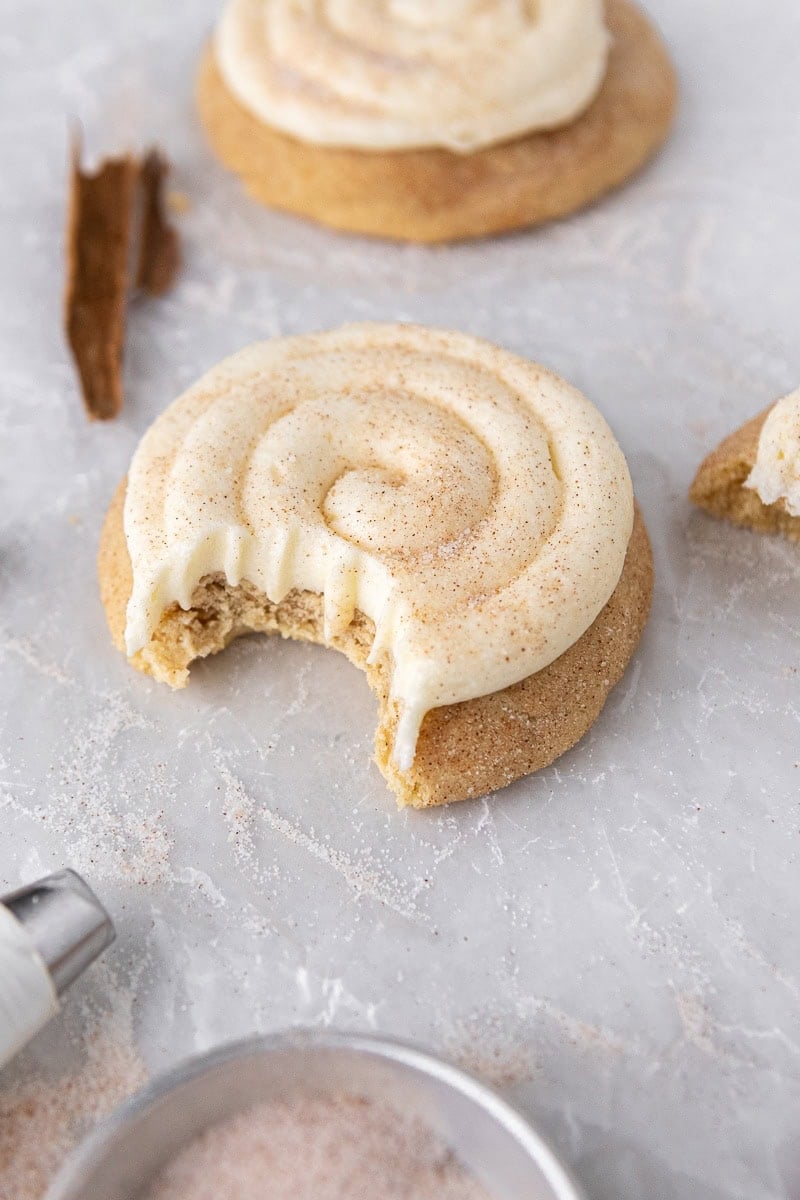 Talking about homemade cream cheese frosting, these Crumbl pink velvet cookies are on another level. The base is made with a vanilla almond pink sugar cookie and topped with a silky smooth cream cheese frosting. This cookie is great for holidays, like Christmas, Valentine's day, and even Baby showers!
The beauty of making these a home is the fact that you can color your cookie any way you like as long as you use gel food coloring!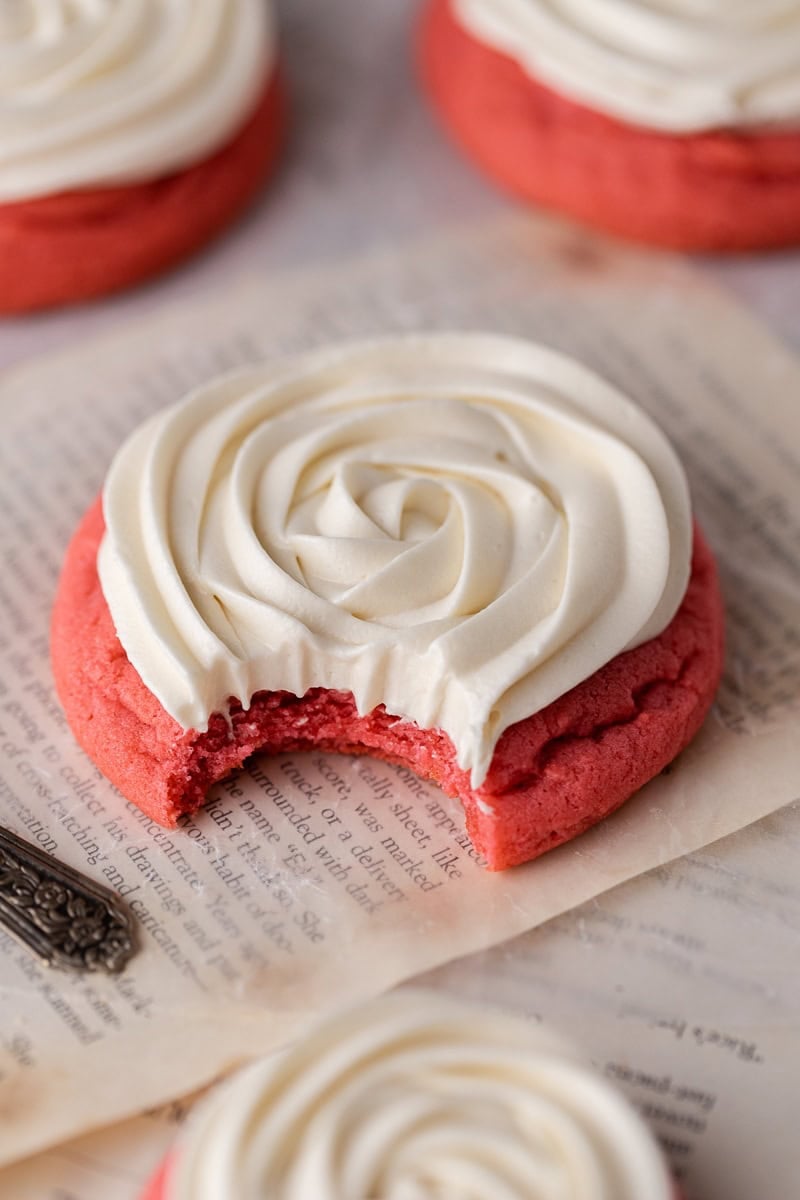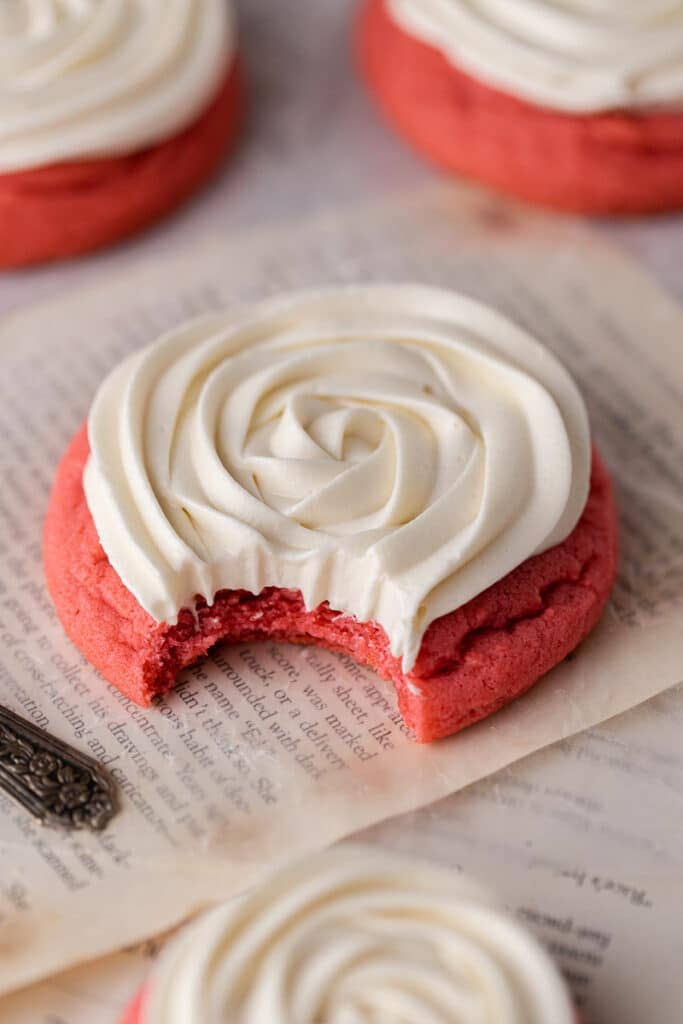 Since we're already talking about "velvet cookies", how about these Crumbl red velvet white chip cookies. They are made with a thick and chewy red velvet cookie base and packed with all the white chocolate your heart could desire.
Think of these as a play on your good old chocolate chip cookies, but less boring if you need something same-same but different.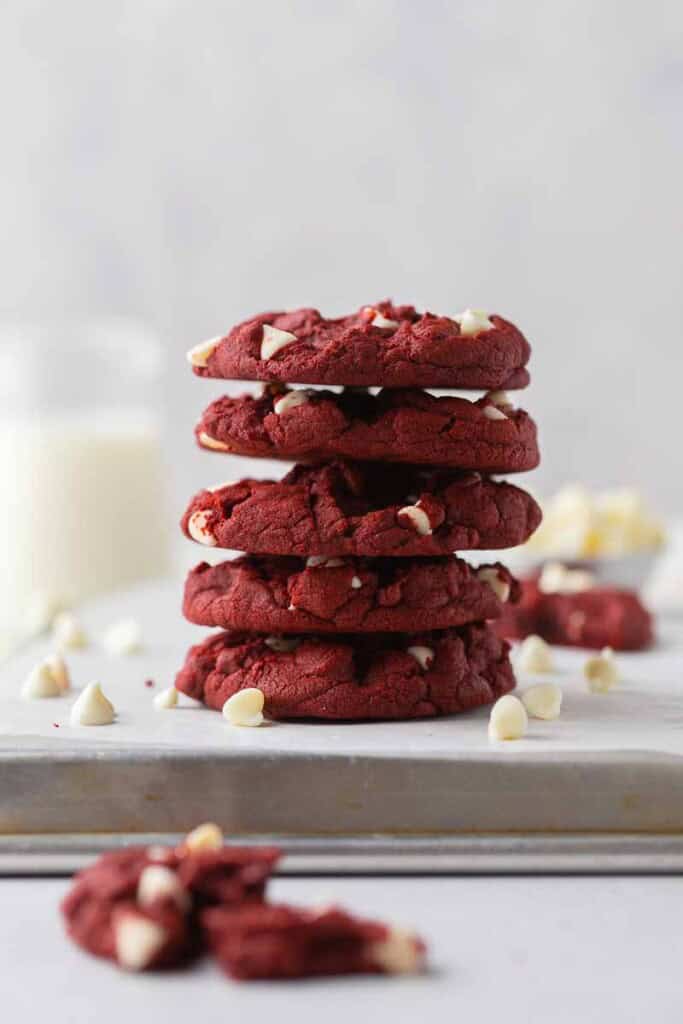 Raise your hand if you love anything and everything chocolate. Now raise both hands with the more chocolate the better! If that's you these Crumbl dark dream cookies are for you! They are made with a thick chocolate cookie base with a ton of semi-sweet chocolate chips folded in there. The cherry on top is the addition of the extra chocolate on the outside.
These are pretty much chocolate bombs and they will be gone the moment you pull them out of the oven! I promise 🙂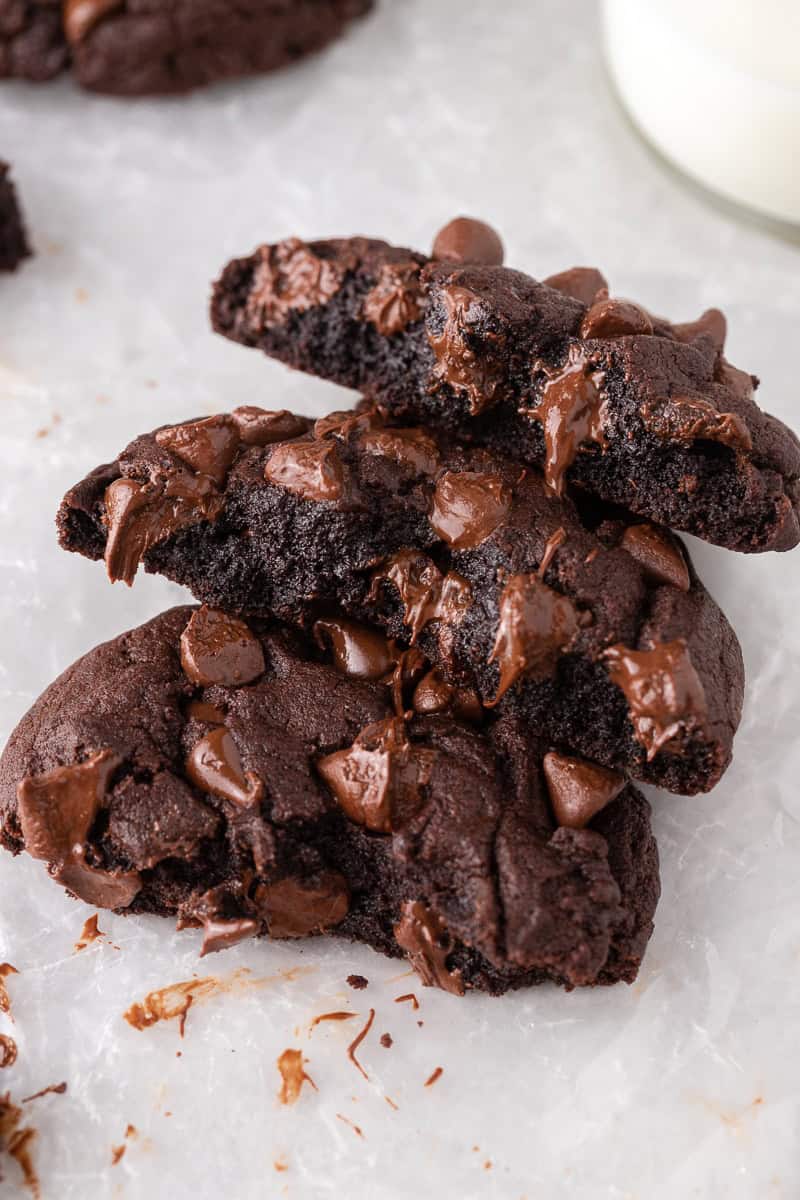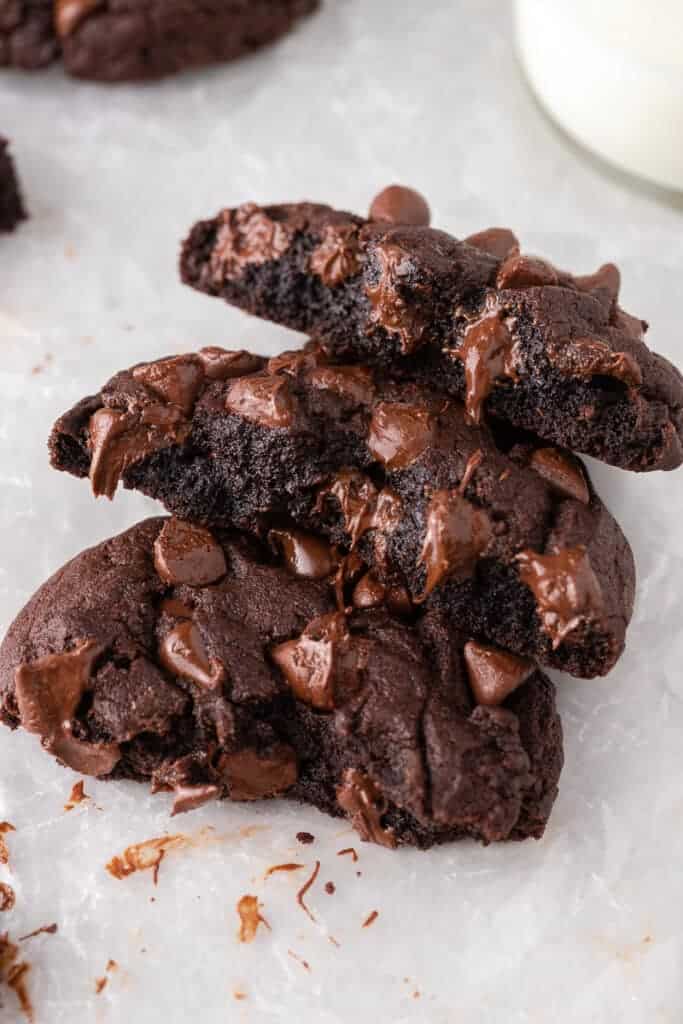 I am obsessed with anything lemon so when I saw that Crumbl had the stuffed lemon poppy seed cookies, I sprinted to the store to buy mine. Well, I actually didn't sprint but I gathered my stuff quickly and drove the speed limit to get them. Unfortunately, mine didn't have that delicious lemon filling so I immediately to recreate my own.
These are thick lemon poppy seed cookies stuffed with ooey-gooey homemade lemon curd then glazed with a buttery lemon poppy seed glaze. PERFECTION!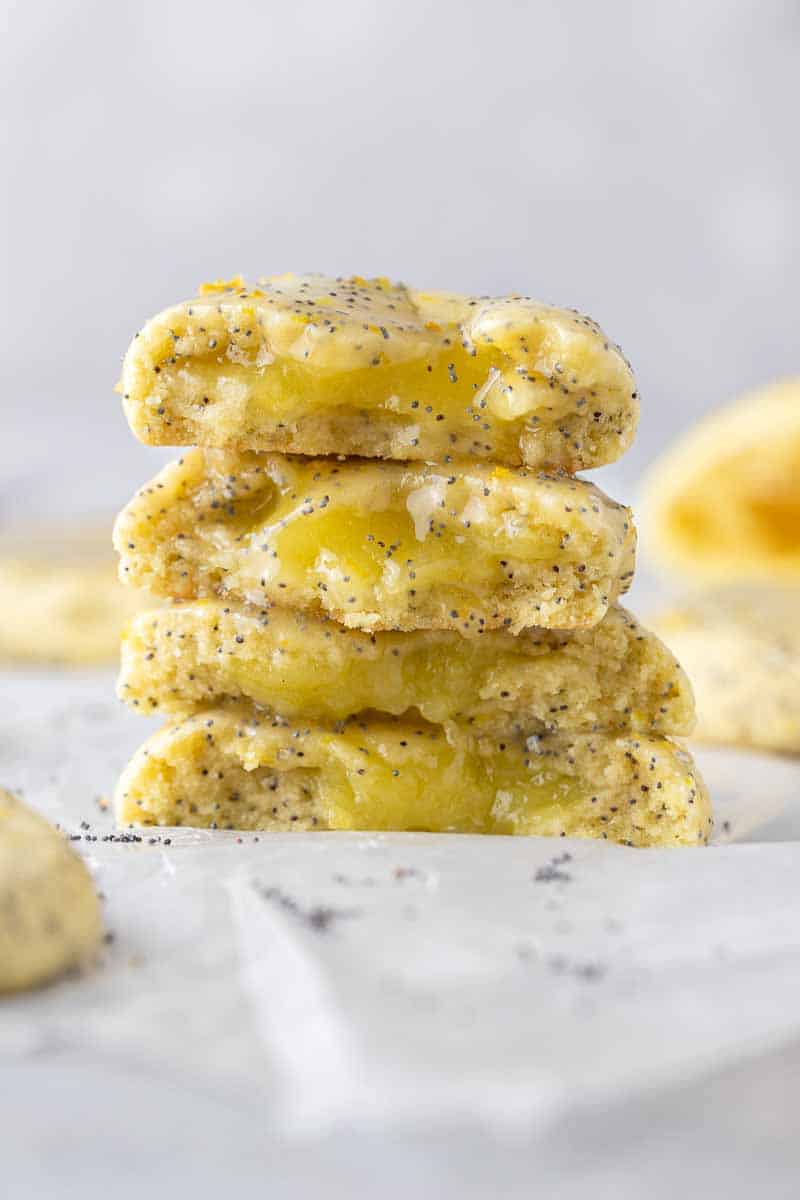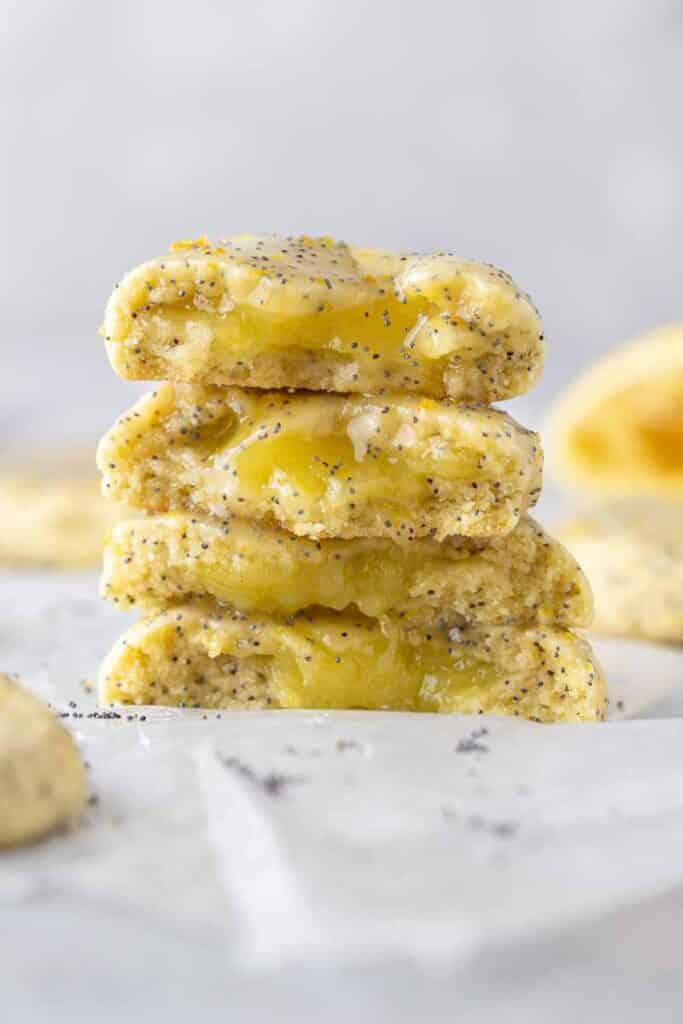 This Crumbl cookie reaction is one of my ultimate guilty pleasures. It tastes like a cinnamon roll, it looks like a cinnamon roll, but it's an actual cookie.
It is made with a thick sugar cookie base that is topped with a brown sugar-cinnamon mixture. Those two are then baked together allowing the cinnamon mixture to flavor the cookie base then topped with a delicious-looking swirl of homemade cream cheese frosting. If you don't know what to make this is the one you need!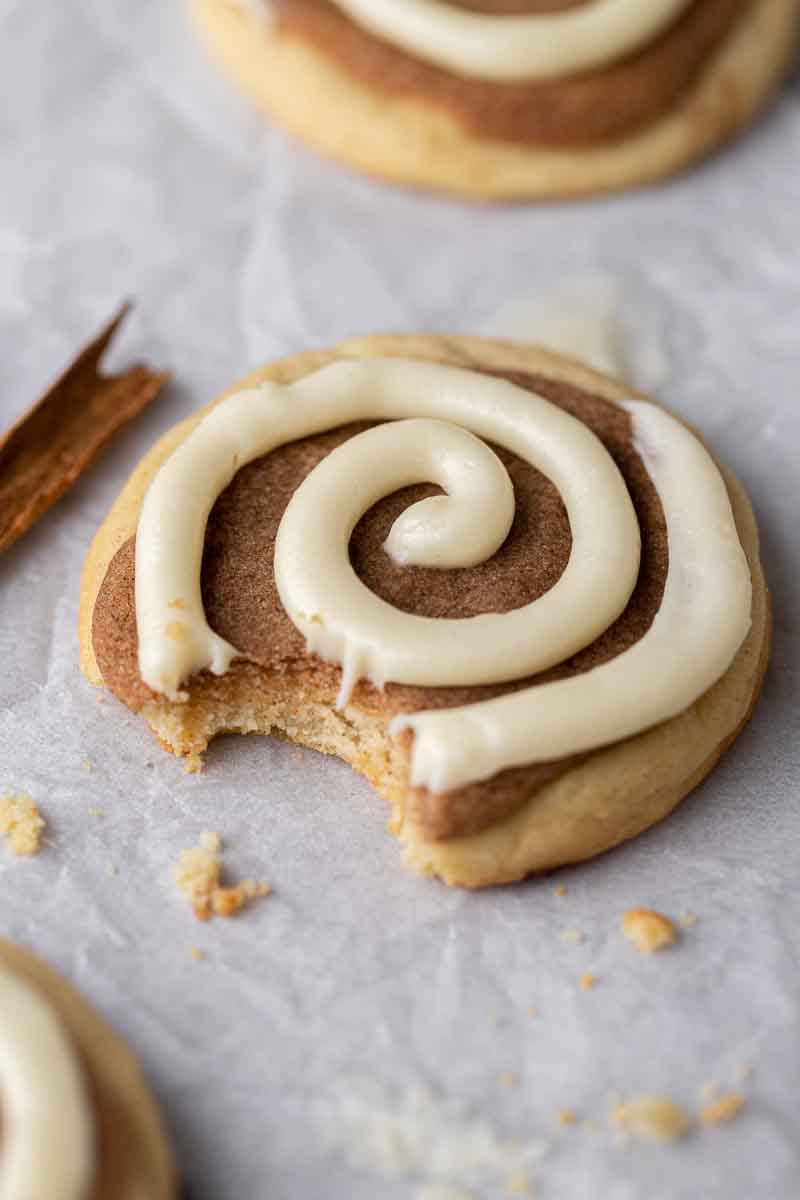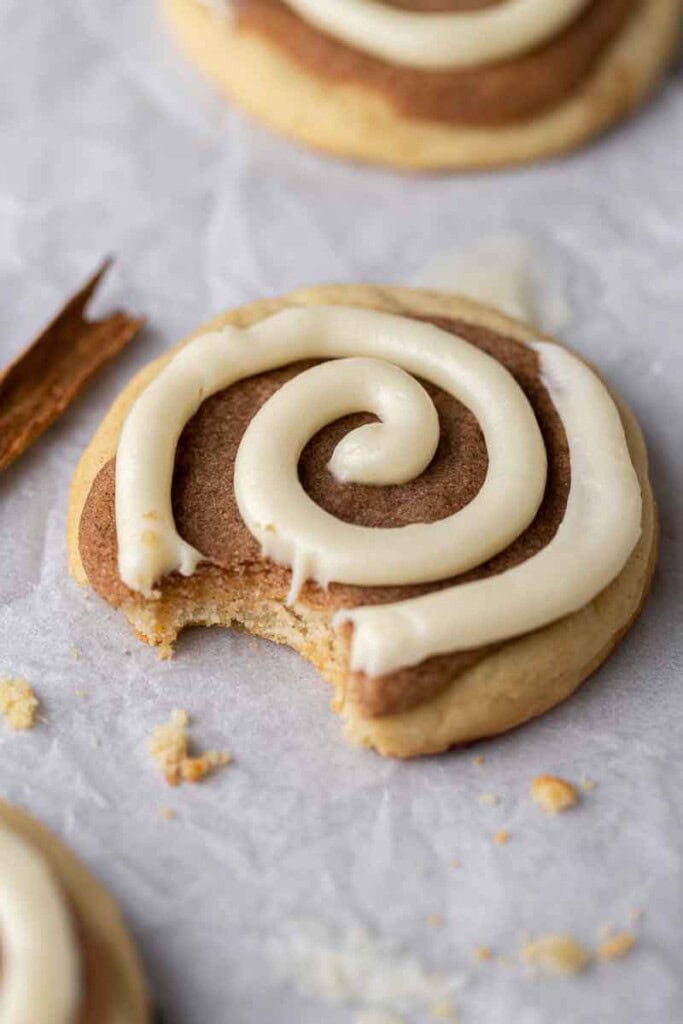 Every time I hear that the chocolate cake Crumbl cookies have been release, I am literally over the moon. They are the ultimate chocolate lover's cookie.
Made with a thick chocolate cookie base then topped with homemade chocolate buttercream, they are both impressive and delicious!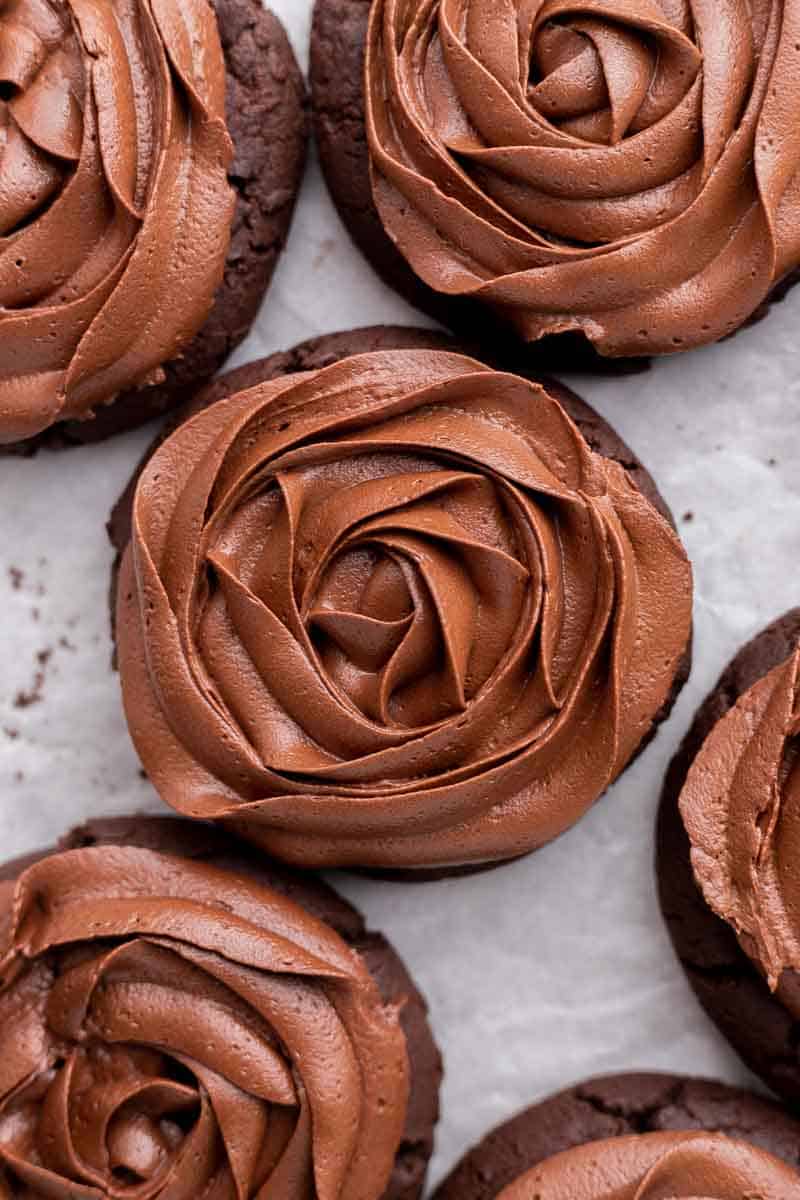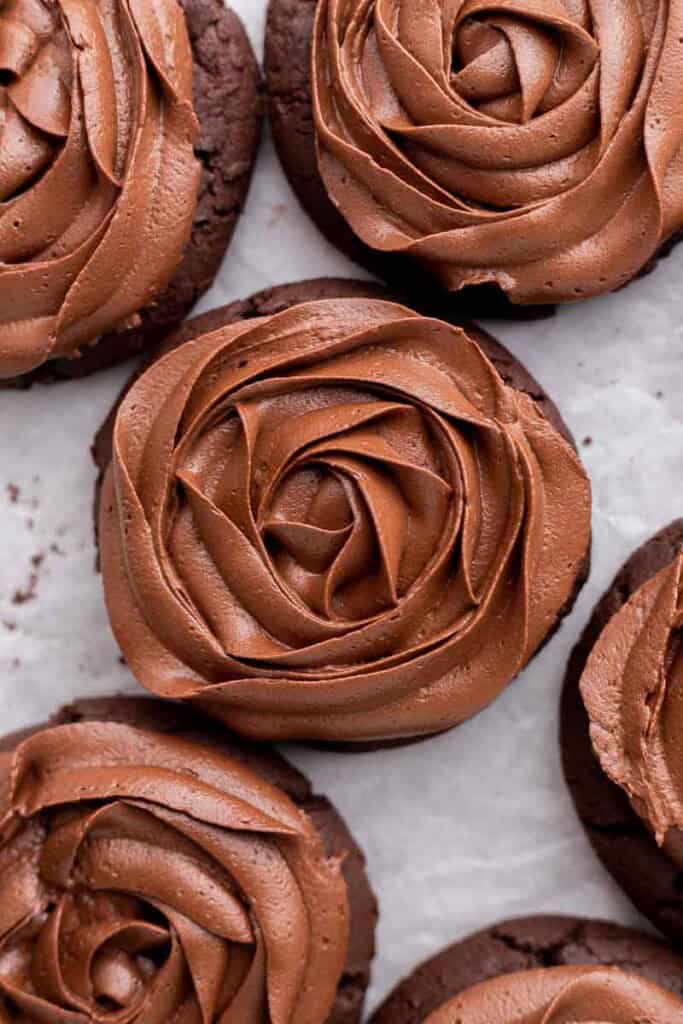 Where are all my PB & J lovers at? This peanut butter and jelly swirl cookie is made using a thick peanut butter cookie base and is then topped with a smooth peanut butter buttercream swirl and raspberry jam.
It is an easy yet fun Crumbl cookie to make!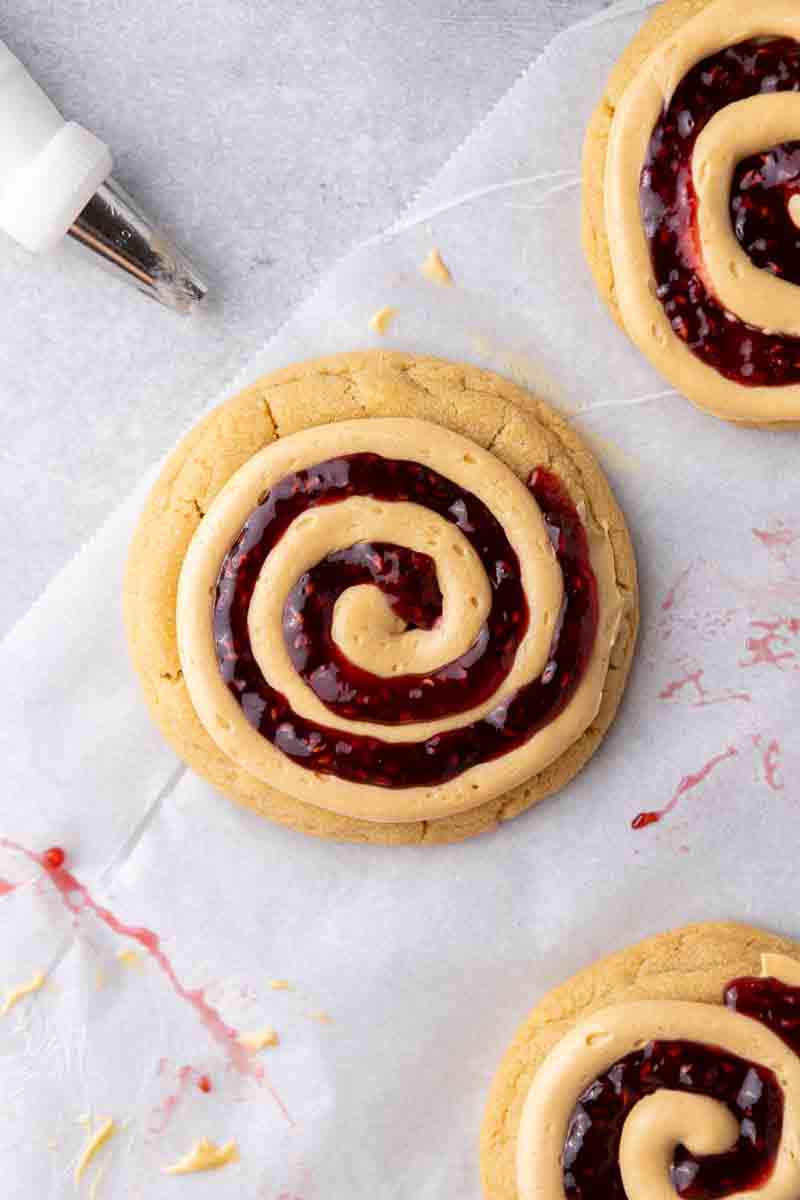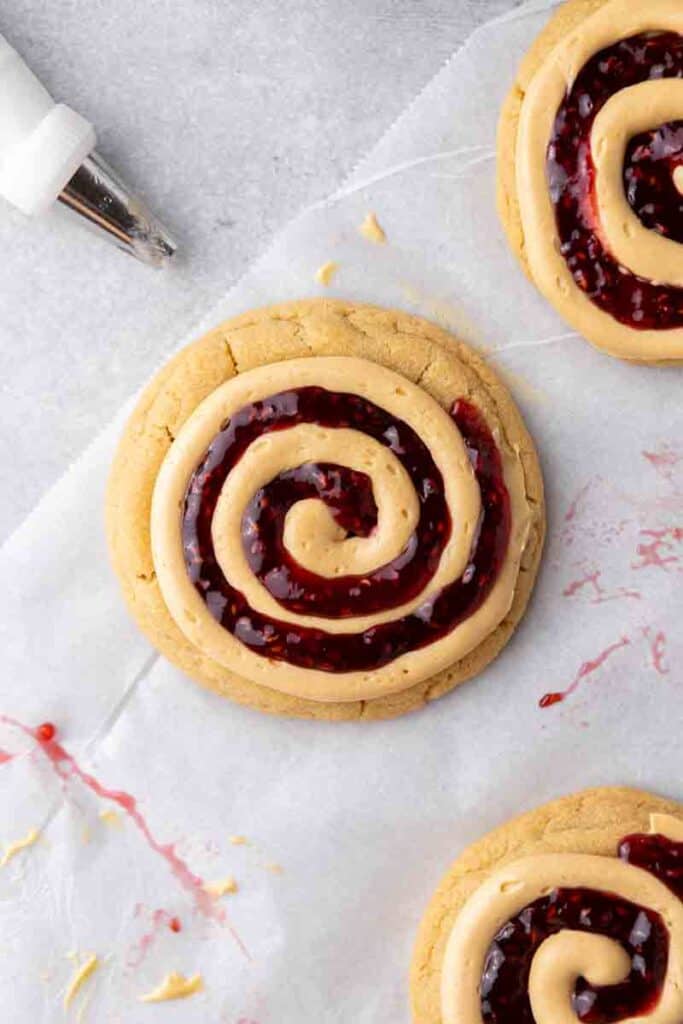 This recipe takes a simple oatmeal cookie and takes it up a notch. It is packed with chocolate chips, peanut butter chips, and toffee bits then topped with just the right amount of sea salt.
This cookie was released by Crumbl on mother's day week this year and it was absolutely life-changing! If you missed it and aren't patient enough for them to release it again, make it using this recipe!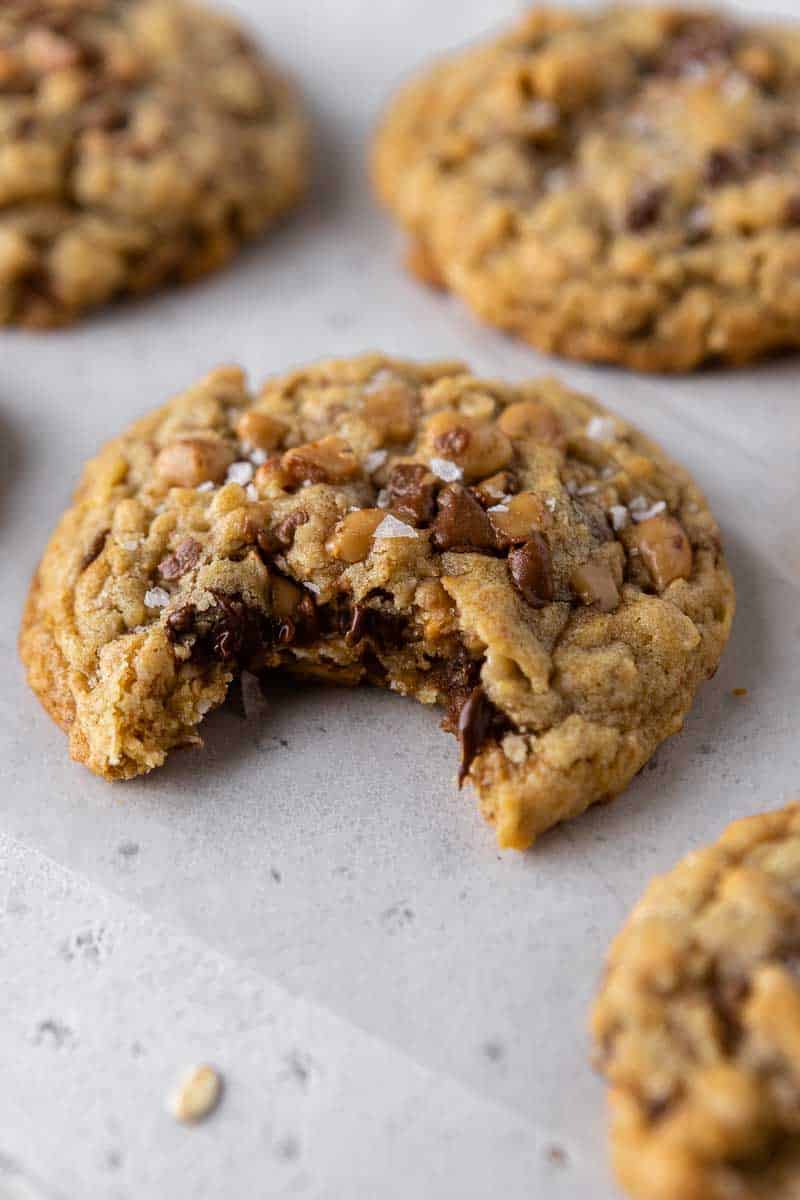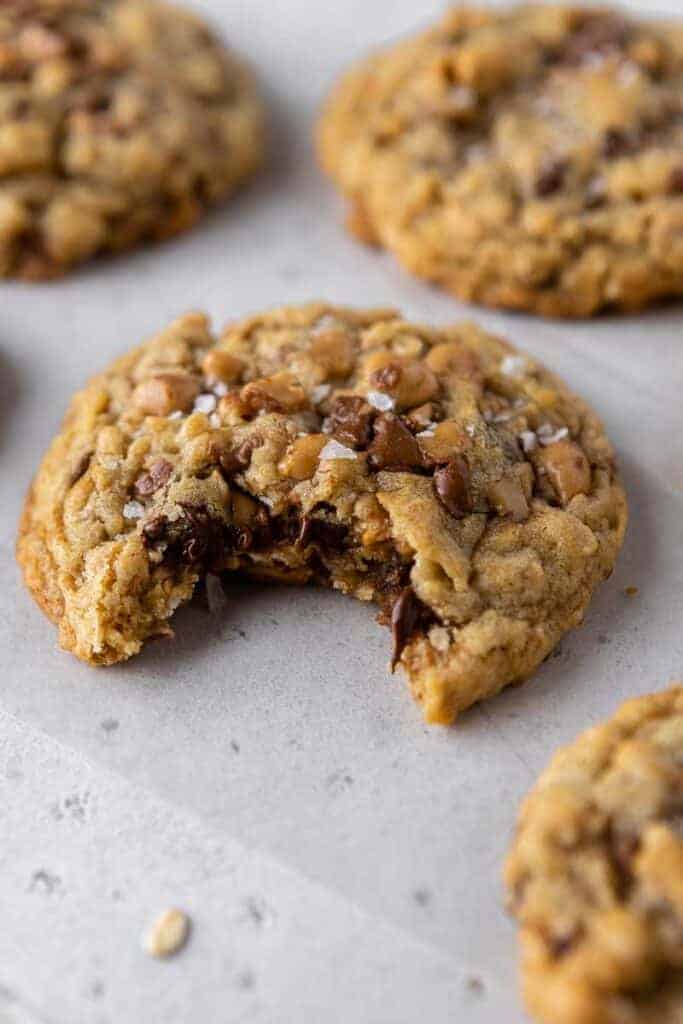 If you've always loved caramel, or better yet, dulce de leche, these cookies are for you! They are made with a think cinnamon sugar cookie then topped with swirls of homemade dulce de leche cream cheese frosting and dulce de leche.
They are characterized by the beautiful swirls on top and will literally be gone in a second the second you serve these to friends and family!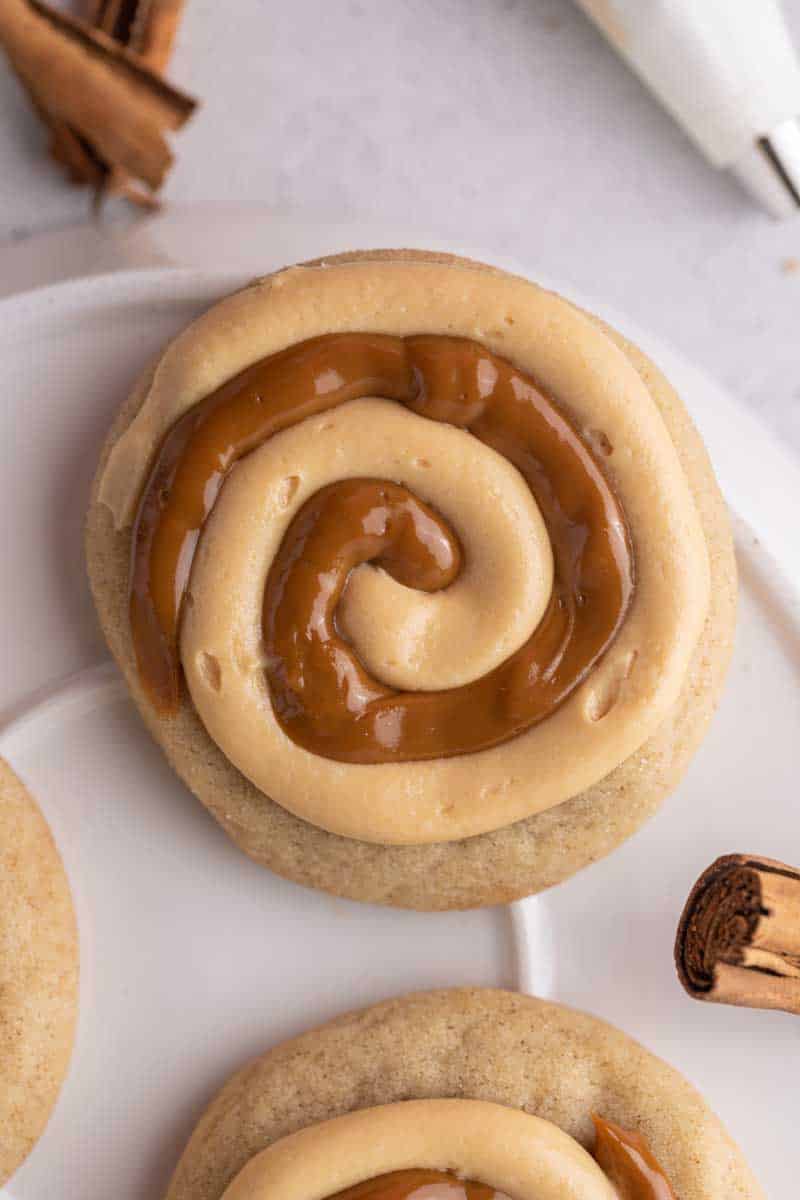 Where did this cookie come from? Who knows… But after I tried it, I was mind blown!! I was honestly putting trying these off because the flavor just seemed off, but oh was I wrong!
It's made with a thick sugar cookie that will melt in your mouth then topped with the cutest cotton candy flavored buttercream and pop rock candies. So good!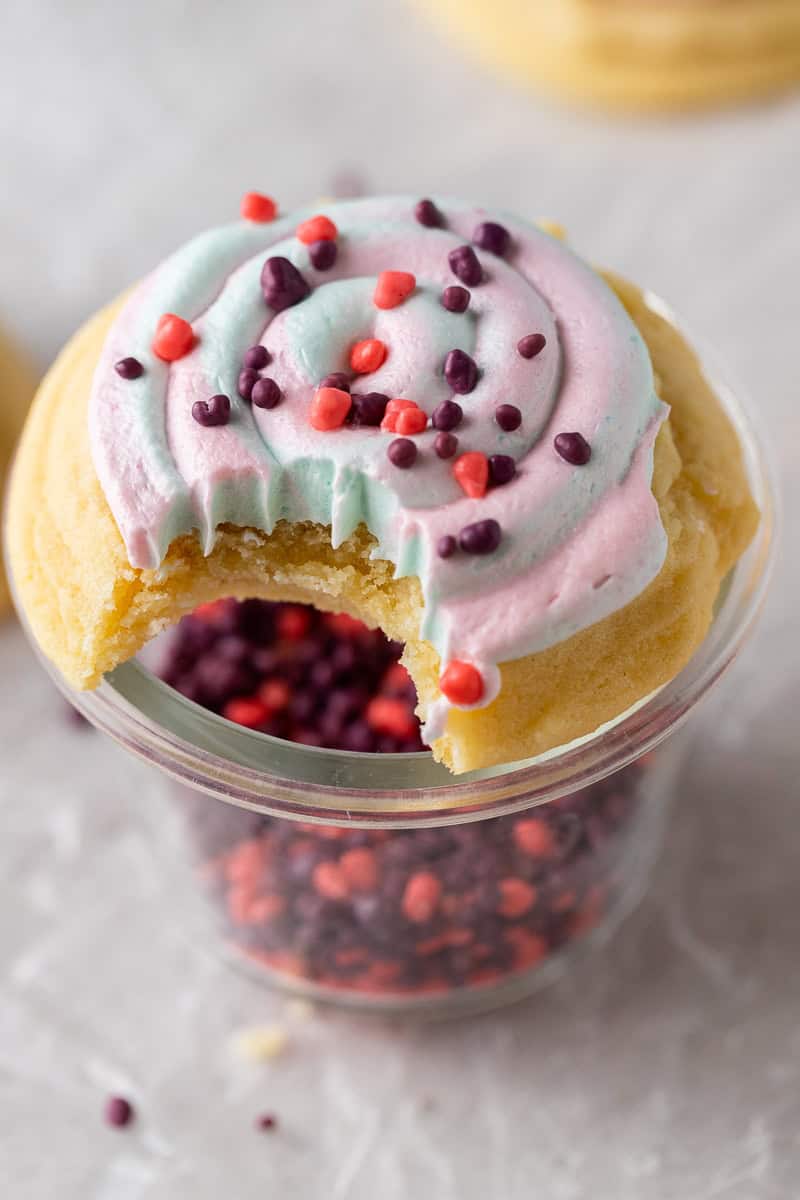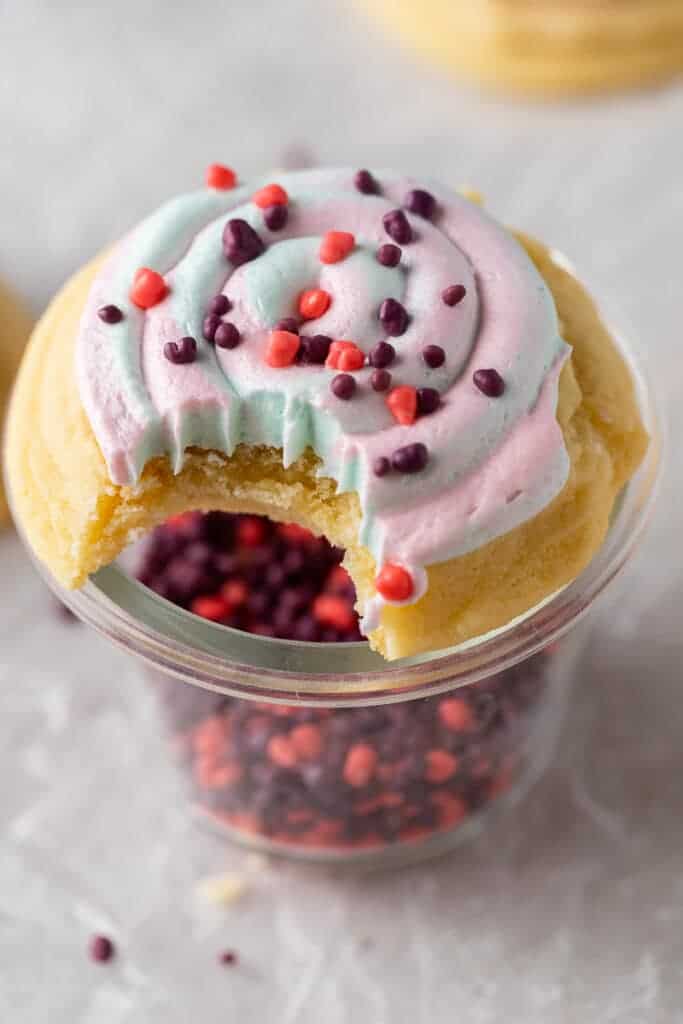 One of my absolute favorite recipes ever has to be this Crumbl dirt cake copycat cookie. It is made with a thick chocolate cookie rolled in Oreo crumbs, then topped with homemade chocolate buttercream, more oreo crumbs, and then the cutest little gummy worm.
These cookies are perfect for Halloween too, so if you're looking for a Halloween recipe, try these.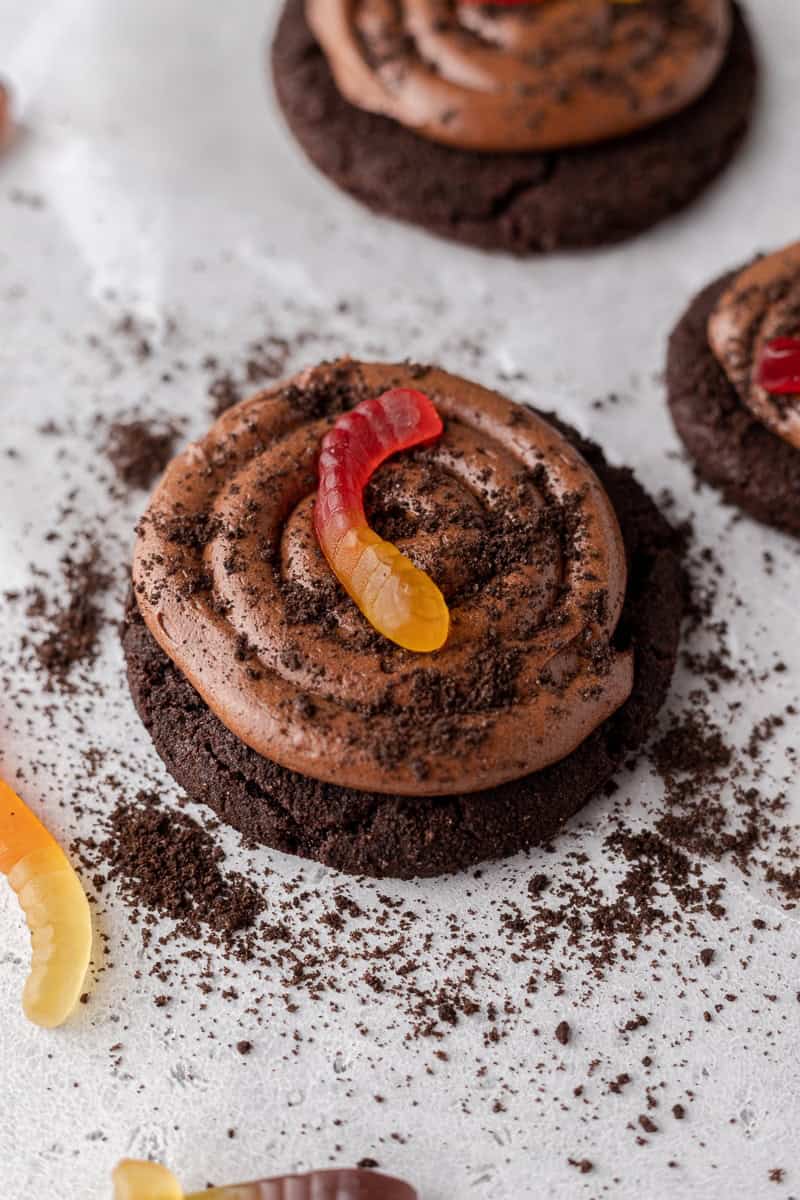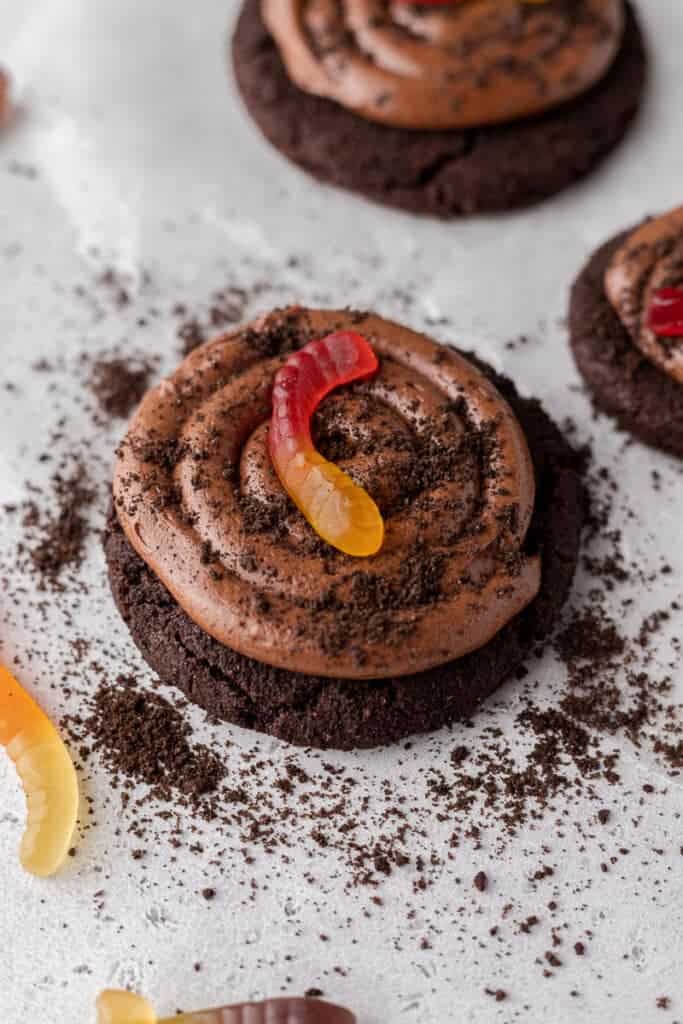 This recipe is one of the first ones that Crumbl bakery released this fall so obviously, I had to make it immediately.
It is made with a thick pumpkin cookie then topped with a smooth and silky caramel cream cheese frosting and gently sprinkled with pumpkin pie spice. If you love all things pumpkin, then you have to try this one!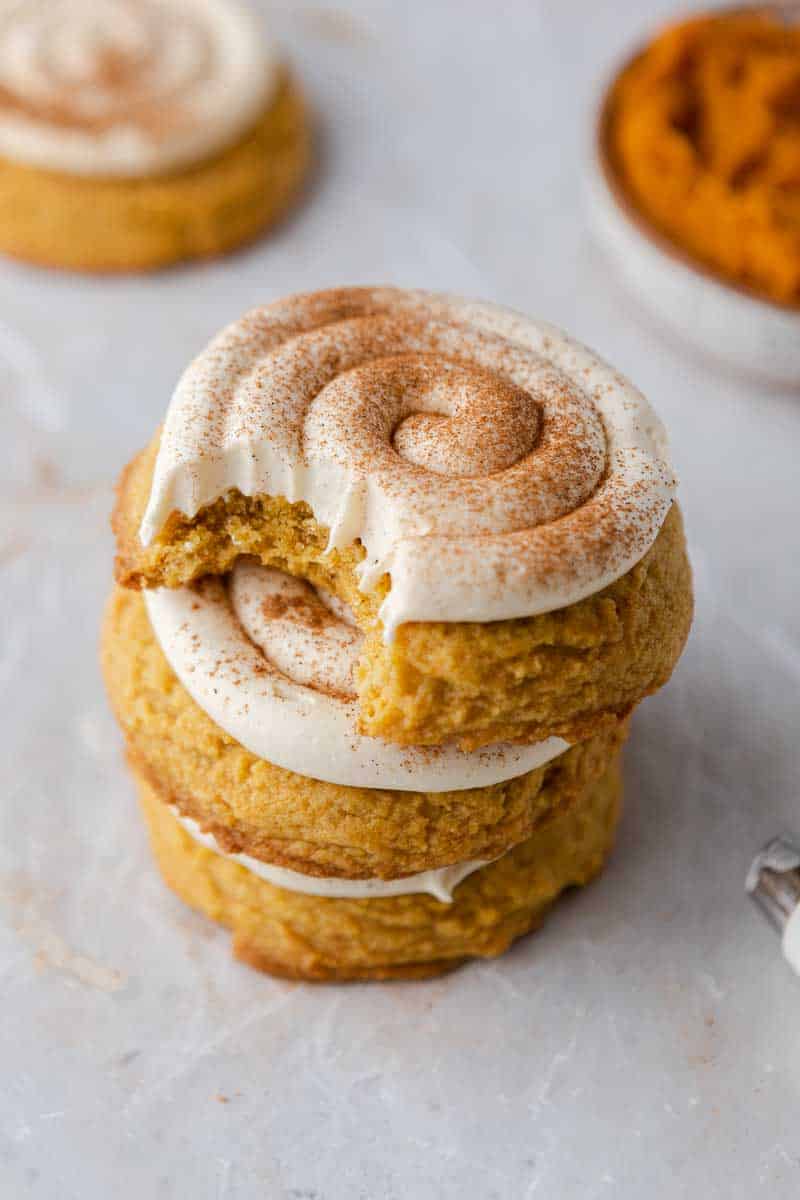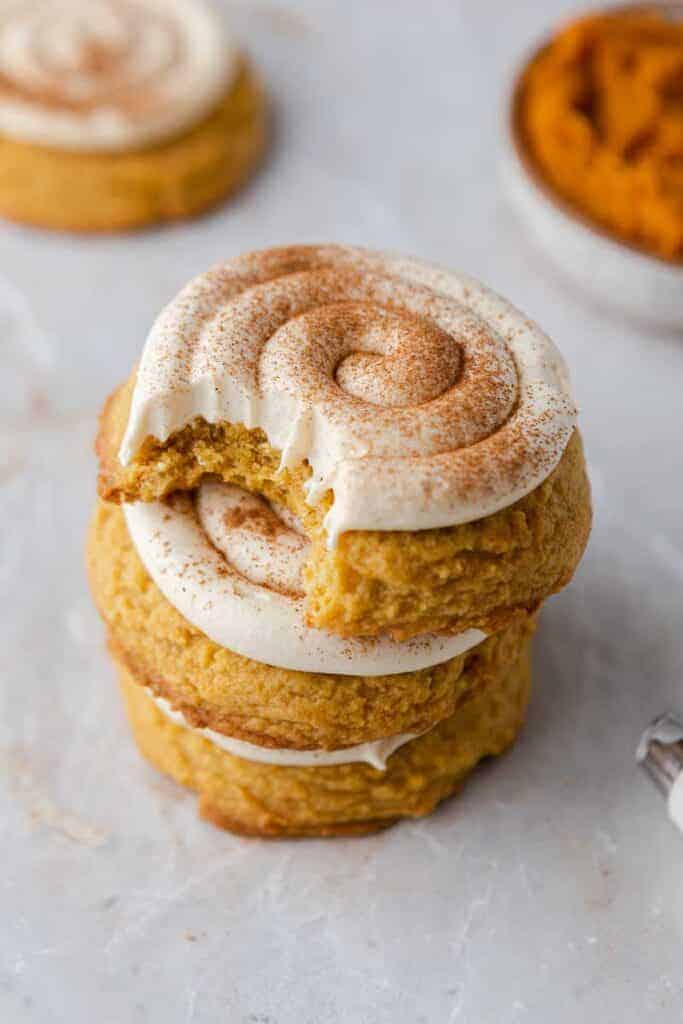 Imagine a churro that's stuffed with Nutella, well this is the cookie version of that.
A thick cinnamon sugar cookie stuffed with a ton of Hazelnut chocolate spread to satisfy all your cravings! I mean how can you say no to these cookies?!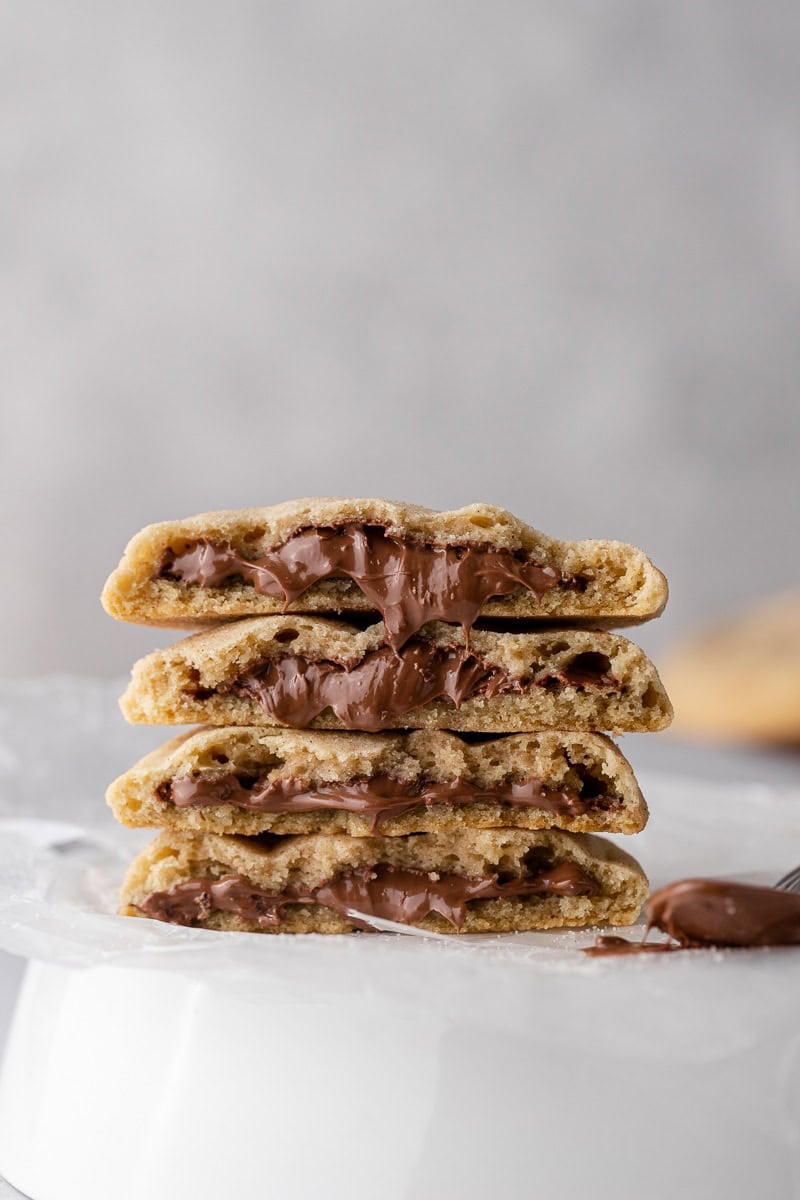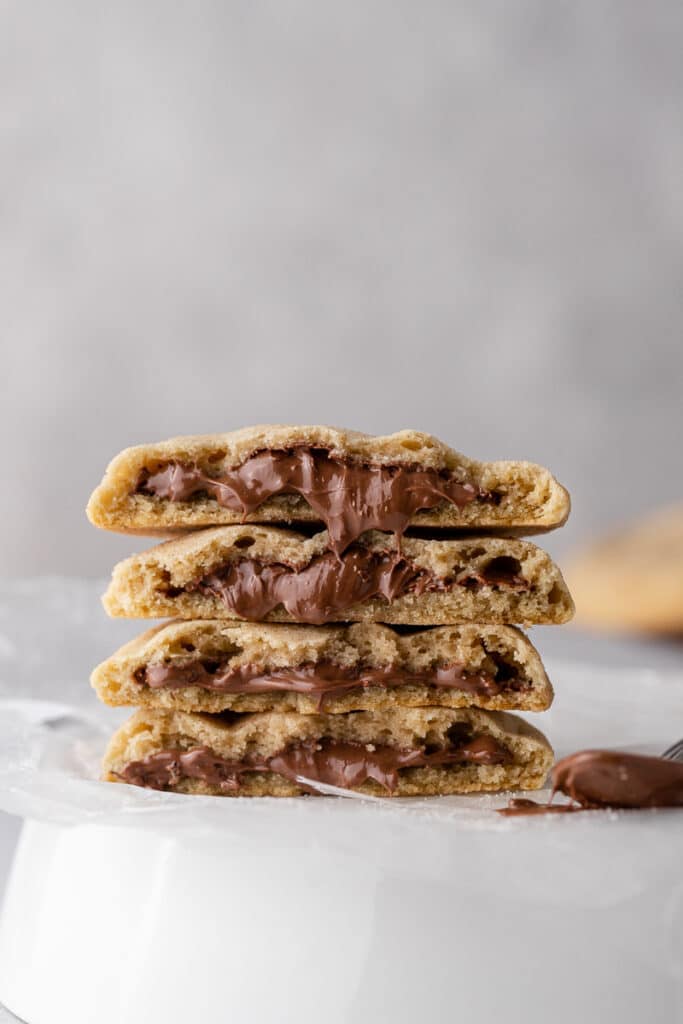 This was an extremely popular recipe on Tiktok. Everyone asked for it so it came to life.
These thick butter cookies are sweet and melt in your mouth, each one is then topped with a sweet homemade butter glaze and sprinkled with extra powdered sugar.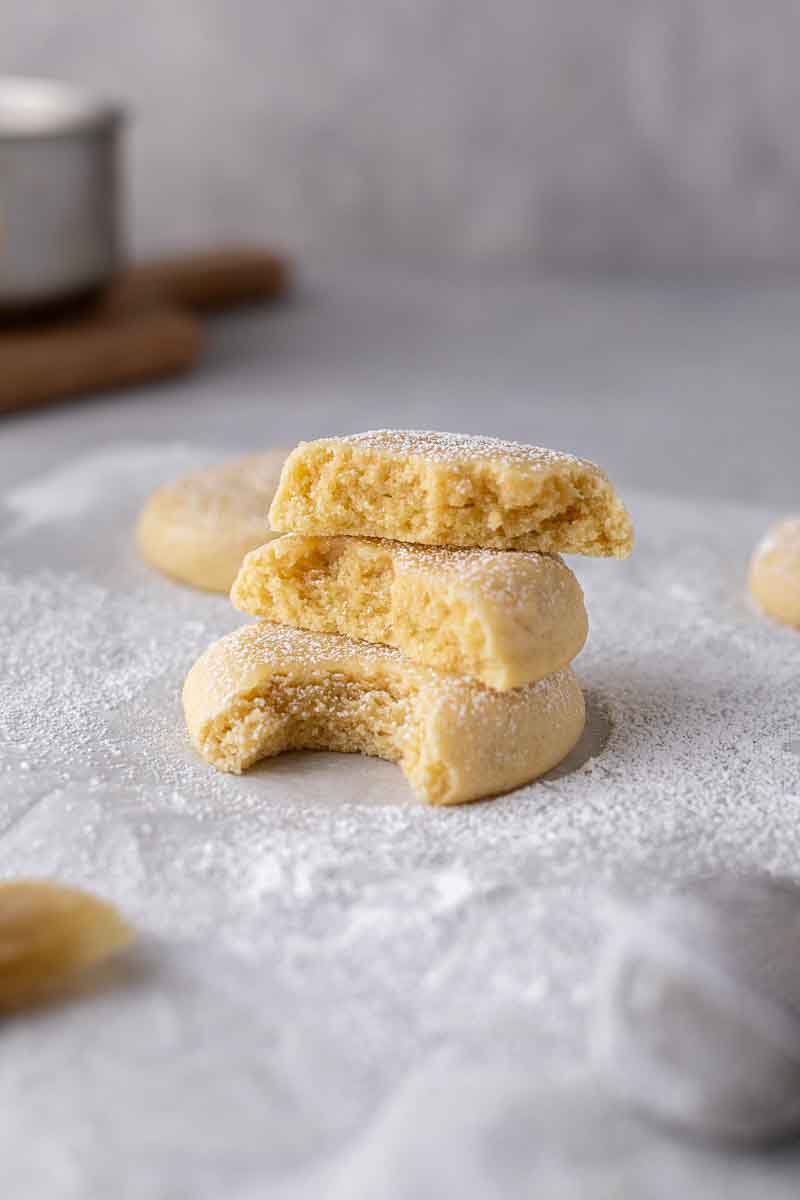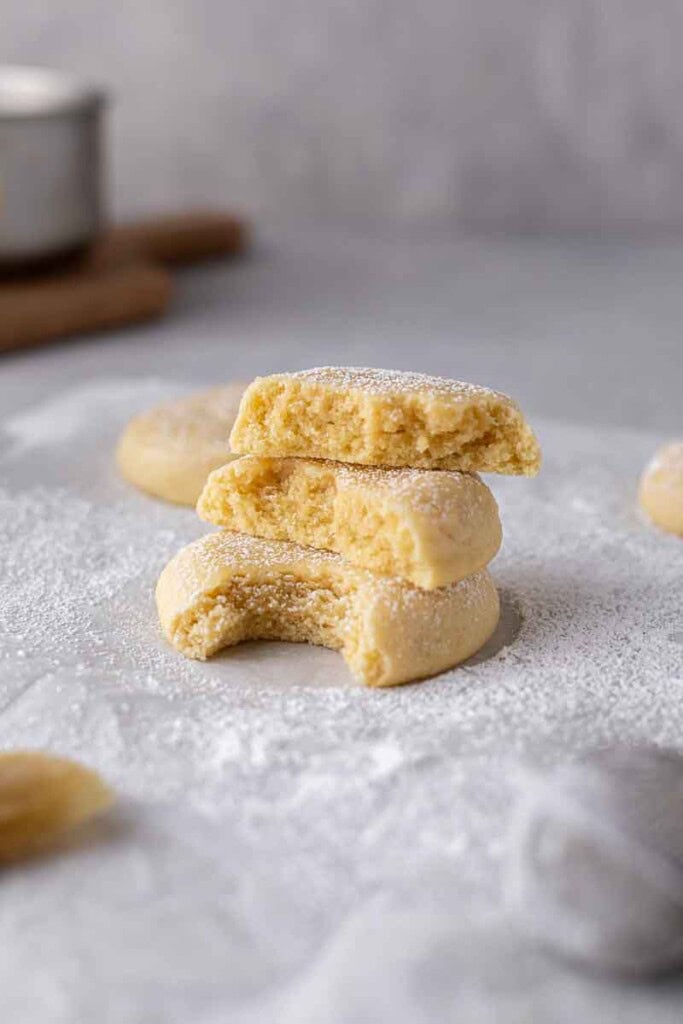 This cookie will blow your mind! If you love cookie dough ice cream then you have to try this recipe. It is made with a chilled sugar cookie then topped with caramel buttercream and homemade edible cookie dough bites and chocolate chips.
This is a kid favorite for sure!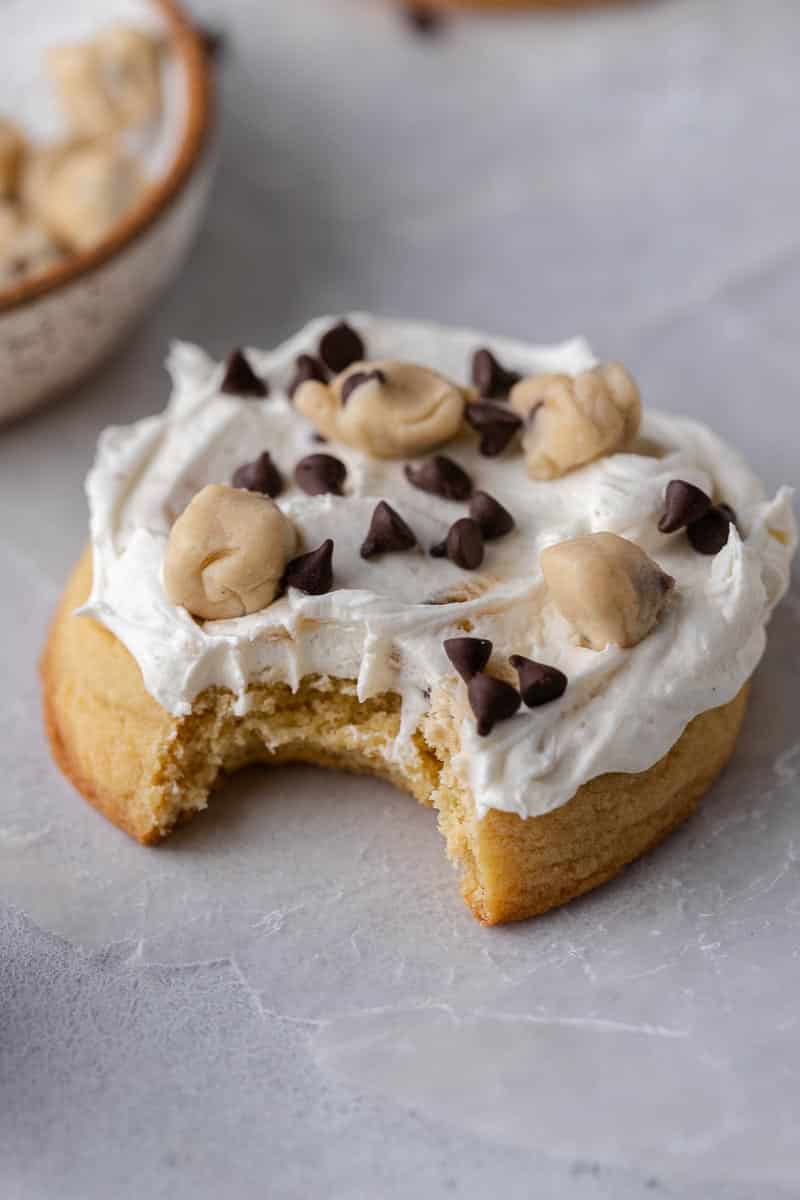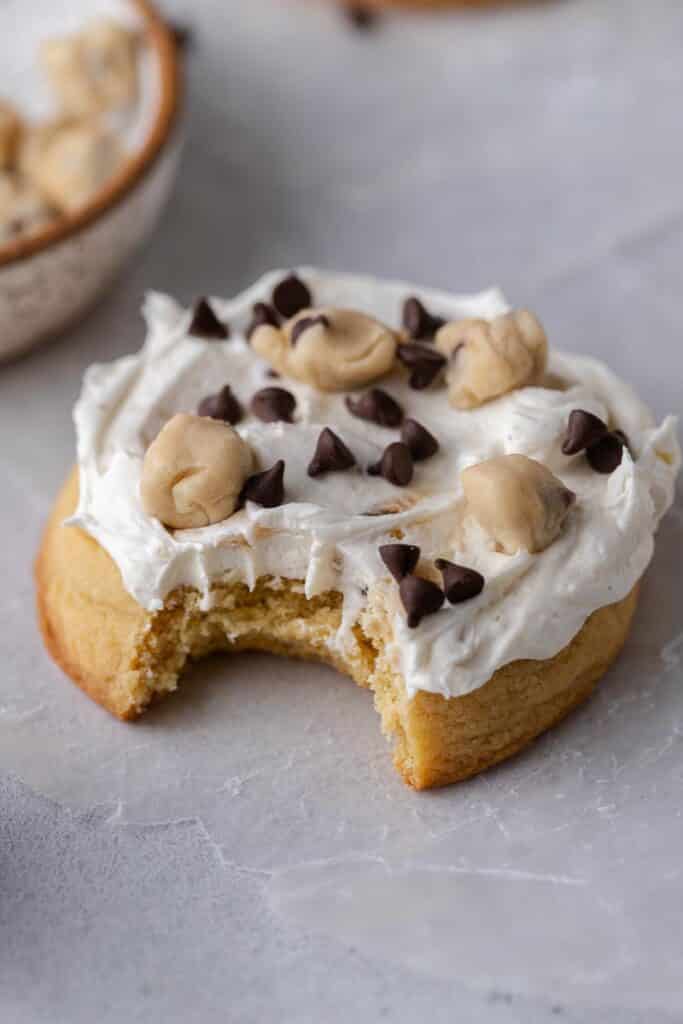 One of my absolute favorite cookies that I've made has to be this blueberry graham cookie. I think it's a lot better than the original crumbl one since the OG one was not sweet enough and lacked flavor.
This on the other hand is sweet, fruity, and resembles a muffin top cookie. It's the perfect fruity summer cookie.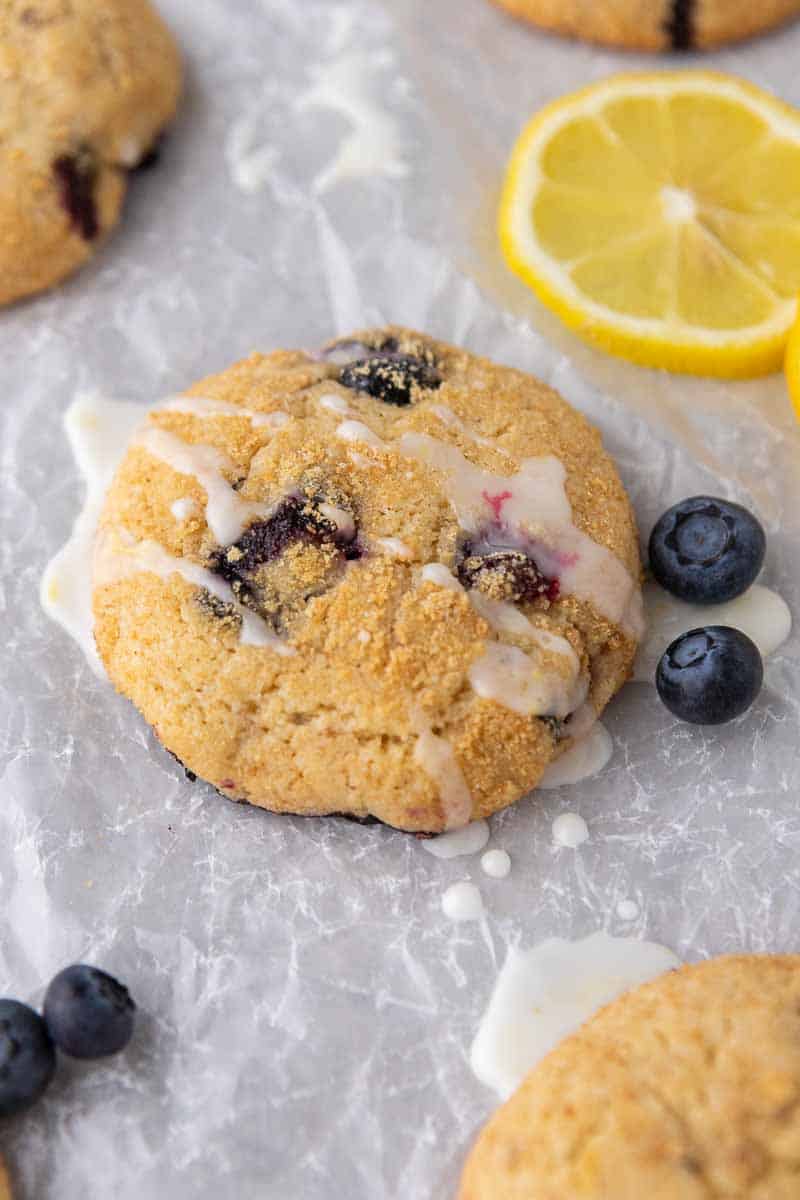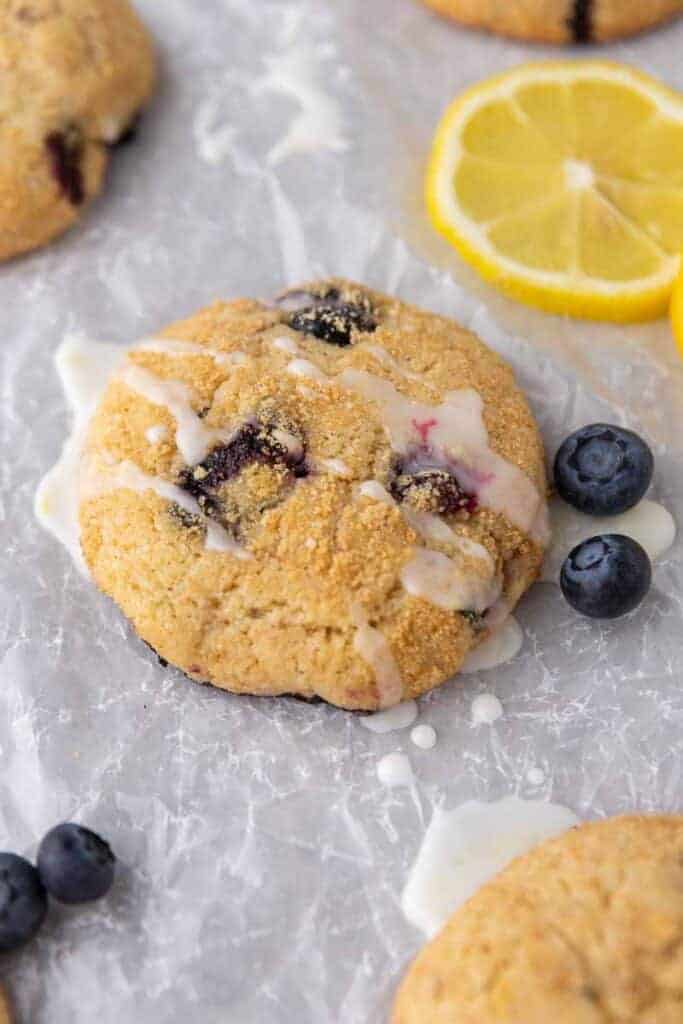 Where are all my churro lovers at?! This cookie is made with a snickerdoodle cookie base i topped with a homemade cinnamon buttercream then sprinkles with cinnamon sugar for crunch.
If you have the time to make these, I definitely suggest you do so. They're one of my most popular recipes on the blog!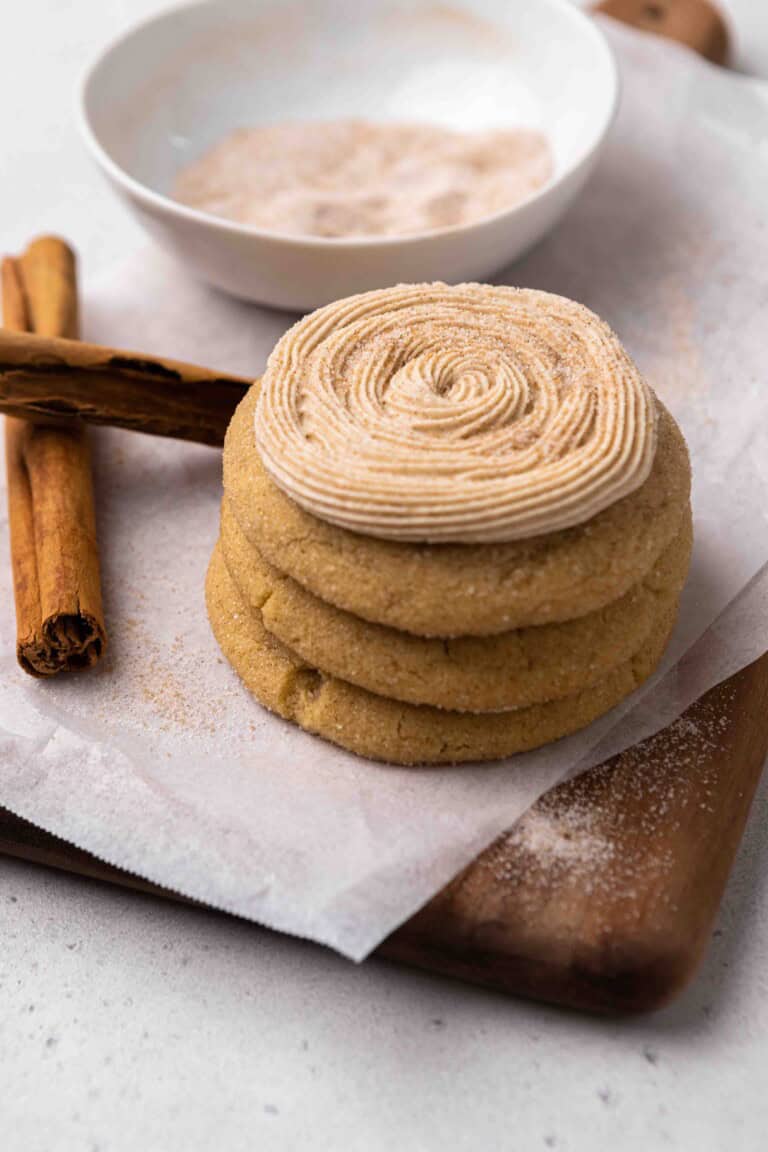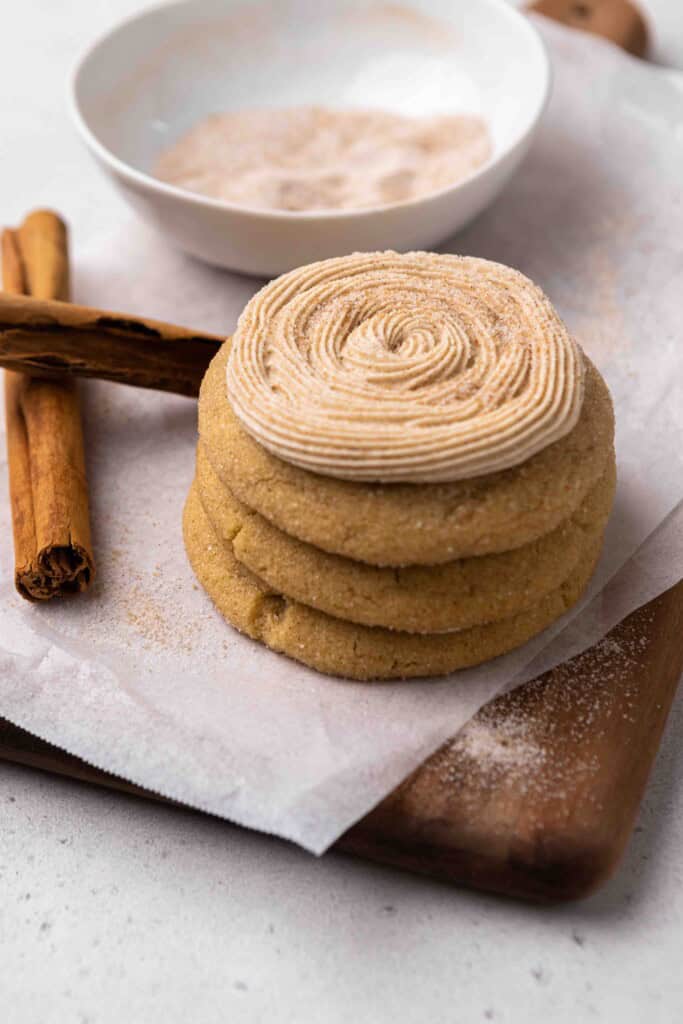 Cookie butter has a very special place in my heart that's why these cookies are on my top 10 list.
They are made with a chewy cookie butter base, packed with white chocolate chips then decorated with a Biscoff cookie on top. They are both cute and delicious!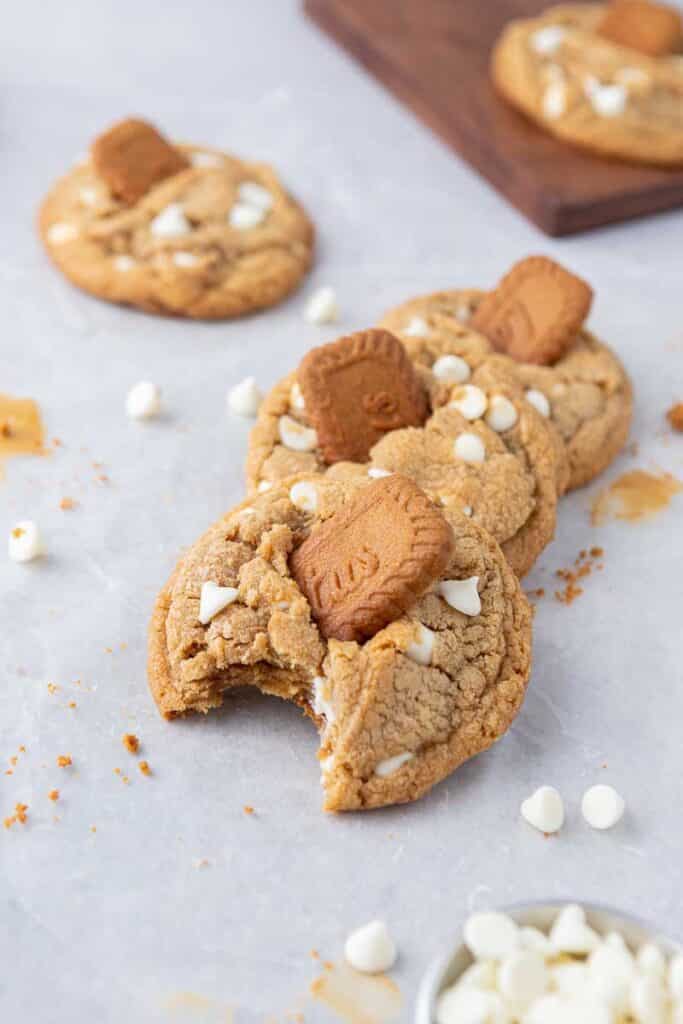 This one is definitely a popular one both at Crumbl bakeries as well as on the blog.
It is made with a thick brownie cookie base and decorated with homemade chocolate ganache and colorful sprinkles. This treat is an homage to the ultimate cafeteria dessert, the cosmic brownie itself.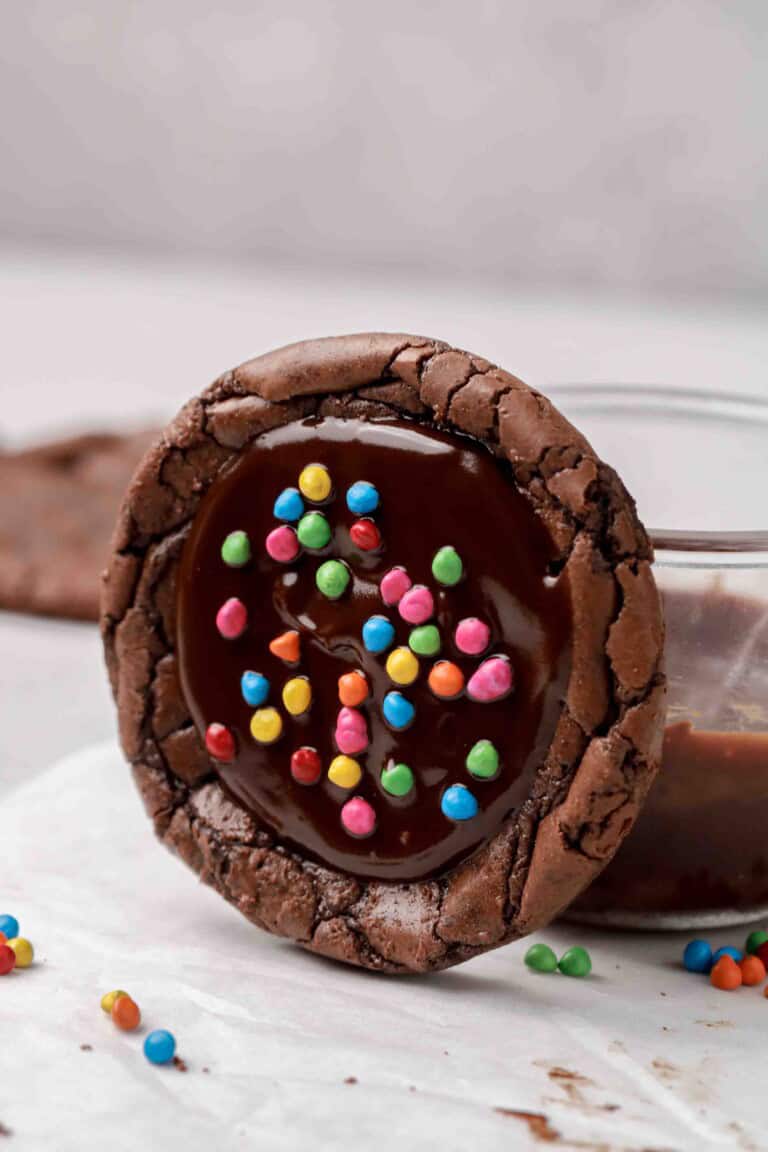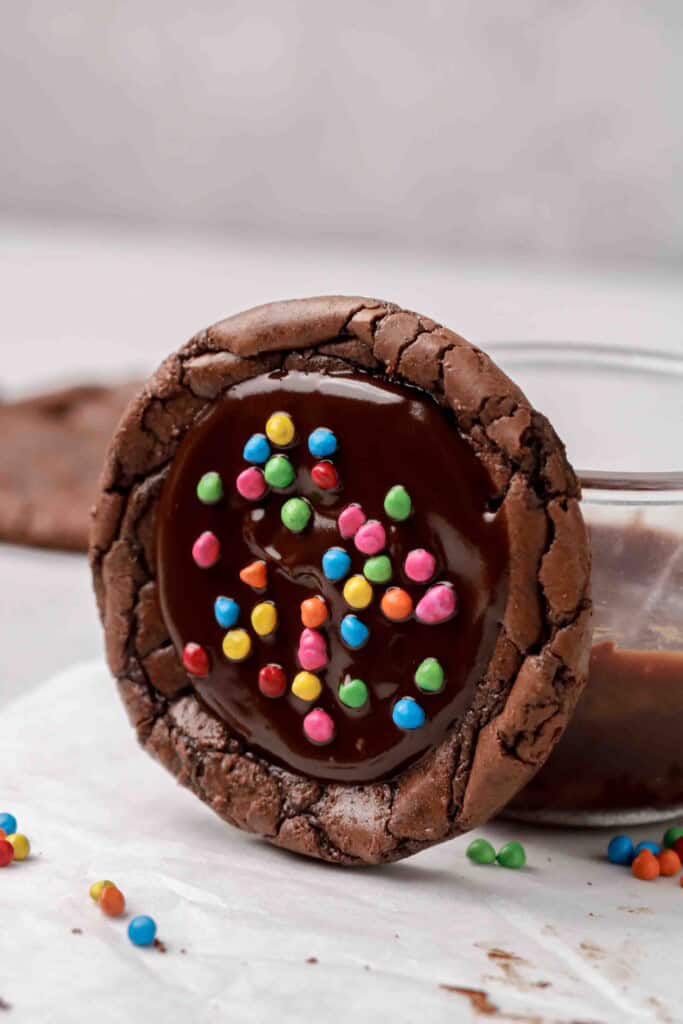 This chocolatey cookie has actual Oreos in the dry mixture making it taste just like an Oreo but in bigger and thicker cookie form.
Each cookie is then topped with homemade buttercream and Oreo crumbs.
Want a little trip down to the tropics? This coconut lime cookie is for you. Made with a lime coconut sugar cookie then topped with a lime tangy buttercream and served chilled. It's absolutely delicious!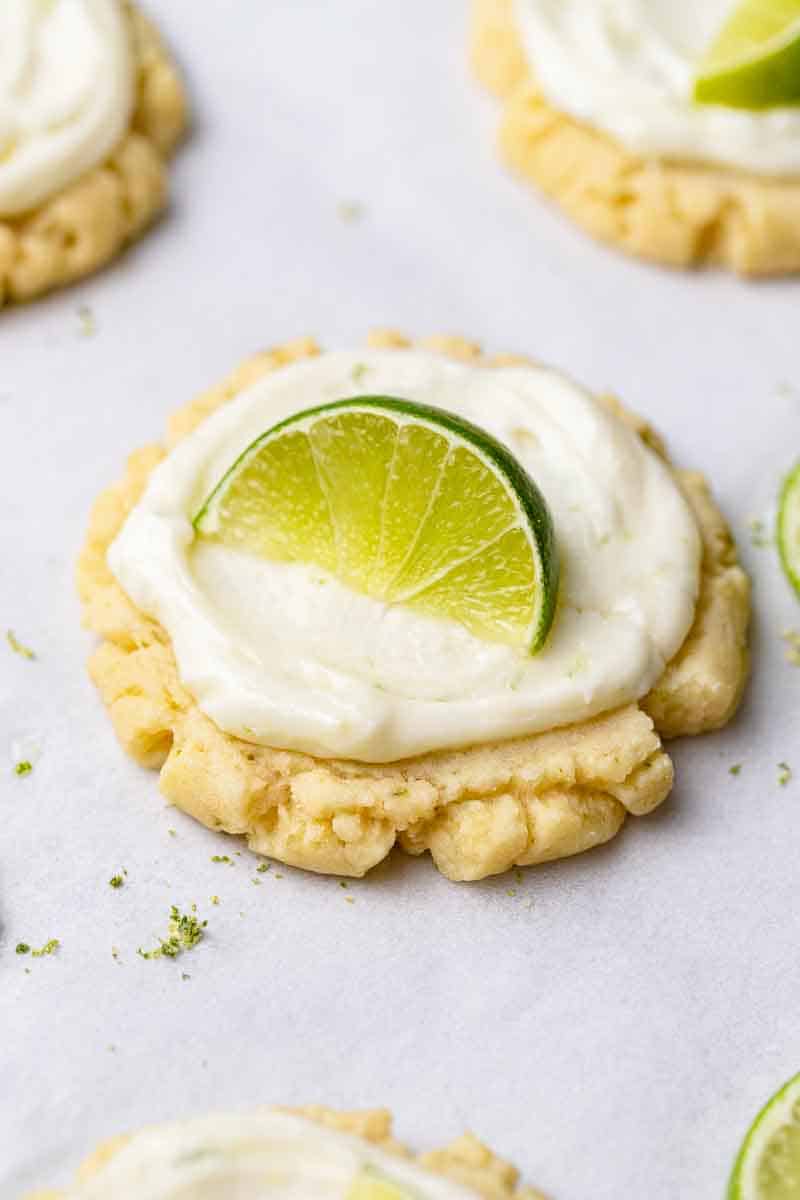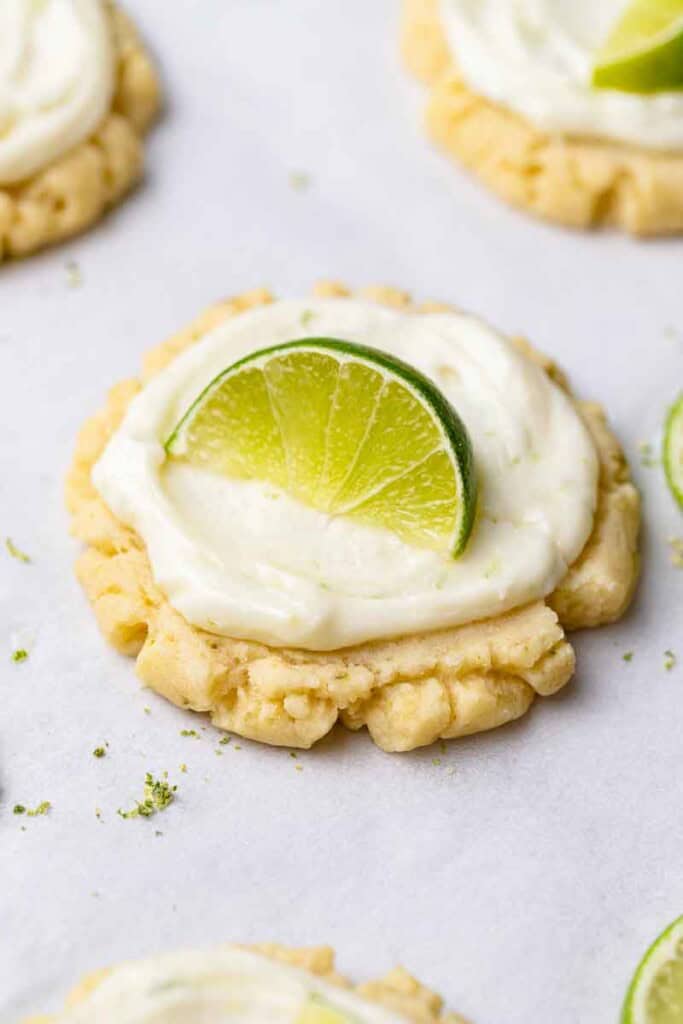 These Twix cookies are made with a buttery sugar cookie base full of chocolate toffee then topped with a thick caramel layer and a generous amount of melted chocolate.
This is every Twix candy bar lover's dream. It tastes just like it but better!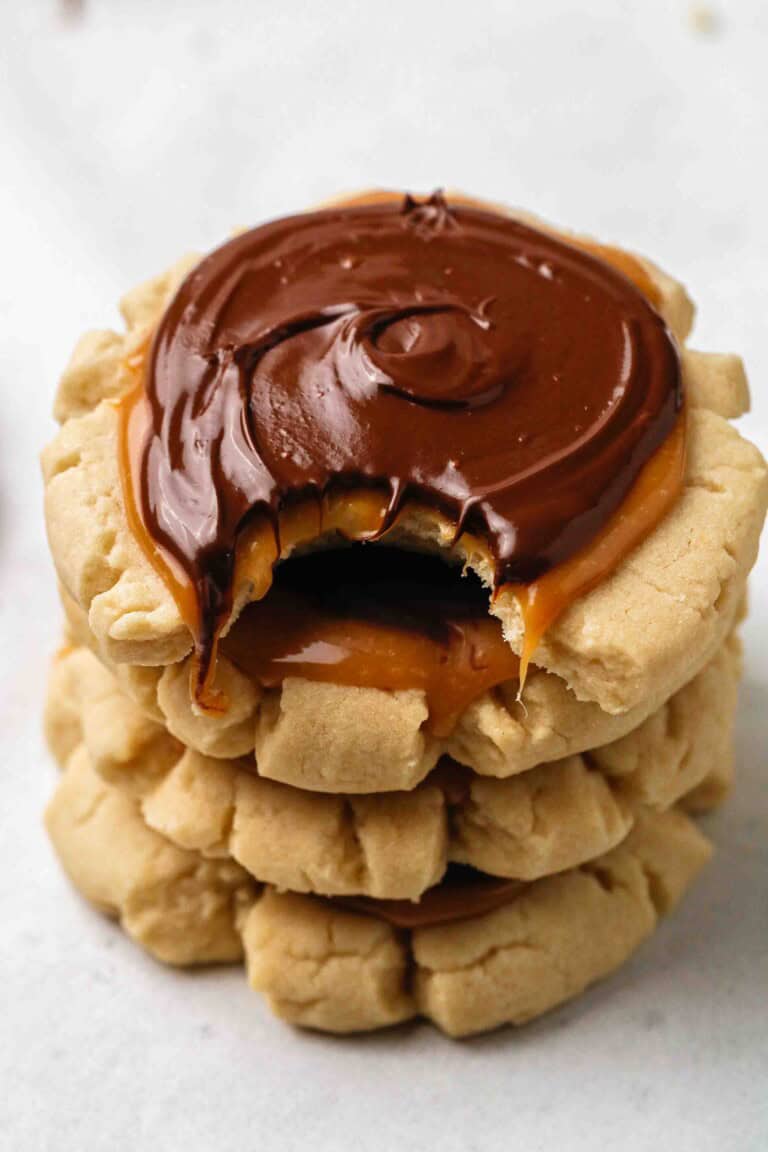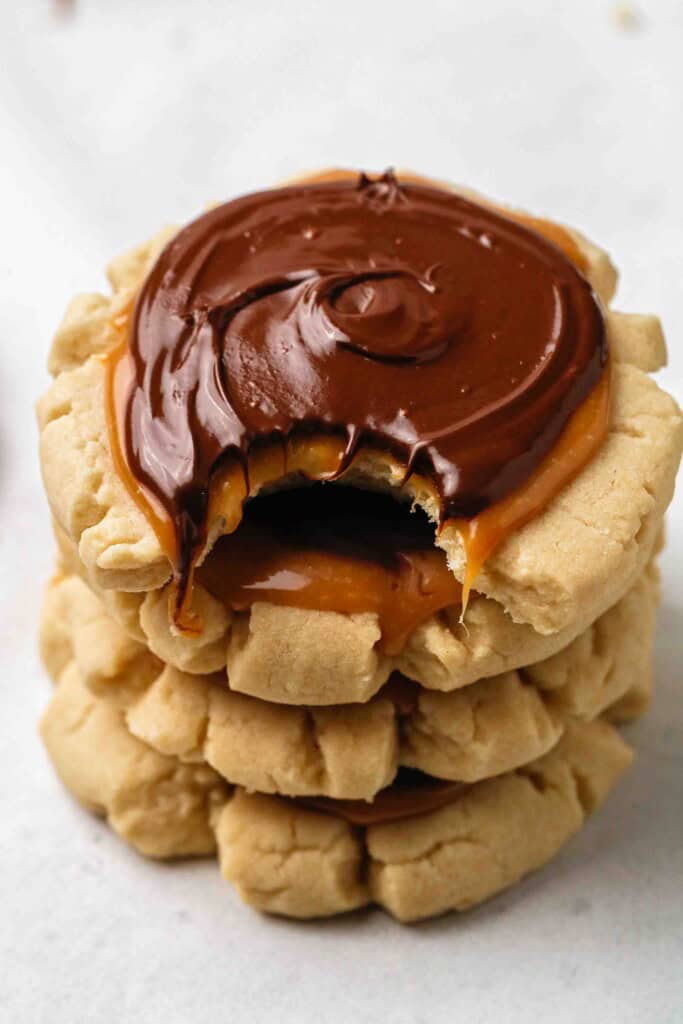 If you're into peaches and cream, these cookies are for you. They are made with a thick graham cracker cookie base then topped with whipped cream and peached frosting. It is a delicious summery cookie to make any time the cravings hit.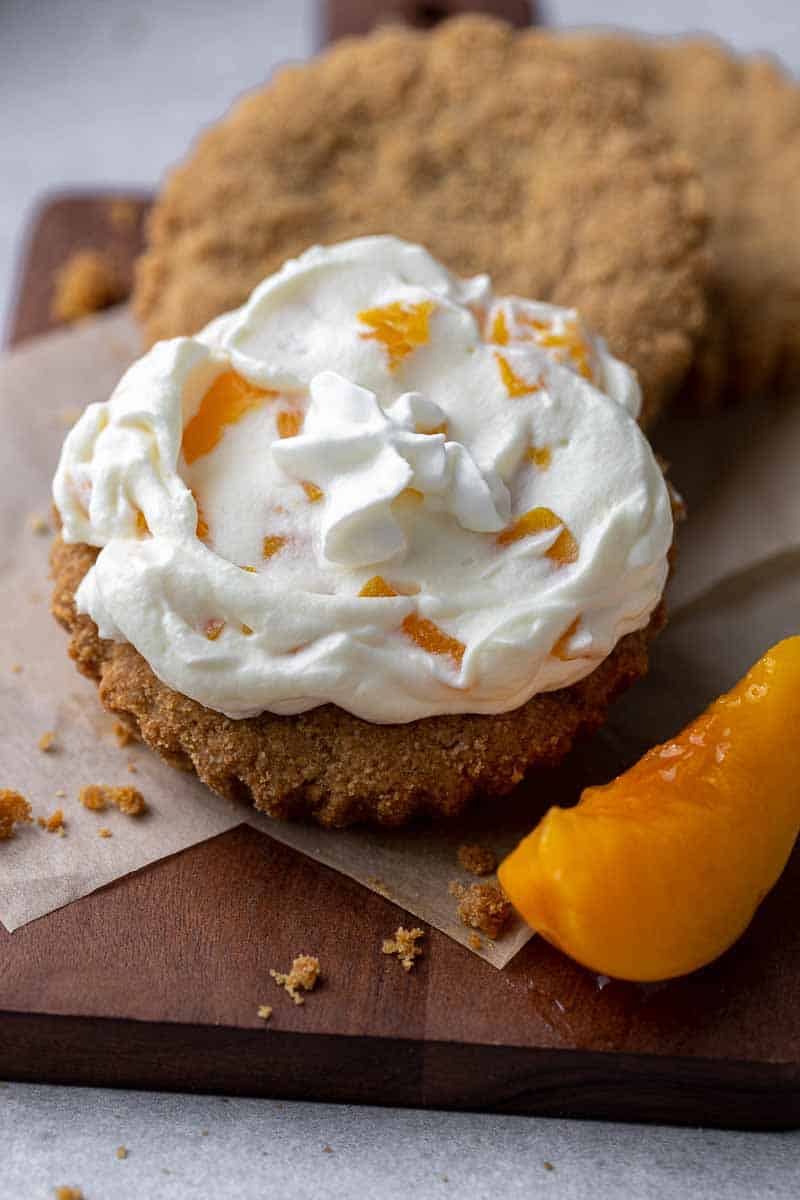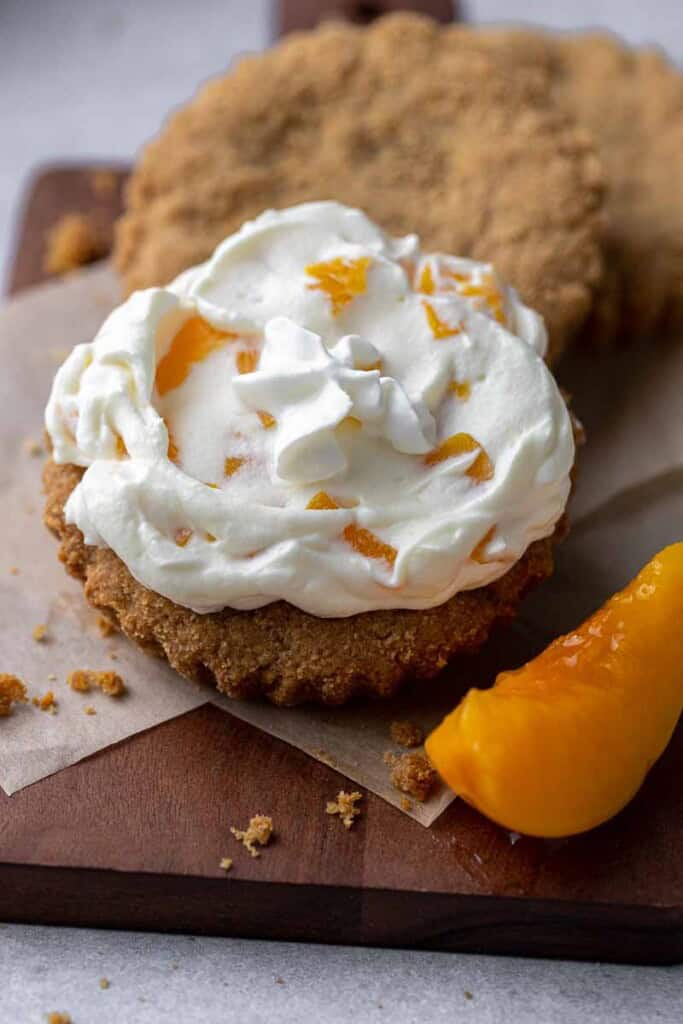 You know those gigantic fruit pizza cookies they have at the grocery store, well this is a better version of that. With these single-serve fruit pizza cookies, you get a soft sugar cookie base, topped with smooth buttercream and fruits to make a cute smiley face. Just like Crumbl's!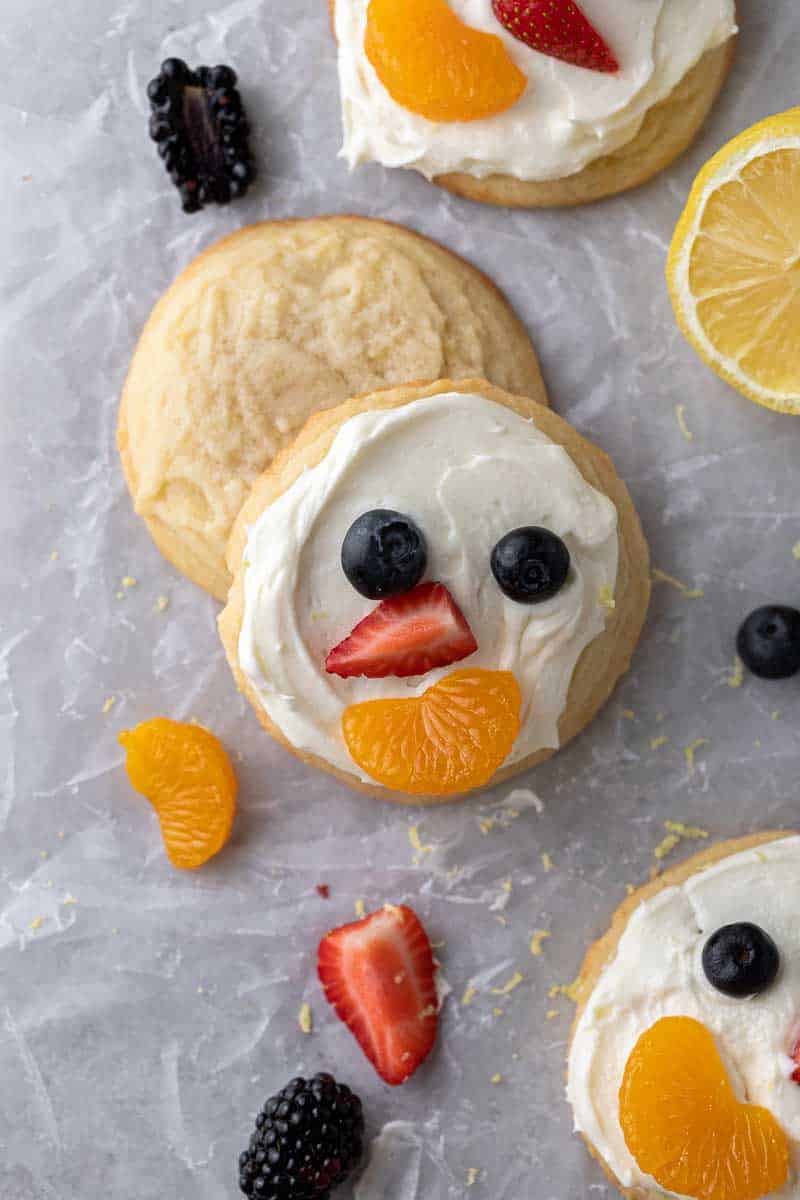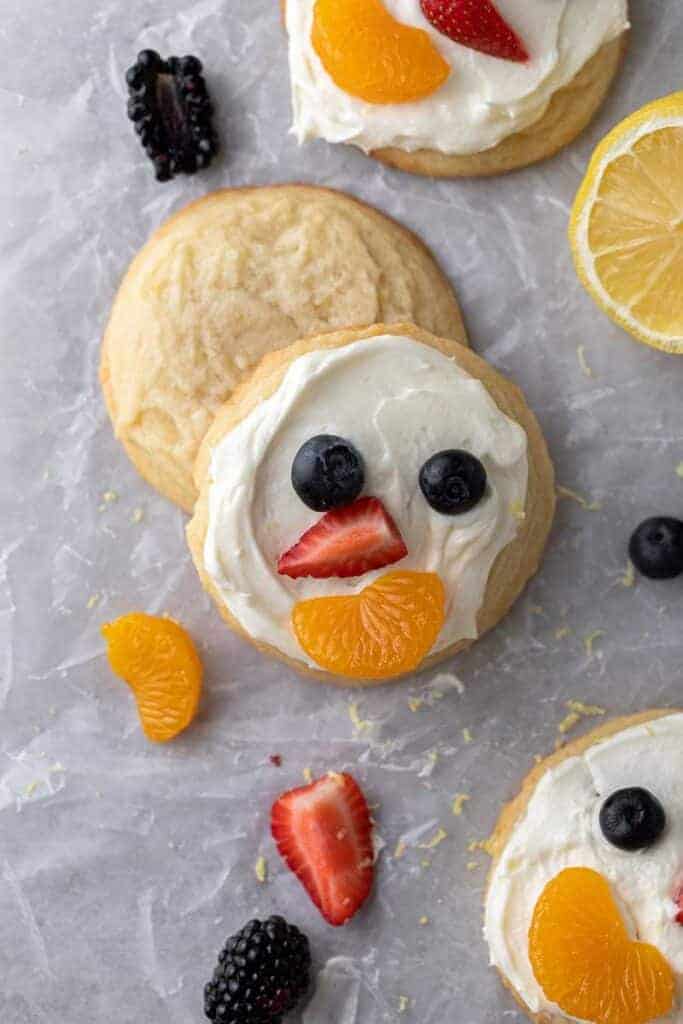 One of my absolute favorite cookies ever has to be this Crumbl cornbread cookie. It is made with cornmeal, is sweet and buttery, with a ton of honey flavor. Each cookie is topped with buttercream and extra honey drizzle.
This is for sure a must-make if you like cornbread.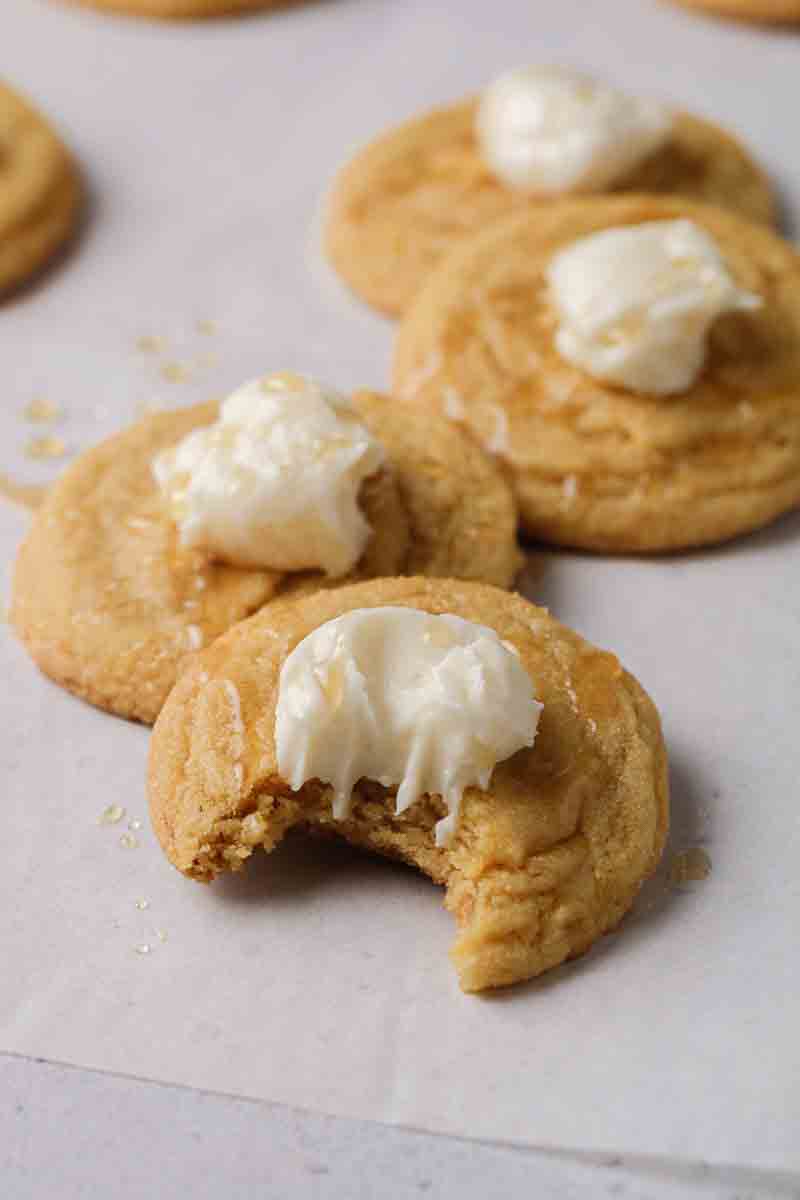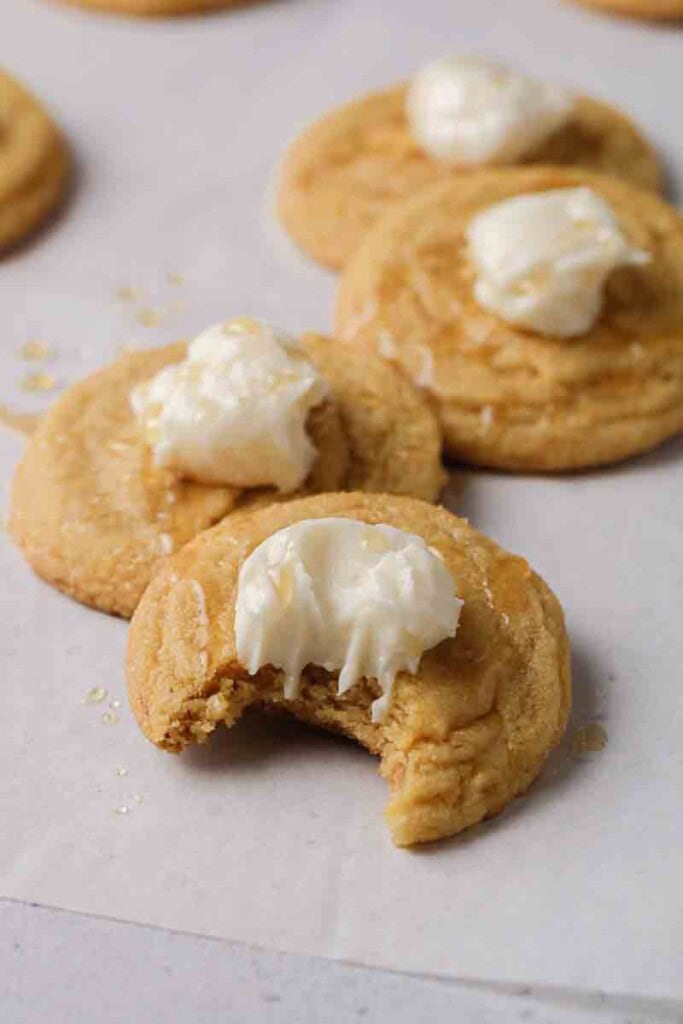 These Circus animal cookies are one of the cutest little things ever. Each cookie is packed with nonpareil sprinkles, almond flavors, and melted chocolate on top.
These cookies are thick and buttery and perfect when that sweet tooth hits.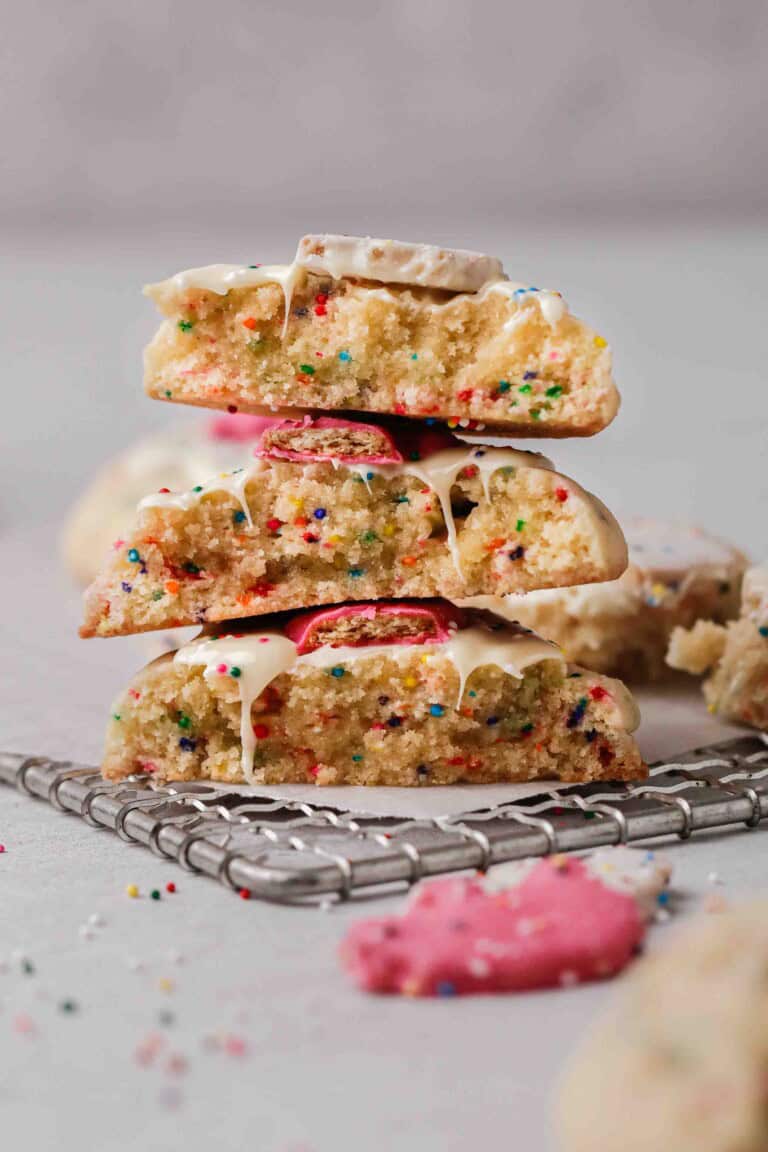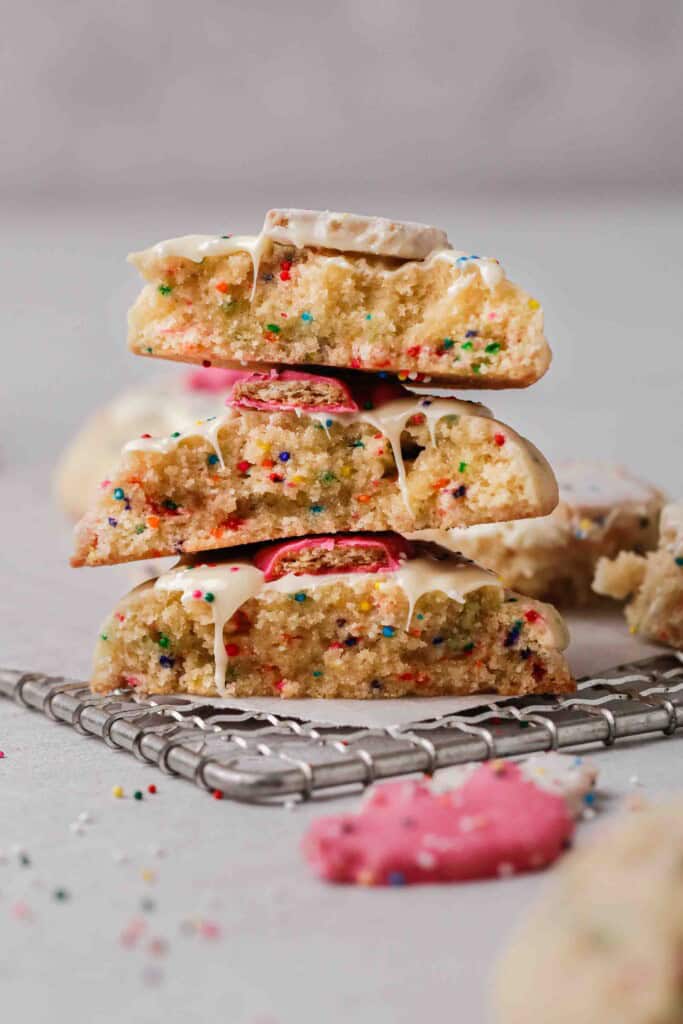 Cookies and cream milk share cookies are made with a thick Oreo sugar cookie base that's topped with a homemade buttercream that's packed with more Oreos then decorated with a little snack Oreo bite.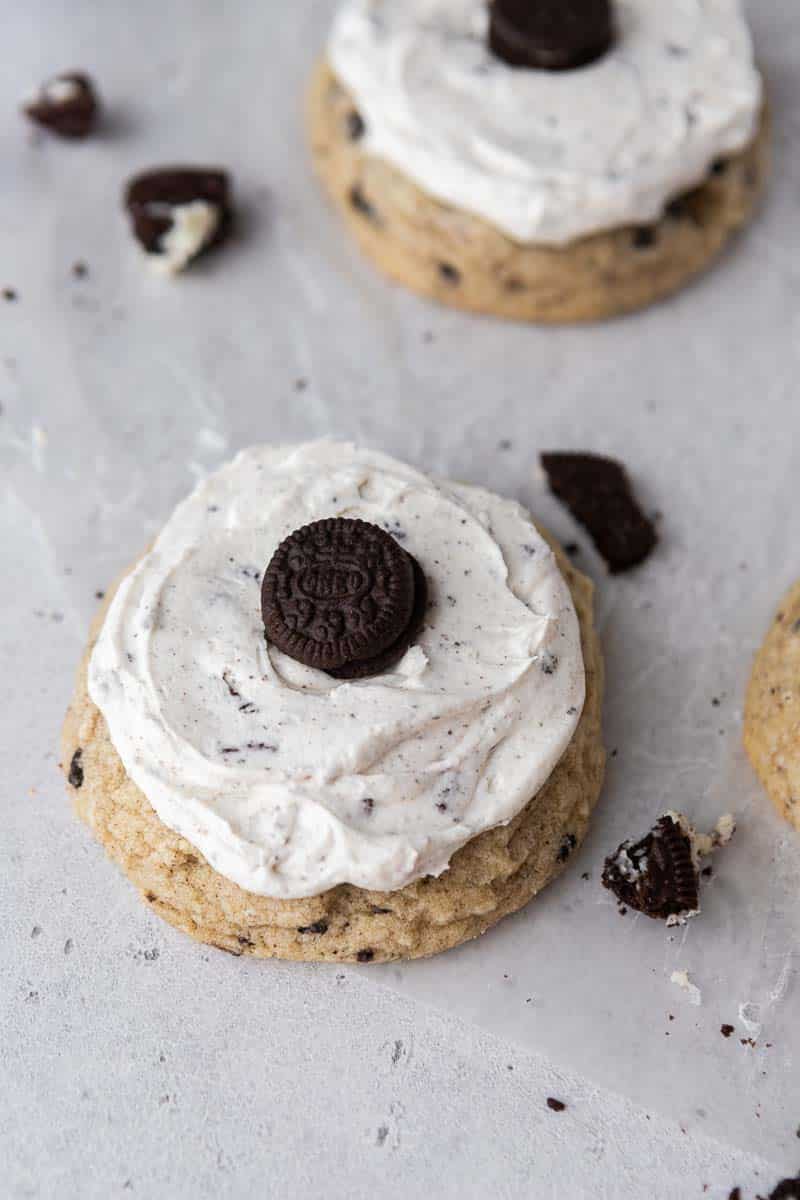 Do you know those Christmas buckeye treats? Well, now you can have them in cookie form with this Crumbl buckeye brownie cookie.
Made with a thick brownie cookie then topped with a peanut butter fudge and melted chocolate on top. This needs to be on your to-make list this holiday season!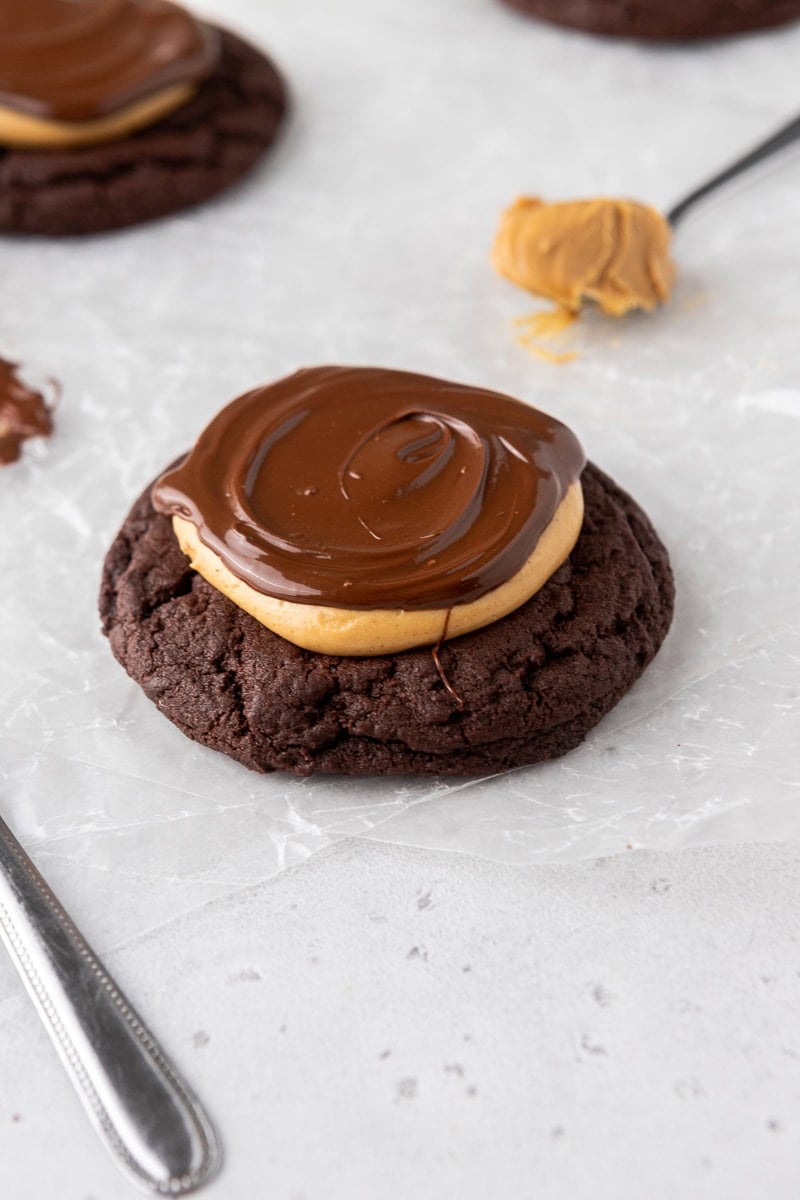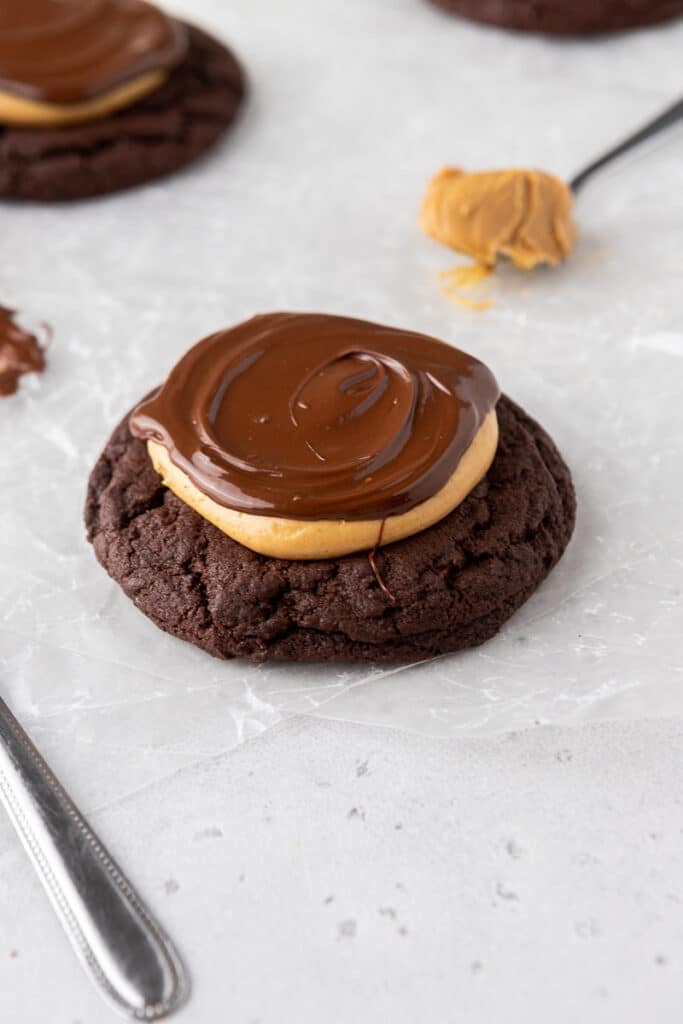 Pink is my favorite color, so when I saw these I had to get them! The cookie base was soft and chewy and the frosting was one of my favorite things ever!
When I made it, I had to make it taste like strawberries so I used a strawberry cake mix and turned it into cookies then made a vanilla mousse for topping and a homemade strawberry shortcake streusel.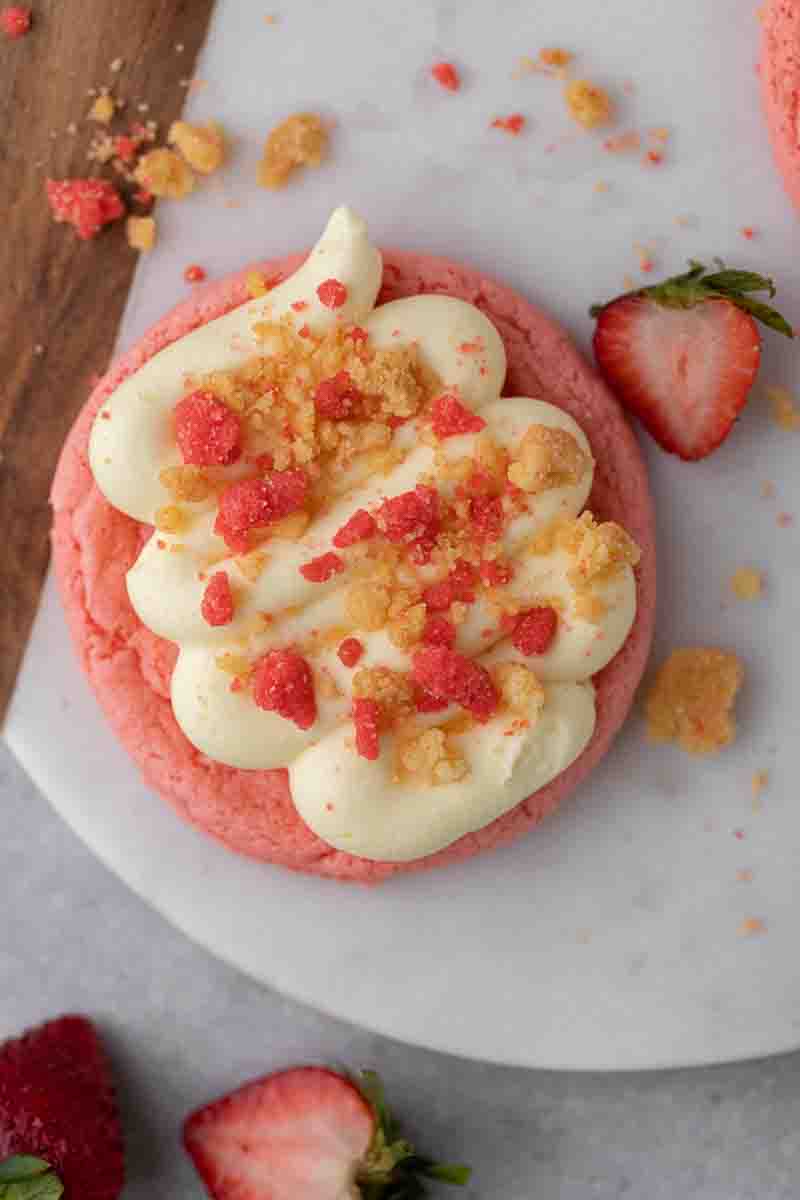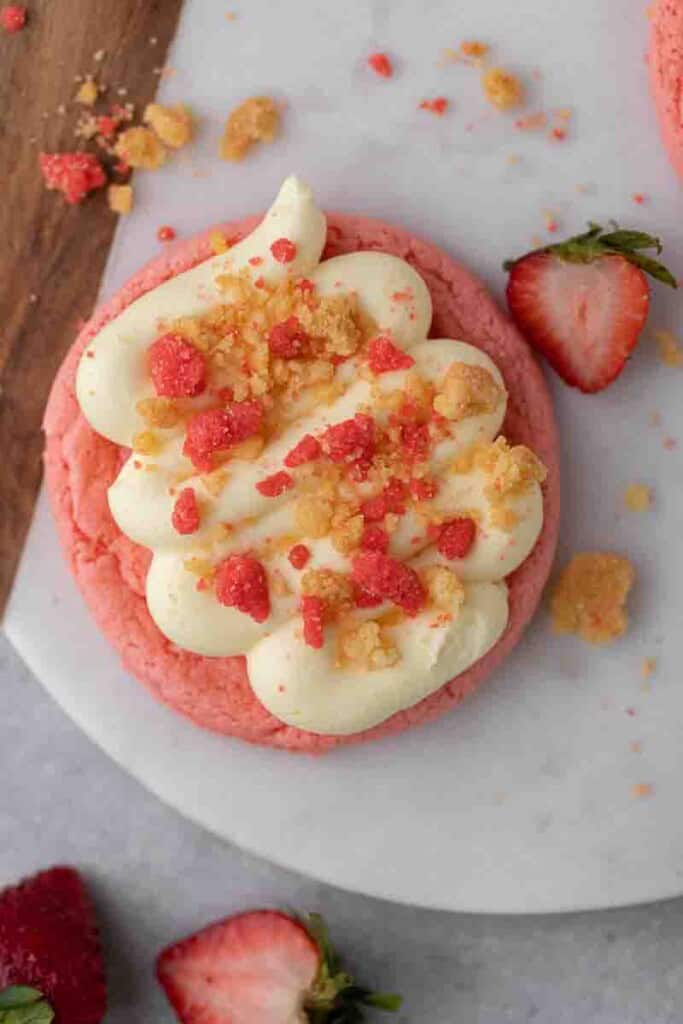 For those who love lemon flavors, this chewy crumbl lemon glaze cookie is gonna be perfect for you. It is made with a lemony cookie and then topped with a lemon butter glaze and decorated with half a lemon slice.
Whenever you need a little bit of sunshine, I strongly recommend making these 🙂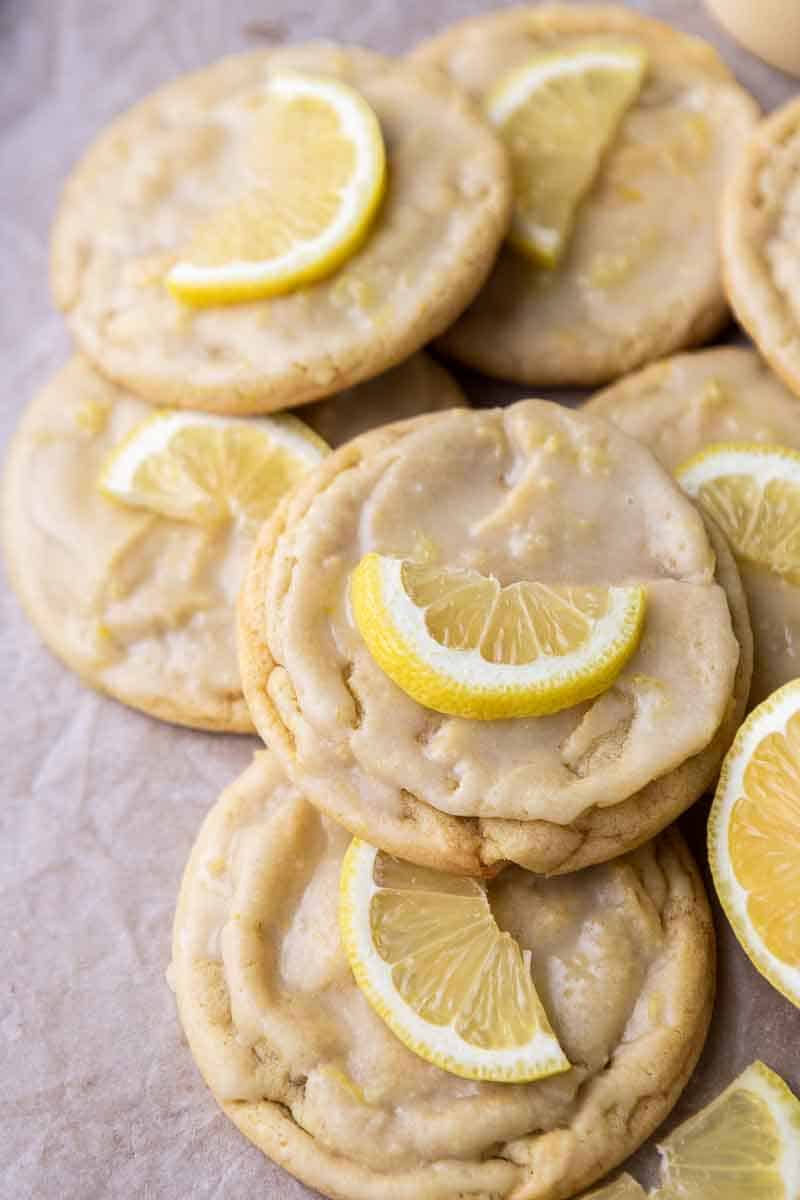 Waffles but make them cookies and you will get this waffle cookie recipe. With light hints of maple and butter flavoring, these cookies taste just like a waffle. They are topped with buttercream and a drizzle of pancake syrup.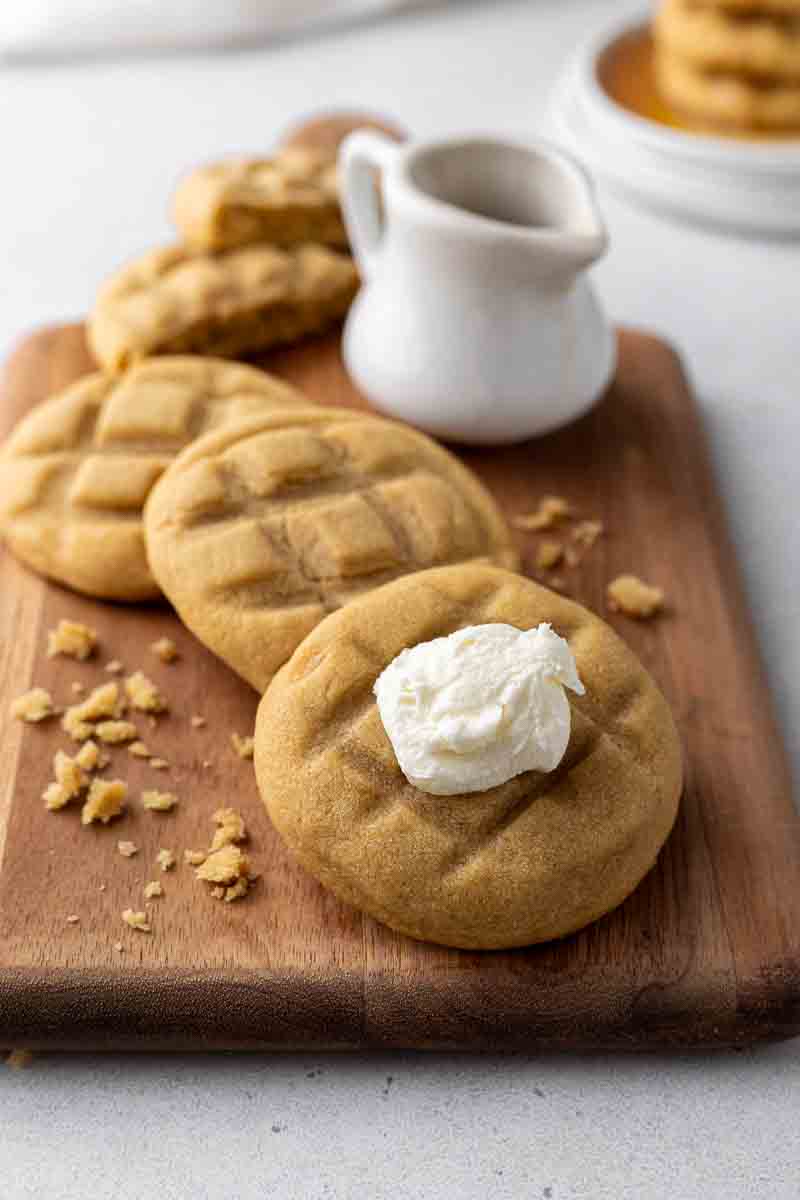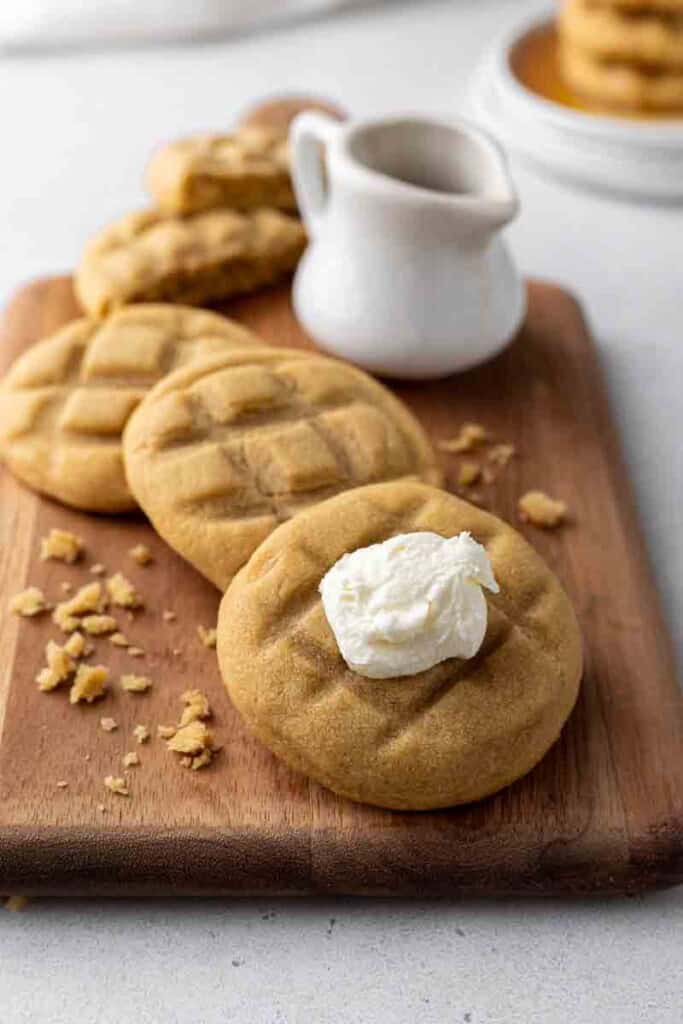 These crumbl caramel coconut fudge cookies are the ultimate sweet treat. They are made with a thick vanilla cookie recipe that's dipped in chocolate at the bottom then topped with toasted caramel coconut on top and more drizzles of semi-sweet chocolate.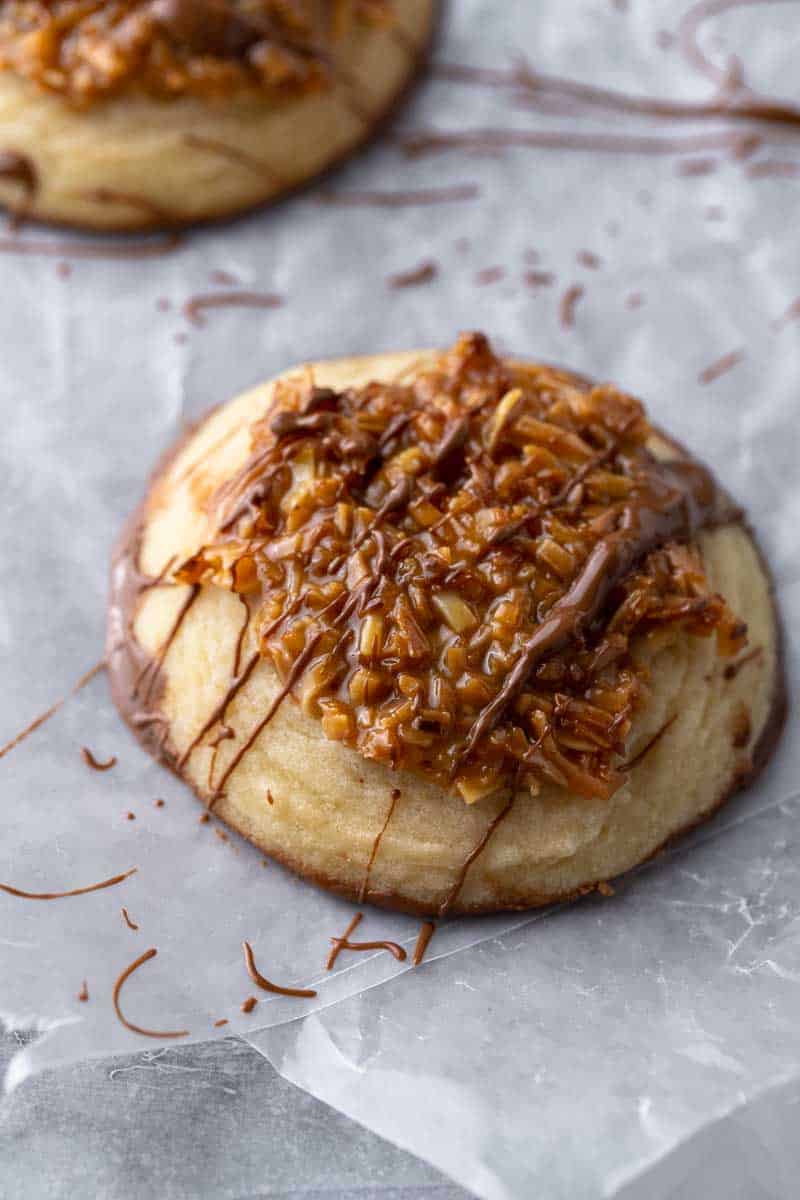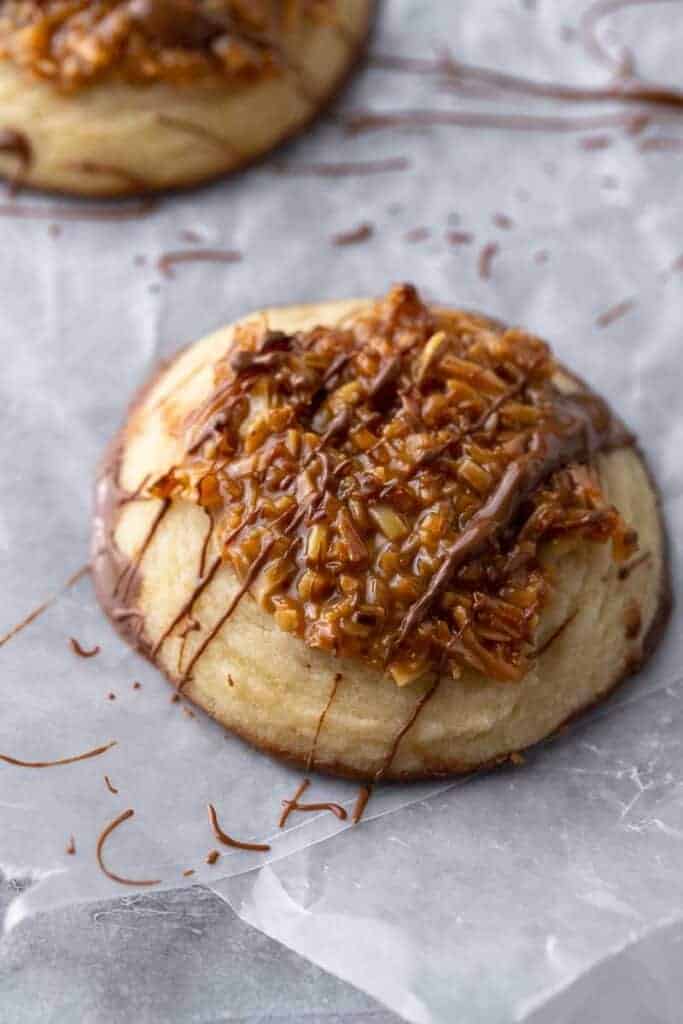 These confetti cake cookies are made with pound cake mix for an easy cookie base that's packed with confetti sprinkles. It is then topped with a pink cream cheese buttercream and more sprinkles.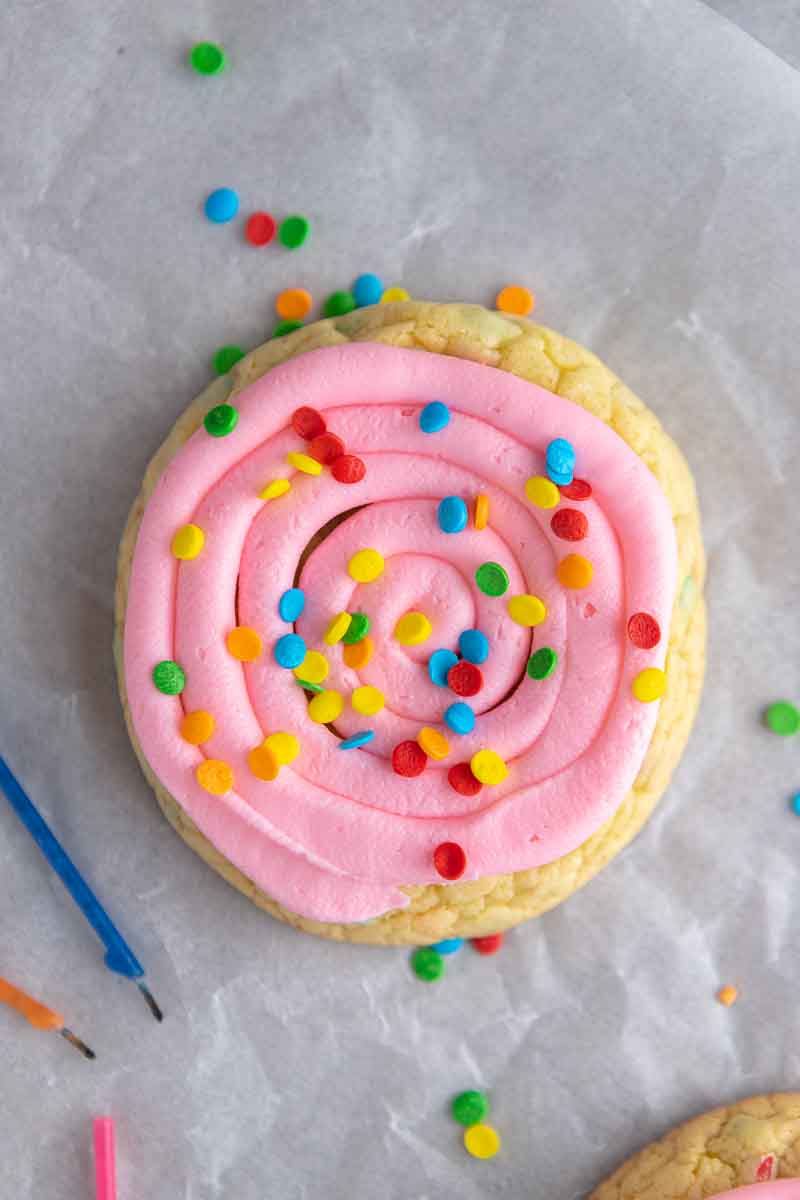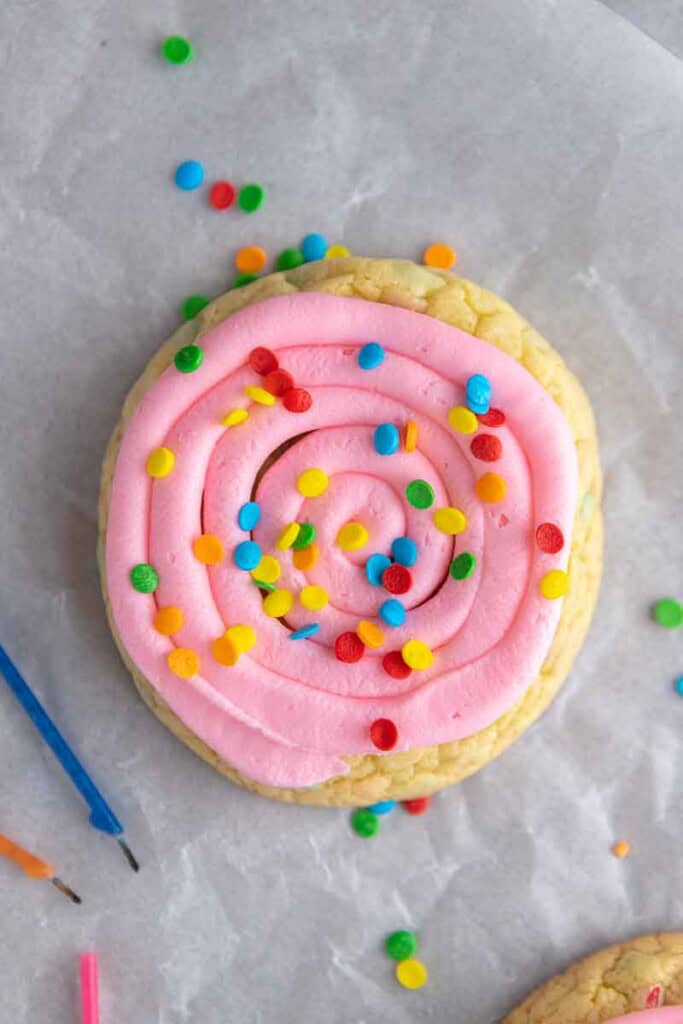 If you've ever had a Hostess chocolate mallow cupcake, then you'll know what this cookie is all about. It's a thick chocolate cookie stuffed with marshmallow fluff, topped with chocolate ganache then decorated with white chocolate swirls.
It is the perfect cookie to jump back into your childhood memories 🙂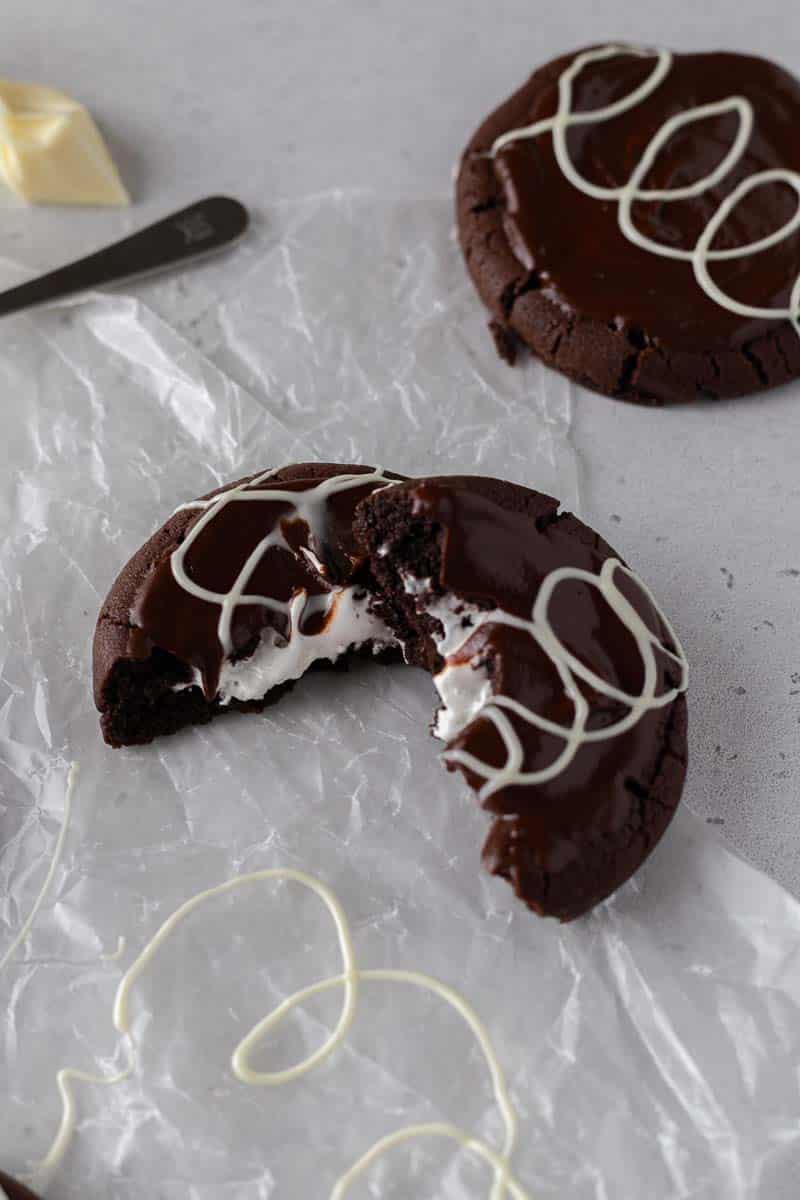 The cinnamon fry bread cookies as you might've guessed it are inspired by cinnamon fry bread. Cinnamon fry bread is pretty much flat breads that are fried until golden brown then coated with cinnamon sugar.
These cookies are thick cinnamon cookies topped with sweetened condensed milk before baking to give it that caramelized look and mouthfeel then topped with cinnamon buttercream.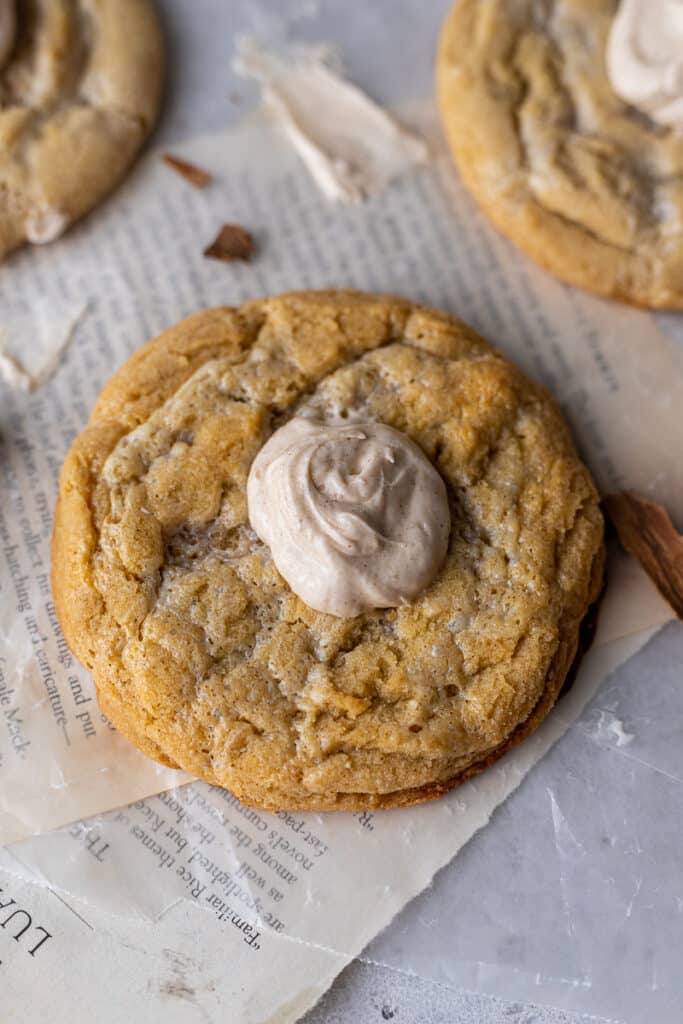 FAQ- Frequently Asked Questions
Who owns Crumbl cookies?
Crumbl bakeries are owned by two cousins, Sawyer Hemsley, and Jason McGowan.
What states have Crumbl cookies?

Crumbl bakery started in Logan, Utah but it has quickly taken the country by storm, and now has locations all around the country. Some of those states being:
Nevada
California
Montana
Washington
New Hampshire
Florida
Georgie
And many other states! You can check what states have crumbl cookies on the Crumbl website by clicking "Find a Crumbl"
If you still don't have a bakery by where you live, you're in luck because I have a ton of Crumbl copycat recipes for you to try in the comfort of your own home.
How are Crumbl cookies made?
The secret behind how Crumbl cookies are made can be compared to the secret Krabby patty formula from Spongebob.
I have spoken to many people that work at Crumbl in my Tiktok lives and they all say that my recipes are really really close to the OG recipe but that they can't divulge any of the original recipe details.
How many cookies are in a Crumbl party box?
the crumbl party box, like the name suggests, is pretty large and holds a good amount of crumbl cookies in there especially given the fact that each cookie is gigantic!
So each Crumbl party box will give hold 16 cookies, so it's the perfect amount to take to work early in the morning and share with coworkers. Step aside breakfast donut boxes, Crumbl cookies have arrived!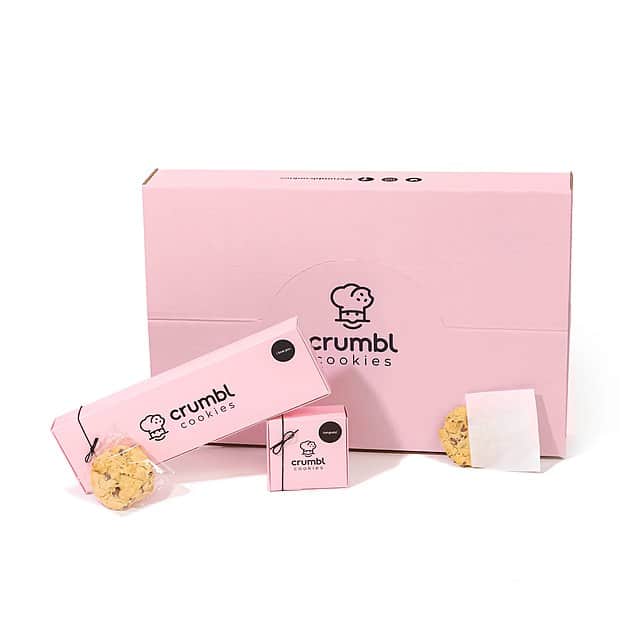 Can you get mini cookies at Crumbl?
Yes and no. The last time I went there I asked about getting the mini cookies the Crumbl employees said that you can only get the minis if you order a minimum of 50 cookies.
So the Crumbl minis are great for parties and celebrations but you have to order a large amount of them. Don't fret though, most of the cookie recipes on this blog will have a how-to make catering-sized Crumbl cookies.
Are Crumbl cookies worth the hype?
These Crumbl cookies are definitely worth it when it comes to people who want fresh warm cookies but don't want to make them from scratch. It's also fun to try all the newest flavors but the price can definitely add up quickly. I didn't want to show you a screenshot of my Crumbl cookies app because of how much money I've spent there.
I like to blame that on the fact that I have to try every cookie before I make the copycat recipe for it. But if you're like me and want to save a few bucks here and there, I would strongly suggest making these recipes at home.
If you have any Crumbl cookie requests, drop them in the comment box below!