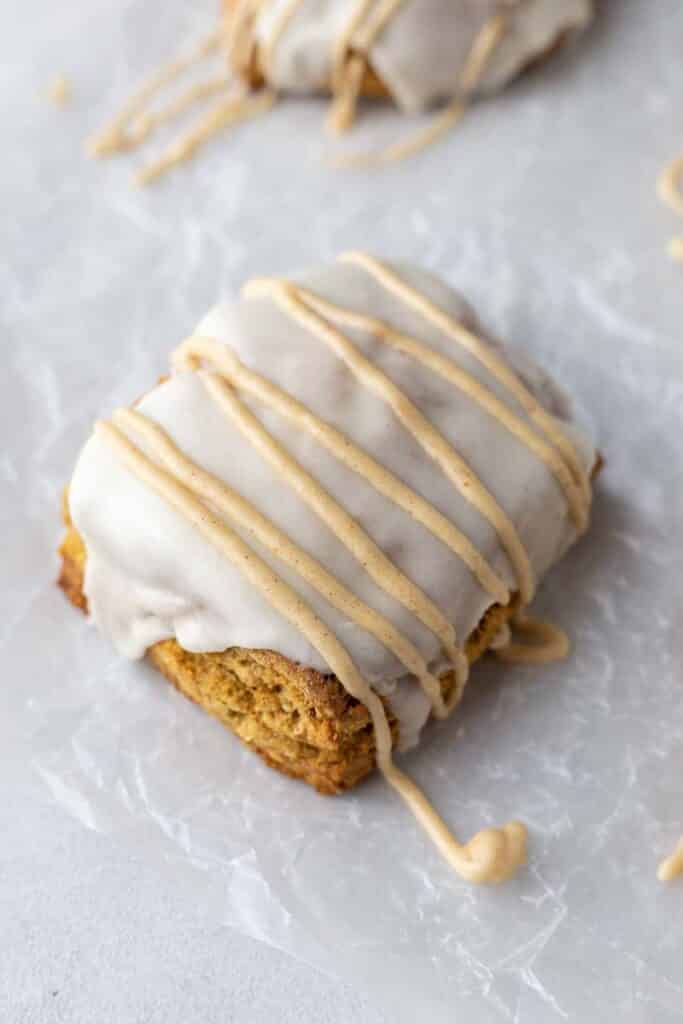 A little while back, I received a message on Instagram from someone asking me to recreate the pumpkin scone recipe from Starbucks so I decided to take on the challenge.
I immediately went to Starbucks to purchase the scone and see what all the hype was about and let me tell you as a pumpkin lover and advocate, it 100% hit the spot.
This is the best Starbucks pumpkin scone recipe ever!
Each scone was extremely soft, perfectly spiced, and not too sweet. The crunchy icing on top is what helped make it a little sweeter, just enough to pair it with a coffee and have that icing sweeten the whole experience.
The other thing I noticed about the Starbucks pumpkin is its shape. Unlike your regular homemade scones, it wasn't shaped like a triangle but instead, it looked like a rectangle. To me, that makes it a lot fancier, but don't ask me why!
Why you need to make this recipe!
It tastes just like the Starbucks pumpkin scone and maybe even better.
This scone recipe is extremely easy to make and stores well.
It's a lot more moist than the real thing!
By making your favorite pumpkin scones you can enjoy them at home and save up on all the money you spend at your favorite coffee shop.
These are a super fun recipe to make during the fall weekends as a self care activity!
Ingredients for this glazed pumpkin scone
Here are the ingredients you will need to make this pumpkin scone recipe. Make sure to scroll down to the recipe card for the full detailed ingredient measurements.
Flour- This recipe uses all purpose flour.
Brown sugar– The scones are sweetened with brown sugar.
Cinnamon, cloves, ginger, nutmeg– These are all the fall spices you'll need for this recipe.
Baking powder & baking soda– Both the baking soda and the baking powder will act like a leavneing agent
Salt– Always add a little salt to your baked goods.
Butter– you can use salted or unsalted butter for this recipe.
Pumpkin puree– Make sure to use pumpkin puree not pumpkin pie filling for these pumpkin scones.
Milk– Use cold milk for this recipe.
Egg– The one cold egg will be the minding agent for this recipe.
Vanilla extract– The vanilla extract will add some depth of flavor to the cookies.
Powdered sugar- Make sure to use pure powdered sugar for the glaze. The powdered sugar that has corn starch in its ingredients will have a bad aftertaste. I get mine at Trader Joes, it has tapioca starch instead and doesn't have an after taste at all.
Heavy cream- The heavy cream will be mixed into the powdered sugar to make the frosting.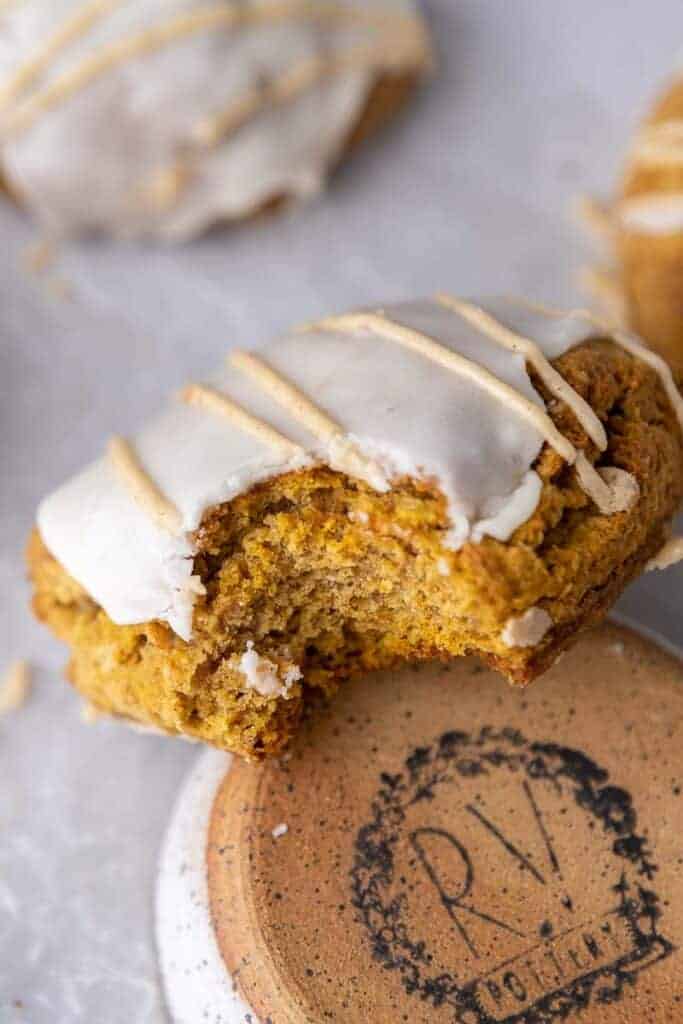 How to make Starbucks pumpkin scones?
This is how you can make pumpkin scones at home. Make sure to scroll down to the recipe card for the full detailed instructions!
Mix the wet ingredients together.
Combine the dry ingredients in a different bowl.
Work the butter into the dry ingredients.
Combine the wet ingredients with the dry mixture and stir.
Fold the pumpkin scone dough on itself a few times on a floured surface.
Cut the scone dough, place on a baking sheet, and bake.
Make the glaze
Mix the powdered sugar and heavy cream together.
Transfer a little of the glaze to a separate bowl and mix it the pumpkin and spices.
Top each scone with a little white glaze and let it set for 5 minutes.
Drizzle the scones with the spiced glaze and let everything set for another 15-20 minutes then enjoy!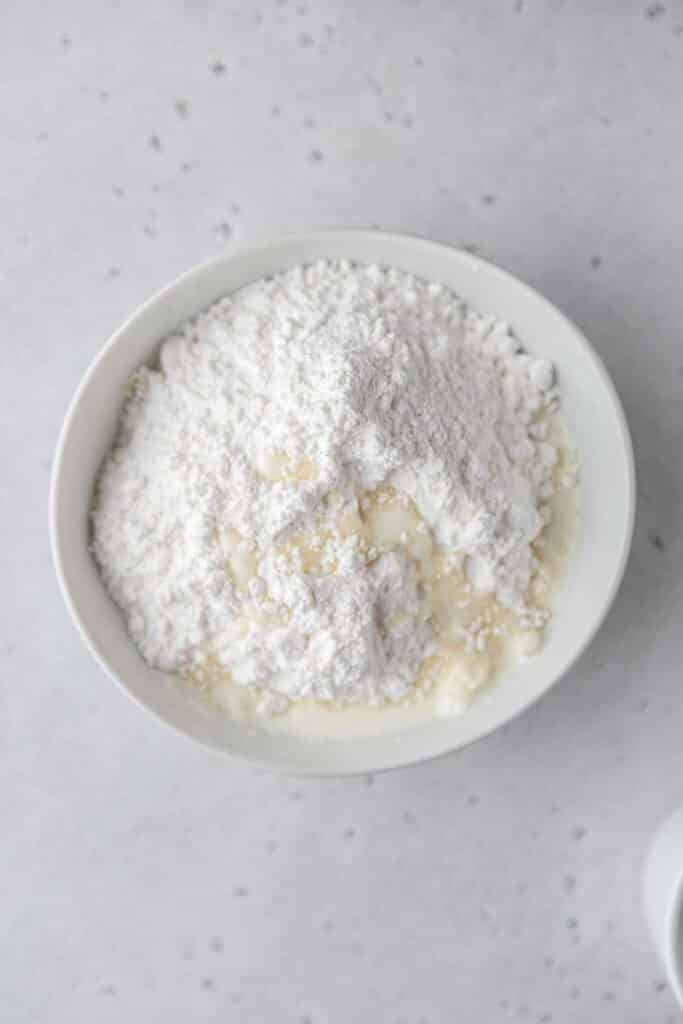 Frequently asked questions – FAQ
How to store these Starbucks pumpkin scones?
You can store these pumpkin scones in an airtight container at room temperature for up to 2 days.
You can also refrigerate them in an airtight container for up to 5 days.
Can I freeze baked pumpkin scones?
Absolutely!
Once the icing has set you can wrap each scone in plastic wrap then foil and freeze for up to 2 months. You can either let them thaw in the fridge overnight or at room temp for a few hours before enjoying them or microwave them for a few seconds. Be careful the icing might melt and get really hot!
Can I freeze raw scone dough?
You sure can! Make this scone recipe as per the instructions in the recipe card, slice them, freeze them on a parchement lined baking sheet, then once fully frozen, place those scones in an airtight container and freeze for up to 1 month.
When you're ready for your fresh Starbucks pumpkin scones, you can pull them out of the freezer and bake them in the 400F. Keep in mind that you'll need to bake them for a few minutes extra since they'll be fully frozen!
Frost and enjoy.
Starbucks pumpkin scone recipe
If you made these Starbucks pumpkin scones and enjoyed them, don't forget to leave a 5-star review by clicking on the 5 stars under the title and description. It would help me a ton
Starbucks pumpkin scone copycat recipe
These Starbucks pumpkin scones are the best copycat recipe out there. Made with a thick and soft pumpkin scone base then topped with a sweet glaze for the ultimate finish!
Ingredients
Pumpkin scones
2 & ¼

cup

AP flour

⅓

cup

brown sugar

packed

2

tablespoon

granulated sugar

1

teaspoon

cinnamon

¼

teaspoon

cloves

¼

teaspoon

ginger

¼

teaspoon

nutmeg

1

teaspoon

baking soda

½

teaspoon

baking powder

¼

teaspoon

salt

½

cup

butter

cold, cubed

½

cup

pumpkin puree

cold

¼

cup

milk

cold

1

egg

cold

1

teaspoon

vanilla extract
Instructions
Start by preheating the oven to 400F then line a baking sheet with parchment paper or a silicone mat and set aside.

In a medium bowl, mix the pumpkin puree, milk, egg, and vanilla extract then set aside. Plac back in the fridge preferably to keep cold.

In a separate bowl, combine the flour, brown sugar, granulated sugar, ground cinnamon, ground cloves, ground ginger, ground nutmeg, baking soda, baking powder and salt. Stir everything together to combined then add in the cold cubed butter.

Using a pastry cutter or your hands, work the butter into the dry ingredients. It should resemble coarse crumbs.

Make a well in the center of the dry ingredients and pour in the wet pumpkin mixture. Stir using a rubber spatula until a soft dough appears. Don't overmix the dough, you will still be able to see some flour in there.

On a lightly floured surface, pour the soft pumpkin scone dough, then gently pick up half of the dough from one side and fold it over the other half. Continue doing this folding process 2-3 more times or until the flour has mostly disappeared, the easiest to do this is with a pastry scraper. Make sure to try and shape your dough into a rectangle as your fold.

Once the flour mixture is gone, shape the scone dough into an 8×5 inch slab that's about 1 inch in thickness. Slice 6 squares, transfer to the prepared baking sheet and bake for 17-18 minutes. Let the scones cool down on the baking sheet for 10 minutes before transferring them to a cooling rack.
Make the glaze
While the scones are cooling down, make the glaze by combining the powdered sugar and 2 tablespoon heavy cream together in a medium bowl (starting with the powdered sugar and then the heavy cream). Whisk the mixture until smooth. Add ½ tablespoon of heavy cream as needed to thin out your glaze enough to be able to spread it on the scones.

Take 1 tablespoon of the glaze and place it in a smaller bowl. Add in the pumpkin puree, spices, and 1 tablespoon of extra powdered sugar and stir again. Place this glaze in a ziplock bag to decorate the scones later.

When the scones are cool enough, spread about 1.5-2 tablespoons of the white glaze on each scone, return the scones to the cooling rack and let the glaze set for 5-10 minutes.

Cut the tip of the ziplock bag with the spiced glaze, and decorate the scones. Let the scones set for another 15-20 minutes and enjoy!
Notes
How to store these Starbucks pumpkin scones?
You can store these pumpkin scones in an airtight container at room temperature for up to 2 days.
You can also refrigerate them in an airtight container for up to 5 days.
Nutrition
Calories:
590
Calories
Carbohydrates:
86
g
Protein:
9
g
Fat:
24
g
Saturated Fat:
13
g
Trans Fat:
1
g
Cholesterol:
75
mg
Sodium:
1080
mg
Potassium:
234
mg
Fiber:
3
g
Sugar:
42
g
Vitamin A:
3883
IU
Vitamin C:
1
mg
Calcium:
158
mg
Iron:
4
mg
Thank you for making it all the way down here 🙂
If you enjoyed this recipe don't forget to let us know in the comments below! In the meantime, don't forget to follow me on Instagram!

Shop this recipe
This post may contain affiliate posts, meaning that at no cost to you I will get a small percentage of every purchase you make!
If you enjoyed this Starbucks pumpkin scones copycat recipe make sure to pin it for later!