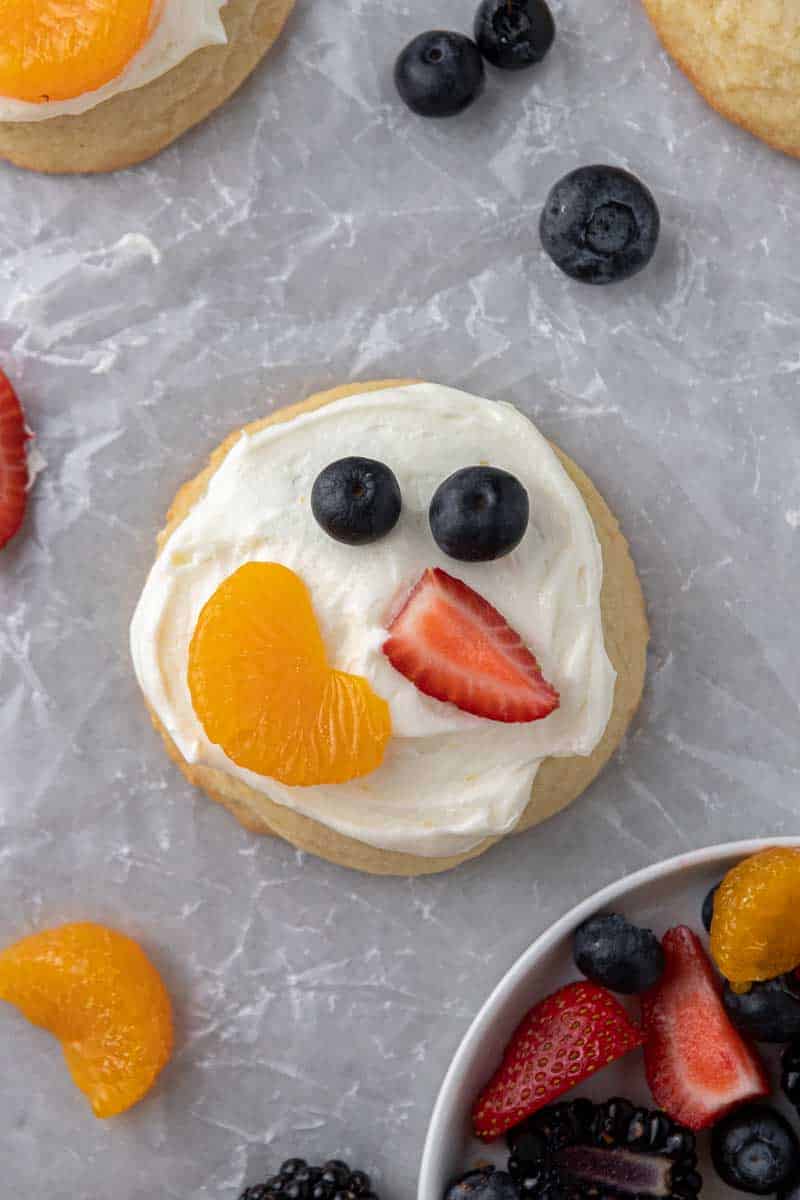 Can you believe I almost didn't get the CRUMBL fruit pizza cookie when they had it out? In my mind, it seemed so simple and plain so I wasn't planning on grabbing it on my cookie run.
Until a fellow follower said that it was the best cookie she had ever tried. So obviously, I was convinced, I added it to my list and grabbed it a few weeks ago. I was pleasantly surprised!
This is the best fruit pizza cookie recipe ever!
The Crumbl fruit pizza cookie was thick, yet soft and chewy. It was also topped with a slightly lemony cream cheese frosting and then decorated with some fresh fruits on top. The only thing I would change would be the amount of fruit that I would want on top.
This is what makes this recipe so perfect, you can literally decorate it as you please. Want more fruits, add more. Want fewer fruits, add fewer fruits. You're your own master, my friend 🙂
This mini version of the very popular and very trendy fruit pizza is also perfect for parties and events. People can just grab and no as opposed to the need to slice and serve when it comes to larger fruit pizzas.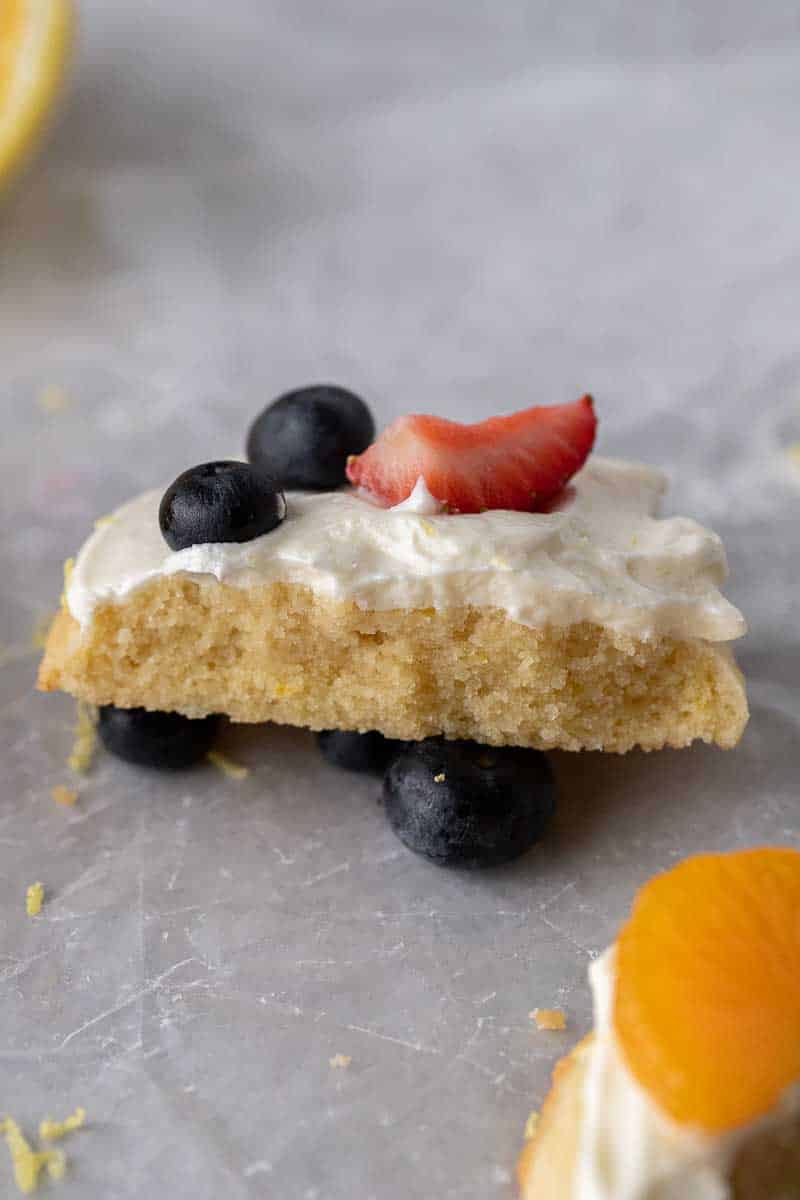 Why you need to make this recipe!
They taste just like the CRUMBL cookies and maybe even better!
It is fresh and perfect for summer cookouts and BBQs.
This cookie recipe is also great for memorial day, labor day, and even 4th of July.
It is soft and chewy then topped with a cream cheese lemon frosting and fresh fruits.
This recipe is pretty much a fruit pizza but in a single serve cookie.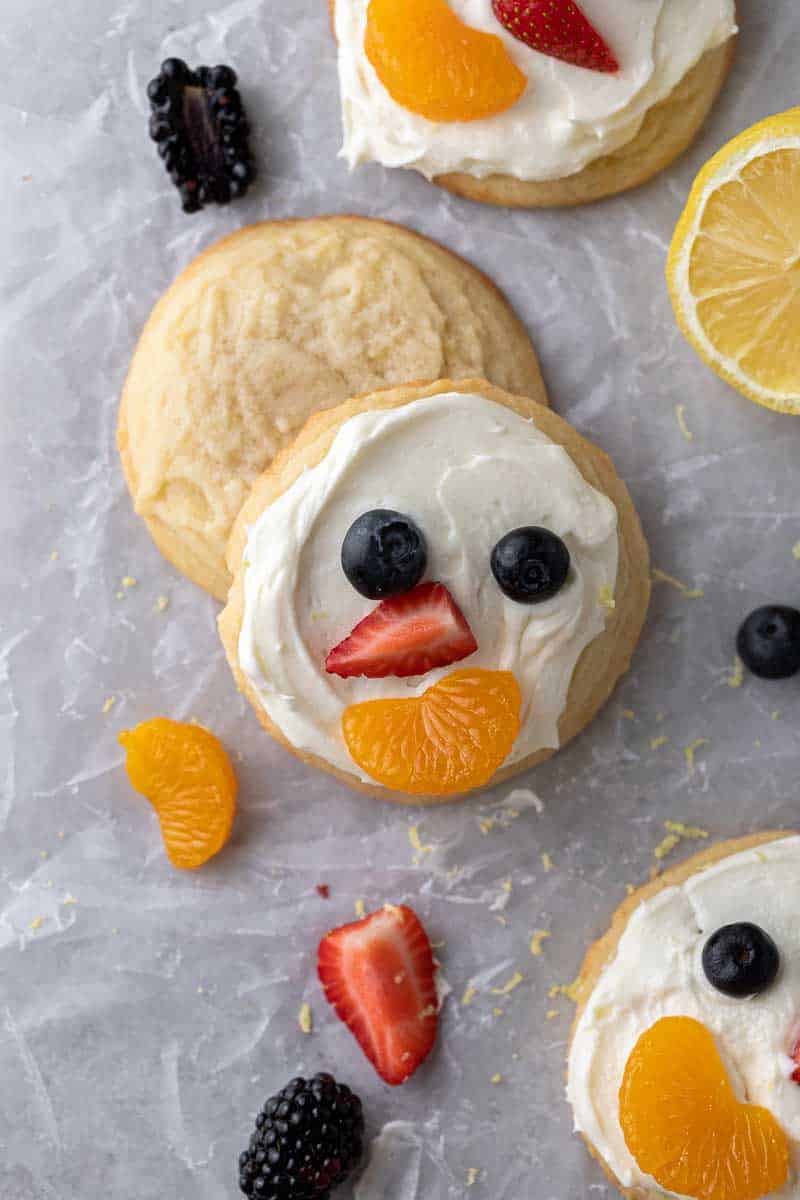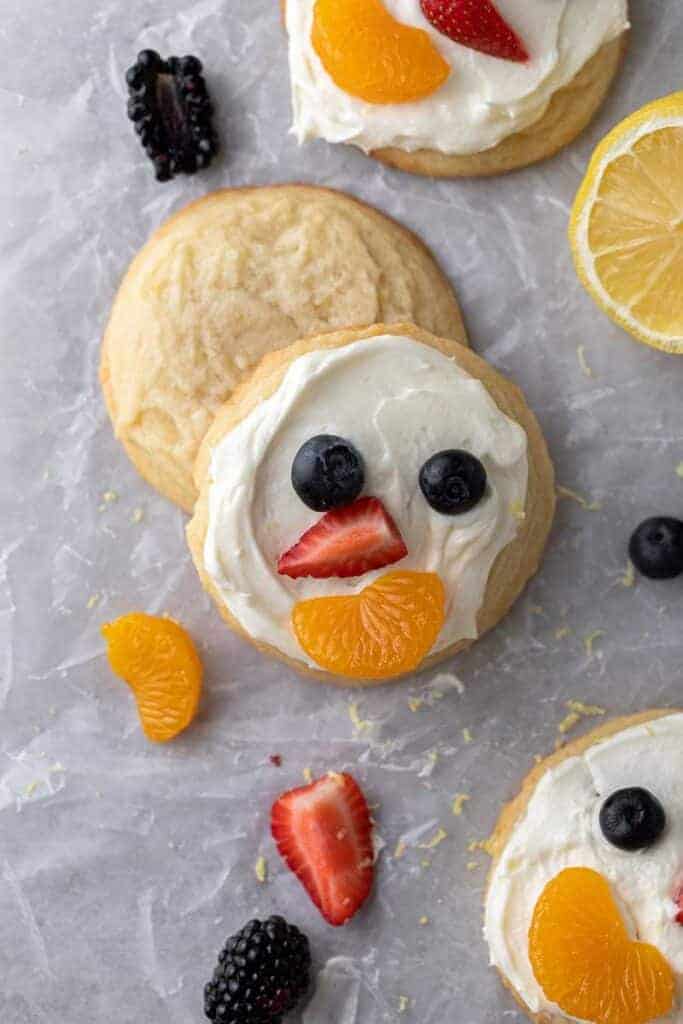 What's a fruit pizza cookie?
As you might've guessed, fruit pizzas are a play on your usual savory pizzas but made sweet.
These fruit pizzas are often made using a sugar cookie base, then topped with cream cheese or whipped cream frosting, and finally decorated with fresh fruits.
It's the perfect summer cookie or summer dessert recipe in my eyes. It combined the comfort of a cookie with the freshness of fruits!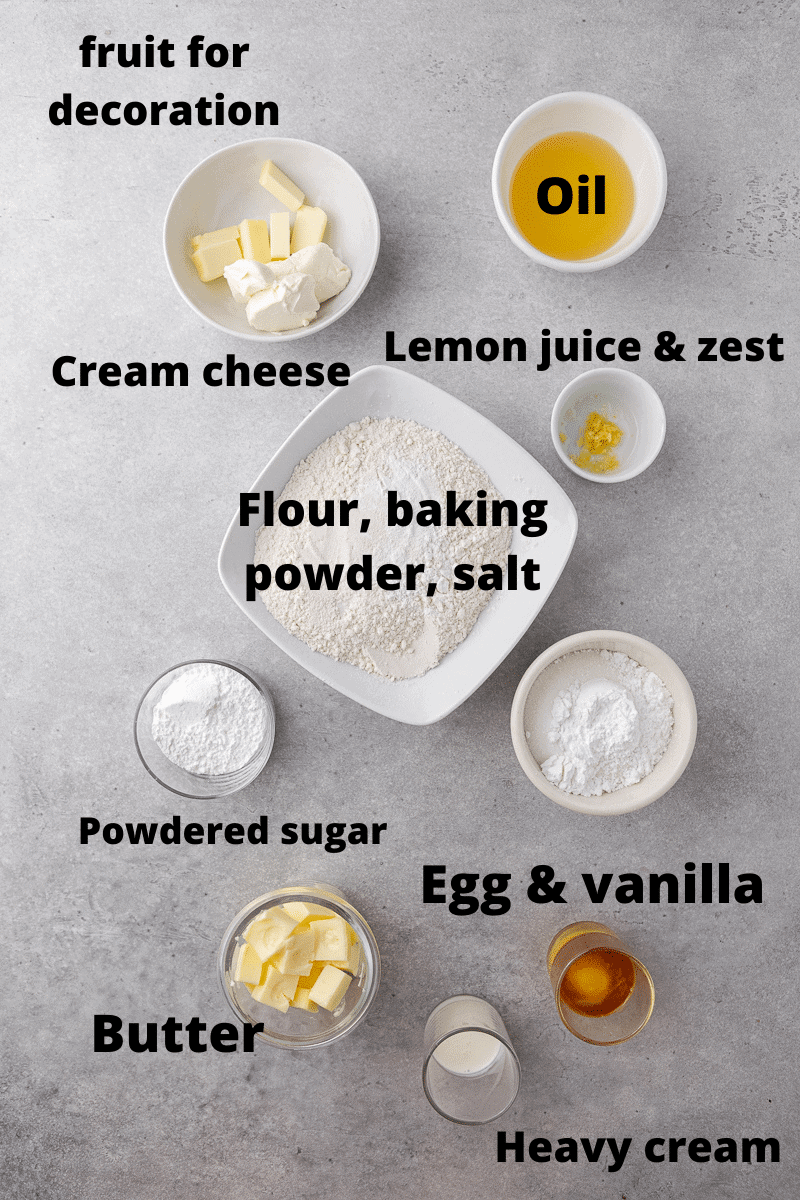 Ingredients for this CRUMBL Fruit pizza cookie copycat cookie recipe
Here are the ingredients you will need to make these fresh summer cookies. Make sure to scroll down to the recipe card for the full detailed ingredient measurements.
Butter & oil- The butter and oil combination is used to keep the cookies extremely moist. You will also need some softened butter to make the lime frosting.
Granulated sugar & powdered sugar– This cookie uses both granulated sugar as well as powdered sugar to keep the final cookies as soft as can be! You will also need some more powdered sugar to make the lime frosting.
Egg– The egg is the binding agent for these cookies. Make sure to use room temperature eggs.
Heavy cream– The heavy cream is used in both the cookie dough as well as to make the cream cheese frosting.
Vanilla extract- This will add a subtle vanilla flavor in both the cookies as well as the homemade cream cheese frosting.
All purpose flour– To get a recipe as close to the one I am sharing here, try using a kitchen scale and weigh your flour.
Salt – Always use a little salt to balance out the sweetness of the cookies.
Baking powder– The baking powder will add some leavening to the cookies.
Cream cheese– The cream cheese will need to be softened to be able to recreate the CRUMBL cream cheese frosting that is used for this recipe.
Powdered sugar- The powdered sugar is used to give a little sweetness to the cream cheese frosting.
Lemon juice and lemon zest– We will add a little lemon juice and lemon zest to both the cookie and the frosting to make this recip even more fruity.
Fruit for decoration– The original recipe has blueberries, mandarin oranges, and raspberries. But you can literally top your cookies with anything you please.
How to make CRUMBL fruit pizza cookie recipe
This is how you can make your own small fruit pizza cookies at home. Make sure to scroll down to the recipe card for the full detailed instructions!
Cream the butter, oil, and both sugars until light and fluffy.
Add in the egg,lemon juice, and lemon zest, and vanilla extract and mix until combined.
Mix in the flour, salt, cream of tartar, and baking powder and mix just until combined.
Scoop out 9 equally sized cookie dough balls, roll them between the palm of your hands and place them on the prepared baking sheet.
Spray the bottom of a glass or measuring cup with cooking spray, dip it into sugar, then flatten a cookie dough ball with it. Repeat this process until all the cookies are smashed.
Bake the cookies in the preheated oven, let them cool completely before frosting them!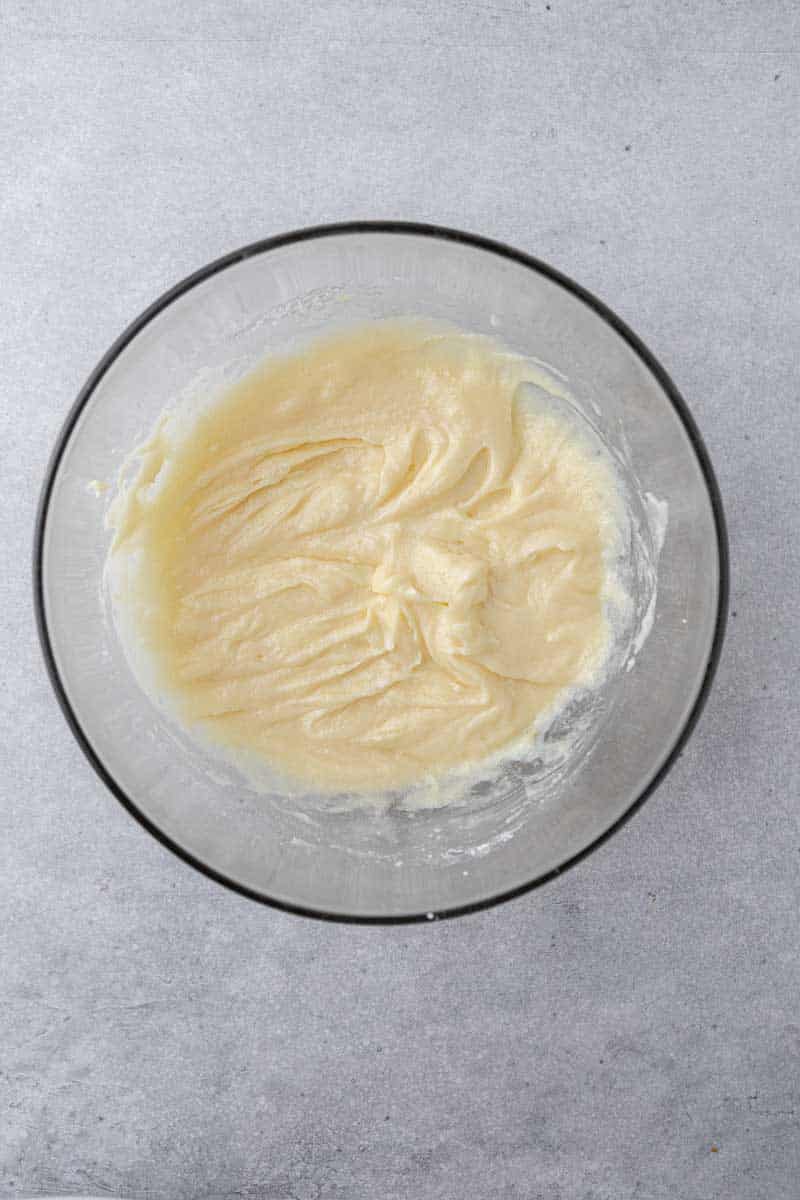 Make the cream cheese frosting
Cream the cream cheese, butter, vanilla extract, lemon zest, lemon juice, heavy cream, and powdered sugar together until smooth and creamy.
Top you cooled down sugar cookies with the cream cheese frosting and spread all around then decorate with the fresh fruit and enjoy.
Frequently asked questions – FAQ
HOW TO STORE CRUMBL fruit pizza cookies?
You can store these CRUMBL fruit pizza cookies in the fridge in an airtight container for up to 4 days.
Since they are supposed to be served chilled, no need to worry about pulling them out to get back to room temp before serving. Just grab out right out of the fridge and enjoy!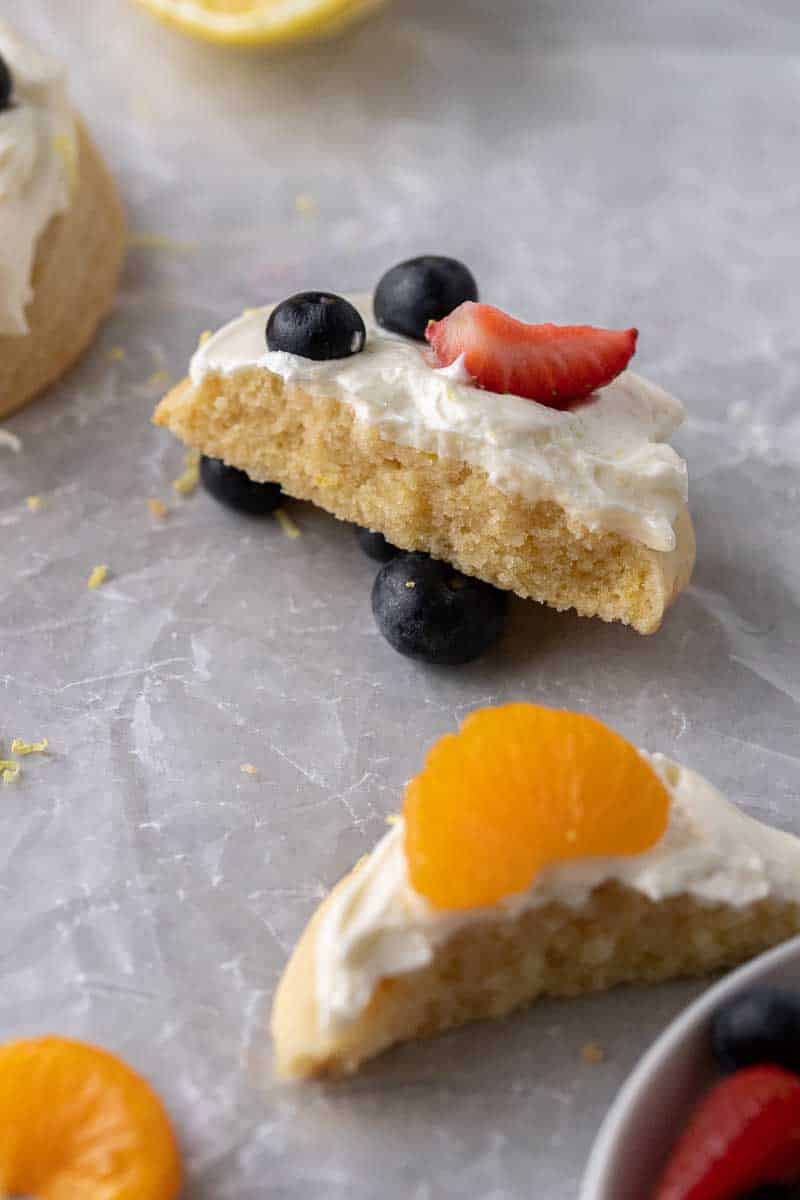 Can I use different fruit to top my cookies with?
Absolutely, yes! The beauty of pizza cookies is the fact that you can decorate them as you please. Here are a few fruit topping ideas that you can use:
Raspberries
Bananas
Mangoes
Pineapple
Candied ginger
Kiwis
If I wasn't making this copycat crumbl fruit pizza cookie recipe I would suggest using different colored fruits to make the cookie more interesting looking and bursting with flavor.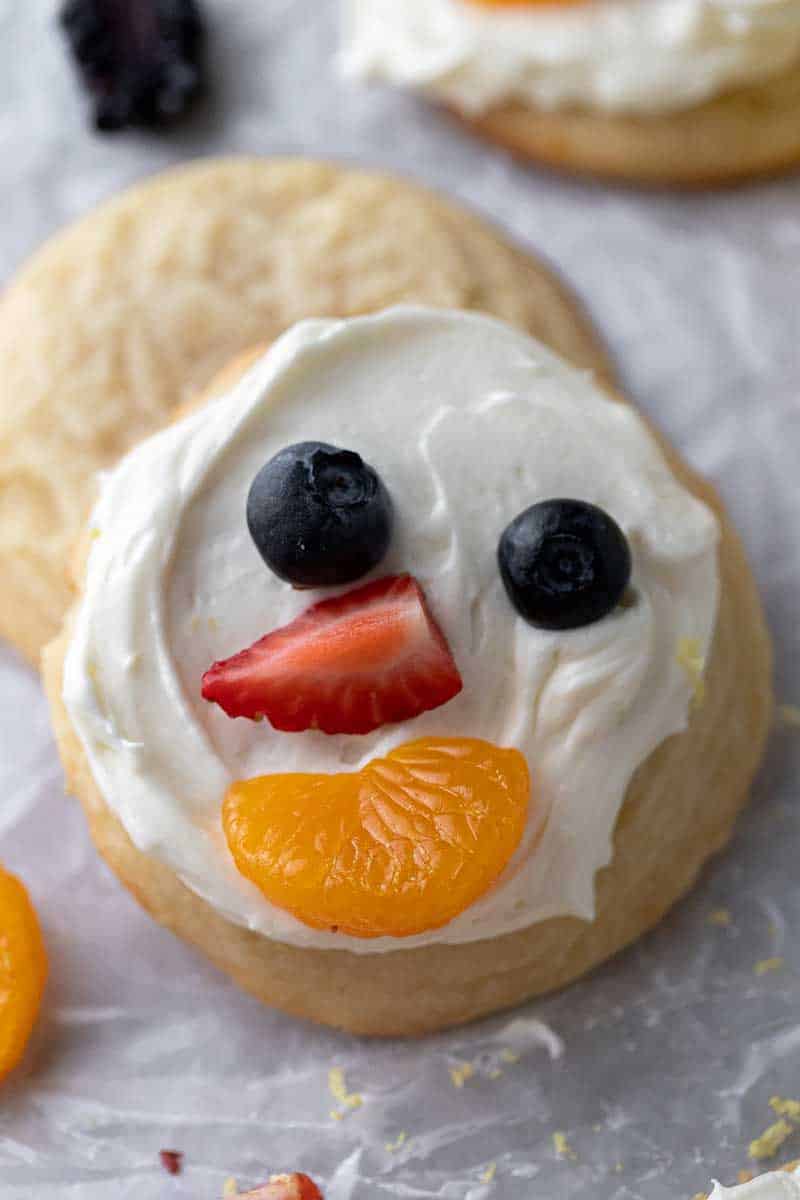 Chilled CRUMBL Fruit izza Cookies
If you made these CRUMBL fruit pizza cookies and enjoyed them, don't forget to leave a 5-star review by clicking on the 5 stars under the title and description. It would help me a ton
Chilled CRUMBL Fruit Pizza Cookies
These CRUMBL chilled fruit pizza cookies are so worth the hype. Made with a thick sugar cookie then topped with a lemon cream cheese frosting and decorated with fruits on top.
Ingredients
1

stick

butter

softened

¼

cup

oil

any flavorless oil, vegetable or canola oil

½

cup

granulated sugar

100g

2

tablespoon

powdered sugar

1

egg

at room temperature

1

tablespoon

heavy cream

½

teaspoon

vanilla extract

2

teaspoon

lemon zest

2 & ⅓

cup

flour

228g

¼

teaspoon

salt

1

teaspoon

baking powder
Cream cheese frosting
¼

cup

butter

6

oz

cream cheese

2

tablespoon

heavy cream

Cold

1

teaspoon

lemon juice

1

teaspoon

lemon zest

¾

cup

powdered sugar

mandarin oranges, raspberry or strawberries, and bueberries
Instructions
Preheat the oven to 350F then line a baking sheet with parchement paper and set aside.

Cream the butter, oil, sugar, and powdered sugar in a large mixing bowl or a stand mixer.

Add the egg, vanilla extract, heavy cream, and lemon zest to the sugar butter mixture and mix until combined.

Add the flour, salt, and baking powder and mix until the flour mixture disappears, using a large cookie scooper, scoop out 8 equally sized cookie dough balls and place them on a parchement lined baking sheet .

Bake for 11-12 minutes then cool on the baking sheet for 10 minutes before transferring them to a wire rack to cool fully before frosting.
Make the cream cheese frosting
Cream the butter, cream cheese, heavy cream, lemon juice, lemon zest, and powdered sugar together until smooth and creamy.

Generously spread the lemon cream cheese frosting on the chilled sugar cookie, top with fresh fruits and serve or chill for a little longer.
Notes
What if my buttercream is too thin?
If the buttercream is a little too thin, place it in the fridge for 10 minutes and then mix again to get it fluffy. This should allow the butter to set and become thick again.
This often happens if the butter was too soft to start with or if your kitchen is really hot.
How to store these cookies?
Store these frosted sugar cookies in the fridge for up to 7 days. 
You can also freeze them in an airtight container for up to 2 months. Just place them in the freezer to thaw overnight before enjoying them!
Nutrition
Calories:
419
Calories
Carbohydrates:
52
g
Protein:
4
g
Fat:
22
g
Saturated Fat:
10
g
Trans Fat:
1
g
Cholesterol:
59
mg
Sodium:
254
mg
Potassium:
53
mg
Fiber:
1
g
Sugar:
26
g
Vitamin A:
500
IU
Vitamin C:
2
mg
Calcium:
40
mg
Iron:
2
mg
Thank you for making it all the way down here 🙂
If you enjoyed this recipe don't forget to let us know in the comments below! In the meantime, don't forget to follow me on Instagram!

Shop this recipe
This post may contain affiliate posts, meaning that at no cost to you I will get a small percentage of every purchase you make!
If you enjoyed this CRUMBL fruit pizza cookie copycat recipe make sure to pin it for later!