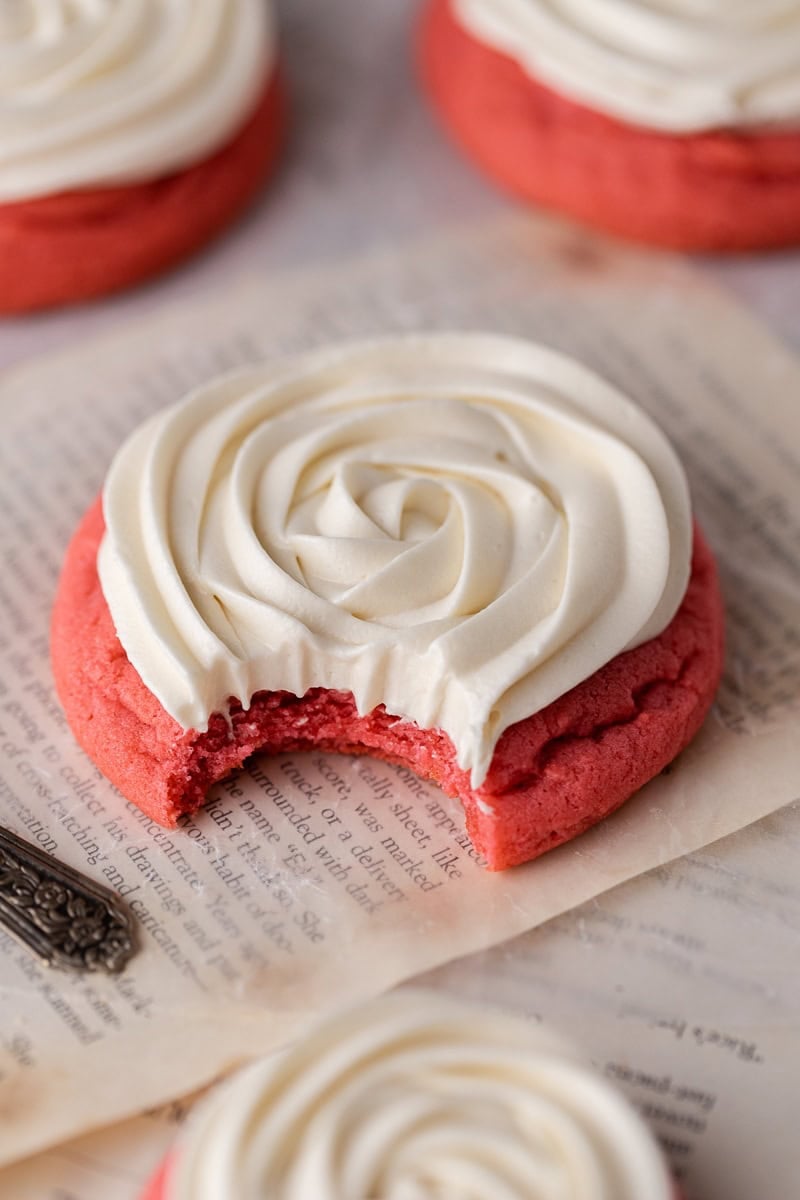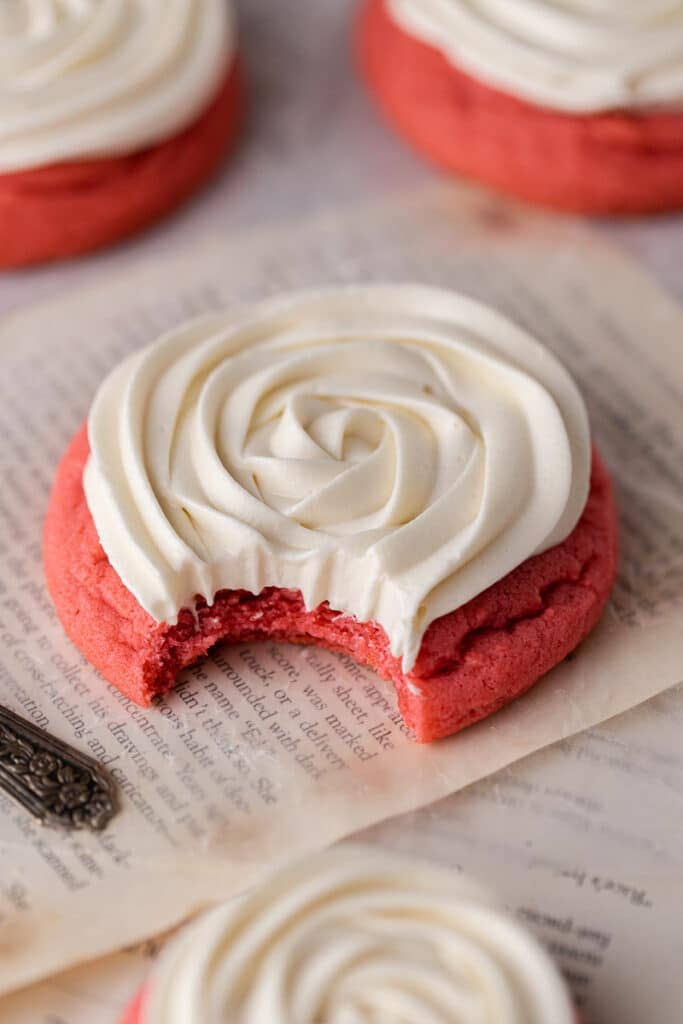 If you know me, you'd know that I have a soft spot for anything pink. So these pink velvet crumbl cookies are right up my alley!
If I remember correctly, the last time they had them was during the week of mother's day but I could definitely see these being made as a Valentine's day cookie recipe as well.
This is the best Pink Velvet cookie recipe ever!
After trying these the first time, my favorite part was the super-soft cookie texture and the almond hint. Now pair that with their creamy cream cheese frosting and we had ourselves a winner.
When making this recipe, I focused a lot on getting that cookie to be super soft and chewy so you can enjoy the flavor and texture of the Crumbl bakery cookies right in the comfort of your own home.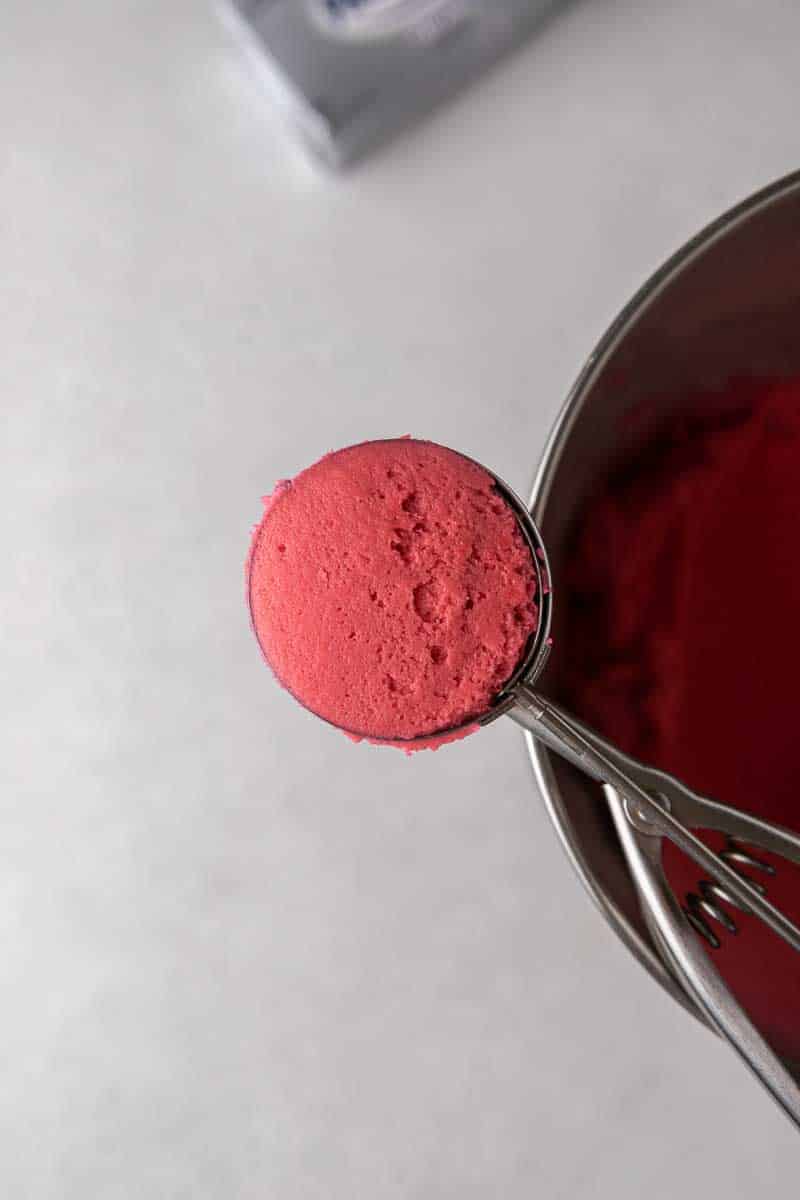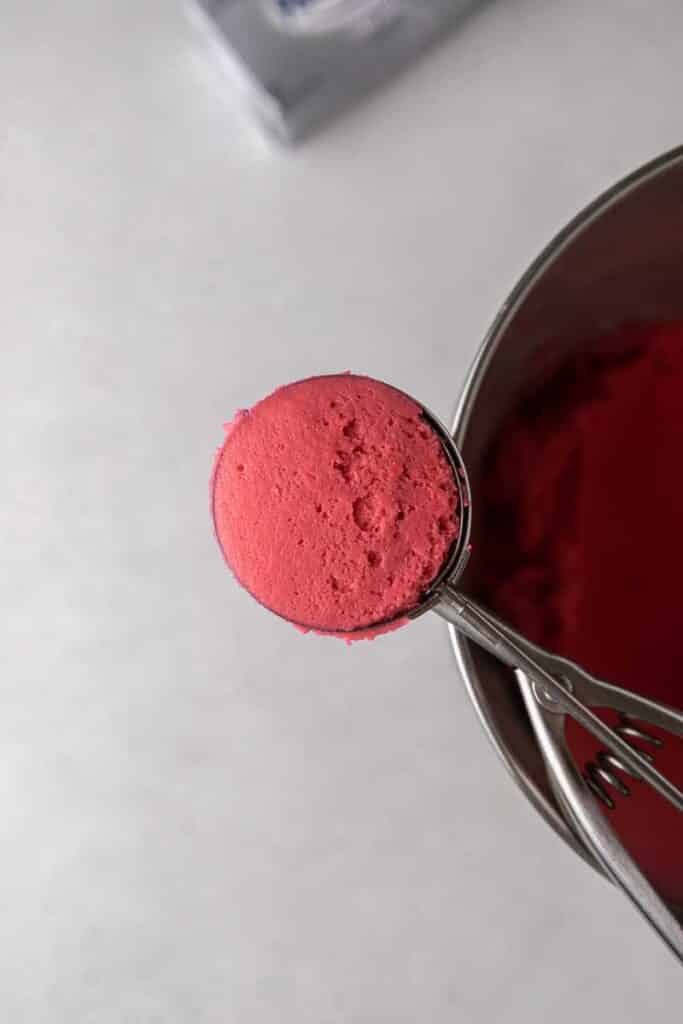 Why you need to make this recipe!
It's pink! If that doesn't convince you, keep reading. If it does you can skip ahead.
Perfect for Valentine's day, mother's day, and even baby showers.
It is soft and chewy
The cookie is made with both almond extract and vanilla extract.
The homemade cream cheese frosting is extremely easy to make.
What is pink velvet and what does it taste like?
First off let me say that pink velvet has nothing to do with red velvet. You know, that bright red treat that's made with red food coloring and cocoa powder.
Pink velvet is a more mellow flavor if you ask me. It is characterized by its vanilla and light almond flavors and of course the color pink.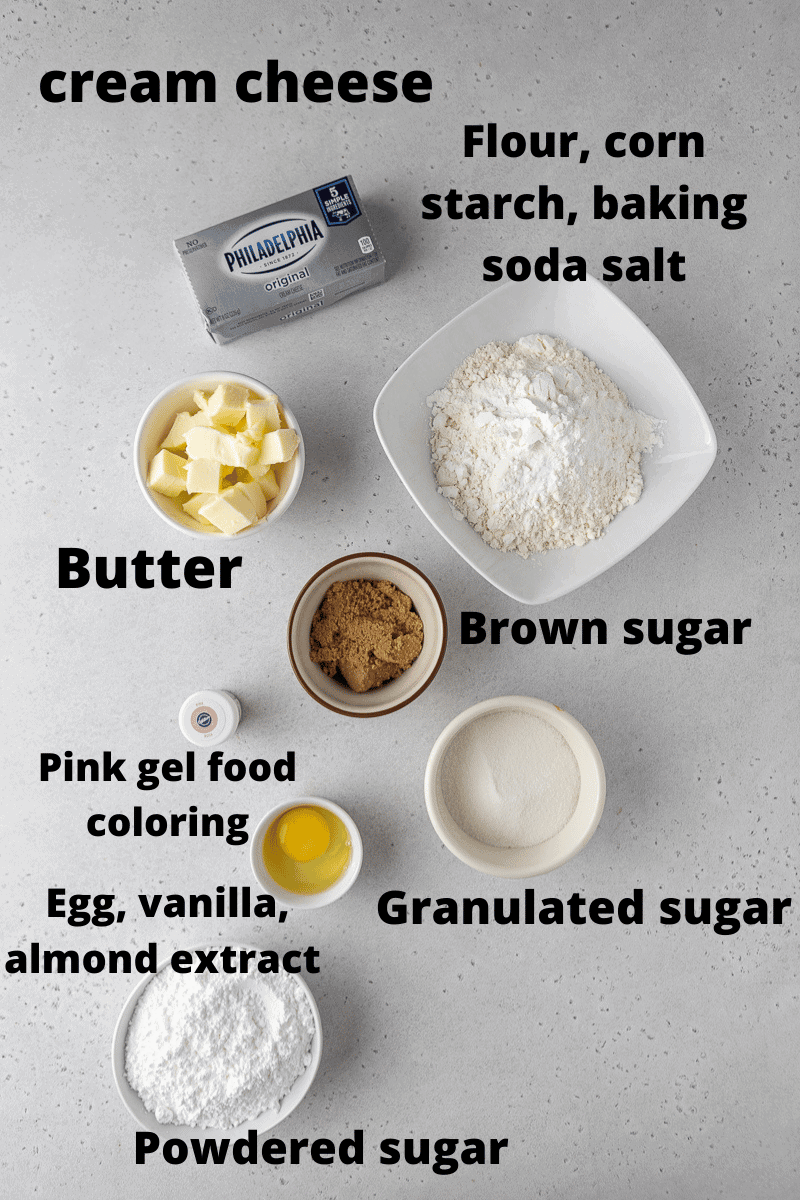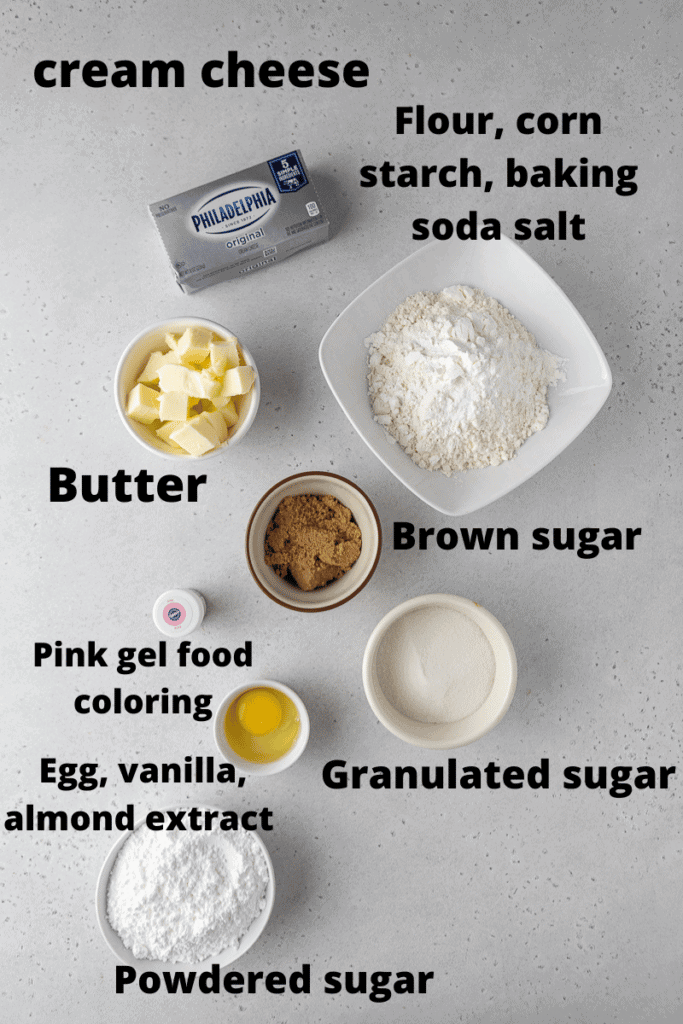 Ingredients for this Crumbl pink velvet cookie recipe
Here are the ingredients you will need to make these pink cookies at home. Make sure to scroll down to the recipe card for the full detailed ingredient measurements.
Butter– You can use either salted or unsalted butter for the cookie dough but make sure to use unsalted butter for the cream cheese frosting.
Brown & granulated sugar– Using both brown sugar and granulated sugar will help create a soft and chewy cookie.
Egg– Make sure to use a large egg at room temperature to help it emmulsify properly with the butter and suga rmixture.
Vanilla extract– The vanilla extract will help give this cookie extra depth of flavor.
Almond extract– A little amond extract will take this pink velvet up a notch. It is optional though!
Flour- All purpose flour works great for this recipe.
Corn starch– Corn starch will keep your this cookie extra tender.
Baking soda– The baking soda is the leavening agent, it will give this cookie extra height and thickness.
Pink gel food coloring– Always use gel food coloring to keep the texture of these cookie stable and not too wet.
Cream cheese– The cream cheese is use to make the frosting for these pink velvet cookies.
Powdered sugar– Powdered sugar or confectioner sugar is what will sweeten the cream cheese frosting.
Salt– Always use a litle salt in you rbaked goods to balance out the sugar of the cookie.
How to make Crumbl pink velvet cookies?
This is how you can make these pink cookies. Make sure to scroll down to the recipe card for the full detailed instructions!
Cream the butter, brown sugar, and grnaulated sugar together.
Add in the egg and vanilla extract and mix again until combined.
Mix in the flour, corn starch, baking soda and salt just until combined.
Scoop out the cookie dough using a large cookie scooper and let it chill for 15 minutes.
Bake the cookies in the preheated oven then let them cool down fully before frosting them.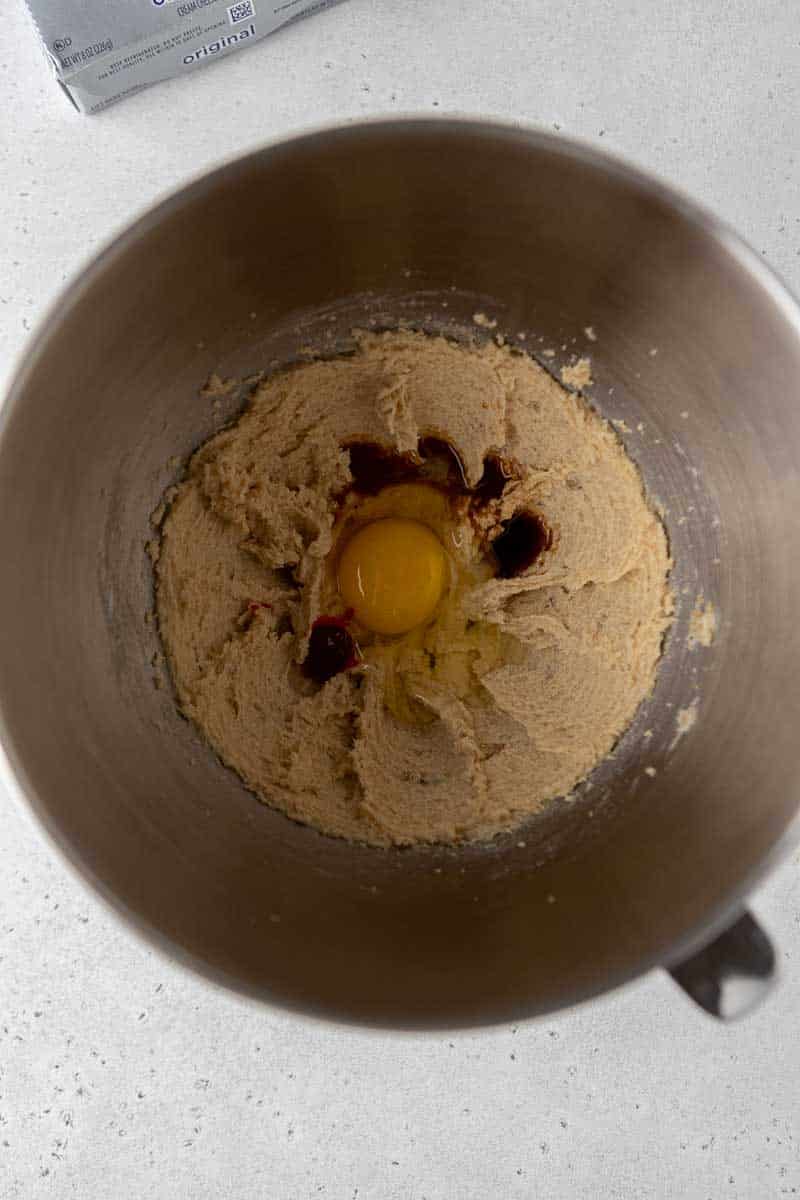 Make the cream cheese frosting
Cream the cream cheese, butter, powdered sugar, and vanilla until smooth and creamy.
Frost the pink velvet sugar cookies then decorate with some pink velvet cookie crumbs and enjoy.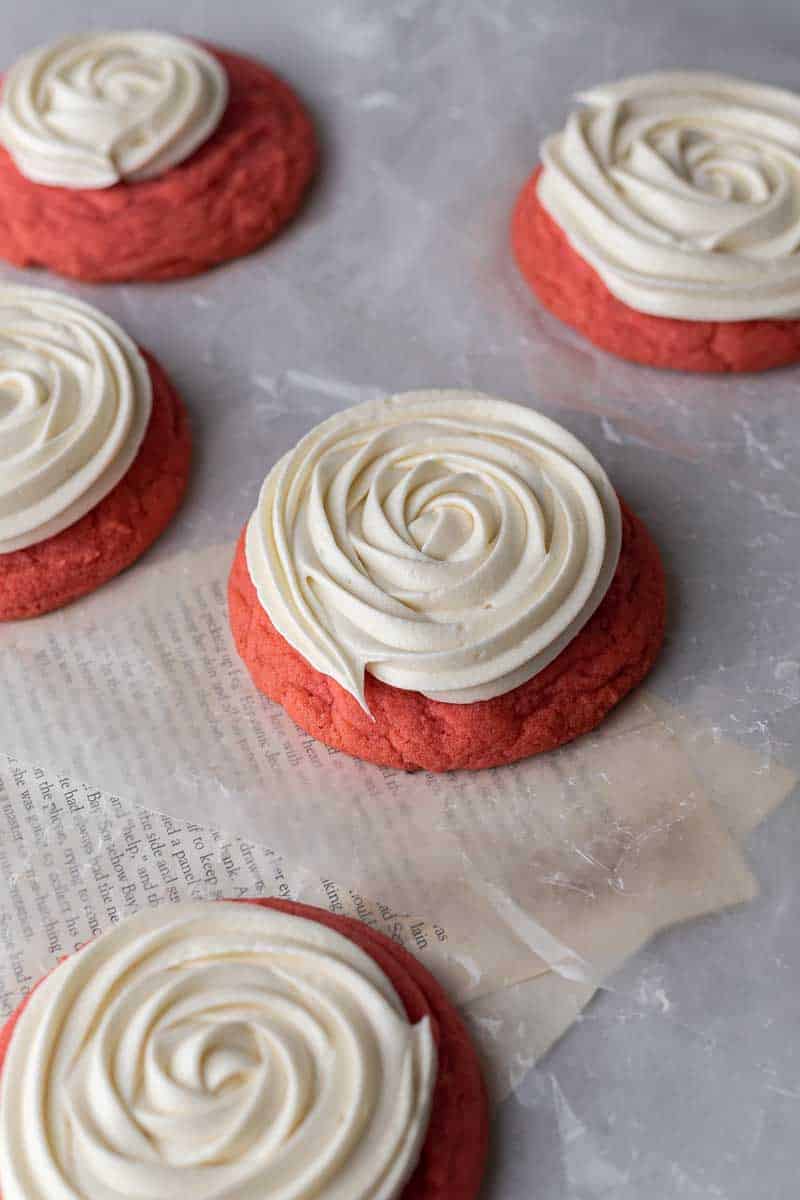 Frequently asked questions – FAQ
What food coloring is the best for these cookies?
I always say that gel food coloring is best when dying your cookie dough or frosting. The gel food coloring is more stable, and less wet so it won't affect the texture of your cookie dough too much.
So if at all possible, stick with the gel food coloring. I use the Wilton brand gel food coloring since it is readily available at grocery stores and even at Walmart!
How to store Crumbl pink velvet cookies?
You have a few options when it comes to storing your pink velvet cookies.
Storing the cookies frosted– If you need to store these cookies after you frosted them already, place them in an airtight container and keep them in the fridge for up to 5 days.
Storing the cookies unfrosted and frosting them as needed- If you are storing these cookies without the frosting, you can place them in an airtight container and keep them at room temperature for up to 5 days. You can store the cream cheese frosting in the fridge and frost them as needed or whenever you're ready to enjoy them.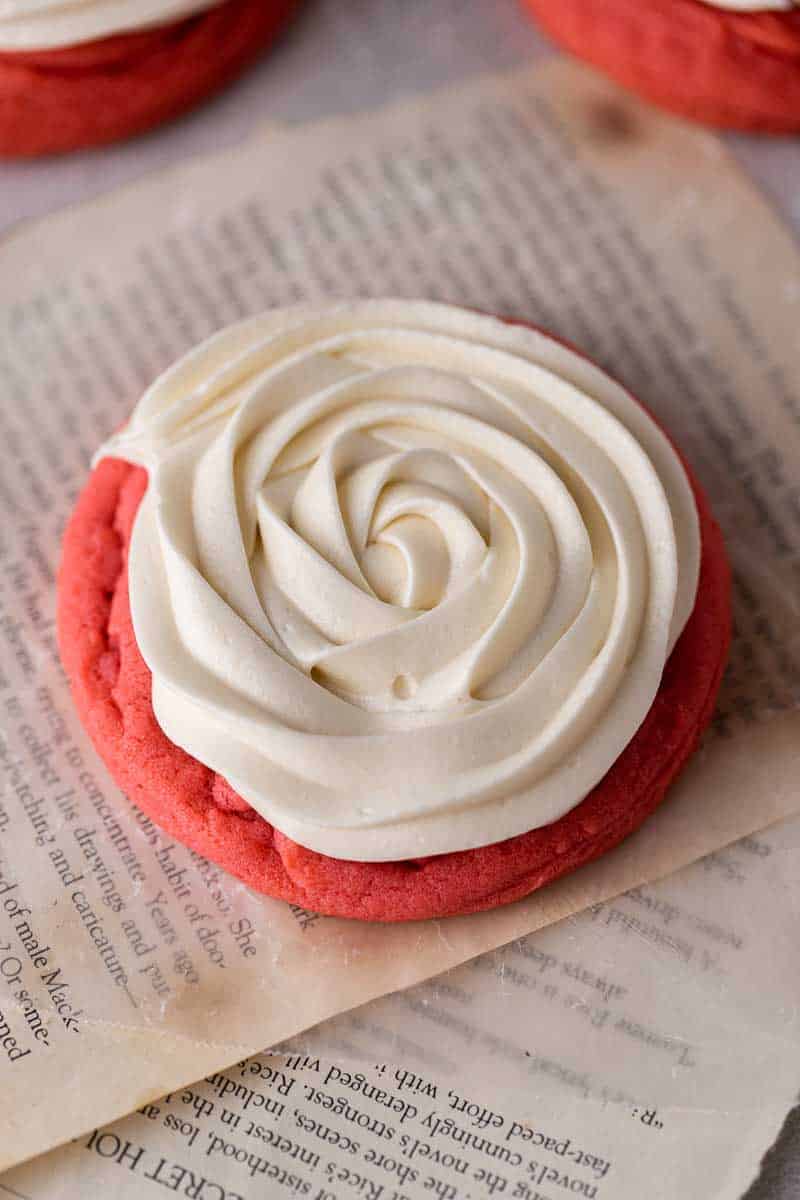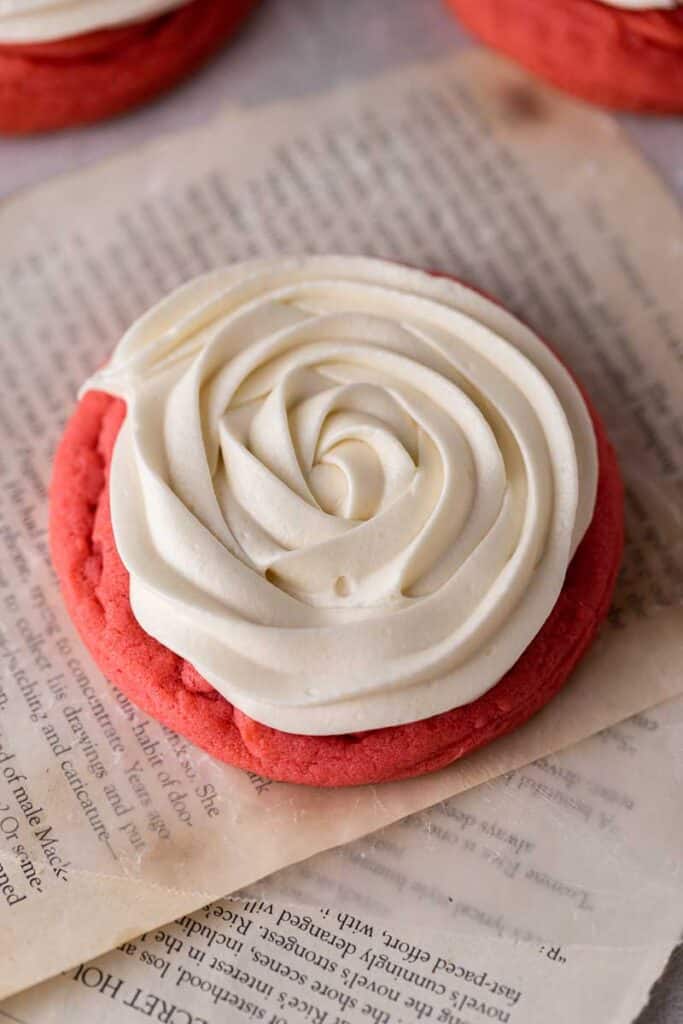 Crumbl pink velvet cookies
If you made these Crumbl pink velvet cookies and enjoyed them, don't forget to leave a 5-star review by clicking on the 5 stars under the title and description. It would help me a ton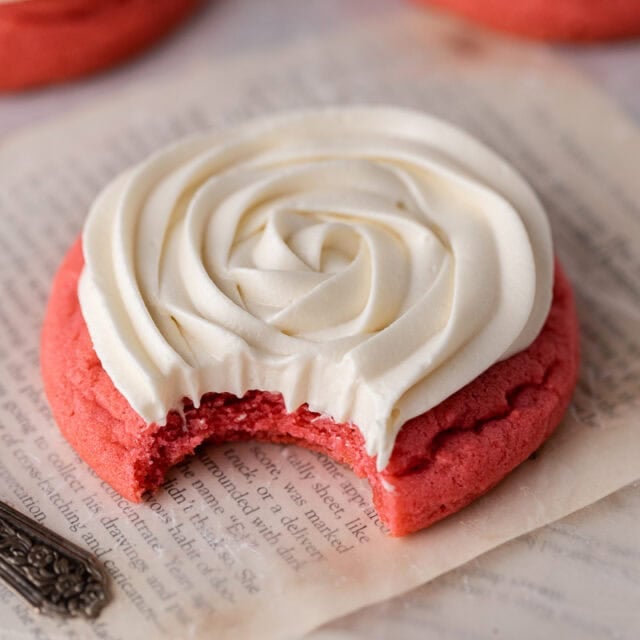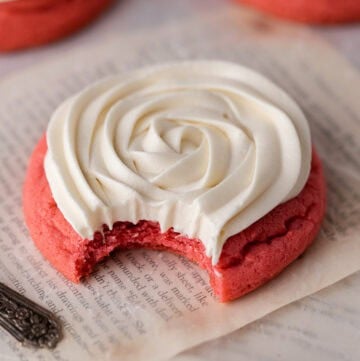 Crumbl Pink Velvet Cookies with cream cheese frosting
These Crumbl pink velvet cookies are thick and chewy with vanilla and almond flavors. Each cookie is then topped with a homemade cream cheese frosting and decorated with
Equipment
large cookie scooper (¼ cup or 4 tbsp)
Instructions
Preheat the oven to 350F and line a baking sheet with parchment paper then set aside.

Cream the butter, granulated sugar, and brown sugar together until light and creamy. Add in the egg, vanilla & almond extract (optional), and the pink gel food coloring and mix until everything is incorporated.

Mix in the flour, corn starch, baking soda, and salt just until the dry mixture disappears. Using a large cookie scooper, scoop out 8 equally sized cookie dough balls, place them on a baking sheet or plastic-wrapped plate and freeze for 15 minutes.

Bake in the preheated oven for 12-13 minutes, swish the cookies around with a larger cookie cutter to keep it perfectly round (shown in the image) then let the cookies cool down fully on the baking sheet. The heat from the cookies as well as the heat from the baking sheet will continue baking them.
Make the cream cheese frosting
Cream the butter, cream cheese, powdered sugar, and vanilla together until smooth and creamy. If the frosting is too thin to pipe, chill it in the fridge or freezer for 10-20 minutes then whip again.

Fill a piping bag or a ziplock bag with the cream cheese frosting and pipe the frosting all around to create a beautiful swirl design (mine were created with the Wilton 1M tip), decorate with crumbled pink velvet cookies (optional), and enjoy.
If you want a cookie that will look exactly like Crumbl's you can crumbl one cookie on top of the frosting to make it look extra cute!
Notes
smaller ones take 8 minutes
Nutrition
Calories:
558
Calories
Carbohydrates:
70
g
Protein:
6
g
Fat:
29
g
Saturated Fat:
16
g
Trans Fat:
1
g
Cholesterol:
89
mg
Sodium:
728
mg
Potassium:
124
mg
Fiber:
1
g
Sugar:
44
g
Vitamin A:
837
IU
Calcium:
84
mg
Iron:
2
mg
Thank you for making it all the way down here 🙂
If you enjoyed this recipe don't forget to let us know in the comments below! In the meantime, don't forget to follow me on Instagram!

Shop this recipe
This post may contain affiliate posts, meaning that at no cost to you I will get a small percentage of every purchase you make!
If you enjoyed these Crumbl pink velvet cookies, make sure to pin this article for later!