Starbucks matcha frappuccino at home is possible and so easy! This matcha green tea frappe is quick and easy to make in the comfort of your own house, avoiding the drive through, and saving a ton of money along the way. At a fraction of the cost, this Starbucks drink tastes amazing and only requires 4 ingredients!
SIGN UP TO OUR MAILING LIST GET A FREE WEEKLY MEAL PLANNER AND RECIPE CARD!
Oh the matcha green tea creme frappuccino! One of my first loves when it comes to Starbucks. As you might've read on previous Starbucks copycat recipes, I am frugal! I've always been. As a teenager, I would purchase maybe two or 3 drinks from Starbucks per year.
Those rare times I would do so happened to be during their occasional happy hour where you would get frappuccinos for half off. My sister and I would go, order the largest matcha frappuccino and share it. Those memories make me so happy, those were the good old days.
But by being frugal, I learned to copycat my favorite Starbucks recipes from a very early age!
This is the best Starbucks copycat matcha frappuccino drink recipe ever!
It is the best because after trying to make it a few times, I was able to replicate the exact texture of your regular Starbucks frappuccino! #winning
The Xanthan gum helps bind the ice and the rest of the ingredients for the perfect smooth frappe of your life!
What is matcha frappuccino ?
If you don't know, now you know. The matcha frappuccino belongs to the long list of frappuccinos that Starbucks has been serving for years now.
It is made with milk, matcha powder, sweetener, and a cream base used specifically to thicken the drink. In this recipe we will not be using the cream base but we will be using something else that will do the exact same job.
What makes this Starbucks frappuccino special?
Oh m gee! My favorite part of the whole article is here! This is why you need to make this Starbucks copycat drink:
Matcha frappuccino ingredients
Here are the ingredients to make your homemade matcha frappuccino:
Do I have to use Xanthan gum in frappuccinos?
I personally have done both and wouldn't make it without the xanthan gum. The xanthan gum is what gives your frappuccino that exact Starbucks texture. It will allow the ice and the rest of the ingredients to emulsify and blend together properly for a smooth finish.
I purchased my xanthan gum from my local grocery store and have had it for a while now.
More matcha recipes you will love!
How to make Starbucks matcha green tea creme frappuccino recipe?
Making this green tea frappe is as simple as can be. Scroll down to the recipe card for the full detailed recipe.
mix the xanthan gum, sugar, and matcha powder with the hot water in the blender cup first.
Add the milk and the ice to the blender.
Blend everything together until smooth and creamy.
Top with whipped cream for the perfect copycat recipe!
How much caffeine is in a matcha frappuccino?
If you've ever wondered "doest matcha frappuccinos have caffeine?" Well yes they do. This all depends on how much matcha you put in the drink itself though.
In this recipe, you will get about 70 milligrams of caffeine per serving since we used one teaspoon of matcha powder.
More Starbucks copycat recipes you will love!
What's the difference between a matcha latte and a matcha frappuccino?
The difference between a matcha latte and a matcha frappe is that the matcha latte ( assuming we are speaking about an iced latter) is prepared and served over ice. While the matcha frappuccino is blended with ice, so that the final result is an icy, yet smooth and refreshing drink.
Tips to make the best Starbucks matcha frappuccino at home!
If you want to make a close copy of your favorite Starbucks drink, here are a few tips to help you out!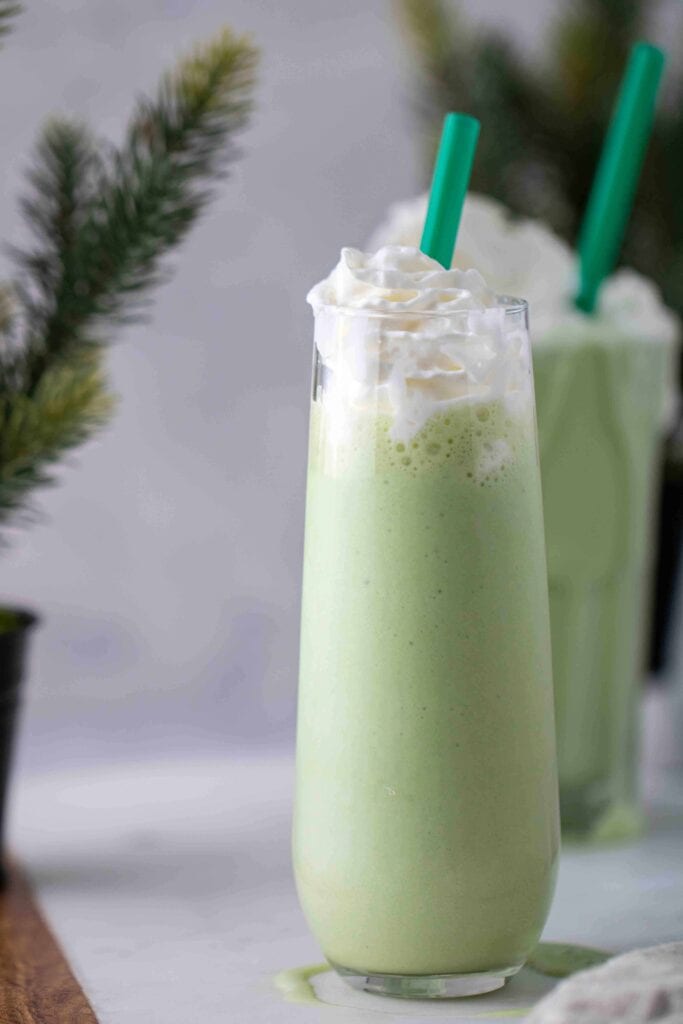 Starbucks Matcha green tea frappuccino recipe
If you tried and enjoyed this Starbucks matcha frappe recipe, make sure to give it a 5 star rating by clicking on the 5 stars under the description.
Quick Starbucks Matcha Green Tea Frappuccino
This quick and easy homemade Starbucks matcha green tea frappuccino only requires 4 ingredients and will be ready in less than 5 minutes.
Ingredients
¼

teaspoon

xanthan gum

1

teaspoon

matcha

2

tablespoon

sugar

You can abb 1 more tablespoon of sugar to make it a little sweeter.

1

tablespoon

hot water

1

cup

whole milk

1

cup

ice

whipped cream

for topping
Instructions
Start by adding the xanthan gum, matcha powder, sugar, and hot water to your blender cup. Gently mix then add in the ice and the milk. Blend until smooth, serve in a tall glass and top with whipper cream for the perfect Starbucks finish.
Nutrition
Calories:
216
Calories
Carbohydrates:
33
g
Protein:
8
g
Fat:
6
g
Saturated Fat:
3
g
Cholesterol:
18
mg
Sodium:
107
mg
Potassium:
234
mg
Fiber:
1
g
Sugar:
33
g
Vitamin A:
487
IU
Calcium:
201
mg
Iron:
1
mg
Thank you so much for making it all the way down!
Did you enjoy these cream cheese brownies? We would love it if you could leave a comment letting us know. In the meantime don't forget to follow us on Instagram.

Shop this recipe
This post may contain affiliate posts, meaning that at no cost to you I will get a small percentage of every purchase you make!
If you enjoyed this copycat Starbucks matcha frappuccino recipe make sure to pin it for later!