Starbucks Iced Green Tea Matcha Latte, easy to make at home and save a few bucks too! This green tea latte is light, refreshing, and the perfect homemade pick me up drink. It is packed with antioxidants and will not only leave you satisfied but feeling amazing too!
SIGN UP TO OUR MAILING LIST GET A FREE WEEKLY MEAL PLANNER AND RECIPE CARD!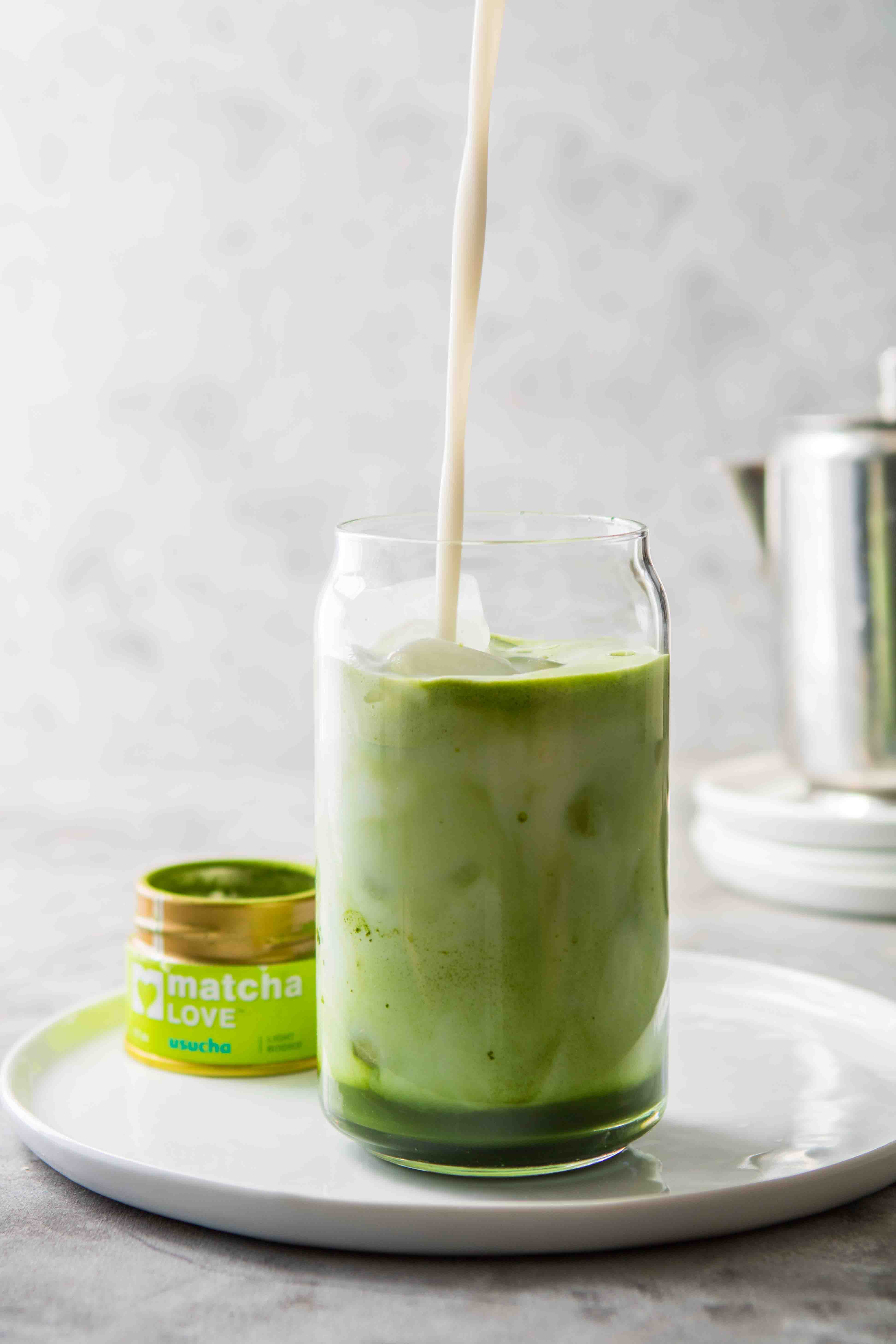 Normal people are made up of 60% water. I'm make up of 60% matcha… Real talk, I drink the stuff everyday. I love the gentle caffeine boost it has and that flavor.. Oh my!
You don't believe that I'm obsessed? Check out my other Easy Keto Summer Matcha Lemonade with Chia Seeds and Virgin Matcha Moscow Mule recipe! They're amazing and will suit any matcha lover!
My sister and I actually always go to Starbucks and get a huge cup of iced matcha latte from there and split it. We always end up spending $4-$7 dollars every time we go there to get it. I know that sometimes you should jsut treat yourself but sometimes I just don't want to pay for something that expensive when I can just make it myself at home.
This is a money saving Starbucks copycat iced matcha green tea latte!
I have actually tried the Dunkin Donut iced matcha latte before but it was a little off. It was a tad bit too sweet and didn't have enough matcha flavor to balance out the sweetness for I decided to stick with Starbucks…
Until I realized that I can make the exact same Starbucks matcha drink in the comfort of my own home and save a few dollars too! This drink recipe, not only saves you money but also saves you time.
it takes me about 1 minute to make this green tea latte from start to finish because I have made it so many times. Ok let's say it'll take you 2 minutes if you've never made it at home before. But that's still a whole lot faster than going to that horrible Starbucks Drive through line.
Every time I drive by it it's longer and longer!! Especially now that people can't go in and sit, no one want to leave their car. I got a better one for you, how about you don't leave your house at all and get the same quality drink (or better) in 1-2 minutes!
What's so special about this iced green tea latte!?
To be honest, everything is extra special about this latte… But here are a few highlights that I think might interest you the most:
This latte tastes just like a Starbucks matcha latte. #winwin
It costs a fraction less than what a Starbucks latte would cost you
You will only need a few ingredients to make it.
It is refreshing, tasty, and packed with all the matcha flavors in the world.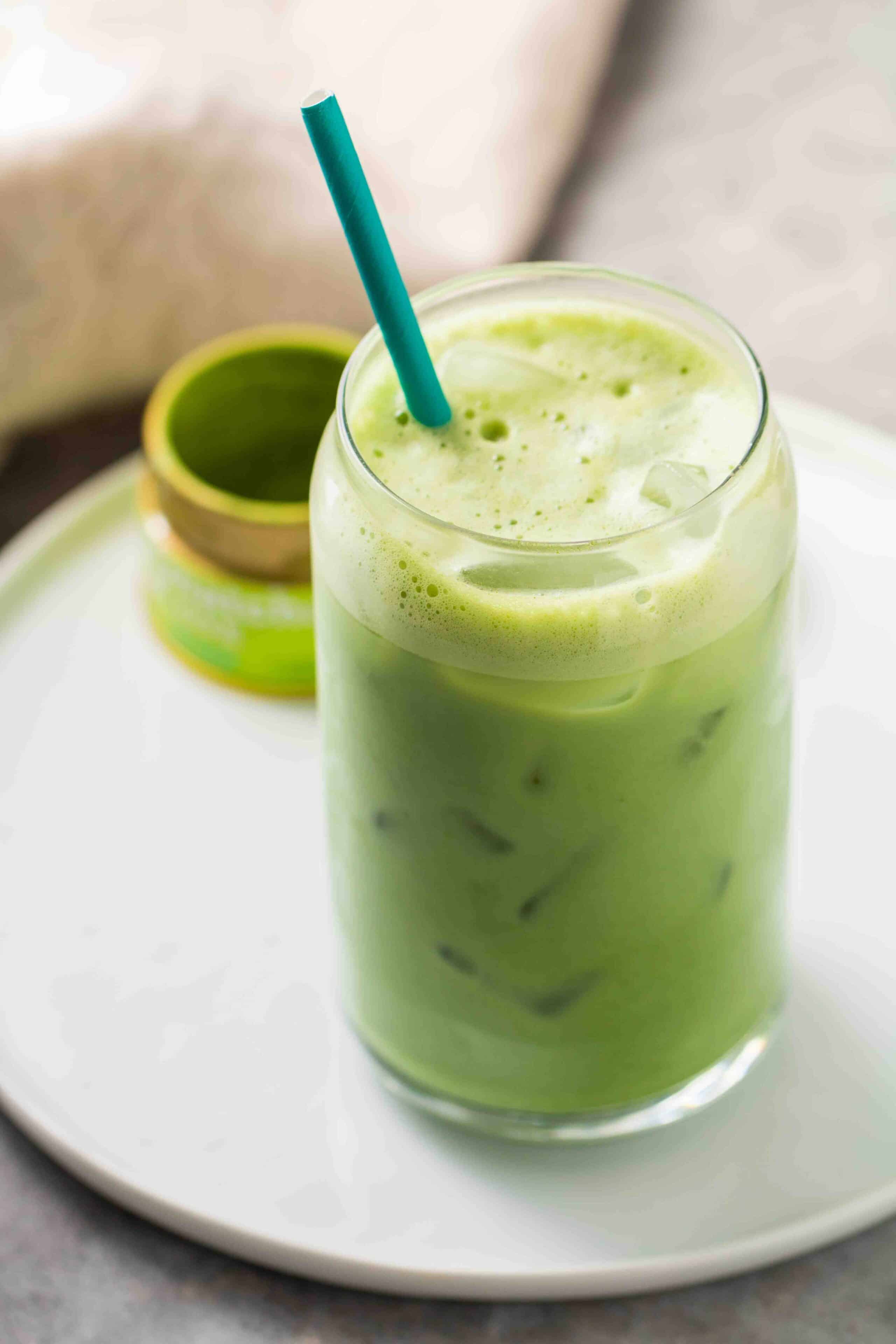 Ingredients to make
To make this Starbucks iced matcha latte, you will need the following ingreidents:
Matcha powder– You want to have the best ceremonial grade matcha powder to make this drink as good as possible. You want to aim for a lighter and brighter colored matcha powder and avoid anything that's a bit too dark or olive green.
Hot water
Honey– I used honey for sweetened but then again you can use any sweetener you like.
Milk– You can use any milk you'd like. I went with dairy milk but I also made this recipe using almond milk, cashew milk, or even hemp and coconut milk. Each one will give you a great dairy free matcha latte drink.
Ice– Can't have an iced latte without ice! So grab your favorite ice to make this extra special.
Substitutions
This matcha drink recipe is extremely versatile. It has a few substitutions that will make your life that much more enjoyable.
Honey- I used honey but you can use Maple syrup or vanilla syrup for a vegan latte option.
Milk– You can use any milk you'd like, like I said above. Anything works!
What matcha to use to make a Starbucks iced matcha latte recipe?
I always go with ceremonial grade matcha when it comes to making matcha drinks because it is strong, pure, naturally sweeter, and has the cleanest flavor. It is meant to be made for tea ceremonies where people want to experience a more traditional matcha drink.
The brand that I use is the matcha love. I have been obsessed with their matcha for the longest time and their customer service is always on point! Make sure to follow them on Instagram for some awesome recipe ideas.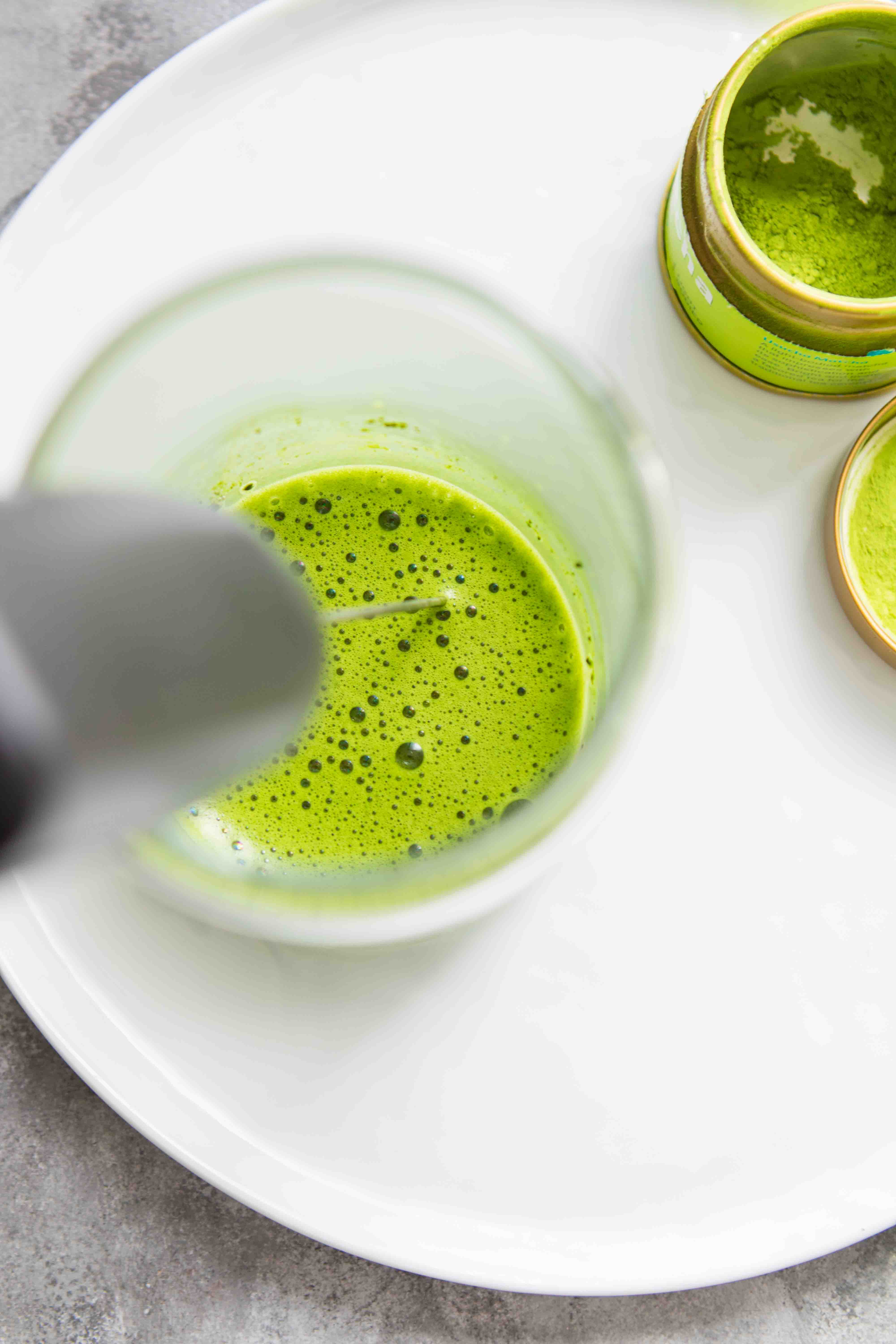 What is matcha powder?
Matcha powder is a type of ground up green tea that is usually grown in Japan. I did not know this before, but after doing some research, I found out that during the last few weeks of the growth of the green tea, the lea leaves are shaded to increase their chlorophyll content. That's what gives it that bright and vibrant green color.
After the harvest the leaves are ground up into a fine powder to make tea and many other recipes using matcha.
How to make homemade iced matcha green tea latte?
Start by adding the matcha powder to a glass. Pour the 2 tablespoons of hot water over it and froth using a hand held wand frother. You could also use a matcha whisk if you have that.
Add in the honey and froth one more time for 10 seconds.
Add the ice to the glass, top with milk, stir and enjoy!
Tips for the best iced matcha latte
Use good quality ingredients– This drink does not contain many ingredients that's why it is so important to use good quality ingredient to have the best tasting drink. If you don't have good ceremonial grade matcha, don't hesitate to invest a little money on it for both a healthy and delicious drink!
Make sure to mix your matcha powder with water first really well– The matcha needs to be mixed well with the hot water before you add in the rest of the ingredients. You can do so with a matcha whisk, a hand held frother, or even a blender!
Copycat Starbucks iced matcha latte
If you tried this recipe make sure to give it a 5 star review by clicking on the 5 stars under the title and description
2-minute Starbucks Iced Matcha Green Tea Latte
This Starbucks copycat matcha latte recipe is an easy DIY recipe to make your favorite matcha green tea latte at home and save money too!
Ingredients
1

teaspoon

matcha powder

2

tablespoon

hot water

2

teaspoon

honey

1

cup

milk

any milk works great

1

cup

ice
Instructions
Add the matcha powder to a glass. Pour the 2 tablespoons of hot water over it and froth using a hand held wand frother. Add in the honey and froth one more time for 10 seconds.

Add the ice to the glass, top with milk, stir and enjoy!
Notes
The calories for this recipe are for an iced matcha latte made with skim milk.
Nutrition
Calories:
138
Calories
Carbohydrates:
24
g
Protein:
10
g
Fat:
1
g
Saturated Fat:
1
g
Cholesterol:
5
mg
Sodium:
115
mg
Potassium:
382
mg
Sugar:
24
g
Vitamin A:
700
IU
Calcium:
299
mg
Iron:
1
mg
Thank you so much for making it all the way down here.
If you tried this awesome game day air fryer recipe and loved it as much as we did, make sure to leave a comment down below to let us know how your keto mousse turned out. In the mean time don't forget to follow us on Instagram.

Shop this recipe
This post may contain affiliate posts, meaning that at no cost to you I will get a small percentage of every purchase you make!
If you enjoyed this Starbucks copycat matcha latte recipe make sure to pin it for later.