The best matcha lemonade with chia seeds is here. This refreshing and energizing summertime lemonade is healthier for you, low carb and has collagen in it! The addition of the chia seeds adds a fun textural elements as well as a whole lot of fiber!
SIGN UP TO OUR MAILING LIST GET A FREE WEEKLY MEAL PLANNER AND RECIPE CARD!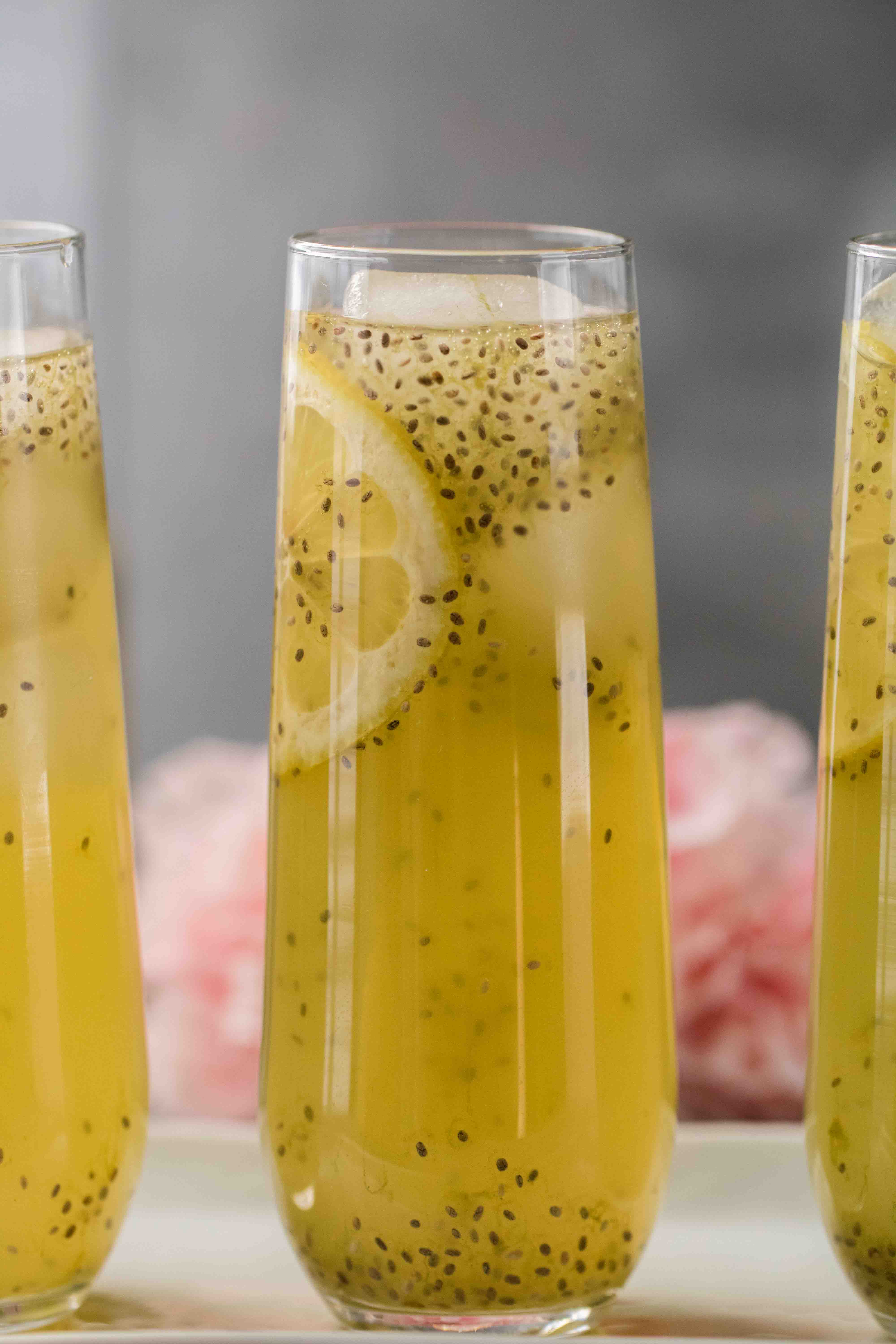 Disclosure: This post is sponsored by iHerb. All text and opinions are 100% my own. Thank you for supporting the companies that make Lifestyle of a foodie happen 🙂
I absolutely adore matcha tea! If you're like me, you have probably had it in all shapes and forms… In a macaron, latte, cake, or even brownies! You name it, I tried it! Matcha lemonade has actually been on my to do list for the longest time. I have been wanting to share this recipe with you, I just didn't find the right opportunity until now.
The thing here, is that I was able to get this insanely tasty matcha from iHerb that also contains collagen! Can you believe it?!
iHerb is a natural product retail company that serve customers in over 150 different countries. They carry over 30'000 natural products from supplements to grocery items. The best part is that when you order you items they are shipped from a climate controlled distribution center to ensure that the product you are receiving is top quality!
And if you ever have any questions or need any help on their website, know that they have 24/7 customer service in 10 different languages ready to help you at any time. Neat, isn't it!
When I ordered through iHerb, it was a simple and quick process and the shipping was even faster. I would definitely recommend purchasing items from there if you need for them to arrive quickly.
What's so special about this summertime matcha lemonade?
There are so many lemonade recipes out there, so what makes this specific one extra special?
It is refreshing
This lemonade has collagen in it to help your joints, skin, and nails!
It has matcha, which will give you a quick pick me up with no crash.
Taste just like regular lemonade but is low carb and keto friendly.
Has the added fiber from using the organic chia seeds.
Ingredients to make the best keto-friendly summer matcha lemonade with chia seeds
The linked items are the ones I received from the iHerb website. They are very high quality and you can definitely taste the difference. The matcha has a very pleasant taste compared to other collagen products. It is one thing that I will be buying again and again!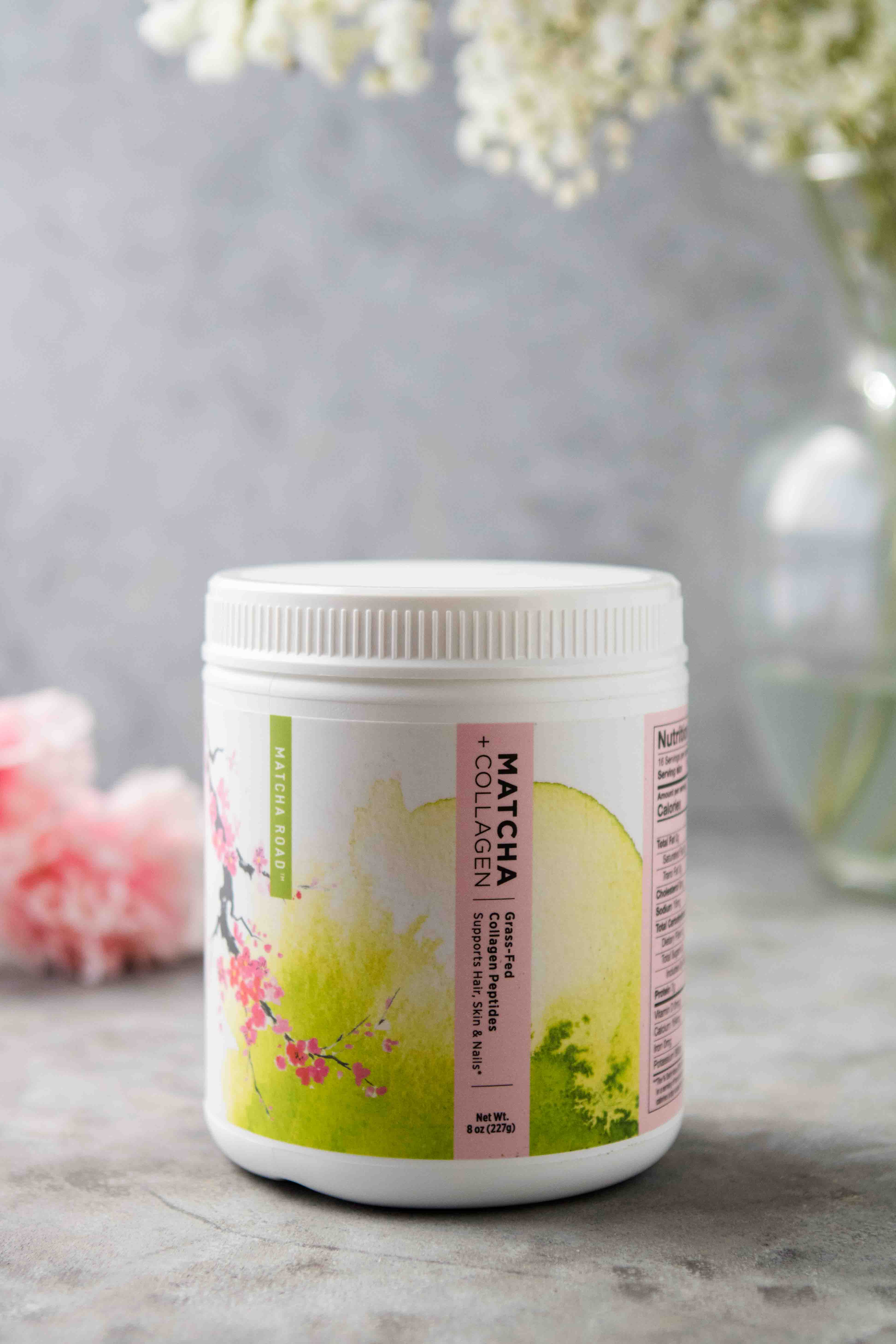 What is collagen and what does it do?
Collagen is a protein that is most abundant in the human body. It is pretty much found everywhere! It's in your connective tissues, bones, muscles, skin, and tendons. Unfortunately, with the EDS that I have my body makes defective collagen which leaves me prone to getting hurt and in pain most days. That's why I take collagen supplements often!
Good thing there are quite a lot of collagen supplements that you can easily find in stores or online, this Matcha Road being one of them.
Consuming collagen can help keep your skin elastic, increase bone density weakened by age, as well as improve joint, back, and knee pain.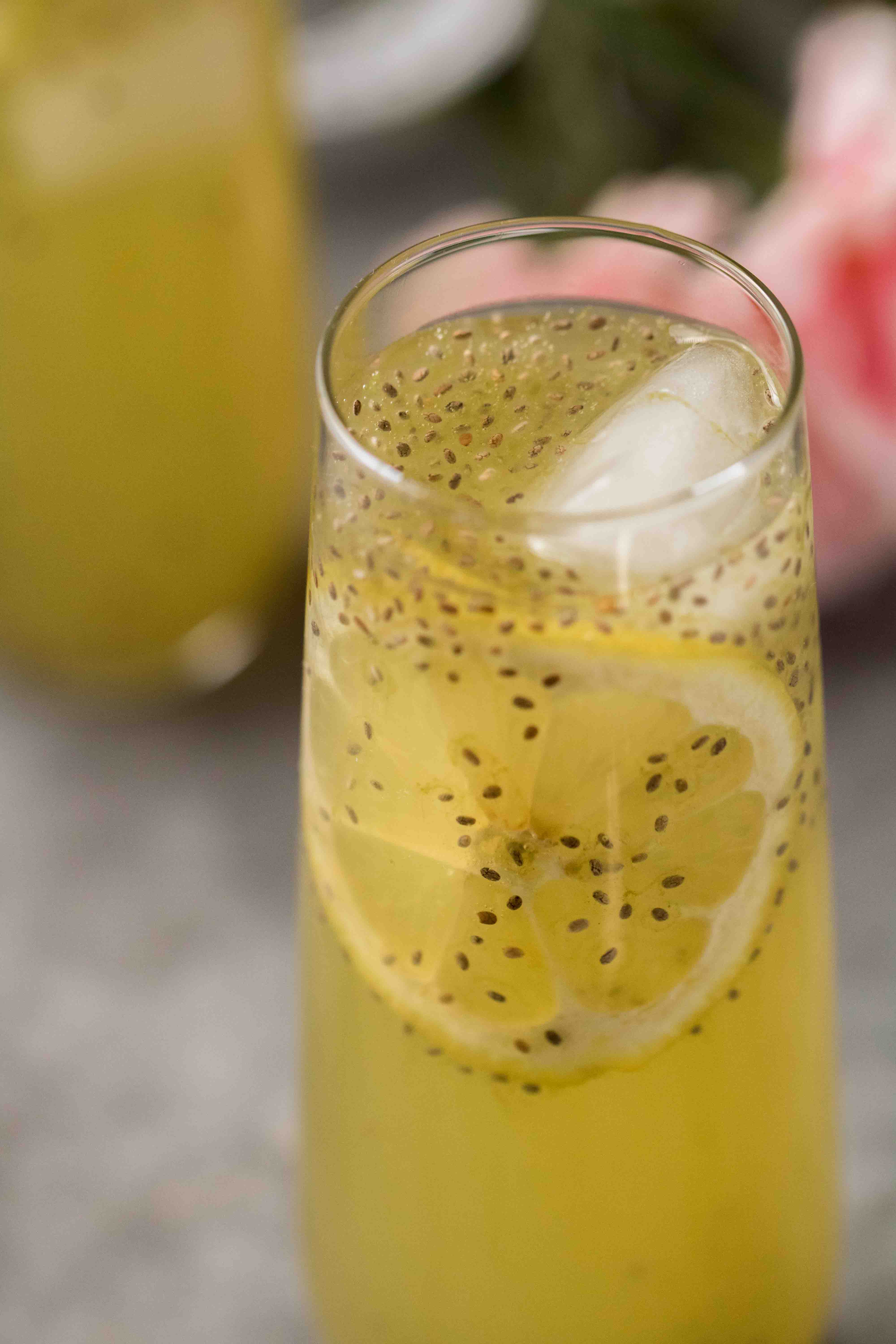 What is matcha and why is it in my lemonade?!
Matcha is a finely ground tea powder. It comes from a specific green tea plant, is harvested, dried, and then ground up.
You probably have seen it throughout the years on Instagram or on other social media platforms. It was such a hyped-up thing that you could pretty much order matcha drinks anywhere, but they aren't always the healthiest, that's why it is much better to make your own at home.
Matcha is also extremely high in antioxidants, could be used to help you lose weight, and is often a great caffeine option because it does not make you crash like coffee does!
Oh, and it's in your lemonade because it is delicious! The matcha green tea flavor itself is delicious paired with lemons.
How to make low carb lemonade?
To make this low carb chia seed matcha lemonade you will need to:
First, start by soaking your chia seeds.
Then Dissolve the Lakanto sugar in hot water.
Add in the matcha green tea powder to the simple syrup mixture and mix it using a milk frother.
Now, add in the lemon juice, then pour the matcha lemon mixture in a large glass bottle.
Add in the soaked chia seed mixture and top it off with the remaining cold water. Serve it over ice or store it in the fridge and take a cup of this healthy lemonade in the morning to keep you up and energized.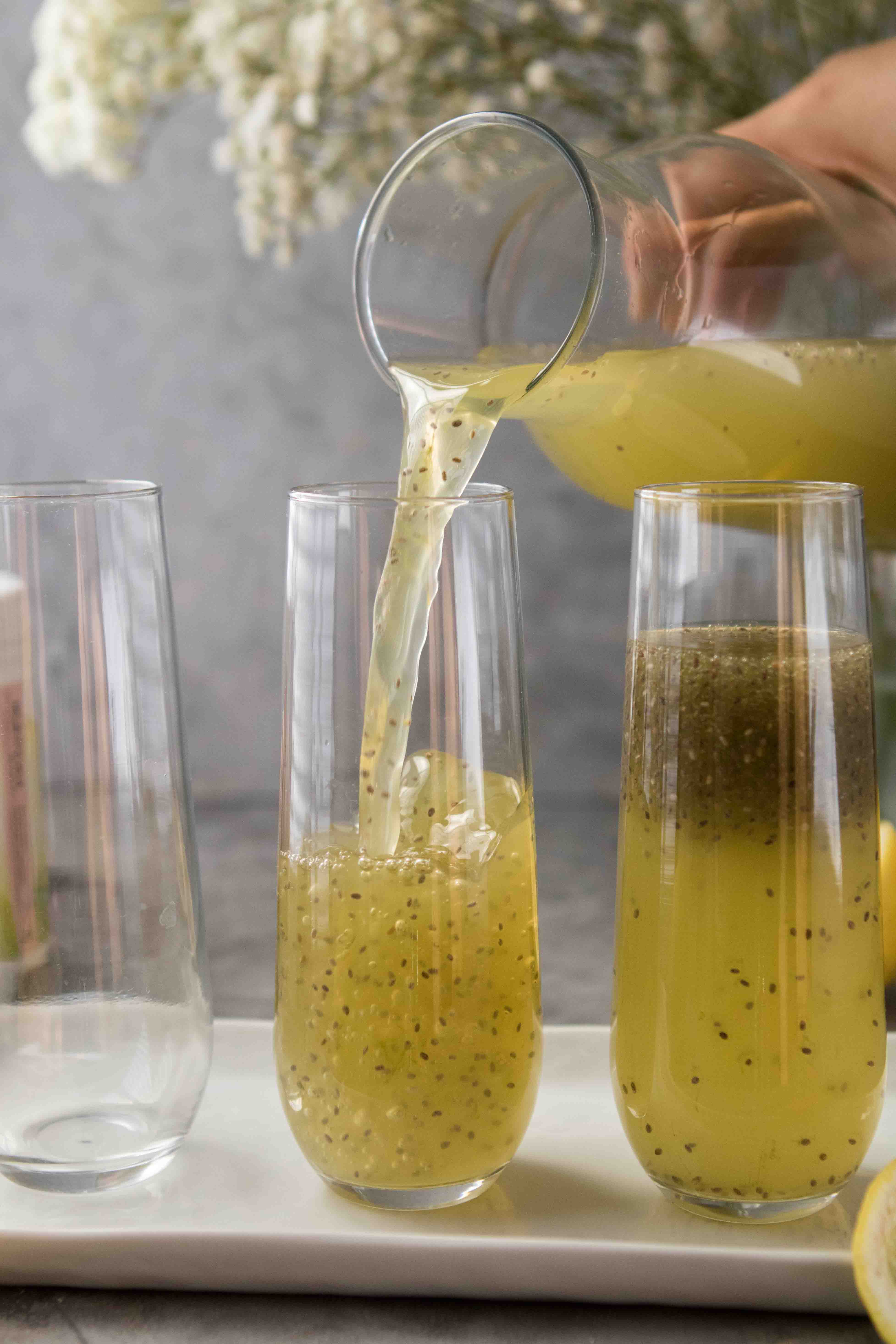 Storing your matcha lemonade with chia seeds
Storing this lemonade is as simple as 1,2,3! Make the recipe as per the instructions and store any leftover in the fridge as usual.
I'd recommend that you store this lemonade for only a few days since that's when it tastes the best. Anything longer than 2 days might affect the flavor.
Keto-friendly summer matcha lemonade with chia seeds
If you enjoyed this summer matcha lemonade make sure to give it a 5-star rating by clicking on the 5 stars under the title and description.
Keto Summer matcha lemonade with chia seeds
This is the tastiest and most energizing summer matcha lemonade. The chia seeds add a fun texture and some extra fiber for a delicious refreshing drink.
Instructions
First start by soaking the chia seeds in 1 cup cold water and set aside.

Now, dissolve the Lakanto sugar in hot water. After that add in the matcha powder to the simple syrup mixture and mix it using a milk frother. Add in the lemon juice then pour the lemon matcha mixture in a large glass bottle or pitcher.

Pour the soaked chia seed mixture into the glass bottle and top it off with the remaining cold water. Serve this energizing matcha lemonade over ice or store it in the fridge for later.
Nutrition
Calories:
20
Calories
Carbohydrates:
1
g
Protein:
1
g
Fat:
1
g
Saturated Fat:
1
g
Sodium:
1
mg
Potassium:
12
mg
Fiber:
1
g
Vitamin A:
94
IU
Calcium:
19
mg
Iron:
1
mg
Grocery Haul
This is the fun part! When I shopped on the iHerb website, I picked a multitude of items from the exclusive grocery products to try out. Yes! they have so much more than just the items I used in this recipe and I can't wait to share everything I received with you guys! Here are the rest of the items I got:
The number 1 reason why I love iHerb is because of the variety of product they carry in their exclusive grocery products! It will literally be your one stop shop to get everything you need…
Plus if you click here, you will get quite the discount on iHerb with no minimum purchase !
If you enjoyed this easy summer matcha lemonade with chia seeds make sure to pin it for later!