Vanilla pancake mix cake is the second best thing to make with pancake mix! This easy cake recipe can be made with your everyday pantry staple and made into the moist and delicious easy cake that it is.
SIGN UP TO OUR MAILING LIST GET A FREE WEEKLY MEAL PLANNER AND RECIPE CARD!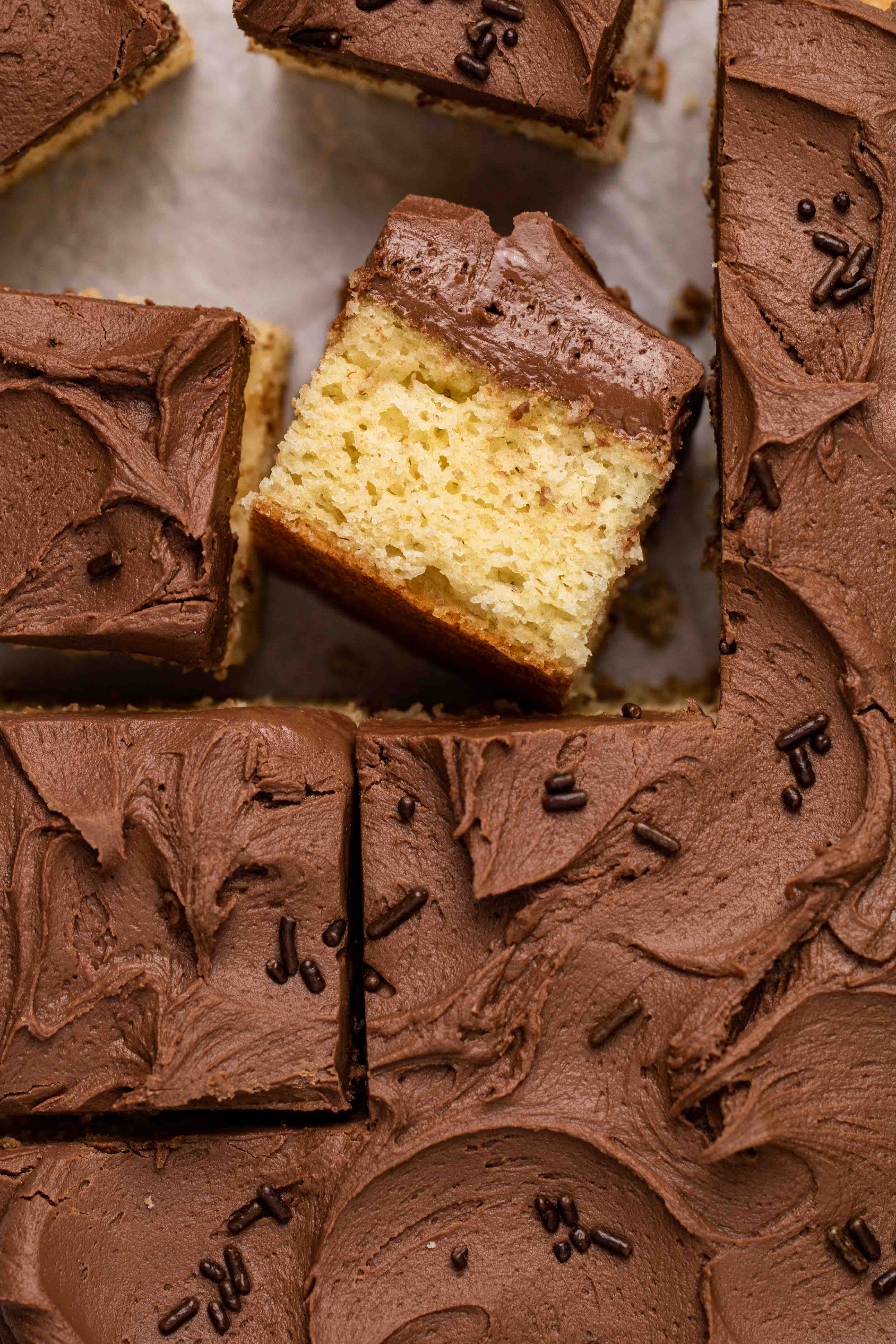 Pancake mix cake. That sounds a bit odd, doesn't it! But when I was shopping back in March during the toilette paper craziness era, I grabbed pancake mix because I couldn't find flour in stores.
Yup, many people were hoarding ingredients so I had to do with what I could. Believe it or not, I came up with pretty ingenious ways to use pancake mix. The first thing I used it for and posted was this 7 secrets to make boxed pancakes better + mistakes to avoid + recipe article.
To this day it is one of the most popular articles on the blog, because I'm sure just like me, many others had the same issue back at the beginning of this quarantine.
This is the best pancake mix cake ever.
To be honest, at this point, I am not mad at all that I had to get a few boxes of pancake mix because if that didn't happen I wouldn't have discovered this magical cake made out of boxed pancake mix!
To make this vanilla cake I used my trustee Krusteaz pancake mix. Added a few other ingredients to get the perfectly moist cake. I then topped it with chocolate frosting.
You can top it with whatever frosting you like, I just had chocolate frosting on hand so I decided to go for that one!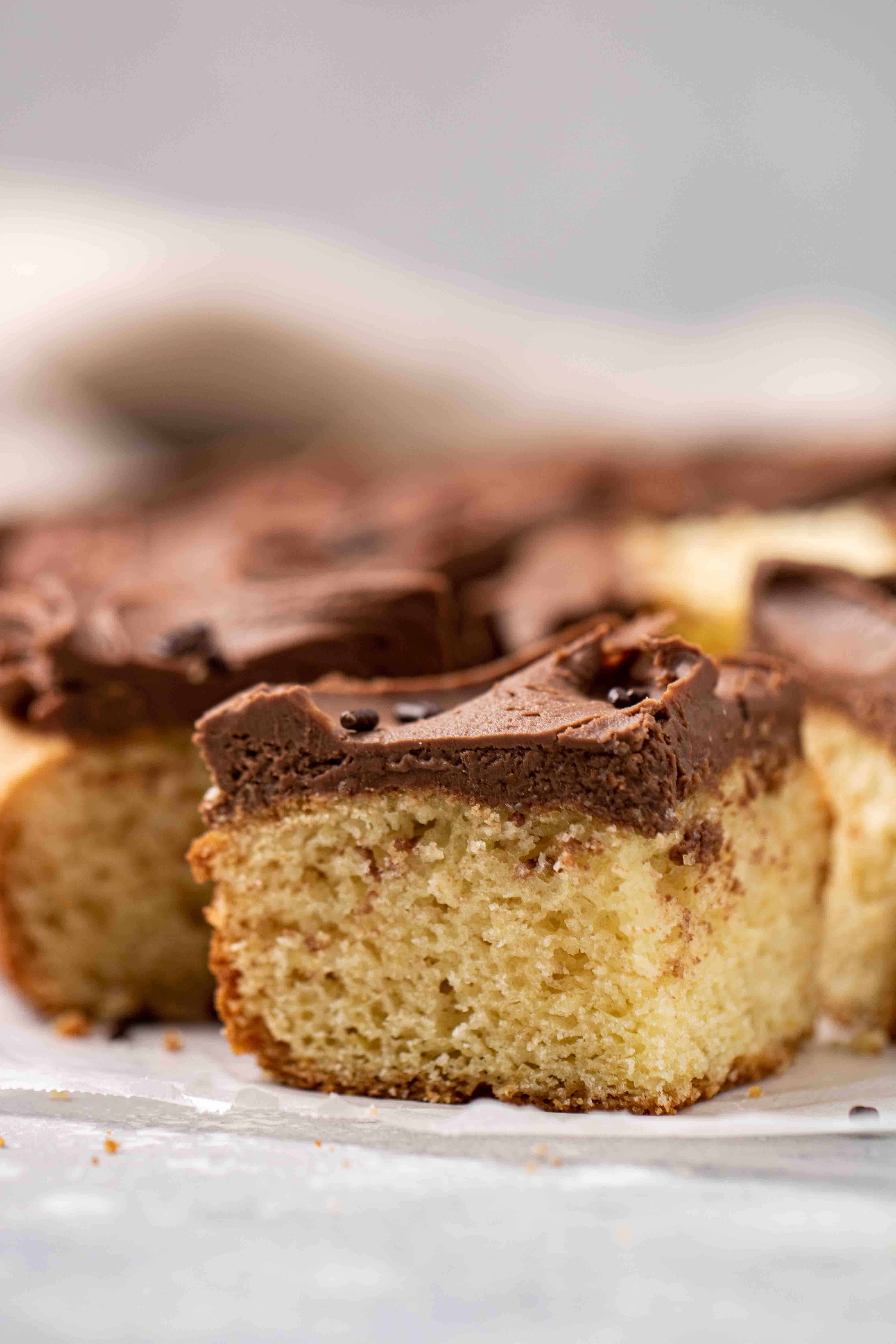 What's so special about boxed pancake mix cake?
This cake is the bees knees, it's seriously awesome, and here is why you need to make it!
It's made out of pancake mix! Hello convenience.
This cake doesn't require too much hands on work
It will be ready in 25 minutes!
perfect for birthdays or any other celebrations.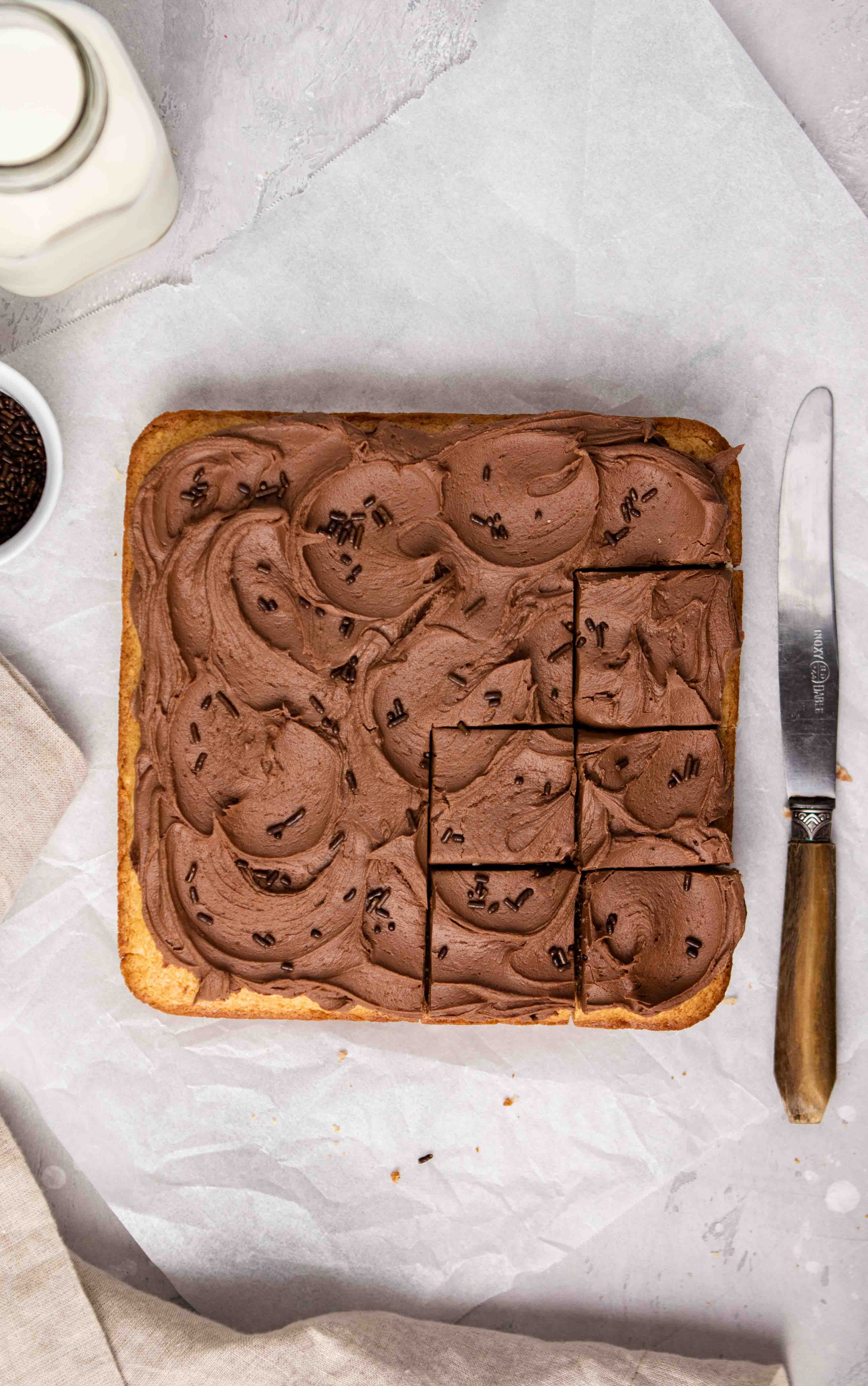 Ingredients for cake with pancake mix
Here are the ingredients you will need to make your own boxed pancake mix cake recipe:
Pancake mix- Obviously this cake recipe uses boxed pancake mix so this will be the staple of your cake.
Sugar– A little sugar to sweeten this cake.
Milk– The milk will make this cake more moist.
Sour cream– The sour cream is also used to make this cake extra moist. We use regular sour cream so it contains the regular amount of fat.
Butter– The butter is another ingredient that adds richness to this pancake mix cake.
Egg– The egg is the binding agent in this cake.
Vanilla– This is a vanilla cake, so this recipe requires vanilla extract to get that flavor to come through.
Why does this quick cake recipe not use baking powder?
Since we are using pancake mix we don't need to use a leavening agent. As you might know pancake mix already has baking powder in the mixture itself so that whenever you add your wet ingredients your pancakes rise and become fluffy.
More cake recipes you will love!
How to make cake out of pancake mix?
Here is how you can make your own super easy cake made out of our favorite pantry staple ingredient, boxed pancake mix! Make sure to scroll down to the recipe box to get the full detailed recipe.
Mix the wet ingredients in a medium bowl.
Add the dry ingredients, aka the pancake mix to the wet ingredients bowl.
Mix both the wet and the dry ingredients together just until the dry mixture disappears. Make sure not to over mix your cake batter.
Pour the pancake mix cake batter into your greased pan.
Bake the cake until a wooden skewer inserted in the center comes out clean.
Frost the cake once it's completely cool.
Serve your amazing homemade pancake mix cake and enjoy it with friends and family!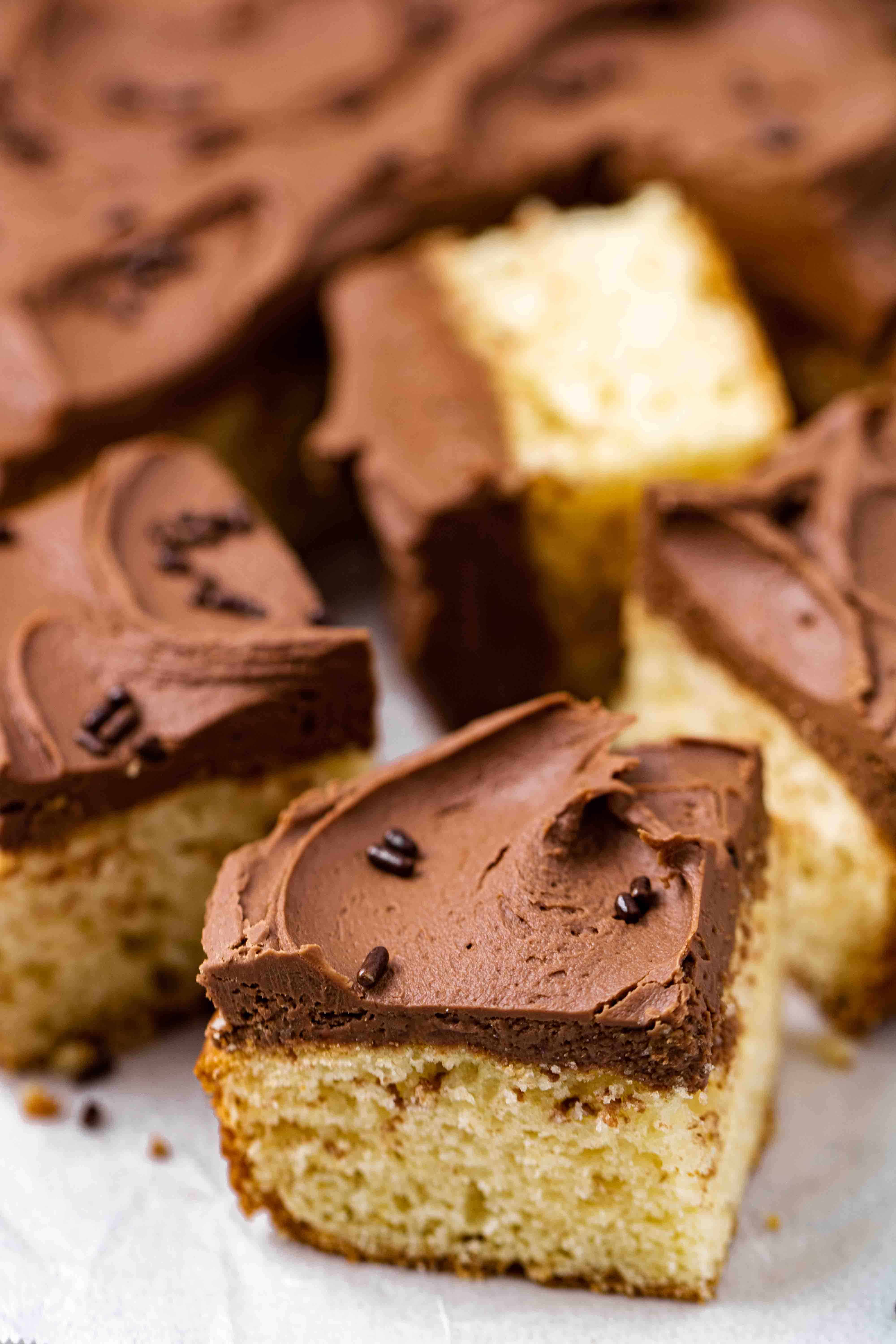 Tips to make the best easy cake recipe using your favorite pantry staple
To get the same cake as we did, here are a few tips to follow:
Don't over mix it- If you over mix your pancake mix cake batter you will end up with a tougher and more flat cake. So stop mixing as soon as the dry mixture disappears.
Don't over bake it- This cake will turn out dry if you over bake it. The cake will be ready when you insert a knife or a wooden skewer in the center comes out clean.
Yes! This recipe itself is made in an 8×8 inch pan but you can double the recipe and bake it in a 9×13 inch pan for a larger cake. You will need to bake it for 5-10 minutes longer or until a wooden skewer inserted in the center comes out clean.
Topping ideas for your flapjack mix cake
I love having this moist pancake cake on its own because it's so good, but sometimes I like to elevate it. Especially if I am making it for special occasions. Here are a few ways you can top your cake:
Chocolate frosting (like I did in this recipe)
Vanilla frosting
Lemon glaze
Chocolate ganache
Whipped cream and fresh fruit
cream cheese frosting
Easy Vanilla Pancake Mix Cake
If you tried and enjoyed this recipe, make sure to give it a 5 star rating by clicking on the 5 stars under the description.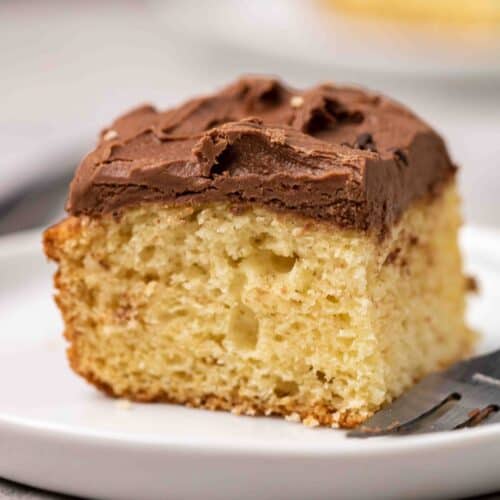 Vanilla Pancake Mix Cake
This vanilla pancake mix cake is the best way to use your pantry staple. Pancake mix isn't just for morning pancakes anymore, now you can make moist and delicious cake with it in no time.
Ingredients
2

cup

pancake mix

½

cup

sugar

⅓

cup

milk

at room temperature

½

cup

sour cream

at room temperature

1

egg

at room temperature

¼

cup

butter

melted

1 & ½

teaspoon

vanilla
Instructions
First start by preheating the oven to 350F, then line an 8×8 inch baking pan with parchment paper.

In a large bowl mix the sugar, milk, sour cream, egg, melted butter, and vanilla until well incorporated. Add in the pancake mix and gently fold just until the dry mixture disappears.

Pour in the prepared baking pan, and bake for 20 minutes or until a wooden skewer inserted in the center comes out clean. The cake will be lightly golden and that's okay, it will stay very moist.

Let the cake cool down completely, then decorate with frosting, whipped cream or anything you'd like to top your cake with. Enjoy!
Notes
This cake recipe is a great way to use your pancake mix. It is very moist but the top will stay light so frost it and decorate it to your liking and serve! 
Nutrition
Calories:
82
Calories
Carbohydrates:
5
g
Protein:
2
g
Fat:
6
g
Saturated Fat:
2
g
Cholesterol:
26
mg
Sodium:
127
mg
Potassium:
54
mg
Fiber:
1
g
Sugar:
1
g
Vitamin A:
238
IU
Vitamin C:
1
mg
Calcium:
52
mg
Iron:
1
mg
Thank you so much for making it all the way down.
Did you enjoy these cream cheese brownies? We would love it if you could leave a comment letting us know. In the meantime don't forget to follow us on Instagram.

Shop this recipe
This post may contain affiliate posts, meaning that at no cost to you I will get a small percentage of every purchase you make!
If you enjoyed this vanilla boxed pancake cake recipe make sure to pin it for later!