This carrot and sweet potato soup is an easy, cozy, and hearty dinner recipe to make again and again. It is savory with a hint of sweetness and the perfect balance of spices to keep you warm.
SIGN UP TO OUR MAILING LIST GET A FREE WEEKLY MEAL PLANNER AND RECIPE CARD!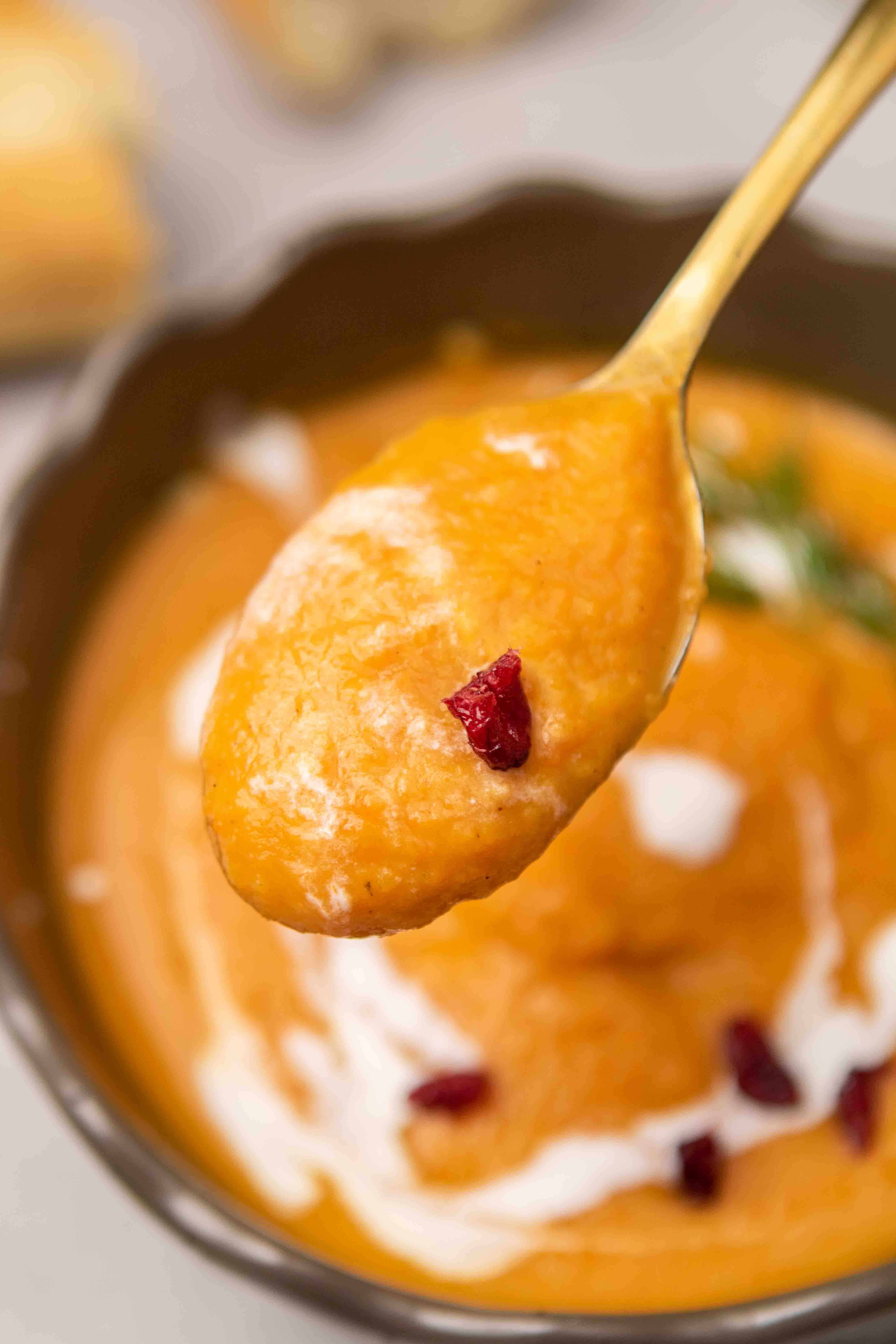 Around this time last year, I had about 5 lbs of sweet potatoes that needed to be used asap! I chopped most of it up, placed it in a pot, added a few more things and made the best soup of my life!
Yes, it happened randomly! Those random recipes are usually the best to be honest! This year, i decided that I needed to share this recipe with you as soon as possible because I wanted you too to enjoy this insanely good flavor and texture!
This is the best carrot and sweet potato soup recipe!
Some people hate soup while other love it. I'm the type that's obsessed with soup. It is such a comforting dish to make in the cold winter or even fall days.
The best part about soup is that they are so versatile, throw whatever you got in the fridge in there, cook, blend, and call it a day. This sums up how this recipe came to life. But this recipe per se, doesn't require that many ingredients and is so creamy and spices that you will never go back to regular sweet potato soup!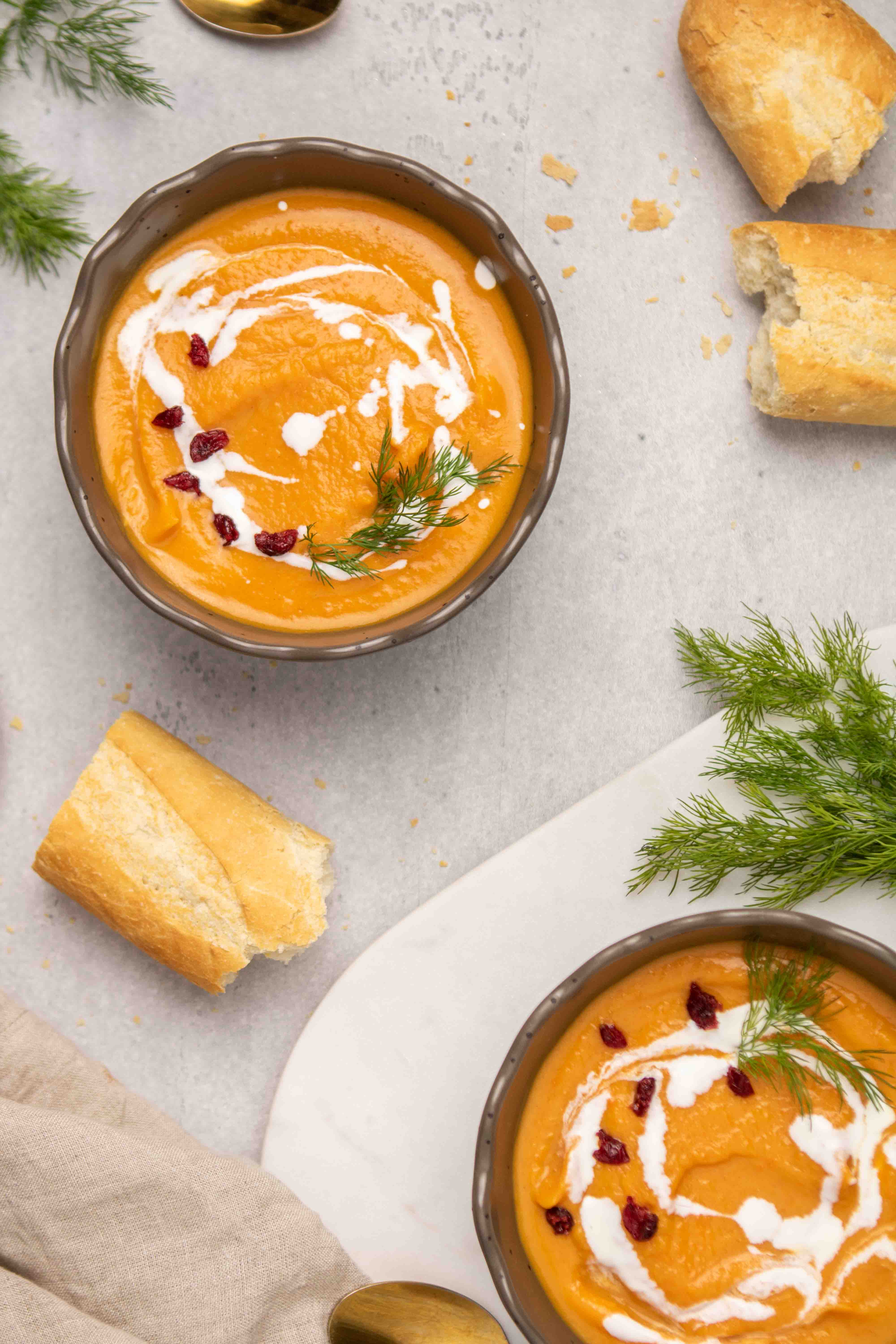 What makes this carrot sweet potato soup so special?
This is the best fall and winter soup out there and here is why you need to make it:
This soup is healthy and hearty.
It is very creamy because of the use of sweet potatoes.
You can make it vegetarian or vegan too! Just use vegetable broth.
It doesn't require that many ingredients.
You can make it for the week and warm it up when you're ready to enjoy it for an easy weeknight dinner recipe!
It has the perfect balance of spices, not too much, not too little, just enough.
Ingredients for sweet potato soup
Here are the ingredients you will need for this soup recipe:
Onion– You will need one medium yellow onion to start this soup.
Sweet potato – Sweet potatoes are what's gonna give us the luscious and creamy texture with a hint of sweetness.
Carrots– We also use carrots to bring out a little more sweetness from the sweet potatoes. The two pair extremely well!
Chicken broth– Using the best quality or a homemade chicken broth will ensure that the flavor of the soup comes out as good as it can. You can also use vegetable broth for a vegetarian carrot sweet potato soup.
Turmeric, ginger, cinnamon– These spices are what make this soup special, they are warming and savory.
Salt and pepper– Salt and pepper to taste for that extra depth of flavor.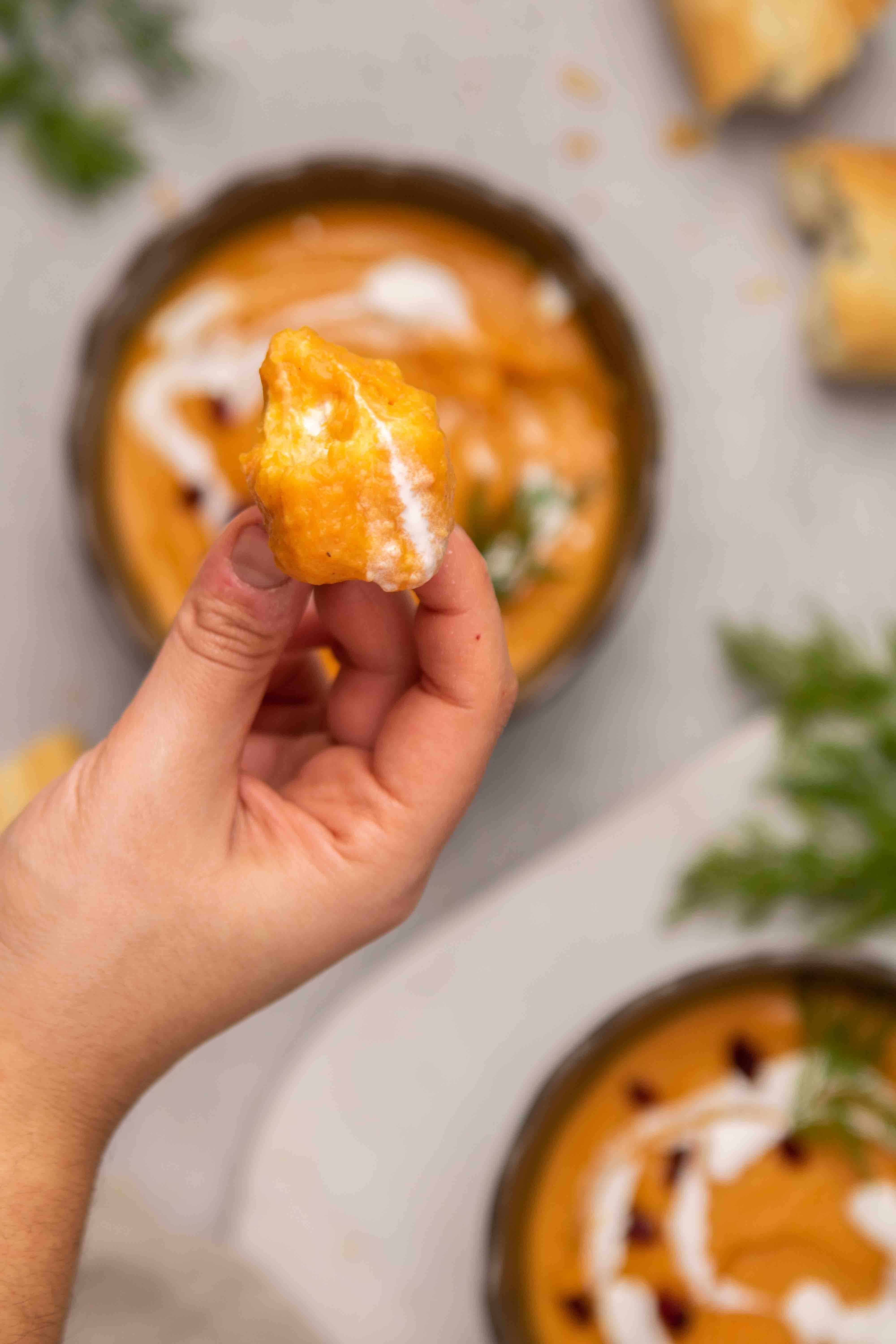 Ingredient substitutions
If you don't have everything fear no more, here are a few ingredient substitutions that will work great in this recipe:
Butternut squash– You can use butternut squash instead of sweet potatoes for a delicious and creamy fall soup!
Vegetable broth or bouillon cubes – To make it vegan use vegetable broth. You could also use bouillon cubes if you don't have any chicken broth, I love using bouillon because it's so easy to use and is always available in my house.
Tools needed to make this creamy sweet potato soup
Here is exactly what you'll need to make this soup:
Heavy bottomed dutch oven pot- The best pots to make soup in are heavy bottomed pots. Le Creuset pots are the best in my opinion.
Hand blender- I use the Cuisinart hand blender and my soups always turn out so smooth!
How to make carrot sweet potato soup?
To read the full detailed recipe make sure to scroll down to the recipe card for the full recipe.
Saute the chopped onions in some olive oil until translucent.
Add the spices and stir.
Add in the diced sweet potatoes and carrots and the chicken broth.
Bring to a boil, cover and reduce to simmer for 25-30 minutes.
Blend the soup once the veggies are soft and serve.
Top with some heavy cream for an extra luxurious soup.
looking for more soup recipes? Check these out!
Tips on how to make sweet potato carrot soup
To get the perfect soup in your own home too, here are a few tips that will help :
Cut your sweet potatoes and carrots small enough to cook them fast- The smaller your cut your veggies the faster they'll cook!
Carrots need longer to cook than sweet potatoes- Weird huh! I actually never really paid attention to this until I was making this specific recipe for you. The carrots will take slightly longer to cook compared to the sweet potatoes so check them before turning off the stove.
Soup too thin? If the soup is too thin for your liking, simmer it a little longer to let evaporate some more. I don't think you'll have this issue with this soup because it's tends to be on the thicker side because of the root veggies.
Soup too thick? If the soup is too thick for your liking you can add a little extra water and simmer it for just a little bit to get the flavors infused again. You could also thin it out using some cream.
Season to taste– This soup is seasoned to our liking, it has the perfect amount of spice and salt. Once your soup is cooked and blended, taste it and add extra salt if you feel like it needs it.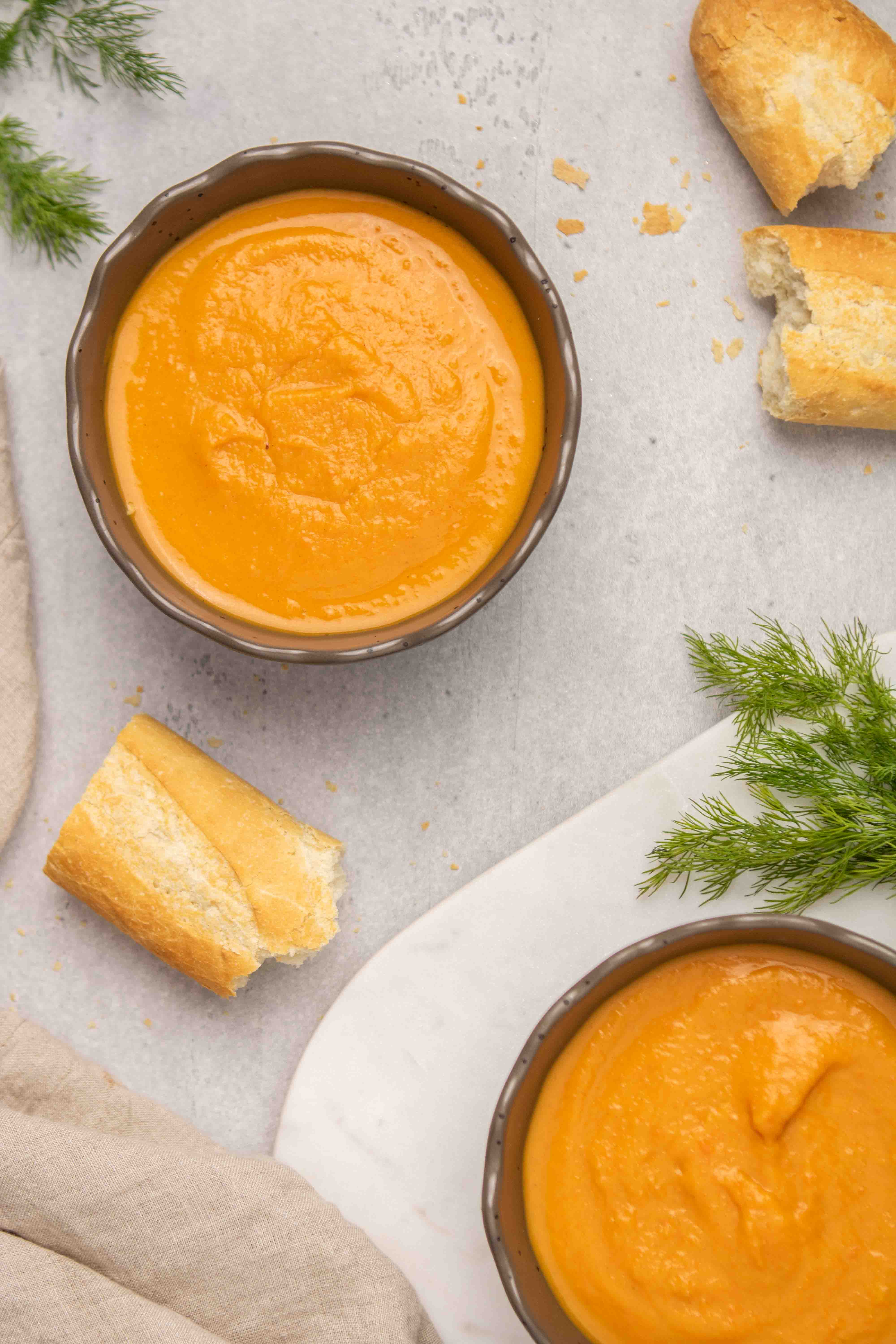 How to serve sweet potato soup?
This soup is vest served with a light drizzle of heavy cream and some fresh baguette bread.
As far as topping go, we like to use dried cranberries, slivered almonds or pumpkin seeds.
Can I freeze this soup?
Yes, we love freezing this soup because it means that we will have something delicious that we can just pull out of the fridge, thaw and enjoy.
Let your soup cool down completely, then place it in an air tight container, and freeze. Thaw in the fridge overnight and reheat on the stove.
How long will the soup last in the fridge?
You can store this soup in an airtight container in the fridge for up to 5 days (without the cream). Reheat it on the stove or th microwave when you're ready to enjoy it.
Carrot sweet potato soup
If you tried and enjoyed this recipe, make sure to give it a 5 star rating by clicking on the 5 stars under the description.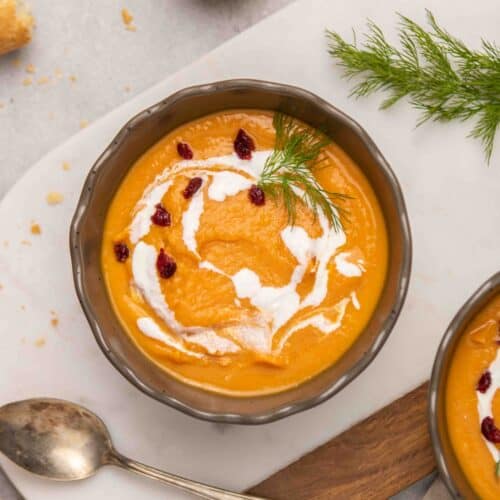 Creamy carrot and sweet potato soup
This creamy carrot and sweet potato soup is healthy, requires minimal ingredients, and will be ready in no time for a warming dinner recipe!
Equipment
Heavy bottomed pot

Hand mixer
Ingredients
Instructions
In a large pot, heat up your oil over medium heat then add in the chopped onions to cook. Stir frequently until they are soft and translucent. This will take about 10 minutes.

Add in the cinnamon, ginger, turmeric, salt, and pepper. Give it a good stir then add the carrots, sweet potatoes, and the chicken broth. Bring to a boil then cover and simmer over medium low heat until the veggies are soft and tender, this will take about 25-30 minutes.

Once the veggies are soft, blend everything together using a hand blender. Puree everything until smooth and creamy. Season to taste with extra salt and pepper if needed.

Serve the soup in bowl and drizzle with heavy cream for beautiful swirls.
Nutrition
Calories:
129
Calories
Carbohydrates:
24
g
Protein:
3
g
Fat:
3
g
Saturated Fat:
1
g
Sodium:
1318
mg
Potassium:
611
mg
Fiber:
4
g
Sugar:
6
g
Vitamin A:
17674
IU
Vitamin C:
22
mg
Calcium:
55
mg
Iron:
1
mg
Thank you so much for making it all the way down here.
Did you enjoy this carrot sweet potato soup? We would love it if you could leave a comment letting us know. In the meantime don't forget to follow us on Instagram.

Shop this recipe
Add in the cinnamon, ginger, turmeric, salt, and pepper. Give it a good stir then add the carrots and sweet potatoes
If you enjoyed this carrot and sweet potato soup recipe make sure to pin it for later!