Hello, my beautiful people 🙂 I hope everyone is doing amazing!
Today I wanted to start you off with this beautiful quote to remind you that you are special. Sometimes in life, we get tired and discouraged and end up thinking very negatively of ourselves but this quote right here "No one is you and that is your power" will hopefully be a reminder to you that you have all the power within you to conquer literally anything that comes within your own path.
Another thing I would love to share with you guys would be
this book,
A Fool's Guide to Actual Happiness.
I read it not too long ago and it just puts everything in perspective. It is also a great reminder that happiness is not a destination but a journey.
Do you guys have any good read that you'd be willing to recommend here !? I am in such a book reading kick at the moment…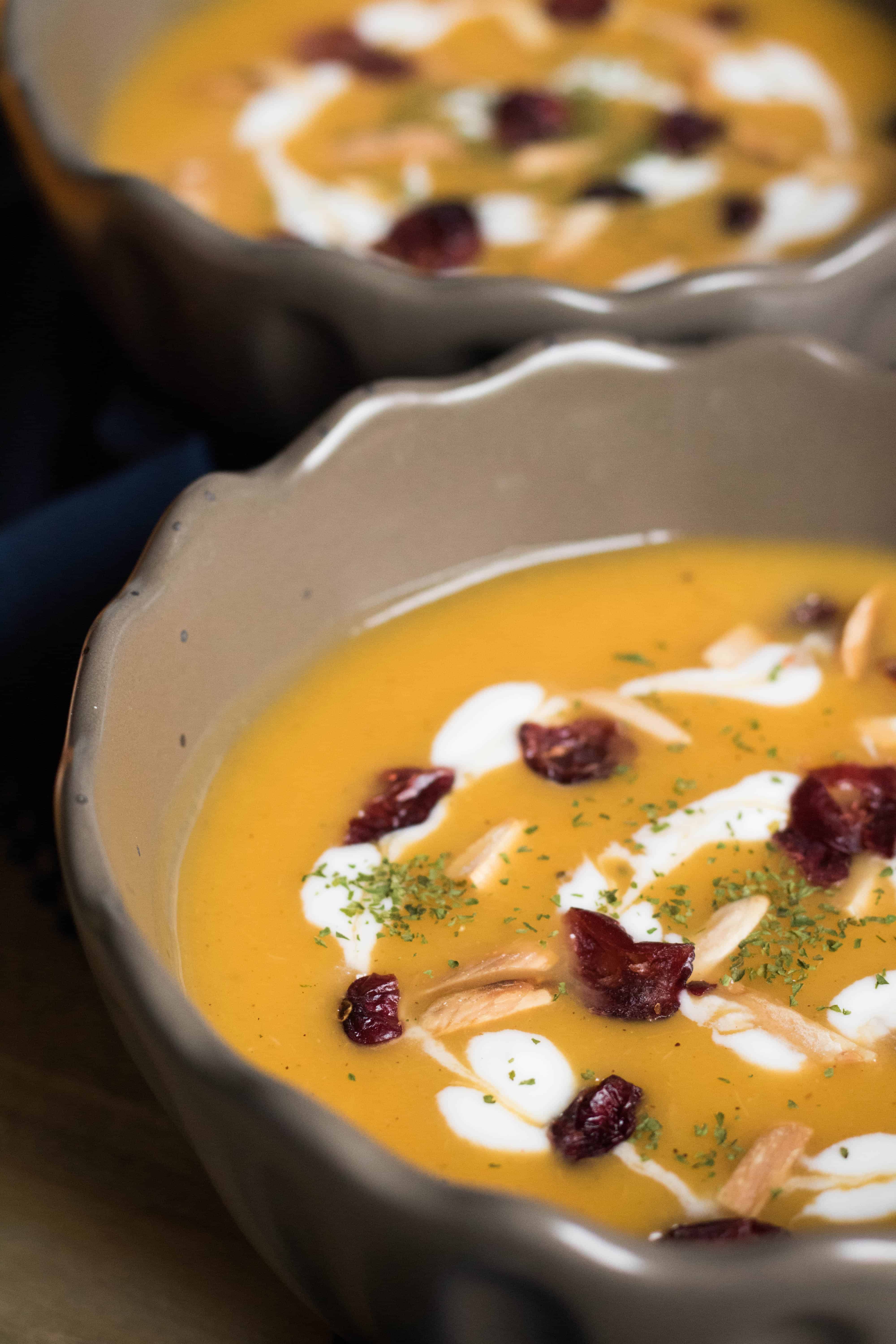 Now Onto our recipe of the day! This butternut squash and apple soup was a random craving I had a couple of days ago because it has been very cold in Vegas this week.
It is actually raining right now and oh boy… I wish I could just relax and watch some Netflix as I am sipping on a yummy hot chocolate beverage. But can't do that right now… I have been helping out at the bakery where I did my stage a couple of weeks ago to prepare for Christmas, so when I get home, I have to go go go. right away I try to meal prep a couple of things and prepare for the next 4 AM workday ahead of me…
So during these hectic times, I love to throw a bunch of things in a pot then go blend whenever everything is cooked and have a warm, fresh and delicious meal ready for me. That's exactly what happened with this soup. I was on Pinterest and I kept seeing a bunch of different fall soup recipes so I thought the next time I crave soup, it will be my butternut squash soup. As I examined more and more recipes I was able to see that the green tart apple will bring out and enhance the butternut squash flavor, so I gave it a go and the results were amazing!
Best fall soup | butternut squash & apple |
Total Time
1 hour and 15 minutes
Ingredients
1 medium butternut squash, peeled and cubed
1 medium yellow or white onion, roughly chopped
1 green apple, peeled and cubed
2 tablespoon olive oil
4 cups of vegetable stock
Spices:
1tbsp salt
1 teaspoon black pepper
1 teaspoon cinnamon
½ teaspoon grated ginger
½ teaspoon nutmeg
⅛ teaspoon cayenne pepper (or just a dash)
Toppings:
Slivered almonds
dried cranberries
greek yogurt or sour cream
Directions
Start by heating up the oil in a large pot over medium-high heat. Add the roughly chopped onion and saute for about 5-7 minutes or until it becomes very tender.

Add the butternut squash, the apples, the spices, and the vegetable broth to the pot and bring to a boil. Reduce to a simmer, cover, and let it simmer for about 40 minutes or so.

Blend the everything using a hand blender until you get the perfect veloute texture.

Enjoy with some fresh bread on this chilly December day!
Garnish with greek yogurt, slivered almonds, and dried cranberries.
This article may contain some affiliate links, meaning, at no additional cost to you, I will earn a commission if you click through and make a purchase 🙂
Products I love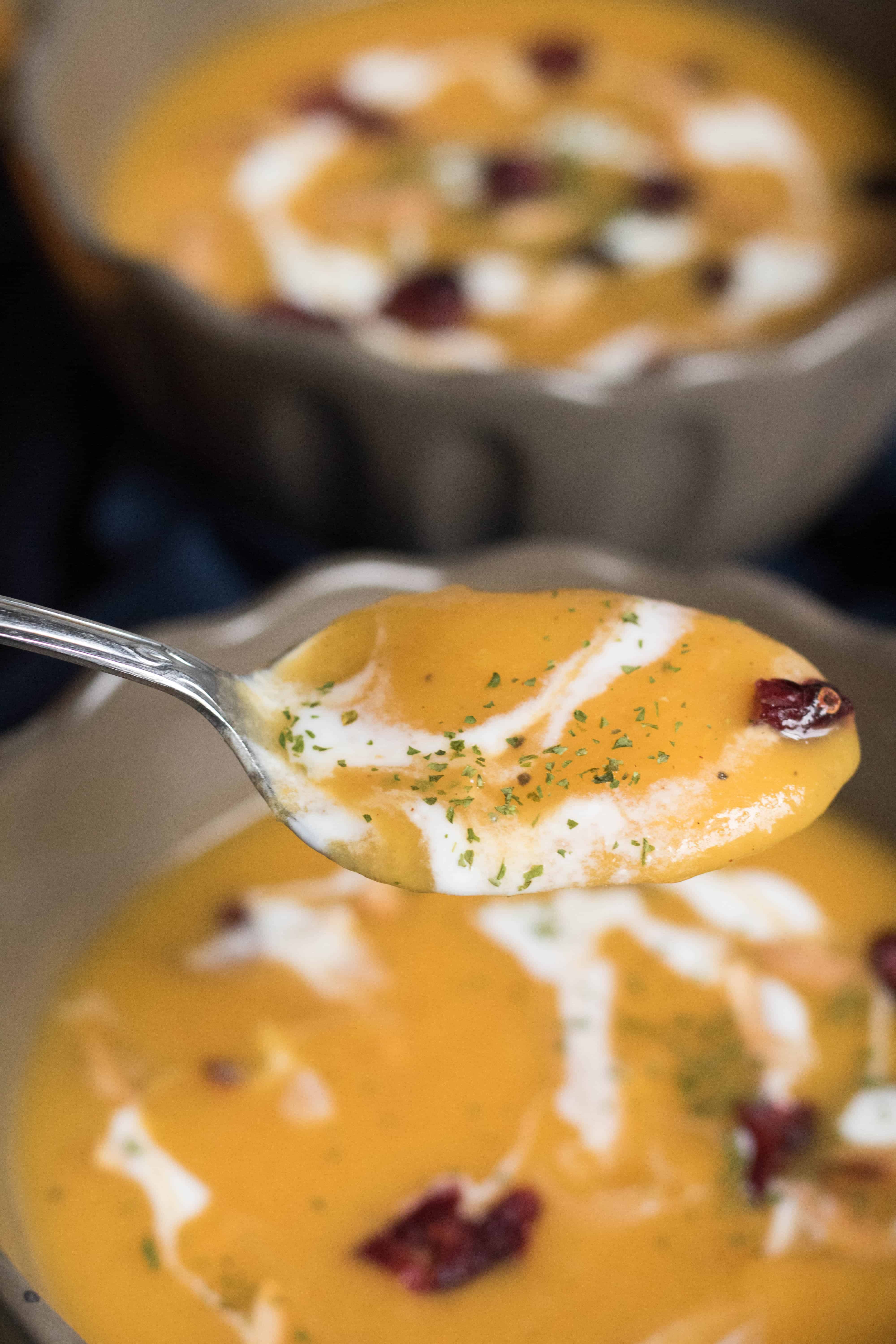 And as always, make sure to tag me on social media whenever you try these out 🙂 I would love to see how they turn out!
PS: pin this for later so that you don't lose this awesome healthy butternut squash and apple soup recipe!!