Hello friends!
Let's start with the awesome quote of the day!
Today I upgraded my WordPress plan… Yaaay!!! I have been wanting to do so for a while but didn't get the chance and since today is the famous "Cyber Monday" I decided to take advantage of the discount offered and purchase the business plan! It is a little scary because it was pretty expensive, especially for me after having finished my two months of unpaid pastry internship… But hey, you have to let the dreams in your heart lead the way just like the quote of the day states! I am very excited as well now because I can finally upload some video tutorials as well as the written recipes themselves! This will make life easier for you guys and hopefully get you to try some of my awesome recipes!
So today, I am back again with a fun recipe that in my opinion is extremely fitting for this time of the year… And since my last two posts were more on the indulgent side of things, I decided to bring you something a little healthier. This vegan, gluten-free, and unprocessed recipe is sure to be a crowd pleaser this holiday season.
Since Thanksgiving is now done, I had to start early on my Christmas baking… So this morning I woke up and right away started making a batch of these yummy tahini and sesame seed cookies! I have been craving them for so long and today I finally caved in… But wait, there is a little secret to these cookies… Wanna take a wild guess?!
Well, they do not contain any white processed sugar!!! Woot Woot!! The best part is that I made this recipe with coconut sugar which a completely natural and unrefined option! Coconut sugar also contains many vitamins and minerals, some of those being vitamins C, B1, B2, B3, and B6, as well as calcium, magnesium, potassium, and zink. The last thing that I want to share with you guys about coconut sugar is that it has a pretty low glycemic index (35) while the average glycemic index of the other sweeteners is as such:
White sugar (68)
Brown sugar (64)
Honey (55)
Maple syrup (54)
Agave syrup (15)
So all and all, coconut sugar does not have that great of an impact on blood sugar compared to many other sweeteners, this can also mean that it is suitable for those who have diabetes or are concerned about prediabetes.
To read a little more about coconut sugar click here
So anyway, to me these cookies kind of remind me of home. Back in Algeria, we make a lot of sweets and pastries using sesame seeds and tahini so these cookies bring back a certain nostalgia while still being healthy and not harming my waistline completely!
The Best Gluten Free & Vegan Tahini cookie recipe
Yield
16 cookies
Prep Time
30 minutes
Total Time
45 minutes
Ingredients
½ cup sesame seeds
1 ½ cups almond flour
½ teaspoon baking soda
½ teaspoon cinnamon
¼ teaspoon sea salt
½ cup coconut sugar
⅓ cup of tahini
3 tablespoon water
1 teaspoon vanilla extract
Directions
First, start by preheating your oven to 350°.

Line one large baking sheet with parchment paper and set aside.

Spread the sesame seeds in a small plate.



In a smaller bowl, mix the almond flour, the baking soda, and the salt until well incorporated.

In a larger bowl, add the coconut sugar, the water, the vanilla,

the cinnamon, and the tahini. Mix until everything is well incorporated.


Add the dry ingredients to the wet ones and mix until the batter is smooth and comes together well

Using a measuring tablespoon, scoop the dough into balls. Roll the dough in the palm of your hands to form balls then flatten them into the sesame seed plate.

Transfer the cookies onto the baking sheet, making sure that there is enough space between them.


Bake the cookies for 8 minutes or until the bottoms are golden brown. Let the cookies cool down for 10 minutes then transfer them onto a rack and let them cool some more before serving.



Enjoy with a cold glass of milk or a warm cup of tea!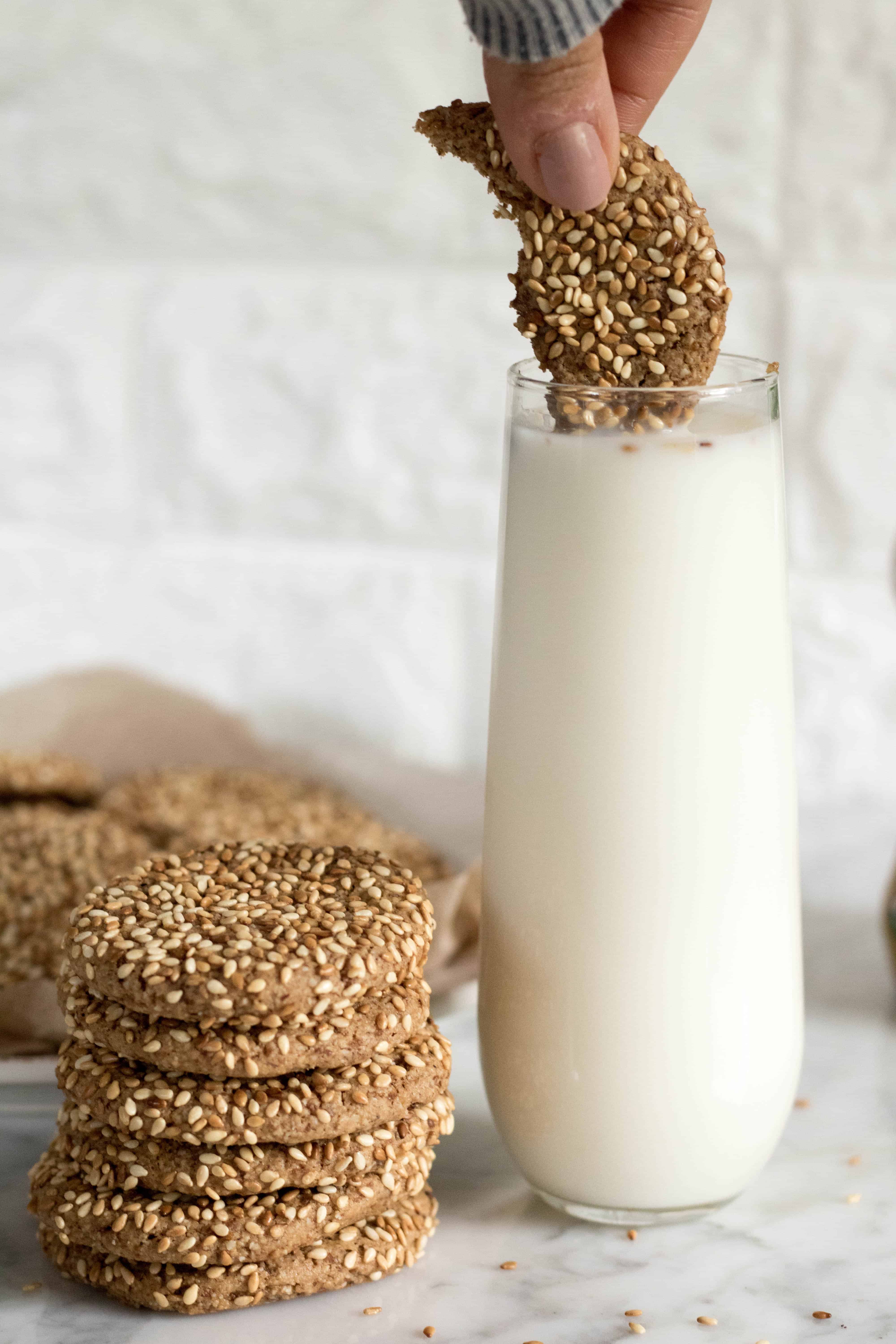 And like always, make sure to tag me on social media whenever you try these out 🙂 I would love to see how they turn out!
PS: pin this for later so that you don't lose this awesome healthy sesame tahini recipe!