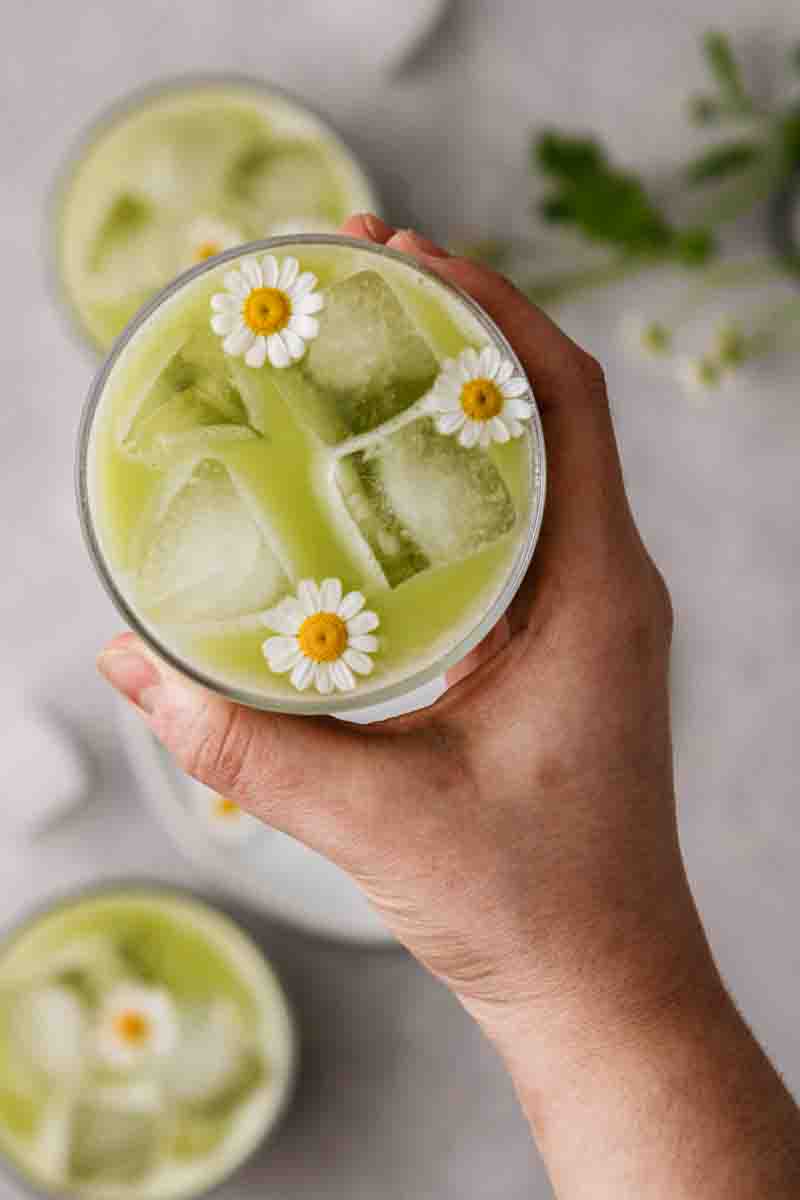 The new Starbucks iced pineapple matcha drink was mind-blowing! Believe it or not, it had the perfect balance of sweetness, matcha green tea, and ginger. It was one of the most refreshing drinks that I had from there in a while.
So a few weeks ago I had a free drink reward at Starbucks and after googling "what refreshing drink should I get from Starbucks" this one appeared on top. Many people had nothing but great things to say about it so I knew I had to give it a try.
Dairy free pineapple matcha drink
As you might know by now, I am a tad bit obsessed with anything and everything matcha. Did you see my Matcha Brownies ever, Healthy Matcha Green Smoothie, and even Cute Green Tea Matcha Hot Chocolate Bombs. I predict that there will be a lot more where those came form. So don't forget to follow along and sign up for our email news letter to get more of these matcha recipe straight to your inbox!
Now let's make it a dairy free pineapple matcha drink and you got yourself a happy girl. Plus, this drink couldn't have come at a better time! I've been missing the tropics, the beach, and that hot weather so much and it reminds me so much of hot sunny days!
This is the best and most refreshing matcha pineapple latte recipe ever!!!
This recipe is easy and will save you time and money from not having to go through the drive through to pick up this drink, or your newest favorite Starbucks drink should I say!!
What's so special about this
This drink is refreshing, perfect for spring and summer
The best Starbucks copycat recipe
It will give you steady energy without crashing
Uses fairly simple ingredients and has substitutions for what you might not have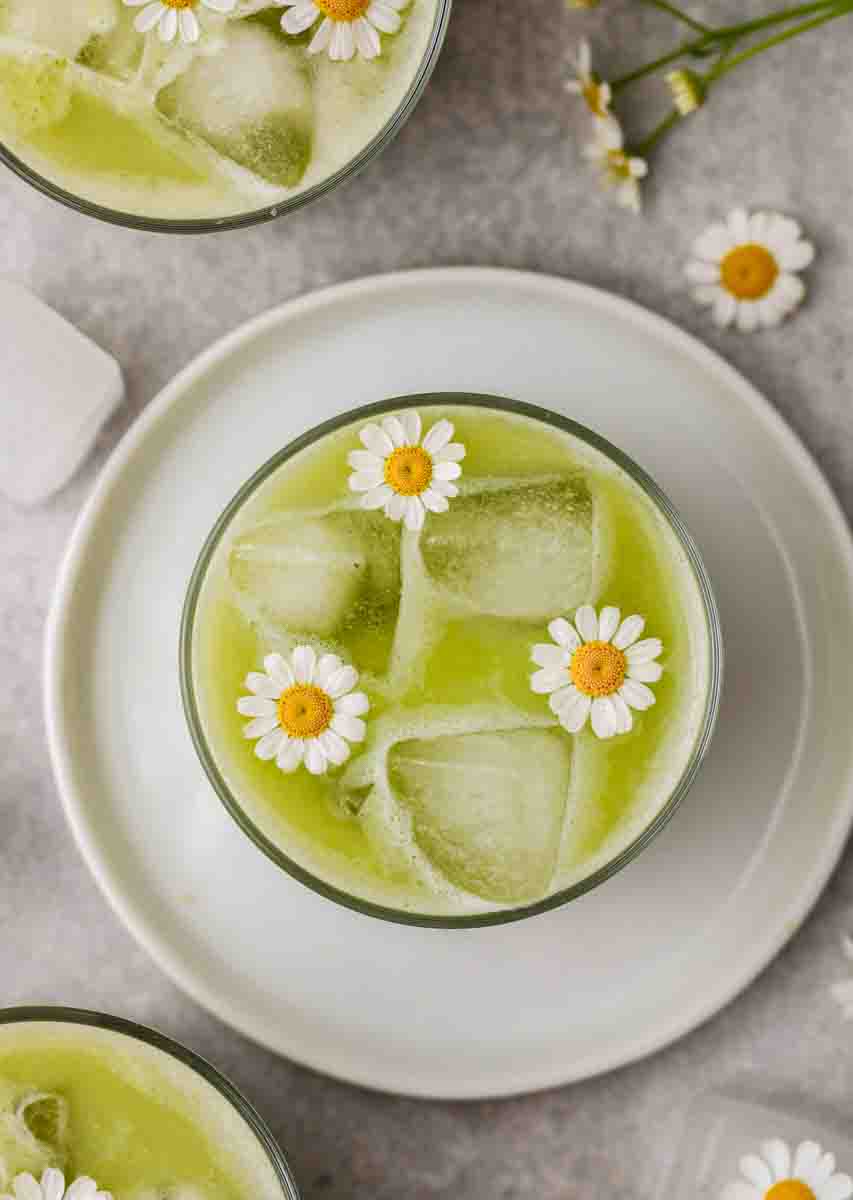 When looking through the Starbucks website and scrolling down to the ingredients' list, It shows that it only contains 3 ingredients. Each ingredient has a long list of preservatives and added color and what not but the main three ingredients are coconut milk, iced matcha tea blend, and pineapple ginger syrup.
The copycat recipe that I am sharing with you today is a bit different from this one as it doesn't use pineapple ginger syrup and uses juices instead.
Here are the ingredients you will need to make this dairy-free matcha drink. Make sure to scroll down to the recipe card for the full detailed ingredient measurements.
Pineapple juice– You can use any pineapple juice, this will bring freshness and tropical flavors into your dairy-free summer drink.
ginger juice– I am addicted to anything ginger so I always like to have a bottle of The Ginger People ginger juice and that's what I use for this refreshing drink.
coconut milk- You will want to use regular coconut milk, not canned coconut milk. I purchased mine from my local grocery store and it blended smoothly in the acidic pineapple juice. No separation compared to the time I used almond milk in this drink.
Matcha- MAke sure to use good quality matcha powder, preferably ceremonial matcha for the best flavored Starbucks drink!
Sugar or simple syrup (optional) – Depending on your taste buds, you might want to add more or less sugar. I prefer this drink with less sugar as the sugar in the pineapple juice is enough for me but if you want it a little sweeter add in some simple syrup of sugar.
ice– Of course, you'll need ice!
What does Starbuck' iced pineapple matcha drink taste like?
to me it tastes like summer or spring in a cup. But if we are talking about literal taste, it tastes like a pineapple matcha drink with a hint of ginger and a smooth coconut-ty finish.
What to use instead of the ginger juice?
If you don't have ginger juice, you can use ginger powder instead. Use ⅛ of a teaspoon of ginger powder and mix it with the matcha and hot water. This will allow it to dissolve before being mixed in with the rest of the ingredients.
Does Starbucks pineapple matcha drink have caffeine?
Yes! This Starbuck copycat ginger matcha drink does have caffeine. The caffeine comes from the matcha powder. The actual Starbucks drink has 80mg of caffeine per 16 ounces.
This copycat recipe has about 35mg of caffeine because we're only using 1/1 teaspoon of matcha. If you want a little more caffeine increase the amount of matcha. Just know that it will taste a bit different.
The amazing thing about getting caffeine from matcha green tea powder is that it is a lot more steady compared to coffee caffeine and doesn't make you crash a few hours after having this drink!
How to make this dairy-free pineapple matcha refresher
This is how you can make the iced pineapple matcha drink. Make sure to scroll down to the recipe card for the full detailed instructions!
In a measuring cup add the hot water and the matcha and mix together using a frother.
Add ice into your serving glass, pour in the pineapple juice, matcha tea, coconut milk, and ginger juice and stir.
Enjoy!
How to make matcha ginger pineapple drink video
Tips to make the best iced matcha pineapple drink from starbucks
Here are a few tips that will make your drink AMAZING!
Use good quality matcha powder because it will affect the flavor of the drink quite a lot.
Mix the matcha green tea powder with hot water using a frother or a matcha whisk. This will allow it to fully dissolve before adding it to the rest of the mixture.
Add as much ice as you want! Since the matcha mixture is hot, you want to ad enough ice to keep the drink cold even after adding that hot component.
Is this matcha pineapple drink healthy?
Healthy can mean different things to different people but in this case I would say this this drink is a lot healthier compared to the one from Starbucks.
We use unsweetened coconut milk, unsweetened matcha, and real ginger juice, all which have health benefits. The only thing that could be considered unhealthy is the pineapple juice because of the added sugar in there.
Again, I want to emphasize the fact that healthy will mean different things to different people.
Iced Pineapple Matcha Drink- Starbucks copycat recipe
If you made these Starbucks iced Pineapple Matcha drink and enjoyed them, don't forget to leave a 5-star review by clicking on the 5 stars under the title and description. It would help me a ton
Starbucks Iced Pineapple Matcha Drink
This refreshing Iced Pineapple Matcha Drink is inspired by the newest spring Starbucks recipe is an easy dairy free fruity pick me up that you can now make at home!
Equipment
a frother or a matcha whisk
Instructions
Mix the matcha and hot water in a measuring cup using a hand held frother.

Add the ice to your serving cup then top with pineapple juice, matcha tea mixture, ginger juice, and coconut milk. Stir and enjoy

Read notes for sweetness level.
Notes
This drink is less sweet than the Starbucks one. Depending on your taste buds, you might enjoy it as is, with only the added sweetness from the pineapple juice but you could also:
Add in 1-2 tablespoon simple syrup
Add in 1-2 tablespoon granulated sugar to the hot water and matcha before frothing.?
Use sweetened coconut milk and or sweetened matcha powder.?
Let. me know which option worked best for you in the comments below!?
Nutrition
Calories:
131
Calories
Carbohydrates:
26
g
Protein:
2
g
Fat:
2
g
Saturated Fat:
2
g
Sodium:
4
mg
Potassium:
221
mg
Fiber:
1
g
Sugar:
20
g
Vitamin A:
109
IU
Vitamin C:
17
mg
Calcium:
71
mg
Iron:
1
mg
Thank you for making it all the way down here 🙂
If you enjoyed this recipe don't forget to let us know in the comments below! In the meantime, don't forget to follow me on Instagram!

Shop this recipe
This post may contain affiliate posts, meaning that at no cost to you I will get a small percentage of every purchase you make!
If you enjoyed this __ make sure to pin it for later