These are the best matcha brownies ever! They are fudgy, moist, chocolatey and packed with all the matcha flavors. With the right balance of sweetness, and a deep matcha flavor you will travel back to Japan with every bite!
SIGN UP TO OUR MAILING LIST GET A FREE WEEKLY MEAL PLANNER AND RECIPE CARD!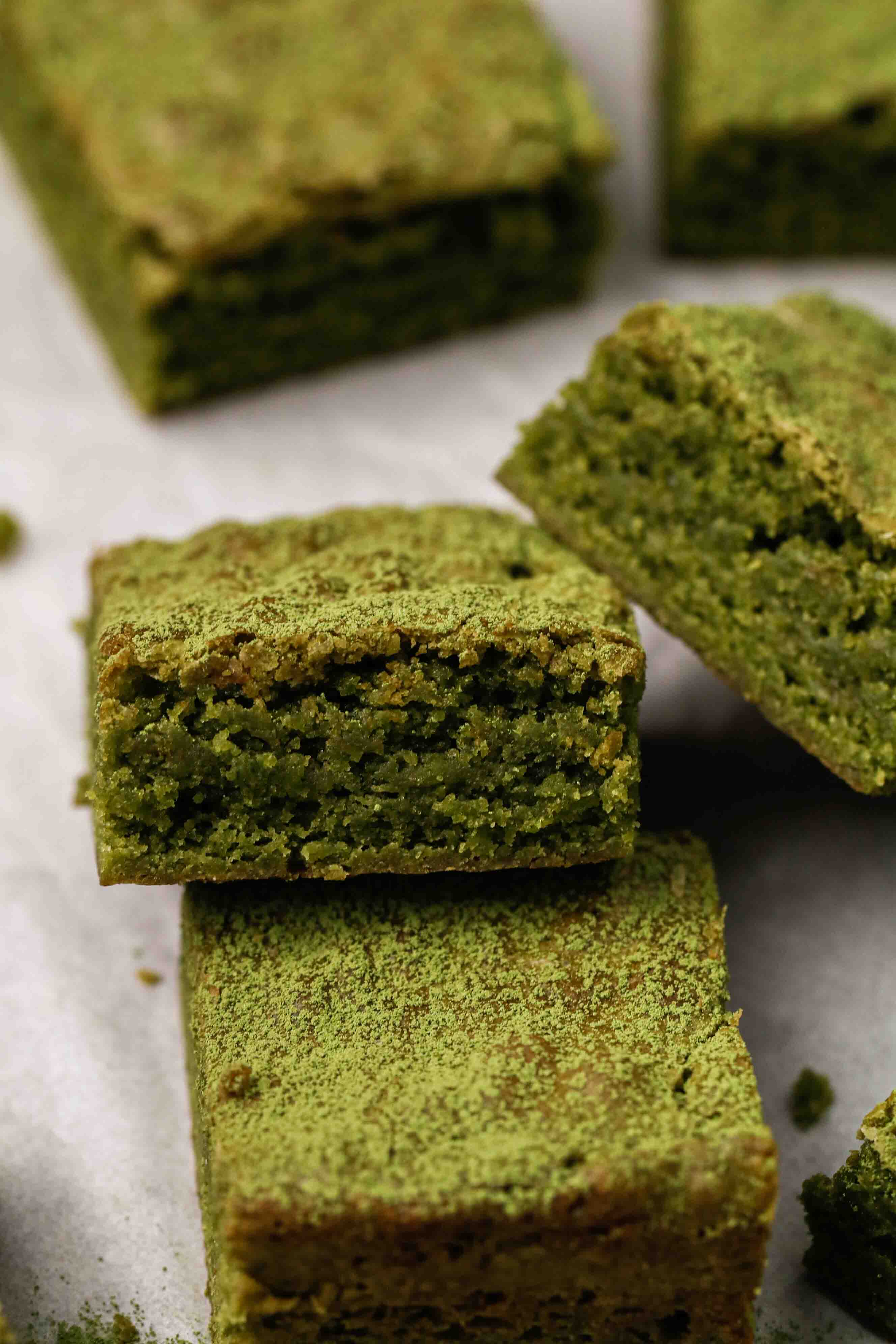 Can we please, take a second to admire the gorgeous green color of this delicious sweet treat?!
I mean does this matcha brownie slice not call your name? If you're a matcha lover, I'm sure it does!
I have been obsessed with matcha for a while. I'm sure you've noticed from the all the matcha recipes I've been posting lately… The latest of them being an Easy Healthy Matcha Green Smoothie. But today, I'm switching it up. Staying away from drink recipes and actually baking with matcha green tea powder.
This is the best matcha brownie recipe ever!
After a few trials, I ended up perfecting this recipe to my likings, and I hope yours as well.
Since white chocolate is pretty sweet, the main challenge here was to keep these matcha brownies not too sweet… But just sweet enough. So playing around with the sugar level was definitely the hardest part of developing this recipe but after the 3rd batch, I knew we were onto something good.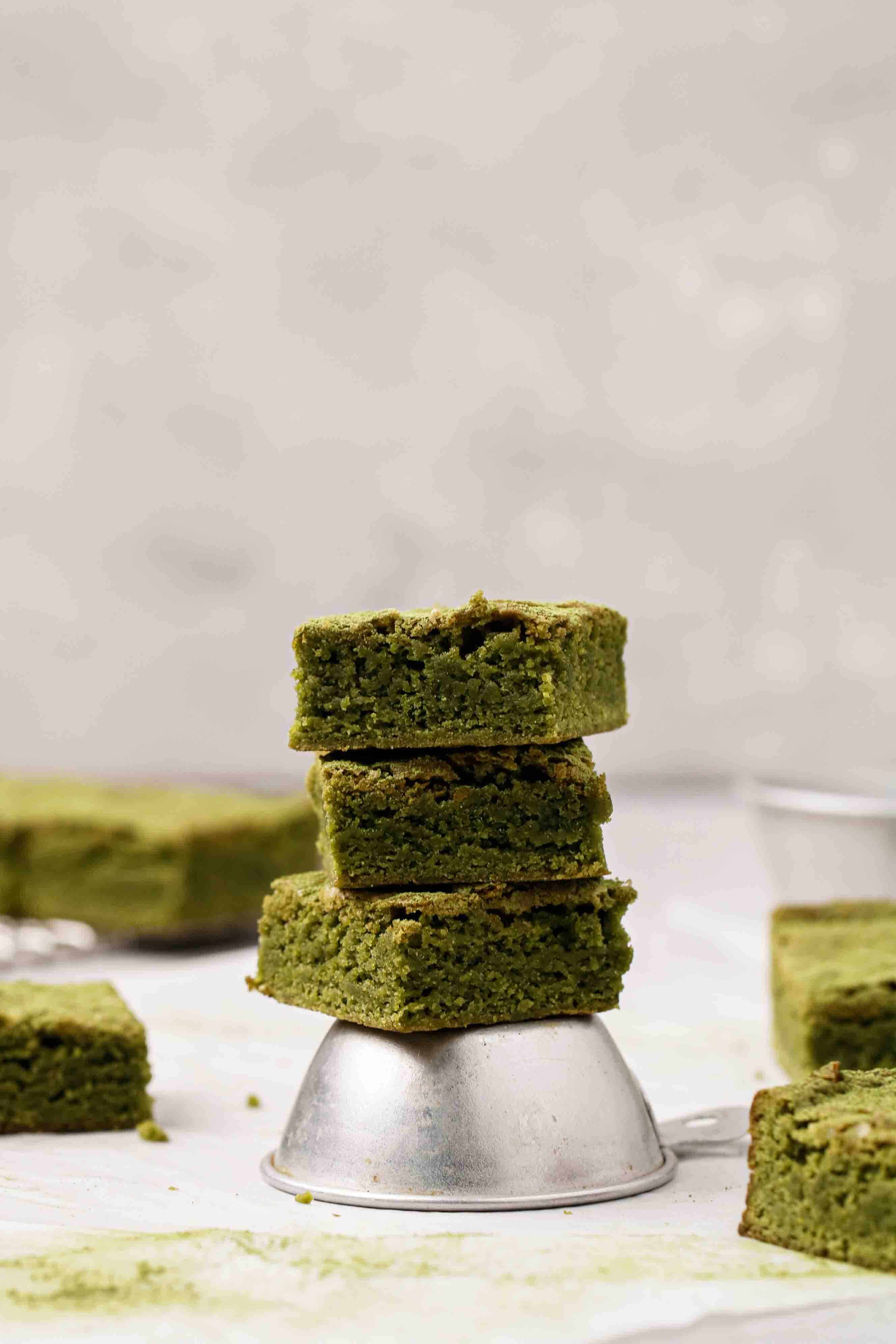 What's so special about these matcha brownies?
Soft & chewy.
Perfect for matcha green tea lover.
Gorgeously colored.
IG worthy AF, I mean have you seen that color!
Not too sweet, just right.
More matcha recipes you will love!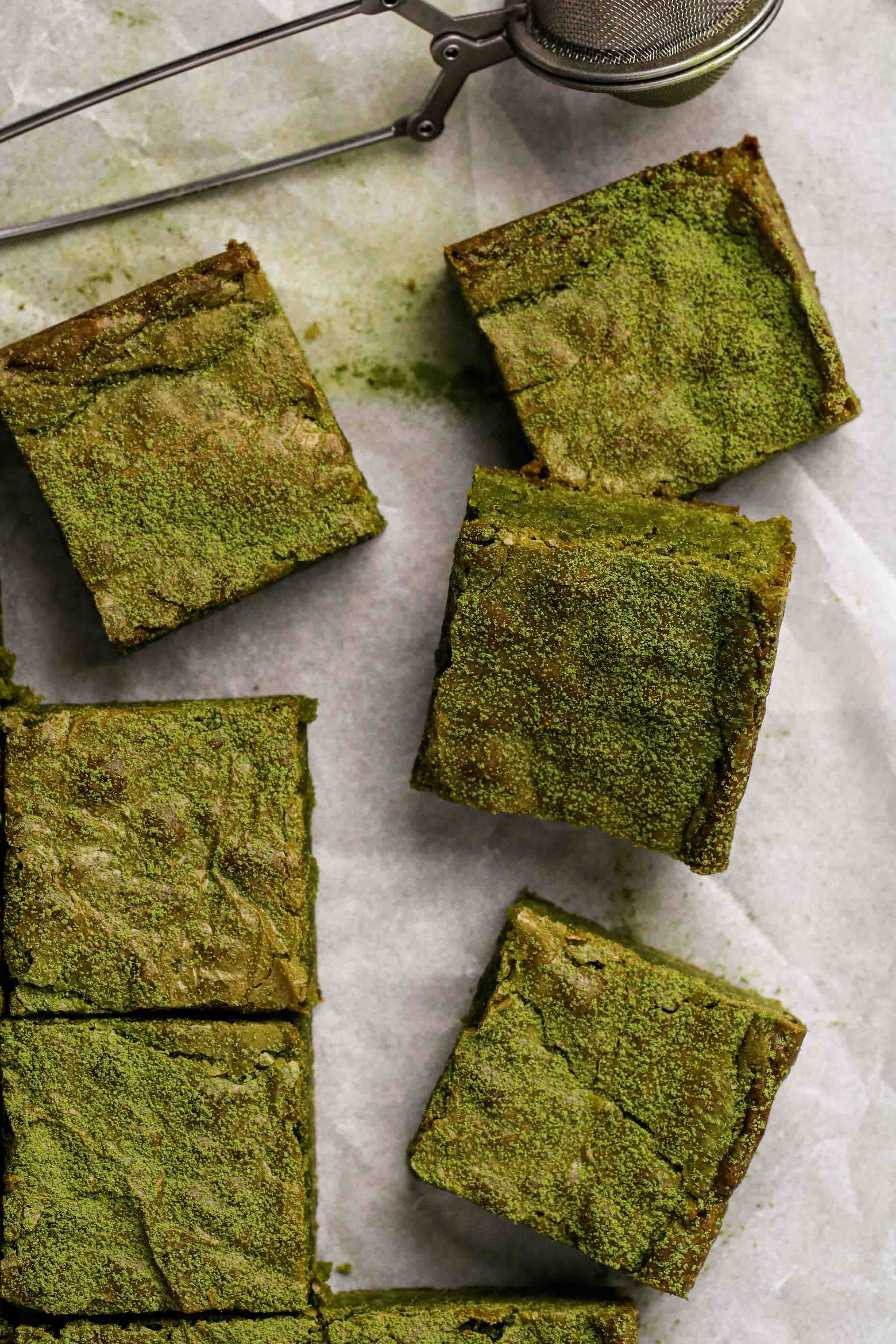 What are matcha brownies?
I asked myself the same thing when I heard about matcha brownies too. How can it be a brownie when it doesn't look like it?
These matcha brownies are made just like regular brownies but instead of using cocoa powder or regular melted chocolate, they use melted white chocolate.
By using the white chocolate, these matcha brownies are still rich but don't have that dark chocolatey look.
Are matcha brownies and matcha blondies the same?
Matcha brownies and matcha blondies may sound similar but they are pretty different. Like I said in the previous question, the matcha brownies have some sort of chocolate in the batter, while blondies do not.
Blondies are a rich cookie bar. The actual batter of a blondie is made just like a brownie minus the cocoa powder or melted chocolate. That is substituted with vanilla extract to create a sweet fudgy dessert bar.
Matcha brownies ingredients
Here are the ingredients you will need to make these matcha brownies. Make sure to scroll down to the recipe card for the full detailed ingredient list.
Butter- The butter will make these brownies rich and fudgy.
White chocolate– This recipe uses melted white chocolate instead of regular dark or milk chocolate. Make sure to use good quality chocolate chips or chocolate bars for the best flavor!
Matcha green tea powder– This is what will give that green tea flavor and that beautiful green vibrant color.
Eggs– The eggs will give extra richness to the brownies while still binding everything together.
Brown sugar- This recipe uses brown sugar instead of plain old white sugar to add moisture and depth of flavor.
Granulated sugar- The granulated sugar will help sweeten the brownies a little more and give them that beautiful crinkly top.
Vanilla extract– The vanilla extract will add more depth of flavor.
Flour– All purpose flour works just fine for this recipe.
Baking powder– You will need just a tad bit of baking powder to elevate your brownies.
Salt– As always, we add some salt to our baked goods to balance out the sweetness of this treat.
Here is the exact pan that I used to get those sharp brownie edges!
What's the best matcha for brownies?
I would say the best matcha to make these brownies would be a ceremonial grade matcha. It has a superior taste and absolutely stunning color.
Does matcha go well with chocolate?
Since this recipe uses white chocolate, I would say matcha goes super super well with chocolate. The sweetness of the white chocolate and the earthiness of the matcha are a match made in heaven.
How to make matcha brownies?
Here is how you can make matcha green tea brownies at home. Make sure to scroll down to the recipe card for the detailed recipe.
Melt the white chocolate and butter in the microwave.
Beat the eggs and the sugar until thick and creamy. This is a crucial step to ensure your brownies have that beautiful crinkly top.
Add in the melted white chocolate mixture to the eggs and gently incorporate.
Fold in the dry ingredients then bake!
Let the brownies cool then slice.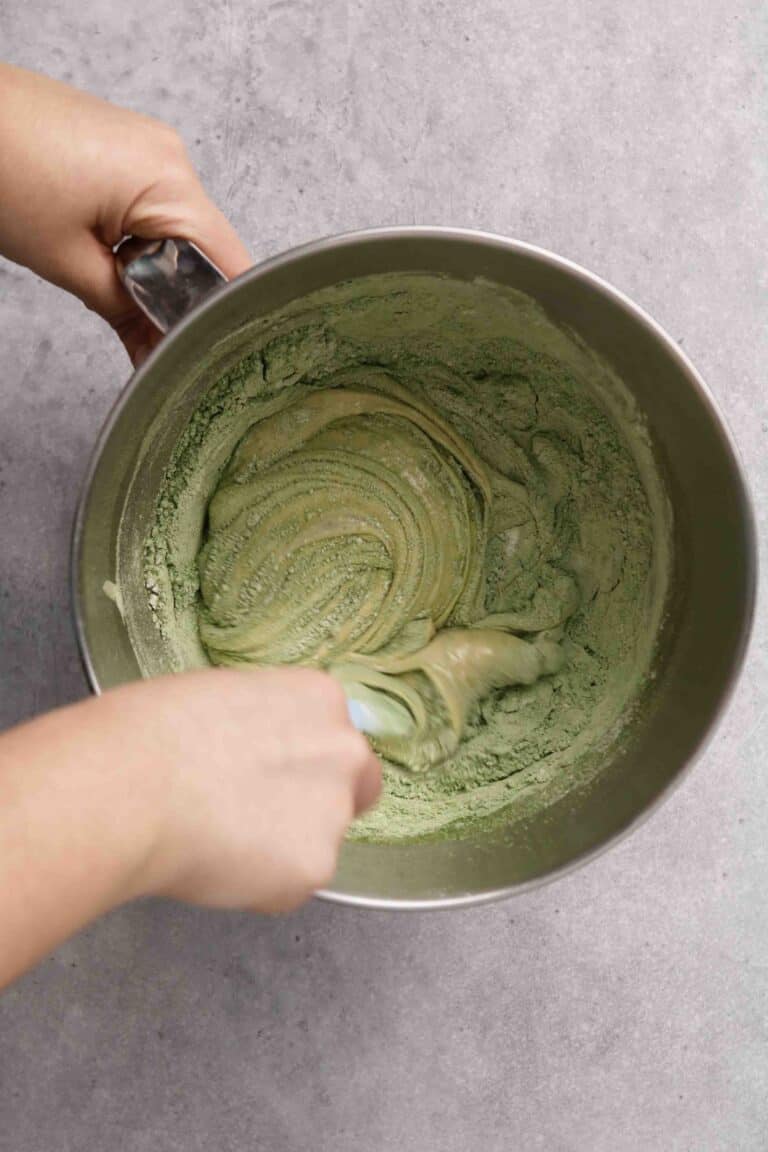 What's the secret to getting a perfect brownie slice?
People often struggle when slicing their brownies because they slice into them too early. The secret to get the perfect brownie slice is to let your brownie chill in the fridge overnight or for a few hours at least and then slicing into them.
Let me know if you tries this little trick down in the comments below.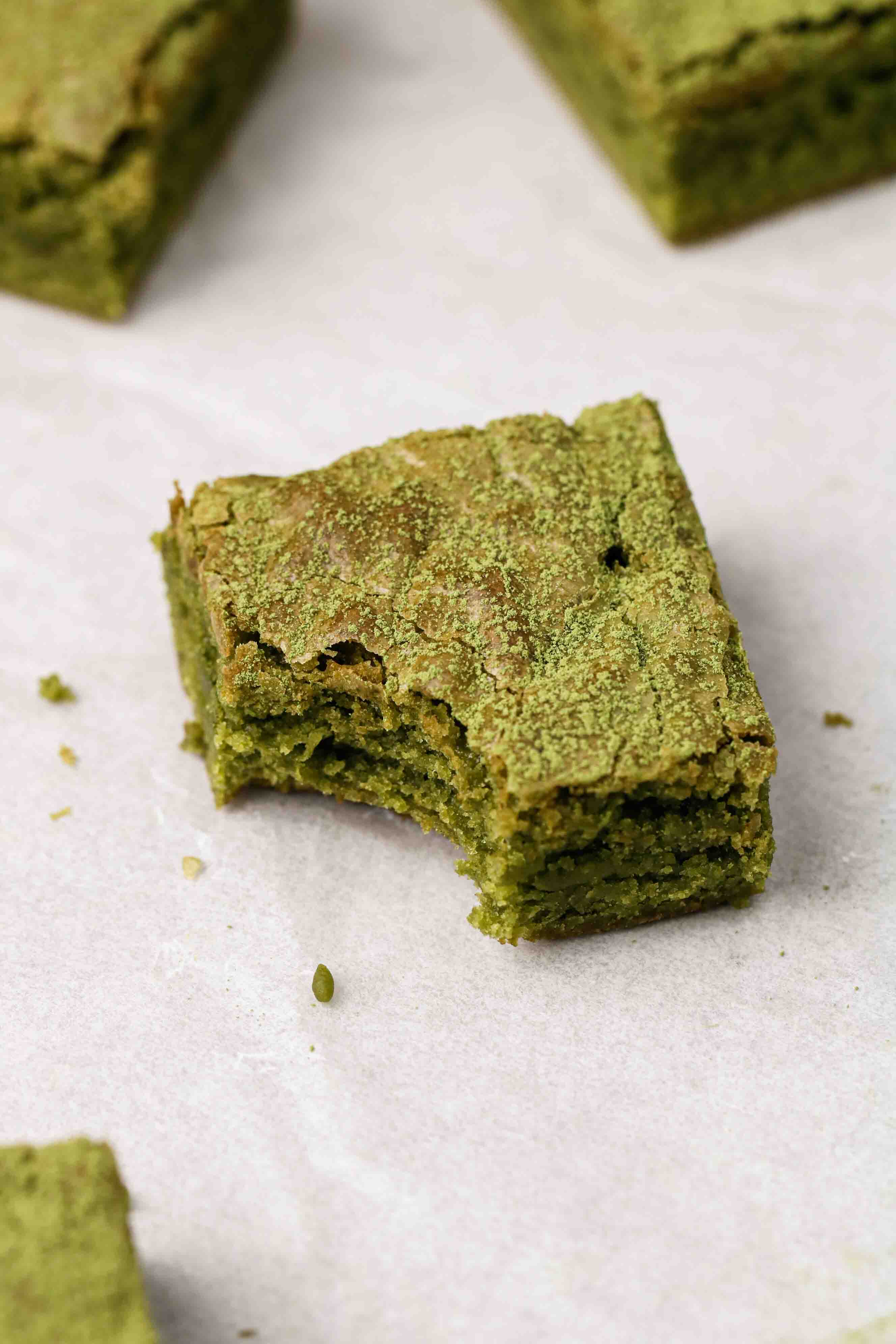 Tips to make fudgy matcha brownies
Here are a few tips that will ensure you make the best matcha brownies ever!
Make sure to beat the sugar an eggs well– To get the typical crinkly top on brownies, you have to make sure to beat the eggs and sugar until thick and creamy.
Sift the dry ingredients-Sifting the dry ingredients will make sure that you don't end up with any clumps in the matcha brownie batter.
Don't over bake the matcha brownies– We want to keep these brownies extra soft and fudgy so over baking them is a no no.
What's the best matcha to use for matcha brownies?
I found that the best matcha to use for your brownies is either ceremonial matcha powder or baking matcha powder. Ceremonial matcha powder will give a little more depth but is also more expensive. Pick whichever one works for you, they will all taste amazing!
How to store matcha brownies?
You can store your matcha brownies in an airtight container in the fridge for up to 7 days.
Can I freeze matcha brownies?
Yes! Once you let your brownie cool down completely, wrap it with tin foil then place it in an airtight container and freeze for up to 3 months.
Let the brownie thaw in the fridge overnight before slicing and enjoying it the next day!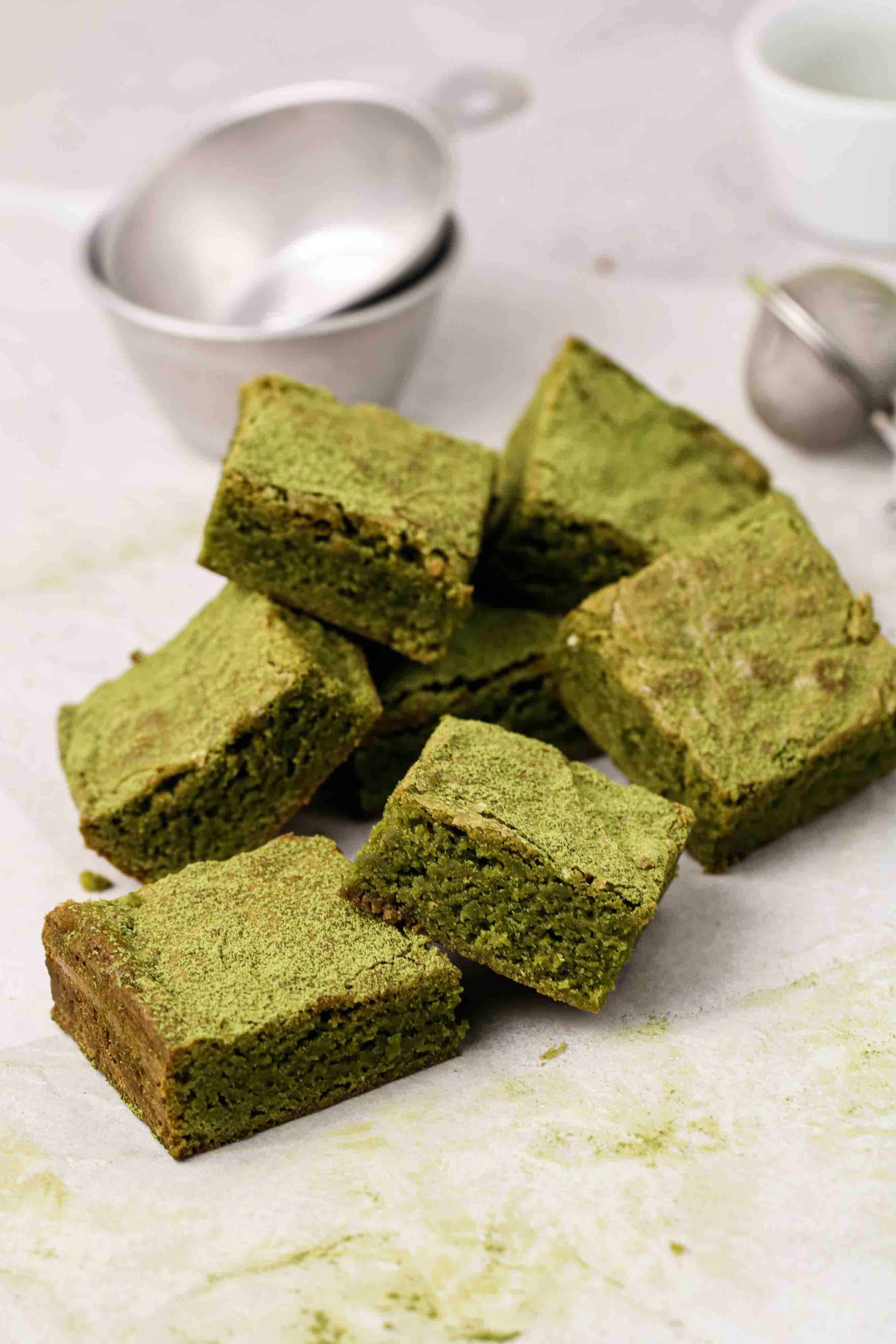 Soft and chewy matcha brownie recipe
If you made this fudgy matcha brownie recipe and enjoyed them, don't forget to leave a 5-star review by clicking on the 5 stars under the title and description. It would help me a ton
Soft and chewy matcha brownies
These fudge matcha green tea brownies are the perfect matcha dessert. Made with white chocolate and matcha powder to get a depth of flavor and richness like no other.
Ingredients
½

cup

Butter

½

cup

brown sugar

¼

cup

granulated sugar

2

eggs

1

yolk

½

Salt

1

teaspoon

Vanilla extract

¾

cup

Flour

2

tablespoon

Matcha powder

¼

teaspoon

Baking powder
Instructions
First, start by preheating the oven to 350F then line an 8×8 baking sheet with parchment paper and set aside.

In a microwave safe bowl melt the butter and the white chocolate in the microwave in 30 second increments making sure to stir between each increment.

In a stand mixer bowl, add in the eggs, egg yolk, both the brown and the granulated sugar, vanilla and beat until thick and creamy.

Whisk in the melted chocolate mixture then fold in the sifted flour, baking powder, salt and matcha.

Bake in the preheated oven for 23 minutes then let the brownies cool down completely before slicing into them .
Notes
Store in an airtight container in the fridge for up to 7 days. 
Nutrition
Calories:
166
Calories
Carbohydrates:
19
g
Protein:
3
g
Fat:
9
g
Saturated Fat:
5
g
Trans Fat:
1
g
Cholesterol:
49
mg
Sodium:
69
mg
Potassium:
47
mg
Fiber:
1
g
Sugar:
14
g
Vitamin A:
319
IU
Vitamin C:
1
mg
Calcium:
28
mg
Iron:
1
mg
Thank you so much for making it all the way down.
If you enjoyed this recipe don't forget to let us know in the comments below! In the mean time, don't forget to follow me on instagram!

Shop this recipe
This post may contain affiliate posts, meaning that at no cost to you I will get a small percentage of every purchase you make!
If you enjoyed making these chewy matcha brownies make sure to pin them for later!