These baked banana donuts with brown butter glaze are gonna change your mind about baked donuts! They are made with overripe bananas, baked to perfection, then topped with a silky smooth brown butter glaze to bring all the flavors together. Best part is that they are the right donut size, just like the ones you would get from the donut shop!!
SIGN UP TO OUR MAILING LIST GET A FREE WEEKLY MEAL PLANNER AND RECIPE CARD!
Personally, I am not willing to let the banana bread/banana dessert trend die off after last year!
I've always loved banana treats except for banana pudding… I just can't stand it. I will make sure to share a recipe for anything banana pudding if I ever find something that works for me… But like I said there is no guarantee because I'm not a banana pudding type of girl.
But…
When it comes to banana bread, I'm your girl!! Whether it's a Pecan Banana Bread with Streusel Topping, or a Healthy no Sugar Added Banana Bread, or even a The Best Banana Bread Mug Cake Recipe I'm right freaking there for it because it tastes amazing!
The natural sweetness combined with the cinnamon spice and the brown sugar to me are the most comforting thing ever! That's why today we are going with baked banana donuts because why not!
This is the best baked banana donut recipe EVER!
I know that the statement I just made is not to be taken lightly, but trust me I 100% these baked banana donuts are some of the best I've ever tried.
The softness of these banana donuts mixed with the delicious brown butter frosting on top will make anyone's day to be honest.
I love making these on weekends because they don't take that long to make and will make Saturday or Sunday morning that much more special!
What makes these brown butter glazed banana donuts so special?
They actually are the size of a real donut!
Their texture is so soft, they will literally melt in your mouth.
The banana flavor comes out beautifully
They don't take that long to make
By baking them you end up saving on extra calories, bye bye extra oil.
They are not too sweet, they're just right.
Ingredients for brown butter glazed banana donuts
Here are the ingredients you will need to make the baked banana donuts. Make sure to scroll down to the recipe card to get the detailed ingredient list.
Overripe bananas– This recipe requires you to use very ripe bananas to help sweeten the donut part.
Brown sugar– The brown sugar will add moisture and a deep sweetness to the baked donuts.
Egg– You will need one egg at room temperature.
Oil– Use any flavorless oil. I went with canola oil.
Vanilla– The vanilla will add depth of flavor to the baked donuts.
Flour– All purpose flour works perfectly for this recipe.
Baking powder & baking soda– These two will give some height to the donuts.
Cinnamon- The cinnamon will add a nice warming spice to the baked banana donuts
Salt– Always add some salt to your sweet baked goods to balance our the sweetness.
For the brown butter donut glaze you will need:
Butter– The temperature of the butter doesn't matter because we will be melting it in a pan.
Powdered sugar– This recipe doesn't use too much sugar to make the glaze. Perfectly balanced and not too sweet.
Vanilla– The vanilla will add some depth to the donut glaze.
Heavy cream– You will need very hot heavy cream to bring the brown butter back to room temperature.
What donut pan should I use?
This is the donut pan that I use because it is large and is very resemblant of a real donut. So if you're using a smaller donut pan, just know that it will yield more than 6 donuts.
How to make homemade banana donuts?
Here is how you can make large banana donuts at home. Make sure to scroll down to the recipe card to see the detailed recipe steps.
Mash the bananas then mix in the sugar, egg, vanilla and oil and mix until combined.
Fold in the dry ingredients just until the flour disappears.
Pour the batter in your prepared donut pan and bake in the preheated oven.
Glaze and enjoy!
How to make the brown butter donut glaze?
Brown the butter in a small sauce pan.
Mix the browned butter with the powdered sugar then set in the fridge to harden.
Add in hot cream then whisk to incorporate.
The mixture will be thick and creamy, not too sweet, just right. Perfect for glazing your baked banana donuts.
What does brown butter glaze taste like?
First, we have to discuss brown butter and how that on its own tastes like. The process of browning butter releases a beautiful nutty aroma from the milk proteins that are in the butter. So many times you will see people describing brown butter as a nutty, caramelly flavor.
On the other hand, this brown butter donut glaze taste like a smooth, gently sweetened nutty glaze. It is on the thicker side because I think that works best with banana bread donuts but the nutty aroma is what brings it all together.
More donut recipes you will love!
Do I have to glaze my banana donuts?
Nope, they are just as good unglazed as they are glazed. I made the donut part a little less sweet to balance out the sweetness from the glaze so if you decide that you want the donuts to be unglazed. Add 2 tablespoons of granulated sugar to your batter to make them just the right sweetness.
I like having these banana donuts unglazed to remind me of the OG banana bread loaves. But they also taste incredible with the glaze too!
Tips for the best baked banana bread donuts
Here are a few tips that will make your banana donuts as good as possible!
Use overripe bananas– The key here. is to use super ripe banana to both sweeten your baked donuts as well as to keep them extra moist.
Don't over mix your batter– After adding in the dry mixture make sure to stop mixing as soon as that disappears. Over mixing will yield a tougher donut.
Grease your donut pan– You know what's the saddest thing ever? Making awesome donuts but not being able to remove them from the donut pan. That's why using non stick donut pans or this silicone pan that I use and greasing it well is a must before baking.
Don't over bake– These banana donuts are hard to over bake because of the bananas and the oil that the batter contains but you still want to be careful to not over bake them to keep them moist and tender. To check the donuts for doneness, insert a toothpick in the center of the donut and if it comes out clean, your donut is ready to be pulled out of the oven!
Moist banana donut recipe
If you made these easy baked banana donuts and enjoyed them, don't forget to leave a 5-star review by clicking on the 5 stars under the title and description. It would help me a ton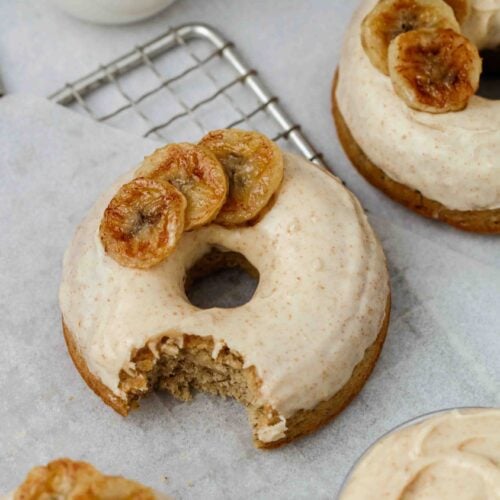 Baked banana donuts with brown butter glaze
These moist baked banana donuts with a brown butter glaze are the perfect treat to make for breakfast or for afternoon tea!
Ingredients
Banana donuts
2

overripe

bananas

About 200g

¼

cup

oil

1

egg

at room temperature

1

teaspoon

vanilla extract

⅓

cup

brown sugar

1

cup

flour

½

teaspoon

cinnamon

½

teaspoon

baking powder

½

teaspoon

baking soda

½

teaspoon

salt
Instructions
Make the brown butter
Melt the butter in a medium saucepan over medium low heat until browned. This will take about 7-8 minutes. Make sure to keep an eye on the butter to make sure that it doesn't burn. You will know it's ready when the mixture forms a thick foam on the surface and smells nutty.

Pour the browned butter in a bowl, add in the powdered sugar and mix until combined. Place the brown butter mixture in the fridge to solidify while you make the donuts.
Make the banana donuts
First, preheat the oven to 350F then spray your donut pan with cooking spray and set aside. Read the notes for the specific donut pan that I used. It makes large donuts, just like the ones you would get at the donut shop!

In a large bowl, add the mashed banana, oil, egg, vanilla extract and brown sugar and mix until combined.

Add in the flour, cinnamon, baking soda, baking powder, and salt and gently fold to combine. Make sure to not over mix.

Divide the batter into the 6 prepared donut cavities and bake for 17-19 minutes or just until a tooth pick inserted in the center comes out clean.

Allow the donuts to cool in the donut pan for 5 minutes then transfer to a cooling rack to cool completely.
Make the donut glaze
Pull out the brown butter mixture from the fridge. It will be solid, but don't worry. Add in the 3 tablespoon of hot heavy cream and whisk the mixture together.

The brown butter mixture will become creamy, smooth, and just like a thick glaze. If you think the mixture is still too thick, add in ½ tablespoon of hot cream at a time and mix again until you reach the desired consistency. This method allows you to make a glaze that is not overly sweet.

Dip each donut in the glaze then set aside, decorate with caramelized banana slices or enjoy as is.
Nutrition
Calories:
484
Calories
Carbohydrates:
34
g
Protein:
3
g
Fat:
38
g
Saturated Fat:
13
g
Trans Fat:
1
g
Cholesterol:
78
mg
Sodium:
473
mg
Potassium:
62
mg
Fiber:
1
g
Sugar:
17
g
Vitamin A:
623
IU
Vitamin C:
1
mg
Calcium:
48
mg
Iron:
1
mg
Thank you so much for making it all the way down.
If you enjoyed this recipe don't forget to let us know in the comments below! In the mean time, don't forget to follow me on instagram!

Shop this recipe
This post may contain affiliate posts, meaning that at no cost to you I will get a small percentage of every purchase you make!
If you enjoyed these brown butter glazed baked banana donuts make sure to pin them for later!