No sugar added banana bread that's delicious and good for you!? This is it. This banana bread is healthy, moist and taste so good with a thick layer of peanut butter!
Hello friends!
Today, I want to first ask you to help me out in keeping this blog up and running.
To do so, please sign up for my email newsletter to get all these amazing recipes straight to your inbox. (don't worry I will not spam you or share your email with anyone else)
To do so through my homepage; you'd have to wait until this prompt comes up which will take about 5 seconds after opening up the website.
To do this through any recipe page; you'd have to go all the way down to the bottom of the page and enter your email right here.
This will allow us to stay in touch and will keep you updated on any new articles I post. I promise I won't deceive you!
Moving on today's quote of the day, I wanted to talk about asking for help, or pretty much just asking for what you want. In my 24 years of life, I 've had some pretty crazy experiences with this specific topic.
It always starts out like this; I would doubt myself and be terrified of what will happen if I asked anyone for anything but eventually I get to this point of not caring about that. I tell myself that whatever is meant to happen will happen anyway regardless of if I want it to or not. I also realize that I have absolutely nothing to lose.
Undoubtedly, with this mentality, I was able to get a three-month internship with the ex-executive chef of the Wynn hotel and casino here in Las Vegas. One day I woke up and went to talk to him at his new bakery at 7 in the morning. I went and asked if he would be willing to mentor me and teach me his ways. Guess what? He accepted and he eventually said that I was one of the best stagiaires that had worked for him. This was walking in with no professional experience at all!
So for now, I would like to ask for some help from you guys! My readers and fellow friends. you have a tremendous amount of power in helping me grow my page and make it something that many more people would enjoy reading.
For today's recipe, we have a no sugar added banana bread !!

Look at how cute my loaf pan is !! My sister got me this at Marshall's a little while back and has been asking me to make something in it ever since!
If we are being completely honest, I have never met anyone who doesn't like banana bread and yes I am part of those people who are completely and utterly in love with this sweet bread!
As many of you know, regular banana bread tends to be loaded with white or brown sugar or even both …This tends to be a big issue when trying to cut out white sugar from your diet or at least drastically limit it!
For more of my low sugar recipe check these out:
Wanna be healthy cookie dough chocolate balls
These contain no added sugar and are to die for!
So with a little bit of experimenting, I was able to make something close to your traditional banana bread but without all that added sugar.
What is the secret you ask? Well first of all bananas are pretty sweet, and the riper they get, the sweeter they become, so make sure to use very ripe bananas. The next thing would have to be the unsweetened apple sauce, this component will add a tiny bit of fruit sweetness as well as an amazingly moist texture to this banana bread.

For me this no sugar added banana bread recipe was mainly to be enjoyed for breakfast as a quick grab and go, but you could definitely enjoy this as a midafternoon snack or as a post workout snack to refuel those muscles!
Some of my favorite ways to enjoy this banana bread were:
On its own with a nice cup of hot tea!
As a snack with some nut butter spread on top and a light drizzle of raw honey
As a no sugar added banana bread french toast
As a substitute for the bread in a peanut butter and jelly sandwich
If you have more ideas do not hesitate to share them on the comment section!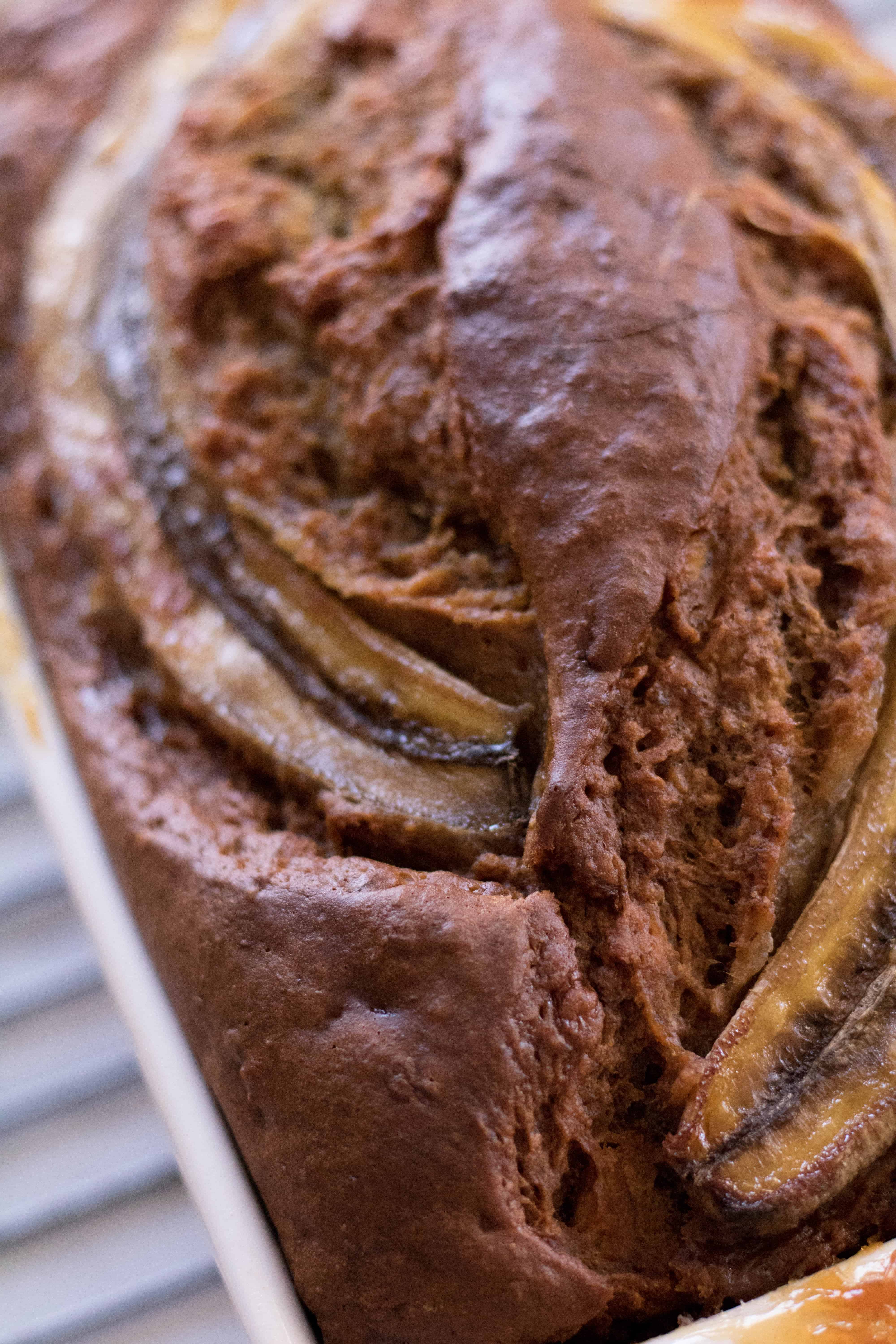 Nut-Free No Sugar Added Banana Bread Recipe
No sugar added banana bread recipe
This banana bread is one of the easiest out there! It does not contain any white sugar which is something I always strive for in my baking and hope you guys do to as well.
As I'm finishing this up, I am enjoying my last slice of banana bread with some almond butter and a drizzle of honey and it tastes amazing!
Ingredients
Instructions
First start by preheating the oven to 375 degrees F, and lightly grease two medium loaf pans

In a large bowl combine the flour, baking soda and salt. In a separate bowl mix together the apple sauce and the honey and stir in the eggs and the mashed bananas until everything is well blended together.

Stir in the wet mixture into the dry mixture, making sure to only stir enough to get everything incorporated without overmixing. Pour batter into the loaf pan and leave enough to fill up the four cupcake tins.

Bake the loaves in the preheated oven 55-65 minutes, making sure to cover the top with some aluminum foil to prevent it from browning too much!
Notes
This banana loaf will last in the fridge for up to a week!
Nutrition
Serving:
0
g
Carbohydrates:
0
g
Protein:
0
g
Fat:
0
g
Saturated Fat:
0
g
Polyunsaturated Fat:
0
g
Monounsaturated Fat:
0
g
Trans Fat:
0
g
Cholesterol:
0
mg
Sodium:
0
mg
Potassium:
0
mg
Fiber:
0
g
Sugar:
0
g
Vitamin A:
0
IU
Vitamin C:
0
mg
Calcium:
0
mg
Iron:
0
mg
Products that I love and have used in this
If you end up trying this recipe don't forget to tag me on Instagram Chahinez_tbt and let me know how you liked it :)!
have a great day and make sure to pin this awesome recipe for later!
Jump to Recipe