This moist banana bread mug cake is made with a few simple ingredients for the ultimate single-serve quick treat. Need ways to use up your over ripe bananas without too much baking and an insane amount of leftovers this banana mug cake is for you!
SIGN UP TO OUR MAILING LIST GET A FREE WEEKLY MEAL PLANNER AND RECIPE CARD!
Remember how I said that I have a love-hate relationship with loaves back when I shared The Best Moist Blueberry Lemon Loaf Cake, well this single serve banana bread mug cake is changing the game for me.
There is something super special about having banana bread in a mug just for yourself. Like, how special would that make you feel!!
Today we are bringing you a crowd favorite comfort food recipe that you can make from start to finish in just a few minutes and with very minimal dishes. I would even go as far as saying that this is better than all those one bowl banana bread recipes.
This is the best single serve banana bread mug cake recipe ever!
Ever since I started trying to perfect "THE banana bread mug cake" I have to admit that I made it more than 8 times. Not because I struggled to make it perfect but because it was so easy to make and tasted so good that I couldn't stop myself.
I mean can you blame me? I am so weak when face with a fluffy, packed with nuts and banana flavor, cute little mug cake. I think it's time for you to hop on the banana bread mug cake addiction so I don't fee alone!
What makes this banana mug cake so special?
I shouldn't have to convince you to make this recipe, I mean look at the photos! (Drooling as we speak) But here is why I think you should make this:
This is the moistest and softest banana bread mug cake ever.
It is very versatile, don't like nuts? Add chocolate chips. Don't have milk? Use half and half.
This recipe makes for the perfect single serve banana bread mug cake.
Hello, portion control! No more walking back and forth to the kitchen to grad the fourth slice of banana bread because you only made one serving!
Ingredients for banana bread mug cake
HEre are the ingredients you will need for this banana bread mug cake recipe, make sure to scroll down to the recipe card for the full detailed ingredient list.
Butter- You will need a little bit of butter then you will need to melt directly in the mug where you will be making your banana mug cake.
Brown sugar– The brown sugar will lightly sweeten the mug cake and add more moisture to it as well.
Egg yolk– You will need one egg yolk for this mug cake.
Vanilla– A little vanilla goes a long way to brighten up your banana mug cake.
Milk– The milk is used to make the mug cake moist as well.
Banana– Use a very ripe small banana for this recipe.
Flour– Regular all-purpose flour works great for this recipe.
Salt– I always like adding some salt to my baked goods to balance out the sweetness.
Baking powder– The baking powder is the leavening agent used in this recipe.
Walnuts– If my banana bread doesn't have walnuts, I don't want it! But hey if you're not a nut in your banana bread kinda person, it's all good, you can omit
Ingredient substitution
I understand that sometimes, you might not have all the ingredients on hand. Here are a few substitutions that will work just as well.
Granulated sugar instead of brown sugar- This will work just as well but will slightly change the flavor.
Pecans or other nuts instead of walnuts– I almost prefer pecans over walnuts in my banana bread but either or works 🙂
Chocolate chips instead of walnuts- Okay, hear me out! I get it, not everyone is a nut person, so if you still wanna treat yourself but without the nuts, add chocolate chips instead. You can thank me later!
Heavy cream or half and half instead of regular milk- You can even use dairy-free milk. This is just used to give your mug cake more moisture.
What type of banana should I use for banana bread?
When making banana bread, the best type of banana you can use has to be an overripe banana. You know those bananas that are just hanging out on the counter of your kitchen getting darker and darker by the hour.
Those are softer and easier to mash, they are also a whole lot sweeter and have a stronger banana flavor to make your banana bread mug cake taste even better!
How to mash banana for banana bread?
The possibilities are endless when it comes to mashing your bananas for banana bread. Since we are making a single-serve dessert, I would recommend that you mash it with a fork in a bowl.
I personally enjoy having little chunks of banana leftover but that's a preference thing. The most important thing is that you start with an overly ripe banana and mash it to your likings before adding it to the rest of the batter.
How to make a banana bread mug cake in the microwave?
Here is how you can make your own banana bread mug cake in the microwave. Make sure to scroll down to the recipe cake to get the full instructions and ingredient list.
Melt the butter in the same mug you are going to bake your banana bread cake in.
Add in the brown sugar and egg yolk, then milk and the mashed banana and mix until combined.
Add in the dry ingredients (flour, salt, baking powder, and walnuts) and mix one last time.
Bake in the microwave.
ENJOY!
Can I bake a mug cake in the oven?
Unfortunately no, unless specified otherwise.
This mug cake recipe is specifically made to make your life easier and be baked extra fast in the microwave. Plus who wants to turn on a whole oven. and wait for it to preheat for just one serving. That's why the microwave is a god send!
What can I top my banana bread cake with?
Topping your banana mug cake might be one of the most fun part of this whole recipe if I can say so myself. Here are a few ideas that you can use next time you make this for yourself:
Nutella- Are you freaking kidding me!! Imagine adding something amazing to something that's already extra amazing! That's what I live for TBH.
Ice cream– You can never go wrong with topping literally anything with a generous scoop of your favorite vanilla ice cream. In my case some Tillamook sweet cream ice cream … Ohmygerddd!!! So good!
Caramel– Caramel and bananas are a match made in heaven so topping your banana mug cake with caramel seems only logical at this point!
Candied nuts– Candied nuts on banana bread is what will make this treat a next level delicacy. Try it out!
Caramelized bananas– Caramelized bananas on banana bread mug cakes are for my avid banana lovers. Can't get enough banana in the mug cake? Add more on top! YOLO.
More mug cake recipes you will love!
Easy banana bread mug cake
If you tried and enjoyed this single-serve moist banana bread in the microwave recipe, make sure to give it a 5-star rating by clicking on the 5 stars under the description.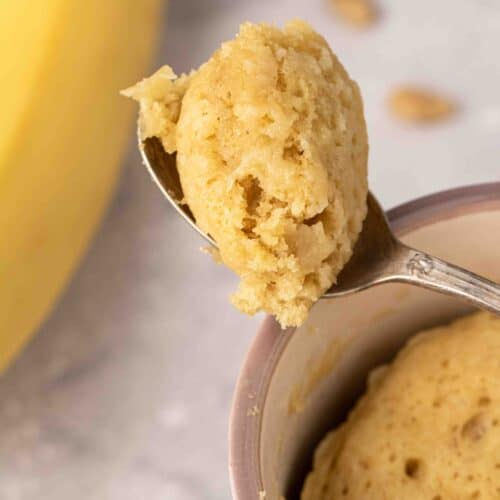 The best banana bread mug cake
This single serve banana bread mug cake recipe is an easy single serve treat to make any day of the week!
Ingredients
1 & ½

tablespoon

butter

2 & ½

tablespoon

brown sugar

1

yolk

1 & ½

tablespoon

milk

1

small

banana

about 95 grams, mashed.

4

tablespoon

flour

1

pinch of

salt

½

teaspoon

baking powder

1

tablespoon

walnuts

roughly chopped
Instructions
In a large mug, melt the in the microwave for 15-30 seconds. Add in the brown sugar and the egg yolk and milk, add in the milk and the mashed banana and mix once again.

Add in the flour, salt, baking powder, and the walnuts and stir just until combiner. Microwave on high for 2 minutes and enjoy your mug cn.

If your banana mug cake still seems a bit raw bake it for an additional 1o seconds and check it again.
Notes
When making mug cakes, make sure to enjoy them as soon as you make them. The longer they sit out the more the texture will change. So to enjoy it at its best, have it right out of the microwave 🙂 (making sure to let it cool enough not to burn yourself of course!) 
Nutrition
Calories:
530
Calories
Carbohydrates:
78
g
Protein:
8
g
Fat:
22
g
Saturated Fat:
13
g
Trans Fat:
1
g
Cholesterol:
241
mg
Sodium:
390
mg
Potassium:
494
mg
Fiber:
3
g
Sugar:
43
g
Vitamin A:
895
IU
Vitamin C:
9
mg
Calcium:
208
mg
Iron:
3
mg
Thank you so much for making it all the way down here
Did you enjoy this banana bread mug cake recipe? We would love it if you could leave a comment letting us know. In the meantime don't forget to follow us on Instagram.

Shop this recipe
This post may contain affiliate posts, meaning that at no cost to you I will get a small percentage of every purchase you make!
If you enjoyed this microwave banana bread mug cake recipe make sure to pin it for later!