These thumbprint cookies with jam are absolutely life changing. They are soft, chewy, and are packed with almond flavors and aromas. Make these extra special for yourself and your family by using any jam that you like. This thumbprint cookie is a must have recipe for the holiday season!
SIGN UP TO OUR MAILING LIST GET A FREE WEEKLY MEAL PLANNER AND RECIPE CARD!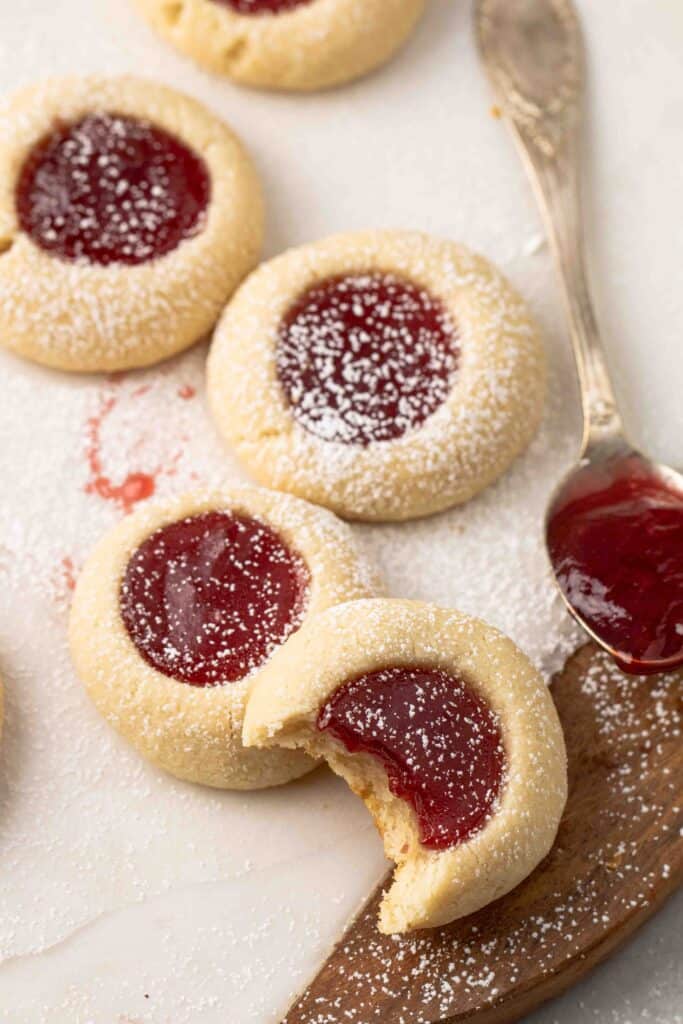 Thumbprint cookies are one of those ultra comforting cookies. They are usually made around the holiday season so they always remind me of festive times.
I actually make these a little more often, I like find an excuse to made these jam filled cookies because let's be honest, they're so freaking good they deserve to be an all year round cookie.
I am counting on you on making that happen by making this recipe as many times as possible before Christmas and sharing it with all your friends and family 🙂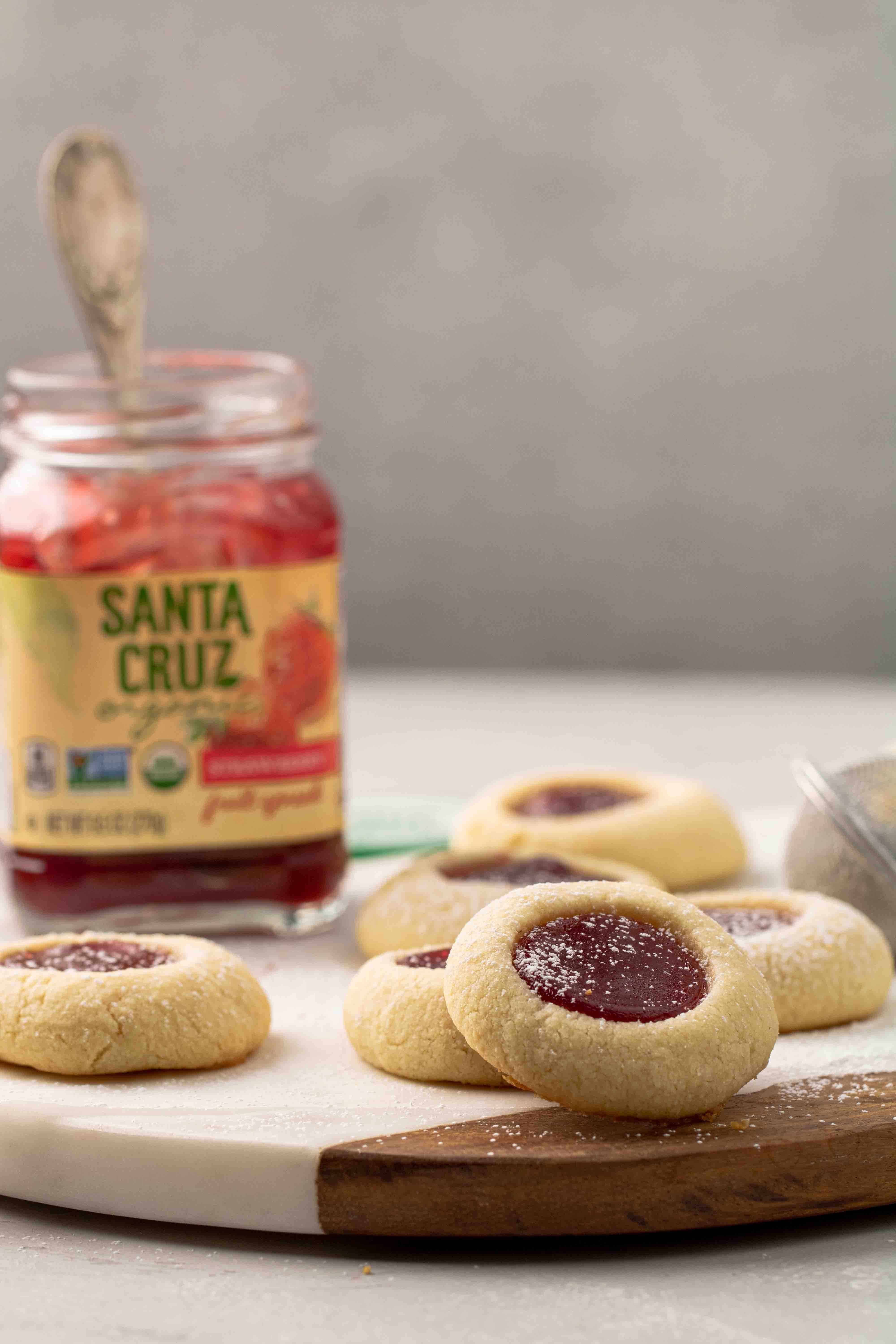 This is the best recipe for thumbprint cookies with jam ever!
I don't know why I waited so long to post these. I have been making these cookies every year around Christmas time to fill up my cookie boxes for friends and family. But hey at least you will have this recipe for Christmas 2021!
What's so special about these thumbprint cookies?
These cookies are extra special and here is exactly why:
They are soft and chewy.
The cookie dough for this recipe is made with almond flour and almond extract for double the almond flavor.
You can fill them up with any jam you'd like and make them your own.
They will disappear in less than a day because they are that good!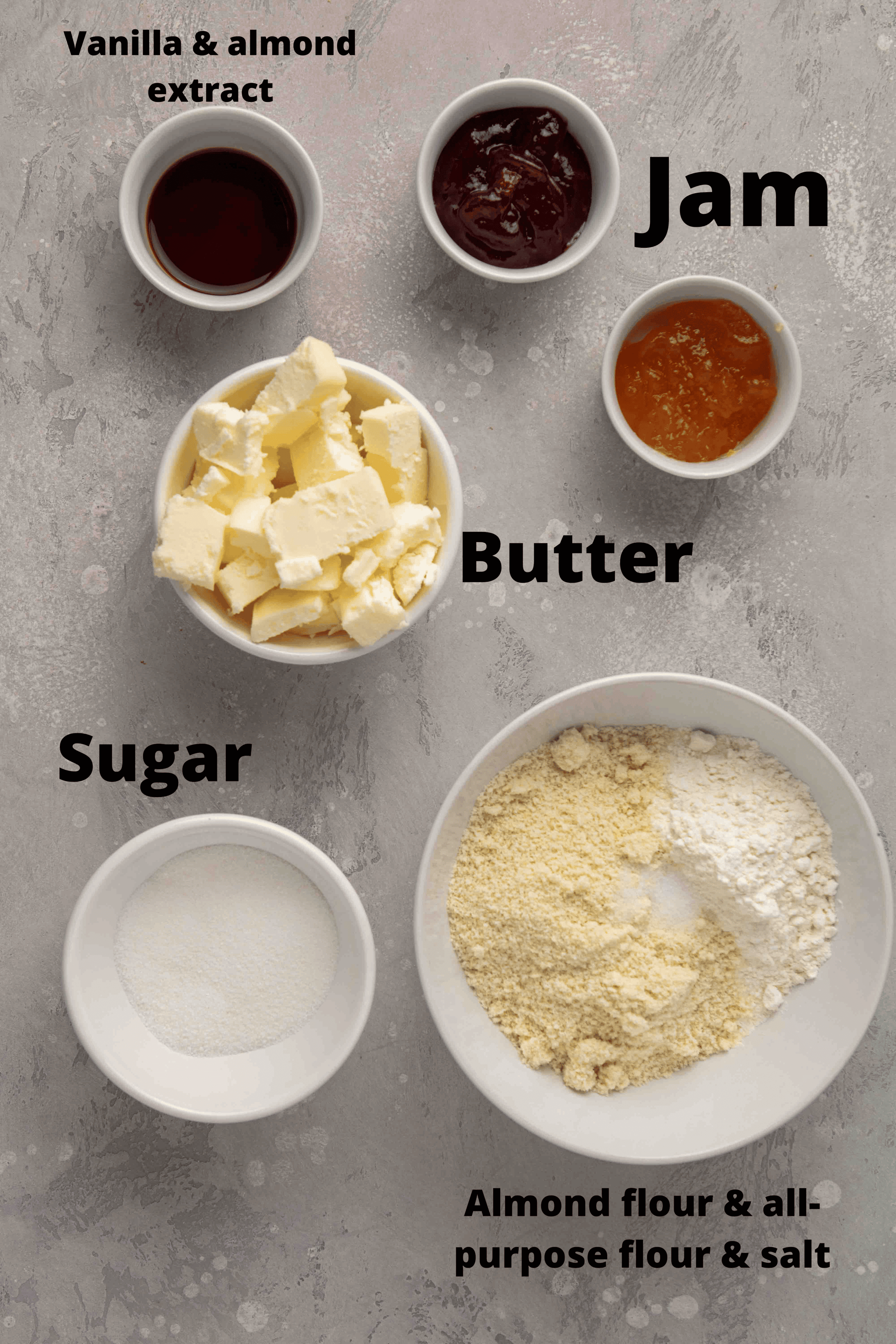 Ingredients for thumbprint cookies
Here are the ingredients you will need to make these thumbprint cookies with jam at home. Make sure to scroll down to the recipe card for the detailed ingredient list.
Flour- You will need regular all purpose flour for these cookies.
Almond flour– You will need blanched almond flour for these cookies. This flour will add a touch of almond and keep the cookies extra soft.
Salt– We always add a little salt to our baked goods here on lifestyle of a foodie, it helps balance out the sweetness of the treats.
Butter– You will need regular cold butter.
Granulated sugar– Granulated sugar or white sugar is what we are using to sweeten these almond cookies.
Vanilla extract– The vanilla extract takes these cookies up a notch.
Almond extract– Adding the almond extract to these cookies will take them from yum to OMFG what's in these!!!! So pretty much, from good to amazing.
Jam– You can use any jam you like for these thumbprint cookies. We usually like to use strawberry or raspberry jam. But for the sake of contrast we went with strawberry and apricot in the photos!
This recipe is seriously a gift from above! with only seven ingredients (plus salt but everyone has that so we're not counting it) You will have amazing cookies in no time!
Is there a substitute for almond extract?
These cookies are best when made with almond extract but if you don't have any you can always use more vanilla extract though!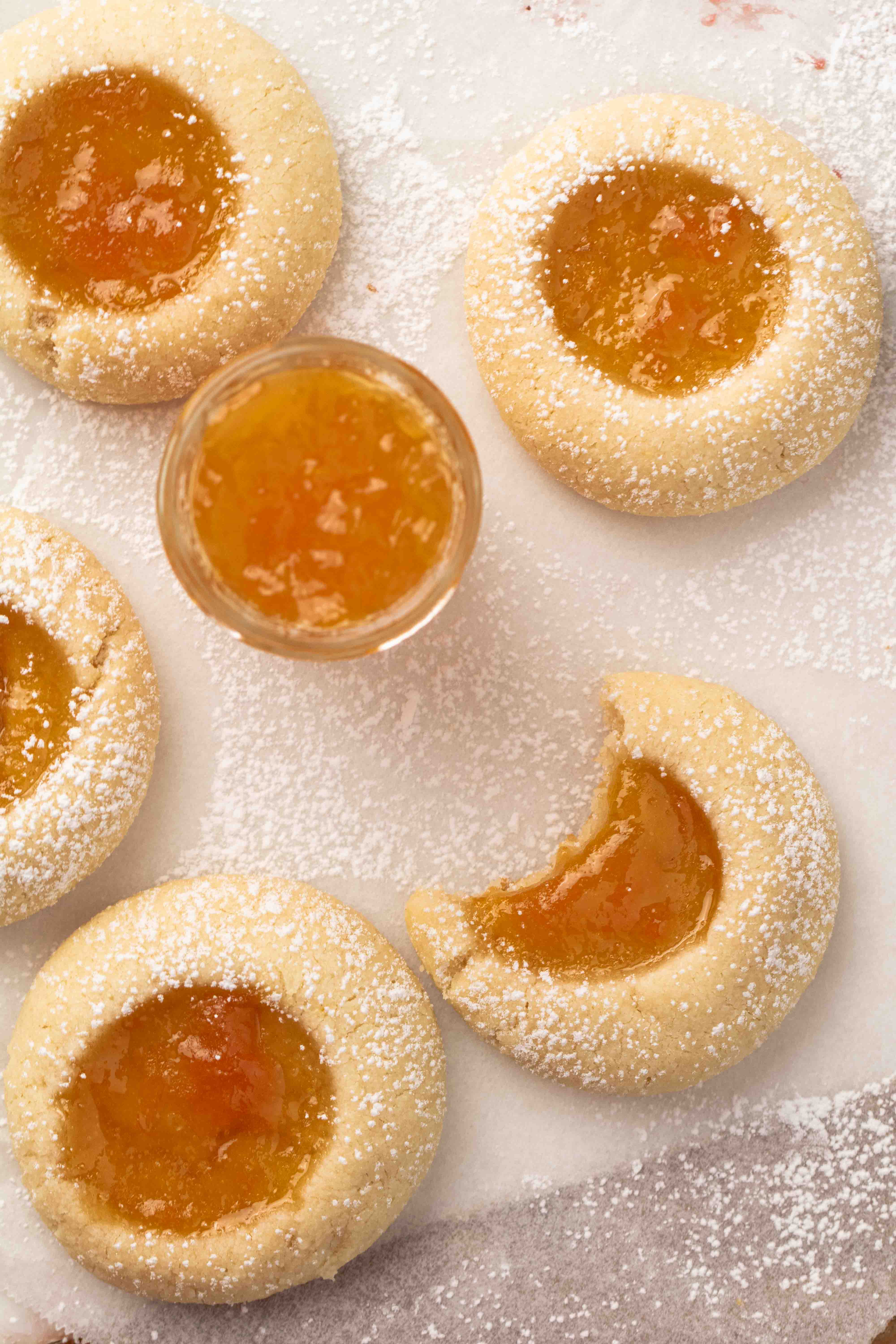 Can I use any flavor of jam or jelly for these cookies? and what jam can I use for them?
When it comes to jam in thumbprint cookies, the possibilities are endless. You actually don't even have to go with just jam, you can do Nutella or even dulce de leche. In this case here are a few jam flavors I love using in my thumbprint cookies:
Strawberry jam
Raspberry jam
Lemon curd
Apricot jam
Black berry jam
Fig jam
Some of my favorite brands of jam would have to be; Bonne Maman, St Dalfour, and Santa Cruz organic spread.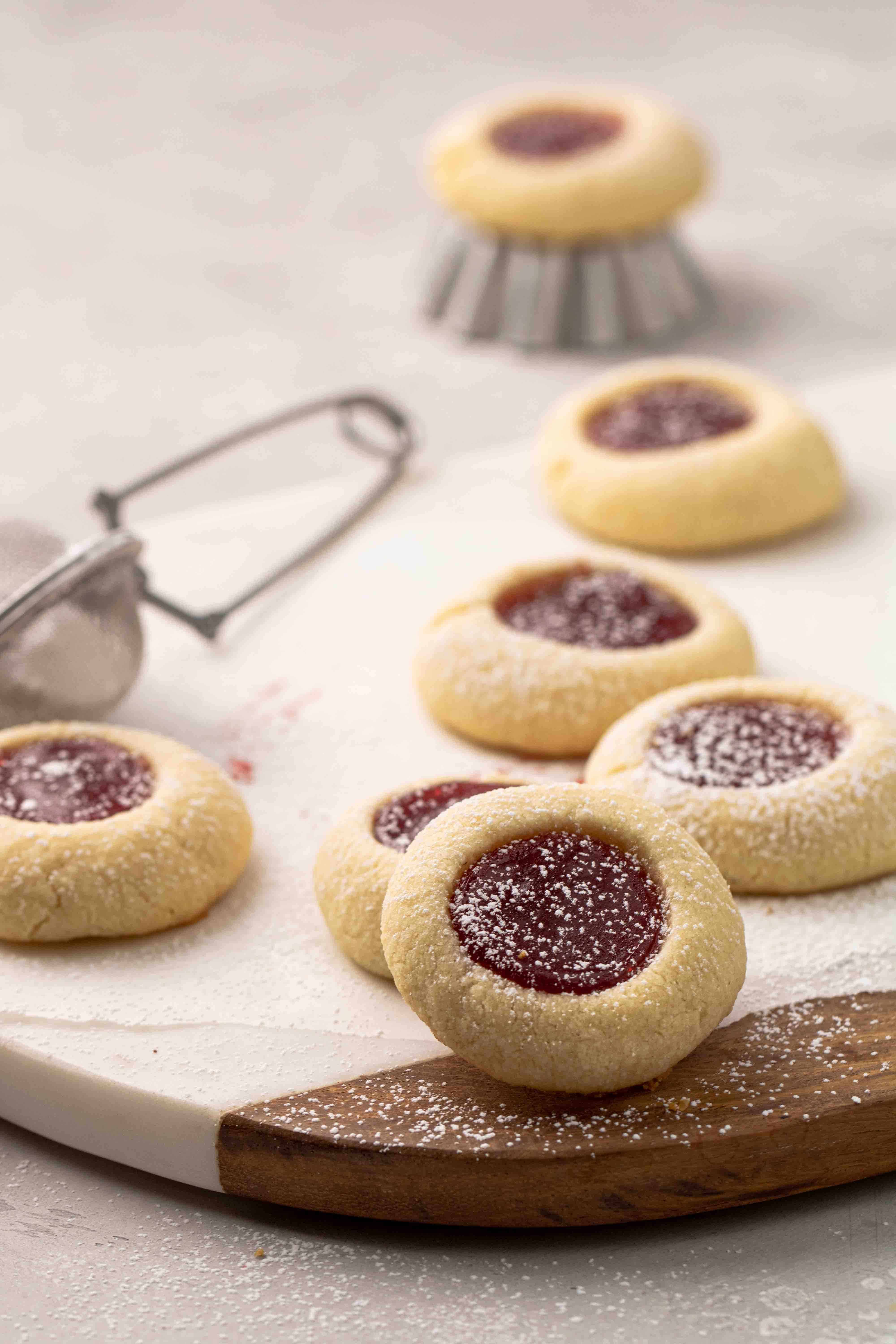 More recipes you will love!
How to make thumbprint cookies with jam
Here is how you can make these homemade thumbprint cookies. Make sure to scroll down to the recipe card for the detailed steps to this recipe.
Mix the dry ingredients together and set aside.
Cream the butter, sugar, and extracts together until light and fluffy.
Add in the dry mixture and mix until a cookie dough forms.
Scoop out 1 tablespoon work of cookie dough, roll it in the palm of your hand and place it on the baking sheet.
Using the back of a spoon, make an indentation in the cookie where the jam will go.
Fill the cookies with ½ teaspoon of your preferred jam and bake.
Let your cookies cool then enjoy your creation!
Does it matter when I add the jam?
I have seen many recipes that say add the jam after you bake the cookies and many others that say the opposite.
I say, add the jam before baking your cookies so that you can infuse each cookie with that sweet fruity jam. Trust me, it will make them that much better.
Can I make these thumbprint cookie ahead of time?
Absolutely!
I like making the cookie dough, rolling it into balls, and making the thumbprint indentation then chilling it. This way whenever I am ready to bake the cookies, I will bring them down to room temperature, fill them up with the cookies and bake them for 12-13 minutes in the preheated oven.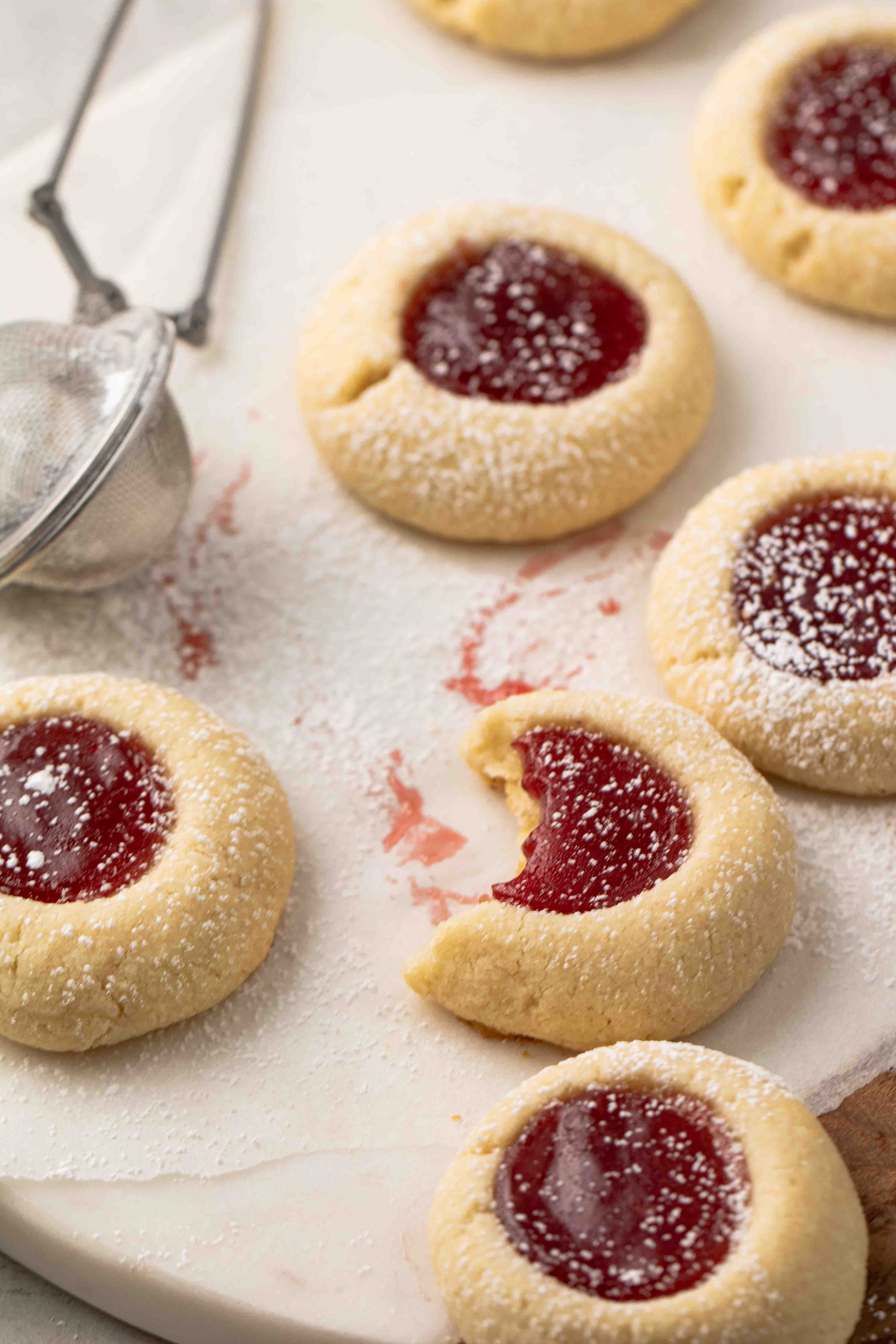 Tips for the best jam thumbprint cookies ever
Here are a few tips that will help you make amazing thumbprint cookies at home just like we did:
Make sure to use cold butter- These cookies are no chill cookies so making sure that your butter is cold before you start mixing will ensure that they don't spread too much.
Let the baking sheet cool down completely before baking the next batch- Making sure that you place your cookies on a cold baking sheet will ensure that they don't spread too much while baking as well.
If the jam is too stiff microwave it for a few seconds- Microwaving your jam for a few seconds will make it easier to spoon into the thumbprint cookies.
Use good quality jam- Good quality jam is a must in this recipe. It's one of the main flavor profiles in this cookies and you want that to be really good!
How to store thumbprint cookies?
You can store the thumbprint cookies in an airtight container at room temperature for up to 4 days, in the fridge for up to 7 days, or in the freezer for up to 3 months. Just make sure to thaw them overnight in the fridge before enjoying them.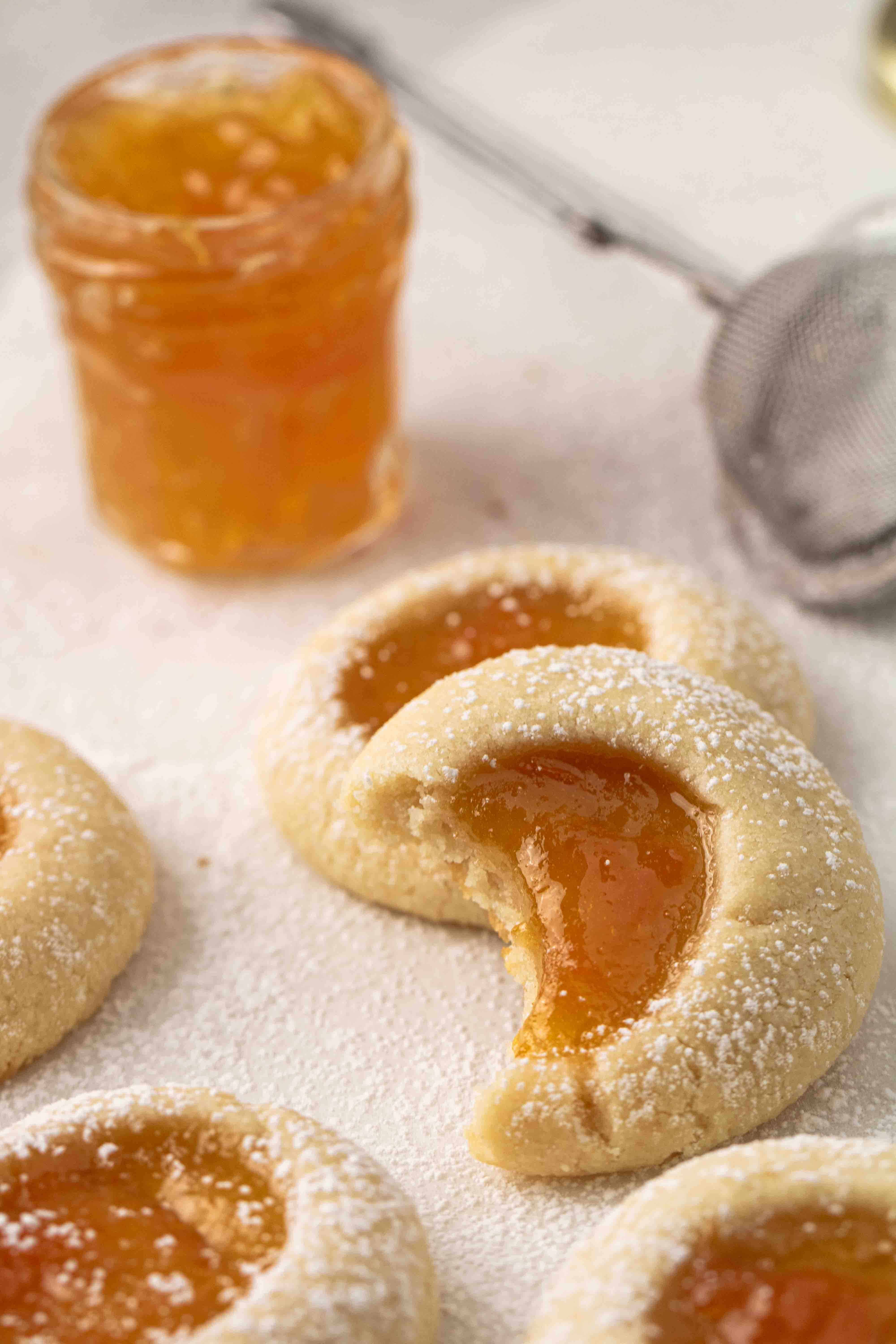 Thumbprint cookies with jam
If you tried and enjoyed these jammy thumbprint cookies, make sure to give it a 5-star rating by clicking on the 5 stars under the description.
Thumbprint cookies with jam
Jammy thumbprint cookies are a staple for every holiday in my household. These ones are so good that we actually make them year round.
Equipment
stand mixer or hand mixer

baking sheet

parchment paper
Ingredients
¾

cup

all purpose flour

use the scoop and level method or a kitchen scale to measure this

¾

cup

almond flour

use the scoop and level method or a kitchen scale to measure this

½

teaspoon

salt

½

cup

butter

cold

¼ cup + 1

tablespoon

granulated sugar

½

teaspoon

vanilla extract

¼

teaspoon

almond extract

½

cup

jam

I used strawberry jam and apricot jat
Instructions
First start by preheating the oven to 350F, then line a large baking sheet with parchment paper and set aside.

In a large bowl, mix the all purpose flour, almond flour and salt and set aside.

In a stand mixer bowl, cream the butter and the granulated sugar together until light and fluffy. Add in the vanilla extract and the almond extract and mix just until incorporated.

Add the flour mixture and mix using the paddle attachement. The dough will come together after about 60 seconds of mixing.

Using a measuring tablespoon, scoop out 1 tablespoon worth of cookie dough, roll it between the palm of your hands and place it on the baking sheet. Continue until you are done with all the cookie dough. Now, using the back of a measuring ½ teaspoon (or your thumb) press onto the cookie dough balls that are on the baking sheet to make the perfect little well where the jam will go.

Fill your cookie with about ½ teaspoon of jam in each well, and bake for 12-13 minutes in the oven. Let the cookies cool on the baking sheet for 5-10 minutes then move to a cooling rack.
Notes
How can I store these cookies?
You can store these cookies in an airtight container at room temperature for up to 4 days or in the fridge for 7 days. You can also freeze these cookies for up to 2 months. Just make sure to thaw them in the fridge overnight before serving them! 
Help my cookie dough is too crumbly.
Your cookie dough might look slightly crumbly but to the touch, it will be soft and will come together easily into a ball shape. 
If it doesn't that means that you used more flour/almond flour than you needed to. Make sure to use a kitchen scale of the scoop and level method to measure those two dry ingredients for better results!
Nutrition
Calories:
154
Calories
Carbohydrates:
17
g
Protein:
2
g
Fat:
9
g
Saturated Fat:
4
g
Trans Fat:
1
g
Cholesterol:
16
mg
Sodium:
135
mg
Potassium:
18
mg
Fiber:
1
g
Sugar:
9
g
Vitamin A:
189
IU
Vitamin C:
1
mg
Calcium:
17
mg
Iron:
1
mg
Thank you so much for making it all the way down here
Did you enjoy this thumbprint cookie recipe with jam? We would love it if you could leave a comment letting us know. In the meantime don't forget to follow us on Instagram.

Shop this recipe
This post may contain affiliate posts, meaning that at no cost to you I will get a small percentage of every purchase you make!
If you enjoyed this soft and chewy thumbprint cookie recipe with jam make sure to pin it for later!