these 18 no bake Valentine's day recipes for kids are the most fun thing to do this holiday season. Create new memories around awesome recipes that you will cherish forever!
SIGN UP TO OUR MAILING LIST GET A FREE WEEKLY MEAL PLANNER AND RECIPE CARD!
One of my favorite thing to do around the Valentin'e day is to bake things and give them to all the people I care about.
I understand that sometimes when you have little ones around, you might want to make something a little easier so they can help you and you can create memories with them and that's why I put together this 18 recipe collection for you to chose from!
These are the best no bake Valentine's day recipes for kids!
18 No Bake Valentine's Day Recipes for kids
This recipe is one of my favorite healthy no bake Valentine's day treat because it is easy to make, tastes incredible, and is also good for you. Make a whole activity out of this recipe by getting the little ones involved in making it as well!
These super cute no bake Oreo balls are the perfect sweet treat to make on Valentine's day with the little ones. Dip them in white chocolate and top them with sprinkles for a super festive dessert.
Perfect little healthy Valentine's day snack bites. They se are no bake snacks so you can safely make them with the little ones and enjoy them as a family. They are a great mix of sweet and salty goodness that everyone will love!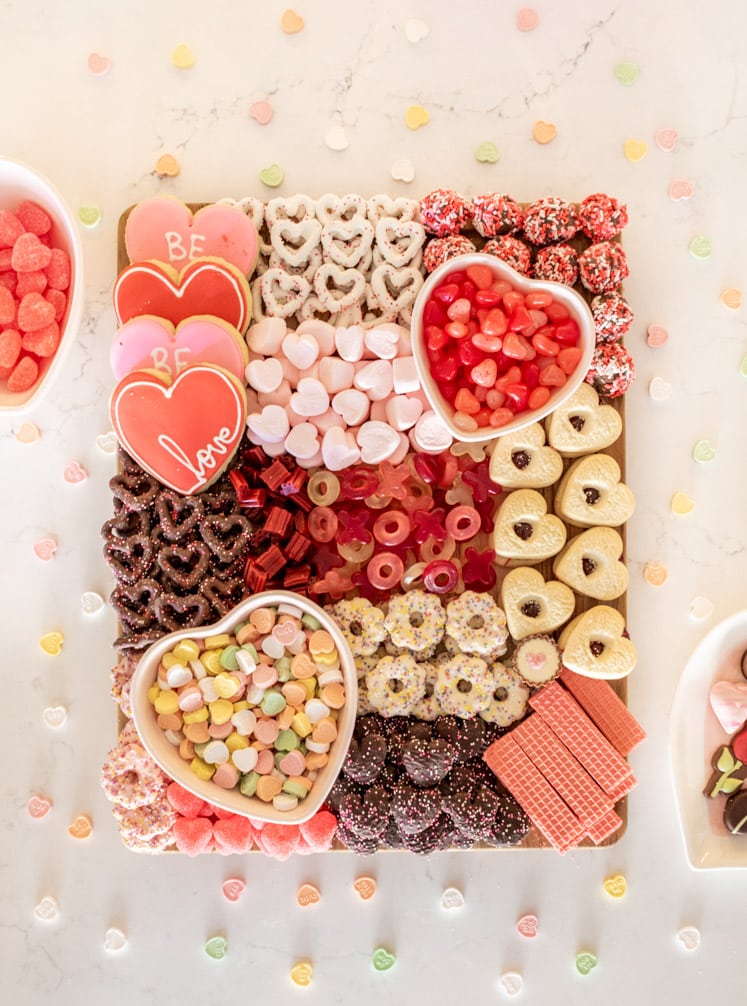 This is one of my favorite things to make with the little ones (aka my cousins and siblings). It might not be a recipe per se but it is a fun thing to put together with the kids to celebrate Valentine's day. The best part is that you can make it your own by adding or removing whatever you like or don't like.
Can we all agree that these are the cutest little things ever! Made with Oreos and cream cheese then dipped in pink white chocolate and topped with sprinkles. This would be the perfect recipe for gifting!
Keep scrolling for more amazing no bake Valentine's day recipes for kids!
This stuff is often called Oreo crack because it's that addicting! It is made and decorated with pink sprinkles to fit the Valentine's day spirit. Best of all, it requires no oven or baking!
More recipes Valentine's day recipes you will love!
Lets get back to our collection of the 18 best not bake Valentine's day recipes for kids!
I feel like anything dipped in white chocolate will make anyone happy. Take strawberry wafers, and dip them in white chocolate and you will have yourself an extra special Valentine's day treat.
This is the most fun recipe to make with toddlers and to let them enjoy as well! It is a crunchy and healthy treat to make for Valentine's day celebrations 🙂
I guess we're obsessed with Oreos when it comes to no bake valentine's day desserts. This one is very hard to mess up and you can make it with children of any and all ages!
There is nothing I love more than chocolate dipped pretzels. Slap a few sprinkles on those bad boys and I AM IN LOVE! These are absolutely the best when it comes to Valentine's day gifts.
This is not a recipe per se but it is the perfect option if you are trying to stick to healthy options. This article will show you exactly how you can decorate multiple fruits to make them super fitting for valentine's day.
Who doesn't love a recipe that you can just throw together in a few minutes, stir ,and call it a day! These make adorable little snack cups for Valentine's day parties as well.
Are you loving our no bake Valentine's day recipes for kids? If so, let us know in the comments below!
Don't let the crazy weird name of this recipe throw you off because the ingredients are totally delicious especially put together. This is made with coconut flakes, peanuts, and melted chocolate to hold it all together.
This is a drink that will need to be consumed in moderation when it comes to the little ones because it can be pretty sweet but the look of it just makes us melt!
Need an easy craft idea that comes together quickly and only needs 3 ingredients? These conversation heart pretzels are gonna become your go to's!
These cute love monster energy bites are a healthy Valentine's day treat. They're perfect to make for school lunches or just at home snacks. They are make with peanut butter, oats, chia seeds, almonds, and some chocolate.
I don't know anyone who doesn't love popcorn, I don't know anyone who doesn't love popcorn drizzled with chocolate and topped with M&M's. This pink popcorn treat is sure to be a crown pleaser.
These pink rice krispies treats, dipped in candy melts and decorated with sprinkles are one of the cutest things you can make with your children.
Healthy no bake Valentine's day cookies- No bake Valentine's day recipes for kids
If you tried and enjoyed these no bake valentine's day cookies for kids, make sure to give it a 5-star rating by clicking on the 5 stars under the description.
No bake Valentine's day cookies
These healthy delicious little cookies are a no bake dessert. Perfect for a hassle free valentine's day dessert.
Equipment
a small pot

a heart cookie cutter
Ingredients
½

cup

peanut butter

¼

cup

coconut oil

measured liquid

¼

cup

coconut sugar

½

cup

dark chocolate chips or semi sweet chocolate chips

1

teaspoon

vanilla

½

teaspoon

salt

1 ¾

cup

oats

2

tablespoon

chia seeds
Instructions
First, start by melting both the peanut butter and the coconut oil together in a small pot. Stir until smooth then add the coconut sugar then stir until the sugar is dissolved. By this time the mixture is just about to boil but do not boil it.

Move the pot off the heat and add in the chocolate chips. Stir until all the chocolate is melted and well incorporated. Add in the vanilla and the salt and stir one more time to combine.

Add in the oats and the chia seeds and stir until everything is coated with the peanut butter and chocolate mixture. Let the mixture rest in the pot for 20 minutes.

Line a baking sheet with parchment paper or a silicone baking mat and using your heart cookie cutter scoop out 2-3 tablespoons in the center. Flatten using the back of the spoon and then remove the cookie cutter. Repeat this process until you are completely done with all the oat mixture. Top the cookie with pink sprinkles if you are making these for valentine's day.

Place the baking sheet in the freezer and let the cookies solidify in there for 20 minutes.
Notes
Store these cookies in an airtight container in the fridge or freezer.
Thank you so much for making it all the way down here.
Did you enjoy this thumbprint cookie recipe with jam? We would love it if you could leave a comment letting us know. In the meantime don't forget to follow us on Instagram.

If you enjoyed these 18 no bake Valentine's day recipes for kids make sure to pin this for later!