Dulce de leche, I never met anyone that did not love the perfect sweet caramelly flavor of this magical spread! This Easy Pressure Cooker Dulce de leche recipe will allow you to make your dulce de leche with minimal prepping, leave it alone the rest of the time, and come back to some delicious dulce de leche that you can use in cakes, coffees, or my delicious dulce de leche stuffed snickerdoodles cookie!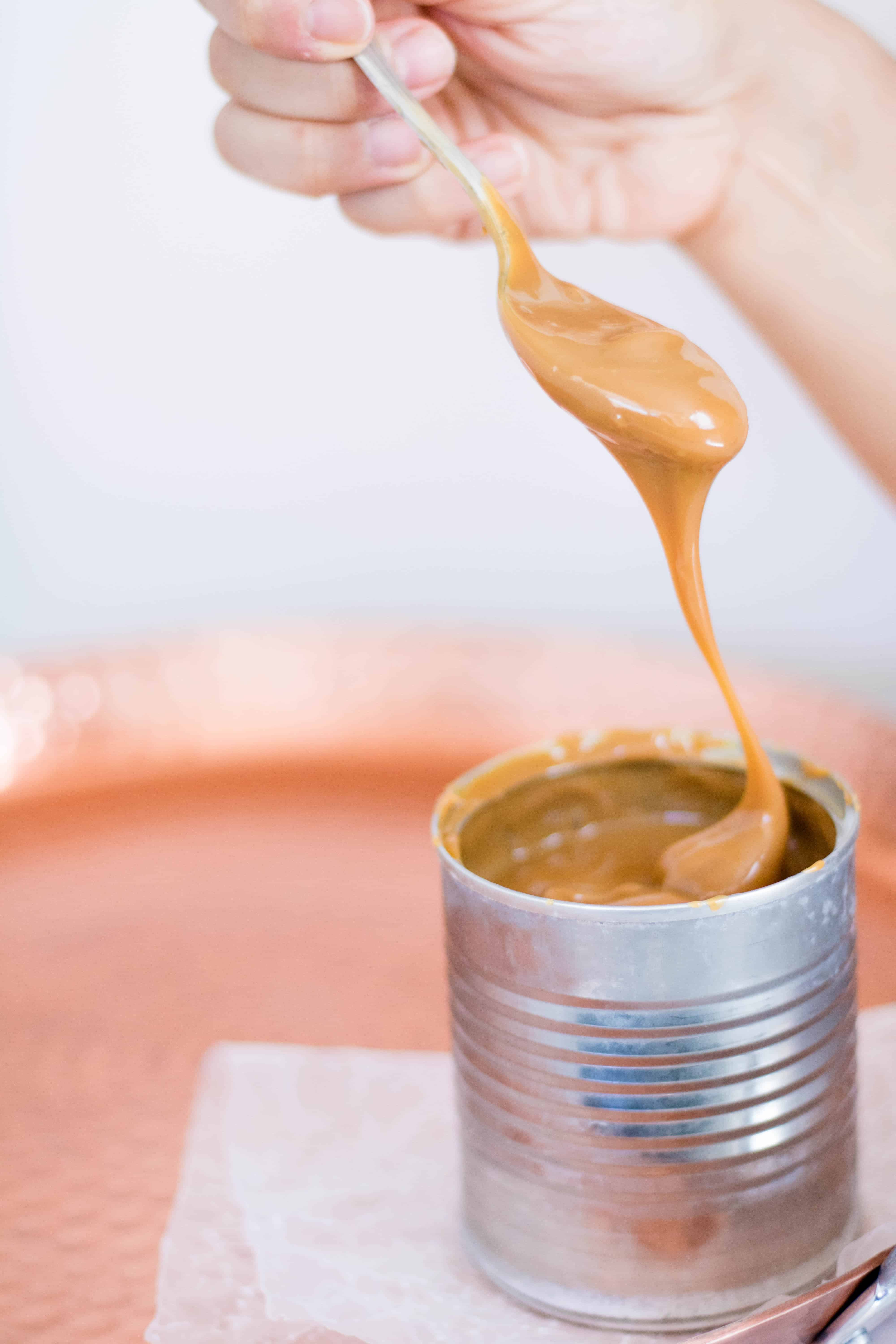 After a week of being a little MIA, I am back with a delicious dulce de leche recipe!
I have seen that everyone is so head over heel for snickerdoodle cookies online so I wanted to share something still within that snickerdoodle cookie recipe theme but with a twist. I thought long and hard and decided to bring two of my favorite things together!
Cinnamon sugar and dulce de leche… Historically there are so many food combinations that are out of this world delicious and have the same flavor profile. A quick example would be cinnamon sugar-coated churros with a silky smooth Dulce de Leche! 
Oh my goodness… How I love that combination!
But to create my very own special Dulce de Leche Stuffed snickerdoodle cookie recipe I had to prepare my Easy Pressure Cooker Dulce de Leche Recipe first.
For convenience purposes, I decided to make the Brazil doce de leite, which is Portuguese for dulce de leche). Since it is the one that is often made in a pressure-cooker for time efficiency as well as safety!
To be completely honest, I didn't know it was a Brazilian way to do this until I researched it! I have been doing it this way with my mother and grandmother for as long as I can remember so I guess technically, it would also be called "Algerian Dulce de Leche"
When it comes to Dulce de Leche  I would recommend preparing it the night before just so it has enough time to cool down and chill before you use it.
Since I keep talking about these Snickerdoodle cookies I wanted to share a quick photo with you all! I have been practicing food photography a lot lately, and I definitely feel like it is starting to show! Let me know what you think of this cookie stack photo :)!
Let's make this Easy Pressure Cooker Dulce de Leche Recipe!
This Easy Pressure Cooker Dulce de Leche Recipe requires one ingredient!! Yes you heard me right, only ONE INGREDIENT!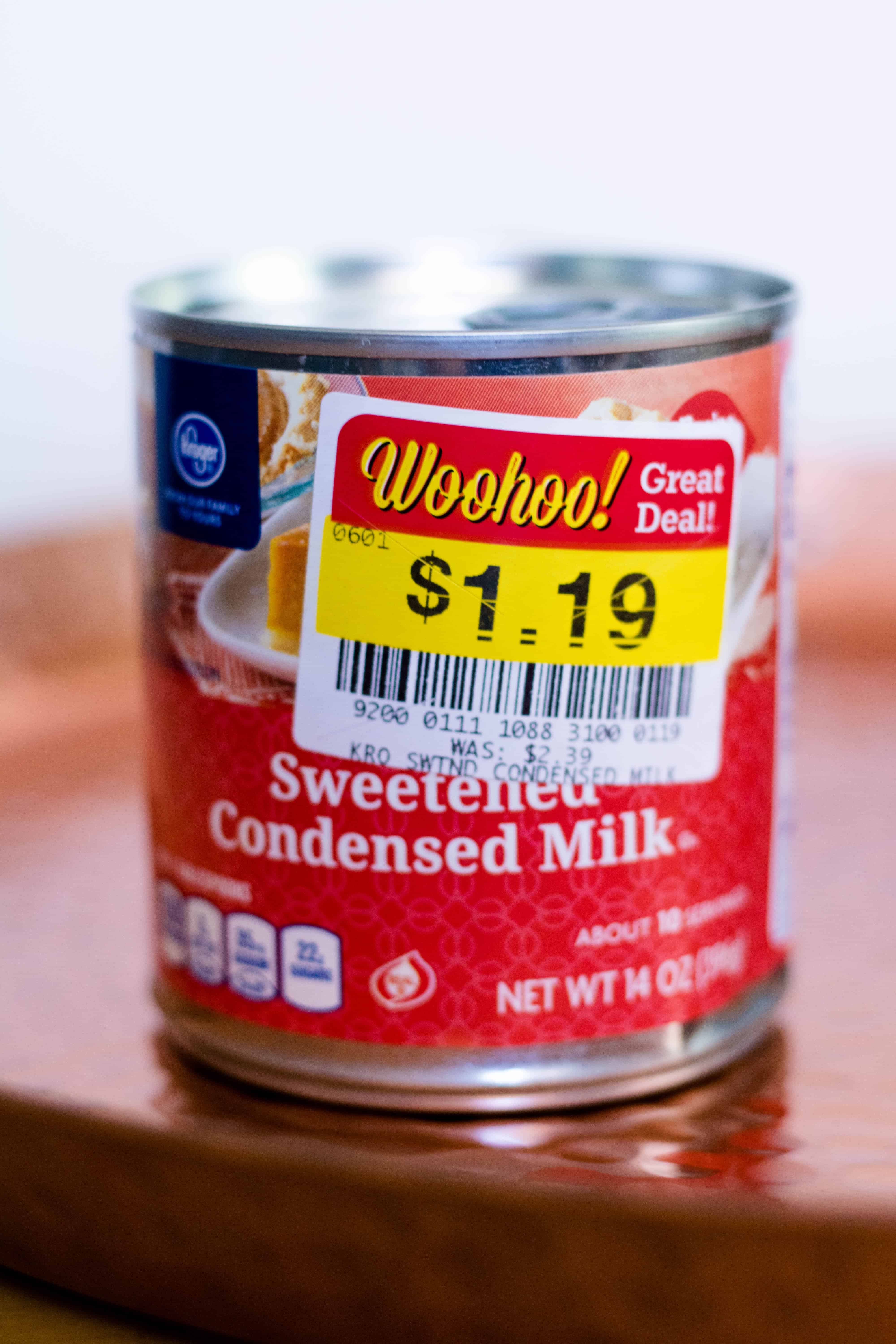 I purchased my sweetened condensed milk can on sale so this recipe was an absolute steal for me… I got it for $1.19 and it usually is sold for $2.39 so about 50% off! I usually like to go with Eagle Brand Milk sweetened condensed milk, but wasn't able to grab it at the store! 
You can definitely make Dulce de leche from scratch using milk and sugar, just know that there is plenty of room for error, it takes a couple of tries to get it just right but if that's what you're after all power to you!
I like using the canned sweetened condensed milk because it is so much faster and easier…
When it comes to which brand you should use, you could literally use any brand of sweetened condensed milk to make this Dulce de Leche recipe since all of them will work just fine! So whatever you can find at the store will work here.
Since we are going to be using a pressure cooker for Dulce de Leche, remove the label from the can first. This is mainly because the paper and the adhesive coming loose could potentially gum up the release valve of the pressure cooker. So I think it is better to be safe than sorry in this situation.
After removing the label, use the rough side of your sponge under running hot water to get rid of as much of the label adhesive as possible.
Now, that your can is ready, place it in your pressure cooker and cover it with water. You want your Dulce de Leche can to be completely covered with water during the entire time of it cooking! So have at least two fingers worth of water over the can.
After that, seal the pressure cooker, set it on the burner, set to medium heat, and wait for the hissing sound. This sound indicated that the pressure had built inside.
Set a timer for 20minutes (25-30 minutes for a thicker dulce de leche)  from when you start heating the sound. When the 20 minutes have passed, turn off the heat, remove the pan from the burner, and turn the release valve to remove the pressure.
Next, open the pressure cooker and pull out your Dulce de Leche can using tongs or a canning jar lifter.
DISCLAIMER: Never open the can of Dulce de Leche before it cools!! I made the mistake before because I am so impatient and I ended up with a mess. Luckily I did not burn myself but it is definitely a possibility. It splattered everywhere because there is a lot of pressure built up in there, mix that with heat you get a nice little explosion. So listen to my advice and do not open you Dulce de Leche can white it is hot!
If you are impatient like me I would suggest making a cold water bath with cold water and ice cubes, and leaving your dulce de leche can in there to cool for an hour or so.
When the can is completely cool, open it up and enjoy your delicious indulgent Dulce de Leche! 
Easy Pressure Cooker Dulce de Leche Recipe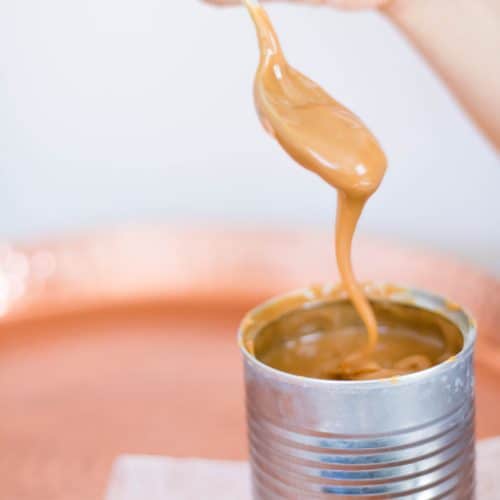 Easy Pressure Cooker Dulce de Leche recipe
This easy pressure cooker dulce de leche recipe is a great way to make caramel or dulce de leche withut opening the can.
Instructions
First, remove the label and clean the adhesive from the can of sweetened condensed milk.

Place the can in a pressure cooker and cover with water. Since we want the can to be completely submerged the whole time, have at least two fingers worth of water over the water.

Seal the pressure cooker and set it to pressure mode.

Place on a burner over medium heat and cook until you hear a hissing sound.

Once the hissing starts, set a timer for 20-30 minutes. (The longer you cook it the thicker and darker it will get)

When the 20 minutes are done, turn off the burner and release the valve to allow the pressure to escape.

When the pressure has been released, open the pressure cooker and remove the condensed milk can out. Use tongs or a canning lifter for this since it is very hot.

Do not open the can when it is very hot, It will explode and you can severely burn yourself! Let the can cool in a water and ice bath for an hour or so.

Open the can after it has cooled, use it right away or store it in an airtight container for future use.
Nutrition
Calories:
1271
Calories
Carbohydrates:
215
g
Protein:
31
g
Fat:
34
g
Saturated Fat:
22
g
Cholesterol:
135
mg
Sodium:
503
mg
Potassium:
1469
mg
Sugar:
215
g
Vitamin A:
1057
IU
Vitamin C:
10
mg
Calcium:
1125
mg
Iron:
1
mg
I made this Easy Pressure Cooker Dulce de Leche Recipe to use for my Snickerdoodle cookies that I will be posting very soon! They tasted just like Cinnamon Toast Crunch cereal! The addition of the dulce de leche added a bit of moisture and a nice surprise once you bite into it. Some recipes that might interest you:
Products that I love
This article may contain some affiliate links, meaning, at no additional cost to you, I will earn a commission if you click through and make a purchase
To save this Easy Pressure Cooker Dulce de Leche Recipe PIN IT!