Tired of your regular cookies? Well, these "brown butter white chocolate macadamia nut cookies" are the way to go! Their flavor is so elevated because of the nuttiness of the browned butter as well as the super luxurious macadamia nuts!
These brown butter white chocolate macadamia cookies will very quickly become your go-to cookies for sure! I like to make the whole batch and freeze half of it for whenever someone is having brown butter cookie cravings!
I have been on a roll with posting cookies on my site lately but I am not mad at all! I've been obsessed with them and I just want to share my obsession with you guys too!
When I was still in college, I remember working a hostess job at the famous Bouchon restaurant by Thomas Keller here in Las Vegas. Since I had that hustling mindset I started baking cookies and selling them to some of my coworkers (even though we literally were in a world-renowned restaurant and bakery) They still loved my cookies and would support me by purchasing some dark chocolate dipped shortbread, chocolate chip cookies, and peanut butter cookies.
I felt so cool…
I also was able to make some extra cash on the side as well as practice. I used to have hundreds of cookies laying on the dining table to cool and decorate and I was a blast for me…
Anyways, That was a little snippet of my life that I wanted to share with you guys. Back to the original story!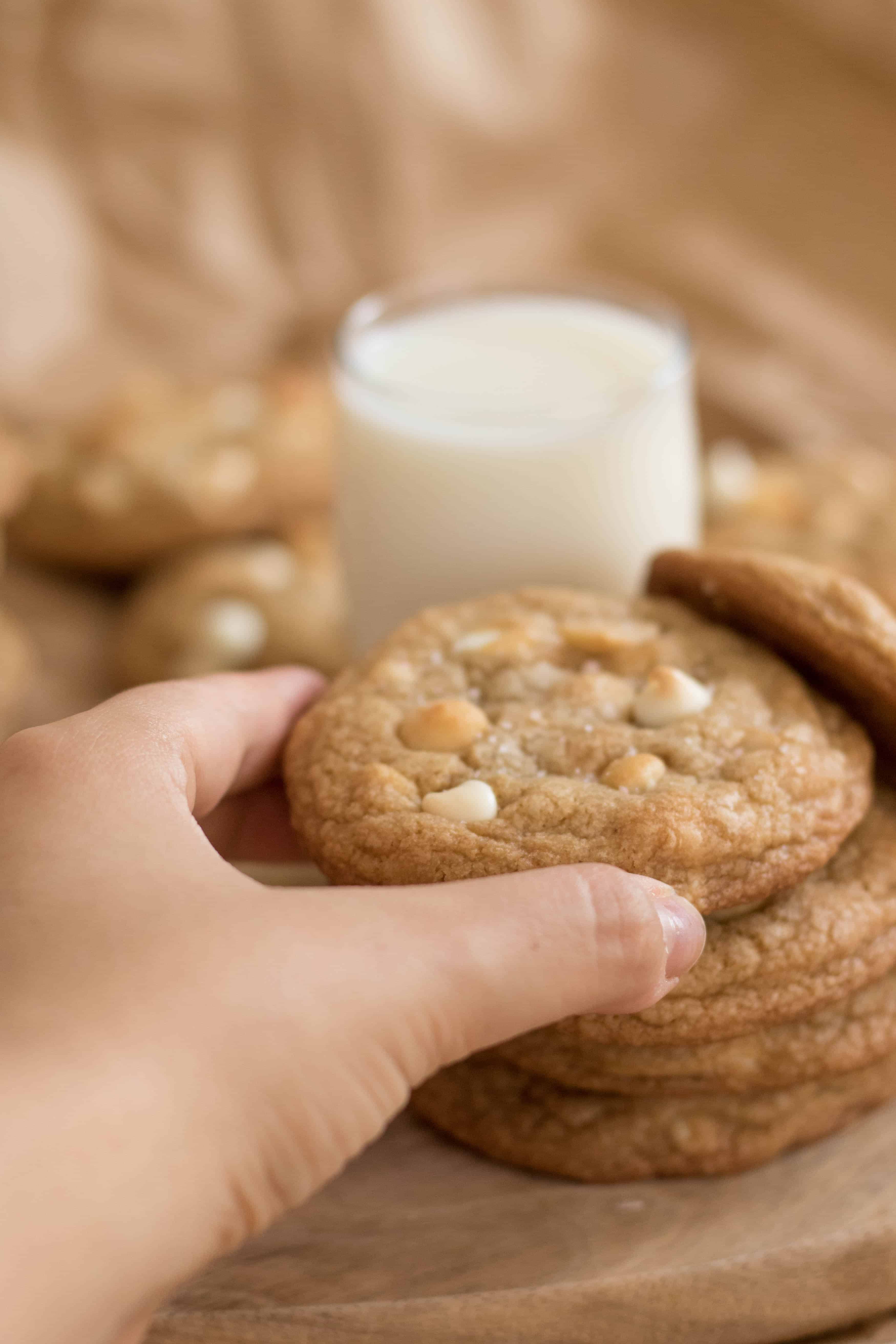 Well, the first time I made these cookies was back in 2016 for my boyfriend's birthday. I mean come on, what boyfriend does not love cookies?! And brown butter white chocolate macadamia nut cookies… nothing is better than that come on!
Funny story, eventually I learned that he is not the biggest fan of white chocolate but he is absolutely obsessed with macadamia nuts and brown butter. Seriously, who wouldn't be?
By browning your butter for this recipe, you are enhancing the flavor of the cookies… taking it up a notch if you ask me. The nutty flavor that the browned butter adds to the recipe is what dreams are made of, to be honest! Plus it is not a hard process at all, so if you haven't tried it before make sure to give it a try next time!
Asides from the awesome macadamia nuts and the brown butter, my favorite aspect about this recipe is that not chilling is required.  We are so impatient here… So having a couple of cookie recipes that do not require chilling is a must in this household! Just throw a couple of ingredients together, bake and enjoy! That's how I like my cookies.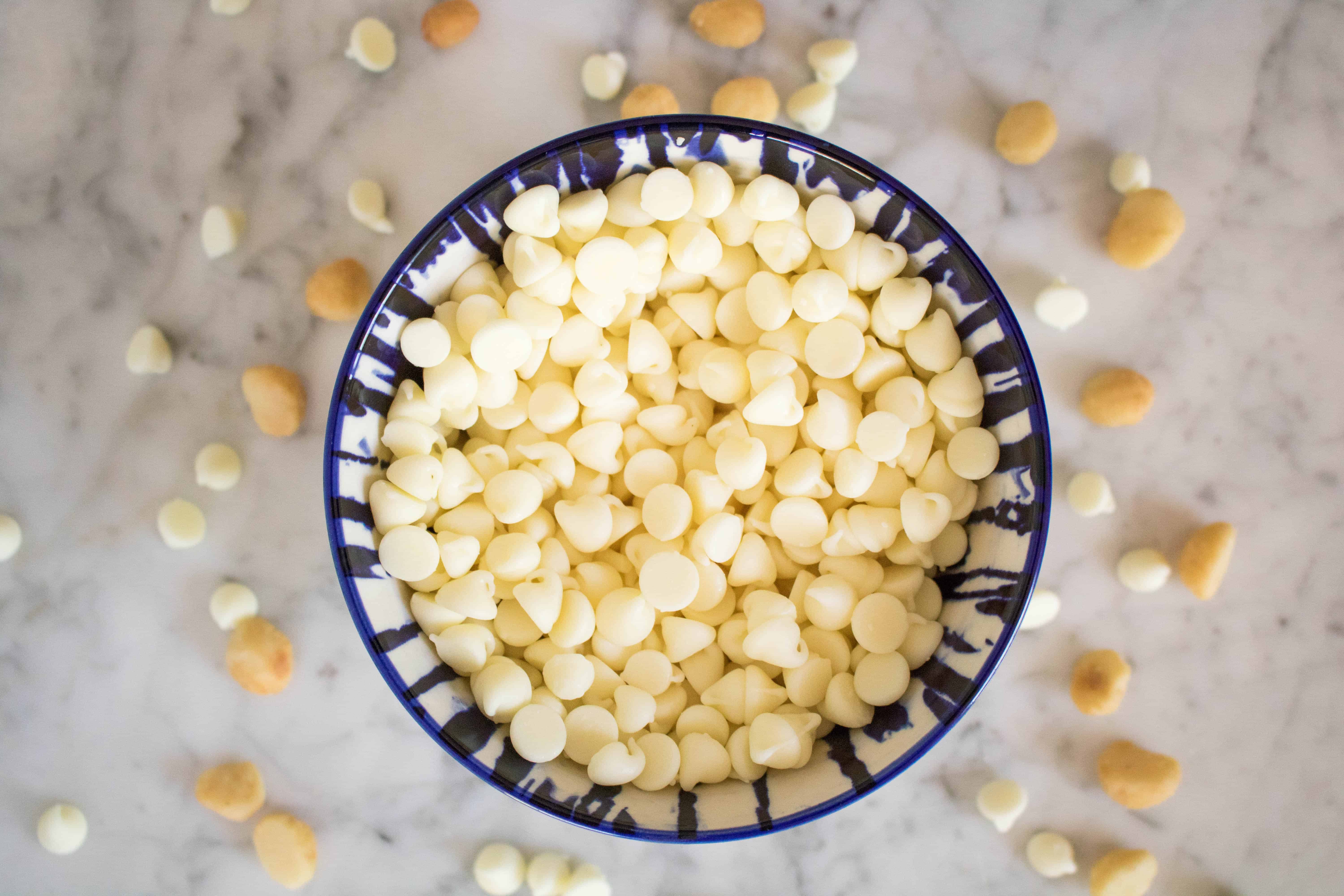 How to make the best brown butter white chocolate macadamia nut cookies?
Well, This recipe is fairly simple, if you follow these few tips you will end up with perfect brown butter white chocolate macadamia nut cookies!
Make sure your butter is at room temperature. If you are planning to make cookies pull out your cookies in the morning right as you wake up fo that it is ready to go by the time you start baking. In this case, make your brown butter and let it get to room temperature if you have time. If you are in a bit of a hurry pop it in the fridge or freezer then pull it out before it is completely frozen and let it get back to room temperature.
Use really good quality white chocolate, and use lots of it! Try getting the best chocolate possible, when it comes to white chocolate you run the risk of getting something that is too sweet which will then ruin your whole batch so pick something of better quality.
DO NOT over-bake these brown butter white chocolate macadamia nut cookies. You really never want to overbake your cookies, they will look like they are not fully baked when you pull them out of the oven, but it's all good. Trust me on this!
Do not overmix; overmixing will lead to flat cookies and we don't want that! We want that thick brown butter white chocolate macadamia nut cookie with a bite to it still.
How to brown the butter?
To brown your butter, place 1 stick of butter in a saucepan over medium heat to melt. Swirl and scrape the sides of the pan frequently with a wooden spoon or a heatproof spatula. The butter will bubble and pop quite a lot so be careful. Once the bubbling slows down, the butter will begin to turn brown.
At this point, you will want to watch the butter very carefully because It will happen fast. When you start smelling a nutty aroma of the brown butter, you will know it's ready and you will have to remove it off the heat. Pour it in a heatproof bowl and add the rest of the melted butter together and bring to room temperature.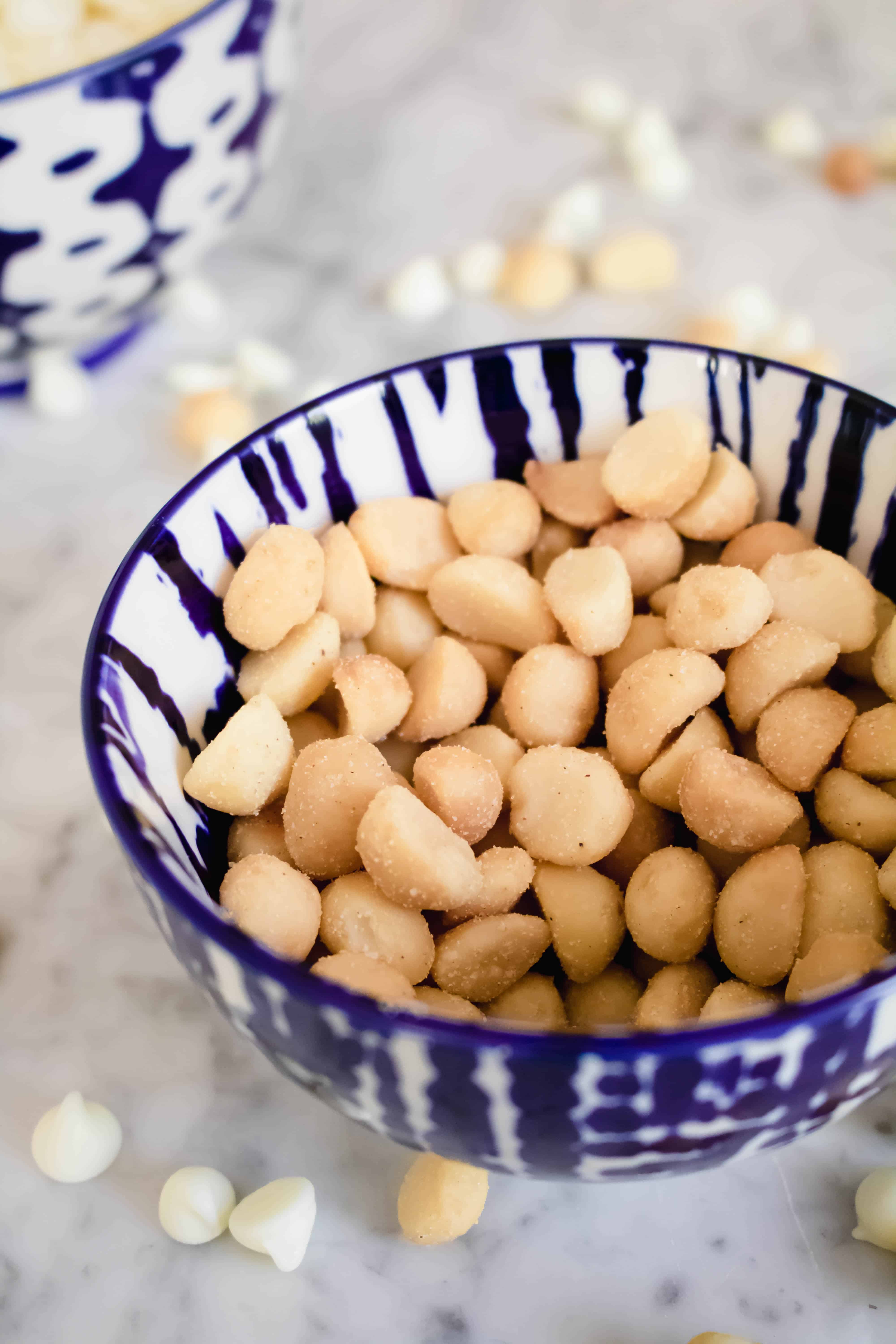 Why are macadamia nuts so expensive?
When my sister was making this recipe, she stopped for a second and asked: " Why are macadamia nuts so expensive?" This was a great question given the fact that one pound was about $18.99 when other nuts usually cost between $3 and $10…
The main reason why macadamia nuts are so expensive is its slow harvest… It usually takes 7 to 10 years for the macadamia trees to even begin producing nuts. After that, It produces the nuts throughout the year with no set time so it ends up being hand-picked one by one.
So after realizing how much labor goes into it, I kinda understand why they tend to be so expensive but I am by no means ecstatic about it haha… So if anyone wants to send my way, you are more than welcome to!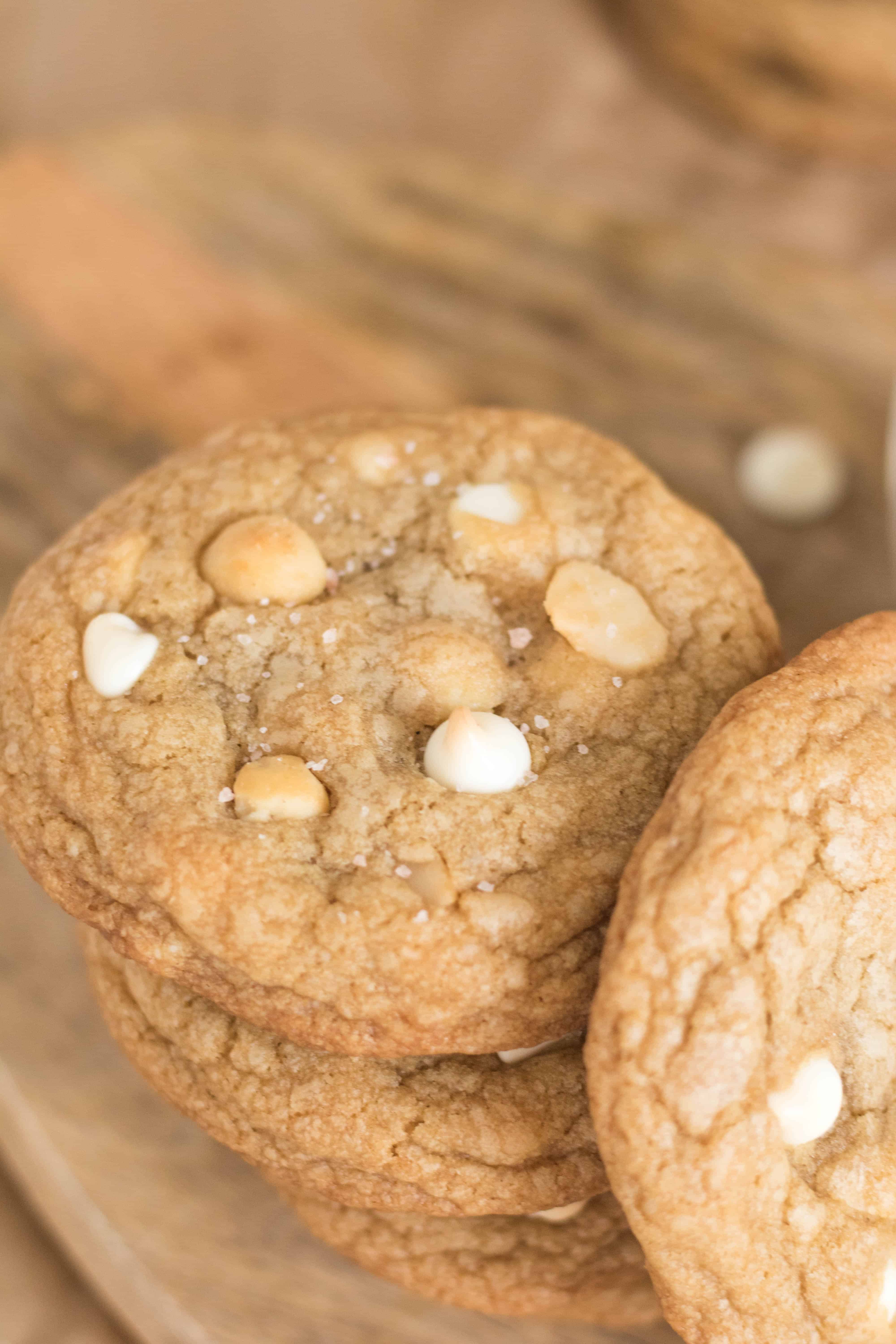 No Chill Brown Butter White Chocolate Macadamia Nut Cookies
No chill brown butter white chocolate macadamia nut cookies
These soft and chewy no-chill brown butter white chocolate macadamia nut cookies are a classic but yet incorporate the sophisticated flavor of browned butter. This elevated the cookies to the next level.
Ingredients
15

tablespoon

brown butter

2 ¼

cup

all purpose flour

1

teaspoon

baking soda

½

teaspoon

salt

1 +2tbsp

cup

dark brown sugar

2

teaspoon

vanilla

2

large

eggs

at room temperature

2

cup

white chocolate chips

¾

cup

macadamia nuts

toughly chopped
Instructions
Start by preheating the oven to 375°F. Line 2 large baking sheets with parchment paper and set aside.

Melt 8 tablespoons ( 1 stick) of butter in a small sauce pan over medium-high heat and cook for about 2-4 minutes stirring constantly until the butter has browned.

Remove the sauce pan from the heat and add in the remaining 7 tablespoons of butter and whisk until completely smooth. transfer the butter to a bowl, cover with saran wrap and and place in the fridge or freezer then bring it back to room temperature.

You will know it is at room temperature when you press your finger into the top and it makes a slight indentation.

In a medium sized bowl, whisk together the flour, baking soda and sea salt; set this dry ingredient mixture aside.

When the butter is at room temperature, transfer it to a stand mixer bowl. Add in the sugars, and vanilla; cream on medium speed until light and fluffy; about 2 to 3 minutes. add the room temperature eggs and beat quickly for about 30 more seconds until they are well combined. Let the mixture rest for 5 minutes then beat the eggs for another 30 seconds.

Remove from the stand mixer and gently fold in the dry ingredient mixture with a rubber spatula. Stir only until the flour begins to disappear. Fold in the white chocolate chips and the macadamia nuts.

Scoop out about 3 tablespoon's worth and roll the dough between your palms to form a ball, the balls should be close to ¼ of a cup. Place them on the baking sheet leaving enough room between each cookie since the cookies will spread a little.

Place the baking sheet in the oven for 8-11 minutes, or until they are golden at the edges but still soft in the middle. Cool the cookies on the baking sheet for about 5 minutes before transferring to a wire wrack to cool down completely.
Notes
Make sure to get good quality chocolate chips, the quality of your ingredients will reflect on your final baked good! 
If you do not have white chocolate chips feel free to use milk chocolate, dark chocolate or any chocolate chips your heart desires. 
You could also swap out the macadamia nuts for other nuts like pistachios, walnuts, almonds, pecans or cashews. 
How to freeze these brown butter white chocolate macadamia nut cookies?
When I make cookies, I often roll them into balls, bake half the batch and save the rest either in the fridge if I know I will be using it within a couple of days or pop it in an airtight container in the freezer!
How to bake frozen brown butter white chocolate macadamia nut cookies?
Having cookie dough in the freezer is a blessing. I often gift people cookies but sometimes I am too tired to go through the hassle of baking so having the frozen cookie dough in my freezer is perfect!
Whenever you decide to bake these cookies, pull them out of the freezer, set them on a lined baking sheet, cover with a towel and let them thaw. Once they reach room temperature  (after about 1-2 hours) bake as directed in the recipe!
If you loved these no chill brown butter white chocolate macadamia cookies then you will love these recipes as well: