Healthy vegan double chocolate brownies – The ultimate fudgy brownie that is packed with chocolate and so so easy to make! These super moist gluten-free treats will definitely be a hit at your next get together!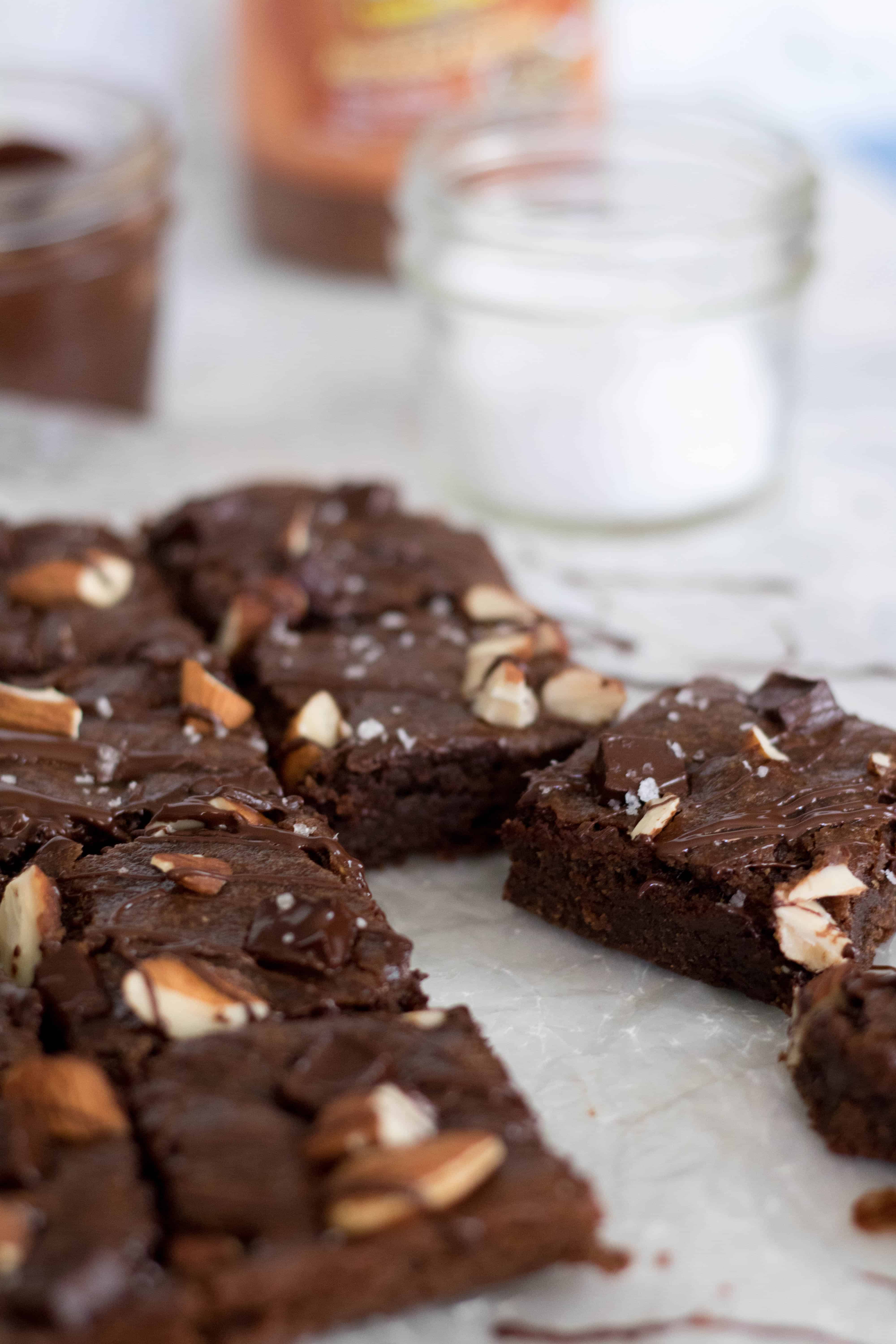 Guys! Seriously… These are the best fudgiest healthy double chocolate brownies, and the best thing about them is that they are made out of flaxseeds and almond butter!!!
For the longest time, I have been looking for things to make with flax seeds other than throwing some of them in a blender and making a smoothie out of it. It is cool and all when you put it in smoothies but it always leaves that grainy-ish texture so I set it upon myself to find an actual dessert recipe using them!
When I found the flax seed muffins, I was ecstatic! I tried them out and they were pretty tasty.
I asked my Instagram followers to help me out by picking a name for what I baked, was it a brownie, a muffin, or a blondie? And guess what?! Most said it was a brownie… I was honestly a bit thrown off but I felt like it was more similar to a blondie, but since they wanted a healthy vegan brownie I had to give them what they wanted.
I made a couple of changes and baked it in a 9×9 inch pan. This allowed me to get it closer to the brownie shape. I then used the Fokken Nut Tutti's blend almond butter, it is an almond butter that has dark chocolate and sea salt so it worked perfectly for this recipe.
But don't fret now, there are plenty other nut butters you can use for this recipe without sacrificing flavor! The Justin's Chocolate Hazelnut Almond Butter would be a great option because it also contains hazelnuts which will give you almost a Nutella-y flavor. Then there is the Peanut Butter and Co Dark Chocolate Dreams, this brand used to be my favorite a couple of years ago, so definitely check it out!
All in all, I just wanted to reassure everyone that you can pretty much use any chocolate nut butter to make this vegan healthy double chocolate brownie. If you don't wanna buy more peanut butter because your addiction caused you to have jars on jars on jars in your pantry, use any smooth nut butter and this recipe will turn out amazing too!
If you ask me, the best part about these Healthy Vegan Double Chocolate Brownies is that they are made out of flax seeds. The health benefits in just that are huge!
Flax seeds health benefits:
Flax seeds are high in Omega-3 fats, this is a vegan's or vegetarian's best source of omega-3 fats.
Flax seeds are a rich source of Lignans, a plant compound that has antioxidants and estrogen properties. Both of these may help lower the risk of cancer.
Flax seeds contain an incredible amount of dietary fiber! Just one tablespoon of flax seeds contains 3 grams of fiber, which is 8-12% of the daily recommended intake for men and women, respectively.
Flax seeds contain high-quality plant-based protein. The protein from this grain is rich in the amino acids arginine, aspartic acid, and glutamic acid.
So there are only a few of the amazing benefits of flax seeds, if you want to read more details about the benefits of this amazing seed, click here.
Nutritional disclaimer; please understand that I am not a medical or nutritional professional. I am simply sharing my own knowledge and experience with you on this blog! Nothing I say here should be taken as medical advice and you should check with your doctor before starting a new diet program.  I share health benefits with my readers with the sole purpose of sharing the knowledge that I already have due to previous researches I have done. 
Another thing that I absolutely adore is the toppings on this beauty! Check out the photo above to see the dark chocolate chunks, almonds and Tasman sea salt I used to top this Healthy Vegan Double Chocolate Brownies with. The addition of the sea salt was the one thing that elevated this whole dessert to the next level.
When you sprinkle a little sea salt on your brownies/cookies/candies/cakes, a little magic happens. It automatically heightens the complexity and makes the sweet taste even sweeter. By topping your baked goods with that little sprinkle of sea salt, you are enhancing the flavors of butter
Healthy Vegan Double Chocolate Brownies
Healthy Vegan Double Chocolate brownies
Healthy vegan double chocolate brownies - The ultimate fudgy brownie that is packed with chocolate and so so easy to make! These super moist gluten-free treats will definitely be a hit at your next get together! 
Ingredients
⅔

cup

ground flax seed meal

½

cup

tutti Fokkennuts dark chocolate almond butter

Or any chocolate nut butter

½

cup

soy milk

Use any milk if you don't mind it not being vegan.

⅓

cup

maple syrup

Use honey if you don't want a vegan option

¼

cup

dark chocolate chunks
Instructions
Preheat the oven to 325F. Line a 9X9 or 8x8 inch baking pan with parchment paper non stick spray and set aside.

In a large bowl, mix the flaxseed meal, almond butter, milk, honey. When everything is well combined, fold in the chocolate chunks and pour the mixture in the lined baking pan. 

Top with chopped up almonds and some extra chocolate chunks and bake in the preheated oven for 30 to 35 minutes or until the center is set. Let the brownie cool in the pan for 15-20 minutes then transfer it to a wire rack. 

Sprinkle with sea salt before slicing and enjoy! 
Notes
These brownies can be stored in an airtight container in the refrigerator for 5 to 6 days or in the freezer for up to 3 months.
If you loved these Healthy Vegan Double Chocolate Brownies then you will love these recipes as well:
Products that I love

This article may contain some affiliate links, meaning, at no additional cost to you, I will earn a commission if you click through and make a purchase