This easy Starbucks mocha sauce recipe is perfect for both hot drinks and cold drinks. It is made to reassemble the Starbucks sauce except that it doesn't use any corn syrup just a handful of other ingredients to bring the natural flavors of the chocolate out. This will help you recreate your favorite coffee drinks at home for a lot less money too!
Since you are here, check out this white mocha sauce, this cold brew mocha drink, as well as this chocolate cream cold brew starbucks copycat recipe.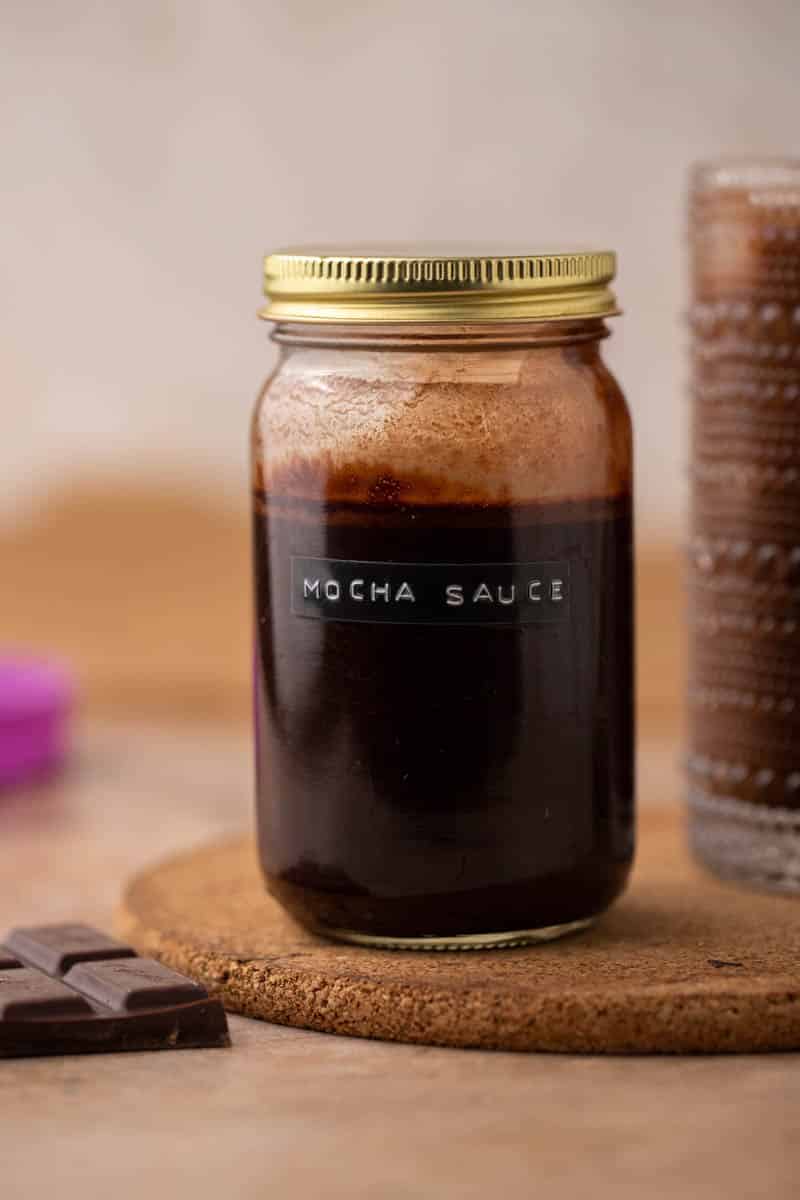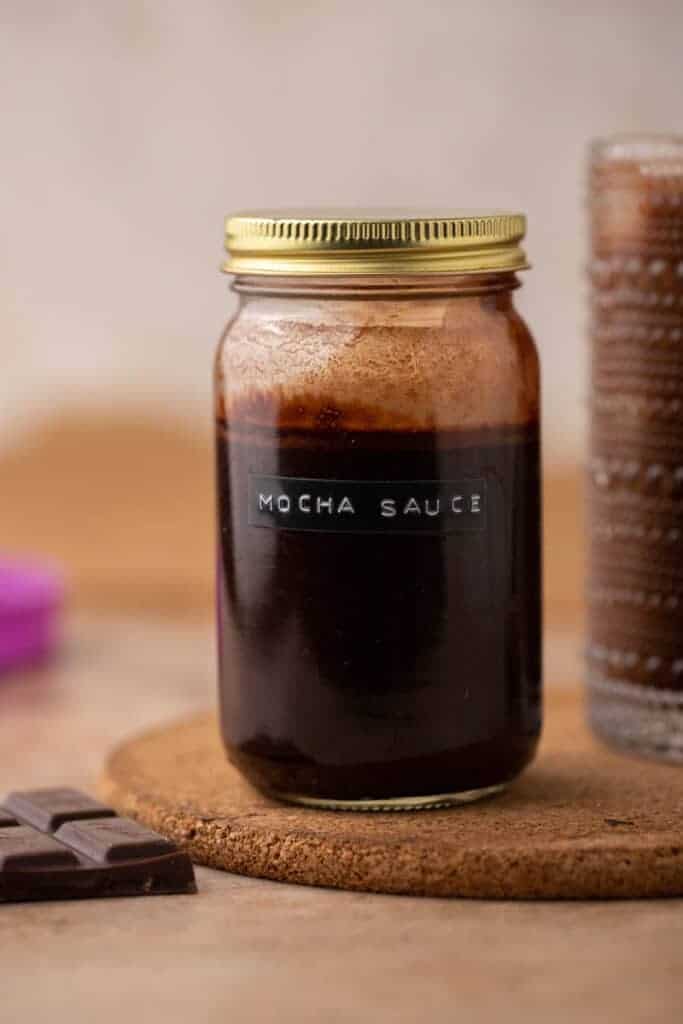 Having a staple chocolate syrup is a must in every home especially if you are a coffee lover too. It is a great way to start enjoying the drinks you make at home even more while saving up on some money that you would've spent at coffee shops otherwise.
Now that I have my own espresso machine, I have been experimenting a lot more with homemade chocolate sauces, syrups, and other things that cake bring those cafe flavors to my drinks without me having to step a foot outside, and let me tell you it's so rewarding!
This is the best Starbucks mocha sauce recipe.
Yes, going to a coffee shop is fun but sometimes it can be such a hassle especially if you don't have the time to drive by there or just want to save a little extra money during these tough times. So in an effort to make delicious chocolate syrup, I started working on this one. Also, it is only fair to mention that this recipe has nothing to do with Hershey's syrup. This one is a bittersweet chocolate sauce that goes so well with an espresso drink or anything that has to do with coffee!
Why you need to make this Starbucks mocha sacue recipe!
It is an easy recipe that can be made with ingredients you already have in your pantry or can get at your nearest grocery stores
This recipe will allow you to recreate your favorite Starbucks coffee recipe in no time.
You'll be able to skip the drive-through lanes and save extra time.
It has a rich flavor of chocolate that will go so well with coffee.
This will recipe will put any store-bought sauces to shame.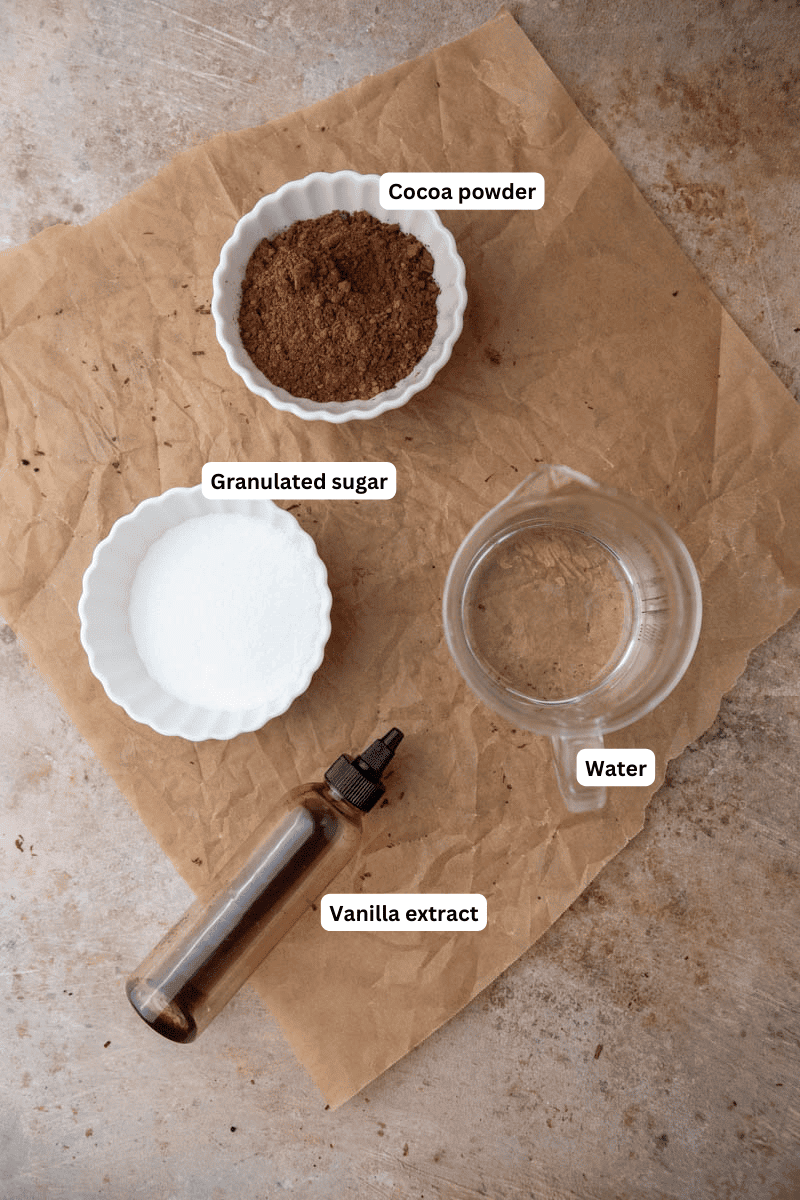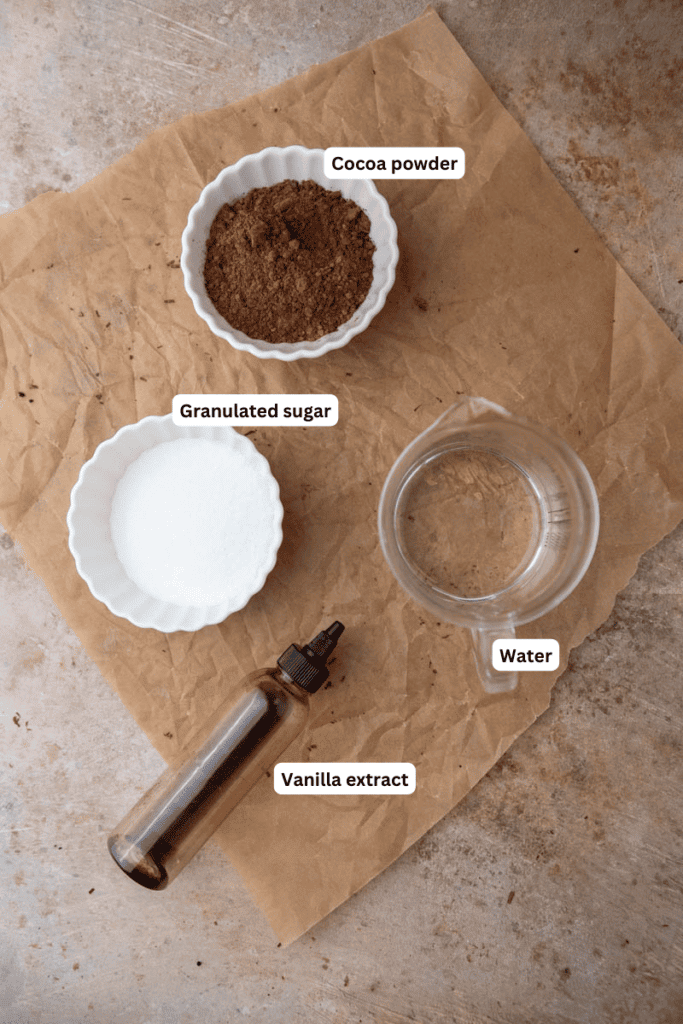 Ingredients for this thick bittersweet sauce
Here are the ingredients you will need to make this Starbucks mocha sauce. Make sure to scroll down to the recipe card for the full detailed ingredient measurements.
granulated sugar- White sugar is used to sweeten our rich chocolate syrup.
cocoa powder- This will give it the perfect chocolate flavor. Just make sure to use good-quality cocoa powder to give this sauce the best flavor.
water
pinch of salt
How to make starbucks® mocha sauce copycat recipe
This is how you can make this sauce. Make sure to scroll down to the recipe card for the full detailed instructions!
In a small saucepan, add the cocoa powder, sugar, pinch of salt, and water and whisk to combine.
Bring to a simmer while whisking constantly.
Once the sugar dissolves allow the sauce to simmer for a bit longer.
Store in an airtight container in the fridge once cooled.
This sauce will get a thick consistency as it chills.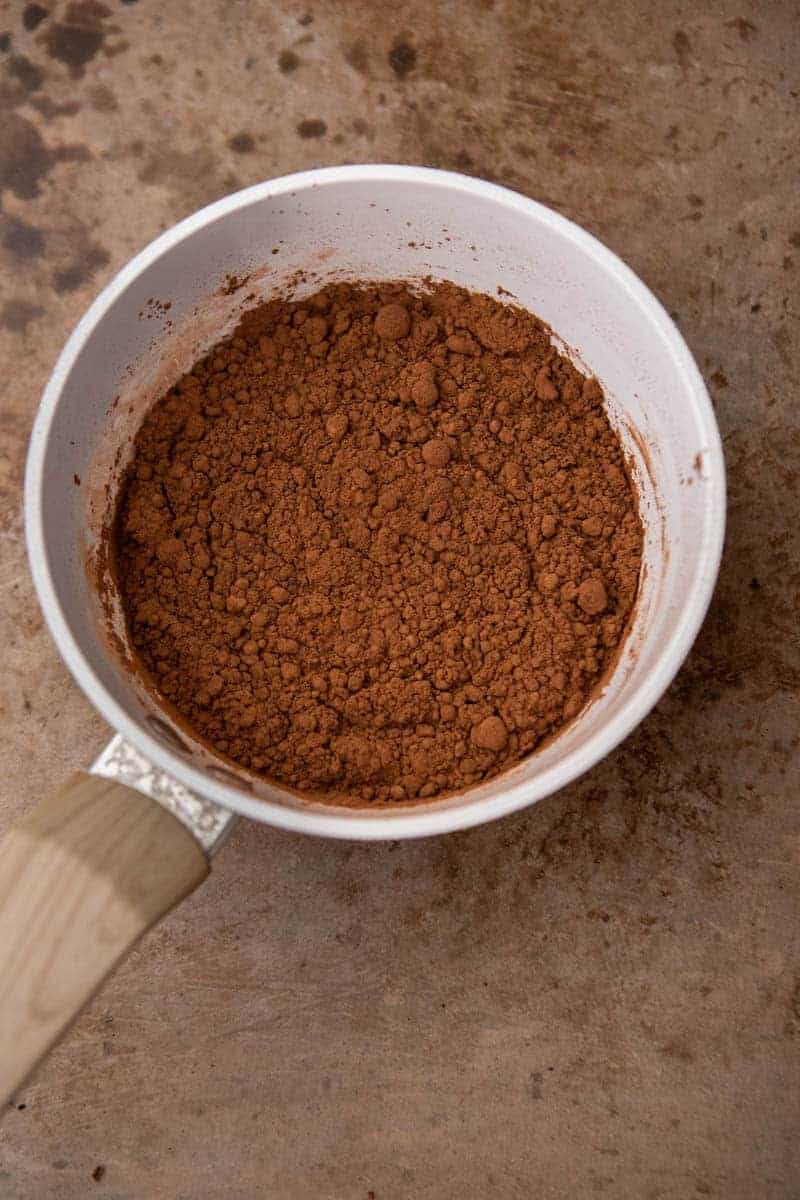 Frequently asked questions – FAQ
How to store this chocolate sauce for coffee
You can store this in a mason jar in the fridge for up to 2 weeks. I like to also place it in a squeeze bottle that has a cap for easy usage as well.
To store this for longer, you can pour about 2-3 tablespoons in an ice cube tray ad freeze until solid. Transfer to an airtight container and freeze for up to 3 months. Pop an ice cube in hot coffee to melt it and enjoy a delicious mocha drink in no time.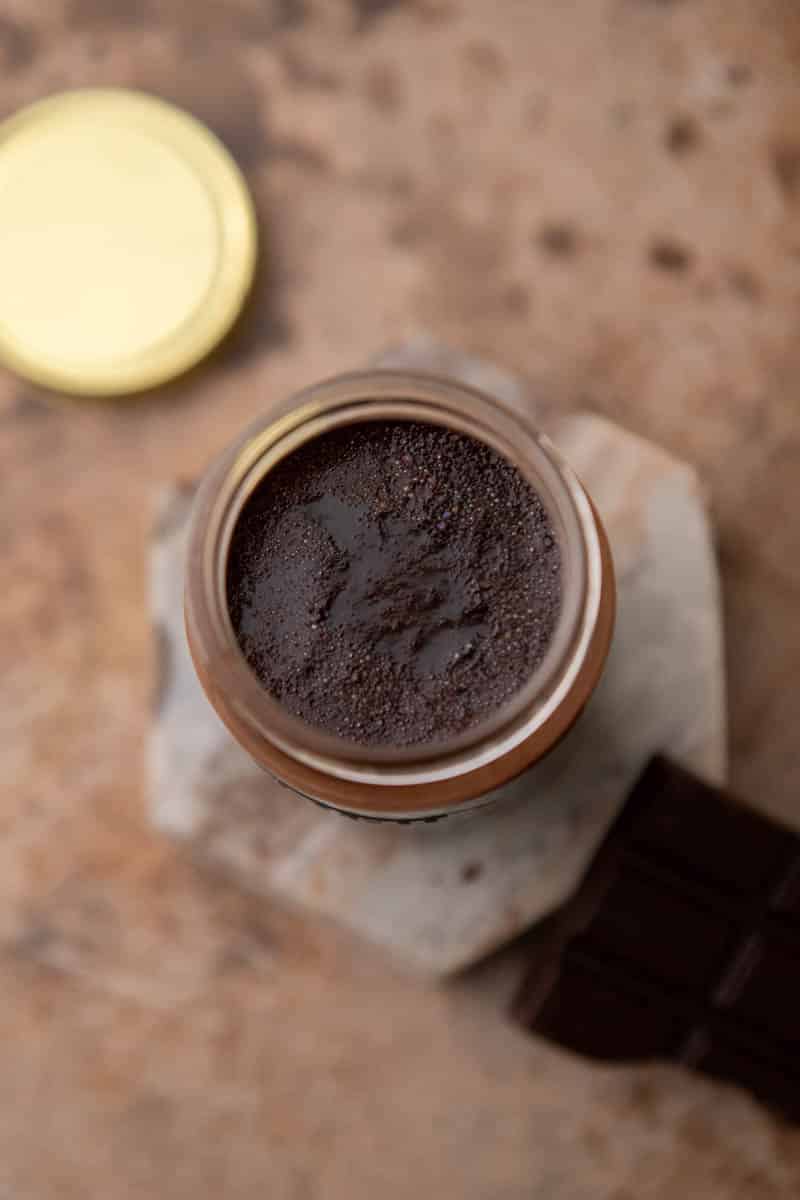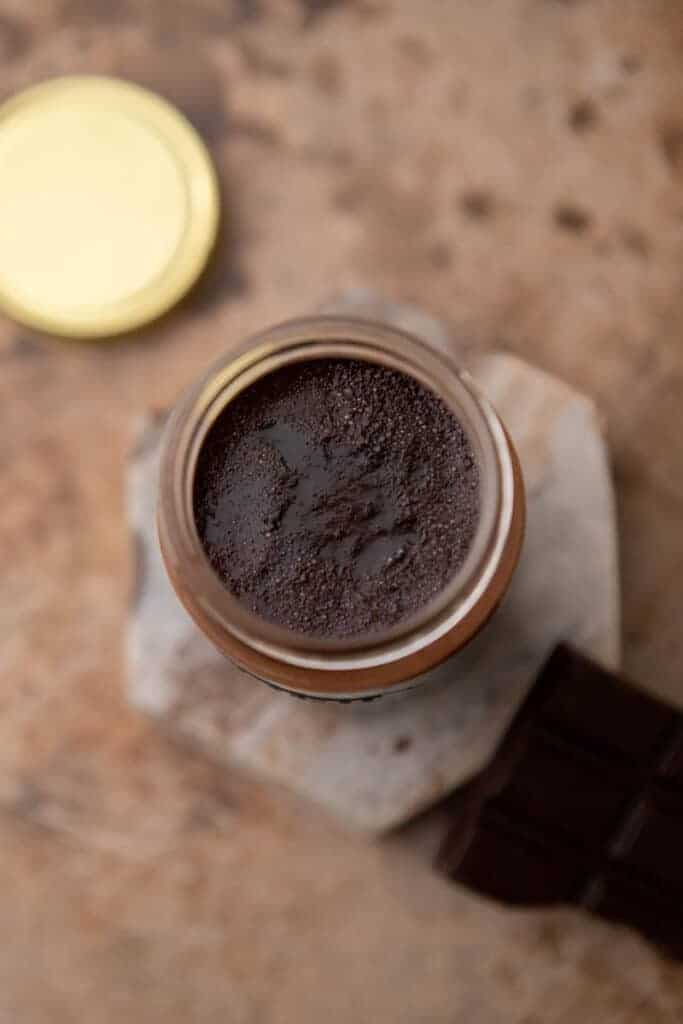 What drinks can I make with this Starbucks mocha sauce?
Here are some popular drinks that you can make with this homemade chocolate sauce for your coffee.
Starbucks' skinny mocha
Hot chocolate
Cold mocha drinks
Cookie Crumble frappuccino
Java chip frappuccino
Peppermint mocha latte
Chocolate milk
Help, my syrup is so thin. What can I do to fix it?
It is normal for the chocolate sauce to be on the runny side at first. As you place it in the fridge you'll notice that it will develop a thicker consistency.
How much caffeine does this Starbucks mocha sauce have?
This chocolate mocha sauce doesn't have any caffeine in it per se, allowing you to control how much caffeine levels you want in your drink by how much-iced coffee, hot coffee, or shots of espresso you decide to mix in there.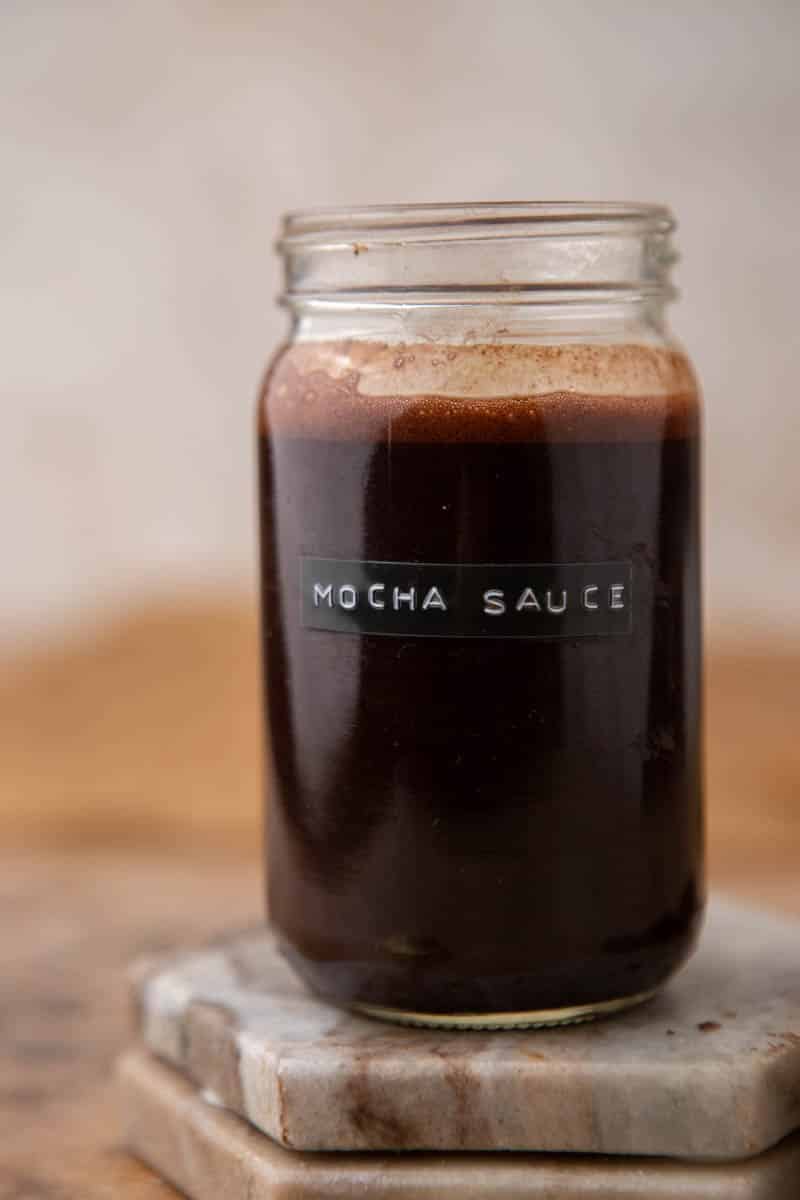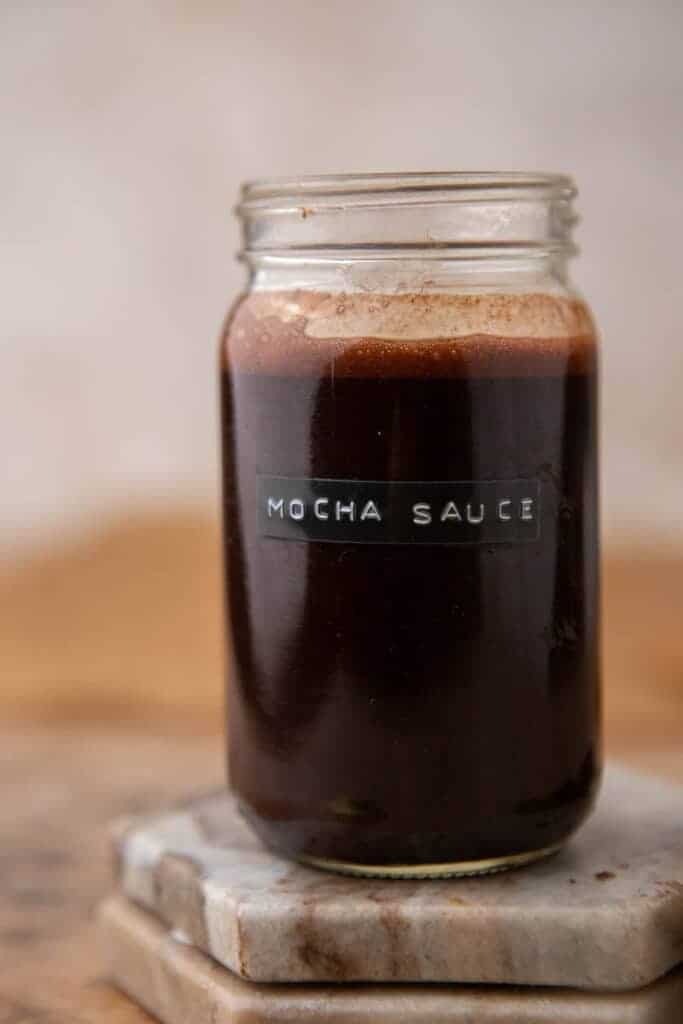 How can I make the Starbucks Caffè Mocha with this recipe?
To make that at home, all you need is
1 oz espresso
1 cup milk of choice, I like whole milk but feel free to use dairy-free milk like soy milk, coconut milk, oat milk, or even almond milk.
3 tablespoon mocha sauce
Whipped cream
Chocolate shavings.
To make it, stir the mocha sauce and the coffee at the bottom of the glass.
Top the drink with the frother milk mixture, top with whipped cream, and shaved chocolate, and enjoy!
What to use this chocolate sauce with?
You can use this recipe in a few ways to satisfy that sweet tooth. Some of my favorite ways are:
Adding it to your morning coffee
Using it for ice cream sundaes if you don't love a chocolate sauce that it too sweet.
Mix it into regular coffee (this can either be cold brew coffee or hot coffee)
Add some to your hot milk for a warm and cozy chocolate milk.
Drizzle some on top of vanilla ice cream for a decadent and rich dessert.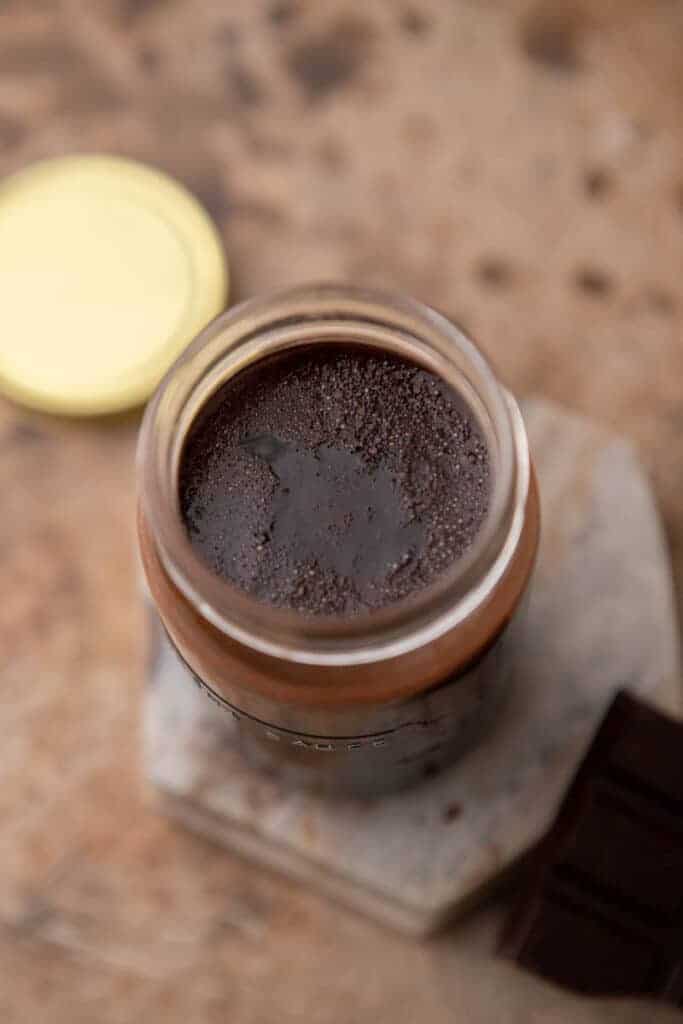 Starbucks version of mocha syrup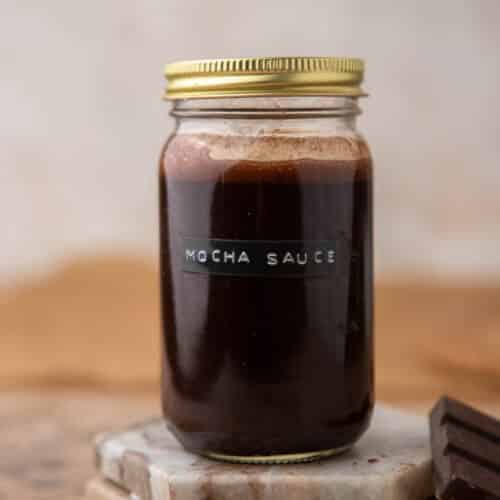 Starbucks mocha sauce / chocolate sauce for coffee
This easy starbucks mocha sauce or chocolate sauce for coffee is an easy sauce to make at home and add to your drinks or other treats.
Instructions
Add the water, sugar, salt, and cocoa powder to a medium saucepan and place on medium heat.

½ cup water,

½ cup granulated sugar,

⅓ cup cocoa powder,

⅛ teaspoon salt

Bring the mixture to a simmer, stirring often. Once the sugar has dissolved fully, allow the mixture to simmer for an extra 2 minutes.

Remove the saucepan from the heat, add the vanilla extract, mix, and allow it to cool down fully before using it in your drinks.

½ teaspoon vanilla extract
Notes
Store this chocolate sauce in the fridge for up to 1 week. 
Nutrition
Calories:
76
Calories
Carbohydrates:
19
g
Protein:
1
g
Fat:
1
g
Saturated Fat:
0.4
g
Polyunsaturated Fat:
0.02
g
Monounsaturated Fat:
0.2
g
Sodium:
51
mg
Potassium:
73
mg
Fiber:
2
g
Sugar:
17
g
Calcium:
7
mg
Iron:
1
mg

Shop this recipe
This post may contain affiliate links, meaning that at no cost to you I will get a small percentage of every purchase you make!
If you enjoyed this Starbucks mocha sauce recipe make sure to pin it for later!