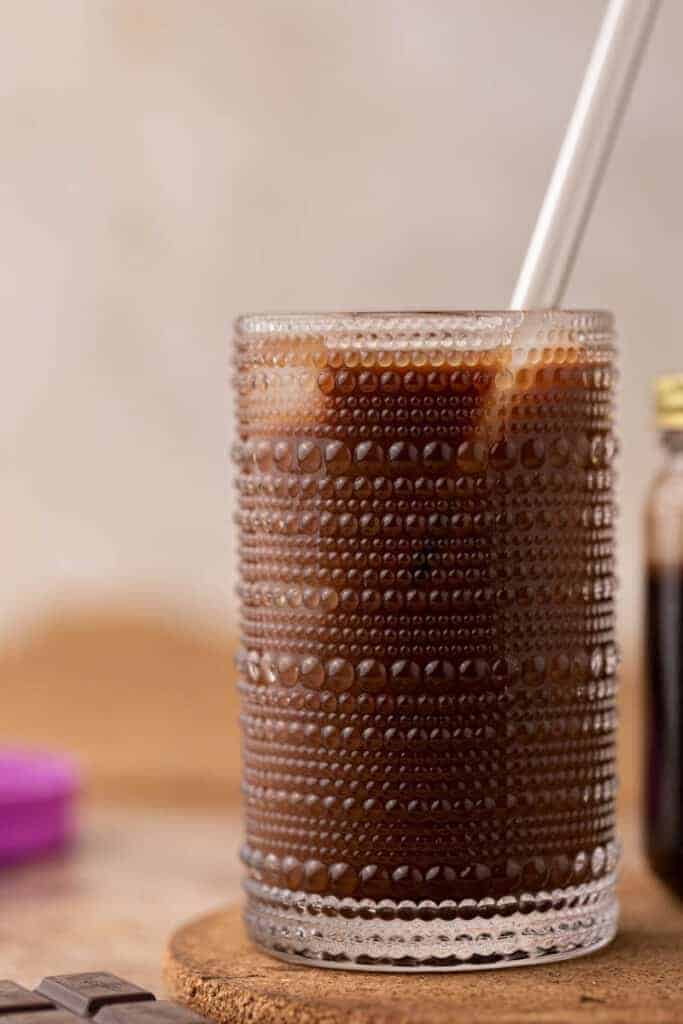 Any chocolate and coffee combo is life, now take a refreshing cold brew, mix it with chocolate sauce and you got yourself some of the best coffee ever! Plus making it at home is the perfect way to assess how strong you want your coffee to be. How sweet it should be, and how cold or maybe not so cold the drink has to be for it to be absolutely perfect to your liking.
Plus the best part is that you can mainly make everything from scratch or get all your items from the store and use them in this drink to make the process quicker and a lot more budget-friendly too.
This is the best Starbucks-inspired cold brew mocha recipe
Keep in mind that this isn't a mocha latte but a cold brew mocha drink that consists of more coffee than milk. It is less acidic thanks to the cold brew strong coffee but still packs a punch of caffeine and chocolate flavor thanks to the chocolate sauce.
This is my go-to drink whenever it is hot out and I need a delicious coffee that is both refreshing and cold to help me cool down. In this article, I will show you exactly how to make it and how to save a ton of money in the long run because we all know that buying drinks at coffee shops adds up so quickly, especially in today's economy!
What is cold brew?
Cold brew is pretty much coffee that was brewed with cold or room temperature water yielding a less acidic sweeter brew. It doesn't require the use of an espresso machine or anything fancy. You can make it in a french press, a pitcher or anything that can hold coffee and coffee then strain it and use it in your favorite coffee drinks.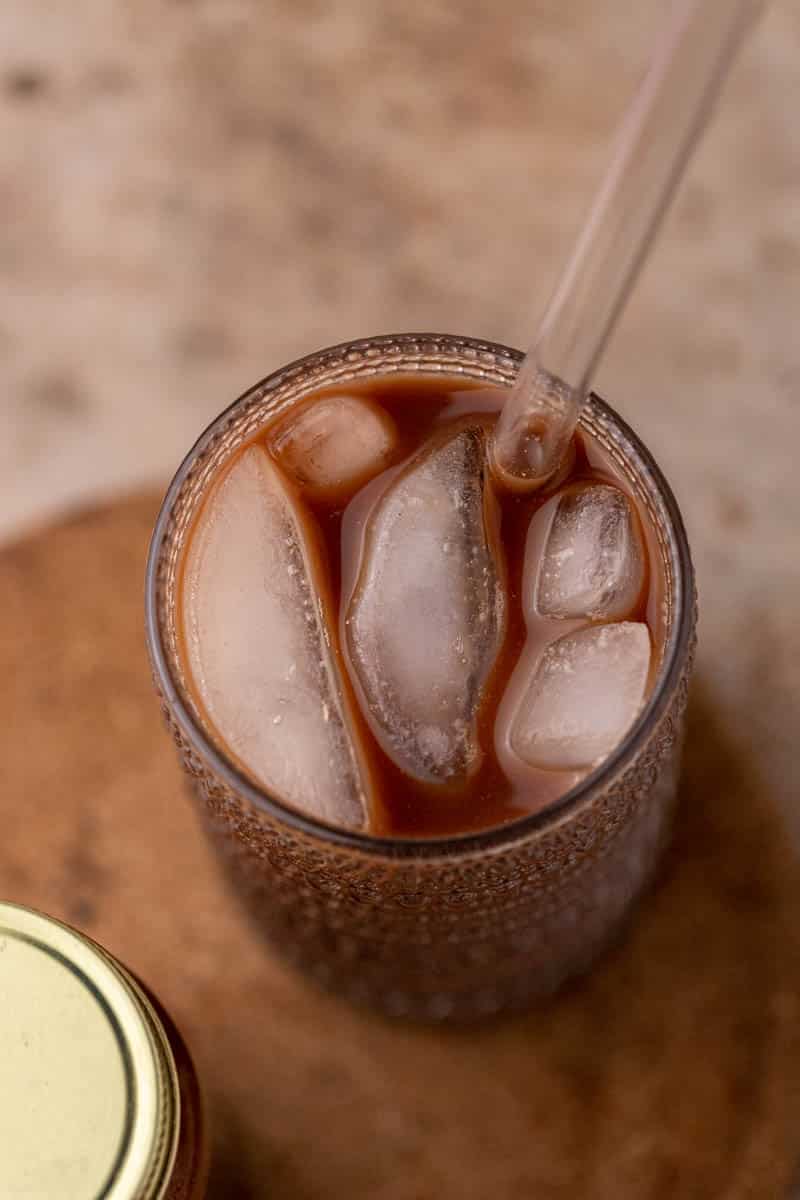 Why you need to make this recipe!
It is super easy and only uses a handful of simple ingredients
You can make this drink with homemade or store-bought cold-brew coffee.
This recipe can be made with homemade chocolate sauce or a sauce that you purchased at your local grocery store in the coffee aisle.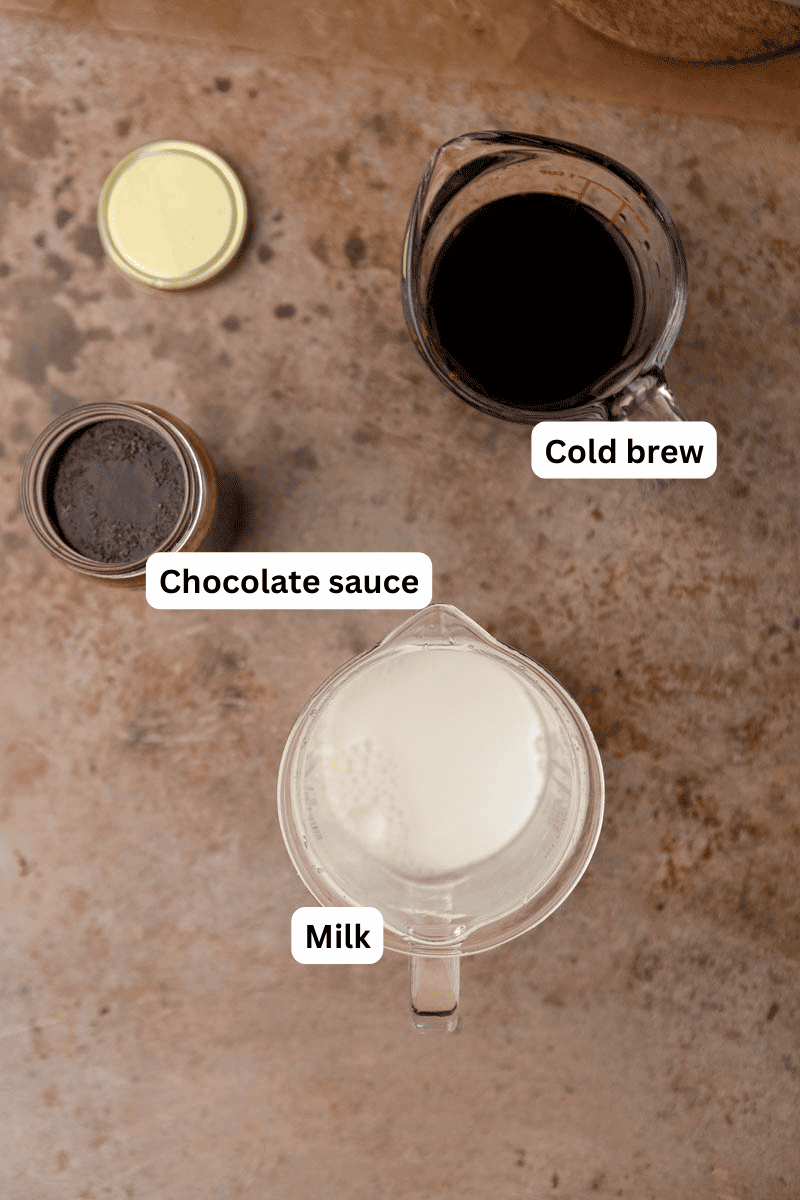 Ingredients for this easy iced mocha recipe
Here are the ingredients you will need to make this new recipe. Make sure to scroll down to the recipe card for the full detailed ingredient measurements.
Cold brew– Use your own cold-brewed coffee or the store-bought version.
Chocolate syrup– You can use homemade chocolate syrup or store-bought, both would work great.
Milk– I love using whole milk or half and half in my drink because it will make your cold brew drink so creamy and decadent but I know that it would also taste just as good with a dairy-free milk as well. My go-to go for an extra creamy cold brew mocha is creamy oat milk. Try it out and let me know your thoughts!
Ice
How to make a Starbucks iced mocha cold brew at home?
This is how you can make this cold brew drink. Make sure to scroll down to the recipe card for the full detailed instructions!
In a cocktail shaker or a jar with a lid (I use a mason jar) add the cold brew and the chocolate syrup and shake well to combine. You can also use a milk frother to fix it together in your glass if you don't want to shake it.
Pour that delicious combination over ice and top it with your milk of choice.
Top with whipped cream and extra chocolate drizzle for more chocolate flavor and to make it more instagrammy!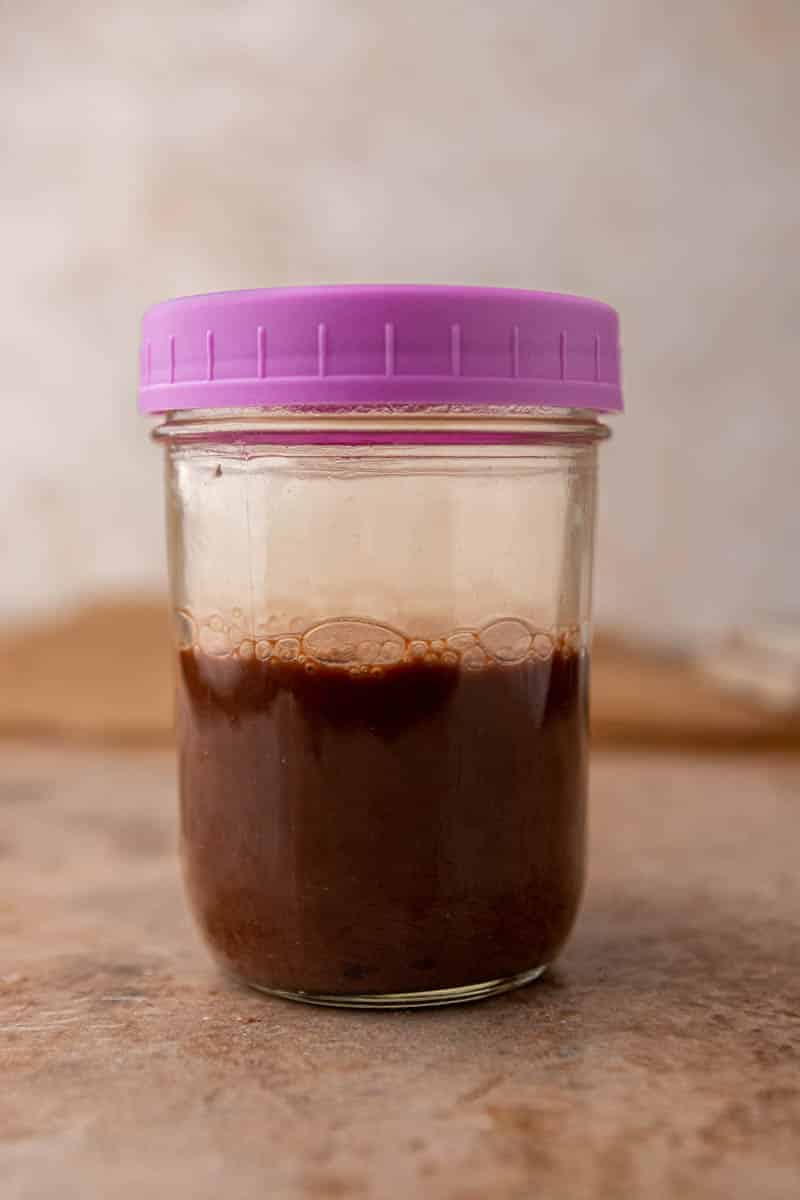 Frequently asked questions – FAQ
Can I turn this recipe into a white chocolate mocha cold brew?
Absolutely! Instead of using regular chocolate to make this iced mocha latte or cold brew, go ahead and use white chocolate sauce instead.
How to make this drink even stronger?
Something that has been circulating on social media platforms to make your cold coffee even stronger. To do so, freeze some extra cold brew in your favorite ice cube tray and use it instead of regular ice. The coffee ice cubes will allow your drink to stay strong and not be watered down as the ice melts.
Can I make this drink dairy free?
Absolutely, make sure to use dairy-free chocolate syrup in your cold brew, and instead of using dairy creamer, whole milk, or even chocolate milk, use non-dairy milk like oat milk, coconut milk, almond milk,
How much caffeine does this drink have?
Assuming you are using caffeinated cold brew coffee, each serving of this drink would have about 75-100mg of caffeine.
Can I use decaf coffee for this recipe?
Yes, you can! Either purchasing decaf cold brew or make it yourself at home is another good option.
If a cold brew mocha drink the same as a mocha latte?
No, they aren't exactly the same. They do have similar flavor profiles but a latte with made with milk/steamed milk, espresso, and chocolate sauce. While a cold brew mocha is made with cold brewed coffee or cold brew concentrate, chocolate sauce, and a splash of any kind of milk you prefer.
Can I make a hot cold brew mocha?
Technically yes, but at the same time, it will taste different from your regular hot coffee drinks so be aware of that. Cold-brewed coffee is for the most part served iced, you can heat it up and serve it hot if that is what you prefer. Just make sure to heat up the chocolate sauce with it to combine them without shaking it in a jar or cocktail shaker.
Mocha cold brew recipe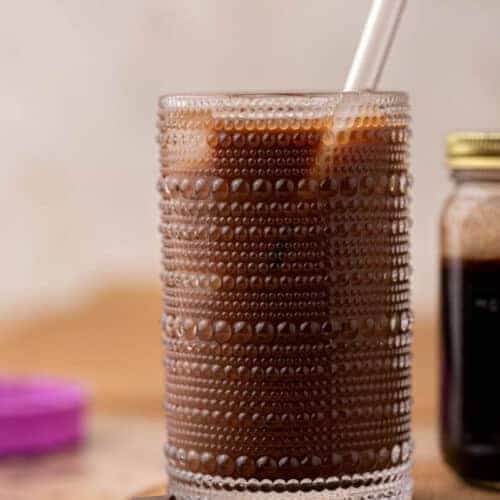 Cold Brew Mocha recipe
This easy cold brew mocha coffee is a delicious chocolate cold brew that you can make at home in no time.
Ingredients
½

cup

cold brew

2-3

tablespoon

chocolate syrup

homemade or store-bought

⅓

cup

milk

ice

whipped cream

optional
Instructions
in a cocktail shaker or mason jar combine the cold brew coffee and the chocolate syrup. Close the lid tightly and shake to combine.

½ cup cold brew,

2-3 tablespoon chocolate syrup

Pour in a glass full of ice, top it off with the milk, some whipped cream if you'd like and enjoy!

⅓ cup milk,

ice,

whipped cream
Nutrition
Calories:
139
Calories
Carbohydrates:
30
g
Protein:
4
g
Fat:
1
g
Saturated Fat:
0.3
g
Polyunsaturated Fat:
0.01
g
Monounsaturated Fat:
0.1
g
Cholesterol:
2
mg
Sodium:
62
mg
Potassium:
226
mg
Fiber:
1
g
Sugar:
24
g
Vitamin A:
167
IU
Vitamin C:
0.1
mg
Calcium:
113
mg
Iron:
1
mg

Shop this recipe
This post may contain affiliate links, meaning that at no cost to you I will get a small percentage of every purchase you make!
If you enjoyed this mocha cold brew drink recipe make sure to pin it for later!