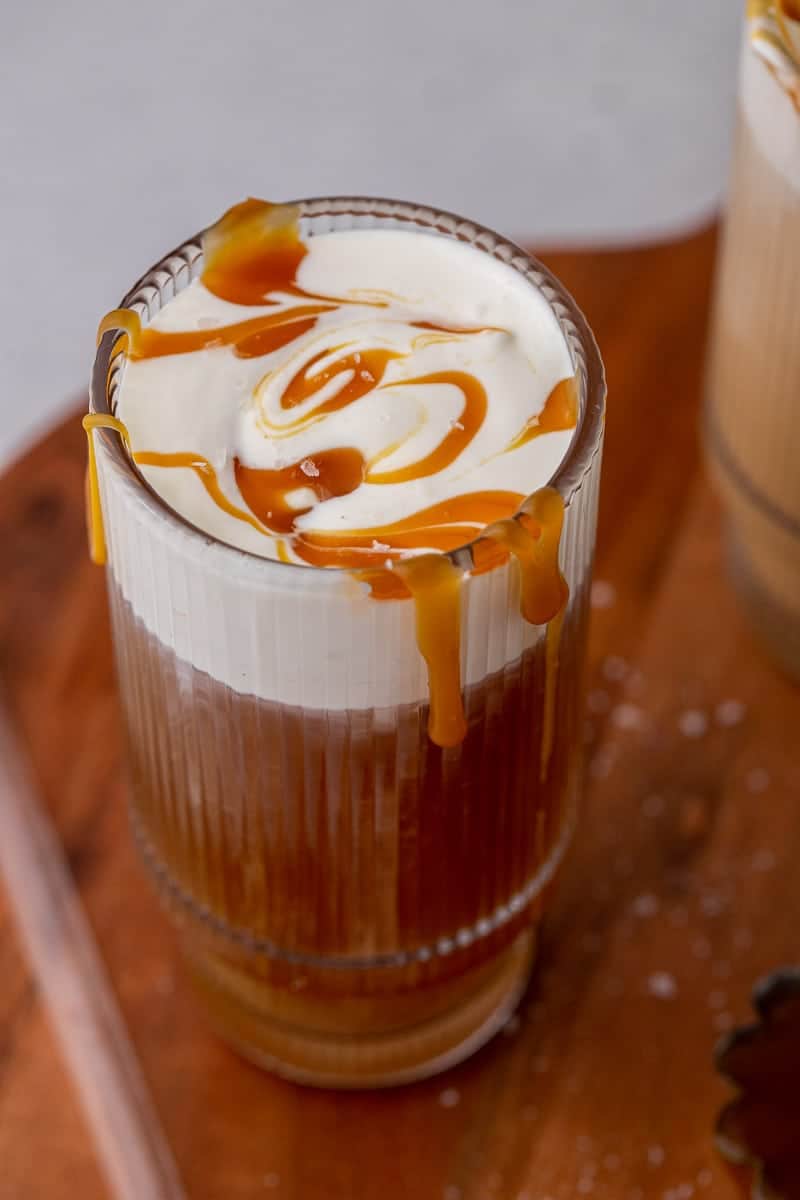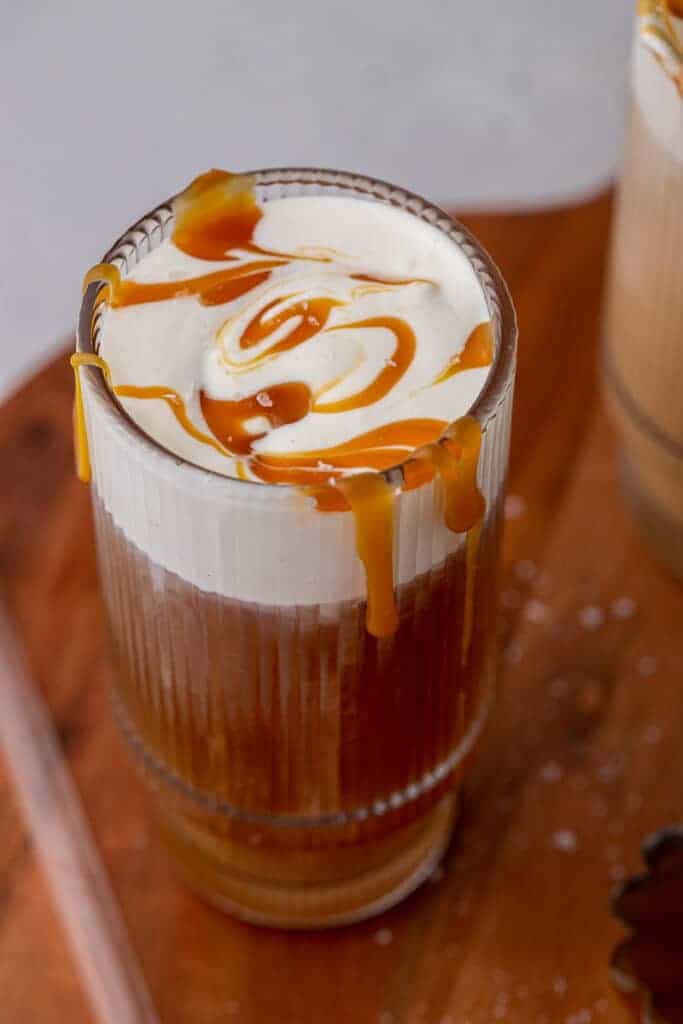 This is the best salted caramel sweet cream foam recipe EVER!
If you're an avid Starbucks coffee shop shopper well, I got you covered with one of the best copycat drink recipes ever!!
This salted caramel coffee is one of the most popular drinks in the local Starbucks that I go to and after ordering it for a whole month straight I figured why not share my take on it.
You will be able to tell how similar this recipe is as soon as you take your first sip. PS: Be aware that the salted caramel cold foam is one of the most addictive things I've ever made so make it at your own risk!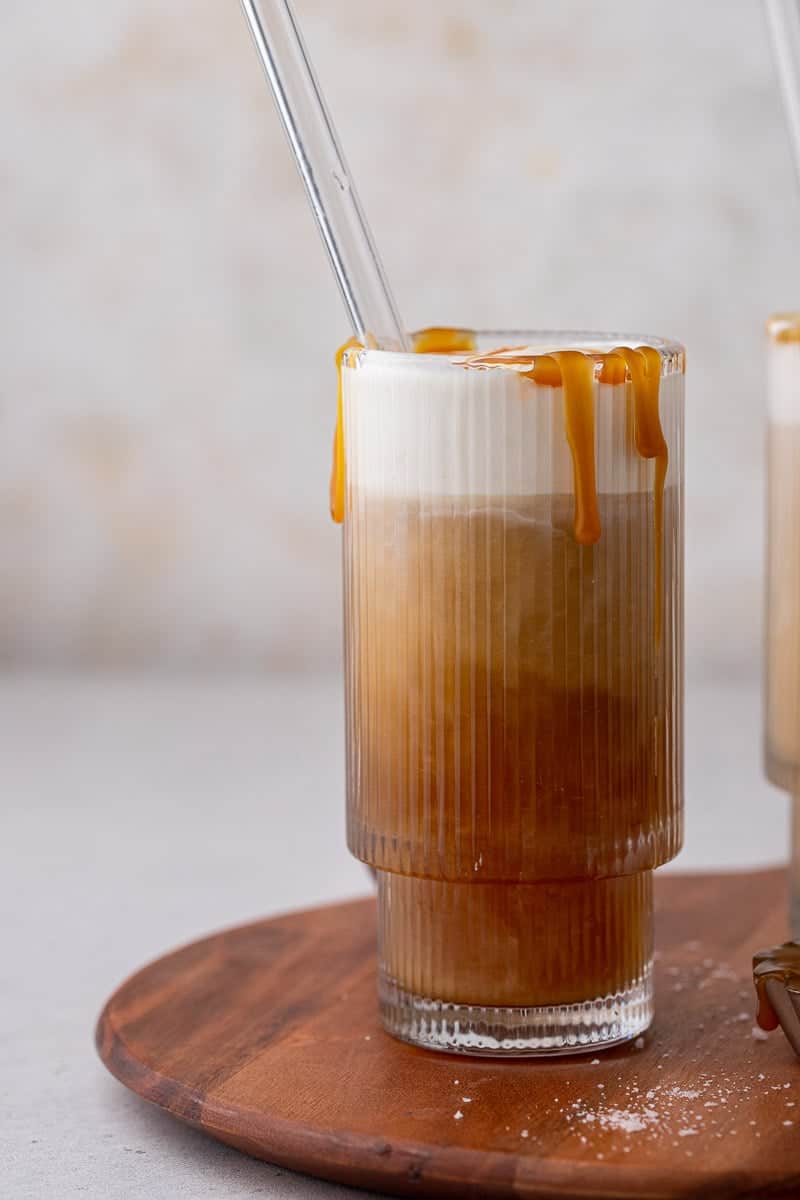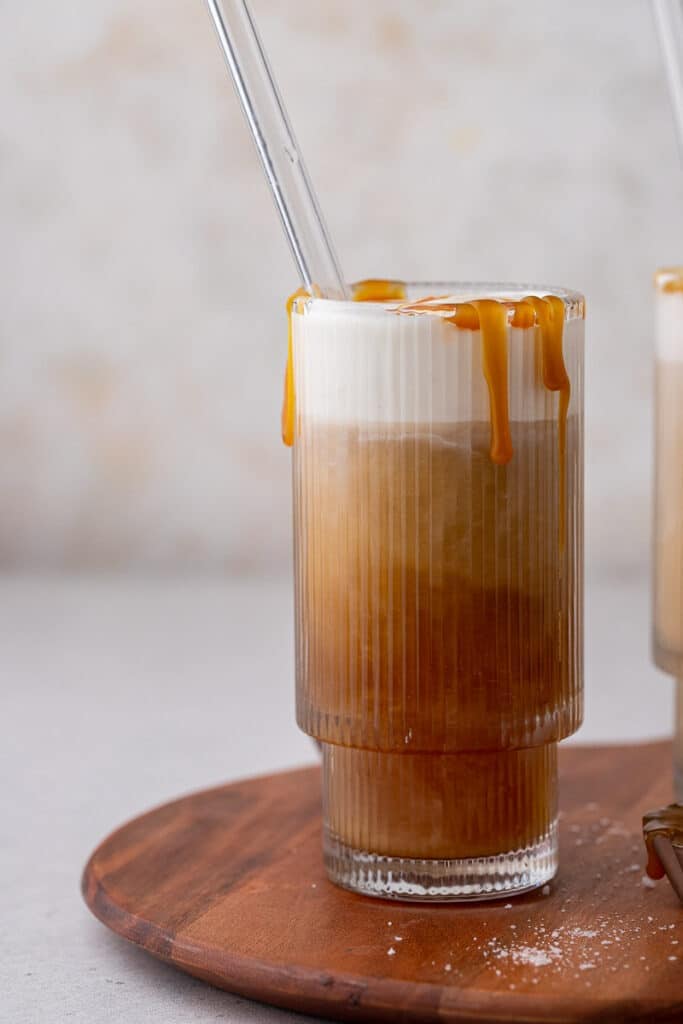 Why you need to make this recipe!
It is an easy recipe that comes together in no time
This recipe will see you a ton of money in the long run.
You'll become your own favorite barista by making some of the best-tasting salted caramel cold brew coffees!
It's a versatile recipe allowing you to use ingredients that you have on hand for a delicious coffee every time,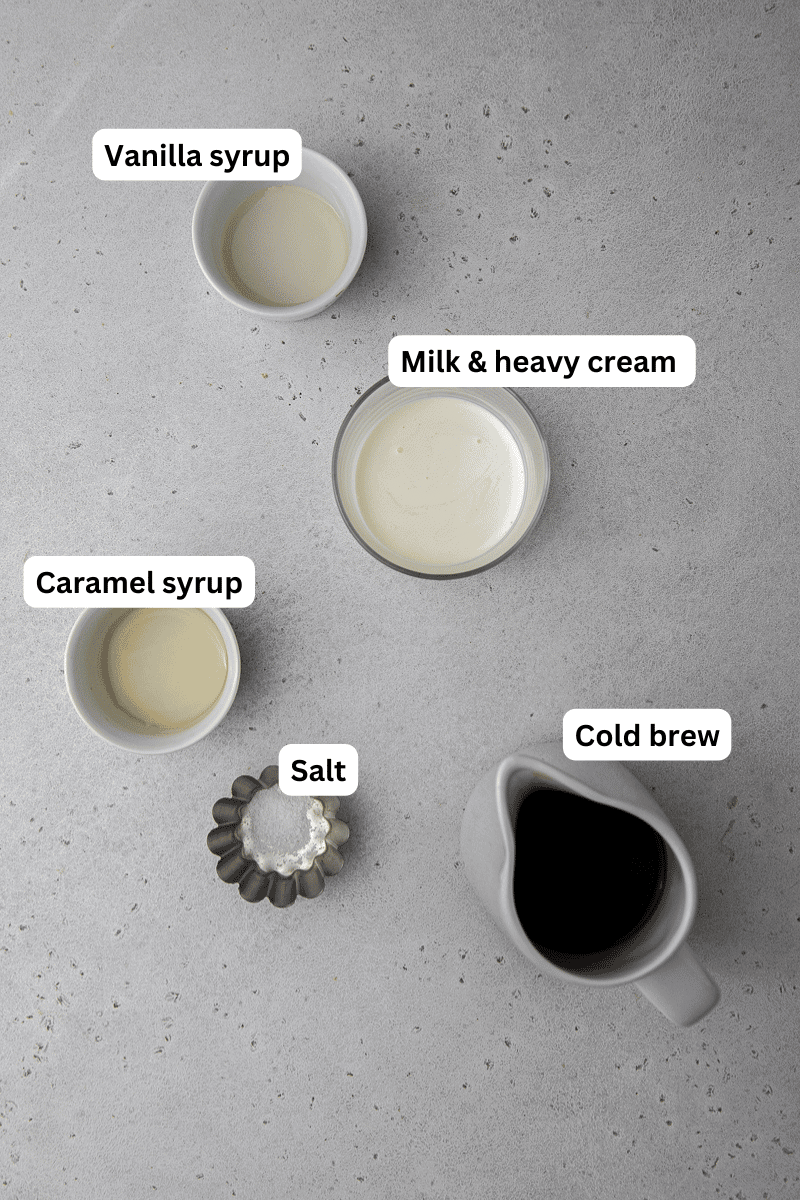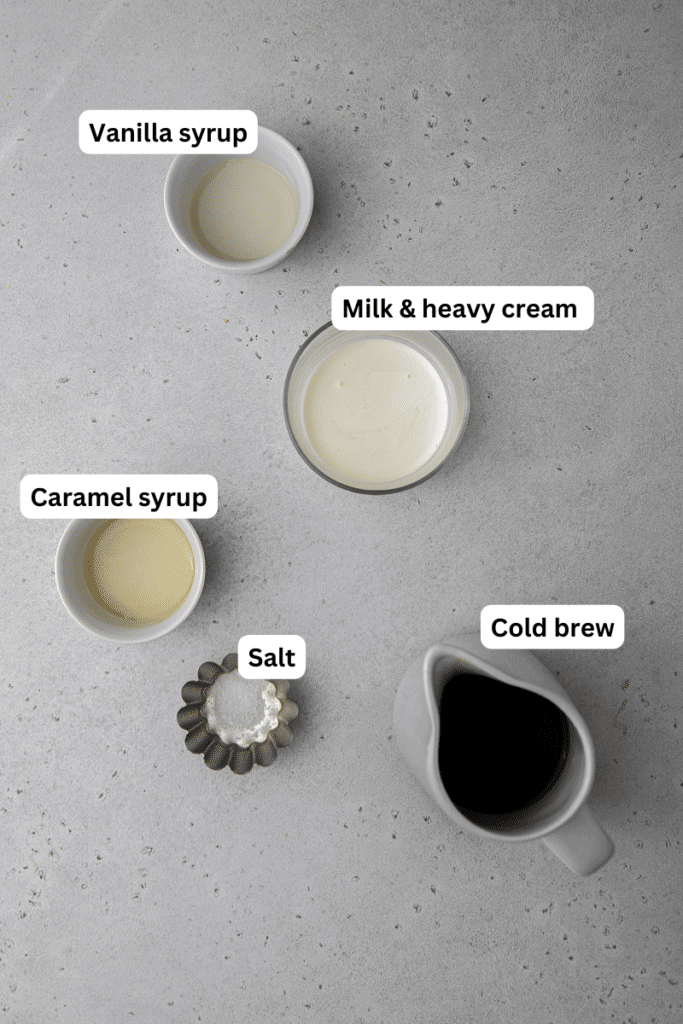 Ingredients for this salted caramel cold foam iced coffee
Here are the ingredients you will need to make this coffee recipe. Make sure to scroll down to the recipe card for the full detailed ingredient measurements.
Cold brew– You can use homemade cold brew, cold brew concentrate, or even store-bought cold brew for this. Just make sure that you use something you enjoy because the flavor will be there.
Vanilla syrup– Simple store-bought vanilla syrup or homemade both work great.
Caramel coffee syrup– This is what will give the cold foam that amazing caramel flavor that you get in your favorite drinks at Starbucks!
Heavy cream- Make sure that your heavy cream is cold before you start making your homemade version of this caramel cold foam.
Milk- Starbucks uses 2% milk in their cold foam but you can also use 1% or skim milk.
Salt- a little pinch of sea salt will go a long way for this drink, trust me, it elevates it to the next level.
Caramel sauce (optional)- You can use store-bought caramel sauce of use my homemade recipe for this.
How to make this Starbucks copycat salted caramel cold foam cold brew?
This is how you can make it. Make sure to scroll down to the recipe card for the full detailed instructions!
Pour the cold brew and vanilla syrup into a tall glass full of ice.
In a different cup, mix the heavy cream, a sprinkle of salt, and caramel syrup.
Froth using a handheld milk frother for 30 seconds or so until thick and creamy.
Pour the salted caramel cold foam over your cold brew, drizzle some caramel sauce on top, snap a photo for social media, and enjoy!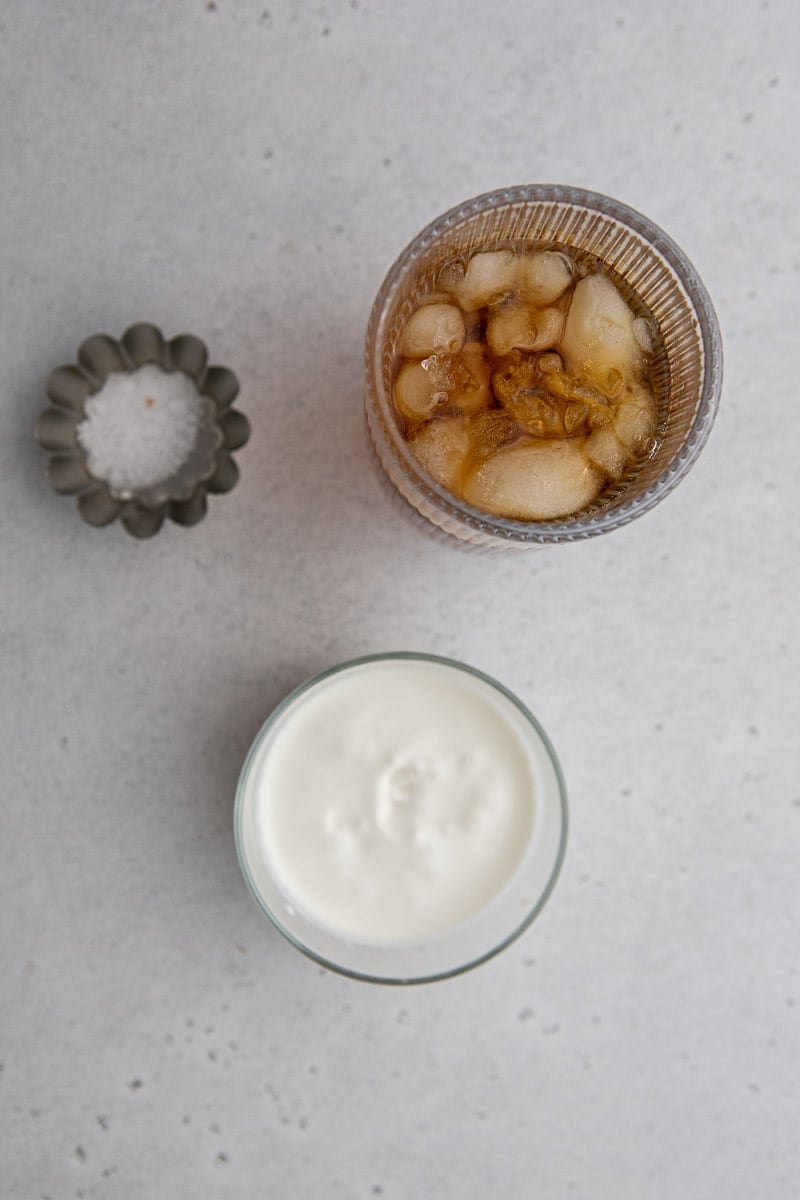 What if I don't have a handheld milk frother?
If you don't have a frother you can also use a mason jar and vigorously shake your cold foam until thickened. You can also use an immersion blender or a regular blender and blend until thickened then pour the salted cream over your
Frequently asked questions – FAQ
What does salted caramel cold brew have in it?
At Starbucks, the drink is super simple actually. Just a little vanilla syrup mixed with the cold brew then topped with a mixture of heavy cream, 2% milk, caramel syrup, and a little salt. The whole thing is served over ice, making a perfect cold coffee drink for the hot summer days, or if you're like me year round!
Is salted caramel cold brew sweet?
I can see why you might be wondering if this flavor of cold brew coffee is sweet or savory but worry no more. It is pretty sweet, the salt we use in the thick foam on top is to help balance out the sweetness of the caramel syrup. Plus who doesn't love salted caramel flavors!?
The mixture of the vanilla syrup in the cold brew as well as the caramel syrup in the cold foam will make this drink pretty sweet. Make sure to taste it and add an extra pumpkin of syrup if you'd like your drink sweeter.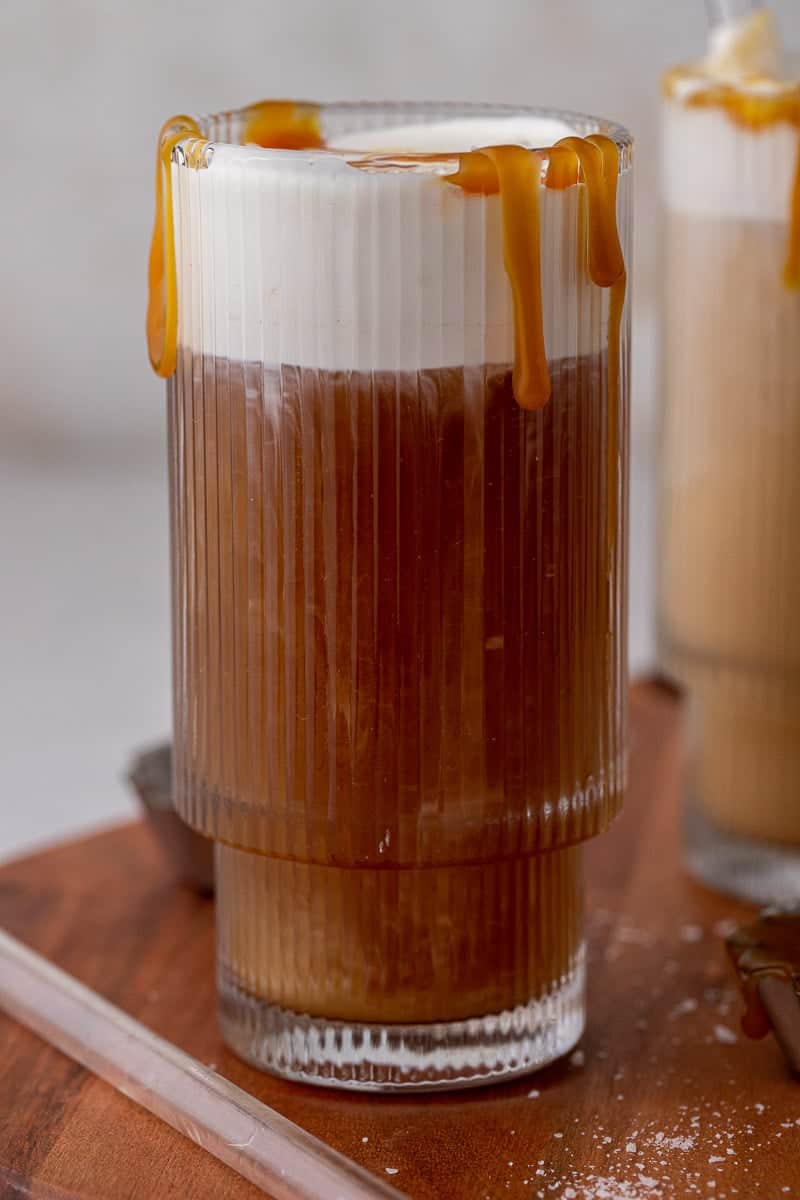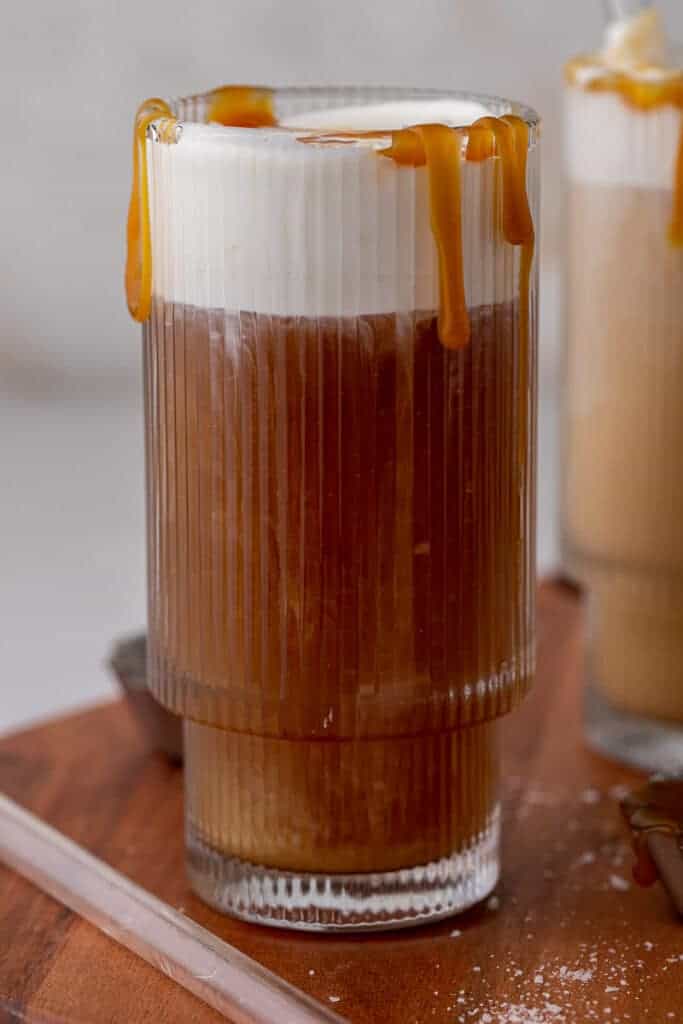 Should I mix my salted caramel cream cold brew?
The good news is that this is a personal choice, so you do you! There is no right or wrong way to have this drink. Some people enjoy mixing the salted cold foam with their cold brew while others might want to sip on the cold foam first and then get to the coffee so try both ways and see what you prefer!
Can I make this salted caramel cold foam cold brew dairy free?
Since some of us might have specific dietary needs that don't allow us to have dairy so here are a few other non-dairy milk options you can use to make this recipe. Use oat milk, soy milk, or even cashew milk. To make it extra creamy though, use some coconut milk alongside one of these dairy-free milk options.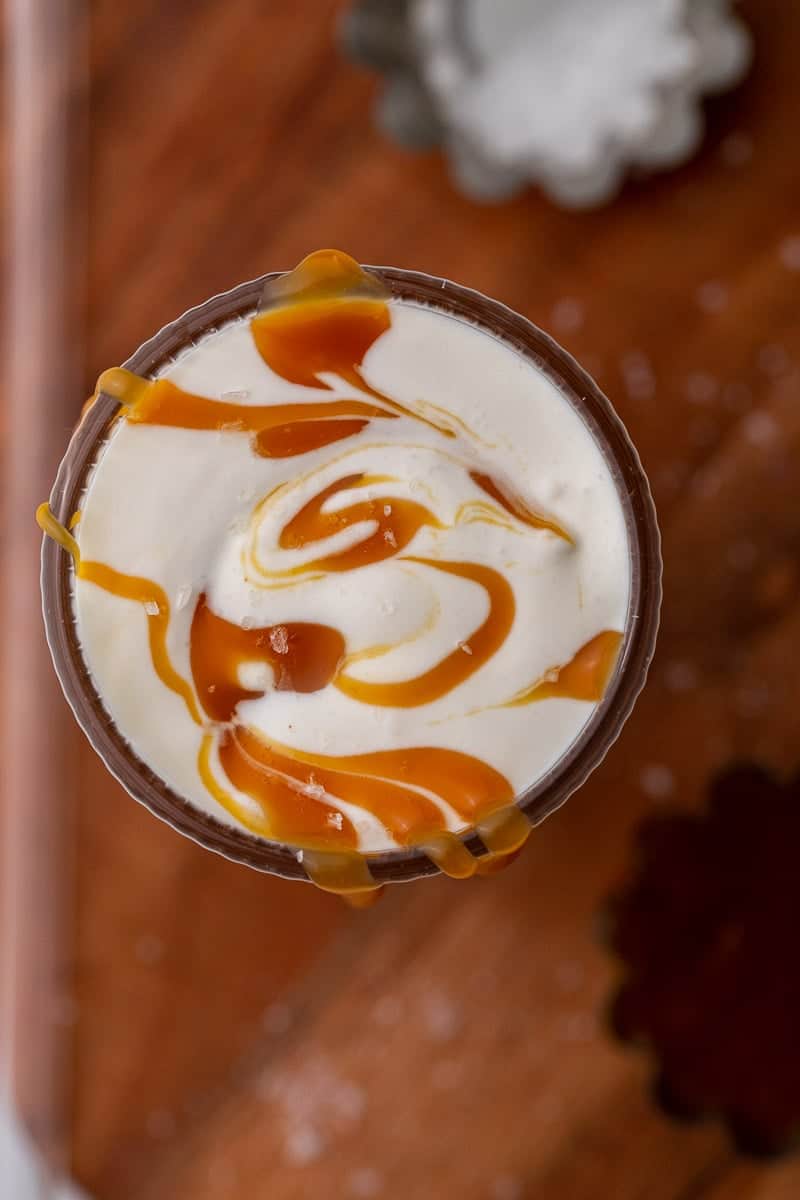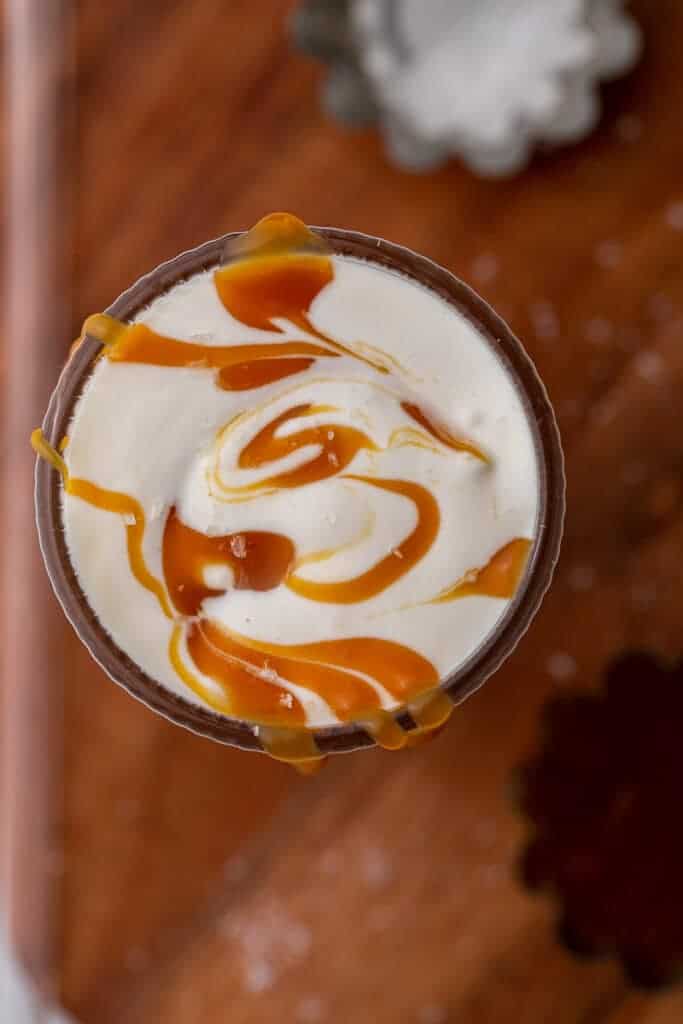 Can I use hot brewed coffee?
Yes, you can but be aware that your coffee will taste different from the Starbucks one. Using hot brewed coffee in place of cold brew will yield something a little more acidic in taste while the coffee that Starbucks uses is more mellow.
How can I make my own cold brew at home?
If you decide to take the homemade cold brew road the one thing you'll have to remember is this ration For every cup of water use 2-3 tablespoon coarse coffee grounds. Let your coffee steep for 12-24 hours either in a cold brew pitch or even in a french press.
You can also make the cold brew in a regular pitcher and just strain the coffee grounds with a coffee filter or cheesecloth.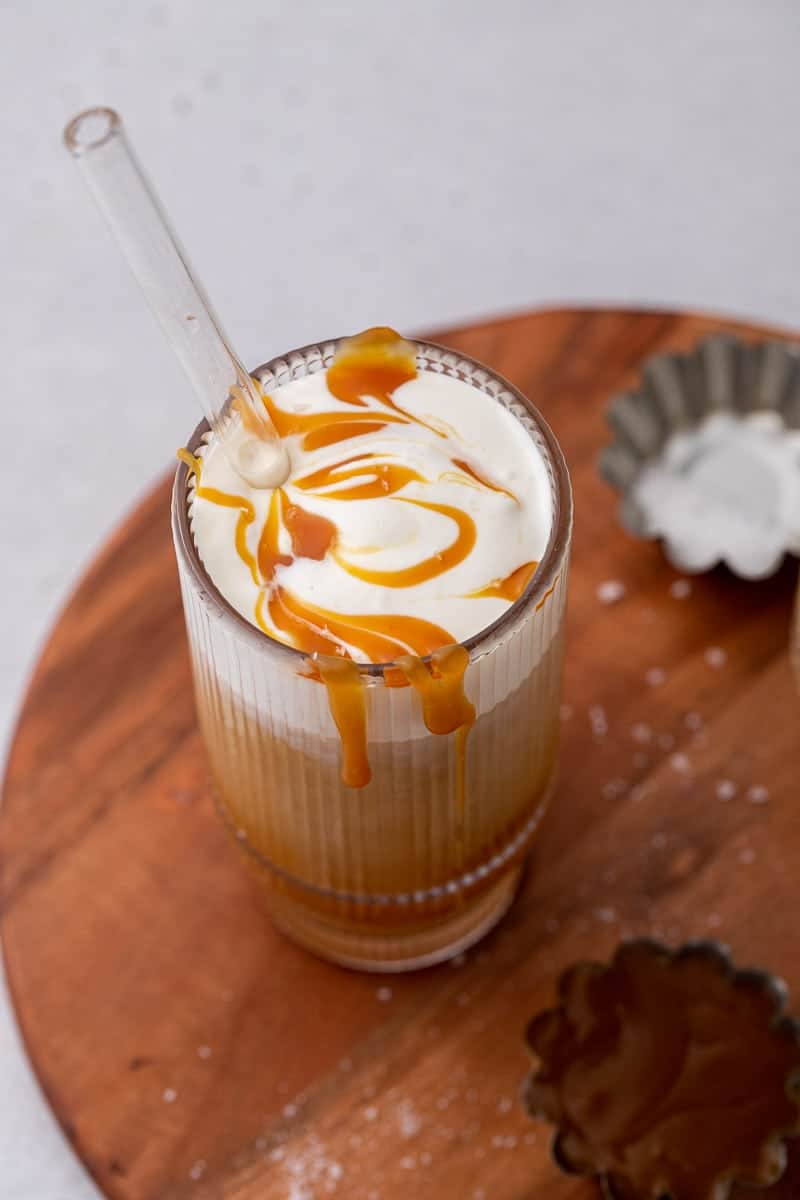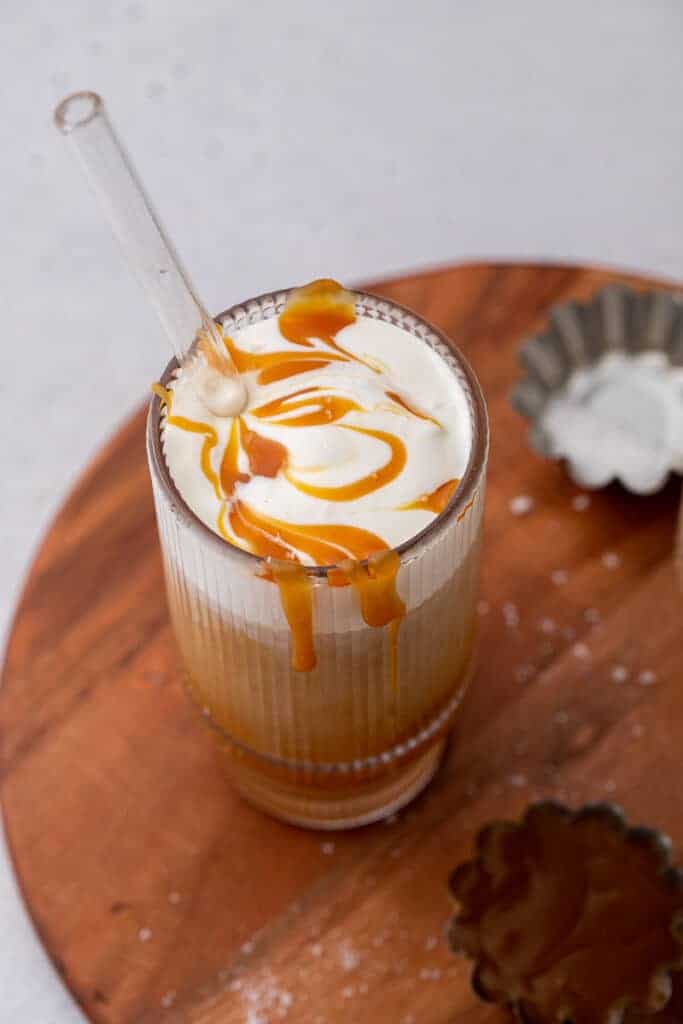 Salted caramel cream cold brew recipe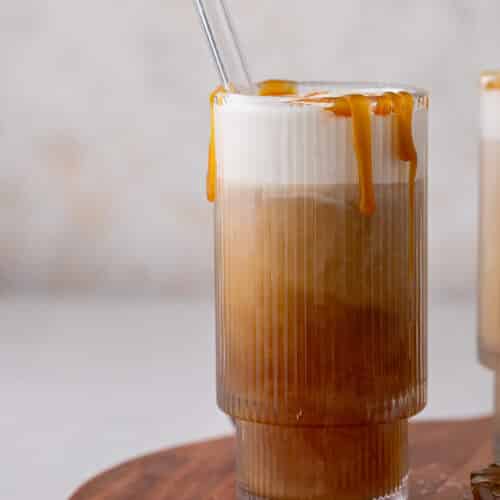 salted caramel cream cold brew (Starbucks copycat)
This easy Starbucks copycat tastes exactly like the salted caramel cold brew drink they have in store but will cost you a fraction of the price!
Ingredients
8

oz

cold brew

1-2

tablespoon

vanilla syrup

add more or less depending on how sweet you like your drink.
salted cold foam
2

tablespoon

heavy cream

2

tablespoon

milk

Starbucks uses 2% milk

1

tablespoon

caramel syrup

⅛

teaspoon

salt
Instructions
Pour the cold brew into a large cup filled with ice, add in the vanilla syrup and stir.

In a separate cup make the salted caramel foam. Add the heavy cream, milk, caramel syrup, and salt and froth using a hand frother until thick and creamy.

Pour the salted caramel cold foam on the cold brew and enjoy!
Nutrition
Calories:
211
Calories
Carbohydrates:
29
g
Protein:
2
g
Fat:
11
g
Saturated Fat:
7
g
Polyunsaturated Fat:
0.5
g
Monounsaturated Fat:
3
g
Cholesterol:
35
mg
Sodium:
355
mg
Potassium:
91
mg
Sugar:
17
g
Vitamin A:
502
IU
Vitamin C:
0.2
mg
Calcium:
62
mg
Iron:
1
mg

Shop this recipe
This post may contain affiliate links, meaning that at no cost to you I will get a small percentage of every purchase you make!
If you enjoyed this homemade version of the Starbucks salted caramel cream cold brew recipe make sure to pin it for later!