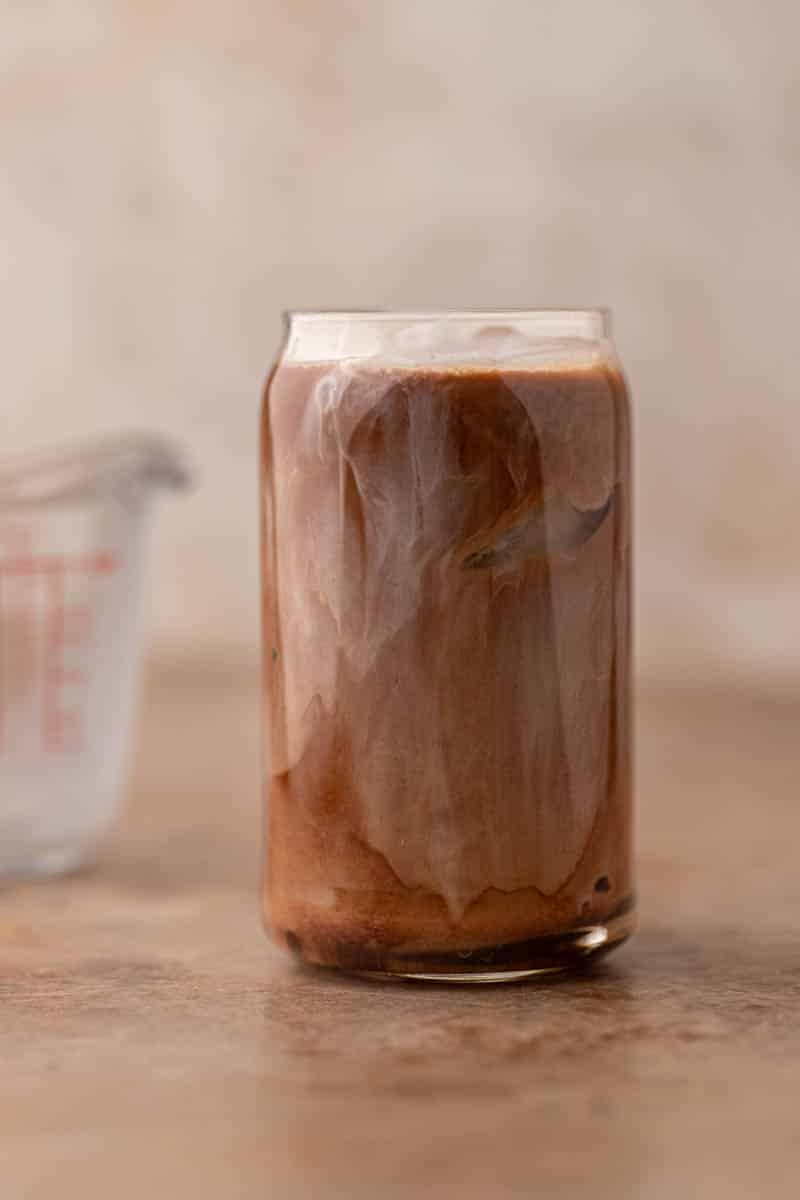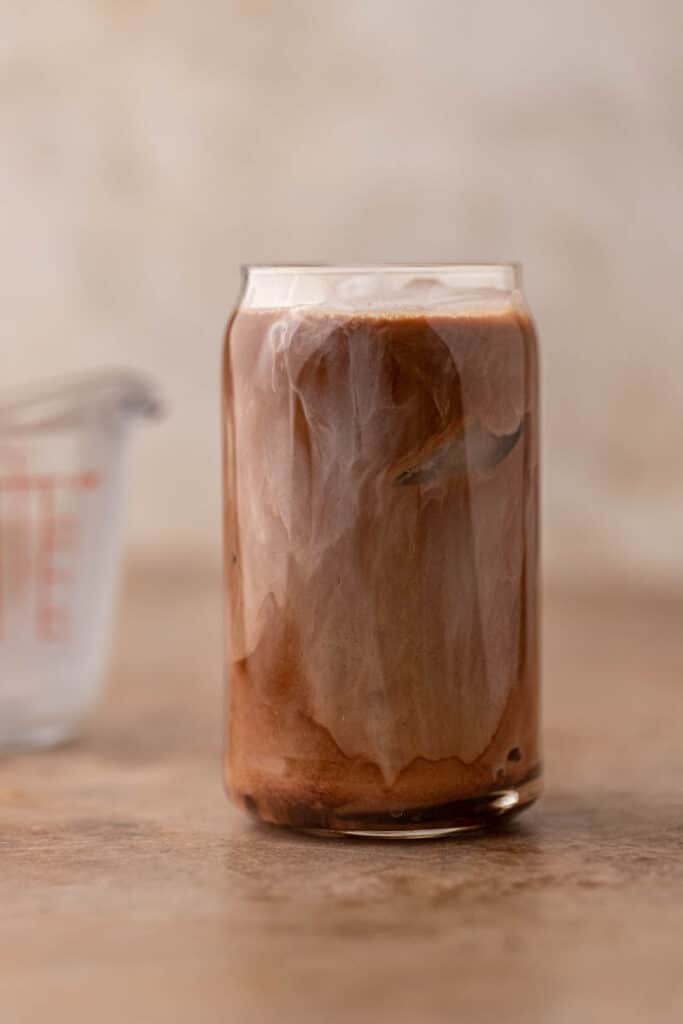 For some reason, chick fil a coffee drinks always hit so right especially with their chocolate fudge brownie on the same. OMG heaven! This drink has the perfect flavor profile for coffee lovers as well as mocha and chocolate lovers alike. It is great for that sweet tooth while also enjoying how coffee tastes.
This is the best blend of cold-brewed coffee with mocha and sweet cream.
Unfortunately for us after November 2022, Chick fil a decided that we didn't deserve this drink anymore. I personally think that releasing it for a limited time only was not enough at all so I decided that it was time to remake it for you! Now, lets skip the cup of hot joe and make this instead.
What does the Chick-Fil-A mocha cream cold brew taste like?
The Chick-fil-A Mocha Cream Cold Brew is a flavored coffee beverage that is made by blending cold brew coffee, chocolate sauce, and vanilla-flavored cream. It has a rich, smooth, and creamy taste with a balance of chocolate and coffee flavors, with a hint of sweetness from the vanilla cream. The cold brew coffee provides a bold and strong coffee taste, while the chocolate sauce and cream add a touch of sweetness and creaminess to the overall taste.
Why you need to make this recipe!
It is simple but will make your taste buds dance.
No need to wait for Chikfila to bring this back, you can now make it at home.
You'll skip those long lines to get your drink thanks to this.
It'll allow you to enjoy this popular fast-food chain drink at home.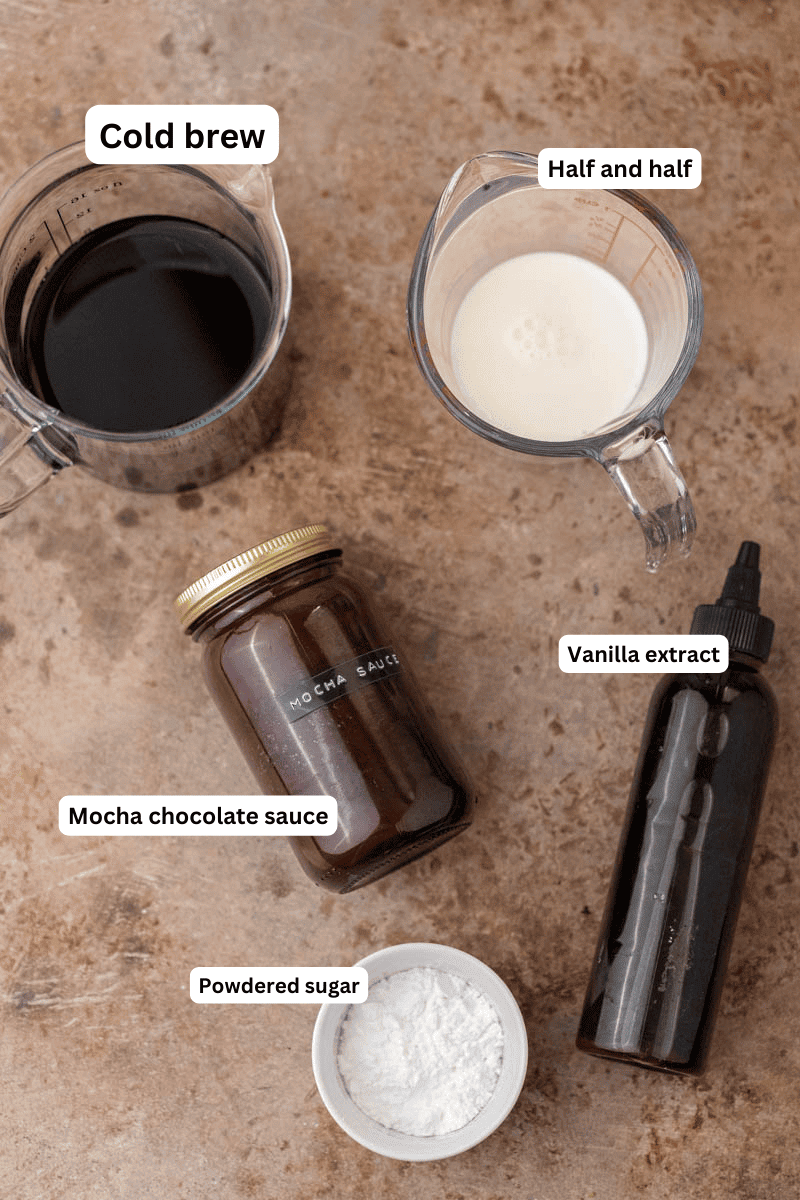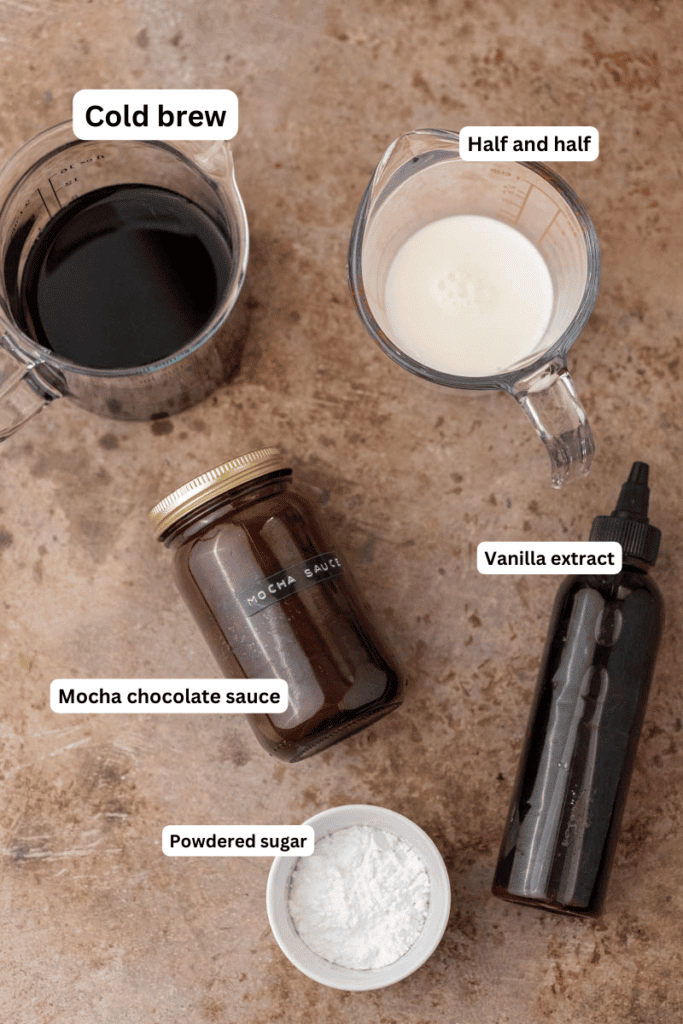 Ingredients for this chick fil a mocha creme cold brew
Here are the basic ingredients you will need to make this easy copycat drink. Make sure to scroll down to the recipe card for the full detailed ingredient measurements.
Half and half– We use half and half to make it extra creamy, you can also use whole milk if necessary. If you want something even more rich on the other hand, use a splash of heavy cream. Be aware that these are some high-calorie ingredients.
Vanilla extract– This won't turn it into a vanilla iced coffee but it will make the sweet cream taste even better.
Powdered sugar- or you can use pure cane syrup , or cane sugar to sweeten this.
cold brewed coffee- You can use homemade or storebought cold brew or cold brew concentrate. If using cold brew concentrate, add some cold water to it.
chocolate-flavored syrup – You can either use homemade or storebought chocolate syrup to flavor your drink.
ice cubes
Substitutions for a more decadent treat
If you don't have vanilla extract and powdered sugar you can always use simple syrup and half and half or french vanilla syrup and half and half.
Use dairy-free extra creamy milk and chocolate syrup for a plant-based drink.
Use half chocolate sauce and half caramel sauce to add notes of smooth caramel to your drink.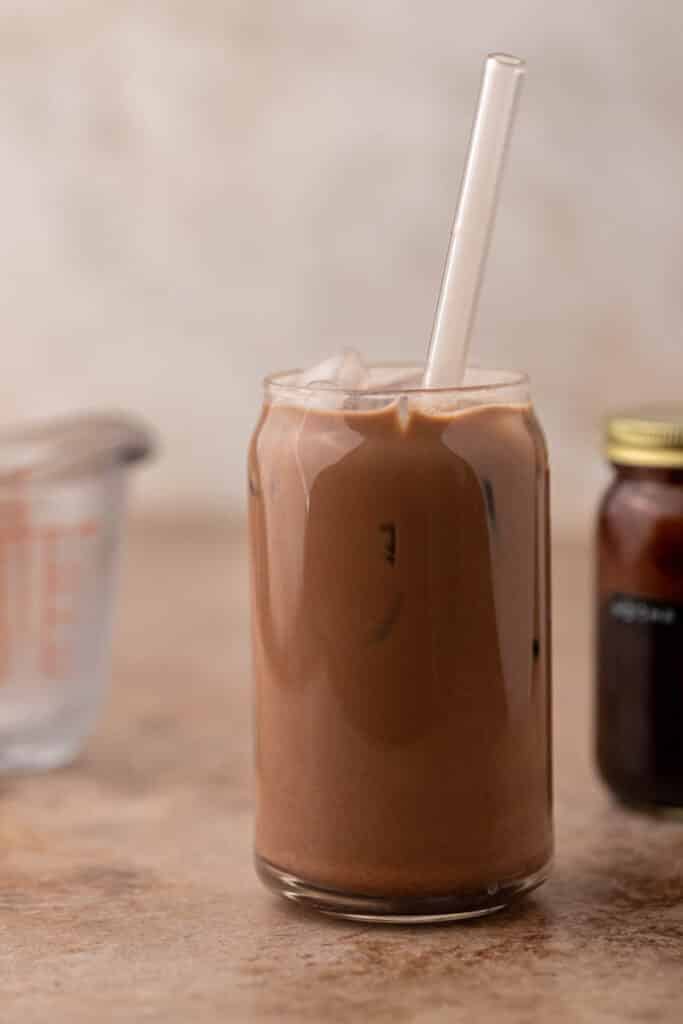 How to make this easy chickfila mocha cold brew
This is how you can make this recipe. Make sure to scroll down to the recipe card for the full detailed instructions!
In a measuring cup mix the half and half, vanilla extract, and powdered sugar.
To a glass add in the chocolate sauce, ice, and top with the cold brew.
Add in the vanilla sweet cream, this will create a delicious swirl of cold-brewed coffee perfect for IG!
Stir and enjoy!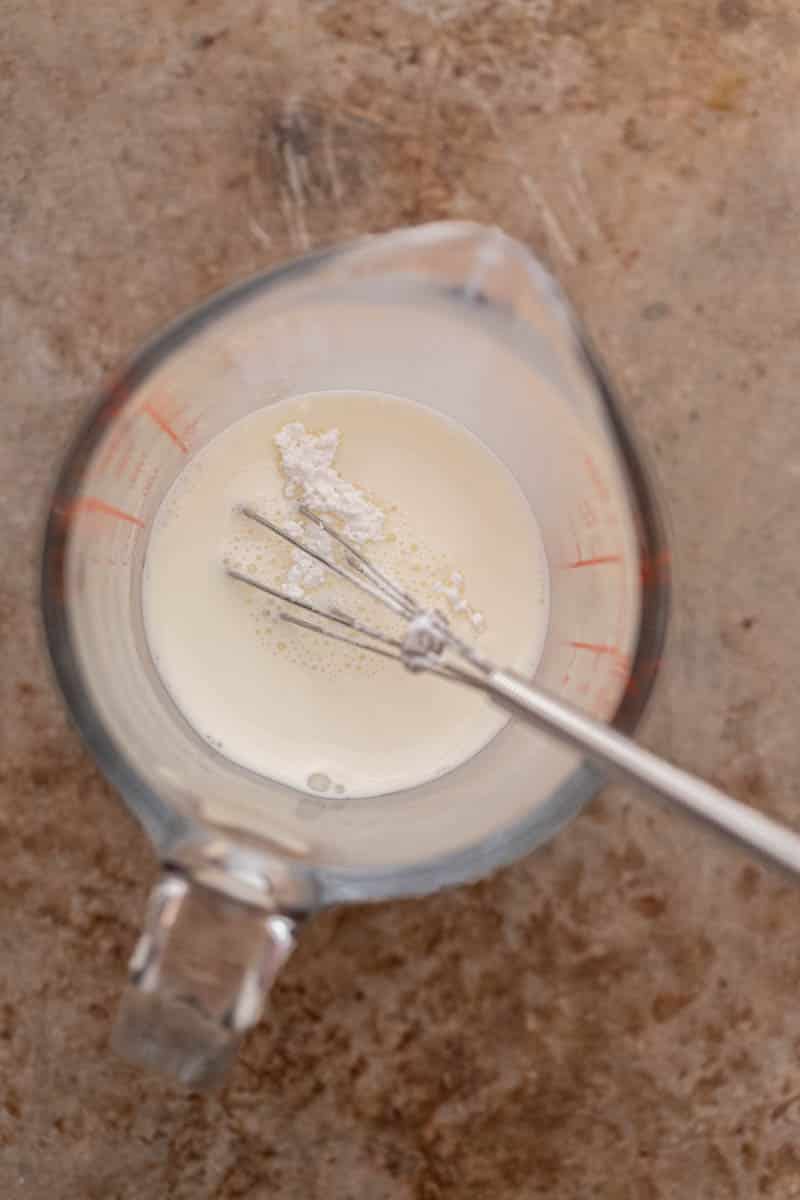 Frequently asked questions – FAQ
How to make your own cold brew/coffee concentrate?
If you decide to go with the homemade cold brew option here is how you can make it at home. You will need:
4 oz coarse coffee grounds
4 cup water
Mix the water and the ground coffee together in a large glass pitcher, a french press, or a jar, and steep for 12-24 hours.
Strain the coffee using a cheesecloth or a fine-mesh strainer. Discard the coffee ground then pour the cold brew back in the cleaned jar or bottle. Strain the coffee a second time if you notice tiny coffee ground in there.
Store the cold brew in a mason jar or glass bottle in the fridge for up to one month. Whenever you're ready to use it, just dilute it before using.
Copycat chick-fil-a mocha cream cold brew
Chick-Fil-A mocha cream cold brew recipe
This easy Chick-Fil-A mocha Creme cold brew recipe is an easy way to enjoy your faovrite coffee drink in no time.
Instructions
Stir the half and half, vanilla extract, and powdered sugar in a measuring cup and set aside.

¼ Cup Half and half,

1 tablespoon Powdered sugar,

¼ teaspoon vanilla extract

In your serving glass, stir the chocoalte sauce, and the cold brew together. Top it with ice then with the vanilla sweet cream mixture we just made. Stir and enjoy!

¾ cups cold brew coffee,

2-3 tablespoon chocolate sauce,

Ice
Notes
Note: You can adjust the amount of chocolate sauce, and powdered sugar to your liking to make it sweeter or less sweet.
Nutrition
Calories:
248
Calories
Carbohydrates:
35
g
Protein:
4
g
Fat:
10
g
Saturated Fat:
6
g
Polyunsaturated Fat:
0.5
g
Monounsaturated Fat:
4
g
Cholesterol:
22
mg
Sodium:
172
mg
Potassium:
277
mg
Fiber:
1
g
Sugar:
24
g
Vitamin A:
215
IU
Vitamin C:
1
mg
Calcium:
87
mg
Iron:
1
mg

Shop this recipe
This post may contain affiliate links, meaning that at no cost to you I will get a small percentage of every purchase you make!
If you enjoyed this Chick-Fil-A Mocha Cream Cold Brew Copycat recipe make sure to pin it for later!