This Starbucks white chocolate mocha sauce recipe is one of the best chocolate sauces for your coffees, frappuccinos, and lattes. It is made to reassemble the Starbucks white chocolate syrup but with simple ingredients that you can easily find at your grocery store. It is the best thing when trying to make some of their popular drinks, holiday season cozy drinks, and even some fun secret menu drinks as well.
Since you are there for this homemade white chocolate sauce, make sure to check this homemade regular mocha sauce or syrup, this cold brew mocha drink, This white chocolate hot chocolate, as well as this Starbucks sweet cream cold brew recipe.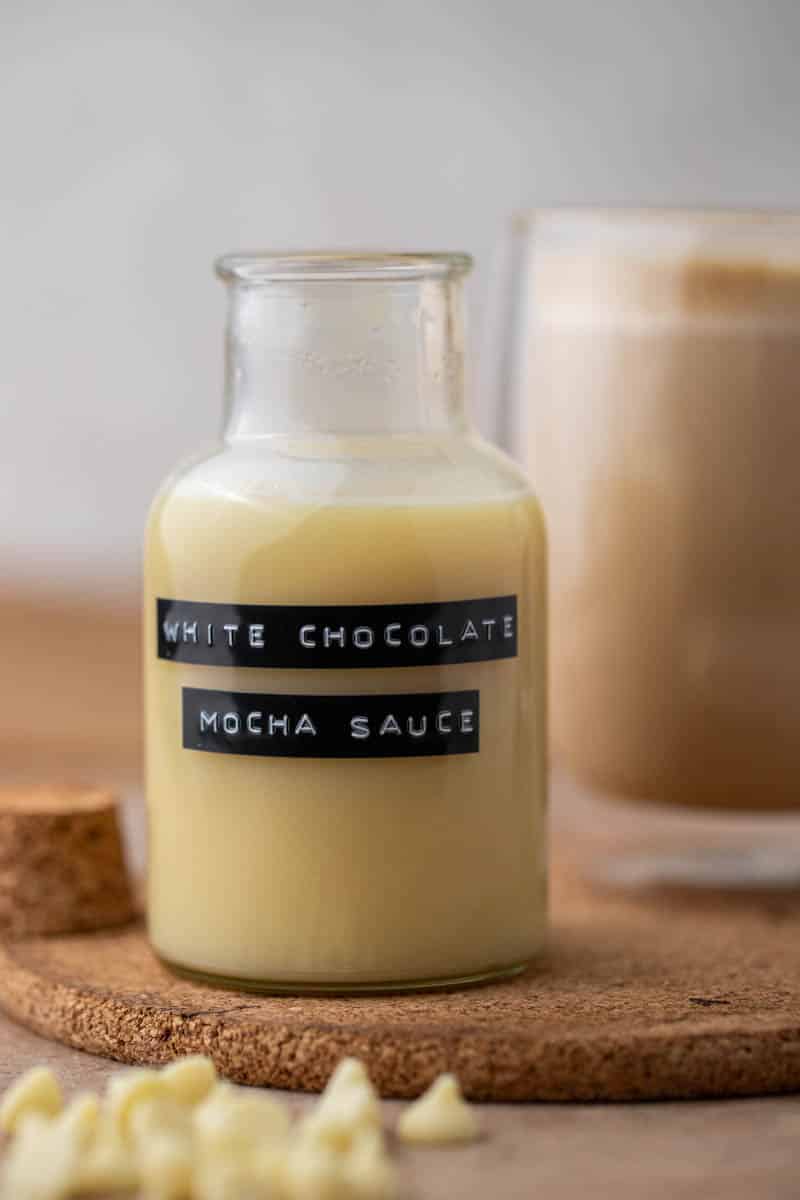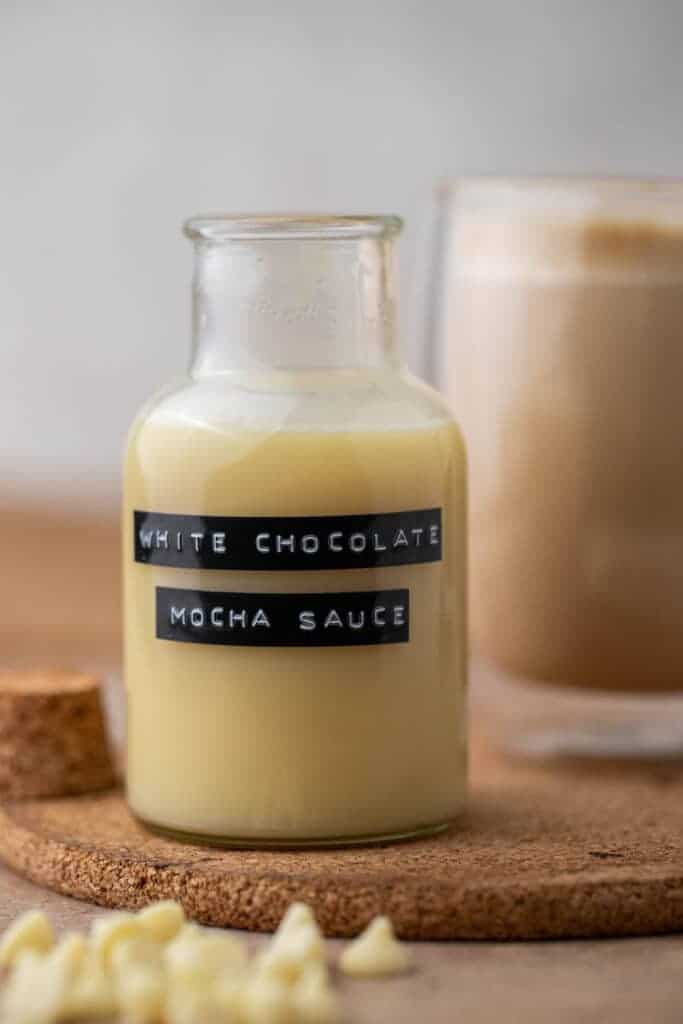 For some reason, white chocolate sauce is one of the most luxurious things I think I've ever made. I've always had a long love story with white chocolate and now to know that I can make it at home makes my heart so happy. Ever since I started making it at home, I use it for iced drinks, hot signature espresso drinks with my Breville Barista Express, and even to just tweeted my warm milk. That actually has become a favorite drink of time too!
Making this recipe at home will also allow you to sweeten your drink as much or as little as your want while also being really creative with the mix-ins you decide to add.
I know that adding some vanilla bean powder, a pump of cinnamon dolce, or even some vanilla syrup to the mix will help you not only elevate your drink but create something even more magical.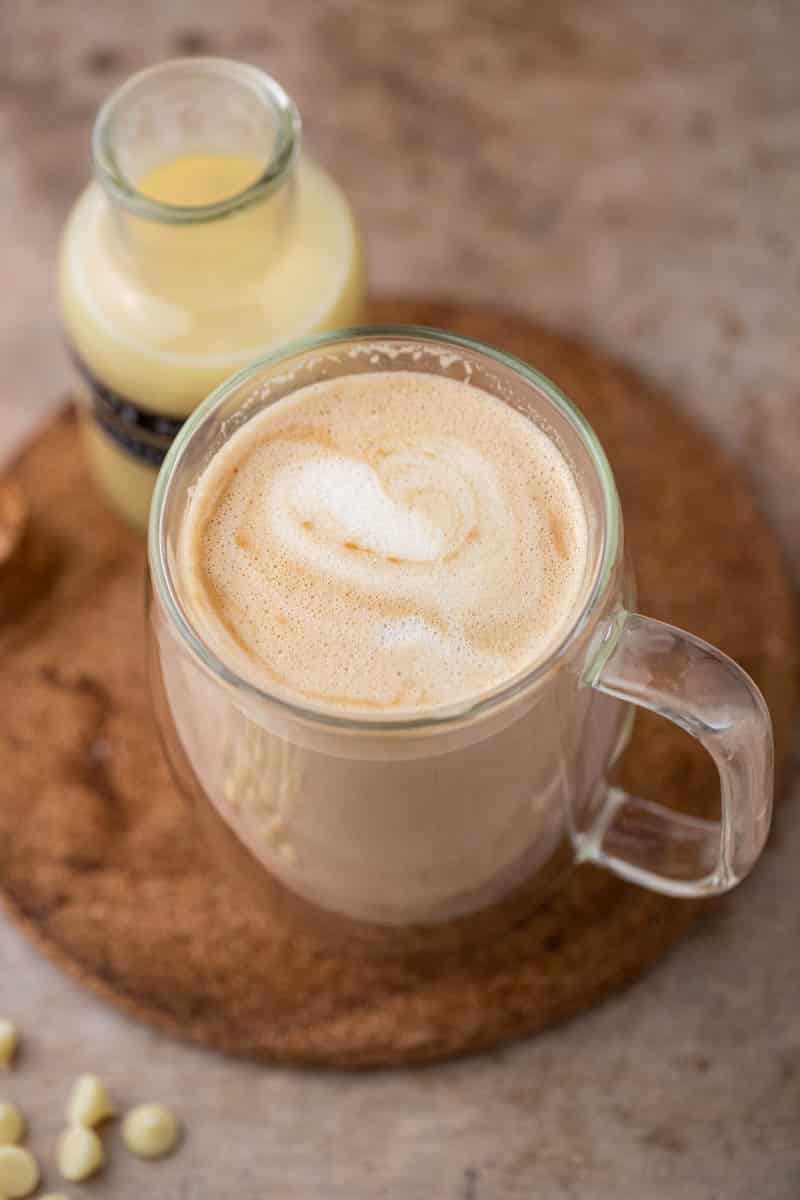 This is the best Starbucks white mocha sauce recipe ever!!
Now with this super easy recipe, all of the white mocha lovers can save up on a ton of money by making a delicious drink in the comfort of their own house without having to step a foot outside or spend $5-$8 per drink for something at Starbucks.
Why you need to make this recipe!
It will make a delicious coffee drink right at home.
By making your own sauce at home, you can know exactly what's in it.
This white mocha syrup has a great taste and will allow you to recreate your favorite Starbucks drinks a home, skipping the line and saving up on money as well!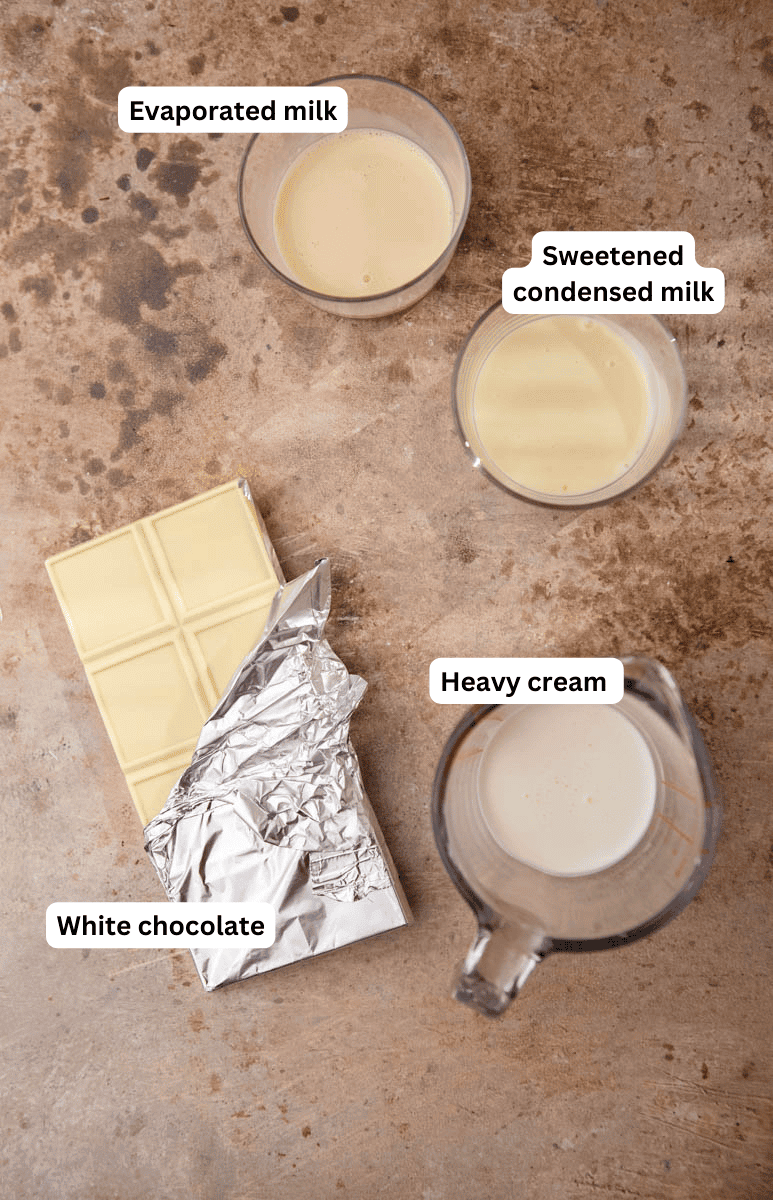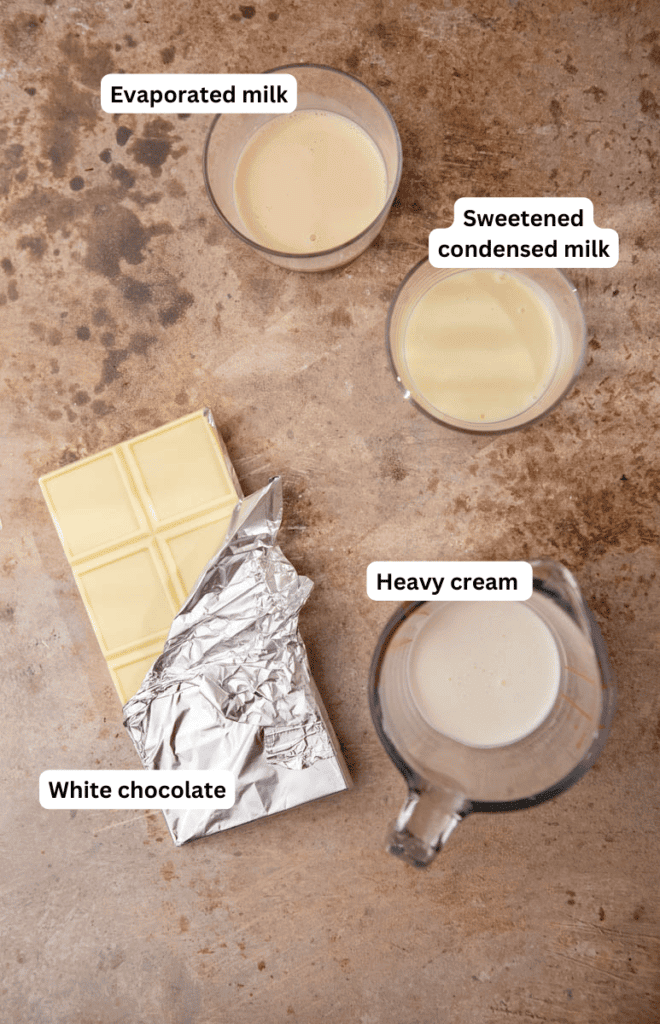 Ingredients for this white mocha syrup recipe
Here are the ingredients you will need to make this white chocolate sauce. Make sure to scroll down to the recipe card for the full detailed ingredient measurements.
White chocolate- I used a high-quality chocolate bar but you can also use white chocolate chips.
Heavy cream – You can use heavy cream or half and half for this step but this will add richness to our white mocha sauce.
I know some recipes online like to use cocoa butter but I wanted to keep this recipe easy to replicate with simple ingredients that we probably already have at our homes or can easily purchase from the grocery store.
How to make the best homemade white chocolate mocha syrup?
This is how you can make this easy sauce. Make sure to scroll down to the recipe card for the full directions.
In a microwave-safe container add the chopped-up white chocolate, heavy cream, half and half, and sweetened condensed milk.
Melt in the microwave in 30-second increments, stirring in between every time.
Once fully combined let it cool down then transfer to a container or use it immediately.
Frequently asked questions – FAQ
How to make this without a microwave?
If you do not have a microwave you can fill a small saucepan with water and use it to create a double boiler where you will melt the chocolate with the rest of the ingredients.
How to store this Starbucks white mocha dupe?
You can store it in an airtight container in the fridge for up to 7 days.
Can I use this Starbucks recipe for white chocolate mocha with cold coffee?
Absolutley! This recipe can be used with both hot coffee or iced drinks Just make sure to stir your pumps of white mocha well when using it with iced coffees to make sure that it is well combined in there.
What does white chocolate syrup tastes like?
This white mocha syrup tastes like super smooth and creamy white chocolate. It is sweetened with white chocolate and sweetened condensed milk making it a delicious addition to anything coffee.
Do I have to use this with coffee drinks or can I use it with other things?
This recipe is great with coffee but it keeps on giving.
You can use it to make milk chocolate or sweet milk with hints of white chocolate.
Drizzle it over ice cream, pancakes, or waffles.
Use it as an ice cream topper or use it in your homemade ice cream.
Top oatmeal with it.
Use it to make your whipped cream and sweeten it with the white chocolate mocha sauce.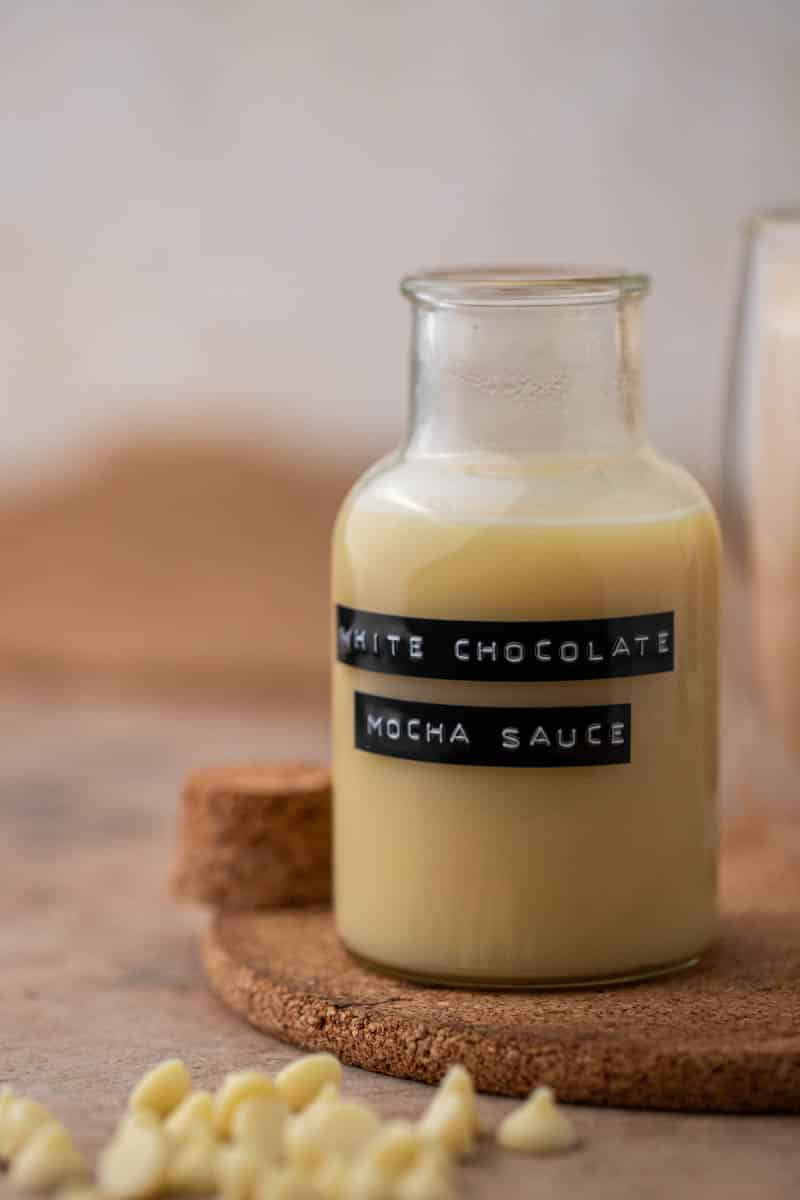 How do you thicken the white chocolate sauce?
This white chocolate sauce might seem a bit thin when you first microwave it but that is okay, as it sits in an airtight container in the fridge it will thicken slightly.
What brand of white chocolate mocha sauce does Starbucks use?
They use Fontana White Chocolate Mocha Sauce according to a Starbucks employee
What are some other drinks that I can make with this white chocolate mocha sauce recipe?
The possibilities are endless but here are a few that are more popular:
Iced white chocolate mocha
Hot white chocolate mocha
White chocolate mocha frappuccino
Peppermint white chocolate mocha
Chocolate mousse macchiato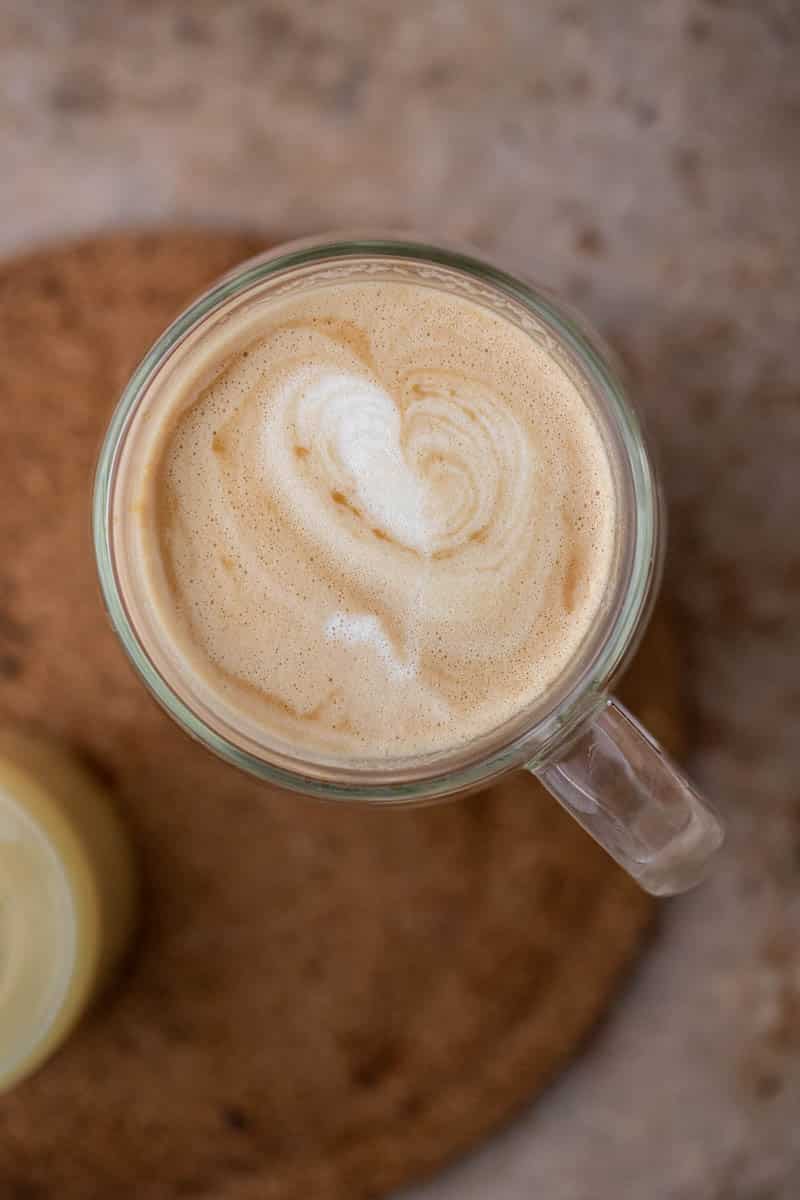 Is this the same sauce as the toasted white chocolate mocha?
This is not exactly the same because you will notice that it is missing that toasted white mocha flavor. Stay tuned and follow along I might end up making that one as well soon 🙂
Is Starbucks white chocolate mocha sauce still available at Starbucks?
It sure is! So if you don't want to make this at home, feel free to try it out in stores. You cannot buy just the white chocolate mocha sauce in stores though.
What type of coffee should I use with this mocha syrup?
Honesty you can use your favorite coffee and it would turn out great regardless. I also like to use my regular medium roast shots of espresso but if you want your drink to be more similar to the Starbucks drinks then using blonde espresso is best. As far as milk, use your favorite as well. I have used skim milk, whole milk, almond milk, and oat milk, and they all work so well with this chocolate sauce.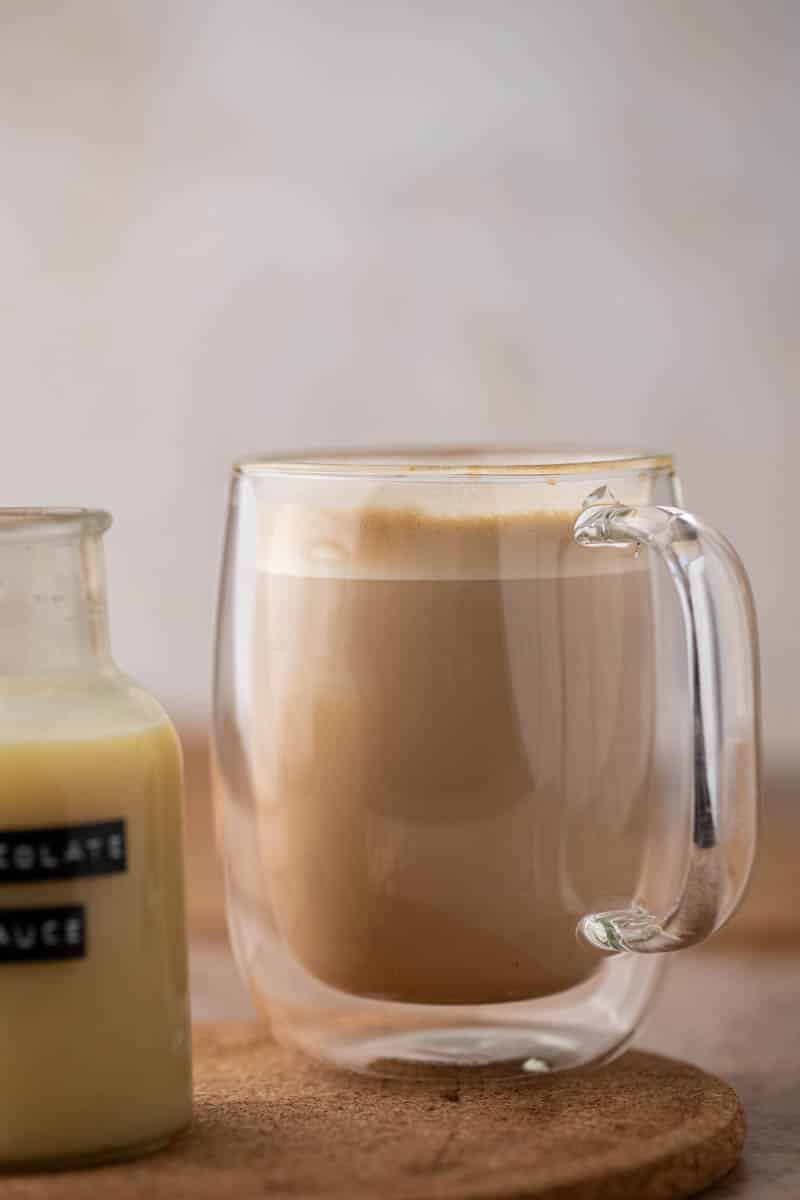 Copycat Starbucks white chocolate mocha recipe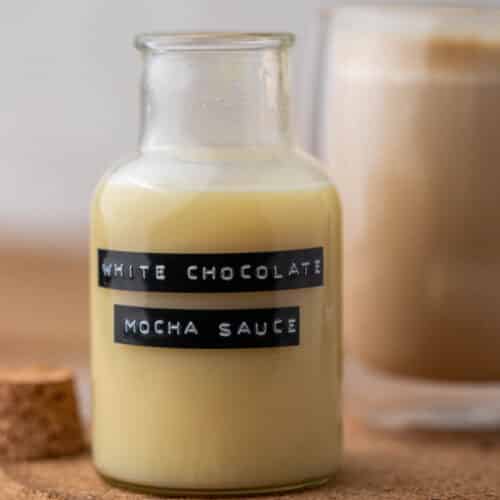 Starbucks white chocolate mocha sauce recipe
This delicious and easy white chocolate mocha sauce is the perfect recipe to upgrade your drink game this year.
Instructions
Add the chopped up white chocolate to a microwave safe bowl, top with the heavy cream, sweetened condensed milk, and evaporated milk, and microwave in 30 second intervals until fully melted, stirring in between every time.

Whisk vigorously to get everything emulsified properly and use in your white chocolate mocha drinks.
Notes
If you do not have a microwave you can make this white chocolate mocha sauce over a double boiler. 
Nutrition
Calories:
168
Calories
Carbohydrates:
17
g
Protein:
3
g
Fat:
10
g
Saturated Fat:
6
g
Polyunsaturated Fat:
0.4
g
Monounsaturated Fat:
3
g
Cholesterol:
18
mg
Sodium:
39
mg
Potassium:
119
mg
Fiber:
0.04
g
Sugar:
17
g
Vitamin A:
202
IU
Vitamin C:
0.5
mg
Calcium:
89
mg
Iron:
0.1
mg

Shop this recipe
This post may contain affiliate links, meaning that at no cost to you I will get a small percentage of every purchase you make!
If you enjoyed this white chocolate mocha sauce recipe make sure to pin it for later!