How does edible cookie dough for one sound? This chocolate chip edible cookie dough is a small batch recipe that is perfect for when the craving strikes! The great thing is that this recipe is an awesome way to portion control as it will only make a small amount, so if you want more you will have to exert a tiny bit more calories beforehand!
Checkout The best Sea Salt Chocolate Chip Toffee Cookies, Small batch chocolate donuts baked, and even Small batch mini cheesecakes with oreo crust.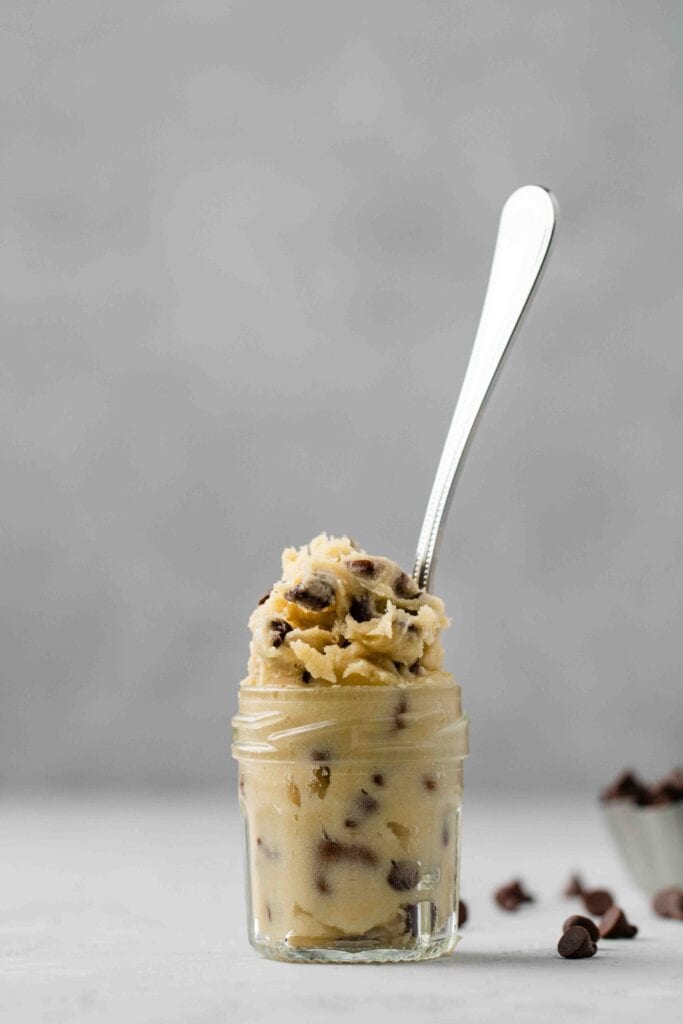 Edible chocolate chip cookie dough is one of my favorite ways to have the flavor of actual cookies minus all the baking and turning on the oven. And since I am not baking for a lot of people at this time, I decided to go with this single-serving sweet treat.
The best part about this recipe is that is a perfect late night treat because you can make everything by hand, with no need to use a electric mixer or a stand mixer.
This is the best chocolate chip edible cookie dough recipe ever!
Since I'm talking about cool things, this recipe can also be rolled into little cookie dough balls and used in frosting or even as an ice cream topping. I mean who doesn't love chocolate chip cookie dough bites ice cream!
What's so special about this edible cookie dough for one?
Edible cookie dough for one, it doesn't get better to satisfy your sweet tooth!
It tastes just like regular cookie dough, minus the ingredients that would make you sick!
Perfect if you're trying to portion control and stay on track.
It is an eggless cookie dough recipe.
Ingredients to make edible cookie dough for one
Here are the ingredients you will need to make homemade edible cookie dough for one, don't forget to scroll down to the recipe card for the detailed ingredient list:
Butter
Brown sugar & granulated sugar
Salt
Heavy whipping cream
Chocolate chips- Can't have chocolate chip edible cookie dough without chocolate chips. I used a mix of large chocolate chips and mini chocolate chips.
Ingredient substitutions
Here are a few things you can substitute in this recipe if you don't have:
Vanilla extract- Use almond extract, it will make your cookie dough complex and luxurious.
Heavy whipping cream- Use milk instead, it will work just as well.
How to make raw cookie dough safe to eat?
The answer is pretty simple, we are not using raw eggs and we are heat treating our flour. I popped it in the microwave in a microwave-safe bowl and that did the trick to keeping any foodborne illness away.
Raw flour can have E. coli (that's why we bake it), and raw eggs can have salmonella (and that's why we don't use eggs)
How to make this easy edible cookie dough recipe?
Here is the best way to make this quick treat, make sure to scroll down to the recipe card for the detailed recipe!
Cream the butter, light brown sugar, and white sugar together.
Add in the vanilla extract and the heavy whipping cream and mix until incorporated.
Cool your cooked flour and add in to the wet mixture. Stir until well combined.
Chocolate chip time! Now add in as little of or as much chocolate chips as you'd like, mix and enjoy!
Do I have to bake the flour for my edible cookie dough?
Yes, baking the flour is what will make this cookie dough safe to eat. Raw flour is not supposed to eaten (same with eggs), but who are we kidding, we all had some raw cake batter, brownie batter, and cookie dough.
But for safety reasons and just to be extra safe, bake or microwave your cake before measuring your flour for this recipe!
Bake the flour at 350F for 5 minutes before letting it cool then using it in your edible cookie dough recipe is a must. This technique will eliminate any harmful bacteria that could be in the flour.
I don't have an oven, can I bake the flour in the microwave?
Yes, you can 🙂 The rule of thumb is to microwave your flour at the highest setting until it reaches 165F, I do understand that not everyone has a thermometer so what you can do is microwave your flour for 1 minute and 15 seconds at the highest setting, making sure to stir after every 15-second intervals (so 5 times), let it cool, then use it in this recipe!
Can I bake this?
Unfortunately, this edible cookie dough is not made to be baked. When making edible cookie dough we don't use eggs, leavening agents, or the right ratios of ingredients for the cookies to be baked. So if you try baking this you will end up with a flat, crispy cookie.
If you are really craving cookies, try these small-batch chocolate chip cookies. They're soft and chewy and we make them at least a few times a month!
Can I add this cookie dough to ice cream?
Absolutely! You can make this cookie dough, roll it into mini logs, wrap it with plastic wrap, and freeze it. Once it's solid, slice little rounds using a sharp knife and add it to whatever ice cream flavor you want!
Alternatively, you can make little balls of cookie dough and freeze them on a parchment-lined baking sheet and add them to your ice cream.
I love adding this cookie dough to the Tillamook chocolate peanut butter ice cream! So good!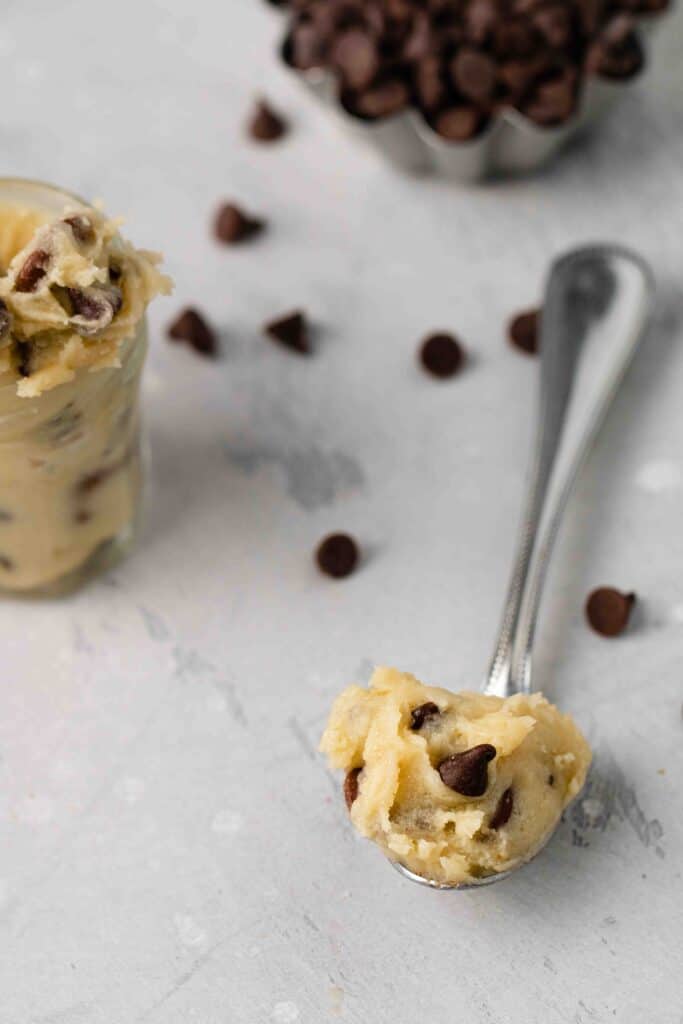 Make this safe to eat cookie dough for one your own!
Instead of using chocolate chips, you can make this easy recipe your own with these substitutions
White chocolate chips and cranberries
Butterscotch chips
Some crushed up graham crackers and mini marshmallows
How long does single serving cookie dough last in the fridge?
This chocolate chip cookie dough can be stored in an airtight container in the fridge for up to 1 week.
When you're ready to enjoy it pull it out of the fridge and let it sit for 30 minutes to get to room temperature.
Can you freeze edible cookie dough?
You can freeze your cookie in an airtight container for up to 2 months.
Chocolate chip edible cookies dough recipe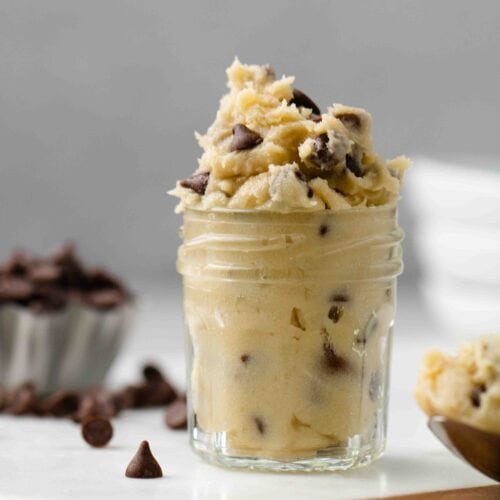 Chocolate chip edible cookie dough for one [3 variations]
this chocolate chip cookie dough for one recipe is the best thing you will ever taste. It takes less than 5 minutes from start to finish and you will find yourself enjoying this in no time!
Ingredients
1 & ½

tablespoon

butter

softened

1

tablespoon

brown sugar

½

tablespoon

granulated sugar

¼

teaspoon

vanilla extract

1

tablespoon

heavy whipping cream

1

pinch

salt

3 & ½

tablespoon

flour

cooked in the microwave for 90 seconds, stirring after each 15 second interval.

1-2

tablespoon

chocolate chips

Put as much or as little chocolate chips as you'd like! Have fun 🙂
Instructions
In a small bowl, star by creaming the butter, the brown sugar, and the granulated sugar together. Add in the vanilla and the heavy whipping cream and mix again.

Add in the cooked and cooled flour and a pinch of salt and mix well. Add in the chocolate chips, mix one last time and enjoy your fantastic edible cookie dough treat!
Notes
This cookie dough can be stored in the fridge for up to 1 week!
Nutrition
Calories:
372
Calories
Carbohydrates:
38
g
Protein:
3
g
Fat:
23
g
Saturated Fat:
14
g
Trans Fat:
1
g
Cholesterol:
66
mg
Sodium:
201
mg
Potassium:
62
mg
Fiber:
1
g
Sugar:
18
g
Vitamin A:
753
IU
Vitamin C:
1
mg
Calcium:
29
mg
Iron:
1
mg

Shop this recipe
This post may contain affiliate links, meaning that at no cost to you I will get a small percentage of every purchase you make!
If you enjoyed this recipe make sure to pin this for later!