Small burnt basque cheesecake, a classic recipe that you can make time and time again. This creamy 4 inch basque cheesecake is the perfect dessert for one or two, bye bye leftovers and hello fresh baked goods!
SIGN UP TO OUR MAILING LIST GET A FREE WEEKLY MEAL PLANNER AND RECIPE CARD!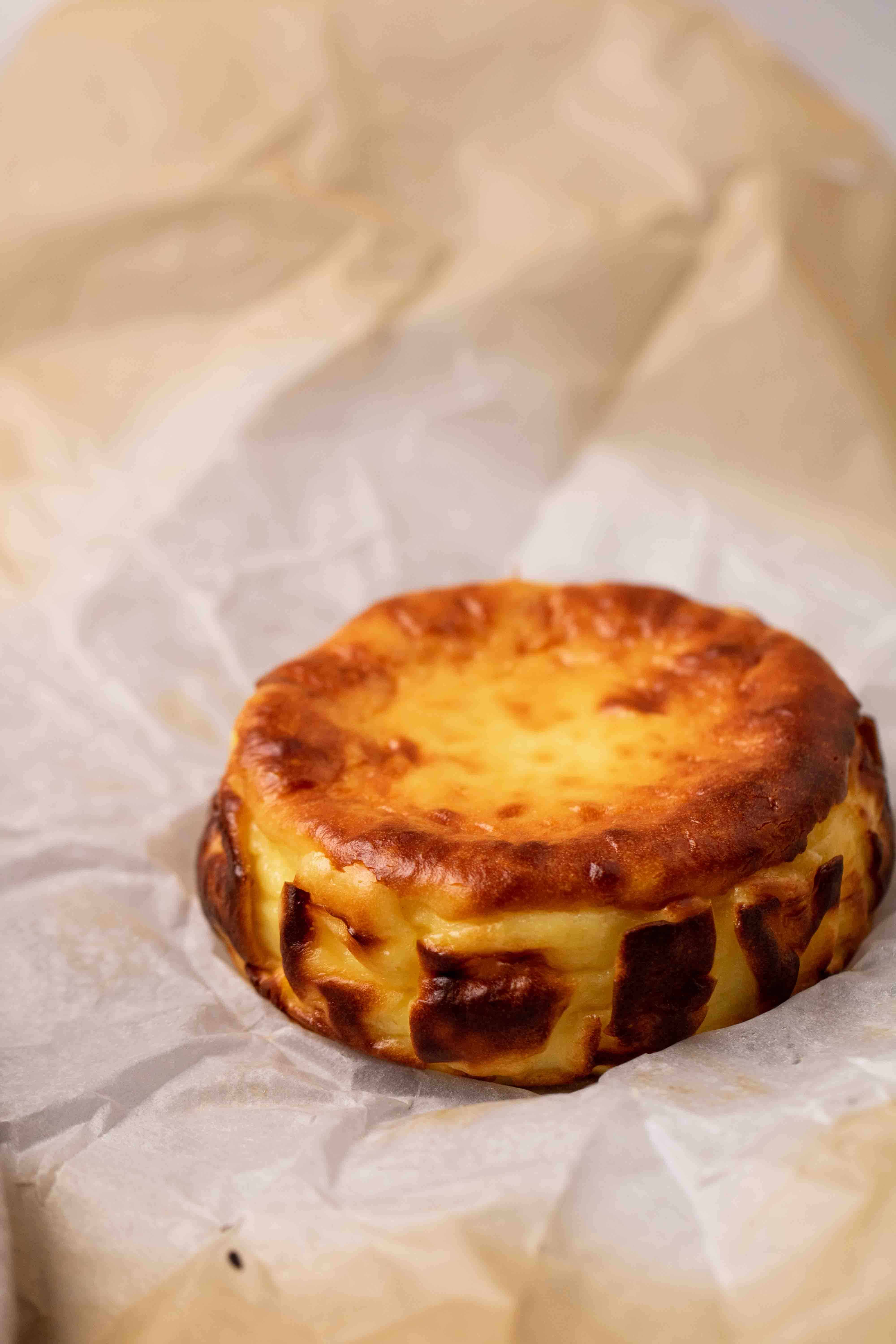 I am about to change your life! For the better of course, but I'm changing it nonetheless.
This week, I wanted to bring you something extra special, this basque burnt cheesecake. Great way to to welcome the Valentine's day season while still enjoying some really good desserts.
This is the best 4-inch single serve burnt basque cheesecake recipe
Believe it or not, I had never had a burnt basque cheesecake until this year, and OH MY GOD! Those things are magic. They're pretty much a cheesecake on steroids.
The flavors that come from the burnt top and edges, mixed with the lightly sweetened, creamy center is something that everyone needs to experience at least once it their lifetime. That's why I decided to share it around Valentine's day, no better way to show your person that you love them!
What is a burnt basque cheesecake?
A burnt basque cheesecake or as I like to call it, the cheesecake that's impossible to mess up is a dessert that originated in Spain back in 1990.
The burnt basque cheesecake is characterized by it's burnt top and sides while still maintaining a soft and creamy center. The cheesecake itself is very different from the American cheesecakes both in flavor and in how it looks. Plus it's a crustless cheesecake, don't worry, it doesn't need it at all!
Want to read more about this glorious dessert checkout taste cooking and devour San Sebastian posts.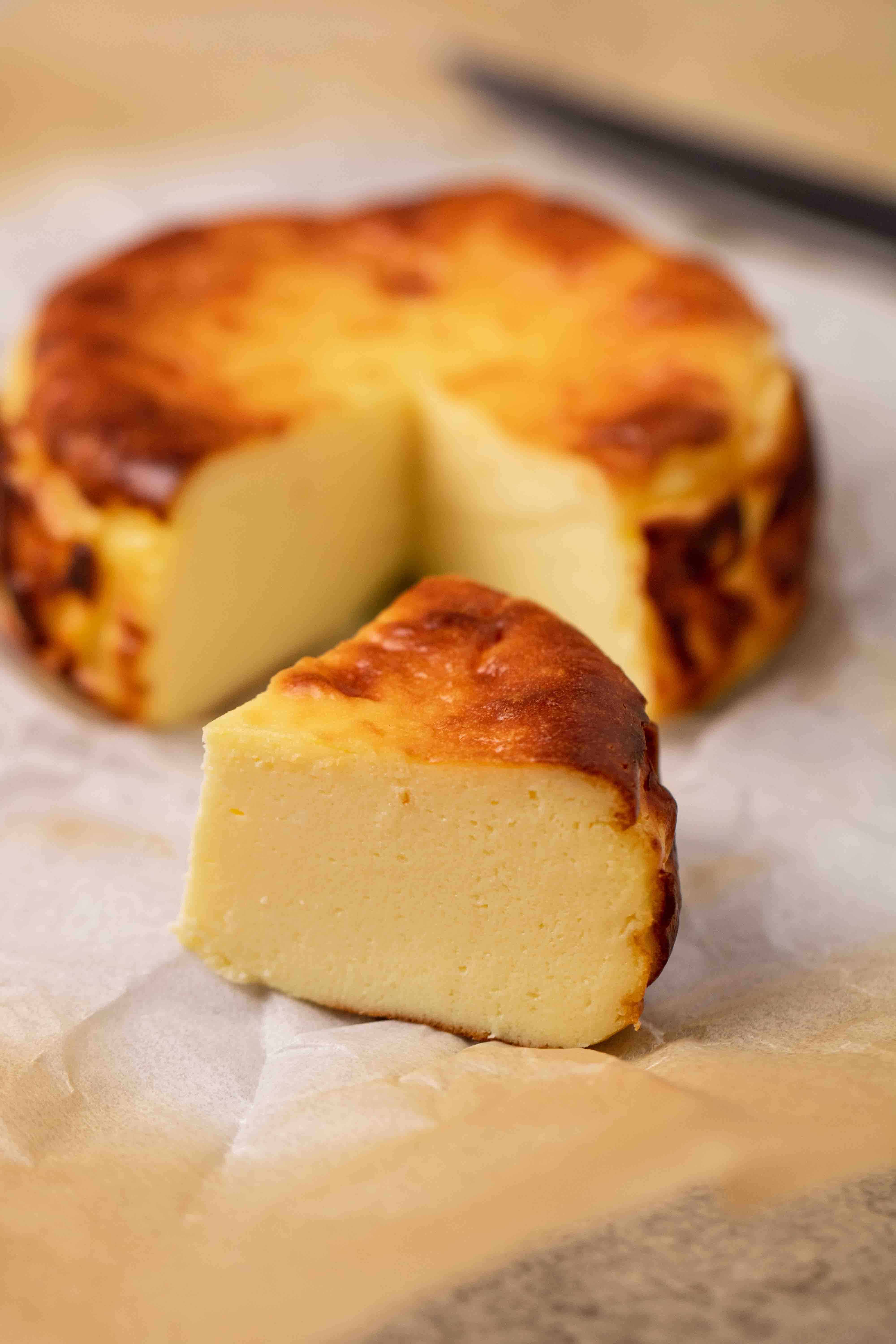 How does burnt basque cheesecake taste like?
The first time I tried a burnt basque cheesecake, I immediately thought of Cannelés. It doesn't taste like a Cannelés per se but it resembles it in the baking process as well as in that caramel-ly attribute.
A burnt basque cheesecake tastes like a creamy, custardy filled cheesecake with notes of rich caramel from the burnt top and edges. To be honest, I might never fully return to regular cheesecakes because I love caramel and the fact that you can make caramel cheesecake without even adding caramel to it is mind blowing to me!
what makes this 4-inch small burnt basque cheesecake special?
When it comes to mini cheesecakes, I'm the queen. Here is exactly why I think you should give this one a try!
It is a mini cheesecake! Can't beat a cute little 4 inch burnt basque cheesecake in my eyes… Maybe you can with a larger one but this one is special because it's smaller.
You will only need a handful of ingredients to make it
It is the perfect dessert for one or two
Have you been wanting to try a burnt basque cheesecake but didn't one to commit to the large one? Try the mini one first then see for yourself.
This is the perfect recipe if you're an adventurous baker and want to try something new as a form of self care!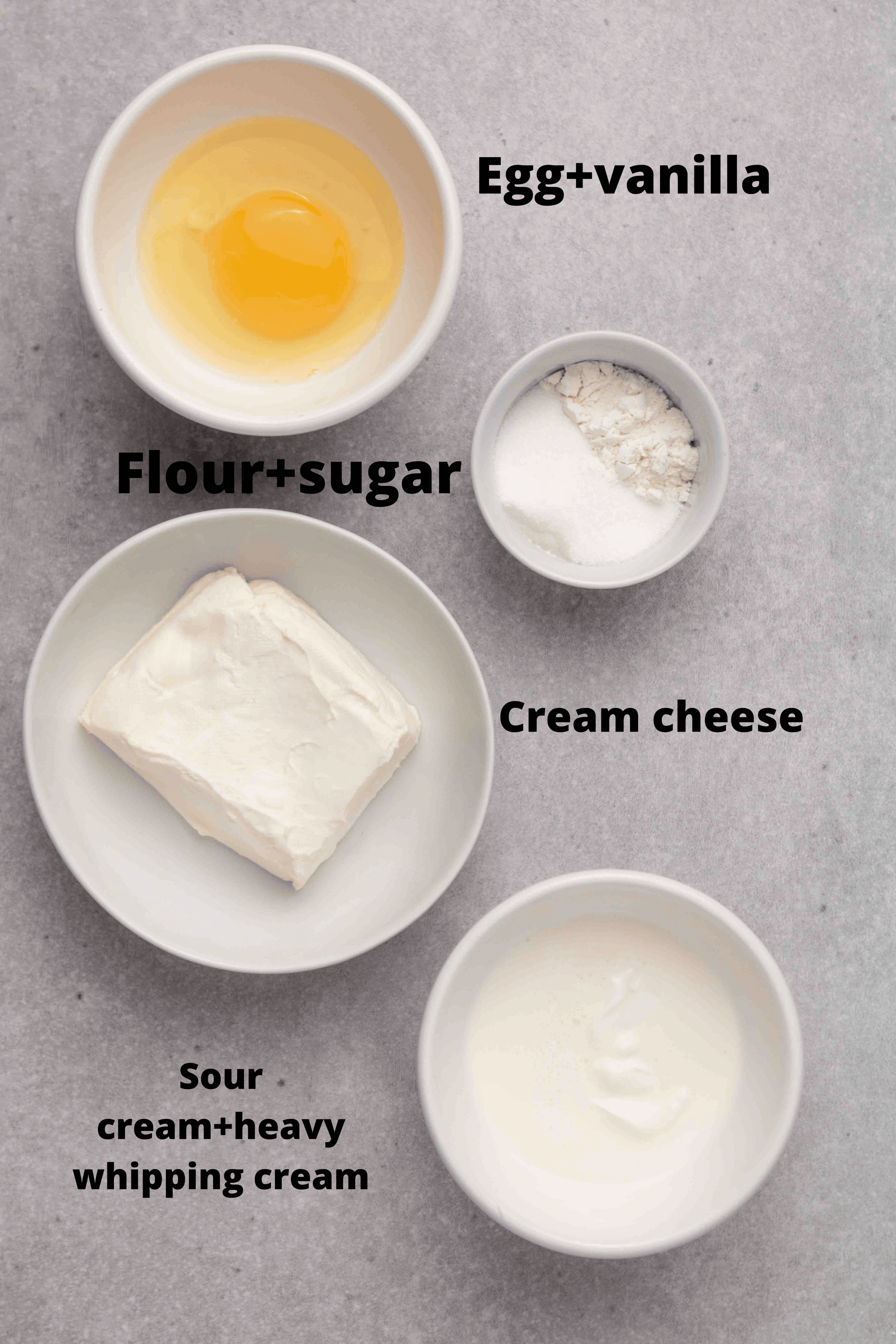 Ingredients for this small batch mini burnt basque cheesecake
Here are the ingredients you will need to make your own mini basque cheesecake for one or two, for the detailed recipe and ingredient measurements make sure to go to the recipe card:
Cream cheese– Use full fat cream cheese for this recipe. Any brand works.
Heavy whipping cream– The whipping cream will give more richness to the burnt cheesecake while keeping it soft and creamy.
Sour cream– The sour cream is another component that will keep the cheesecake moist.
Egg– You will need one egg at room temperature.
Sugar– A little sugar goes a long way in this recipe.
Vanilla– The vanilla extract will brighten the flavor of your basque cheesecake.
Flour– A little flour to make sure that the mini cheesecake is stable enough.
Make sure that all your ingredients are at room temperature so that the cheesecake batter is smooth and creamy before baking it.
Here is how you can make your own homemade small burnt basque cheesecake recipe:
Preheat the oven to 500F ( this step is very important to get that gorgeous burnt top)
Mix the wet ingredients and sugar together making sure that they are all at room temperature then add in the flour and mix.
Pour the cheesecake batter into your parchment lined baking sheet.
Reduce the heat of the oven to 450F then bake the cheesecake for 20 minutes.
Let cool before slicing into it and enjoying your personal sized burnt basque cheesecake!
For the detailed recipe make sure to go to the recipe card!
Is lining the mini cheesecake tin with parchment really important?
Absolutley!
That's how you will be able to pull out your cheesecake and most importantly the parchment paper is what will give your cheesecake those iconic crinkled burns on the side!
Why should I preheat the oven to 500F?
Making sure that your oven is really hot before placing your cheesecake in is a must. It will allow the cheesecake to brown on top and around the sides without burning the center.
In this case, we heat up the oven to 500F then reduce the heat to 450 once we put our small basque cheesecake in. I have made this recipe 5 times and this is the setting that works best!
What to serve with a basque cheesecake?
Are you kidding me?! Absolutely nothing! (sorry for the eagerness), but this cheese cake is a show stopper on its own. You can have it with a cup of coffee or tea, but it doesn't need any extra toppings. It tastes incredible on its own 🙂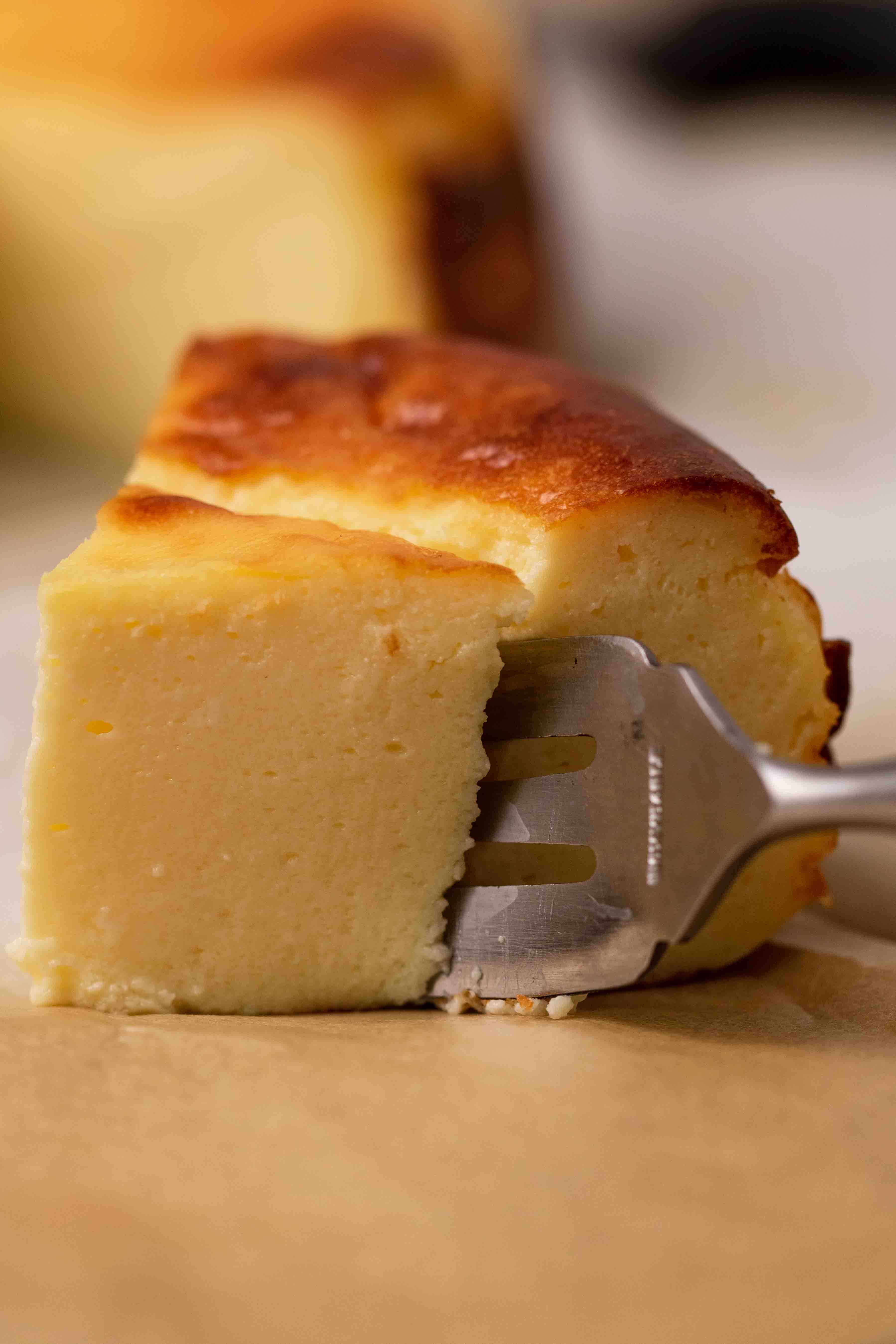 How to store burnt basque cheesecake?
You can place your basque cheesecake in an airtight container in the fridge for up to 1 week. I highly doubt that it will last that long though!
Can you freeze burnt basque cheesecake?
Yes you can!
You can either pre slice your cheese cake and then wrap each slice individually in plastic wrap then freeze of freeze the whole thing in an airtgiht container.
When you're ready to enjoy it, place it in the fridge to thaw overnight. Pull it out for 20-30 minutes so that it gets to room temperature then enjoy it!
More small batch recipes you will love!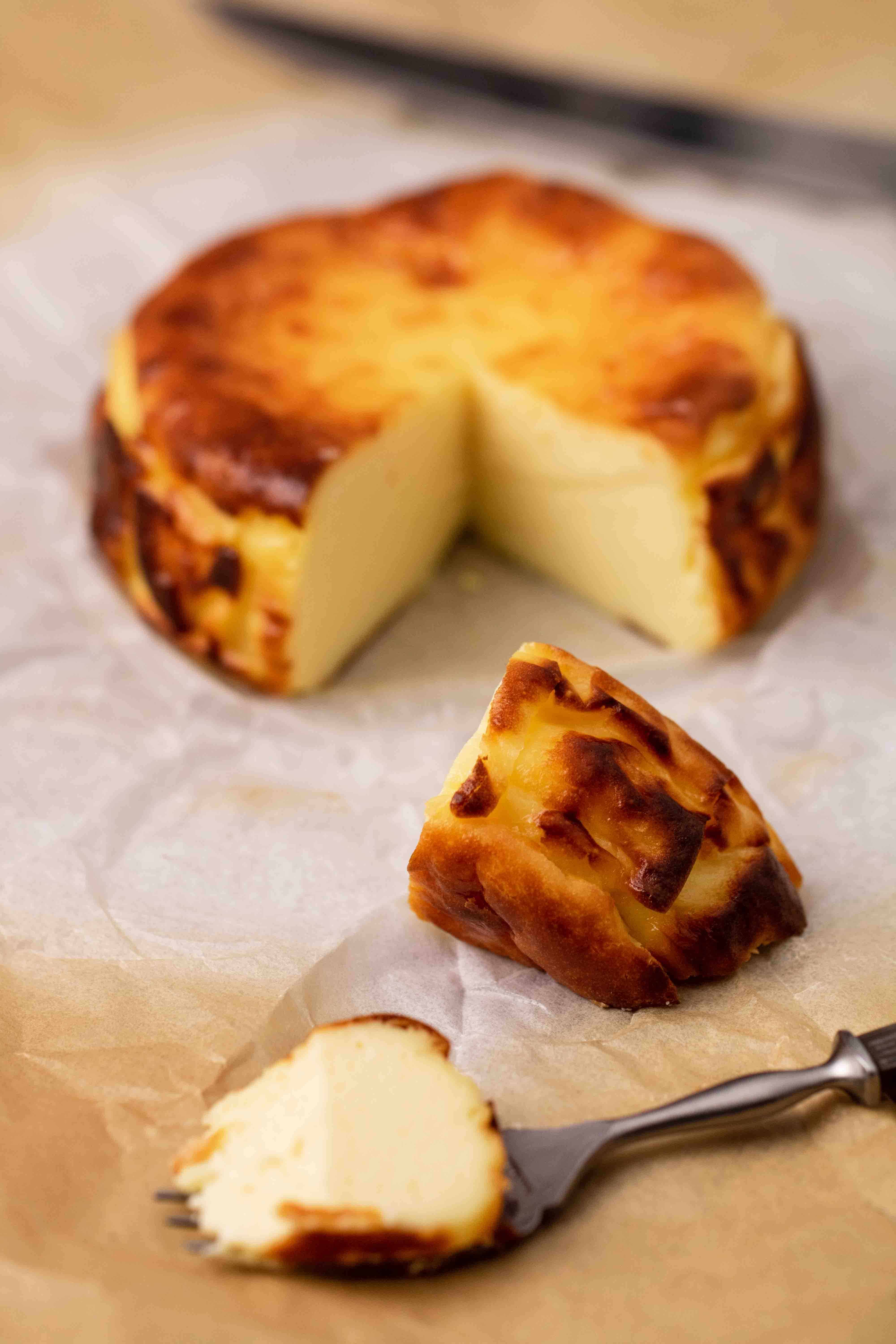 Tips for the creamiest burn basque cheesecake
Here are a few tips and tricks to make the best homemade burnt basque cheesecake:
Room temperature ingredients- Room temperature ingredients are a must to get the rest consistency when mixing everything together.
Your oven needs to be very hot– The oven needs to be as hot as possible, that's why you need to heat it up to 500F before you started baking. When you're ready to place your cheesecake in the oven do it quickly so that the heat doesn't escape!
Place the oven rack at the top– Placing the oven rack at the top will also allow the cheesecake to be in the area that has the most heat as well!
Place the mini cheesecake pan deep in the oven– Again, placing the cheesecake closer to the back wall of the oven will allow it to be in maximum heat. Know that everyone's oven is different, so if you're oven is super hot all around or if you can use a conventional oven you can place it in the center.
Is basque cheesecake supposed to be eaten cold or warm?
Burnt basque cheesecake is supposed to be enjoyed at room temp. If you decide to store it in the fridge pull it out about 20-30 minutes before you're ready to devour it for the ultimate culinary experience.
I, on the other hand, like my cheesecake on the harder and more dense side so I like to have it right out of the fridge. My sister likes it about 30 minutes to an hour after baking. She says that it tastes like a custard flan dessert.
So try it in different ways and see which way you like best!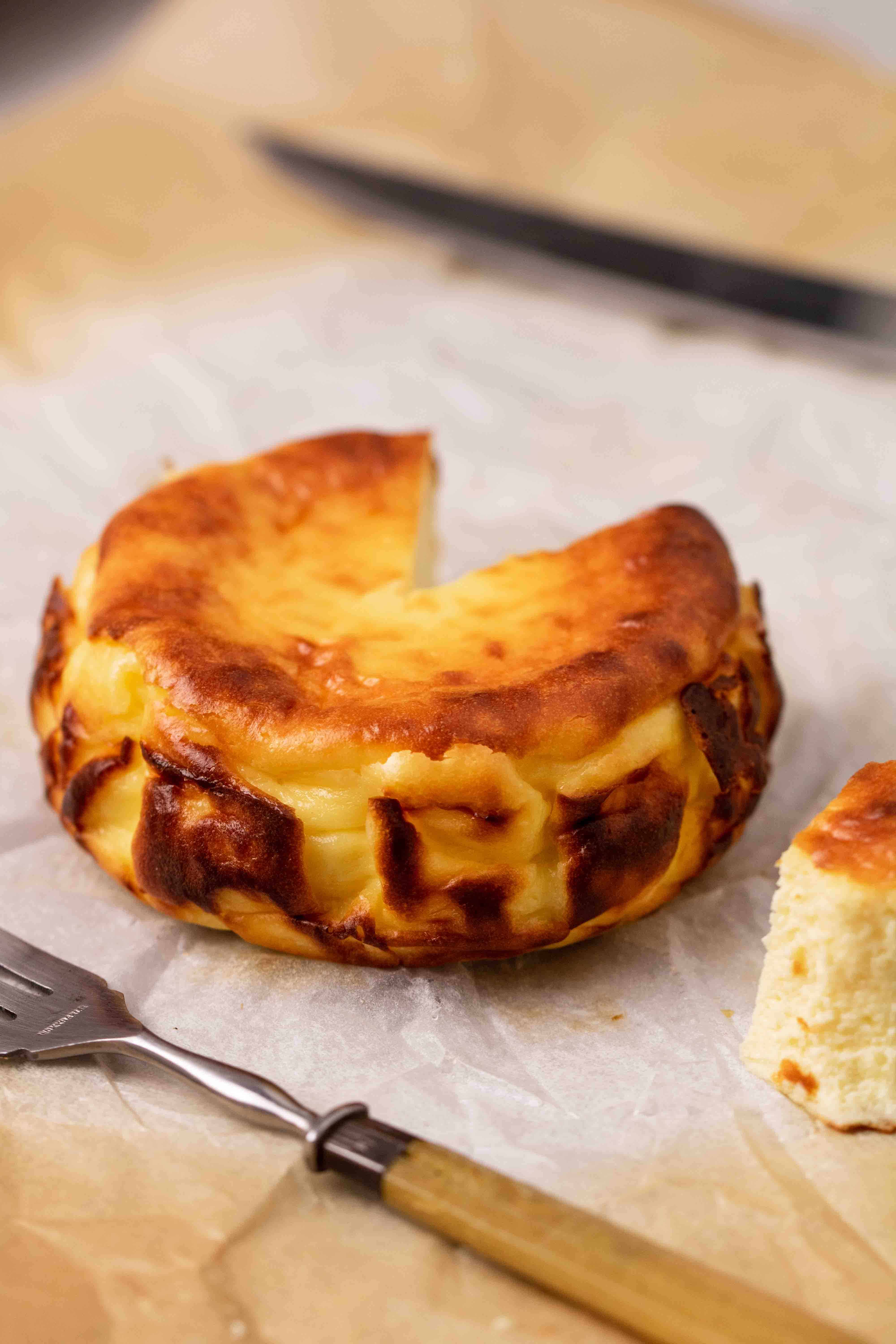 Mini 4 inch burnt basque cheesecake recipe
If you tried and enjoyed this basque cheesecake for one or two recipe, make sure to give it a 5 star rating by clicking on the 5 stars under the description.
4-inch Mini Burnt Basque Cheesecake for One/Two
This creamy 4-inch burnt Basque cheesecake is what you didn't know you needed! It is the perfect dessert for adventurous cheesecake lovers.
Ingredients
4

oz

cream cheese

at room temperature

3

tablespoon

heavy whipping cream

at room temperature

1

tablespoon

sour cream

at room temperature

1

egg

¼

teaspoon

vanilla

2

tablespoon

sugar

1.5

teaspoon

flour
Instructions
First start by placing your oven rack at the top of the oven then preheat your oven to 500 degrees F for at least 15 minutes, then line the inside of the 4-inch cheesecake pan with parchment paper. Check the notes for a detailed explanation on how to line it perfectly.

In a medium bowl, star by mixing the softened cream cheese, heavy whipping cream, and sour cream together until combined. Add in the egg, the vanilla, and the sugar and whisk one more time until combined. Lastly, add in the flour and mix one last time.

Pour the cheesecake batter in the prepared cheesecake tin and place in the oven, making sure to place it in the top rack all the way in the back of the oven, this is where the highest temperature will be, and where your cheesecake will burn the best. Reduce the heat to 450F and bake for 20 minutes.

Pull the cheesecake out of the oven and let it cool in the pan for 20 minutes before lifting it from the parchment paper and setting it on a cooling rack. You can enjoy your cheesecake once it has cooled to room temperature or you can place it in the fridge if you prefer a more set cheesecake.
Notes
Line your cheesecake pan like a boss
To Line your 4-inch cheesecake pan perfectly, remove the bottom of the pan and place it on your precut sheet of parchment paper. 
Press the removable bottom and the parchment paper back into the cheesecake pan ring, tighten the ring and press the parchment paper around the sides of the pan to fit. 
Re-open the cheesecake pan ring, and gently remove the bottom part and the parchment paper. Place the removable bottom back into the 4-inch cheesecake pan, tighten the ring, and place the parchment paper mold into the cake pan. Press the parchment down to fit perfectly. 
Nutrition
Calories:
333
Calories
Carbohydrates:
17
g
Protein:
4
g
Fat:
28
g
Saturated Fat:
17
g
Cholesterol:
95
mg
Sodium:
195
mg
Potassium:
78
mg
Sugar:
14
g
Vitamin A:
1092
IU
Calcium:
79
mg
Iron:
1
mg
Thank you so much for making it all the way down here
Did you enjoy this small batch burnt basque cheesecake recipe? We would love it if you could leave a comment letting us know. In the meantime don't forget to follow us on Instagram.

Shop this recipe
This post may contain affiliate posts, meaning that at no cost to you I will get a small percentage of every purchase you make!
If you enjoyed this 4-inch basque cheesecake recipe for one or two make sure to pin it again for later!