A soft sugar cookie in a mug is not only possible, but it is extremely easy to make. This single serve sugar cookie mug cake is the perfect treat to make when you are missing the holidays! Whether you need a little treat in your dorm room or just don't want to make a whole batch in the oven, this is for you!
SIGN UP TO OUR MAILING LIST GET A FREE WEEKLY MEAL PLANNER AND RECIPE CARD!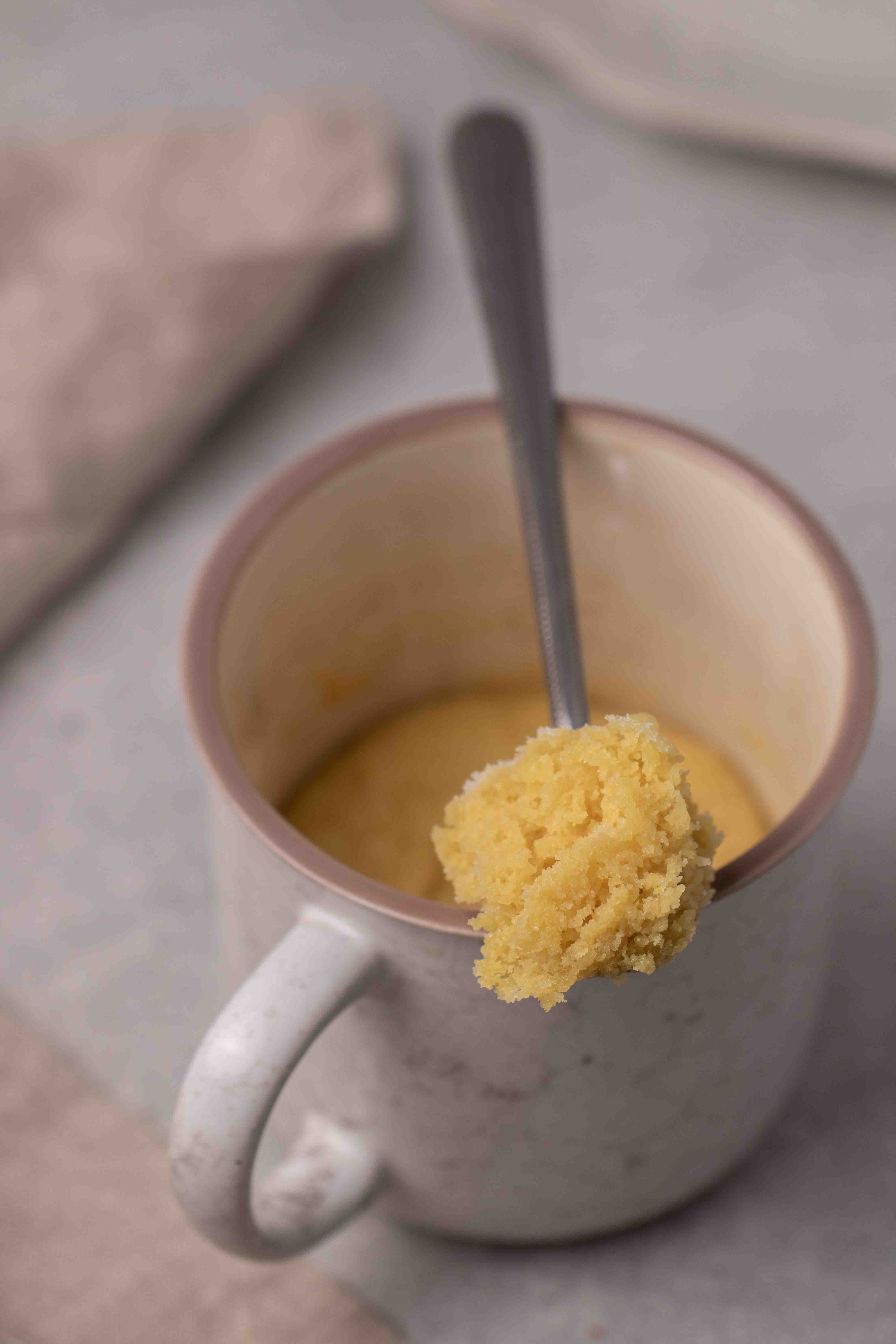 My love for sugar cookies developed during last year's holiday season! Seriously, I hated sugar cookies because all I had tried were those store bought, stale, tasteless cookies and I wasn't about that life.
This past December I decided that I was going to make my own Soft Sugar Cookies to see if I liked them or not and I absolutely fell in love. They're one of the most delicious and comforting cookies out there… Especially if you top them with homemade vanilla frosting.
This is the best sugar cookie in a mug recipe ever!
Now that the holiday season is over, I can't just keep making batches on batches of sugar cookies because I can't use my regular excuse, "oh! I'm just making these to gift to friends and family". Well I guess I could but they don't want anymore as of right now, haha! They said I'm making them fat.
I wasn't gonna let that stop me, I was still gonna get my sugar cookie fix. I just needed to make it in a smart way. And the smartest way to do that at the moment has to be a single serve microwave cookie! Again, I'm not mad at all.
Disclaimer
This sugar cookie recipe will have a slightly different texture compared to your regular oven baked cookies. The taste though is the exact same. Yay!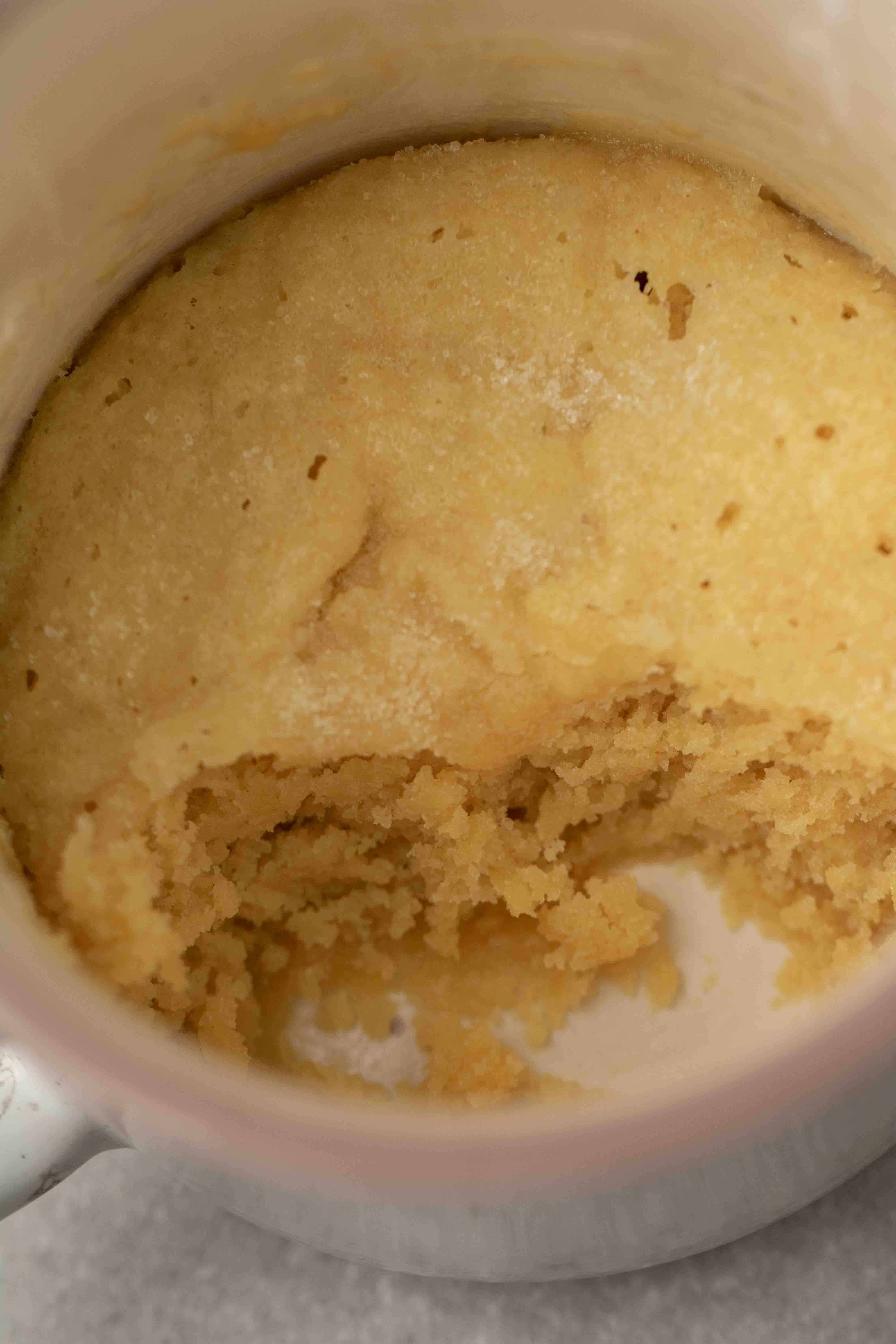 What makes this mug sugar cookie special?
We love single serve cookie recipes in this house, especially if it's a soft and chewy sugar cookie!
It is made in a mug then baked in the microwave.
Perfect dorm room dessert recipe.
It is a single serve dessert, great to practice portion control.
This sugar mug cookie is soft and chewy and tastes just like a real sugar cookie.
More single serve mug dessert recipes you'll love!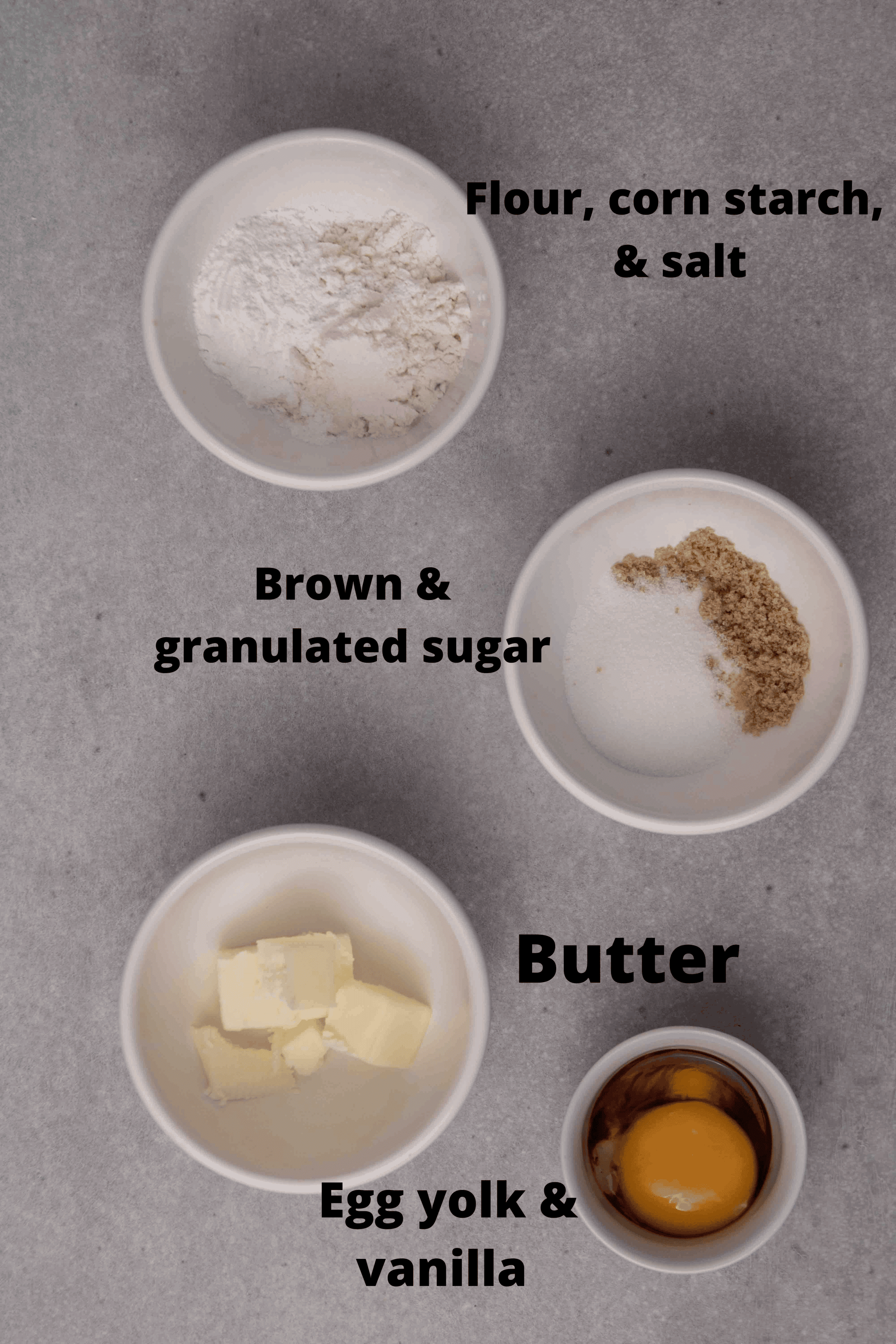 Ingredients for sugar cookie mug cake
Here are the ingredients you will need for your quick single serve cookie, don't forget to go down to the recipe card for the exact measurements:
Butter– You will need some butter. You can use either salted or unsalted.
Granulated sugar and brown sugar– This recipe uses granulated sugar as well as brown sugar to keep this cookie recipe extra soft and chewy.
Egg yolk– Using egg yolks for this recipe will ensure that the sugar cookie itself stays very moist.
Vanilla– Can't have a sugar cookie without some vanilla so use good quality vanilla to give it a delicious flavor.
Flour– All purpose flour works great for this recipe.
Corn starch– The corn starch also helps the cookie recipe stay soft and chewy
Salt– A tiny bit of salt can be used to balance out the sweet flavors of this sugar cookie recipe.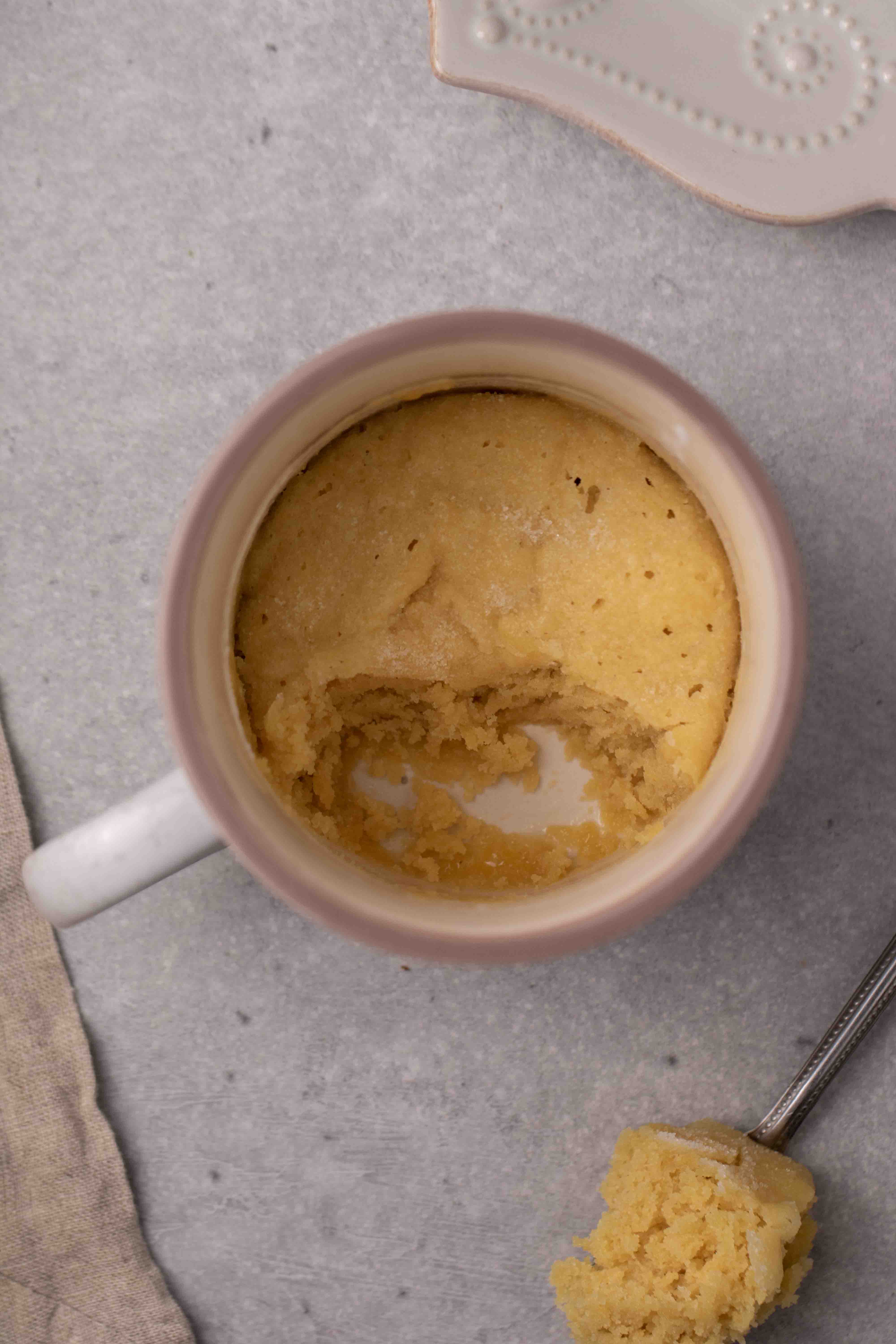 How to make a sugar cookie in a mug?
Here is how you can make your homemade sugar cookie mug cake. For the full instructions scroll down to the recipe card!
Melt the butter in the microwave.
Add in the granulated sugar and the brown sugar.
Mix in the egg yolk and vanilla extract
Add in the flour corn starch, and salt and mix until fully incorporated
Bake in the microwave and enjoy your quick personal cookie!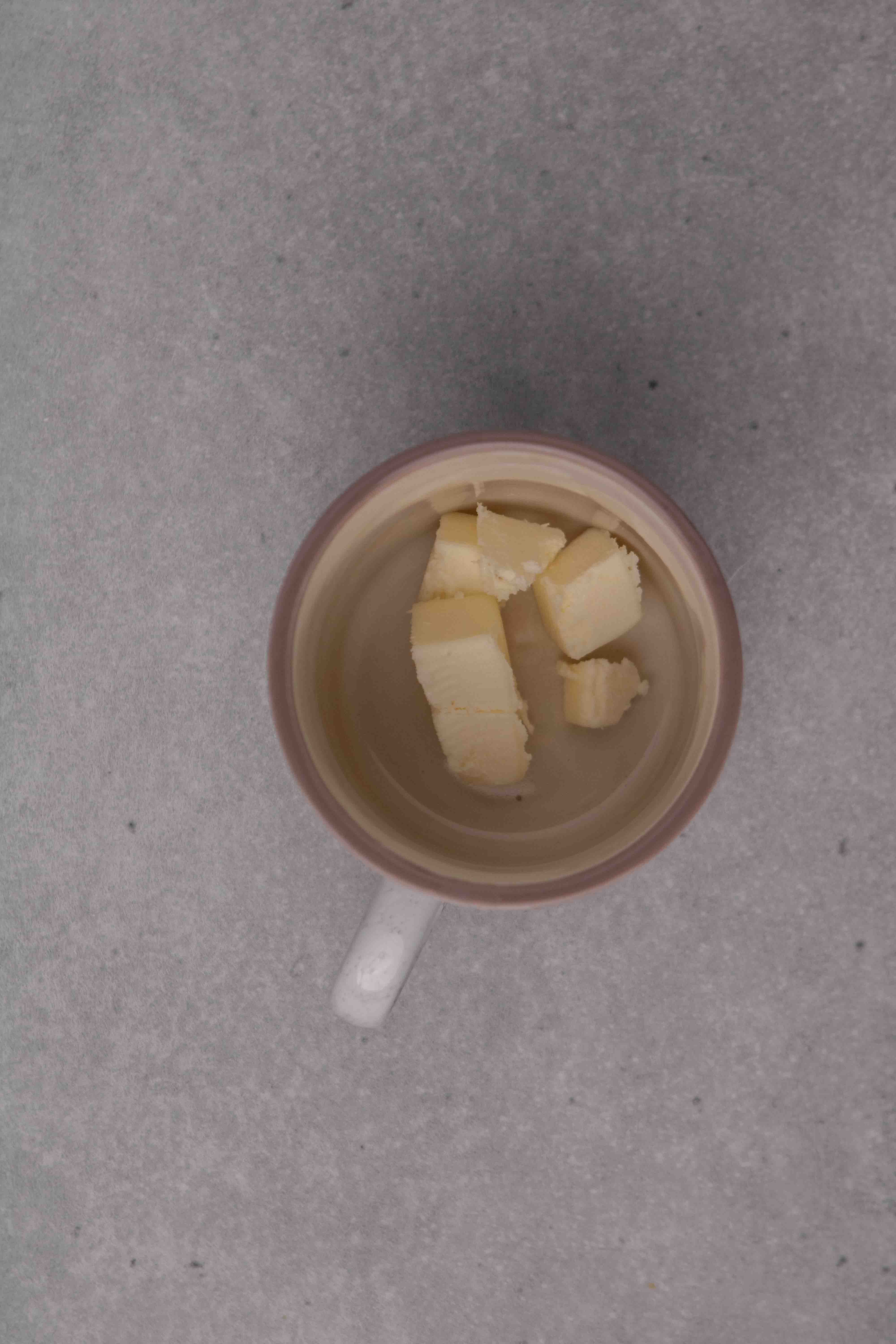 Yes and no. You need to make sure that you are microwaving your mug sugar cookie is a mug or bowl that's big enough for it not to overflow. Since it will expand a little bit you will need to have a mug or a bowl that is about ⅓ or so empty before you bake this cookies.
I personally prefer using a little bowl so that I get more of a cookie feel. If you use a mug that is too thin and deep, you run the risk of having a cookie that is too close to a cake.
So as far as mugs go, use a large or regular sized mug that's a bit wide to get a wider more traditional cookie. You can also use a little bowl for this sugar cookie!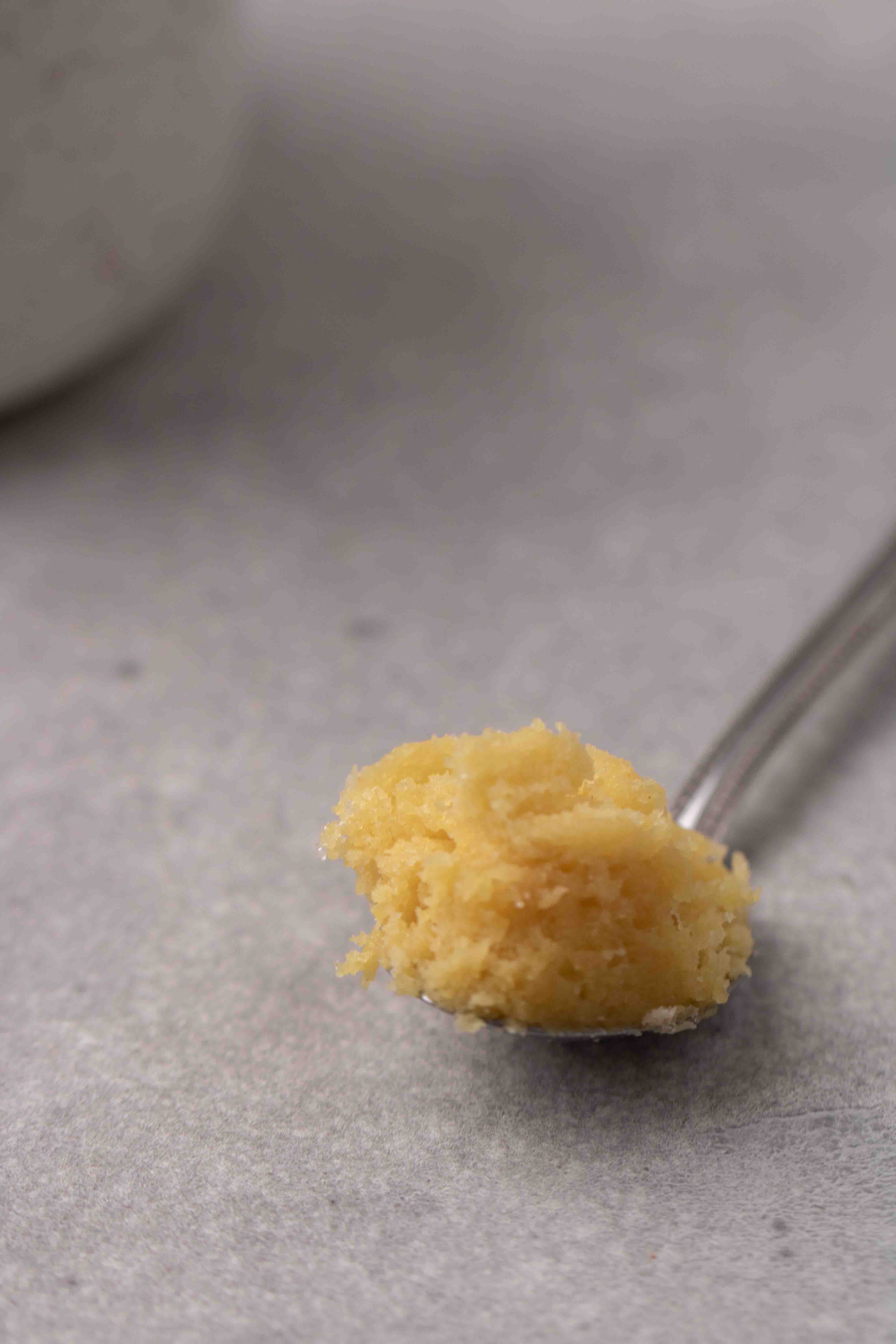 Do I need to grease my mug?
You do not need to grease your mug. Since we melts the butter directly in the mug, that will coat the bottom. After baking or microwaving, you are also enjoying this straight out of the mug or bowl you baked your cookie in so no need to worry about anything sticking.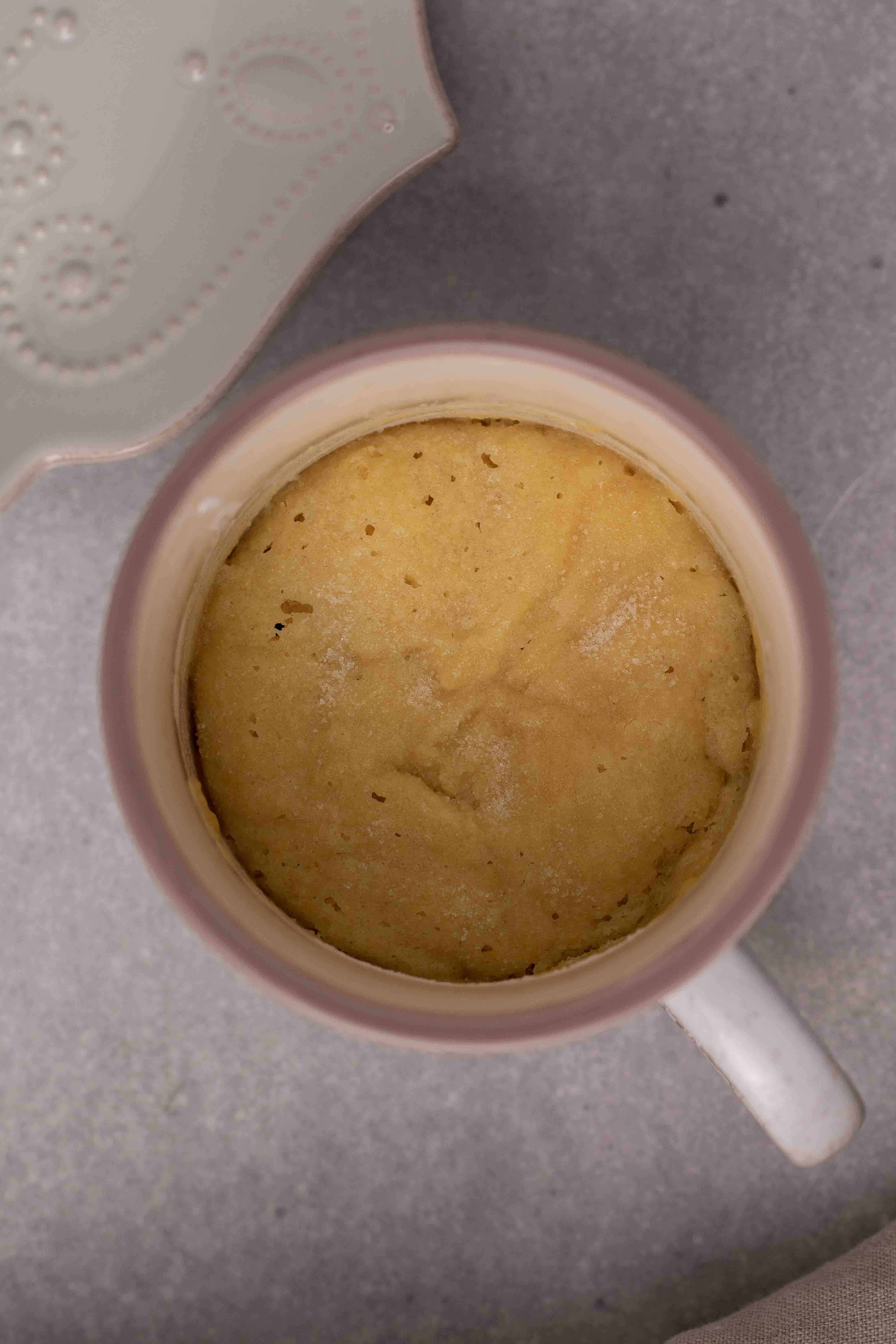 Tips to make the best microwave sugar cookie in a mug
Here are a few helpful tips that will ensure that your sugar cookie turns out as good as ours!
Don't overcook your sugar cookie in the microwave– Follow the cooking instructions then test for doneness. If you feel your cookies needs to be baked for a little longer, bake in additional 10 seconds increments to avoid burning it.
It doesn't have to be in a mug – This recipe calls for 50 second of baking in the microwave. Check for doneness then cook it for additional 10 second increments if you feel like it still needs more.
Mug cookies are best enjoyed right away! This is one of the most important tips I could give you. Mug cookies are best enjoyed right away, the longer they sit the harder they get so prepare this whenever you are ready to enjoy it.
Easy soft sugar cookie in a mug
If you tried this easy sugar mug cookie recipe and loved it please leave us a rating by clicking on the 5 stars under the title and description.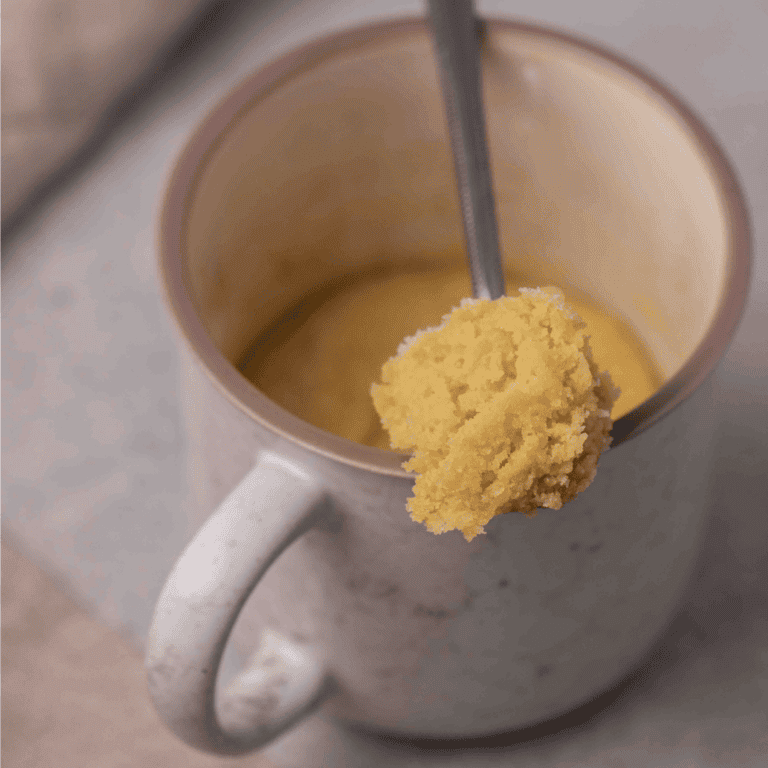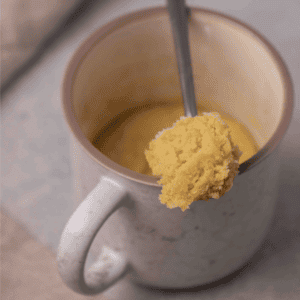 Soft and chewy sugar cookie in a mug
This mug sugar cookie is unlike no other. It uses a secret ingredient to keep your cookie soft and chewy even after baking it in the microwave you have to try it!
Ingredients
2

tablespoon

butter

1.5

tablespoon

granulated sugar

½

tablespoon

brown sugar

Pinch

salt

1

large

egg yolk

¼

teaspoon

vanilla extract

3

tablespoon

all purpose flour

1

tablespoon

corn starch

½

teaspoon

granulated sugar

for topping
Instructions
First, start by melting the butter in the mug in the microwave. This can take anywhere from 15-30 seconds depending on if your butter was at room temperature or not.

Add in the granulated sugar, the brown sugar, and the salt and stir until combined. Add in the egg yolk and the vanilla and stir one last time.

Add in the all purpose flour and the corn starch and mix just until combined. Flatten the top with a mini rubber spatula or the back of a spoon then sprinkle with the ½ teaspoon granulated sugar for a traditional sugar cookie taste.

Bake in the microwave for 40-50 seconds. Check your mug cookie after 40 seconds, if it is not fully bake din the center bake it for another 5-10 seconds. Enjoy as soon as you make it!
Nutrition
Calories:
468
Calories
Carbohydrates:
51
g
Protein:
5
g
Fat:
27
g
Saturated Fat:
16
g
Trans Fat:
1
g
Cholesterol:
245
mg
Sodium:
211
mg
Potassium:
58
mg
Fiber:
1
g
Sugar:
26
g
Vitamin A:
945
IU
Calcium:
37
mg
Iron:
2
mg
Thank you so much for making it all the way down here
Did you enjoy these Starbucks inspired cranberry bliss bars? We would love it if you could leave a comment letting us know. In the meantime don't forget to follow us on Instagram.

Shop this recipe
This post may contain affiliate posts, meaning that at no cost to you I will get a small percentage of every purchase you make!
If you enjoyed this single serve soft and chewy sugar mug cookie make sure to pin it for later!