This blueberry lemon loaf cake is an easy and bright dessert to make for the whole family. This recipe makes a moist, flavorful and tangy quick bread. Top it with lemon glaze for a perfect bite.
SIGN UP TO OUR MAILING LIST GET A FREE WEEKLY MEAL PLANNER AND RECIPE CARD!
Wanna know something super weird about me? I have a lot hate relationship with loaf cakes.
Growing up, we would get this simple vanilla loaf cake from a bakery down the street. I absolutely hated it. It was dry, and almost flavorless. People had it with their cup of tea or coffee but it just seems like I already knew that wasting calories on a bleeeh dessert wasn't for me.
When it comes to cake, gimme all the butter, moistness, and flavor.
This is the best lemon blueberry loaf
So since, I've had pretty bad experiences with loaf cakes as a youngin, I decided that I had to take bland loafs and give them a little pick me up so that's just what I did with this blueberry lemon loaf.
I upped the tanginess because when I make something lemony I need to feel it. I need my tongue to tickle and my cheeks to smile at the taste of that bright flavor. Now add the blueberries and you got yourself a combo made in heaven.
They add a bright note and a burst with every bite. That's what I'm talking about when it comes to loafs!
What's so special about this lemon loaf cake
I love this blueberry loaf cake because:
It is moist and so so soft!
This lemon blueberry loaf actually has a strong lemon flavor unlike other cakes.
It is beautiful and will make a great dessert for when your hosting or having a family gathering in the future.
Ingredients for the lemon blueberry loaf
Here are the ingredients that you need for this moist loaf cake
Flour– All purpose flour work great for this recipe.
Baking powder & baking soda– These are your leavening agents.
Salt– A little salt to balance out the sweetness of this baked loaf.
Vanilla extract & lemon extract– This loaf has both vanilla and lemon extract for an extra citrusy cake.
Lemon juice & zest– The lemon zest and lemon juice will add even more of a bright flavor to this loaf.
Vegetable oil and butter– The fat from the butter and oil will keep this loaf super moist.
Sugar– This loaf cake uses granulated sugar, just enough to make this cake sweet without burning your tongue!
Eggs– The eggs are the binding element.
Greek yogurt– The greek yogurt also keeps the loaf cake as moist as possible!
Blueberries– Blueberries, AKA the other star of this cake!
Ingredients for the thick bright white lemon glaze
A lemon blueberry cake isn't finished if you don't add a tangy lemon glaze on top, am I right!? Here is what you need for your bright cake glaze:
Powdered sugar
Lemon juice
Milk
Can I use frozen blueberries for this lemon blueberry cake?
Absolutely!
If blueberries are not is season you can use frozen blueberries instead of the fresh ones. You can let them thaw, then dab them with a paper towel to make sure they're dry enough then coat them in flour and add them to you loaf batter.
How to make tangy lemon blueberry bread?
This loaf cake is pretty simple! For the full detailed recipe make sure to scroll down to the recipe card. Here is how you can make your own homemade loaf cake:
Sift the dry ingredients in a medium bowl and set aside.
Mix the wet ingredients together.
Add in the flour to the wet mixture and fold just until the flour disappears.
Add in the flour covered blueberries and fold one last time.
Bake the loaf cake then let it cool down completely before glazing the loaf.
How to store this lemon bread?
You can store this lemon blueberry bread in an airtight container int he fridge for up to 4 days.
Here are a few awesome recipes you will love!
Can I freeze lemon loaf cake?
Yes, you sure can! I actually love slicing my bread and and wrapping each one with plastic wrap then placing it an an airtight container and in the freezer.
If you want to freeze the whole loaf you can coo it completely then wrap it with plastic wrap then wrap it again with aluminum foil, then place it in an airtight container and freeze it for up to 3 months. Thaw it in the fridge overnight.
Lemon blueberry bread tips
To make the perfect blueberry lemon loaf cake here are a few helpful tips that I live by when baking loaves:
Room temperature ingredients are key! Make sure that all of your ingredients are at room temperature.
Make sure to line your baking pan with parchment paper to make pulling out the loaf easier.
Don't over mix your cake batter- Stop mixing your batter once the flour mixture disappears, otherwise you will end up with dense cake.
Coat the blueberries in flour- Coating the blueberries in flour will help evenly distribute within the cake! Don't skip this step!
Cover your loaf with foil if it browns too fast- If you notice your loaf browning too quickly, cover the pan with foil and letting bake for a little longer.
Tangy Blueberry Lemon Loaf
If you tried and enjoyed this recipe, make sure to give it a 5 star rating by clicking on the 5 stars under the description.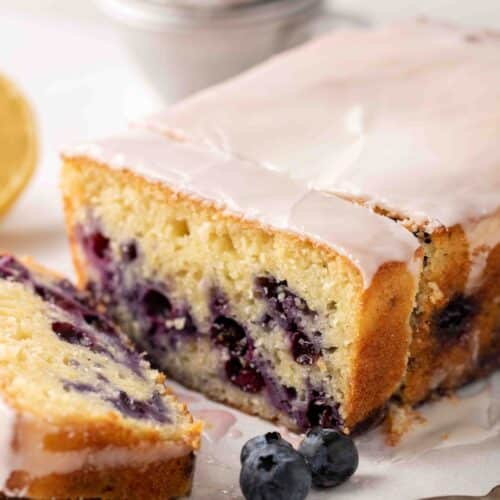 Tangy and moist blueberry lemon loaf
This blueberry lemon loaf is easy to make and yields a perfectly lemony and moist loaf cake for everyone to enjoy!
Ingredients
1 & ½

cup

all purpose flour

1 &½

teaspoon

baking powder

½

teaspoon

baking soda

½

teaspoon

salt

1

cup

blueberries

1

tablespoon

all purpose flour

¼

cup

vegetable oil

¼

cup

butter

softened

¾

cup

granulated sugar

½

teaspoon

lemon extract

½

teaspoon

vanilla extract

3

large

eggs

at room temperature

¼

cup

greek yogurt

at room temperature

1

tablespoon

lemon zest

3

tablespoon

lemon juice
For the glaze
1

cup

confectioner's sugar

1

teaspoon

lemon zest

1

tablespoon

lemon juice

1

tablespoon

milk
Instructions
First start by preheating the oven to 350F then line a 9"x5" baking pan with parchment paper.

In a medium bowl sift in the flour, baking powder, baking soda, and salt and set aside. In a small bowl, add in the dry blueberries with the 1 tablespoon of flour and mix until they're fully coated.

In a stand mixer bowl, cream the butter, oil, and granulated sugar until light and creamy. Add in the vanilla and lemon extract and mix. Add in one egg at a time while continuing to mix everything together. Lastly add in the yogurt, lemon zest, and lemon juice, and mix one last time.

Add in the dry mixture to the wet mixture and fold just until the flour disappears. Add in the flour coated blueberries and fold one last time. Pour the mixture in the prepared loaf pan and bake for 50-55 minutes or until a wooden skewer inserted in the center comes out clean. Cool the bread in the pan for about 30 minutes then more it to a cooling rack. Let it cool down completely.
Make the lemon glaze
Make the glaze by whisking together the powdered sugar, lemon juice, lemon zest, and milk, then pour the glaze over the completely cooled lemon blueberry loaf. Allow the glaze to set before slicing into the loaf cake!
Notes
If the loaf starts to brown too quickly, wrap the loaf pan with aluminum foil.
You can store this cake in an airtight container in the fridge for up to 4 days. 
Nutrition
Calories:
211
Calories
Carbohydrates:
38
g
Protein:
4
g
Fat:
10
g
Saturated Fat:
5
g
Cholesterol:
47
mg
Sodium:
275
mg
Potassium:
53
mg
Fiber:
1
g
Sugar:
14
g
Vitamin A:
243
IU
Vitamin C:
4
mg
Calcium:
51
mg
Iron:
1
mg
Thank you so much for making it all the way down here
Did you enjoy this lemon blueberry loaf cake recipe? We would love it if you could leave a comment letting us know. In the meantime don't forget to follow us on Instagram.

Shop this recipe
This post may contain affiliate posts, meaning that at no cost to you I will get a small percentage of every purchase you make!
If you enjoyed this blueberry lemon loaf cake make sure to pin it for later!