This chocolate chip mug cookie is the future! Perfectly soft and chewy, filled with chocolate chips to recreate your favorite chewy gooey chocolate chip cookie recipe without all the leftovers. This is perfect for portion control as well, make one, eat one and call it a day!
SIGN UP TO OUR MAILING LIST GET A FREE WEEKLY MEAL PLANNER AND RECIPE CARD!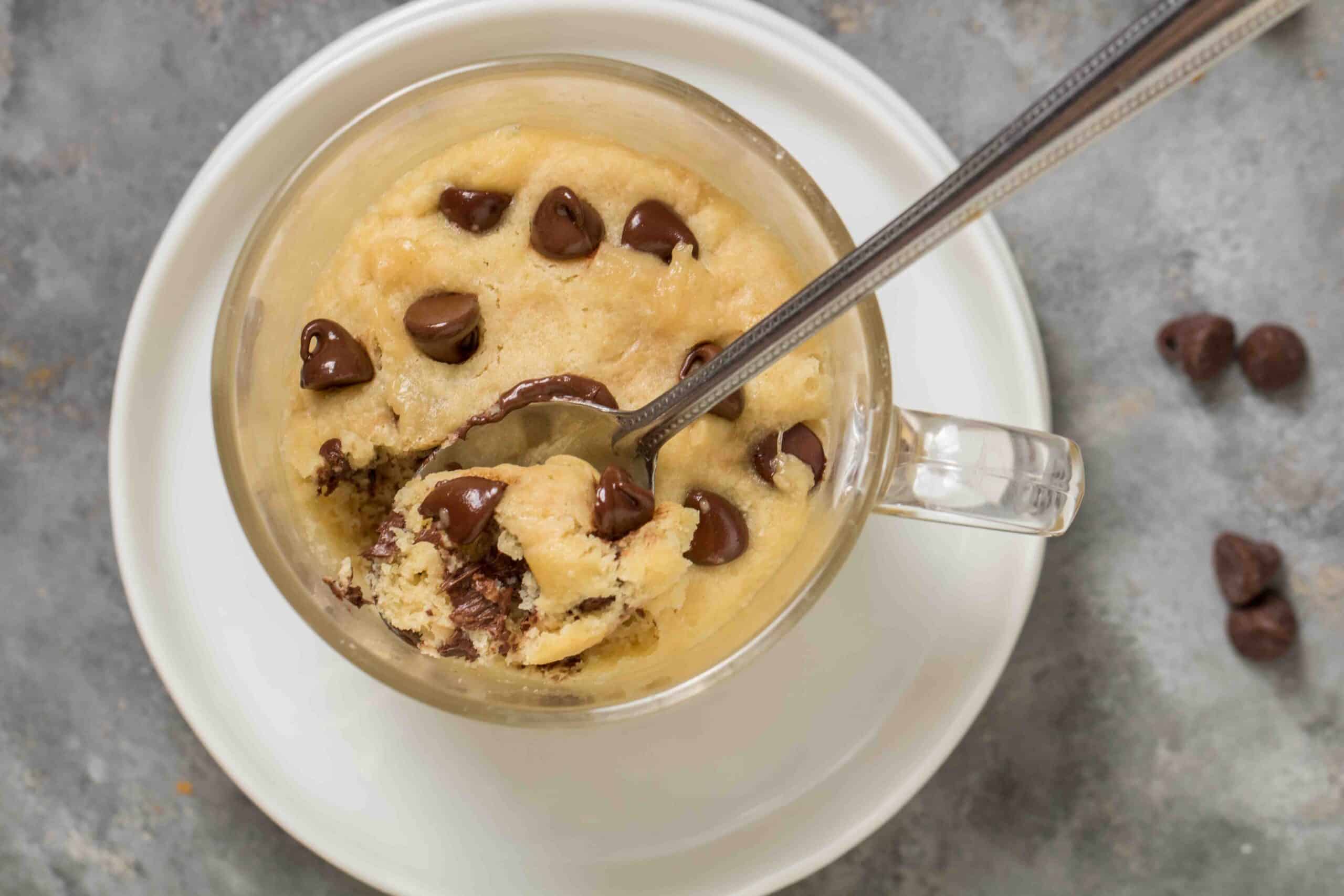 I don't know about you but I am totally obsessed with quick and easy. Whether it be dessert, snack, appetizer, or anything else really. Now make that a 1 minute quick dessert recipe and I'm going crazy for it!
Today, we are making something that is perfect for this fall/winter season. a personal chocolate chip cookie in a mug to make for yourself or for your little ones as a way to celebrate the day, the week, or anything that's worth celebrating to you.
This is THE perfect chocolate chip cookie in the mug recipe you will ever try!
I've been watching what I eat for the past week because my healthy habits went out the window after a this past quarantine. My trick here is to be mindful, eat when you are hungry, be aware of what you're eating, as well as portion control everything!
This little mug cookie helps me a lot on those days where I really really am craving a cookie or when I've been nailing all of my dietary goals and it's time for a little celebration. It is perfect because it is a single serve so once you're done with this one cookie, there is no more for you to go back to. I know, this kinda seems sad… But at the same time it's truly a blessing in disguise!
It tastes fantastic and is super easy to make, continue reading to get all the details about this yummy microwave chocolate chip cookie in a mug!
What's so special about this mug cookie?
It only takes one minute to make this chocolate chip cookie in a mug.
cooks in the microwave, no oven needed!
It tastes just like a real chocolate chip cookie
Can be made differently to allow you to be extra creative thanks to all the variations I shared below.
It is gooey and chewy! Perfect chocolate chip cookie every time.
It's a single serve dessert
Ingredients to make this chocolate chip cookie in a mug
To make this super easy mug cookie you will need the following ingredients:
Butter– You can use either salted or unsalted. Whatever you have on hand.
Brown sugar and granulated sugar– You will need both brown sugar and granulated sugar to make this mug chocolate chip cookie resemble the real thing as much as possible.
Vanilla– Vanilla is always a good ingredient for chocolate chip cookies. If you don't have it you can skip it though.
Egg yolk– The egg yolk if gonna hold everything together and make this cookie even more chewy because of its fat content.
Flour– You will need a little all purpose flour
Corn starch– Some corn starch to keep this chocolate chip chewy and gooey.
Chocolate chip– And of course, some chocolate chips! Make sure you are using good quality chocolate chips for the best quick treat ever.
Want more mug cake recipes?
How about some chocolate chip recipes?!
How to make chocolate chip mug cookie?
Add the butter to a mug and melt in the microwave. Add the brown sugar, granulated sugar, and vanilla. Mix using a spoon or a fork.
Once the butter has cooler a little, add the egg yolk and mix again. Top with flour, corn starch and chocolate chips and stir one last time.
Microwave for 35-40 seconds or until the top looks just set. Enjoy immediately.
Tips for making your own microwave mug dessert
It doesn't have to be made in a mug– I know some people might have copper mugs or something that can't do in the microwave. Well, you can make your mug dessert in a little bowl or even a ramekin!
Under-bake your dessert– It is always to under bake rather than over bake. If yo under bake you can always pop it back into the oven for a few more seconds.
Don't overfill your mug– The thing here is that mug cakes always rise when baking in the microwave. You want to leave about ½ of the mug empty to give it enough room to rise. For this cookie, you probably don't have to worry too much because there isn't that much cookie dough.
Adjust your baking time if you're making more than one at once- If you are making 2 or more and baking them all at the same time, you will have to adjust your baking times.
Add a few more chocolate chips and some sea salt to the top once cooked– This is my favorite tip ever! The chocolate chips will melt beautifully to give you a puddle of melted chocolate and the sea salt flakes will elevate this cookie and give it some more depth of flavor.
Can I add mix-ins to my mug chocolate chip cookie?
Absolutely! Go crazy, the world is your oyster my friend. Here are a few things that I like to either ass to my chocolate chip cookie dough or use instead of the chocolate chips!
Chopped nuts- I love adding peanuts, walnuts, pecans, or even hazelnuts to my cookie dough before microwaving it! Such a treat.
Peanut butter chips– If you want something other than chocolate chips you can go for peanut butter chips or do a half and half mixture for an extra special mug cookie!
White chocolate chips– I love white chocolate so much and it works great for this recipe too!
Cranberries– Adding a little bit of dried cranberries to the cookie dough mixture will make your mug cookie extra festive.
Sprinkles- Sprinkles are always a good idea. Play around and see which one if your favorite.
What should I top my chocolate chip mug cookie with?
A few toppings that I adore are:
A dollop of peanut butter- The peanut butter will melt and you will be left with a salty and sweet treat. This is one of my favorite ways to have it.
Whipped cream– Can't go wrong with whipped cream. You can even add a chocolate drizzle to that and call it a day!
A dollop of Nutella– If you are looking for something extra chocolatey and rich, a teaspoon or two of Nutella on top of your chocolate chip cookie will do the trick.
A scoop of your favorite ice cream– I love the mixture of cold and hot when it comes to dessert so I am a sucker for ice cream on my warm cookies. I like to go with vanilla but then again you can use whatever you have on hand or whatever you prefer.
If you are trying to go a little crazy mix and match all these topping options on your chocolate chip mug cake because let's be honest, we only live once so might as well enjoy it!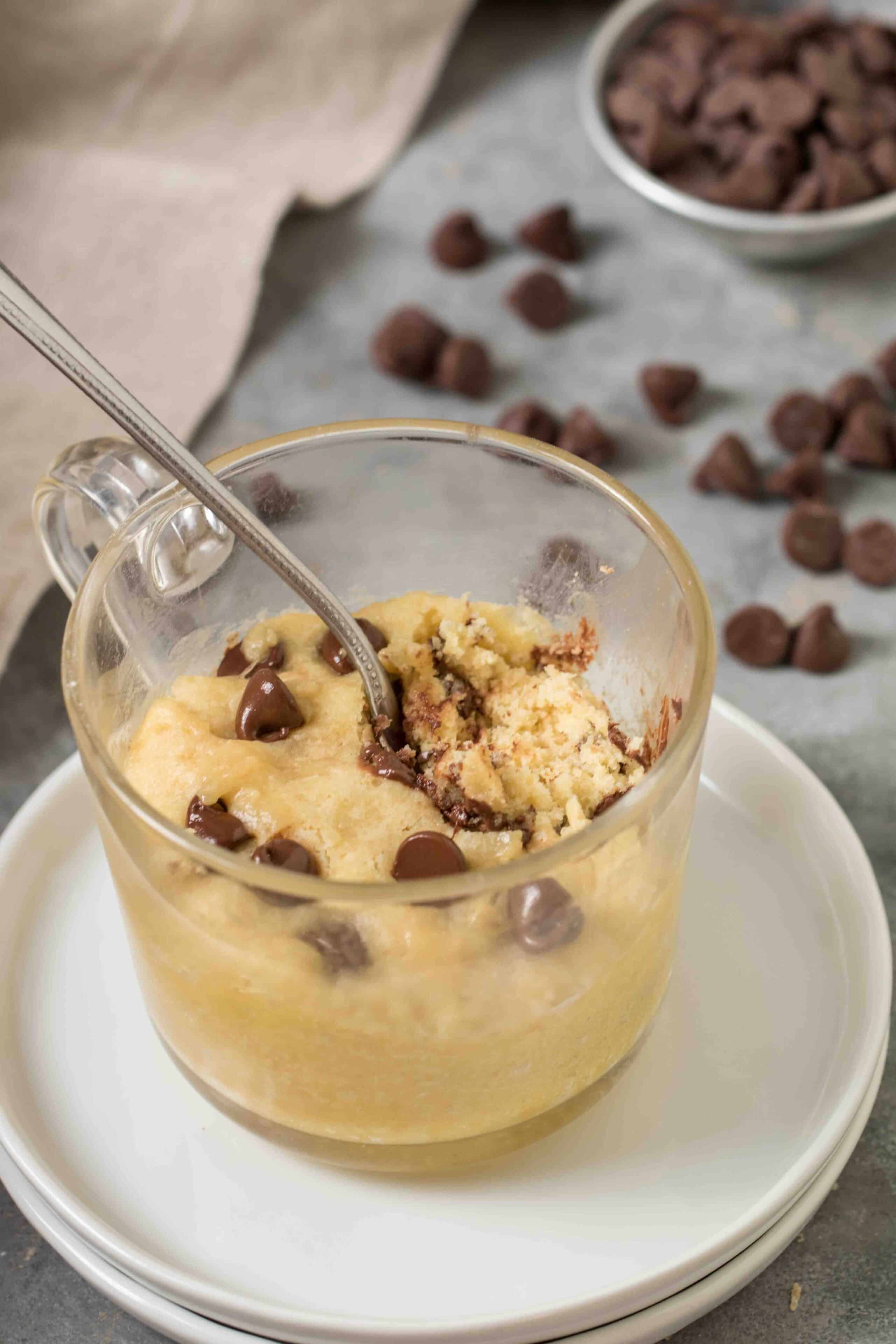 Microwave chocolate chip cookie in a mug
If you tried this mug chocolate chip cookie recipe and loved it please leave us a rating by clicking on the 5 stars under the title and description.
Life Changing 1-minute Chocolate Chip Mug Cookie
This chocolate chip cookie in a mug is a delicious one serving dessert to make whenever you are craving a quick little snack and don't want to make a whole batch. It is chewy, it is gooey, and it is so delicious!
Ingredients
2

tablespoon

butter

melted

1

tablespoon

brown sugar

1

tablespoon

granulated sugar

⅛

teaspoon

vanilla

1

egg yolk

¼

cup

flour

1

teaspoon

corn starch

2

tablespoon

chocolate chips
Instructions
Add the butter to a mug and melt in the microwave. Add the brown sugar, granulated sugar, and vanilla. Mix using a spoon or a fork.

Once the butter has cooler a little, add the egg yolk and mix again. Top with flour, corn starch and chocolate chips and stir one last time.

Microwave for 35-40 seconds or until the top looks just set. Enjoy immediately.
Nutrition
Calories:
474
Calories
Carbohydrates:
50
g
Protein:
6
g
Fat:
28
g
Saturated Fat:
6
g
Cholesterol:
195
mg
Sodium:
277
mg
Fiber:
1
g
Sugar:
24
g
Vitamin A:
1261
IU
Calcium:
23
mg
Iron:
2
mg
Thank you so much for making it all the way down here
If you tried this awesome game day air fryer recipe and loved it as much as we did, make sure to leave a comment down below to let us know how your keto mousse turned out. In the mean time don't forget to follow us on Instagram.

SHOP THIS RECIPE
This post may contain affiliate posts, meaning that at no cost to you I will get a small percentage of every purchase you make!
If you enjoyed this chocolate chips mug cookie make sure to pin it for later!