Christmas cake mix mug cake is what it's all about this holiday season! Make a delicious single serve cake for yourself anytime to celebrate the holiday season in style. This cake mix microwave cake comes together in about 2 minutes so that you can enjoy yourself without spending too much time in the kitchen.
Disclosure: This post is sponsored by Betty Crocker. All thoughts and opinions are 100% my own. Thank you for supporting the brands that make Lifestyle of a foodie possible.
SIGN UP TO OUR MAILING LIST GET A FREE WEEKLY MEAL PLANNER AND RECIPE CARD!
Can you believe that the Holiday season is already here! This year flew by so quickly, but at the same time seemed so long and oh-so never ending.
To be honest, I am so happy that we finally made it to the holiday season because so much goodness comes with it. It's cozy, everyone's happy, and you get to bake your heart out!
Today, I wanted to bring you an easy recipe that you can make quickly on those days where you might be extra busy.
This is a kid favorite Christmas cake mix mug cake recipe!
This Christmas favorite treat is made using the Betty Crocker's™ Super Moist™ Favorites Yellow Cake Mixf rom Dollar General to make the making of this Christmas Cake Mix Mug Cake even easier!
It can be made by children or by you in the middle of the night because those pesky cake craving hit hard at times. I like to take a box of any Betty Crockers™ cake mix with me on vacation too because I can make this mug cake in my hotel room and enjoy a few TV shows before bed!
Today, we are making something specifically Christmas inspired, so continue reading to learn how you too can make this amazing looking dessert!
Let's talk about this Betty Crocker™ Super Moist™ Favorites Yellow Cake Mix
This Betty Crocker Yellow Cake Mix is made with no preservatives and no artificial flavors. It contains only 7 ingredients in the box and will be ready in minutes. This box makes on 13″ x 9″ cake for the whole family to enjoy!
What makes this Christmas mug cake so special?
This Christmas cake is extra special because of many reasons! Here are the top ones:
It is full of Christmas sprinkles and decorations.
This mug cake can be made in about 2 minutes.
It is extremely versatile and can be decorated and changed based on your own preference.
All the ingredients you need will be found at Dollar General, so all it takes is one shopping trip to make this amazing cake for one.
This is a super kid-friendly recipe as well. It's truly the perfect activity to make during the holiday season with the little ones!
Where did I purchase my ingredients?
For this recipe, I shopped solely at Dollar General! I used the Dollar General mobile App to take advantage of all the coupons they offered! We absolutely love shopping at Dollar General because it has a huge selection of items for a very low price, it's the perfect way to save time and money in a single trip!
I strongly encourage you to download the Dollar General App to get access to Dollar General Coupons that you can apply to your purchase and save a ton! Starting 11/1/2020 through 12/27/20, earn $2 towards your next purchase of $2.01 or more of any Betty Crocker™ dry baking products or Gold Medal™ flour when you spend a total of $8 or more on Betty Crocker™ dry baking products or Gold Medal™ flour!
Enroll today to start saving!
What is a microwave "Mug Cake" anyway?
A microwave mug cake is pretty much a cake that is made in a mug and baked in the microwave, as simple as that! The best part is that, done right, the cake steams in the microwave to yield a perfectly pillowy cake for one!
Mug cakes are perfect when you want to make a single serving cake and don't want to dirty too many dishes or turn on the oven. It is also perfect for college students that might not have an oven in their dorm or for kids because it is a lot safer to make (the mug will be hot coming out of the microwave so make sure that you are with your child when they are making it to avoid them burning their hands when they are pulling it out.)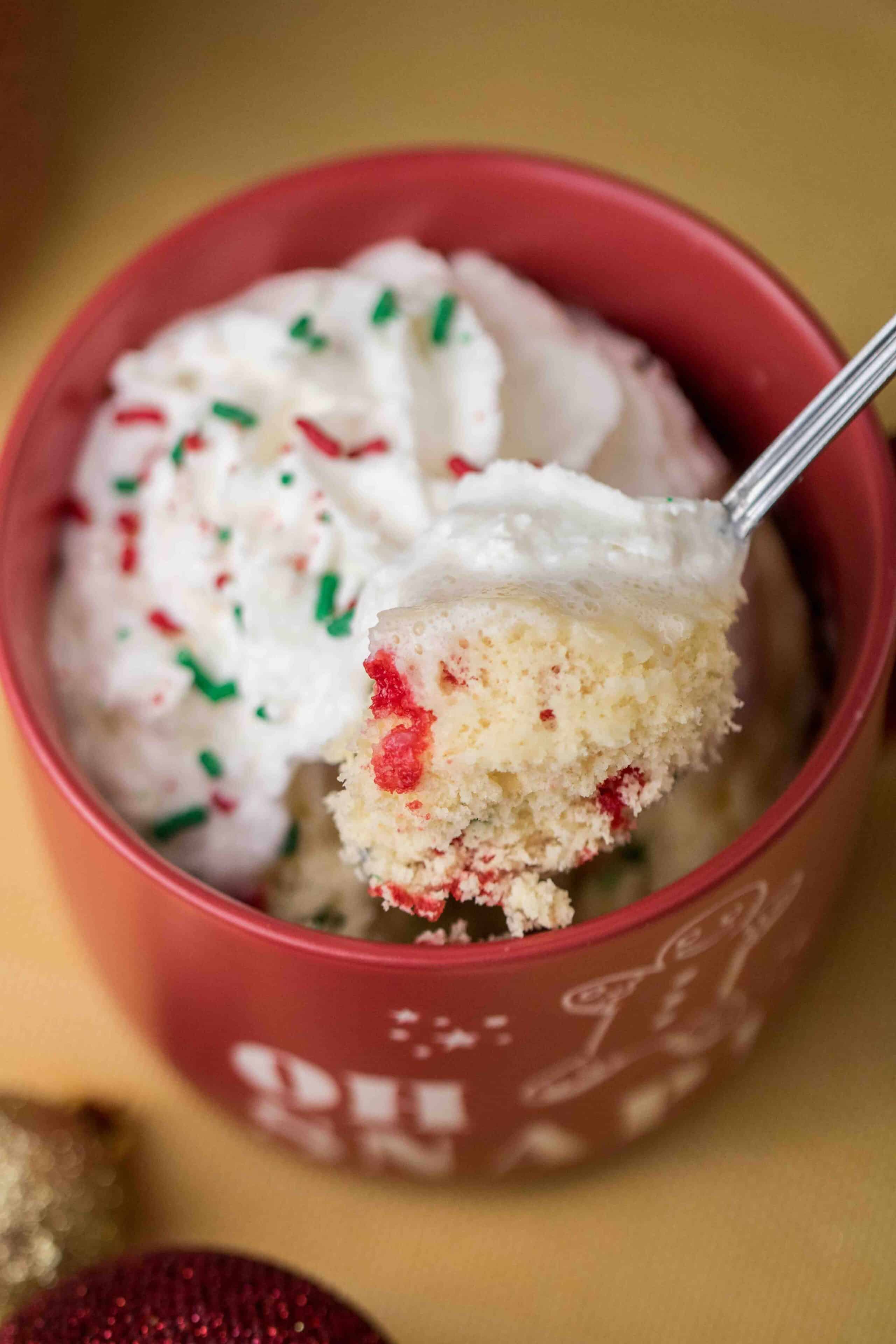 What do you need to make a cake mix mug cake?
To make these Christmas mug cakes, you will need close to nothing to be honest. So leave those bowls, mixers, and scrapers in their cupboard because this recipe only requires a mug, a measuring spoon, and a spoon to stir everything with it!
Ingredients to make cake mix mug cake
To make this Christmas cake mix mug cake, you will need the following ingredients:
Betty Crocker™Super Moist™ Favorites Yellow Cake Mix (I purchased this one from Dollar General)
Water
Sprinkles
Seriously, this is probably one of my easiest recipes ever!
Do you use eggs in mug cakes?
Usually I use either an egg yolk or a whole egg when making mug cakes. This one on the other hand does not require the use of eggs. So to recap, you will need to use eggs in mug cakes made from scratch but not for mug cakes made with cake mix!
How to make Christmas Cake mix mug cake?
Add the cake mix to the mug, then top that with the cake mix. Mix well until the cake batter is free of lumps and microwave for 60-70 seconds on high.
Top with whipped cream and more festive sprinkles.
How do I know when my mug cake is ready?
You will know that your mug cake is ready when the top of the cake is spongy and springs back when you touch it. If you still see a little raw batter on top of your mug cake, cook it for an extra 15-30 seconds.
What to top cake mix mug cake with?
The possibilities are endless here! I have made this mug cakes so many times and each time I use a different topping so it feels like I am having a completely different cake. Here are some mug cake topping ideas:
Vanilla frosting
Chocolate frosting
cool whip or whipped cream
Chocolate syrup
Caramel syrup
Fresh fruit
powdered sugar
If you make this mug cake and have different topping ideas, please share them with us in the comments below!
Christmas Cake mix Mug Cake
If you enjoyed this Christmas mug cake recipe make sure to give it a 5-star rating by clicking on the 5 stars under the title and description.
Christmas cake mix mug cake
This Christmas cake mix mug cake is made by using cake mix for a super easy and convenient single serve treat.
Ingredients
6

tablespoon

Betty CrockerTM Super MoistTM Favorites Yellow Cake Mix

4

tablespoon

water

1

tablespoon

Christmas Sprinkles
Instructions
Add the cake mix to the mug,, then top that with the cake mix. Mix well until the cake batter is free of lumps and microwave for 60-70 seconds on high.

Top with whipped cream and more sprinkles.
Notes
To make 2 mug cakes, you can double the recipe in one medium bowl then split the mixture between two mugs or just make each one in its mug.
If you do make two at a time, you will need to adjust your cooking time as well. Cook for an extra 30 seconds then check. 
Nutrition
Calories:
90
Calories
Sodium:
3
mg
Want more mug cakes?
Thank you so much for making it all the way down here
If you tried this awesome game day air fryer recipe and loved it as much as we did, make sure to leave a comment down below to let us know how your keto mousse turned out. In the mean time don't forget to follow us on Instagram.

If you enjoyed this Christmas cake mix mug cake, make sure to pin it for later!