Starbucks vanilla bean frappuccino at home is possible and super easy! This vanilla bean creme frappe is made with simple ingredients, no need to go purchase vanilla bean ice cream to have this Starbucks delicacy at home! The fact that it'll be ready in less than five minutes makes it even better!
SIGN UP TO OUR MAILING LIST GET A FREE WEEKLY MEAL PLANNER AND RECIPE CARD!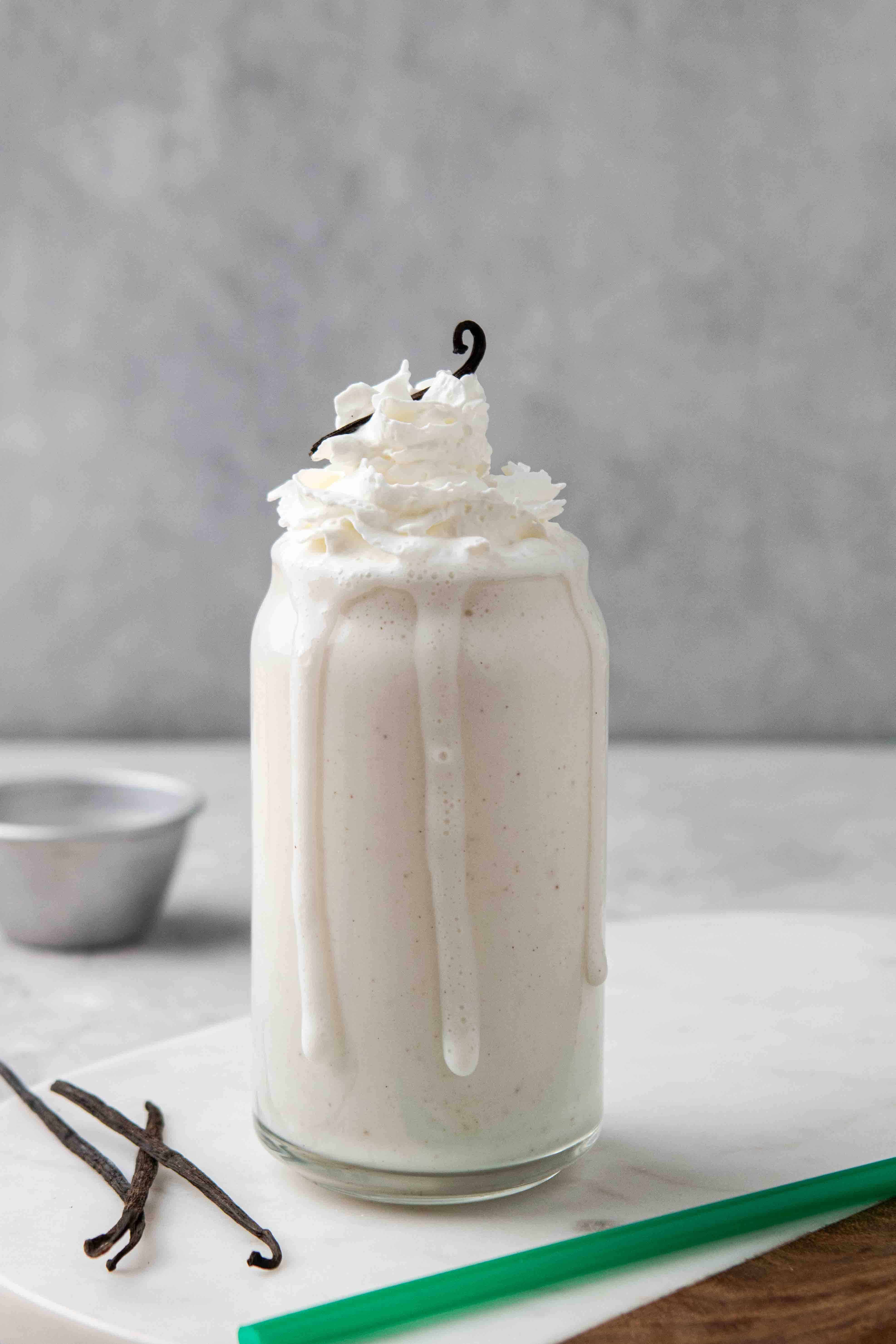 Can you believe that I never had a vanilla bean creme Starbucks frappuccino before this year?!
Thinking about it now, I can't believe I've never tried this wonder of a drink. It's pretty much sweet, frozen milk, with vanilla beans/flavoring in it. It's a freaking delight!!
It was so good that I decided to look up a recipe for this amazing drink online. Unfortunately, most of the recipes that I was able to find used vanilla bean ice cream as the base.
I wanted to make a recipe that didn't use ice cream because I knew that the original Starbucks vanilla creme frappe didn't have that in its ingredients.
This is the best Starbucks vanilla bean frappuccino recipe ever!
So I started trying out a few things, and very quickly I was able to recreate a very similar vanilla bean frappe at home! Also, I was able to save about $6 a drink plus the trip to the store itself.
Ain't nobody trying to leave the house right now, it is so freaking cold!
Thank to this recipe, I can skip the drive through lines and enjoy my frozen Starbucks vanilla frappuccino in the comfort of my own home, under my heated blanket. I said it, I have icy drinks in the winter but I make it bearable by staying warm indoors! It's the best way to have cold drinks in my opinion!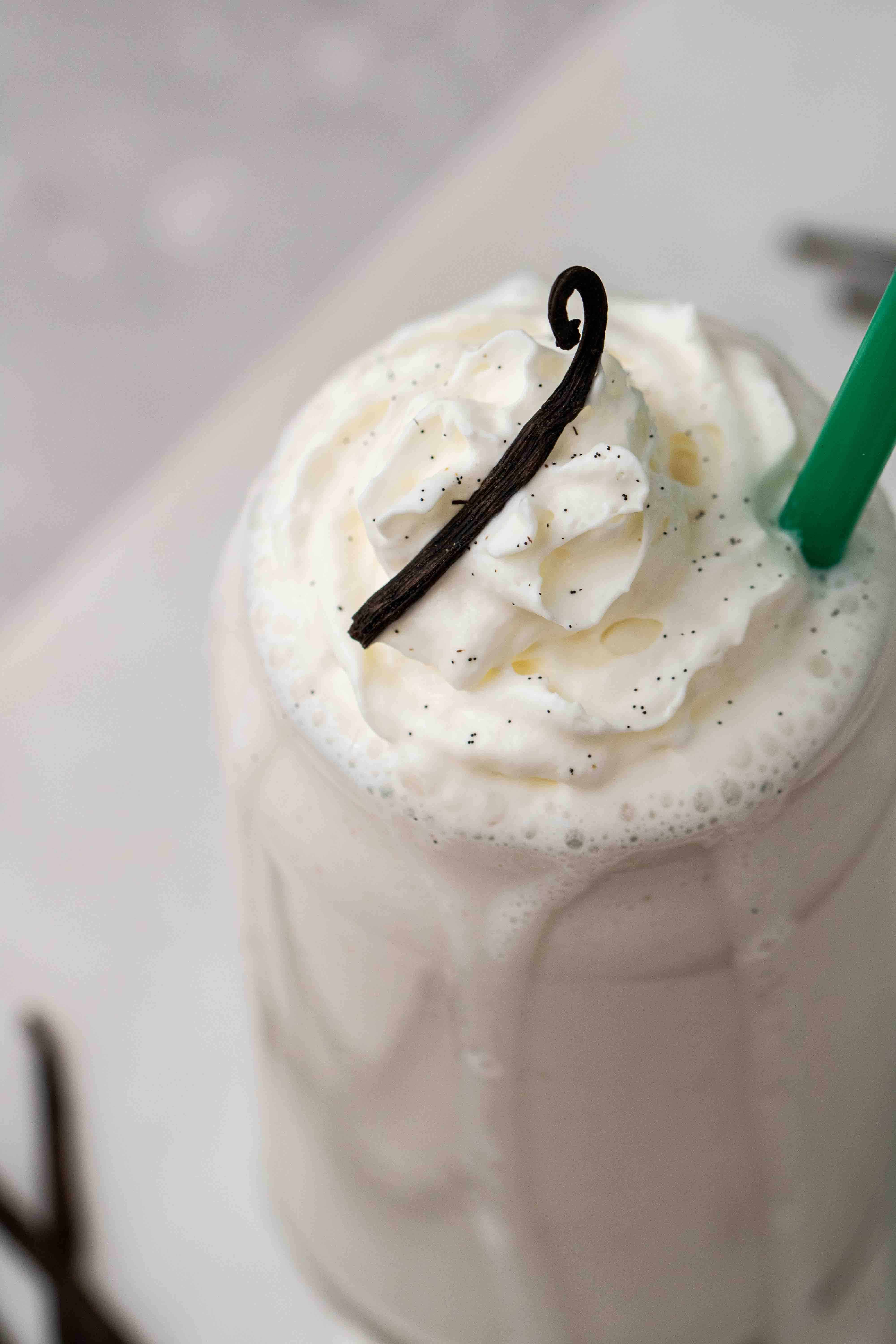 The vanilla bean creme frappuccino is a rich and creamy vanilla drink that is served at Starbucks. It is made out of ice, milk, creme frappuccino syrup, vanilla bean powder, and whipped cream.
This recipe doesn't have those exact ingredients but it is very close to the original recipe since it doesn't use any ice cream.
What makes this Starbucks vanilla bean frappuccino so special?
Here are all the reasons why you need to give this Starbucks copycat drink a try!
It only uses a handful of ingredients.
This frappuccino contains no caffeine
It is comforting and brings back memories of youth
The actual texture of the frappuccino is not icy at all.
It has real vanilla beans!! #TREATYOSELF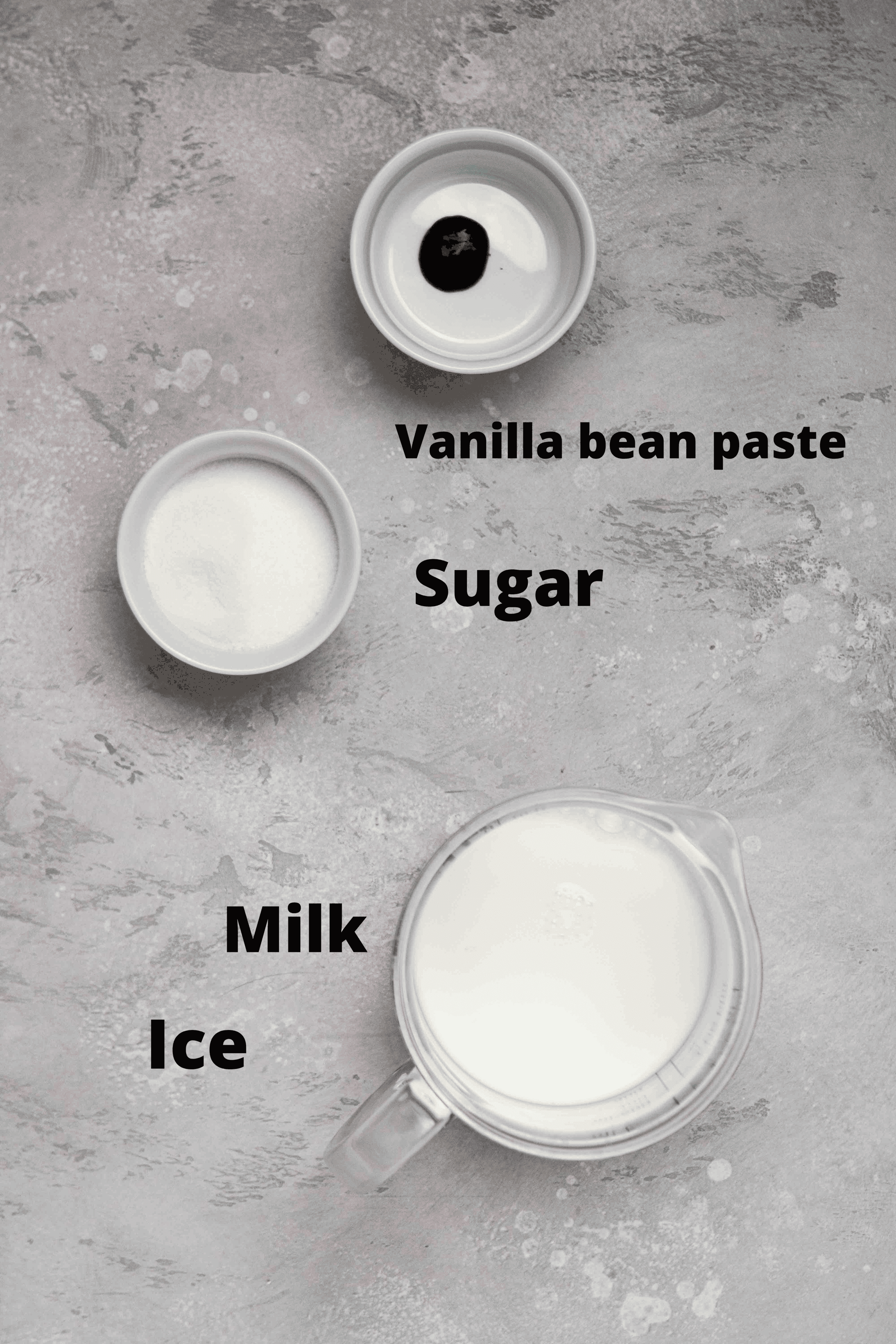 Ingredients for vanilla bean creme frappuccino
Here are the ingredients you will need to make your own homemade vanilla bean frappuccino. Make sure to scroll down to the recipe card for the full detailed ingredient list.
Milk- It is preferable to use whole milk to get that authentic vanilla bean creme frappe flavor.
Ice– Can't have a frappuccino with no ice! Make sure to use clean, fresh ice. Not the old ice that's been sitting in your freezer for a few months. I'm speaking from experience, I made that mistake before and the whole drink tastes horrid…
Sugar– This frappe is not as sweet as the original Starbucks drink but still tastes amazing. It's the perfect recipe to help you save on some calories. I would suggest you make the drink, taste it then add more sugar if you feel like it needs it.
Xanthan gum– Xanthan gum is a staple when it comes to homemade frappuccinos. Starbucks uses the creme base to thicken their frappes and emulsify everything together and that's exactly why we will be using a tiny bit of xanthan gum!
Vanilla bean paste– The vanilla bean paste is what will give you the that vanilla-y flavor and those fun black specks.
Whipped cream– You can top your frappe with whipped cream to make it look and taste just like the one that you can get at Starbucks.
Want Starbucks bakery item recipes? Check these recipes out:
When it comes to making your own frappuccinos at home, I strongly believe that xanthan gum is a must. Starbucks uses their creme base for frappuccinos and that's what makes the drink smooth and not icy.
Since we don't have the creme, we use a substitute ingredients which is xanthan gum.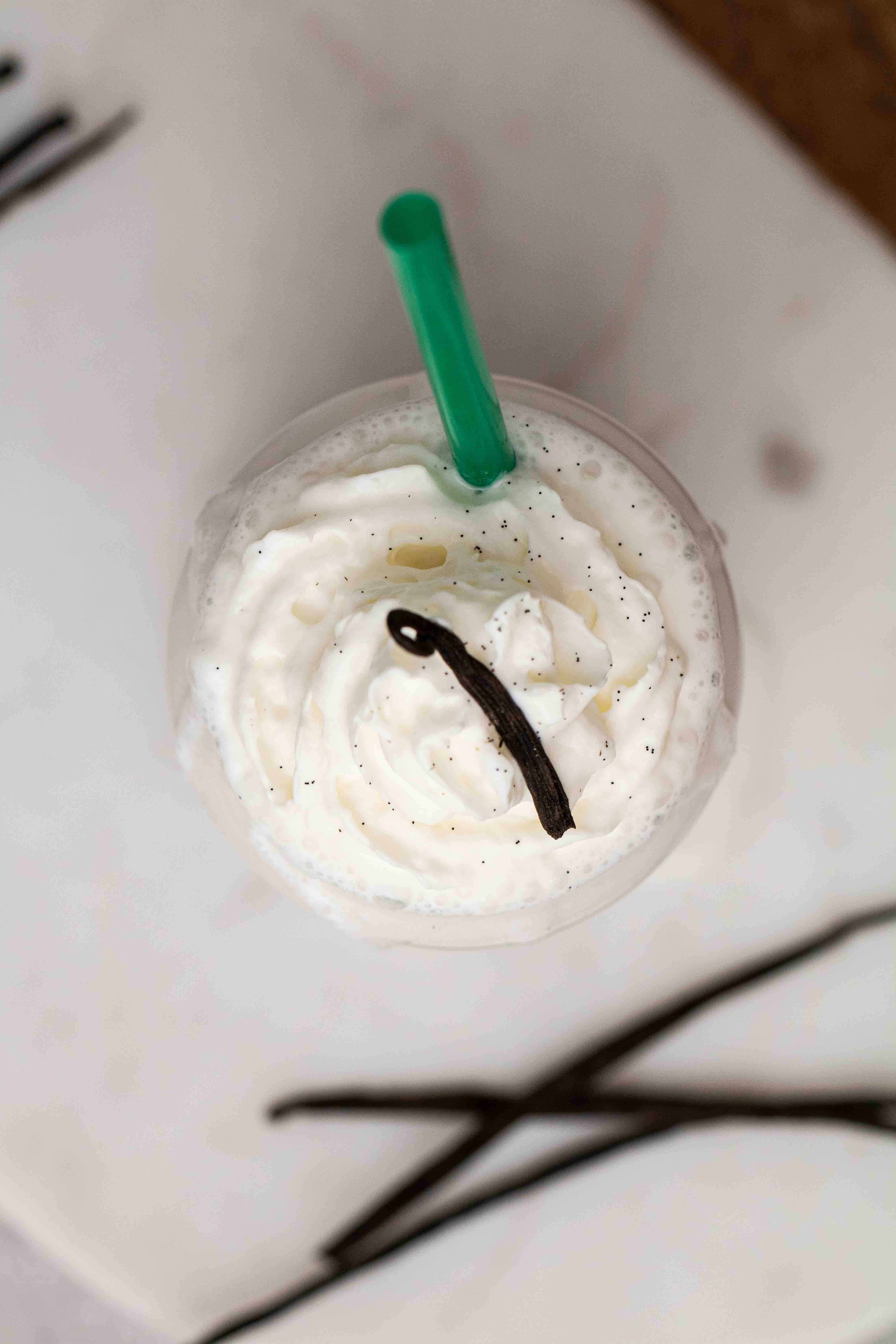 Where can I buy xanthan gum?
I was able to finx xanthan gum at my local grocery store in the baking isle by the semolina flour, coconut flour, and other Bob's Red Mill products. The bag isn't huge, but it isn't small either given the fact that you only need to use about ¼ teaspoon of it for this recipe.
The bag will cost you about $9 but it will last a long long time so definitely worth the investment!
Ingredient substitutions
Here are a few swaps that you could make for this recipe and still enjoy an awesome Starbucks copycat recipe!
Sugar- Instead of the white granulated sugar you can use honey, maple syrup, or even Truvia for a keto vanilla bean frappuccino!
Vanilla bean paste– If yo udon't have vanilla bean paste you can use ½ a vanilla pod. Scrape the vanilla beans and add them to your frappe for the same amazing flavor. Getting the vanilla bean paste is cheaper in my opinion so I went with that!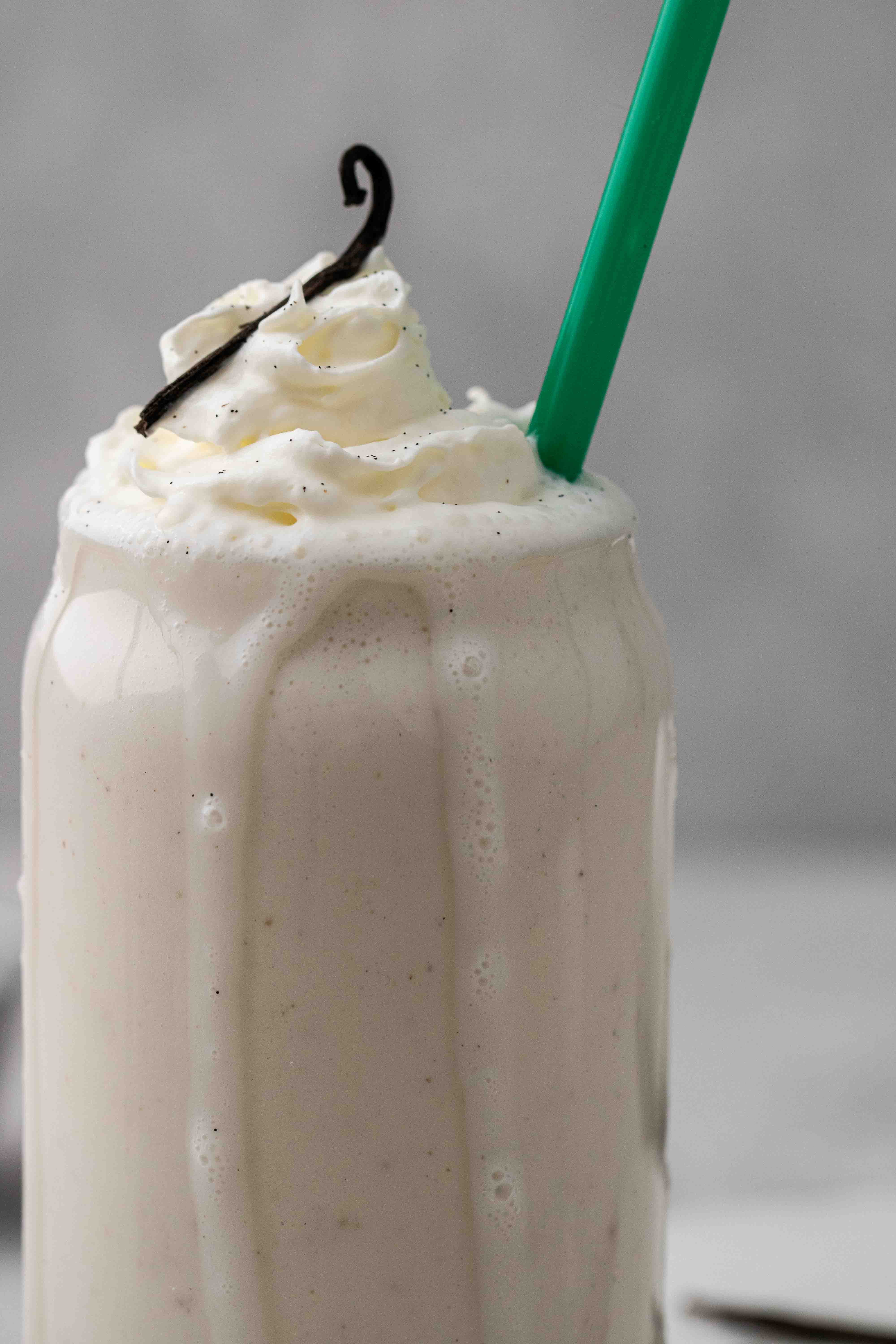 Does vanilla bean frappuccino have caffeine?
This vanilla frappuccino does not have any caffeine in it. That's why a lot of the time you will notice that even kids will be having this.
I personally love this drink because you can have it anytime during the day (or night) without disturbing your sleep pattern with extra caffeine.
How does a Starbucks vanilla sweet creme frappuccino taste like?
A Starbucks vanilla sweet creme frappuccino tastes like a cloud (if clouds tasted like anything). It is lightly sweetened, creamy from the whole milk, and has an amazing vanilla flavor from the vanilla bean paste. The best part is that this recipe doesn't use ice cream, so you get a closer copycat recipe to the Starbucks drink.
Want caffeinated Starbucks drinks recipes? Check these out: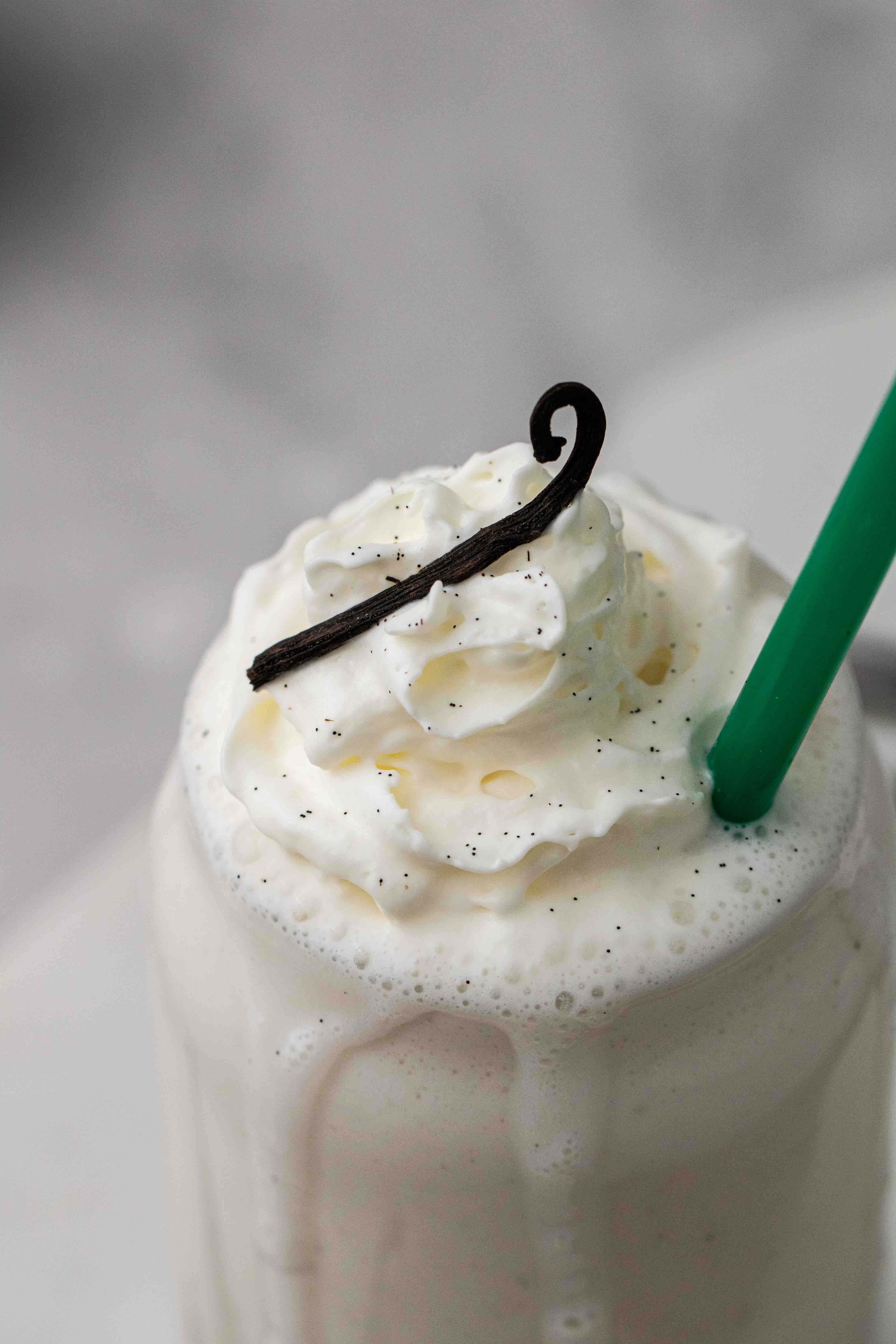 How to make the iconic Starbucks vanilla bean blended beverage without ice cream?
This is a super duper easy frappe recipe, here is how you can make it at home. Make sure to scroll down to the recipe card for the full step by step.
Place all the ingredients in the blender, starting with the ice, milk, sugar, xanthan gum, vanilla bean paste, and blend until smooth.
Top with whipped cream and enjoy!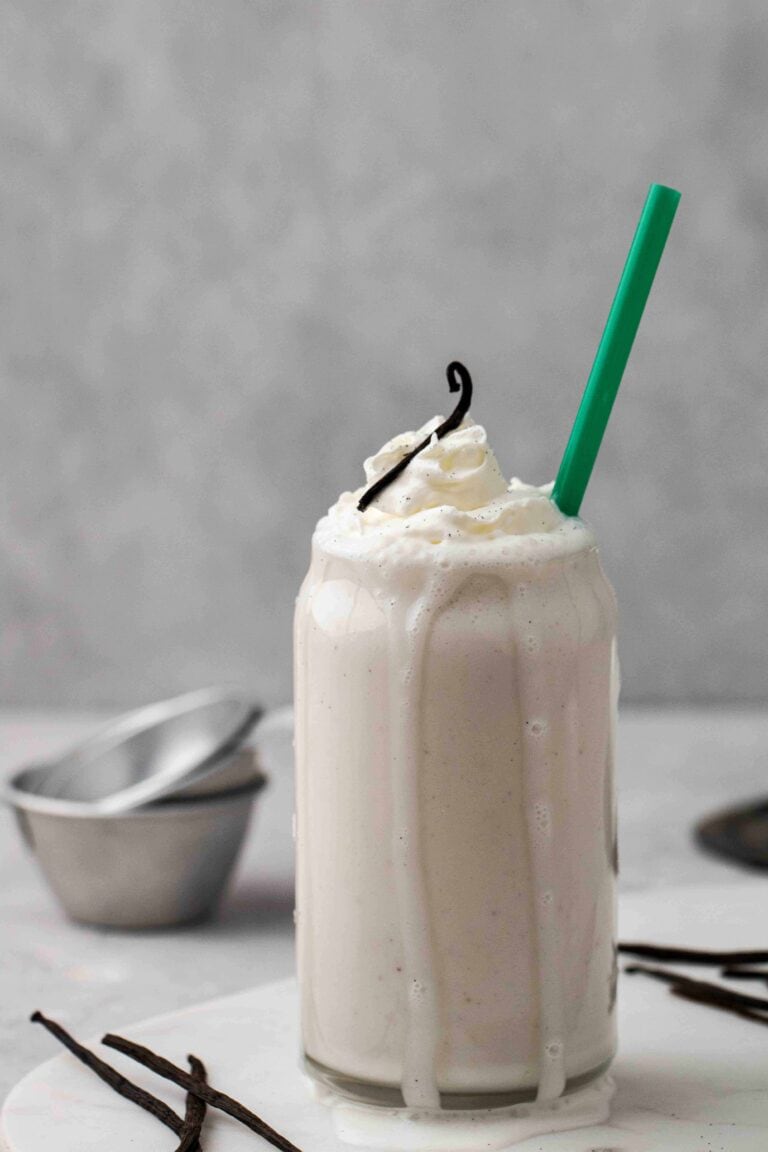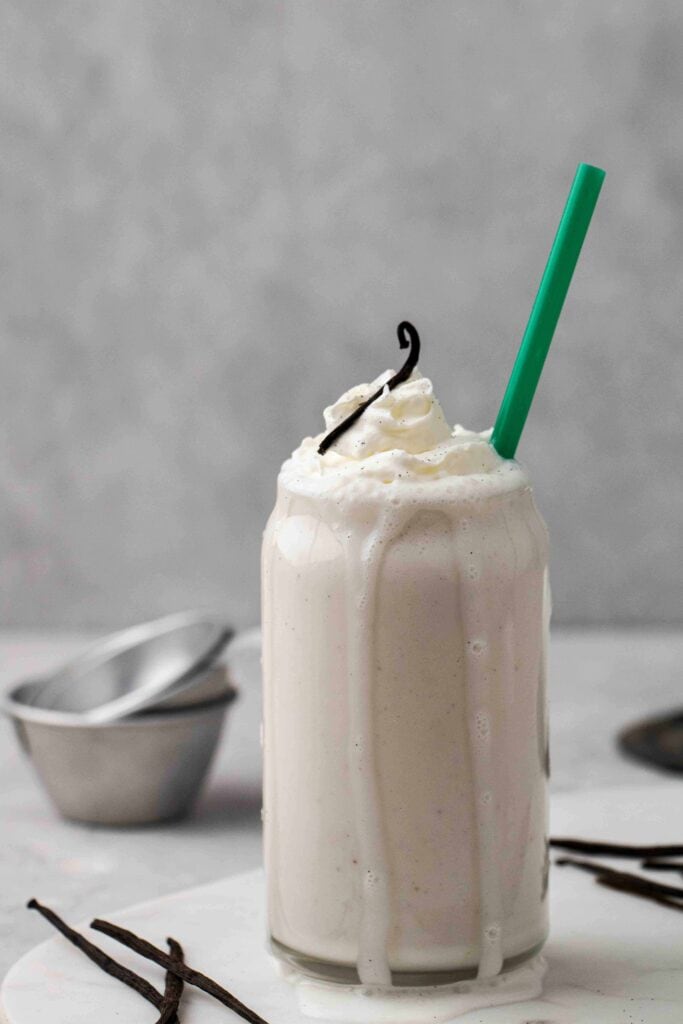 Vanilla bean frappuccino recipe
If you made this Starbucks vanilla bean frappuccino and enjoyed it, don't forget to leave a 5-star review by clicking on the 5 stars under the title and description. It would help me a ton
Vanilla Bean Frappuccino NO ICE CREAM
This Starbucks vanilla bean creme Frappuccino is the best copycat recipe that doesn't require the use of ice cream. Get the same great taste of your favorite Starbucks drink at home!
Ingredients
1

cup

whole milk

1

cup

ice

2

tablespoon

granulated sugar

add ½-1 tablespoon more if you want is sweeter after tasting it.

¼

teaspoon

xanthan gum

½

teaspoon

vanilla bean paste

whipped cream

Optional for topping
Instructions
Add all the ingredients to a blender and blend until creamy. This can take anywhere from 60 seconds to 3 minutes depending on how strong your blender is. Taste the frappuccino and add extra sugar if you prefer your drink on the sweeter side, blend again. Or just enjoy as is!

Top the vanilla bean frappuccino with whipped cream and enjoy!
Notes
This recipe makes a single serving but you can easily double or triple it! 
Nutrition
Calories:
250
Calories
Carbohydrates:
37
g
Protein:
7
g
Fat:
8
g
Saturated Fat:
4
g
Cholesterol:
24
mg
Sodium:
135
mg
Potassium:
315
mg
Fiber:
1
g
Sugar:
37
g
Vitamin A:
383
IU
Calcium:
275
mg
Iron:
1
mg
Thank you so much for making it all the way down here!
If you enjoyed this recipe don't forget to let us know in the comments below! In the mean time, don't forget to follow me on instagram!

Shop this recipe
This post may contain affiliate posts, meaning that at no cost to you I will get a small percentage of every purchase you make!
If you tried this vanilla bean frappuccino from Starbucks make sure to pin it for later!