This delicious Healthy Persimmon smoothie recipe is the perfect fall/winter drink, it comes together in minutes and will make for the perfect sweet treat when the cravings hit!
SIGN UP TO OUR MAILING LIST GET A FREE WEEKLY MEAL PLANNER AND RECIPE CARD!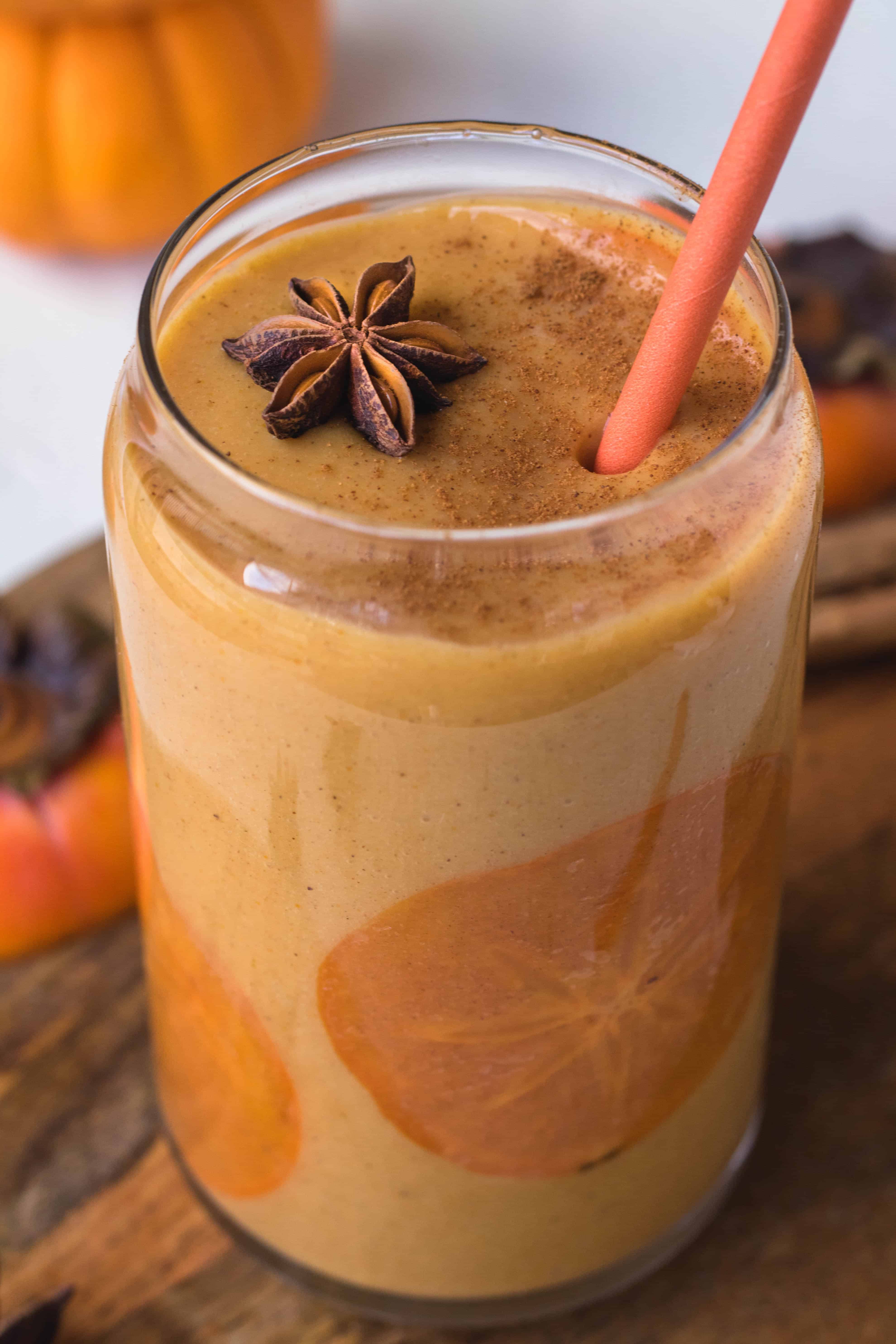 Hello friends!
I am back again with a smoothie recipe, this time it is going to be a healthy persimmon smoothie!
Honestly, because of all the different smoothie recipe I have been posting lately, I have gotten really good at photographing smoothies! So I thought why not make another one to help you guys stay on track as the holidays are in full swing!
What do you think about the photo above?! Let me know in the comments so I can improve every time!
But yes, I think that because smoothies are so easy to make and I usually make them for myself as a breakfast or a snack, I have gotten better and better at shooting them.
Today I wanted to make something with one of my favorite fruits… Persimmons! They're this little tomato looking fruit that is so so sweet on the inside.
I mean look at that pattern!
This is a Fuyu persimmon, it is a non-astringent variety of persimmons. It is a deeply orange fruit that is firm, crispy and delicately sweet when not fully ripe.
When it is ripe, it is more on the darker side, tastes a bit like jelly and s insanely sweet! You definitely should give them a try next time you fine any in store!
Persimmons health benefits
Persimmons just like any fruit is so so healthy for us! When they are in season even more so. They are very rich in Vitamin A, C, manganese, and fiber!
The vitamin C in this fruit can help relieve symptoms of flu and cold, as well as help your immune system fight other bacterias and viruses.
The fiber in persimmons also aids greatly in digestion as well as helps reduce belly bloat!
What's so special about this Healthy persimmon smoothie?!
Besides its super legit health benefit, this smoothie is:
Ingredients for this Healthy Persimmon smoothie recipe
How to ripen a persimmon?
Yo ripen a persimmon, you will want to place the persimmons in a brown paper bag with an apple or a banana and loosely fold the bag closed. The ethylene gas apples and bananas produce speeds up the ripening process and will leave you with something sweet and delicious!
Equipment to make this delicious fall persimmon smoothie
More amazing healthy smoothie recipes you will love!
How to make a persimmon smoothie
First you will want to rinse and slice your persimmons
Then add in the almond milk, frozen banana, persimmons, and the pumpkin pie spice to a blender and blend until smooth!
Garnish the inside of the glass with a very thin slice of persimmon and poor in your smoothie.
Enjoy it right away because the smoothie will thicken if left out for too long.
This makes for THE perfect instagram-my food photo, Try it out and tag me @chahinez_tbt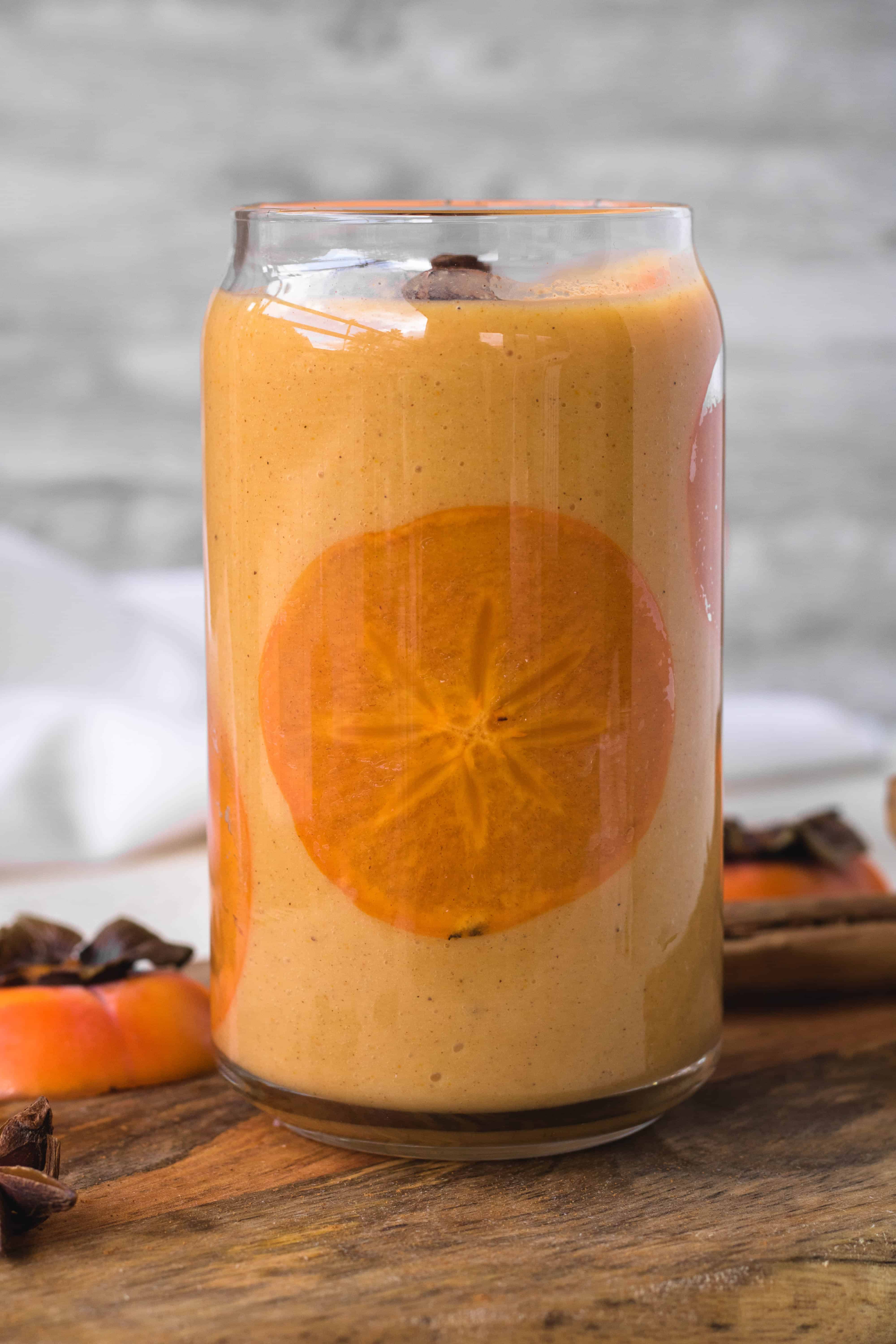 IF YOU MADE SOMETHING FROM LIFESTYLEOFAFOODIE, I WOULD LOVE TO SEE ALL YOUR CREATIONS AND KNOW HOW EVERYTHING TURNED OUT! SO DON'T FORGET TO LEAVE A COMMENT BELOW AND FOLLOW ALONG WITH ME ON INSTAGRAM, PINTEREST, AND FACEBOOK.


Healthy Persimmons Smoothie recipe
Persimmons smoothie recipe
This delicious fall spiced persimmons smoothie is the perfect addition to you
Ingredients
1

cup

almond milk

2

medium sized fuyu persimmons

ripe

½

banana

frozen

½

teaspoon

pumpkin pie spice
Instructions
Carefully wash the persimmons and slice off the stem. Cut the persimmons into smaller pieces and add them to your blender. Add in the almond milk, half of the frozen banana, and the pumpkin pie spice and blend until smooth. The time will depend on what type of blender your have.

An optional thing to do would be to garnish the inside of your glass with a very thin persimmon slice. This will make for the perfect IG photo!
Shop this recipe
This article may contain some affiliate links, meaning, at no additional cost to you, I will earn a commission if you click through and make a purchase.

If you liked this persimmons smoothie recipe make sure to pin it for later!