This Vegan High protein chocolate smoothie is so rich and delicious. It is the perfect most refreshing drink this summer! If you live an active lifestyle and need fuel, or you're just trying to be healthier this recipe is for you!
SIGN UP TO OUR MAILING LIST GET A FREE WEEKLY MEAL PLANNER AND RECIPE CARD!
I am obsessed with smoothies when the weather starts getting hotter… And let me tell you it is extremely hot in Las Vegas around this time of the year, It' stays between 80 degrees at night and over 100 degrees in the day time. So I try and find every possible way to keep ourselves cool without using the air conditioning so much.
Did you guys know that air conditioning systems use refrigerant to absorb the heat from your room? This substance produces greenhouse gases which are terrible for the environment. So personally I try to reduce my use of it whenever I can. I try to open up the windows and door early in the morning since that's when the air is the coolest and turn it off when we leave the house.
But with this heat, this can be close to impossible! So my trick to staying cool is this ice-cold Vegan High Protein Chocolate Smoothie!
The secret ingredient in this Vegan High Protein Chocolate Smoothie is silken tofu! Crazy huh… But you heard me right. Tofu might sound a little scary to some but it is an awesome and versatile ingredient to use in this Vegan Smoothie!
Many times people ask me what can use tofu with? or how they should make it? My answer always is to put it in a smoothie especially when it is their first time using it. This way of enjoying silken tofu will help somewhat help them get used to the flavor and reap all the benefits of consuming it!
I personally love tofu with my stir-fries too, full of soy and sesame oil flavors. I will post a special recipe for you guys soon where I share my awesome tofu stir fry. I'm sure you guys will love it.

Let's talk reusable straws!
If you guys are anything like me, you love having smoothies with a straw. I am not sure but for some reason, smoothies taste a whole lot better when enjoyed with a straw.
The issue here is that plastic straws are extremely harmful to the environment. Plus if you are on a budget, continuously purchasing straws for your drinks will add up so why not invest in metal straws that will save you money as well as save the turtles and all marine life!
Besides, I am all about using environmentally friendly products and I hope I can make an impact through my articles to help you make the switch today! Affordable and good for the planet, how can you say no to that!

What is Silken Tofu?
Silken tofu is a type of tofu that has a nice silky texture, close to fine custard. Silken tofu similarly to the regular tofu has different ranges of firmness, from soft to firm to extra-firm. Soft and firm are usually ideal for blending into sauces, dips, and drinks!
Silken tofu can also be used as an egg substitute in baking!
In this recipe, I used light firm silken tofu. Per serving, it has 35 calories, 1 gram fat, 1 gram total carb, 5 grams of protein. Instead of using the usual protein powder, I went with this high protein silken tofu to avoid that chalky texture in the final texture of the smoothie. The silken tofu also gives it a nice smooth feel when blended well!
Ingredients for this healthy cherry smoothie recipe
How do I make this Vegan High Protein Chocolate Smoothie?
The answer here is very simple. Start by pitting your cherries and freezing them, you can also purchase frozen pitted cherries if they are not in season. measure your tofu and freeze it.
When everything is frozen, place all the smoothie ingredients in your blender or NutriBullet and blend until smooth. You can stop and scrape the sides and blend again if needed.
Pour into glasses, and enjoy!
Vegan High protein chocolate smoothie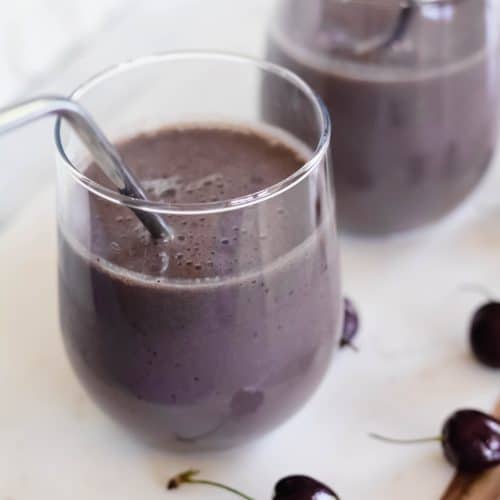 High protein chocolate smoothie
Ingredients
1

cup

soy milk

2

handful

spinach

½

cup

silken tofu

1

cup

frozen cherries

2

tablespoon

cacao powder

2

tablespoon

maple syrup

1

cup

ice
Instructions
Put everything in a blender and blend until you get a smooth consistency.

Serve in two large cups and enjoy.
Notes
You could also use honey if you don't mind this high protein chocolate smoothie not being vegan!
If you want to make a pretty drink you can top it with whipped cream or greek yogurt and a light chocolate drizzle!
For a vegan option top it with dairy free yogurt or coconut cream! 
I hope you guys love this High protein Chocolate Smoothie recipe as much as I do! If you're feeling a little adventurous or are just craving dessert really bad, top it with some whipped cream and a drizzle of chocolate syrup! Yumm…
Products that I love
This article may contain some affiliate links, meaning, at no additional cost to you, I will earn a commission if you click through and make a purchase
Some recipes that might interest you:
As always, make sure to follow me on Instagram at @Chahinez_tbt and Pinterest. And if you try this recipe out let me know how you like it :)! Have an awesome day.
Pin this recipe for later if you enjoyed reading it!