Hello Friends!!
This week, I wanted to get back to one of my favorite kinds of recipes to post! Drinks…
Drinks are honestly so fun to make, photograph and consume. So I thought why not try out some delicious flavored milk recipe.
Growing up somewhere else than America, I didn't have those memories of enjoying yummy sweet strawberry milk on the way to school or practice like this. But I do have memories of strawberry "milkshakes" or at least that's what we call them over there. To me, that's the closest thing to strawberry milk!
The strawberry milkshakes that I am talking about are a bit different from the one that we have here, our strawberry milkshakes consisted of milk and strawberries! yes… that's it. We would blend this in a blender and enjoy that plain and simple goodness,
Funny story; when I moved here, I strongly believed that everyone was wrong about what a milkshake was. I thought to myself milkshakes are not supposed to have ice cream in them!!! Milkshakes are only supposed to contain milk and fruit and be shaken "or so-to-say"
Well fast forward to now, I think American milkshakes are amazing and all but I still prefer my clean option of fruits and milk blended together…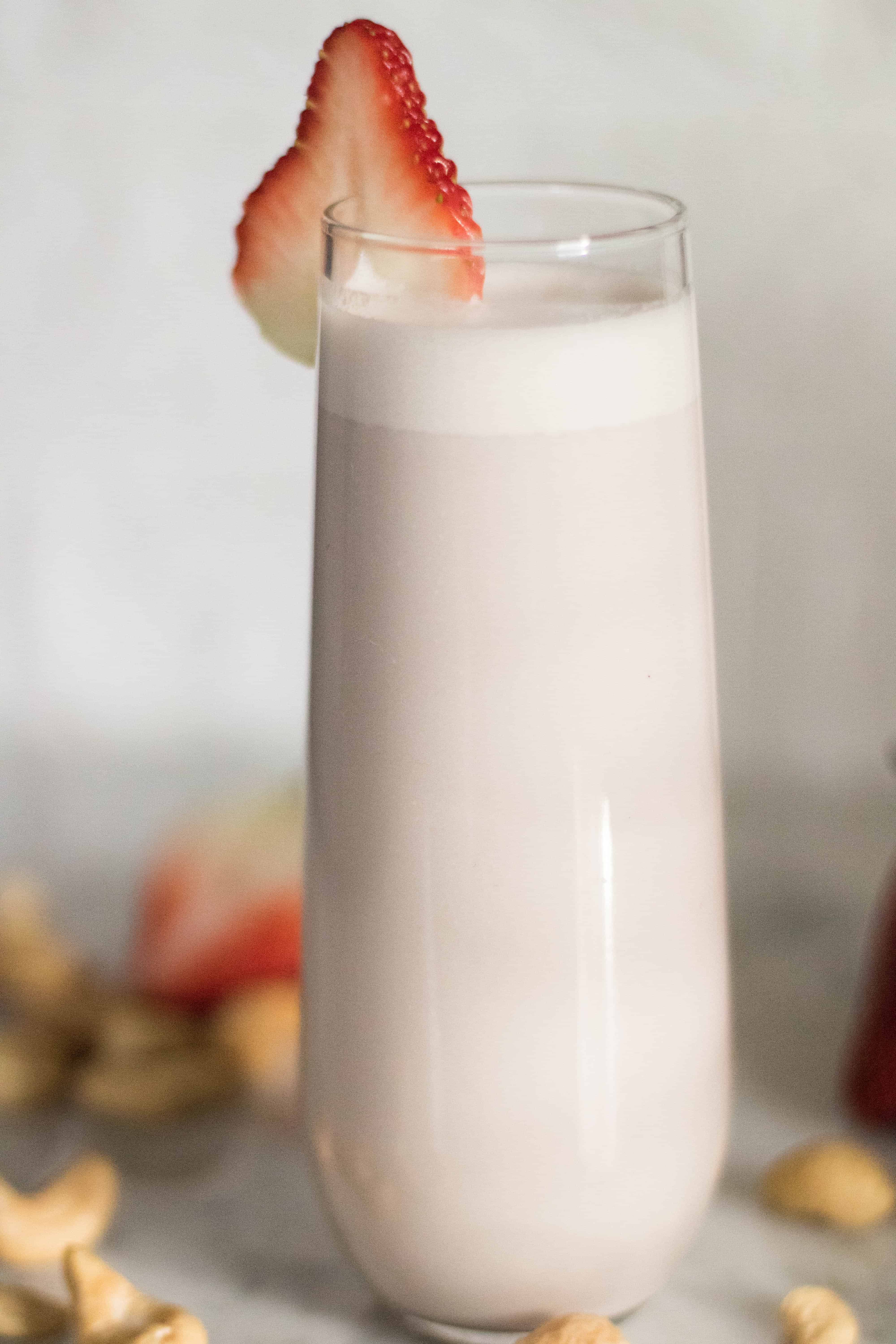 Anyway, back to what I was originally saying! I decided to do a dairy-free strawberry milk that could be enjoyed by everyone!
This recipe is especially suitable for those who have a dairy intolerance. This 20-minute strawberry dairy milk is also free from any added white sugar, which automatically makes it healthier :)!
For this, I used cashews, which are a great source of fiber. They contain two very necessary dietary fibers ( oleic acid and palmitic acid) these fibers are not produced by one's own body, so they absolutely have to be consumed externally!
For more info and health benefits on cashews click here!
If you are more interested in sugar-free recipes check out some of my other recipes on the blog!
20 Minute Kid Friendly Strawberry Cashew Milk
20 Minutes Kid Friendly Cashew Strawberry Milk
This Delicious strawberry nut milk is one of the best vegan options for those who are lactose intolerant but miss that delicious strawberry milk from their youth. This is also a recipe that is extremely kid friendly!
Ingredients
1

cup

raw cashews

3

dates

1

cup

of sliced strawberries

2.5 to 3

cups

of water

1

teaspoon

acai powder for color

optional
Instructions
First start by soaking the cashews in boiling hot water for 15 minutes.

As the cashews are soaking, remove the pits form the dates and slice the strawberries.

Place the soaked cashews, the strawberries, the dates, the acai powder, and the 2.5 cups of water in your Nutribullet or high-speed blender, and blend until everything is smooth. (the time for this will depend on how powerful your blender is)

Strain your nut milk using a nut milk bag, and enjoy!
Notes
This kid friendly cashew milk can be stored in the fridge for 3-4 days.
You could adjust the sweetness by adding more or less dates!
Nutrition
Serving:
0
g
Carbohydrates:
0
g
Protein:
0
g
Fat:
0
g
Saturated Fat:
0
g
Polyunsaturated Fat:
0
g
Monounsaturated Fat:
0
g
Trans Fat:
0
g
Cholesterol:
0
mg
Sodium:
0
mg
Potassium:
0
mg
Fiber:
0
g
Sugar:
0
g
Vitamin A:
0
IU
Vitamin C:
0
mg
Calcium:
0
mg
Iron:
0
mg
Products I love
If you end up trying this recipe don't forget to tag me on Instagram Chahinez_tbt and let me know how you liked it :)!
Have a great day and make sure to pin this awesome recipe for later!