Hello World!! Hope you all are doing great!!
As a sneak peek, I can tell you that it will be some sort of oatmeal, with some sort of berry fruit… But continue reading to learn more about what we are making on this post!
Today I found a quote that resonated with me so much!!
"The way you eat is a reflection of the respect you have for yourself"
For the longest time eating "clean" or eating "healthy" for me was mainly a punishment. but slowly as the years progressed I started learning that if I want my body to function to its maximum ability, well… I had to eat cleaner and treat my body the way it deserved to be treated.
If you bought a brand new car, you would take care of it and feed it the best gas that's needed for it, clean it, take it to the mechanic for regular check-ups. Well, you see, sometimes we end up taking care of material things better than we take care of our own bodies and that is extremely sad!
If you think about it, We are born in this body and it carries us throughout years and years of life. It does so much for us so we should treat it like the gift that it is.
The second I realized all of this, my mindset shifted and so did my body… both internally and externally. I felt more energized and a lot more clear minded. So all and all, this quote is to make us think twice about what we put in our bodies. Which leads me to today's recipe!!
Healthy Strawberry and Cream Oatmeal Recipe for Two!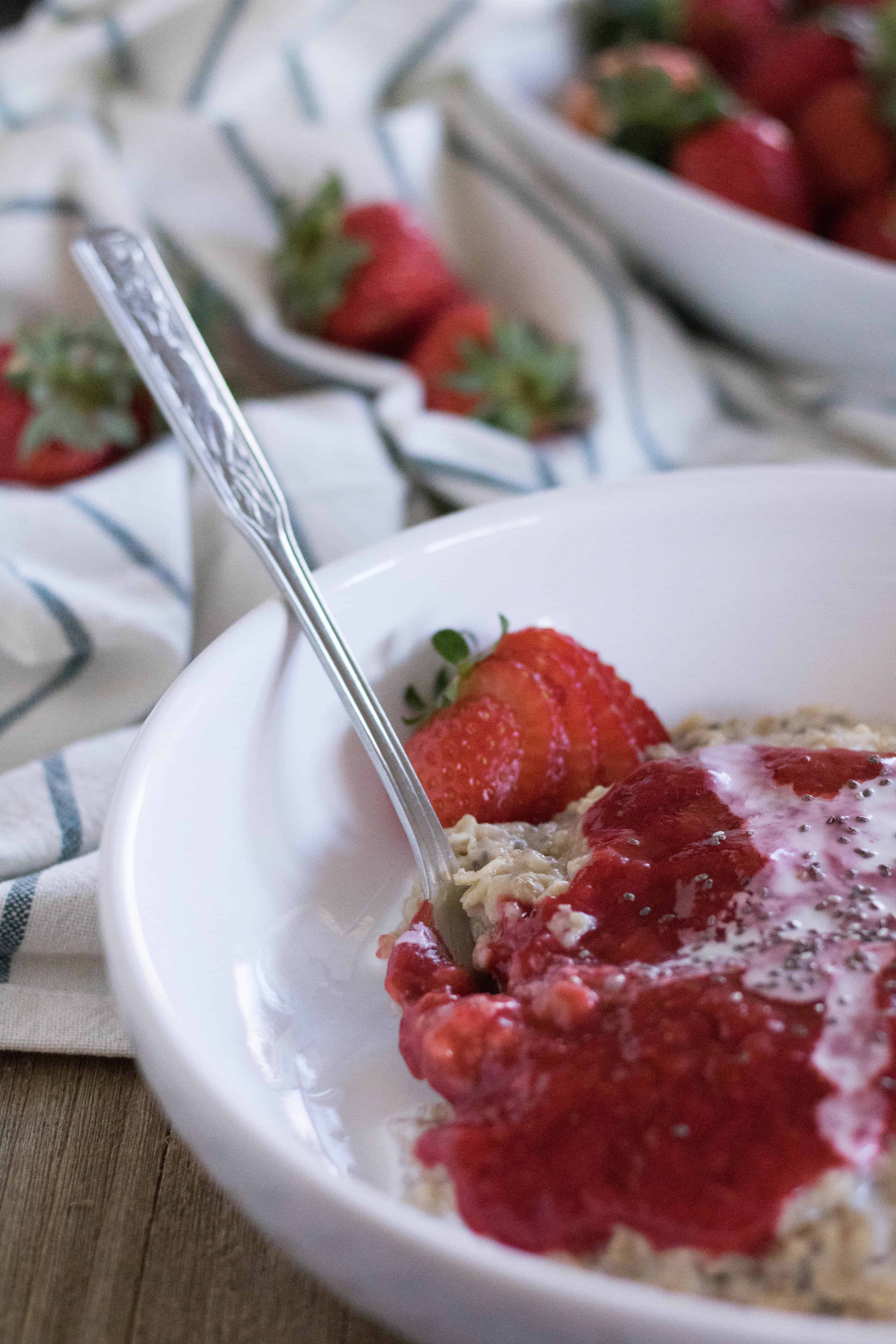 Since I am a spring baby I am obsessed with all spring foods (mainly all the fruits if we are being honest…)
I have such a big sweet tooth and I am able to satisfy it by eating fruits! Of course, there are days where I wake up and I have the biggest cravings for a donut or a slice of cake…
So to remedy that today, I woke up and thought long and hard at a way to shut this craving down. Of course, my initial thought was to have some fruits and head to the gym. But since I knew I was gonna have a long and tedious workout, I figured I needed something that would sustain me a little more.
I got up and started thinking about an oatmeal and fruit recipe until it hit me! I had previously made a strawberry and cream overnight oatmeal. Why not make a hot strawberry and cream oatmeal recipe that I could enjoy right away!
If you are curious for the overnight strawberry and cream oatmeal recipe click here!
So I did 🙂 and like many of you know I always cook for my little sister so I decided to make this strawberry and cream oatmeal recipe for two to feed both of us! She absolutely loved it when she woke up and found that breakfast waiting for her.
So without further waiting; check out the recipe down below and make sure to try it out for yourself 🙂
Healthy Strawberry and Cream Oatmeal Recipe for Two
Healthy Strawberries and Cream Oatmeal Recipe for Two
Spring is on its way, which means strawberry season! And what better way to enjoy those delicious fruits than to have them in a nutritious strawberry and cream oatmeal breakfast bowl! This recipe is better than your quacker prepackaged, processed strawberry and cream oatmeals both flavor and health wise!
Ingredients
1 ½

cup

boiling water

⅛

teaspoon

salt

1

tablespoon

coconut sugar

1

cup

old fashioned oats

¾

cup

milk

1

tablespoon

chia seeds

2

cups

of roughly chopped strawberries

1

teaspoon

stevia

1

teaspoon

lemon juice

2

teaspoon

creamer or heavy cream to top

optional
Instructions
First, start by placing your strawberries in a saucepan with the stevia and the lemon juice. Cook that on medium heat for 10 minutes, stirring occasionally.

After cooking the strawberries for 10 minutes, get your hand blender and blend until you don't see any more chunks of strawberries. Cook for another 5 minutes stirring occasionally. Put it aside.

In a separate pot put the sugar, salt, and water and bring to a boil.

Add the oats and whisk well to get everything incorporated. Leave the pot over medium heat for 4 minutes, stirring occasionally.

Add the milk and the chia seeds and whisk again to mix it in. cook for another 3 minutes.

Now for the plating, split the oats in two bowls, top with the strawberry couli/ jam, then add a little drizzle of cream!
Notes
I like to top mine with some chia seeds too!
Nutrition
Serving:
0
g
Carbohydrates:
0
g
Protein:
0
g
Fat:
0
g
Saturated Fat:
0
g
Polyunsaturated Fat:
0
g
Monounsaturated Fat:
0
g
Trans Fat:
0
g
Cholesterol:
0
mg
Sodium:
0
mg
Potassium:
0
mg
Fiber:
0
g
Sugar:
0
g
Vitamin A:
0
IU
Vitamin C:
0
mg
Calcium:
0
mg
Iron:
0
mg
If you end up trying this recipe don't forget to tag me on Instagram Chahinez_tbt and let me know how you like it :)! Have a great day and make sure to pin this awesome recipe for later!