A classic strawberry banana yogurt smoothie recipe. Made with wholesome ingredients to create a perfectly creamy, sweet, healthy and nutritious drink. This can be made with dairy or dairy-free ingredients to enjoy the hot summer days.
SIGN UP TO OUR MAILING LIST GET A FREE WEEKLY MEAL PLANNER AND RECIPE CARD!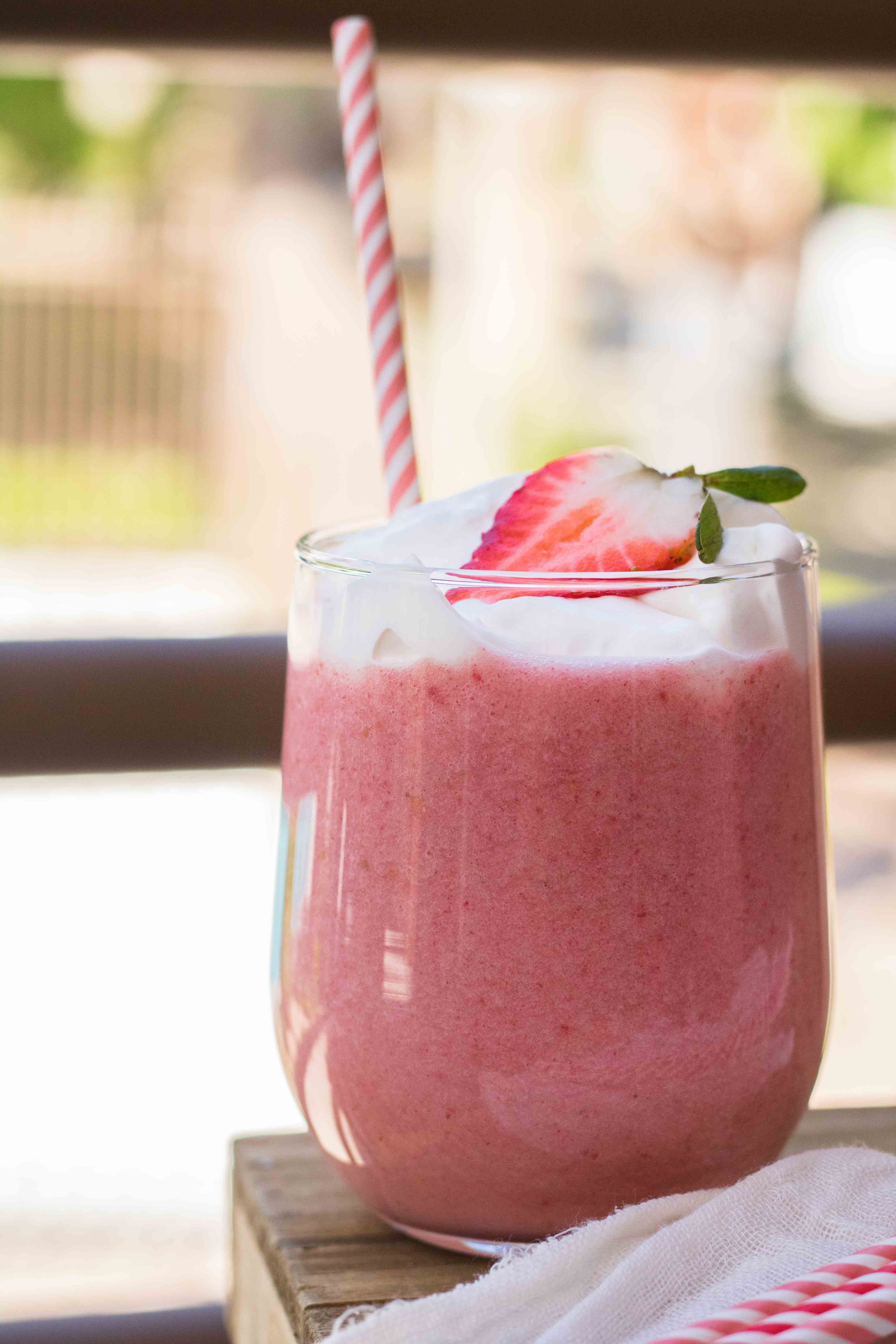 Hello everyone!
One of my favorite things to enjoy when it starts getting a little hotter, would be a smoothie. They are easy to make, filling and allow me to get in all the nutrients that my body needs during the hot summer days.
I don't know about you guys, but I often have a harder time drinking smoothies in the winter because they usually make me cold. I have found a solution to that issue this year, but it doesn't mean I am completely satisfied with having room temp smoothies for months on end now…
So you can imagine how happy I am that the days are getting longer and warmer and strawberries are back in season!
Are smoothies good for weight loss?
throughout my life, I have tried to lose weight at multiple occasions and smoothies have helped me through my dieting journey.
strawberry banana smoothies are delicious and sweet. They can often help satisfy a sweet tooth, late at night or during the afternoon. Try making this sweet strawberry banana smoothie to satisfy your senses without the high calories.
Greek yogurt smoothies are pretty high in protein compared to other smoothies that do not use greek yogurt. A high protein content usually help keep you full and satisfied for longer period of times so you will be able to go on about your life without feeling hungry or needing more food or snacks.
So next time you are looking for a healthy weight loss smoothie, try making this banana strawberry smoothie with yogurt to keep yourself full until the next meal, while still enjoying nature's sweetest fruits!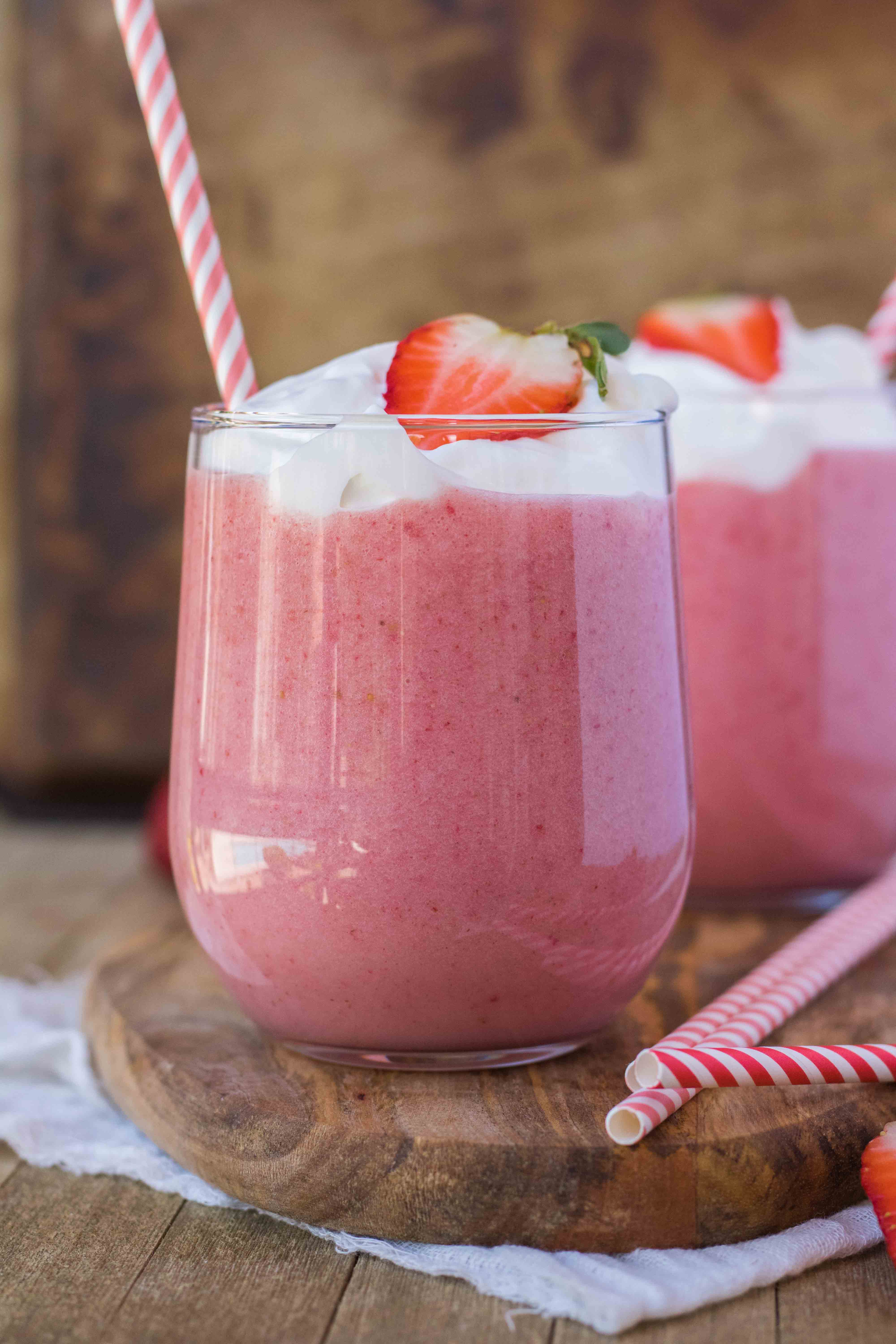 The best strawberry banana smoothie recipe
I feel like I always hype up my smoothie recipe way too much! But believe me they are absolutely delicious 🙂
All you need to do is pop all the ingredients in a blender and puff, 30 seconds later you got yourself a
Delicious healthy drink
Creamy smoothie
High in protein and nutrient drink
And can we talk about the fact that it is bright pink! Seriously who doesn't love bright pink foods.
Sure this specific smoothie recipe is quite simple but it can be your secret weapon, the smoothie recipe that you know by heart because of how simple and good it is!
Check out more healthy smoothie recipes
Ingredients for strawberry banana smoothie
For this recipe you will need these ingredients:
Frozen strawberries – I love buying strawberries when they are in season and freezing them myself, but if you don't have any or they are not in season, use any frozen berry you have on hand.
Frozen bananas– Bananas are one of my favorite fruit to add to smoothies, it adds sweetness and creaminess.
Milk or water– You can use any milk you'd like if you decide to go with the milk option. The smoothie will be more rich if you use milk instead of water.
Greek yogurt – Greek yogurt adds creaminess and whole lot of protein to this healthy smoothie recipe.
Sugar free whipped cream- This is an optional ingredients, but if you want to make a show stopped smoothie, definitely go for it. Top your smoothie with whipped cream and a strawberry slice for a super pretty look.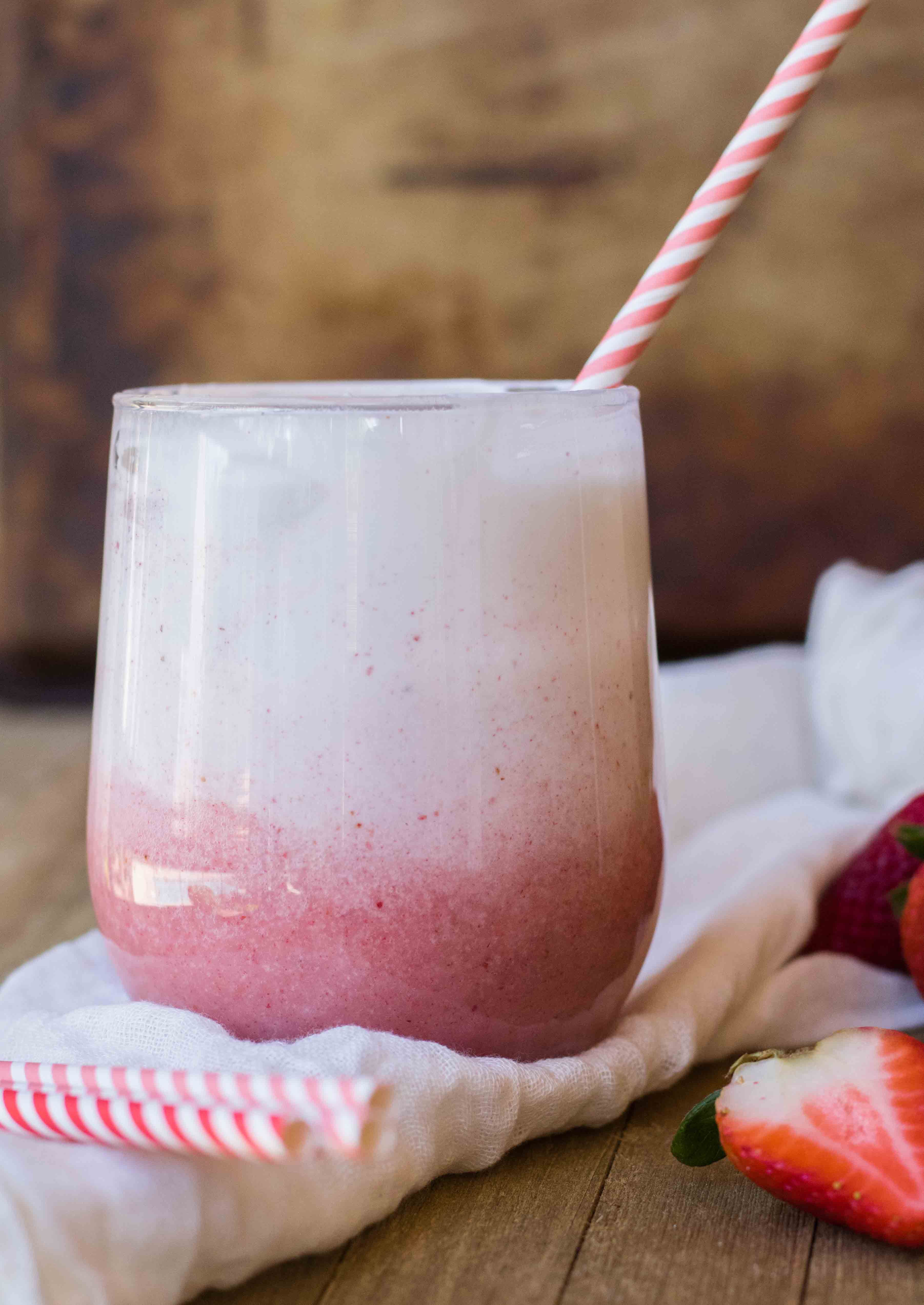 Strawberry banana smoothie recipe variations:
The beaity of smoothies is that they are very flexible. You can use whatever you have at home and still enjoy a delicious smoothie. Some of my favorite variations for this recipe include:
Adding vanilla –Adding vanilla adds a beautiful note to this smoothie! Make sure to add vanilla powder instead of vanilla extract. Extract usually have alcohol and if you are not planning on baking it, you will taste it quite a lot.
Adding seeds– I love adding chia seeds, hemps seeds or even flax seeds to my smoothies. It is an incredibly easy way to supercharge your smoothies with healthy nutrients.
Adding some greens – It seems like adding greens to smoothies has become a super trendy thing lately. I actually have been doing it for years now. It is a super easy way to get in a good serving of veggies without feeling it. This technique is also awesome for picky eater, add in some spinach or kale, put the smoothie in a non see though cup and give it to your little ones. They will never know that they just consumed all that spinach!
Tools needed for this smoothie
To make this smoothie you will need:
A quality blender– I usually use my Nutribullet but the Vitamix is an incredible option too!
Metal straws or paper straws – We live in a time where there is so much waste, so if you can do your part and get these reusable straws please do so! You will save the planet as well as save so much money in the long run.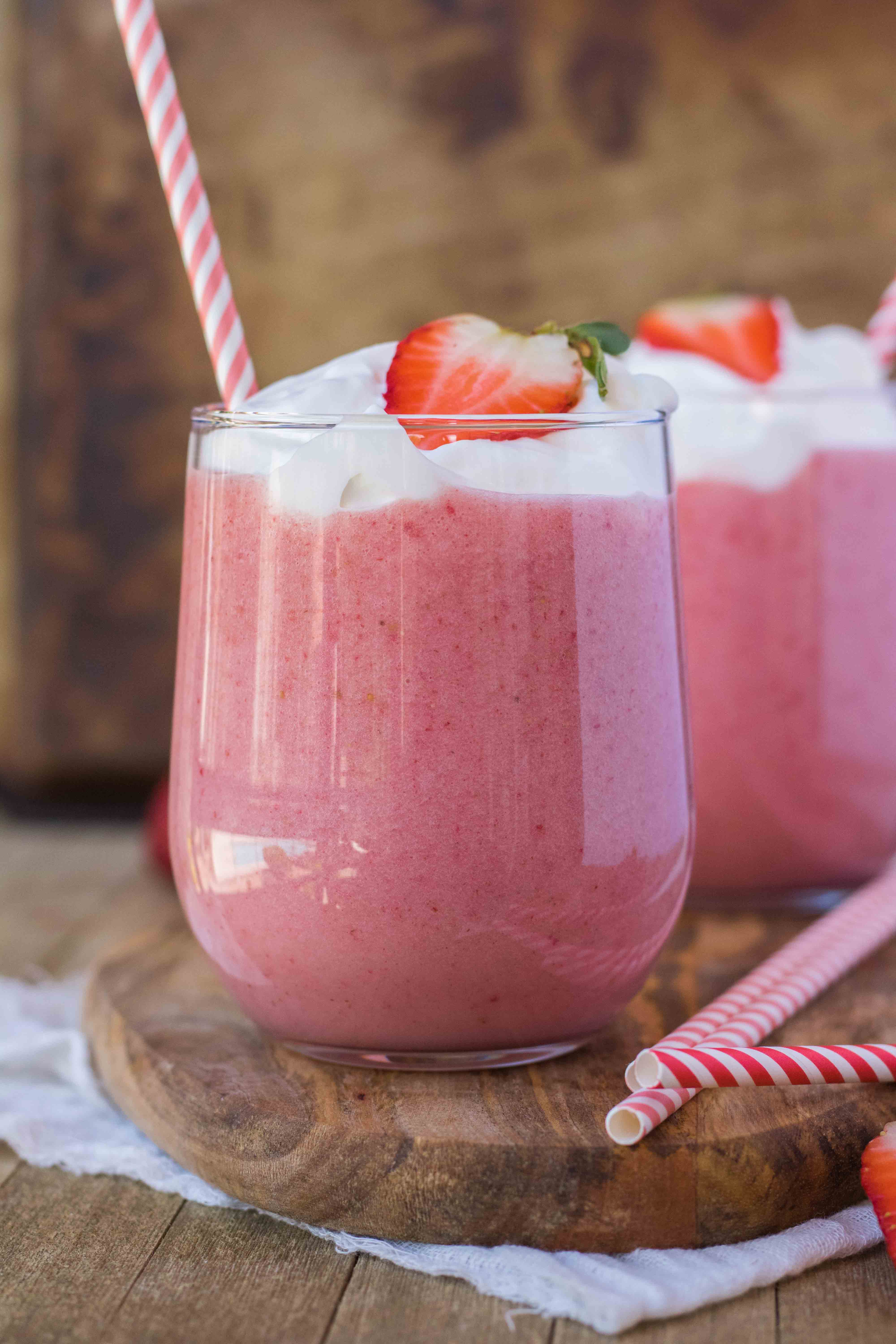 How to make strawberry banana yogurt smoothie
Smoothies are one of my favorite recipes to create and favorite recipes to make too! They are very easy and versatile. All you need to do is add the strawberries, bananas, water or milk, and yogurt to your blender and blend until thick and creamy. If it's too thick for your likings add a little more liquid and if it's too thin add more frozen fruits.
Is strawberry banana smoothie yogurt healthy ?
Yes! Strawberry banana smoothies with yogurt are pretty healthy usually. The addition of greek yogurt to this drink helps build a healthy microbiome to make your gut a whole lot healthier. Yogurt also contains protein, calcium, potassium, magnesium, vitamin B6 and B12. So this healthy dessert smoothie is not only delicious but it is full of healthy nutrients for you!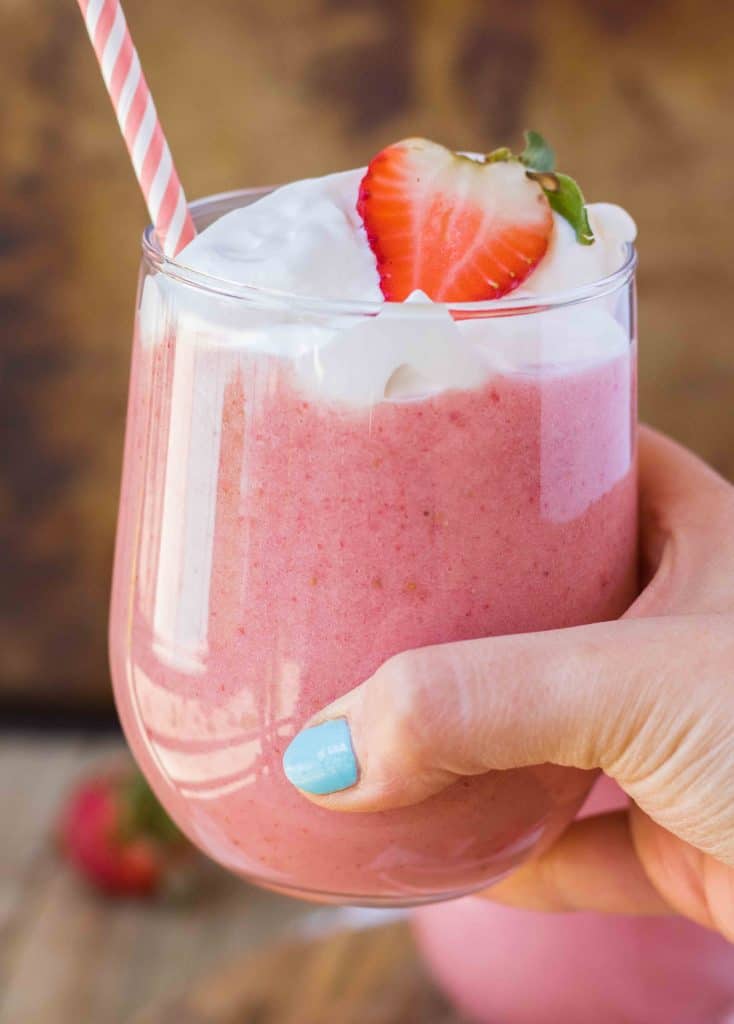 IF YOU MADE SOMETHING FROM LIFESTYLEOFAFOODIE, I WOULD LOVE TO SEE ALL YOUR CREATIONS AND KNOW HOW EVERYTHING TURNED OUT! SO DON'T FORGET TO LEAVE A COMMENT BELOW AND FOLLOW ALONG WITH ME ON INSTAGRAM, PINTEREST, AND FACEBOOK.

strawberry banana yogurt smoothie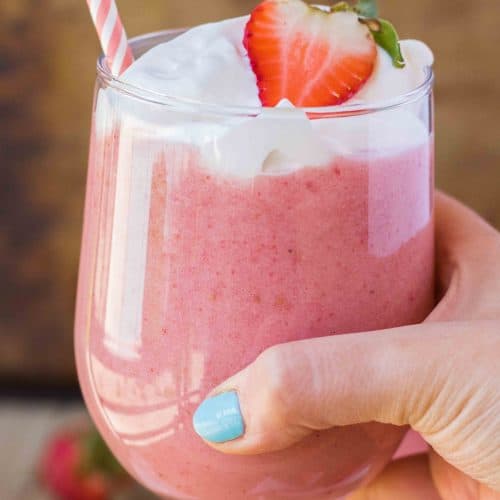 strawberry banana yogurt smoothie
This strawberry banana yogurt smoothie is made from four simple ingredients – strawberries, banana, yogurt and milk or water. It is packed with protein and is sweetened with natural ingredients which makes it the perfect smoothie for weight loss too!
Ingredients
2

cups

strawberry

2

frozen bananas

peeled and sliced

¼

cup

greek yogurt

1

cup

water or milk

sugar free whipped cream

optional
Instructions
Place all of the ingredients into a blender and blend until smooth. If the mixture is a bit too thick for your liking, add in extra milk or water. If it is a little too thin for you liking add in extra frozen fruit.

Serve immediately and enjoy!
Notes
I topped my smoothies with sugar free whipped cream and a strawberry slice to make a super pretty drink. 
Tips to make the beast strawberry banana greek yogurt smoothie
Don't add sugar- I have seen many smoothie recipes that call for extra sugar / sweetener. It kinda baffles me though… Why would you need sugar if you are using fresh fruits as the base of this healthy strawberry smoothie. If you follow the exact steps to this recipe your smoothie should be perfectly sweetened without any added sugar.
Don't use ice – I am purposefully using frozen fruits to avoid using ice. I always feel like ice waters down my smoothies and that's not something I like. Using frozen fruits allows your smoothie to be thick and creamy with strong fruit flavors.
Make it dairy free- If you are lactose intolerant or are simply vegan, you can make this smoothie fit your needs by using oat milk, soy milk, cashew milk or even almond milk as well as a dairy free yogurt to maintain the creaminess of this strawberry banana smoothie.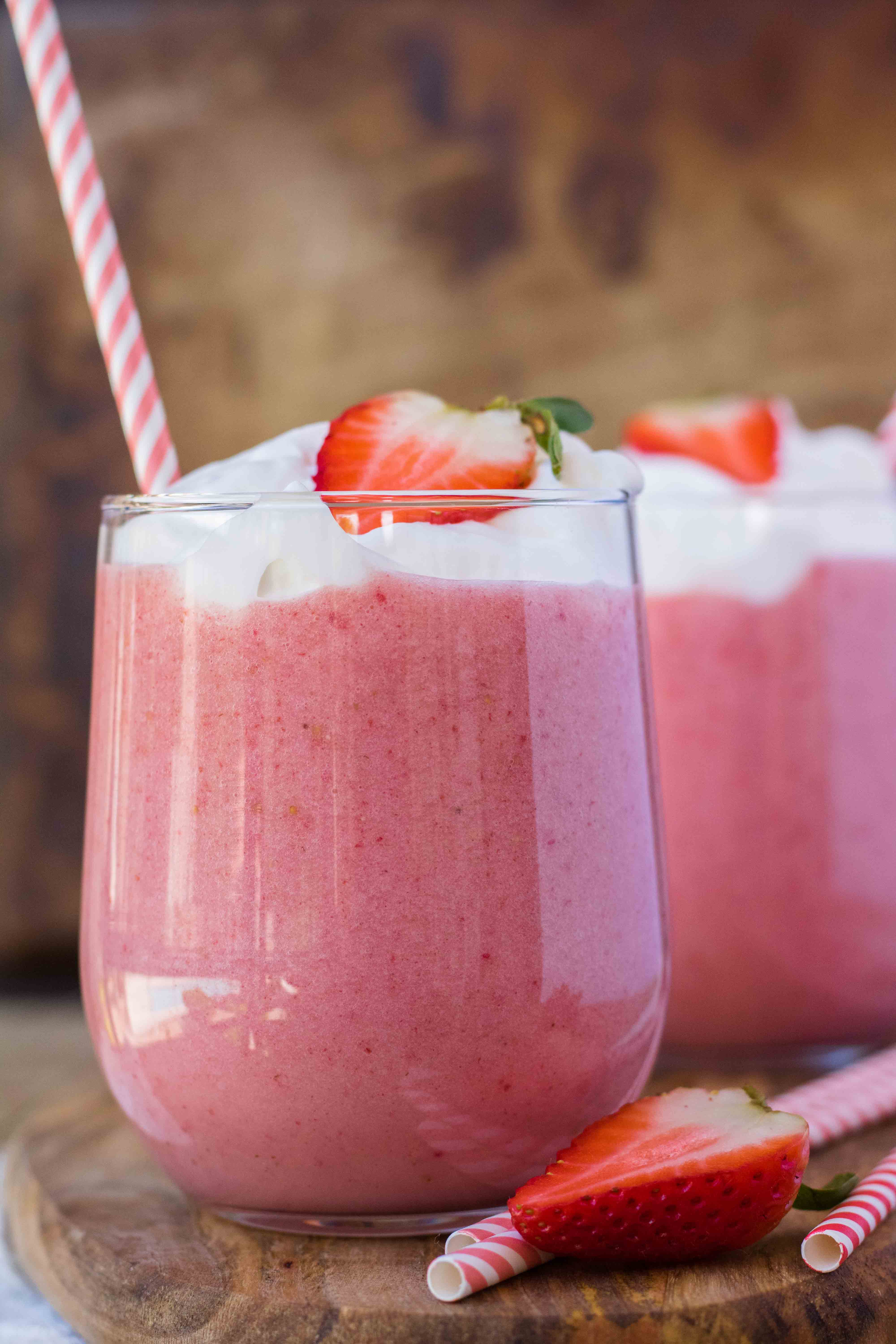 Shop this recipe
This post may contain affiliate posts, meaning that at no cost to you I will get a small percentage of every purchase you make!
If you enjoyed this strawberry banana yogurt smoothie make sure to pin it for later