This 2-ingredient no bake coconut balls recipe is a life saver! It comes together extremely fast and tastes so luxurious. You wouldn't believe it was made using just two ingredients.
Updated from December 20th, 2019
SIGN UP TO OUR MAILING LIST GET A FREE WEEKLY MEAL PLANNER AND RECIPE CARD!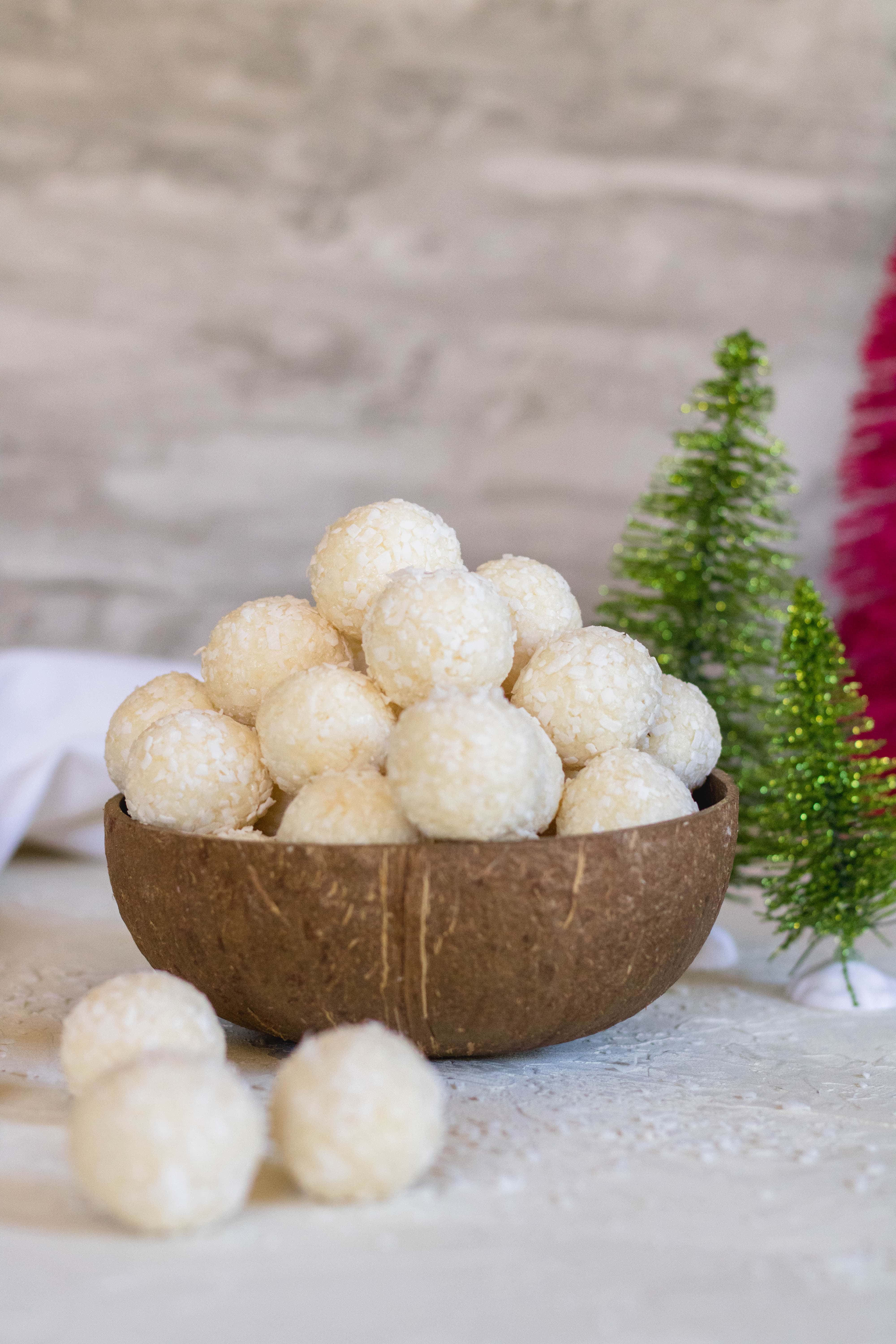 Hello friends!!
I am so so excited to share this no bake 2 ingredient coconut ball recipe with you guys. I am also super excited to tell you about a challenge I made for myself a couple of months ago!
So, a couple of months ago I was not posting as frequently as I would've wanted so I decided to make it a goal to reach 100 posts before the new year and this is it!
This is my hundredth post… Yaay!!
So since this is a special post, I wanted to share a special recipe. Ever since I was a child, we would use sweetened condensed milk for so many recipes and around this time of the year we would make these delicious snow ball looking treats because well… CHRISTMAS!! Who else is as excited as I am 🙂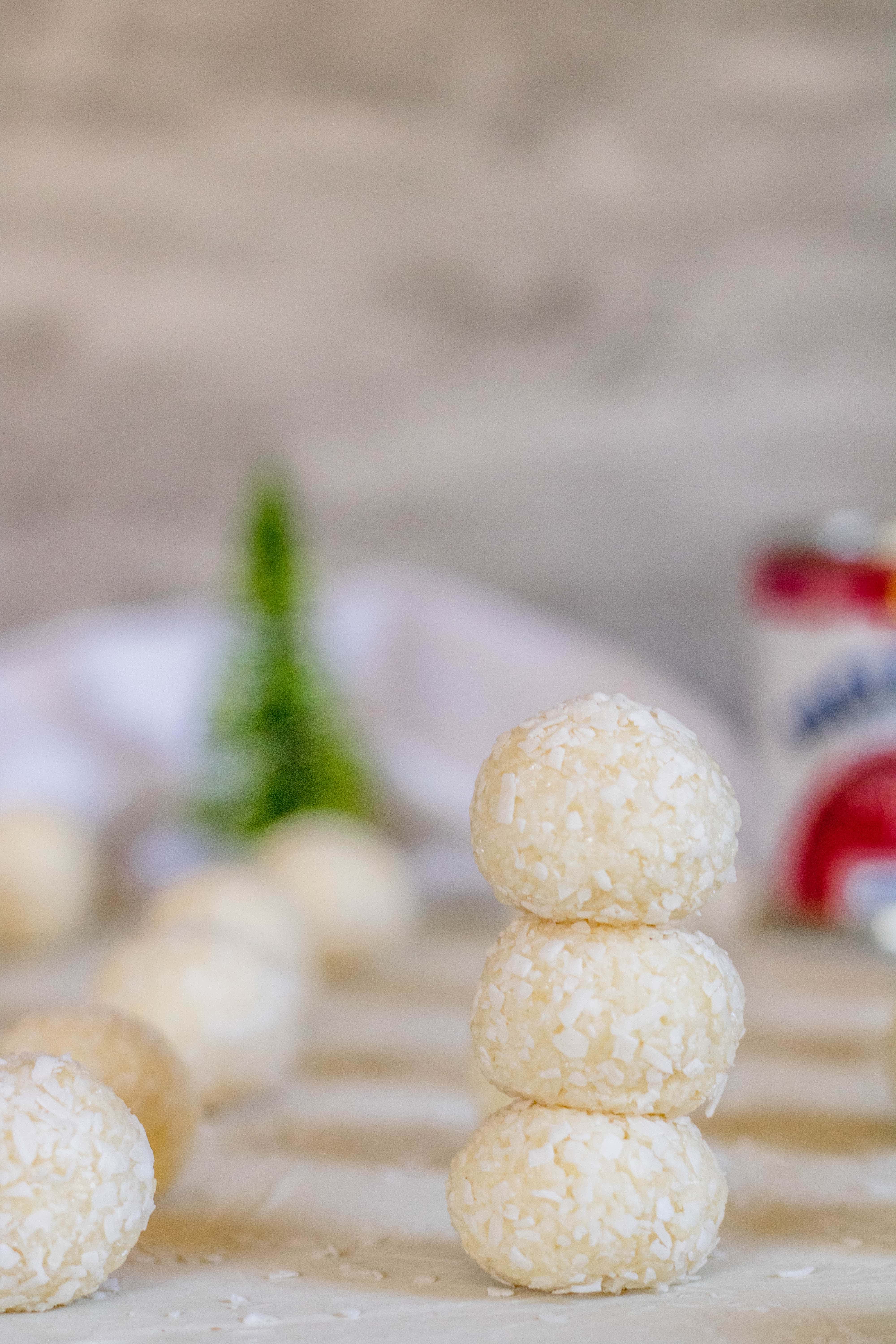 What is so special about these coconut truffles or balls?
Well, first off they're made with only 2 ingredients! I can literally never say no to a 2 ingredient recipe. With that little amount of ingredients you know that this is going to be an easy coconut ball recipe!
Another thing is that these coconut balls are very similar to Raffaello coconut balls with the exception that they do not have the toasted hazelnut in the middle. If you are feeling adventurous feel free to add it in there though! It comes out amazing with a crunchy nut in the middle.
Last, these condensed milk coconut balls will come together in less than an hour and everyone, I tell you, everyone will absolutely love them. They are the perfect little snack for the holiday! Or anytime for that matter…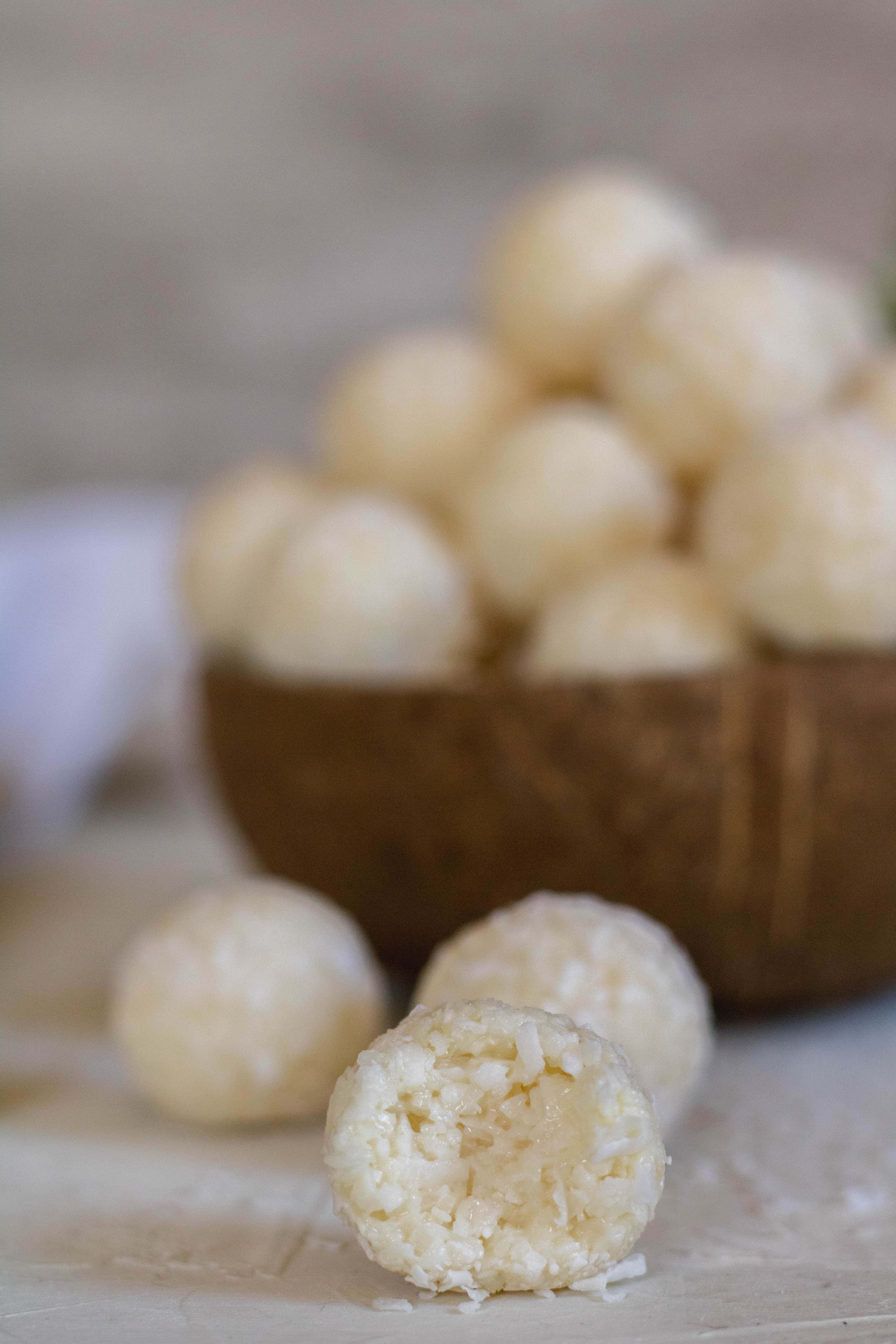 Ingredients for this no bake coconut ball recipe
YES! This is all you are going to need, condensed milk and unsweetened desiccated coconuts to make the best no bake coconut dessert
Can I use sweetened shredded coconut?
You can, but I highly suggest that you don't go with the sweetened option. The sweetened condensed milk is so sweet already that you don't want to over do it with the sweet stuff. Try your hardest to get unsweetened shredded coconuts for this recipe 🙂
Can I make these no bake coconut balls vegan?
Absolutely! Just make sure that you are using a vegan option instead of the sweetened condensed milk. I recommend this Nature's Charm Sweetened Coconut Condensed Milk.
How to make these coconut balls?
To make these 2 ingredients coconut balls you will need to first add the sweetened condensed milk to the unsweetened desiccated coconuts in a large bowl.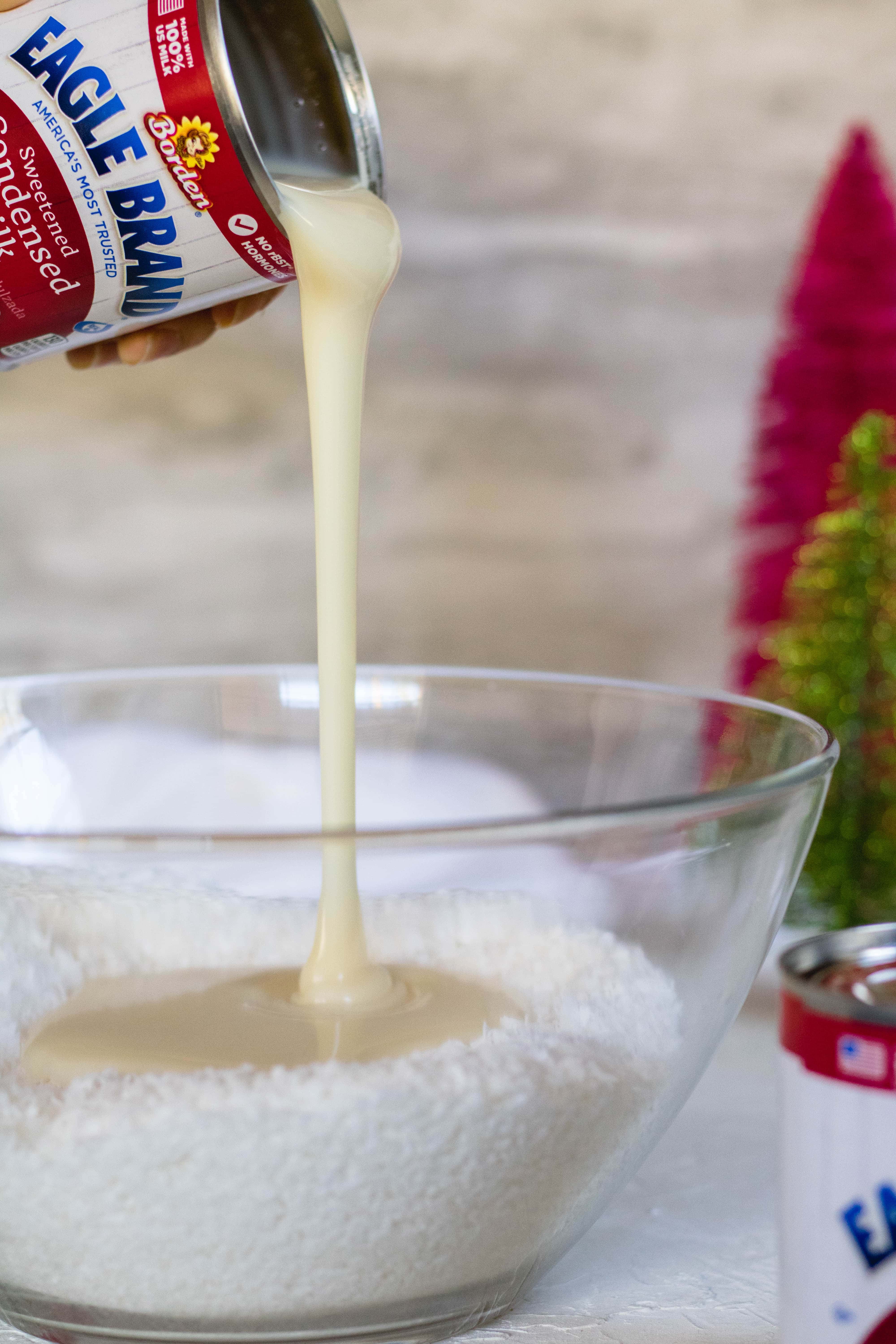 Mix the sweetened condensed milk with the coconut until everything is well coated.
Measure 1 tablespoon's worth of the coconut mixture and roll into balls.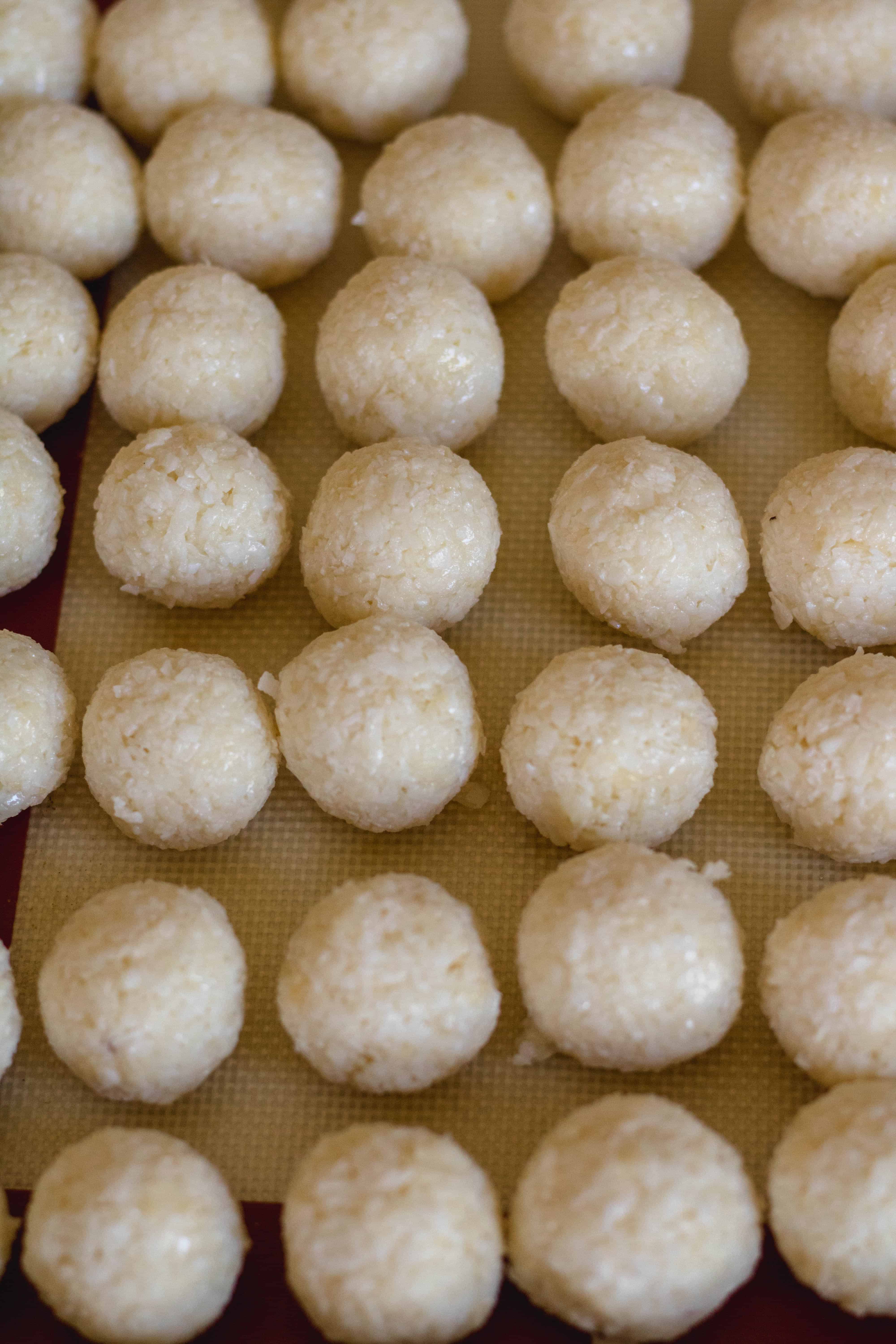 Coat the no bake coconut balls with the extra desiccated coconuts right away so it sticks.
Chill the no bake coconut balls and enjoy your delicious creation!
How to store these easy coconut balls with condensed milk?
These 2 ingredient coconut balls will keep in the fridge for up to a week when sealed in an airtight container. They will keep for up to 3 months in the fridge when sealed in an airtight container!
IF YOU MADE SOMETHING FROM LIFESTYLEOFAFOODIE, I WOULD LOVE TO SEE ALL YOUR CREATIONS AND KNOW HOW EVERYTHING TURNED OUT! SO DON'T FORGET TO LEAVE A COMMENT BELOW AND FOLLOW ALONG WITH ME ON INSTAGRAM, PINTEREST, AND FACEBOOK.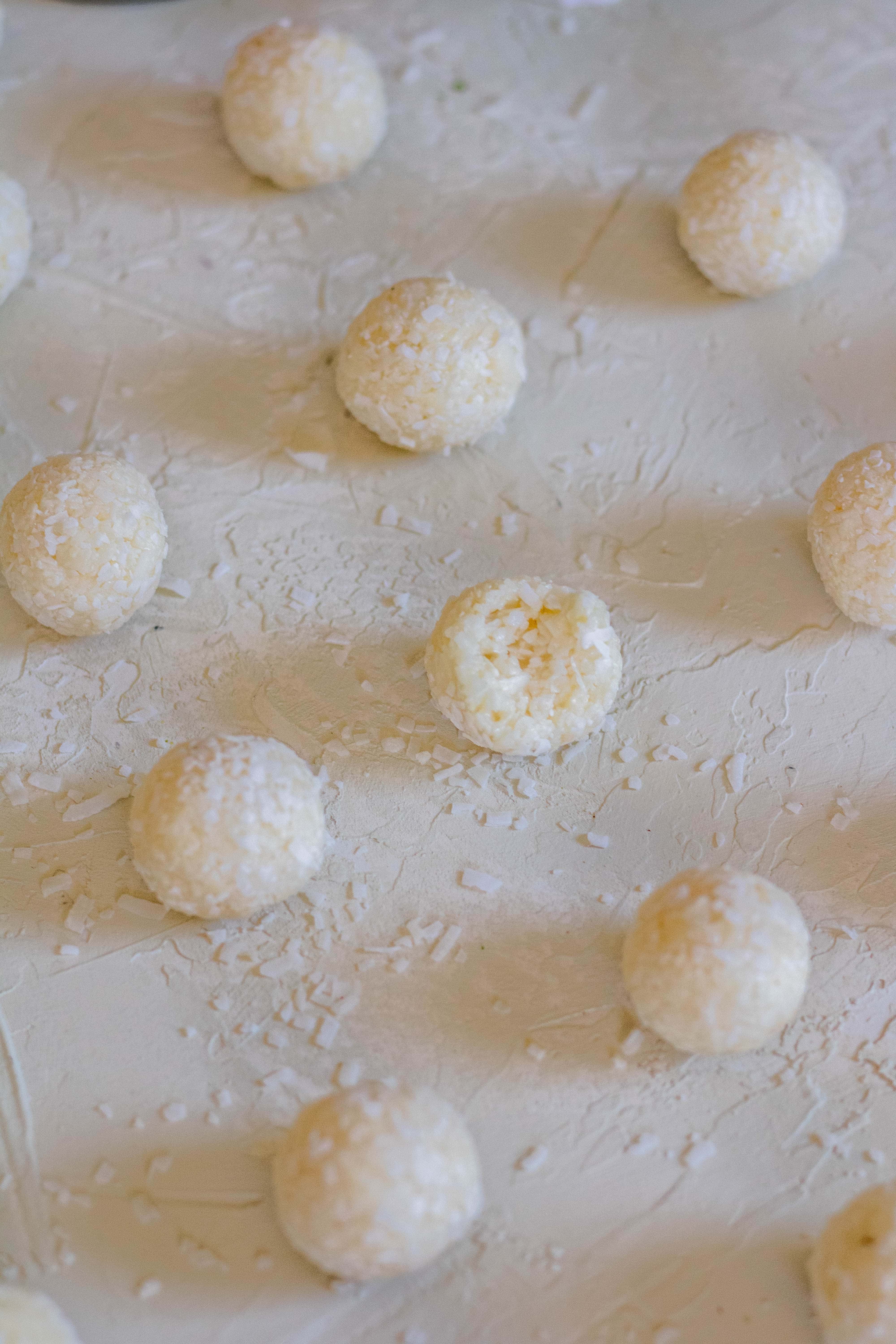 2-ingredient no bake coconut balls recipe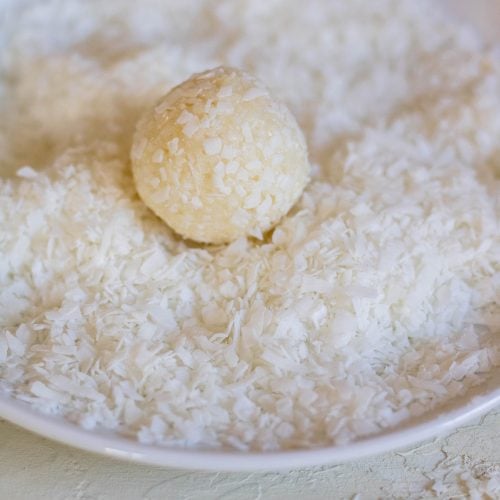 2-Ingredient coconut truffle balls
This is the simplest coconut truffle balls recipe. With only two ingredients, it comes together easily and will impress anyone that tries it.
Instructions
Place the desiccated coconut in a medium bowl and pour the sweetened condensed milk over the coconuts. Using a spatula, mix everything together until all the coconut is coated in sweetened condensed milk.

Roll a tablespoon worth of the coconut mixture into balls then roll each ball in the remaining shredded coconut and chill in the fridge before serving!
Tips for making the perfect 2-ingredient no bake coconut balls
This recipe is extremely simple, the only tips that you will need to make sure that you succeed in making these would be:
If at all possible, use gloves when rolling these no bake 2 ingredient coconut balls. You could also spray a little cooking spray on the gloves to make sure they that nothing sticks at all! Re-aply when they start sticking again.
Make sure to coat the coconut balls with the shredded coconut right after rolling them! They will become less and less sticky the more you wait so coat them right away to make sure they really look like cute little snow balls.
Other recipes you will love!
Shop this recipe
This article may contain some affiliate links, meaning, at no additional cost to you, I will earn a commission if you click through and make a purchase.


If you enjoyed this 2-ingredient no bake coconut balls make sure to pin it for later!