Adaptogen Reishi Chocolate Superfood bliss balls for those days where you need something chocolatey to deal with the stress but don't want to go the unhealthy route.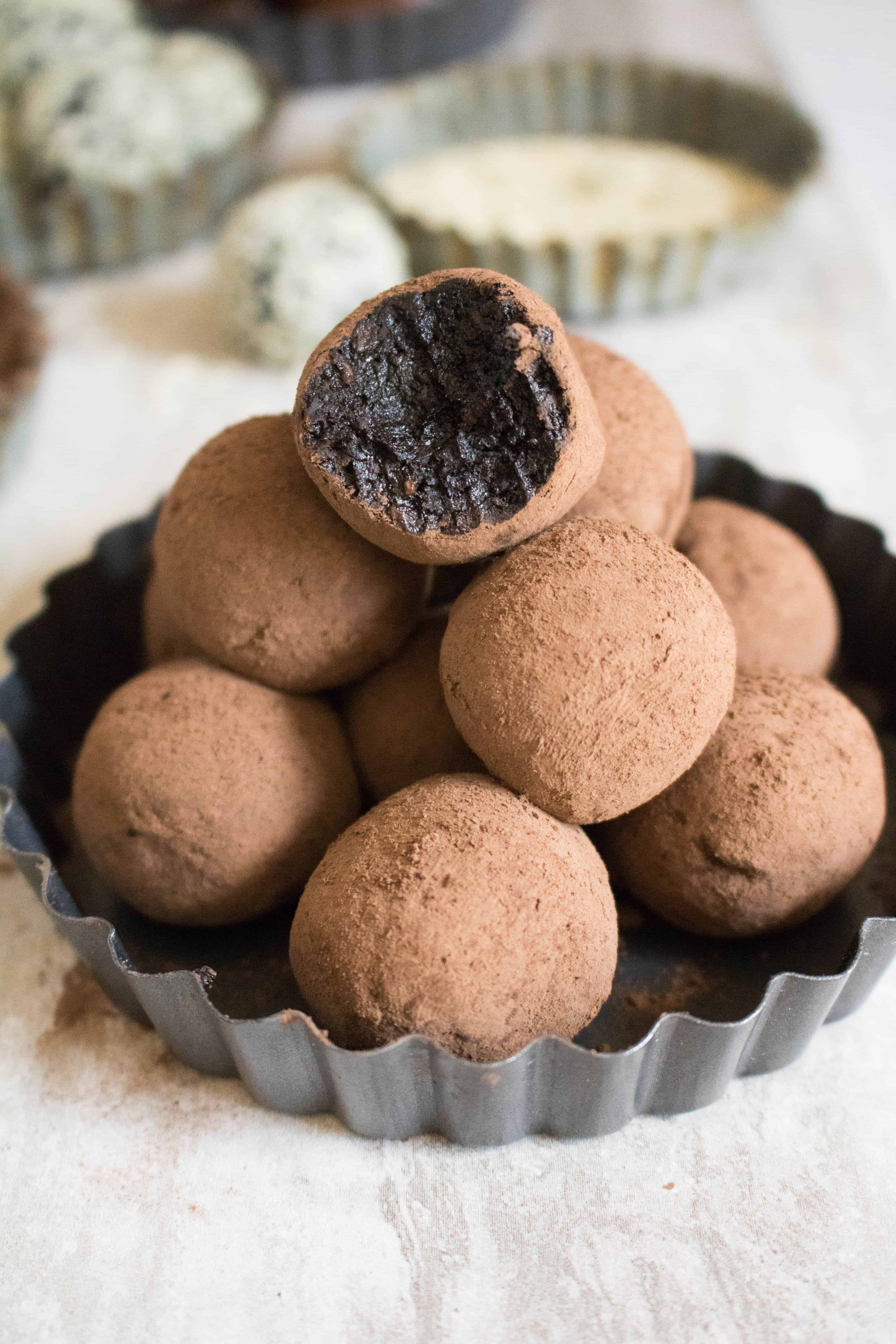 SIGN UP TO OUR MAILING LIST GET A FREE WEEKLY MEAL PLANNER AND RECIPE CARD!
Hello lovely friends! Today I am bringing you the best bliss balls recipe that your body will love and thank you for! It is made using Reishi mushrooms and other natural unprocessed ingredients so they are super beneficial for your health!
I think recently Reishi mushrooms have become a little more popular because of the four sigmatic company which is a company that specializes in superfoods and functional mushrooms. ( I am not sponsored by this company but wanted to let you know that it is out there!)
They have a whole bunch of different products but the ones that I heard the best reviews on are:
But anyway, this is the company that made me do some more research on mushrooms… Specifically the reishi mushrooms.
Since I hadn't heard of this type of mushroom before hearing about this company I wasn't sure how it worked or what it was for. but after doing my research I realized how amazing of a natural food it was!
One day I went on Amazon and bought the Bulk supplements Bulk supplements Reishi Mushroom Extract Powder because I wanted something I could experiment with and the Bulksupplements company is one of the best out there as far as pure powders…
They honestly have anything you could imagine ( I have purchased D-Mannose through them, Acai Berry Extract Powder, Spirulina powder ….) And they also will send you a free sample product whenever you purchase with them.
The first time I bought my D-Mannose Powder, I received an email from them a couple of days after my purchase asking me to give them my name and address and which sample I was most interested in. I got the acai powder because I was infatuated with all acai bowls at the time but regardless of that I received my product super fast and was able to start using it right away!!
Keep in mind that when I say free sample, it isn't like other companies.
Bulksupplements will send you "the smallest size product they have" which most of the time is at least 100grams… Trust me when I tell you guys this is not small at all!
After all this supplement company talk I am sure you are wondering about what Reishi mushrooms are… Well, the reishi mushroom is a fungus that grows in hot and humid locations in Asia. This fungus has been one of the staples of Eastern medicine for many years.
This mushroom has a kidney-shaped cap that gives it a distinct look. it often has a bitter taste, but like we all know… most bitter foods tend to be the healthiest!
This mushroom has many benefits, some being:
Reishi mushroom aids in regulating the body's sleep cycles. By regularly consuming this mushroom (or mushroom extracts), it will help you chill out while still being a non-sedative.
Reishi mushrooms can boost your immune system through its effect on white blood cells. The many polysaccharides, antioxidant properties, and beta-glucans can help with this. From the research that has been done so far, the results have primarily been seen in those who are ill, some evidence still shows that those who are healthy might benefit from this as well.
Reishi has shown that it helps fight fatigue and depression. Some preliminary studies have shown that this mushroom could decrease depression and anxiety as well as improve the quality of life for certain people who are dealing with some medical conditions.
Reishi is also used as an adaptogen in herbal medicine. This means it is a non-toxic plant that is used to help the body resist stressors of all kinds, whether physical, chemical or biological. These adaptogens work by strengthening the adrenal system and moderating stress responses. It works by reducing the effects of stressors on our bodies.
After all this health talk, I wanna talk a tiny bit about these little adaptogen chocolate reishi bliss balls! At the beginning of my experiment, I was going for a chocolate reishi truffle… Which I will definitely be bringing to you guys at some point.
But then I realized I had a ton of nuts in my pantry, and wanted to try making a raw, vegan*, healthy superfood recipe. So I tried doing a couple of things, but the recipe that I liked the most was one where I used
Walnuts
Cashews
Deglet Noor date
Raw cacao powder
*This recipe is not vegan, but can be easily turned vegan by using maple syrup instead of the honey!
Since I was working with nuts I decided to soak some and leave some unsoaked and it worked out pretty well! Go down to the recipe to get a little more detail about what I soaked and what I didn't…
Little hint… I didn't soak just the nuts… other components of this recipe have been soaked as well!
These adaptogen bliss balls are super filling since they contain a lot of nuts and dates so I will be using them to break my fast this upcoming Ramadan! but for those of you who do not participate in this, you can enjoy these bliss balls before or after your workout or even if you are doing intermittent fasting!
I don't know how you can pass up the chance to make something as delicious as these adaptogen healthy bliss balls using some of the most incredible superfoods out there!
So go ahead…
Make it now…
If not for yourself do it for all those around you, but let's be honest! After making this I ended up devouring most of them… So good luck to you and props if you were able to contain yourself while faced with these delicious chocolaty yummies!
What to cover bliss balls with?
raw cacao powder
hemp seeds
coconut sugar
shredded coconut
any chopped nuts
I used both cacao powder and hemp seeds to coat my Reishi adaptogen bliss balls! My boyfriend devoured the hempseed ones because he said that it gave them that extra crunch which he loved so much!
Adaptogen Reishi Chocolate Bliss Balls
If you enjoyed this adaptogen Reishi mushroom bliss ball recipe make sure to give it a 5 star rating by clicking on the stars below.
Adaptogen Reishi Chocolate Bliss Balls
Ingredients
Instructions
First start by separately soaking the dates and the cashews for ten minutes.

Next, in your food processor blend the cashews, walnuts, and the dates until combined

Now add in the tablespoon of water, the honey, the raw cacao, the reishi mushroom powder and blend again until you get a smooth texture. You may have to scrape the sides from time to time because the batter should be thick enough at this point

Place the mix in the fridge for 30 to 60 minutes to harden. Then using a tablespoon, scoop out the mix and roll into a ball.

Roll the balls in the cacao powder and serve! store in the fridge if you are not enjoying these right away.
Notes
If you'd like to freeze these, double bag them in a freezer-safe Ziploc bag and freeze for up to 3 months. To defrost them, place in the fridge for 6-8 hours and enjoy when ready!
Nutrition
Serving:
0
g
Carbohydrates:
0
g
Protein:
0
g
Fat:
0
g
Saturated Fat:
0
g
Polyunsaturated Fat:
0
g
Monounsaturated Fat:
0
g
Trans Fat:
0
g
Cholesterol:
0
mg
Sodium:
0
mg
Potassium:
0
mg
Fiber:
0
g
Sugar:
0
g
Vitamin A:
0
IU
Vitamin C:
0
mg
Calcium:
0
mg
Iron:
0
mg
some recipes that might interest you:
As always, make sure to follow me on Instagram at @Chahinez_tbt and Pinterest. And if you try this recipe out let me know how you like it :)! Have an awesome day and make sure to pin this for later