This creamy vegan mushroom and kale pasta is the perfect dinner option this week! It is dairy-free, vegan and uses cashews… You heard me right! Cashews are what make this pasta sauce so creamy and luscious! You wouldn't believe you are not having dairy and are having cashews instead!
If you love pasta, you will love these!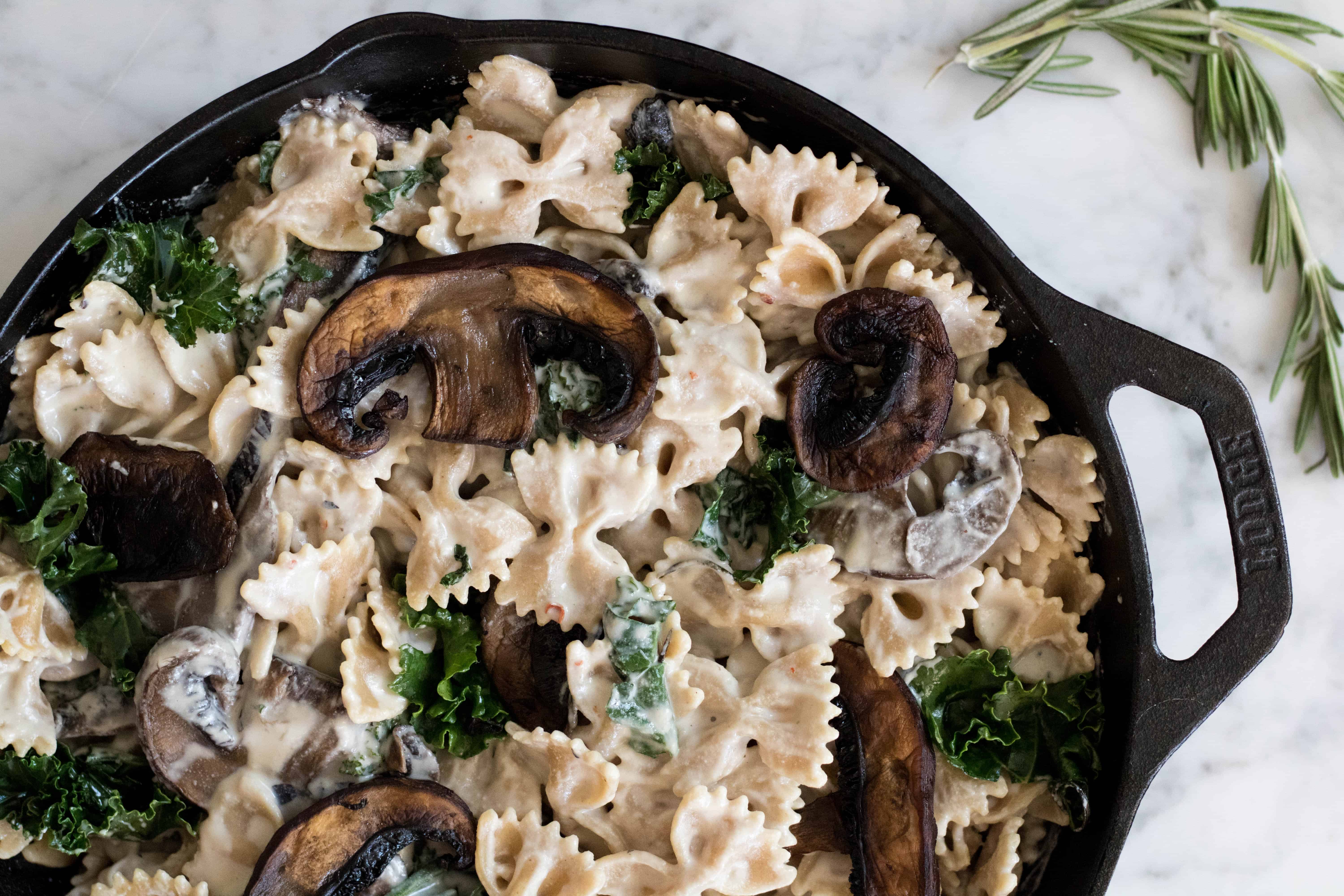 Happy Sunday everyone!! Two more weekends until halloween? Anyone else excited as I am? I actually am excited for the day after halloween candy sales… guilty…
In the past years I have been trying to contain my crazy candy shopping addiction after holidays and it somewhat has worked but I still can't so no to some good deals on some good chocolate.
So I usually try to get there early and be smart about what I get. Do you guys do this too or do you completely avoid going shopping right after the holidays because of how tempting it is?
I have been seeing people using cashews with pretty much anything! From cashew milk to cashew cheese cakes but the best and most versatile recipes that I saw were the ones using it to make cashew cream for savory dishes!
So today I am bringing you the whole meal! This Vegan creamy mushroom pasta with kale will be the perfect addition to your weekly dinner plan! I can't wait for you to try it 🙂
I also wanted to let you know that my main inspiration is this article, from pinch of yum! Her creamy vegan sauce is so versatile and could be used for pretty much anything!
What you will need to make this Vegan Creamy Mushroom Pasta dish:
Cashews– This will be the base of our creamy vegan sauce.
Garlic – You can never get too much garlic in your pasta sauces!
Vegetable broth – I used vegetable broth here for that extra added flavor, but you are more than welcome to use water here.
Nutritional yeast – Here the nutritional yeast acts as the cheesy part of the sauce.
Red pepper flakes – to add a little kick to the sauce these red pepper flakes do the trick! They are completely optional!
Rosemary sprigs – This will give us the especially delicious herby flavor of the recipe.
Pasta water – To make sure that our final pasta is nice and creamy, we add in more pasta water.
Chopped kale – Adds a pop of green within the dish.
Portobello mushrooms – The portobello mushrooms are great for that mushroom flavor as well as texture.
Olive oil – To sauté the veggies.
Farfalle pasta/bow pasta – You could use any pasta you like, I personally am obsessed with bow pasta so I went with that 🙂
This pasta is so creamy from using the cashews that no one will be able to tell that it is dairy-free!
Low carb Option for this Creamy Vegan Mushroom Pasta?
If you are on a keto diet or are simply trying to cut down on carbs, this dish would be amazing with zoodles… Or zucchini noodles. Not only will you get a huge serving of veggies but It would practically be zero carbs per serving and would fit any KETO diet!
Vegan creamy mushroom pasta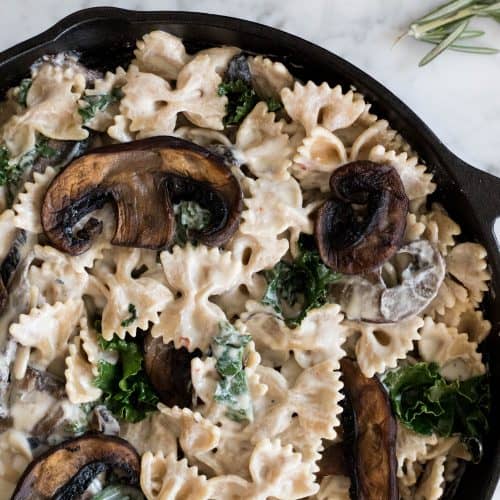 Creamy vegan mushroom and kale pasta
This Vegan Kale and Mushroom Pasta recipe is the perfect dinner option for those who are totally obsessed with pasta! It is so creamy and flavorful, and tastes even better the next day!
Equipment
food blender of processor

a large skillet
Ingredients
cashew cream
1.5

cup

cashews

soaked for 2-4 hours

4

cloves

garlic

2

cups

vegetable broth

2

tablespoon

nutritional yeast

1

teaspoon

red pepper flakes

2

rosemary sprigs

1

cup

pasta water

3

cups

chopped kale

4

large

portobello mushrooms

2

tablespoon

olive oil

1

lbs

uncooked farfalle pasta or bow pasta
Instructions
To soak the cashews
Place the cashews in a large bowl or cup and cover with water and let it soak for 2 hours to 4 hours. Drain and rinse throughly.

Place the soaked cashews in a blender, add the 2 cups of vegetable broth, salt and pepper to taste and the 4 cloves of garlic. Puree until very smooth and set aside.

Now bring a large pot of water to a boil, cook the pasta according to the directions on the box. Once the pasta is ready, save one cup of the pasta water and then drain the pasta. Do not run it under water!

While the pasta is cooking, add the oil to a large skillet and stir in the mushrooms, making sure to stir constantly. 5 minutes in add the kale and cook for another 5 minutes, or until tender. Add in the cashew cream, the rosemary sprigs, the red pepper flakes, and the salt and pepper to taste. Continue stirring until the sauce reaches a soft simmer. Turn off the heat, and add in the pasta.

Gently fold the pasta in the sauce, if it is too thick slowly add in the pasta water while continuing to fold.

Serve warm with extra red chili flakes on top and a nice spray of truffle oil or a light sprinkle of nutritional yeast.
Notes
This pasta can be stored in an airtight container in the fridge for up to a 6 days.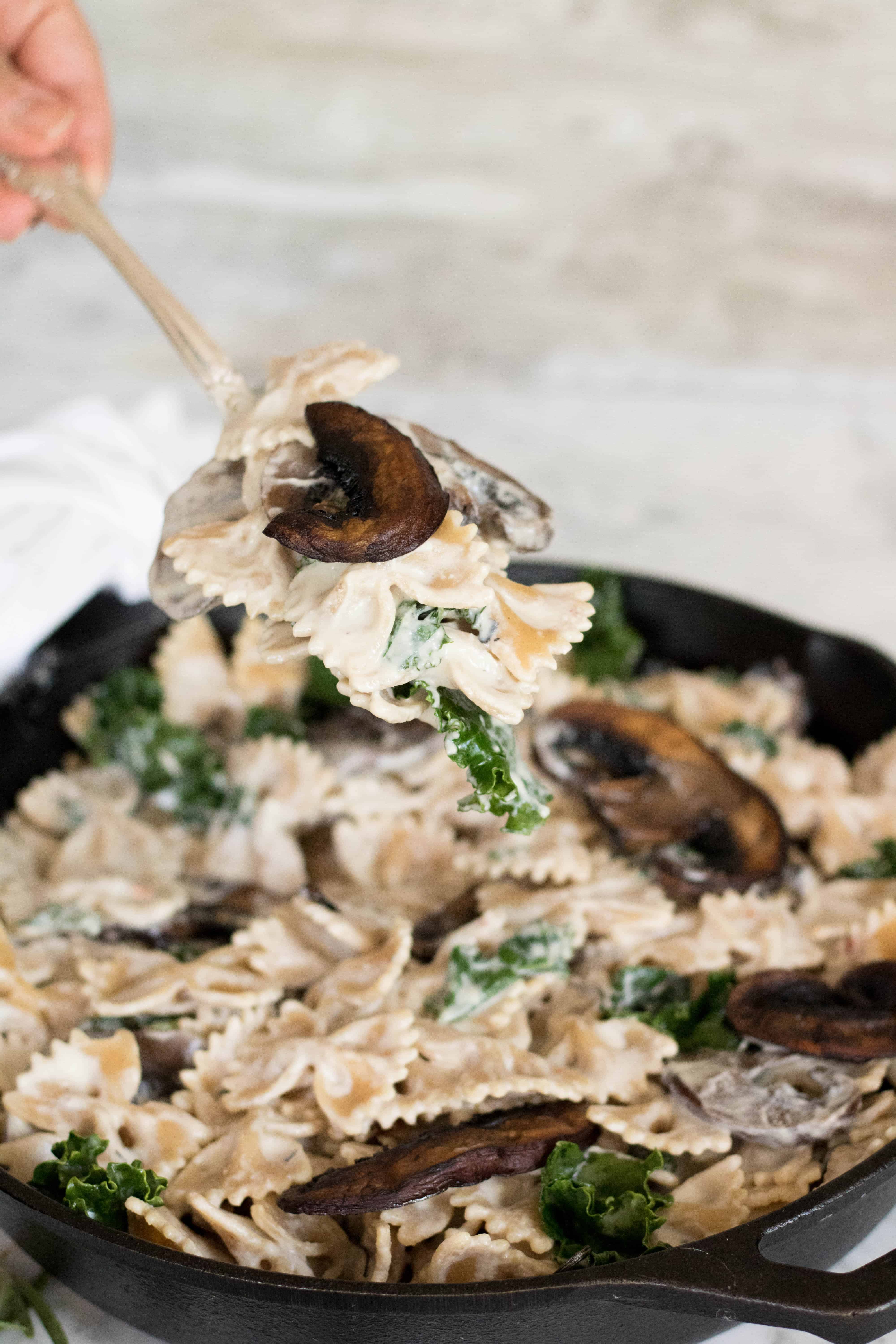 Can I store this?
This recipe is a fairly large recipe, I often enjoy making large meals and storing them in the fridge to save me from having to cook again the next day or two. We enjoyed this delicious meal the first day and then store it in the fridge. It kept in the fridge in an airtight container for 6 days.
The coolest part here is that when it is stored in the fridge, It usually has more time to absorb all the flavors. So it ended up tasting even better out of the fridge (warmed up in the microwave of course!)
Other recipes you should check out!
Product that I love
This article may contain some affiliate links, meaning, at no additional cost to you, I will earn a commission if you click through and make a purchase

Pin this Vegan creamy Mushroom Pasta recipe for later!