This pesto avocado pasta sauce is creamy and indulgent while still being healthy for you. It is easy to make at home for a convenient weekday dinner. This dairy free avocado sauce is packed with flavor and is suitable for multiple special diets!
Love pasta as much as I do? Check these out:
Hello friends!
One of my new year's resolution or goals was to eat more veggies as well as share more savory recipes on lifestyle of a foodie!
So here I am knocking both of these goals down together! Well I guess not really but since this pasta is healthy and totally green I like to think that it is packed with veggies.
Even though avocados are considered a fruit, they work wonders in this creamy avocado pasta!
If we are being completely honest, I am obsessed with avocados… Back when I lived in Algeria, avocados were a luxury that we did not have too often. But now that I am here I have it almost everyday! I have it in smoothies, on toast, in pasta, and even in healthy desserts!
So you can definitely see how obsessed I am with avocados!
What makes this creamy avocado pasta sauce so special?
I love answering this question for all my recipes, and it is no different for this one!
This easy avocado sauce for pasta comes together in literally less than 10 minutes. Where are my fellow "I don't feel like cooking dinner tonight" friends?! This one is for you. It only requires you to throw all the ingredients in a blender or a food processor and blend for a couple of minutes and tadaa!
By the time your pasta is cooked this sauce will be ready waiting to be drizzled on top of the mounds of carbs!
So besides, this sauce being so so quick to make it is also very healthy and vegan! So for all those with special diets that they need to follow, you can easily incorporate this basil avocado sauce into your lunches or dinners without feeling much guilt.
What ingredients to I need to make this vegan avocado pasta sauce?
To make this healthy pasta sauce you will need:
Avocados
Basil
Tahini
Lemon Juice
Garlic cloves
Sea salr
Water
Sun dried tomatoes
Pasta
tools needed to make the avocado pasta sauce
Blender of food processor
A pot to cook your pasta in, and that's about it!
How to make avocado pasta sauce?
First, add all your ingredients (except the sun dried tomatoes and pasta) to a food processor or a blender until smooth.
Cook the pasta according to the package direction while you're making the avocado pasta sauce.
Check the vegan avocado sauce consistency.
If it's too thick add more water ( 1 tablespoon at a time).
If it's too thin add more avocado.
When the pasta is ready, place it in a bowl or back in the pot you cooked it in and top it with the avocado sauce and the sun dried tomatoes .
Stir until everything is coated with the sauce.
Serve with a side of roasted vegetables or grilled chicken breast.
Store in an airtight container for up to 3 days.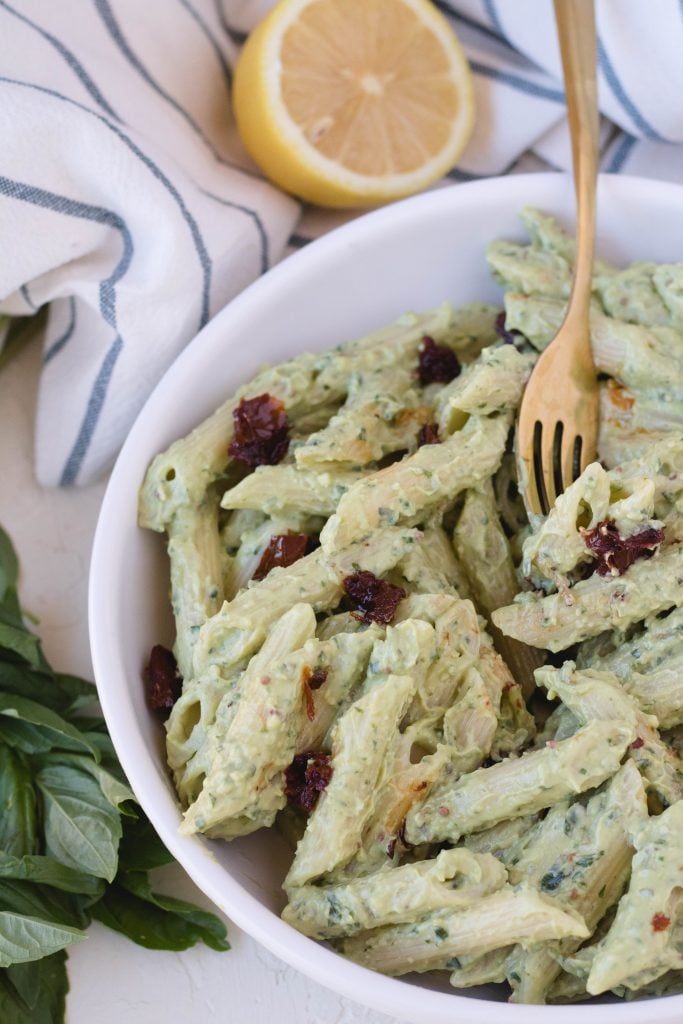 Should I have this healthy pasta with avocado sauce hot or cold?
Well another thing that makes this pesto avocado pasta sauce so special is its versatility!
You can have this lunch or dinner either hot or cold depending on your preference. I personally prefer to have my avocado pasta warm, but when I am on-the-go I tend to have it cold and it hits the spot perfectly 🙂
What pasta should I use?
When it comes to pasta, I went with whole wheat penne. Using whole wheat will give your easy weeknight dinner a boost of nutrition without any extra time spent in the kitchen.
You can go with any pasta you have at home though, I have made this recipe using spaghetti, farfalle, fusilli… etc.
This healthy dinner option is supposed to be healthy and convenient so you could really use whatever you have in your pastry for a quick hassle free dinner or meal prep!
Healthy avocado pasta sauce – An easy weeknight recipe
When I made this pesto avocado pasta, we devoured it on its own right away… It's that good trust me 😉
But if you want to make a whole meal out of it, you could either serve it with a side of roasted veggies if you are trying to keep this vegan or go with grilled chicken breast.
Chicken breast actually goes so so well with avocado pesto sauce. So give it a try and let me know in the comments how you liked it 🙂 !
IF YOU MADE SOMETHING FROM LIFESTYLEOFAFOODIE, I WOULD LOVE TO SEE ALL YOUR CREATIONS AND KNOW HOW EVERYTHING TURNED OUT! SO DON'T FORGET TO LEAVE A COMMENT BELOW AND FOLLOW ALONG WITH ME ON INSTAGRAM, PINTEREST, AND FACEBOOK.

Pesto avocado pasta sauce |Easy Dinners
Pesto avocado pasta sauce |Easy Dinners
This easy creamy avocado pasta comes together in 15 minutes or less to help you put together a quick healthy weekday dinner!
Equipment
blender or a food processor
Ingredients
2

medium

avocados

¼

cup

chopped up basil

1

tablespoon

tahini

1

tablespoon

olive oil

2

tablespoon

lemon juice

½

tablespoon

whole grain dijon mustard

use regular dijon mustard if you do not have whole grain

3

medium

garlic cloves

½

teaspoon

sea salt

3

tablespoon

water

to thin out

3

tablespoon

diced sun dried tomatoes

8

oz

uncooked pasta
Instructions
In a blender or food processor, add all the ingredients together except the sun dried tomatoes. Puree until smooth.

If your mixture is too thick and is not pureeing properly add in mote water one tablespoon at a time.

I usually prepare this vegan avocado sauce while the pasta is boiling since it comes together so quickly.
Pasta
Boil the pasta according to the instructions on the package. When ready, drain the pasta and put it in a large bowl or back in the pot you cooked it in and add the pesto avocado sauce and the sun dried tomatoes. Gently toss the pasta to coat it with the vegan avocado sauce. and serve immediately 🙂
Notes
This avocado pasta recipe can be enjoyed hot or cold. 
Shop this recipe
This article may contain some affiliate links, meaning, at no additional cost to you, I will earn a commission if you click through and make a purchase.

if you enjoyed this pesto avocado pasta sauce recipe make sure to pin it for later!
As always if enjoyed reading and making avocado pasta dinner make sure to let me know either on facebook, instagram or through the comments below.
I always try and share the best recipes with you guys and it makes me so happy to hear from you
More recipes you'll love!
Spaghetti Aglio e Olio (pasta with garlic and oil)
Vegan creamy mushroom and kale pasta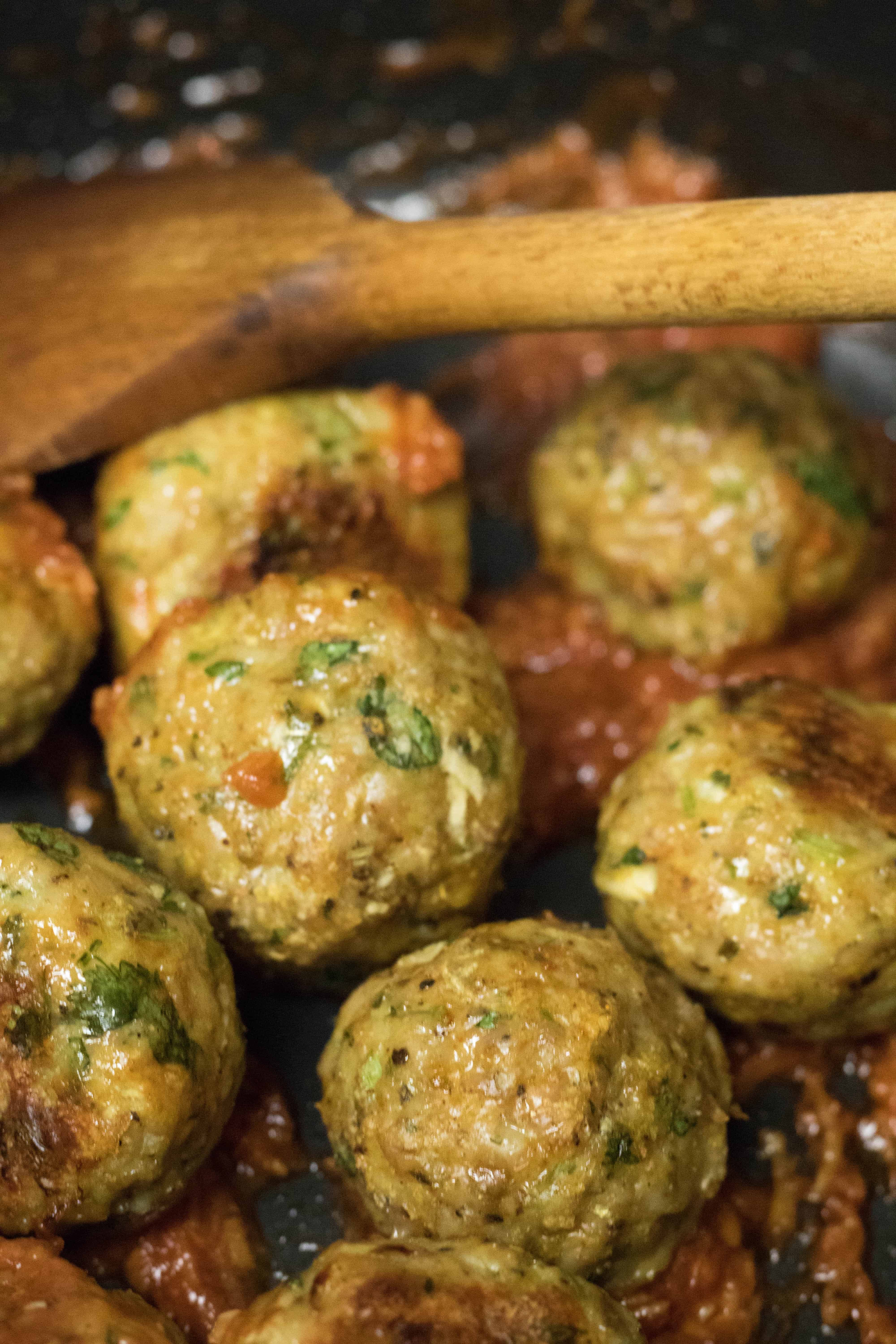 Buffalo chicken meatballs