This small batch Swiss meringue buttercream is the easiest and tastiest small batch frosting you will ever make! It is not overly sweet, creamy, silky smooth, and works for cakes, cupcakes and even cookies!
SIGN UP TO OUR MAILING LIST GET A FREE WEEKLY MEAL PLANNER AND RECIPE CARD!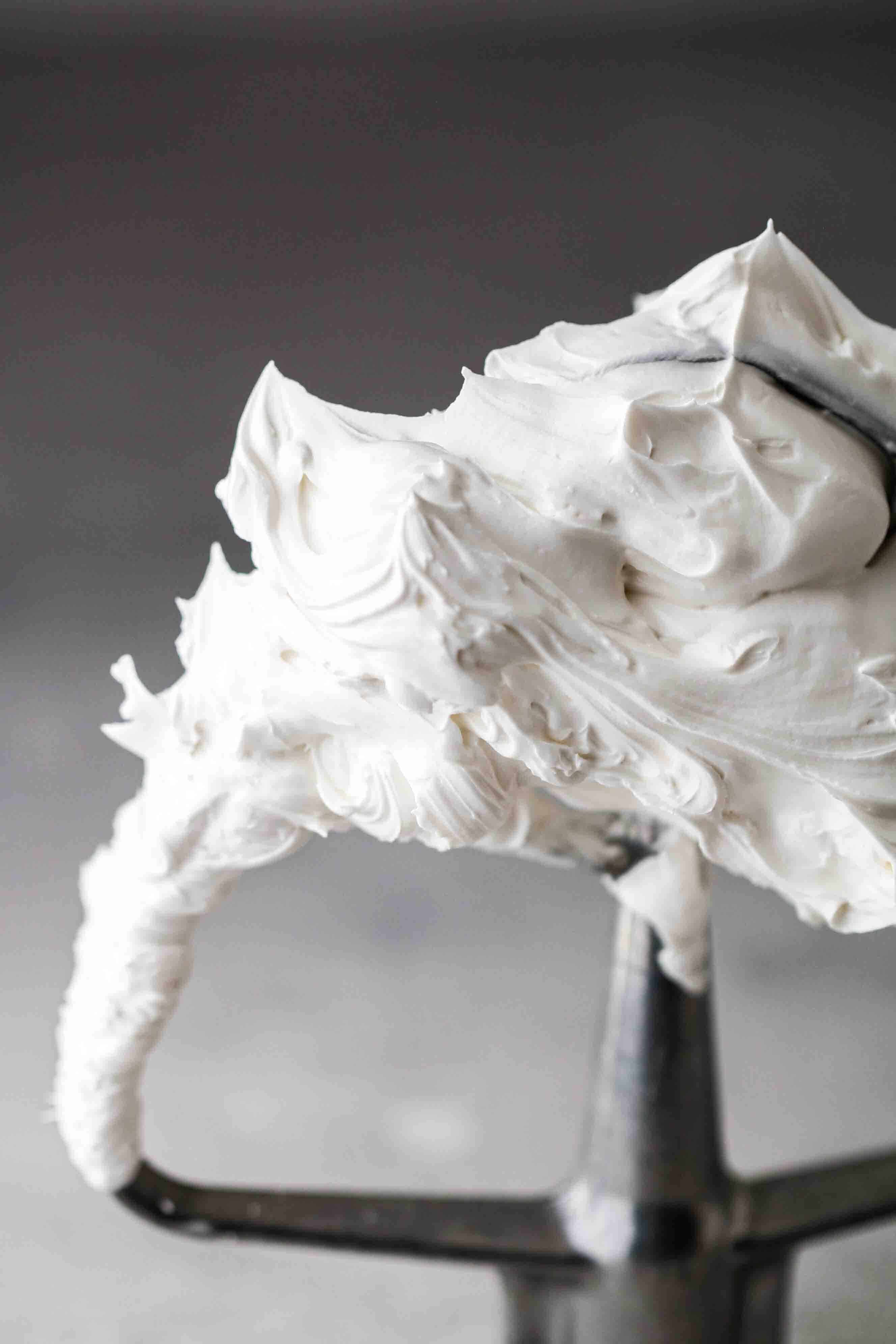 Baking is a science. Thank god it is a science actually! Because of that baking science we have Swiss meringue buttercream. A less sweet, more smooth frosting recipe compared to our good old American buttercream.
This frosting recipe is a lot easier compared to the Italian buttercream because it doesn't require you to make a stable sugar syrup. All you need it to cook your egg whites and sugar while you whisk them over a hot water bath until you reach the right temperature. Doesn't get easier than this!
This is the best small batch Swiss meringue buttercream
This. is one of my favorite small batch buttercream recipes because it doesn't require too much work and will be ready a lot faster than a full batch.
When I make cookies, or a mini cake, I often would rather not have huge amount of buttercream left so I decided to share an easy small batch recipe that you can use to make smaller batch treats without all the leftovers.
Save room in your fridge or freezer by making just enough to frost your cakes or cupcakes, or even fill cookies, and macarons!
What makes this small batch Swiss meringue buttercream so special?
A lot less sweet than regular American buttercream
Easier to make than Italian buttercream
Smooth and silky
Creamy and This
One of my favorite butter creams to frost with
Super versatile! Can be used to frost cakes, cupcakes, brownies, cookies, fill whoopee pies, or even macarons!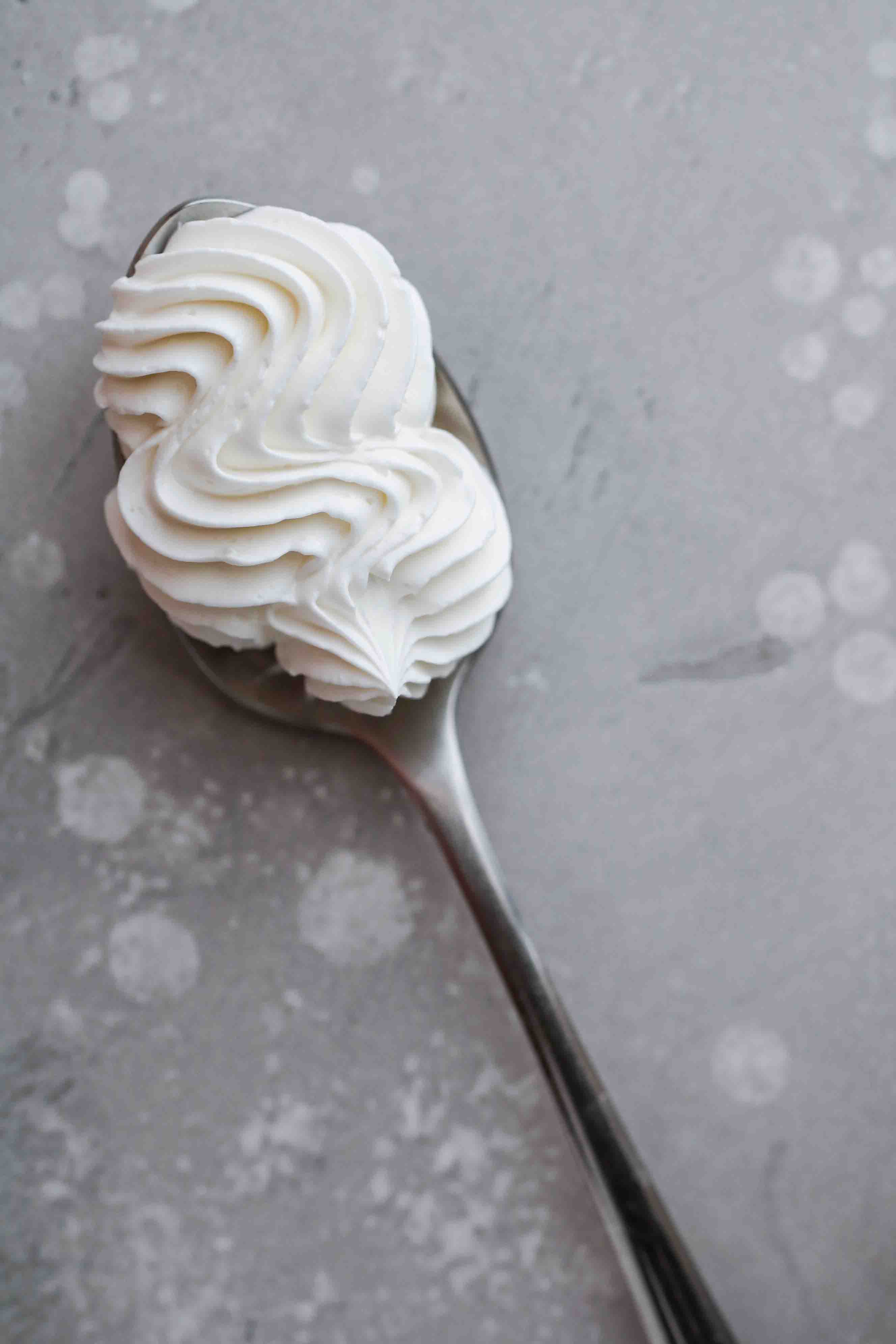 What is Swiss meringue buttercream
Swiss meringue buttercream is a frosting recipes that differs quite a bit from our original American buttercream, but in a great way! This recipe doesn't require a ton of sugar to make it stable. It is made my heating the egg whites and sugar together all while you're whisking them. Then beating the heated mixture with an electric mixer until stiff peaks are reached. After that you will be adding some butter into it to create a light and smooth frosting.
What's the difference between Swiss meringue buttercream and Italian meringue buttercream or American buttercream?
Swiss and Italian meringue buttercream are a lot more similar to each other than you would think. Both of them are made with a meringue base but the process is slightly different. The Italian meringue buttercream is made by making then pouring a hot sugar syrup into the egg whites as they whip. While the Swiss one mixes the sugar and egg whites together over a a hot water bath to heat up the egg whites and melt the sugar.
American buttercream though, it the simplest but also the sweetest and that's why I don't usually make it. It is made by whipping butter and sugar. This method results in a way sweeter frosting compared to the meringue bases frostings.
Ingredients for Swiss meringue buttercream
Here are the ingredients you will be needing to make your small batch Swiss meringue buttercream. Make sure to scroll down to the recipe card to get the detailed ingredients:
Egg whites- When you separate the yolk from the white, make sure that there is no residue in there. Even the tinniest drop of yolk (fat) will keep your meringue from rising!
Sugar– You will need regular granulated sugar for this frosting recipe.
Butter– Your butter will need to be at room temperature but not toverly softened.
Vanilla extract– The vanilla extract will take your Swiss buttercream to the next level.
Salt– As I always say, a little salt is always a good idea to balance out the sweetness of your treats!
Is it safe to eat Swiss meringue buttercream?
Absolutely! When making this Swiss meringue buttercream you will notice that you will have to heat up the egg white mixture to 160 degrees F. This temperature will kill any salmonella bacterias and will be making your Swiss meringue buttercream totally safe to eat!
The best thing to do when making Swiss meringue buttercream is to use a kitchen thermometer to know when your egg white mixture is ready!
How to make small batch Swiss buttercream?
Here is how you can make this delicious small batch buttercream frosting recipe. Full instructions available on the recipe card below. Keep scrolling for the full recipe.
Clean your utensils. When working with meringue, you have to make sure that your utensils are free of any fat residue because that will keep your meringue from rising.
Cook the sugar and the egg whites. This is the specific method that is used to make Swiss meringue buttercream. Set your bowl over a saucepan filled with simmering water, making sure that the bowl is not touching the water, whisk the egg white and sugar mixture until it reaches 160F (70c). You will have to whisk this mixture constantly to avoid having the eggs cook. As time goes, you will notice the mixture become thinner and whiter.
Whip the mixture in a stand mixer. Once the mixture reaches the right temperature, remove it from the double boiler and transfer it to your stand mixer. Using the whisk attachement, beat the egg whites until stiff peaks form and the meringue is no longer hot to the touch. This will take 7-10 minutes since this is a small batch recipe is is. a-lot faster than a regular batch sized recipe.
Add in the softened but still cool-ish butter. Once the meringue has cooled down, start adding 1 tablespoon butter to the meringue mixture and mixing using a paddle attachement. Wait until the butter is fully incorporated before adding more in. Add in the vanilla, and salt, beat one last time and frost your cakes or cupcakes!
More frostings you will love!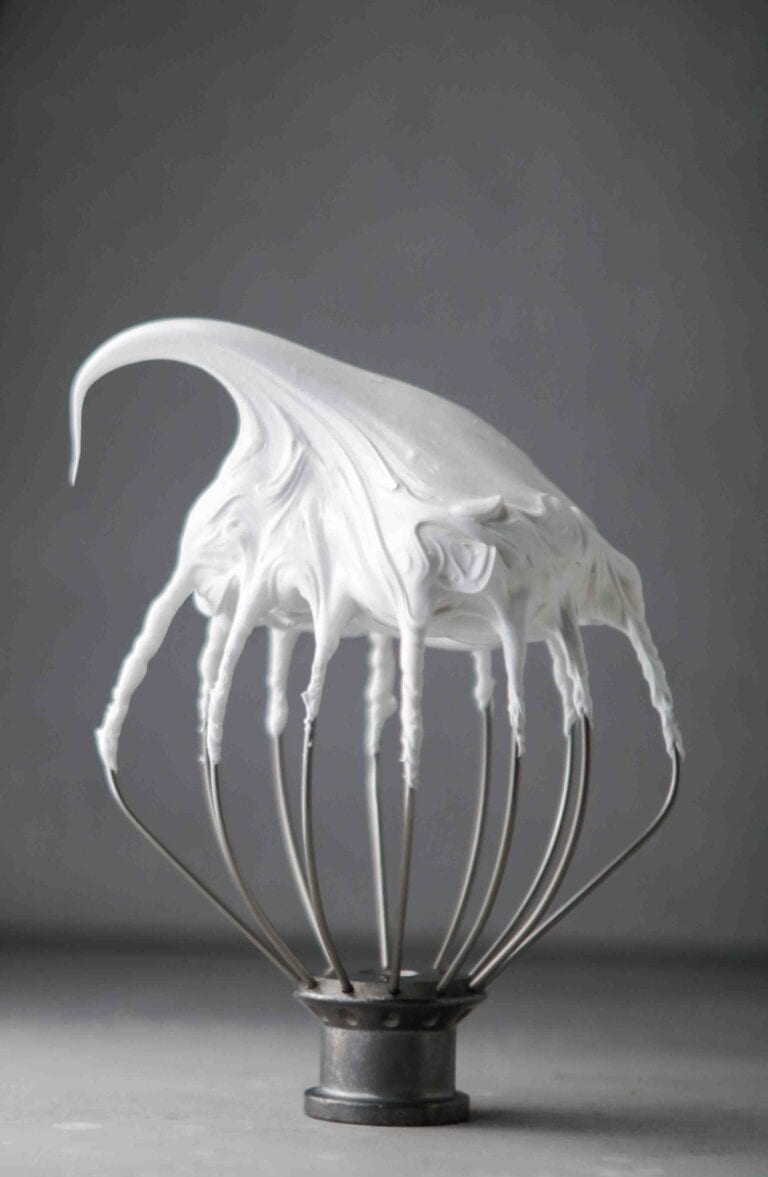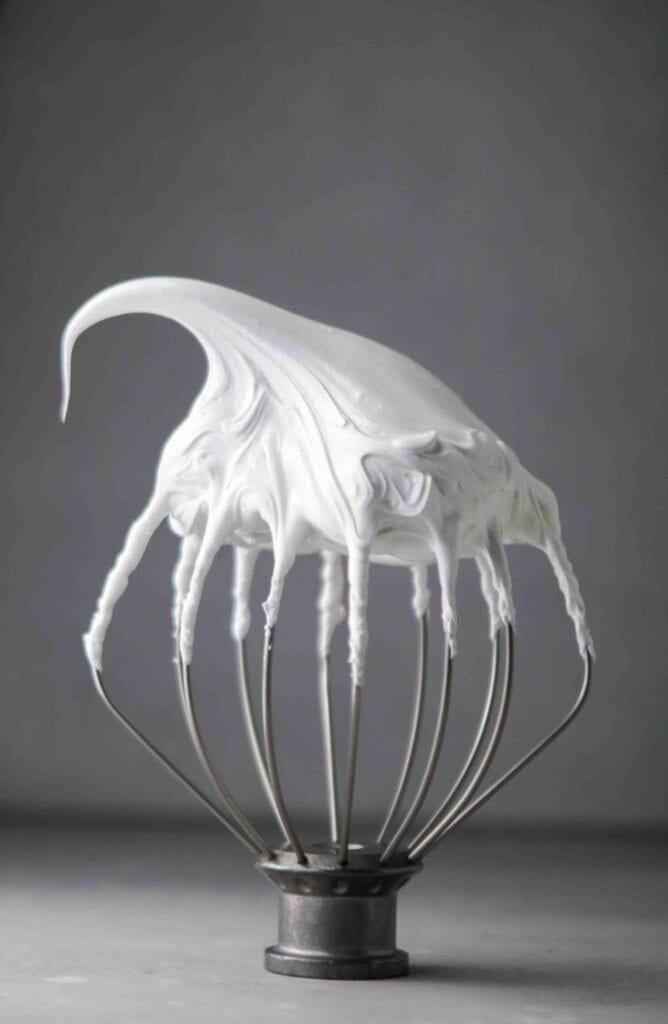 What are stiff peaks?
Have you ever seen people on Youtube or the food network take a bowl of meringue and flip it over their head to show that it's stiff? Well their meringue has probably reached still peaks.
Stiff peaks happen when you've gotten enough air whipped into your meringue. Those stiff peaks mean that if you take your beater and flip it upside down, the peak that's been formed will stay up and remain sharp. No drooping down over here!
How to store SMBC and can I make it in advance?
YES!! Swiss meringue buttercream is awesome because it can be made ahead of time. It also stores very well.
Yo store your small batch Swiss meringue buttercream, place it in an airtight container in the fridge for up to a week. When ready to use, make sure to rewhip the frosting to get that smooth texture back.
Or in an airtight container in the freezer for up to 6 months. When ready to use, thaw the frozen buttercream in the fridge overnight then rewhip it to get that silky texture back.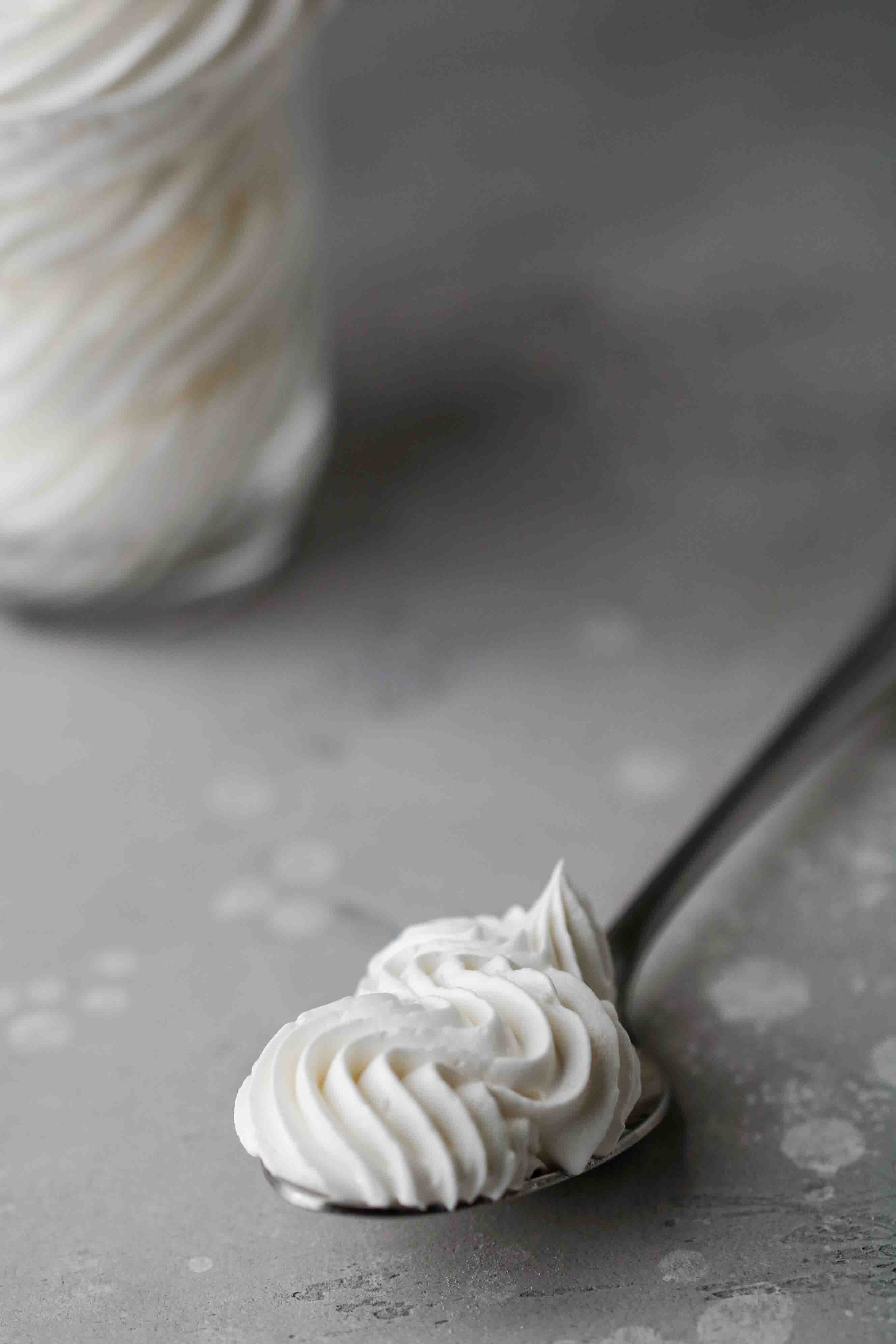 How do you add color to Swiss meringue buttercream.
When it comes to coloring your SMBC, make sure to stick to get food colorings. They mix in easily and won't ruin the texture of your final buttercream. I always take a tooth pick, dip it in the gel food coloring then swirl that toothpick into the buttercream than whip the frosting to get the color incorporated.
You can start with a little bit and add more as you go until you've reached the right color.
Does Swiss meringue buttercream harden in the fridge?
This buttercream will not form a crust per se, but it will harden in the fridge because it had a high fat ratio. Don't worry about that because all you need to do to use it after it hardens is let it get back to room temperature, whip it, and frost your cakes and cookies. with it!
How does this small batch Swiss meringue buttercream hold up in the heat?
This frosting does well at room temperature but once it gets to 80F you will start noticing that it's getting a little softer. It is made with a good amount of butter and we all know what happens when butter is heated.
So if at all possible, keep this cake away from high heat areas for long periods of time.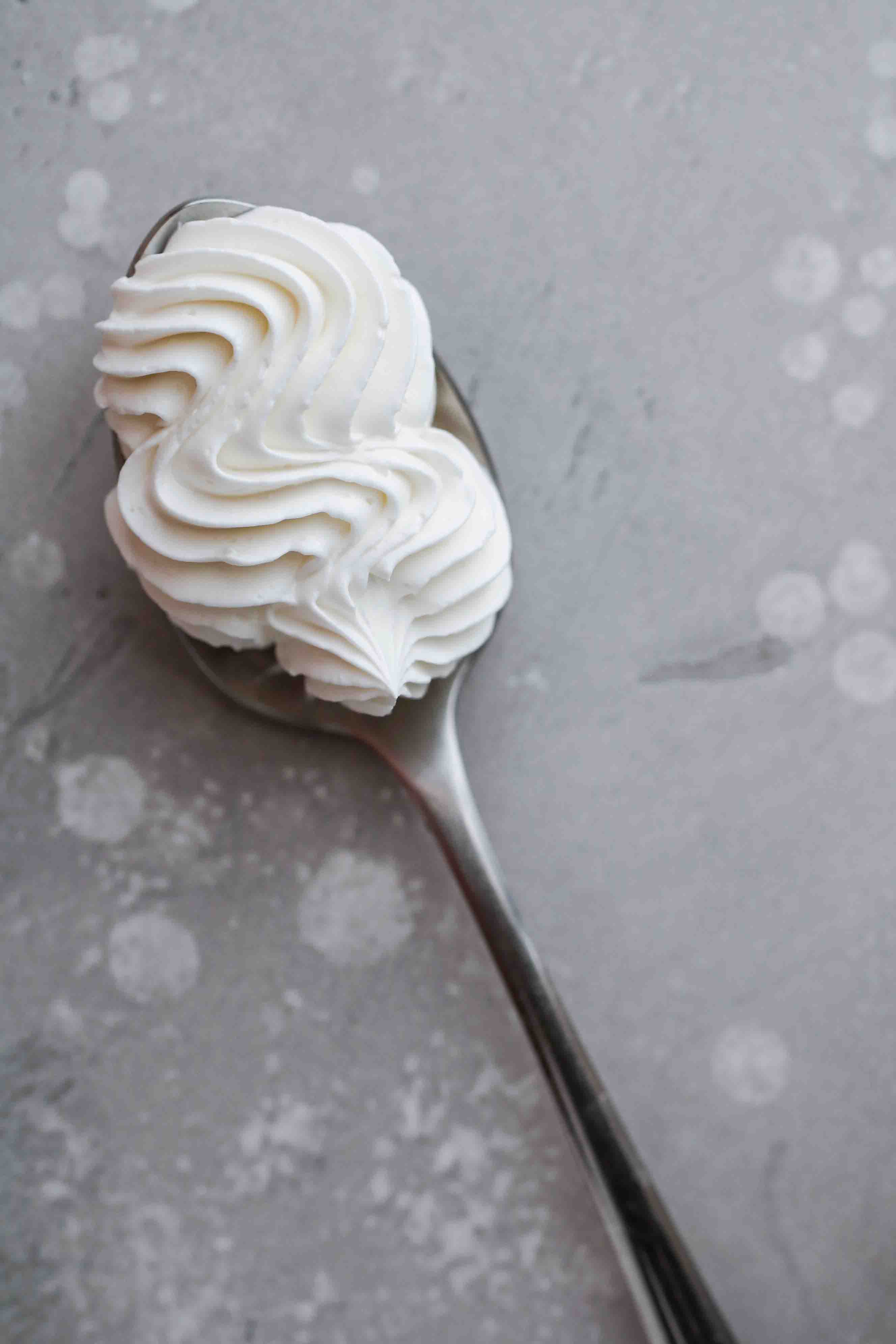 Trouble shooting!
Here are a few things that might help answer your questions if you think something went wrong.
My meringue won't reach stiff peaks! The issue here is probably FAT. If you leave, even the tiniest bit of fat in your egg whites, they will not whip up. So make sure that there is no egg yolk in the egg whites and that all your utensils are clean.
The buttercream is too curdled! Don't worry! The buttercream might look like it curdled once you add in the butter but keep whipping it and will come together.
My buttercream flavor tastes too much of butter! SMBC contains quite a lot of butter so it will naturally have some butter flavor. One thing I noticed is that if you use salted butter in your Swiss meringue buttercream the butter flavor is gonna be a lot stronger. So make sure to use unsalted butter for this recipe.
The buttercream is too thin! If your buttercream is soupy, you probably added butter that was too soft. Pop the mixing bowl in the fridge for 10-15 minutes then whip it again. If it's still on the soupy side, your kitchen might be extra hot and the buttercream might need a little more than 10-15 minutes in the fridge.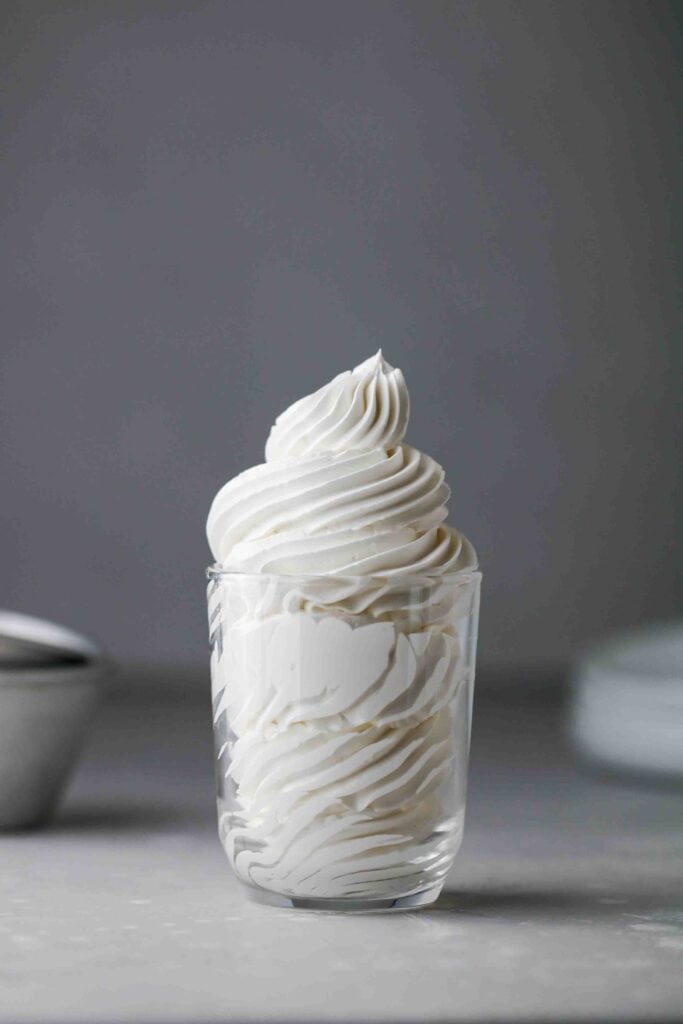 I don't have a stand mixer, can I use a hand mixer to make Swiss meringue buttercream?
I would say it's possible, but not recommended. Swiss meringue takes a while to come together so that's why a stand mixer is the best option. Between cooling the meringue and whipping the butter in, it could take anywhere from 10-15 minutes. With a stand mixer it could easily be double that time.
So if you don't have anything, you could try it but just know that it will take quite some time.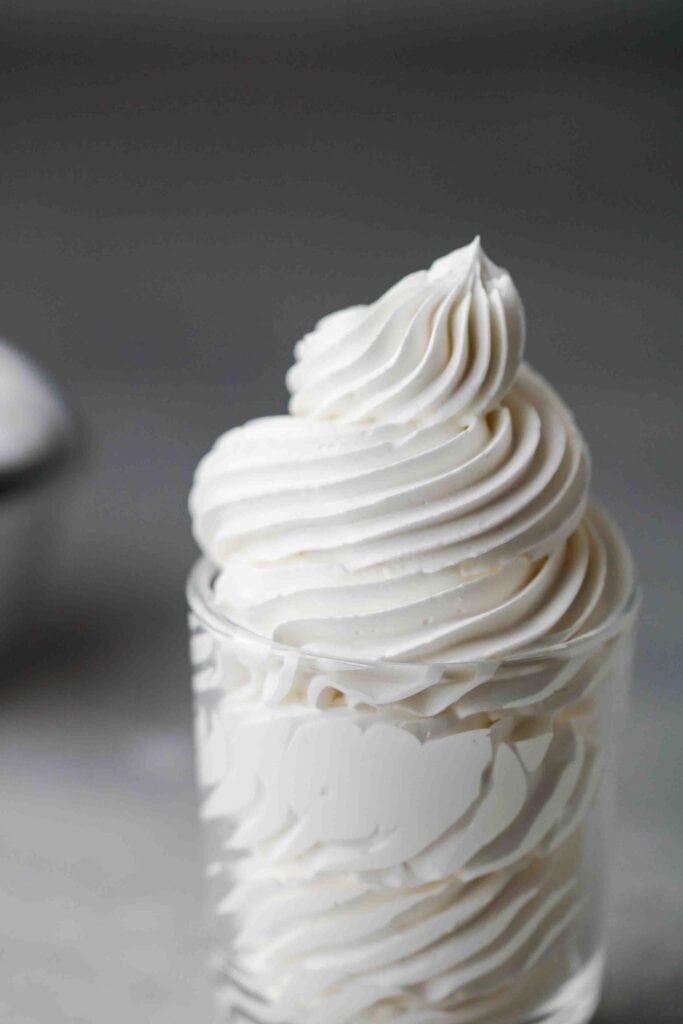 Small batch Swiss Meringue buttercream
If you tried and enjoyed this small batch Swiss meringue buttercream, make sure to give it a 5-star rating by clicking on the 5 stars under the description.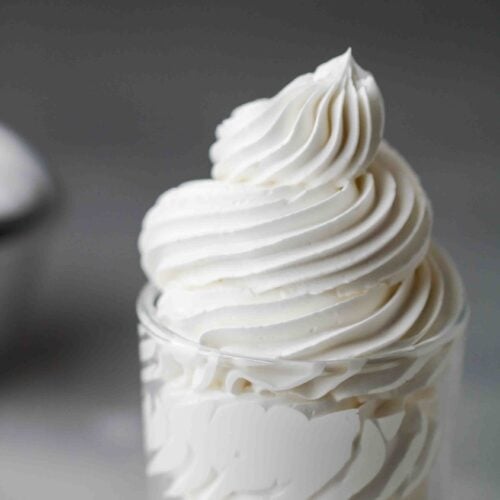 Small batch swiss meringue buttercream
This small batch Swiss meringue buttercream is a light and airy, not too sweet buttercream recipe that you need in your recipe book! It is perfect on cakes, cupcakes, brownies, between cookies and even to fill macarons!
Ingredients
3

egg whites

¾

cup

butter

softened

¾

cup

granulated sugar

½

teaspoon

vanilla

¼

teaspoon

salt
Instructions
Start by whisking the egg whites and sugar together in a heatproof mixing bowl, then place that over a medium saucepan filled with simmering water. Make sure the bowl is not touching the water. Whisk the egg whites and sugar mixture constantly until the mixture is thin, the sugar has dissolved, and the temperature has reached 160F.

Transfer the bowl to the stand mixer and start whipping the egg white mixture on high speed right away, make sure not to let it cool before whipping. The meringue will need to reach stiff peaks and cool down to room temperature. This can take anywhere between 10-15 minutes.

A little trick I learned in my pastry internship is to touch the outside of the mixing bowl to see if the meringue is still warm. If the bowl is still warm, keep mixing before adding the butter. This way the butter won't melt once added in.

Switch to a paddle attachement and on medium-high speed start adding the butter 1 tablespoon at a time. Wait until the butter is fully incorporated before adding more. Once you're done with the butter, add in the vanilla and the pinch of salt, then beat for 1 minute.

Your small batch Swiss meringue buttercream is now ready to be used to decorate your cakes and cupcakes!
Notes
Make sure to read through the article to read through the most frequently asked questions!
Nutrition
Calories:
927
Calories
Carbohydrates:
75
g
Protein:
6
g
Fat:
69
g
Saturated Fat:
44
g
Trans Fat:
3
g
Cholesterol:
183
mg
Sodium:
683
mg
Potassium:
97
mg
Sugar:
75
g
Vitamin A:
2127
IU
Calcium:
24
mg
Iron:
1
mg
Thank you so much for making it down here!
Did you enjoy this small batch Swiss meringue buttercream? We would love it if you could leave a comment letting us know. In the meantime don't forget to follow us on Instagram.

Shop this recipe
This post may contain affiliate posts, meaning that at no cost to you I will get a small percentage of every purchase you make!
If you enjoyed this small batch Swiss meringue buttercream make sure to pin it for later!