This luscious small-batch coffee frosting is the best absolute best! It is the perfect buttercream frosting recipe for all coffee lovers. Made with only 3 ingredients and no powdered sugar! It elevates any cake or cupcake to the next level!
Sign up to our mailing list get a FREE weekly meal planner and recipe card!
Hello everyone!
I hope everyone's weekend has been going great 🙂 As for me, I think I was able to beat the little burnout that I've had for the past couple of weeks.
It might not have been too apparent but I have been struggling to get anything done. Writing articles was daunting and editing the photos was even worse. The only thing I still enjoyed doing was baking and cooking.
It was pretty tough and didn't feel too good, but now I feel a whole lot better! Did you ever struggle with burnout with your career? or just in general? If you did, I would love to know what worked and what didn't for you. Let me know in the comments below so I can try and implement those techniques as well!
For me, it was a little mix of things, I was also thinking of writing an article about this issue. But just in case I don't get to it soon, some of the things I would recomend would be:
Go with the flow
Stop everything and don't stress about it
Choose one thing you actually enjoy doing and do that for a while
Watch motivational videos on youtube
The last one helped me the most to be honest. I was at the gym this morning and went so hard because of the videos I was listening to. These videos are not always gym related but they definitely motivate!
Anyways..
What is so special about this coffee buttercream frosting?
I'm glad you asked! This recipes only needs 3 ingredients… Butter, sweetened condensed milk and instant coffee. You will also need water to mix the instant coffee in but I did not want to count that as an ingredient because everyone has water.
The next awesome thing about this recipe is that it is a perfect small batch frosting recipe. It makes about 2 cups of frosting so you can use it for 8-10 cupcakes or 4-6 inch layered cakes.
I used this frosting recipe for my mini 4 inch chocolate layered cake and it was absolutely amazing. My boyfriend loved his birthday chocolate coffee cake and I think you will too. So stay tuned for the recipe 🙂
More frosting recipe you will love!
Tools needed to make this small batch coffee buttercream frosting recipe
That's honestly pretty much it. You need one of these to make sure that your butter is getting whipped up correctly. A regular whisk won't work for this recipe. In case you need to purchase them, I liked my favorite hand mixer and stand mixer above for you!
The 3 ingredients to make coffee frosting
Butter – Make sure to use really good quality butter! This is the base of this coffee buttercream, so the better the butter, the better the frosting! The butter in this recipe needs to be soft but needs to still have some yield when pressed with your finger. If it's too soft, put it back in the fridge for 10-20 minutes, making sure to check on it from time to time.
Sweetened condensed milk– Any sweetened condensed milk works. A regular can usually has 14 oz and in this recipe you will need half of that. So 7 oz will go towards this small batch luscious coffee frosting and the rest can be store in an airtight jar in the fridge.
Instant coffee– Any instant coffee works for this recipe. I went to the store and grabbed Nescafe Classico Colombian for this recipe because that was all they had at the time. I think everyone is going out and buying everything because of the corona virus… and I don't even blame them.
How to quickly soften butter?
If you forgot to pull out your butter a couple of hours before making this coffee frosting recipe, you are not alone! I have done it so many times that I found a couple of techniques that help soften butter a little faster.
Cut the butter into smaller pieces or grate the butter in the mixing bowl. This technique allows the butter to soften a lot faster.
Fill a large bowl with warm water, place the butter in a slightly smaller bowl and submerge the smaller bowl in the larger bowl that's filled with the arm water. Wait 4-8 minutes depending on how cold you need the butter to be.
If you have long sticks of butter you can pour very hot water in tall glasses. Let the water sit in there for a few seconds then dump it out. At this point the glass should be warm, place the glass over the stick of butter and let it sit for a few minutes. This is the technique I used for this. My butter was so cold that I had to repeat this process 3 times but it worked out perfectly!
How to make this super easy coffee frosting?
This is one of the easiest frosting I have ver made! With only 3 ingredients, it was a fun and easy process, plus the result tasted amazing!
To make this super easy coffee buttercream frosting you will need to:
Step by step coffee buttercream frosting recipe
First, mix the instant coffee with hot water and set aside to cool.
Then whip up the room temperature butter until it is light and fluffy. The butter will turn white just like you can see in the second photo!
Add in the super cold sweetened condensed milk to the whipped butter and whip it again for a minute or so. The mixture will look like the photo on the right.
Once the sweetened condensed milk is incorporated add in the instant coffee mixture and whip it one more time. Make sure to scrape the sides as you go to get everything incorporated.
This small batch buttercream frosting will be light and airy with a nice hint of coffee flavor. The color will be somewhat golden, which makes it even more satisfying to look at!
Tips for the perfect coffee frosting
This recipe is very easy, if you follow these tips you will have the perfect buttercream frosting every time!
The butter needs to be soft but not runny- What this means is that the butter needs to be at room temperature but not too soft or melted. I suggest taking the butter out of the fridge an hour or so before you plan on making this coffee buttercream.
In addition to using good quality butter, make sure to whip it until it becomes very light in color- Making sure to whip your butter until it turns white in color ensures that your frosting is light and airy. This plays a huge role in the mouthfeel of the final frosting recipe.
Use instant coffee not coffee grounds or regular coffee- Using instant coffee allows us to add in strong coffee flavors without adding too much water. This recipe only asks for 1 teaspoon of water, so if you use regular coffee, you will get not coffee flavor at all!
Make sure that your sweetened condensed milk is as cold as can be- I put my sweetened condensed milk in the freezer for 10-20 minutes before using it to make sure that it's as cold as possible. You don't have to leave yours in the freeze. Placing it in the fridge for a couple of hours should do the trick.
Use the frosting right after making it- This frosting needs to be used right after you make it. It is very stable and can be piped on top of cupcakes of layered in between layer cakes. If you can't use it right away, place it in the fridge, but plan on whipping it again once it gets to room temperature before using it. This will make it light and fluffy again.
Making this coffee buttercream in advance
This butter cream is best is made as soon as you need it, but if you really have to store it in the fridge for a couple of hours or overnight, know that you will have to let it get back to room temperature and then whip it again.
Because this coffee frosting is mainly made with butter, it will solidify once you put it in the fridge. So when you are ready to use it, leave it out at room temperature for about an hour and then whip it again and use it to decorate your cakes and cupcakes.
Did you know that this frosting technique is a Russian frosting.
Usually Russian frosting is made with just two ingredients, butter and very chilled condensed milk. The use of sweetened condensed milk in this Russian frosting in my opinions makes the frosting super smooth and extremely delicious.
I am usually not the biggest fan of putting 10 thousand cups of powdered sugar in my frosting because honestly I just feel bad about it. It seems like a lot and it tastes kinda chalky. The powdered sugar frosting also doesn't give you the same mouth feel this coffee Russian frosting recipe gives. On the other hand this coffee sweetened condensed milk frosting is very stable and can be used for decorating all kinds of cakes and cupcakes!
So if you asked me to pick between the two, I would hands down pick this one over the American buttercream.
IF YOU MADE SOMETHING FROM LIFESTYLEOFAFOODIE, I WOULD LOVE TO SEE ALL YOUR CREATIONS AND KNOW HOW EVERYTHING TURNED OUT! SO DON'T FORGET TO LEAVE A COMMENT BELOW AND FOLLOW ALONG WITH ME ON INSTAGRAM, PINTEREST, AND FACEBOOK.


coffee frosting – Small batch coffee buttercream
If you enjoyed this super simple coffee frosting recipe with no powdered sugar make sure to give it a 5 star rating! It would help us a ton 🙂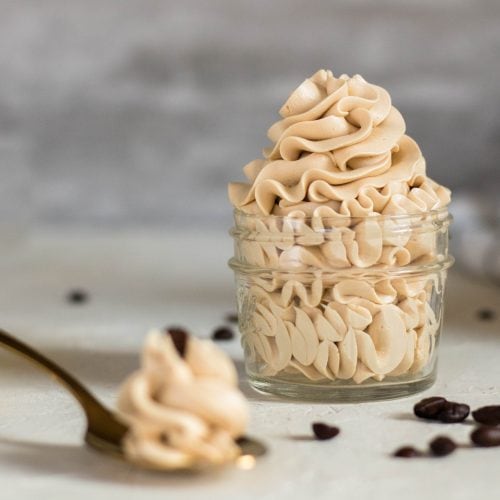 Small batch coffee frosting recipe
This light and airy frosting recipe only needs 3 ingredients and comes together very easily!
Equipment
stand mixer or hand mixer
Instructions
First, start by mixing the instant coffee with hot water to create a paste. Set that aside and let it cool down completely.

While the coffee is cooling, cut the softened butter into cubes and place it in a stand mixer or a large bowl. Using the whisk attachment in the stand mixer or hand mixer, whip until the butter is light in color and fluffy.

Add the condensed milk to the whipped up butter mixture, making sure that the sweetened condensed milk is straight out of the refrigerator.. Whip the mixture again for one more minute or until combined.

Add in the instant coffee paste and whip it once more for a couple of minutes or until completely smooth.

Frost your cake or cupcakes immediately.
Shop this recipe
This post may contain affiliate posts, meaning that at no cost to you I will get a small percentage of every purchase you make!

If you enjoyed this coffee frosting / coffee buttercream make sure to pin it for later!