This small batch of cream cheese frosting recipe is a life changer! It will allow you to make just enough to frost your cupcakes or small cakes without any leftovers… Because let's be real who wants that!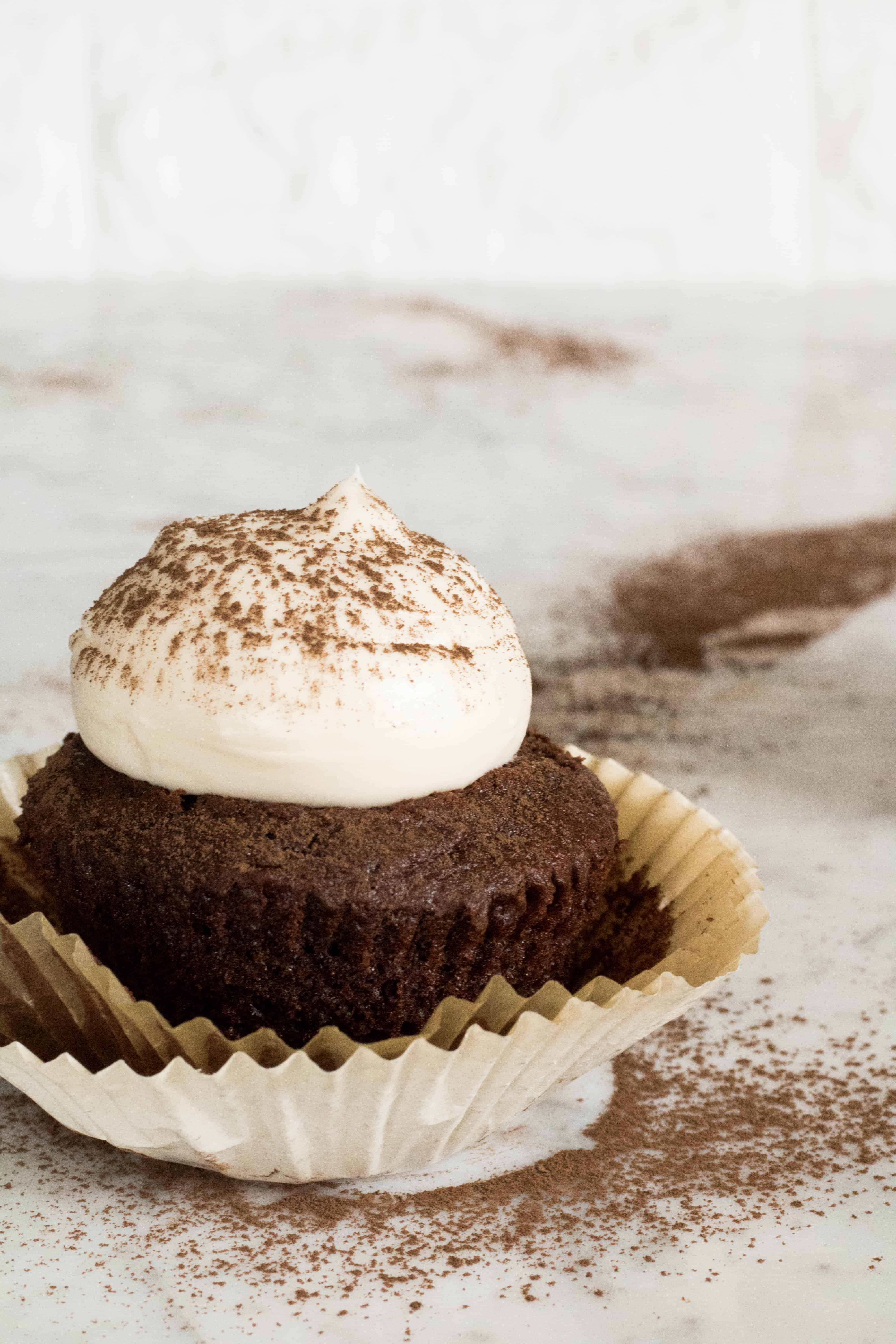 This is by no means a healthy recipe but, it does come in handy when in need of a small batch cream cheese frosting recipe!
For us, March and April are so full of birthday and events that require some baking!! Which I am by no means complaining about!
My passion for baking has started at a very young age. I remember wanting to mix random stuff together to create recipes when I was younger and guess what… sometimes they worked and sometimes they were terrible !!
But still, it is because of this curiosity that I was able to become as good as I am now!
Some of my early "fancy" baking memories as I would call them were memories of making cupcakes and elaborately decorating them!
Well… This small batch cream cheese frosting recipe is what made that possible!
Chocolate cupcake with a dollop of cream cheese frosting and a light dusting of Hershey's cocoa!
That was the easiest thing to make but gave me so much room for creativity!
I went out and purchased some piping bags as well as son Wilton piping tips and started playing around!
I can still feel how proud and excited I was when I started decorating my first cupcakes and then cakes. Now looking back they were so simple
Types of frostings:
Basic Buttercream
This is one of the most common types of frosting recipe. The base is usually made by mixing butter or shortening with icing sugar. The basic buttercream can also be flavored with fruit zests to elevate the flavors.

A good recipe for this would be on the Live Well Bake Often webstie. Danielle the writer on this blog gives detailed instructions on how to make buttercream frosting, she also give a multitude of different recipe for different flavored butter-creams as well!



Cream Cheese Frosting or the small batch cream cheese frosting recipe we will be talking about today…
When we say cream cheese frosting, my mind right away goes to this beautiful red velvet we used to often get from a bakery near my house! Cream cheese frosting as the title states is a frosting made out of cream cheese, it does also contain butter and icing sugar as well.
Swiss Meringue Buttercream
Swiss meringue buttercream has a base of swiss meringue which is prepared by beating eggs whites and sugar on a double boiler. You will then slowly add cubes of room temperature butter to the meringue while it is cold and beat it. This is more complicated than a regular buttercream frosting but will yield a batch of amazingly flavored frosting!

A great recipe for the Swiss meringue recipe could be found at Liv For cake. Olivia, the writer has very detailed explanation on how to achieve the perfect swiss meringue. She also has pictures that go along the explanations to make it easier on every home chef out there!
Italian Meringue Buttercream
The Italian meringue buttercream is very similar to the Swiss meringue except for the fact that you do not beat the egg whites and sugar over a double boiler. Instead, this recipe calls for the sugar syrup, while beating the egg whites, slowly drizzle the hot sugar mixture in. This will create a beautiful stiff meringue on which we will then add the softened cubed of butter and beat.

For a lucious Italiam meringue butter cream recipe check out Of Batter and Dough. The author Rebecca offers many handy dandy tips and tricks on making the most perfect Italian meringue butter cream and getting it right the first time around.
French Meringue Buttercream
Again, this French meringue buttercream is very similar to the Swiss and Italian meringue recipes above. Instead of using egg whites though, the French meringue uses egg yolks. After beating these egg yolks, you would gently rizzle the hot sugar syrup in while still beating the egg yolk and then you'd add the softened butter cubes!

For a yummy yet fancy French meringue butter cream, check out Boston Girl Bakes. Heather the writer on this blog has a recipe where she shows you a step by step tutorial (using photos) on how to make this delicious frosting recipe!
Cream Cheese Frosting Small Batch Recipe
Small Batch cream cheese frosting
This is a very easy and simple recipe for cream cheese frosting! This classic frosting uses cream cheese, butter, heavy cream, and powdered sugar. It goes amazingly well with cupcakes, cakes, and cookies. And since it is a small batch you will not find yourself wasting any leftovers!
Instructions
Start by beating the butter and cream cheese until everything is well combined

Add in the heavy cream, powdered sugar, and vanilla and whip again until light and fluffy.

Pipe, spread, or store it in the fridge for later use.
Notes
I like to use cold cream cheese and butter for this recipe because I feel like it gives me a better result. You will need a strong mixed to get everything well incorporated though!
Nutrition
Serving:
0
g
Carbohydrates:
0
g
Protein:
0
g
Fat:
0
g
Saturated Fat:
0
g
Polyunsaturated Fat:
0
g
Monounsaturated Fat:
0
g
Trans Fat:
0
g
Cholesterol:
0
mg
Sodium:
0
mg
Potassium:
0
mg
Fiber:
0
g
Sugar:
0
g
Vitamin A:
0
IU
Vitamin C:
0
mg
Calcium:
0
mg
Iron:
0
mg
If you liked this cream cheese frosting recipe small batch, I would recommend some more "how to" recipes down bellow:
Products I love
This article may contain some affiliate links, meaning, at no additional cost to you, I will earn a commission if you click through and make a purchase
As always, make sure to follow me on Instagram at @Chahinez_tbt and Pinterest. And if you try this recipe out let me know how you like it :)!
Have an awesome day and make sure to pin this for later