How to cook red quinoa was one of those questions I used to ask myself all the time when I started eating healthier. I'm sure other people do as well! But with this article you will be ready to make the best stove top quinoa!
Now moving on to the recipe I wanted to share. This recipe is a staple in my kitchen and diet in general. it allows me to create so many different healthy meals. and hopefully, by sharing it with you guys I can help you incorporate something new into your diet as well.
Some benefits of consuming quinoa are:
Quinoa is very nutritious; it has 8 grams of protein per cooked up. It is also very high in fiber, much higher than most grains.


Quinoa is the perfect option for people with gluten allergies. It is a very tasty gluten-free option that can also increase the antioxidant and nutrient value of your diet.
Quinoa contains many essential amino acids, which are the building blocks of protein. Our body also needs amino acids to produce hormones, neurotransmitters, and other important biochemicals!
Quinoa has a low glycemic index which is good for blood sugar control.
Quinoa is like I said earlier, very high in antioxidants. Antioxidants being the substances that can neutralize free radicals in your body, help fight aging and decrease many diseases.
How long to cook the quinoa for?
Cooking red quinoa is very simple once you get the gist of it, It will take anywhere form 15 to 30 minutes to be cooked. You have to keep in mind the time it takes you to get the water with the red quinoa to a boil before starting your timer for 15-20 minutes.
How to cook red quinoa
With this easy step by step you will be able to make the best stove top red quinoa!
I used this quinoa and it was pretty good!
Start by pre-rinsing the quinoa water to remove all the soapy coating and get rid of any bitter flavor!



Then place the quinoa in a sauce pan with the water and bring to a boil.




Brin

g everything to a light simmer, reduce the heat, cover with a lid, and let it cook for 15-20minutes
When the quinoa is done, fluff it with a fork.



add salt and pepper before serving and enjoy with a salad or any dish you are planning on preparing!
How to make Red Quinoa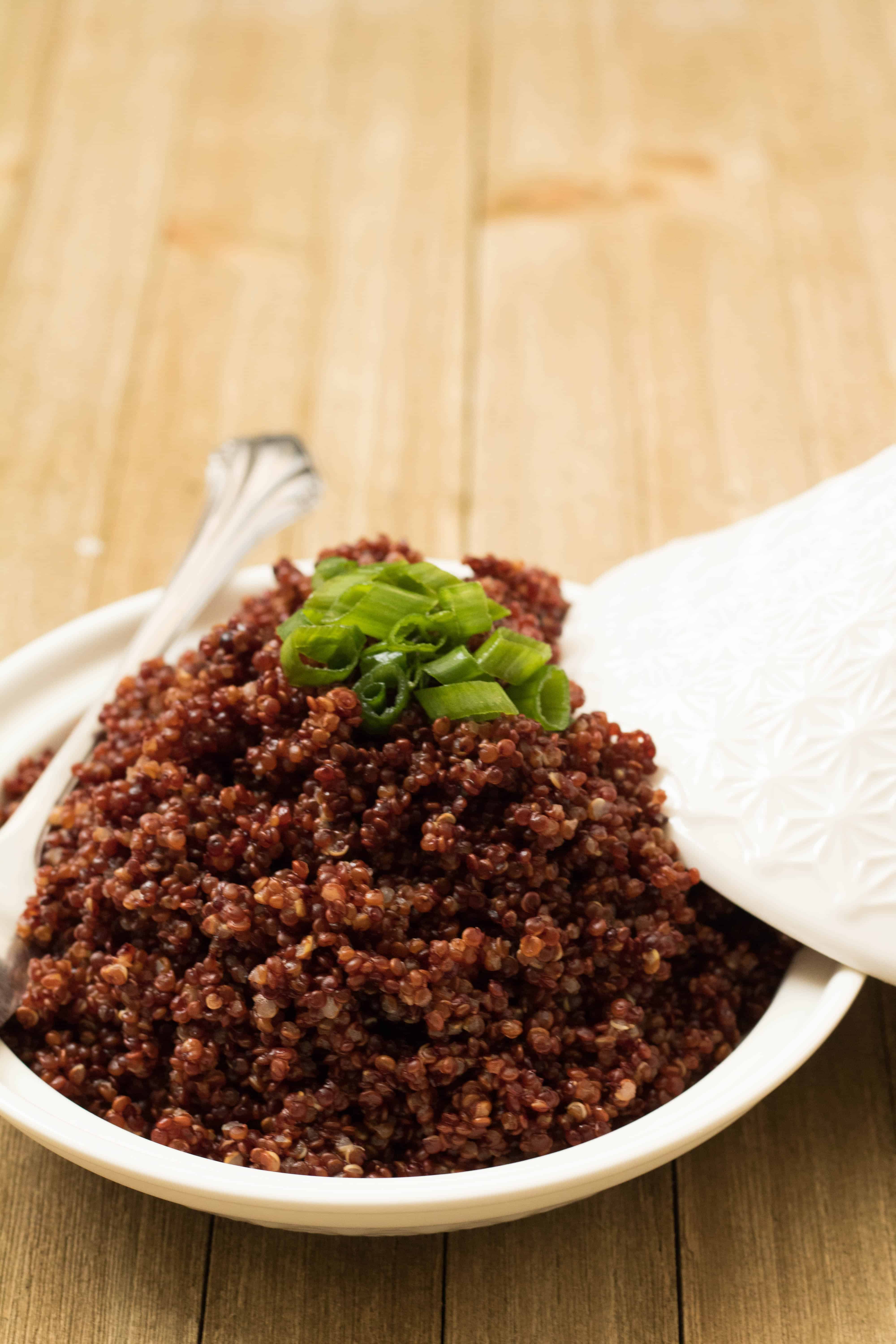 How to cook red quinoa
This is the easiest way to make perfect stove top quinoa. Follow the steps to get the fluffiest ready to eat red quinoa is less than 45 minutes!
Ingredients
1

cup

of red quinoa

2

cups

of water or broth to have more flavorful quinoa

Salt to taste
Instructions
First, pre-rinse the quinoa with cold water to remove the natural soapy coating and get rid of that bitter flavor.

put the quinoa and the water in a saucepan and bring everything to a boil.

reduce the heat, cover the pot, and let it simmer for 15 to 20 minutes. when the quinoa is done, fluff it with a fork.

add salt and pepper before serving.
Nutrition
Calories:
209
Calories
Carbohydrates:
36
g
Protein:
8
g
Fat:
3
g
Saturated Fat:
1
g
Polyunsaturated Fat:
2
g
Monounsaturated Fat:
1
g
Sodium:
3
mg
Potassium:
319
mg
Fiber:
4
g
Vitamin A:
8
IU
Calcium:
27
mg
Iron:
3
mg
what are some good red quinoa recipes?
I love red quinoa so much because of its texture. It is fluffy yet still has a bit of a bite to it, and that's why my favorite way to use it is in salads but the possibilities are endless.
Other how to articles you will love!
Shop this recipe
If you loved this How to article make sure to pin this article for later!