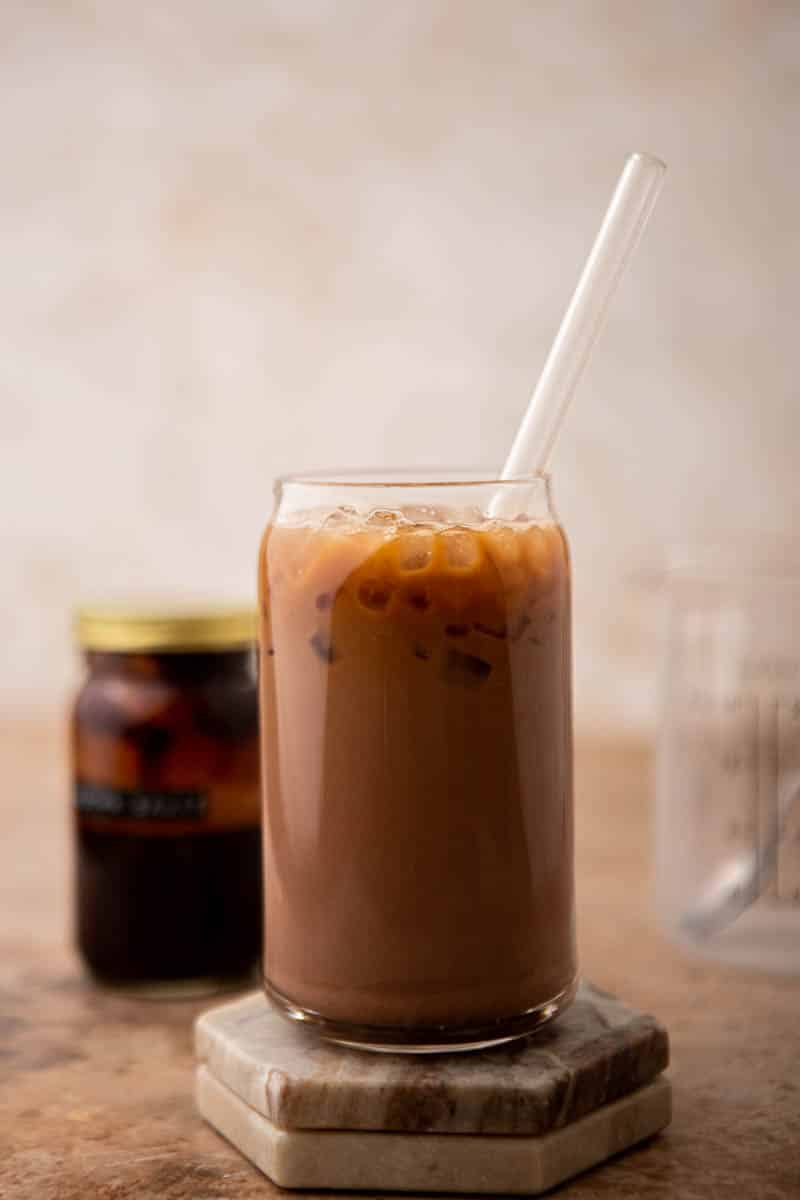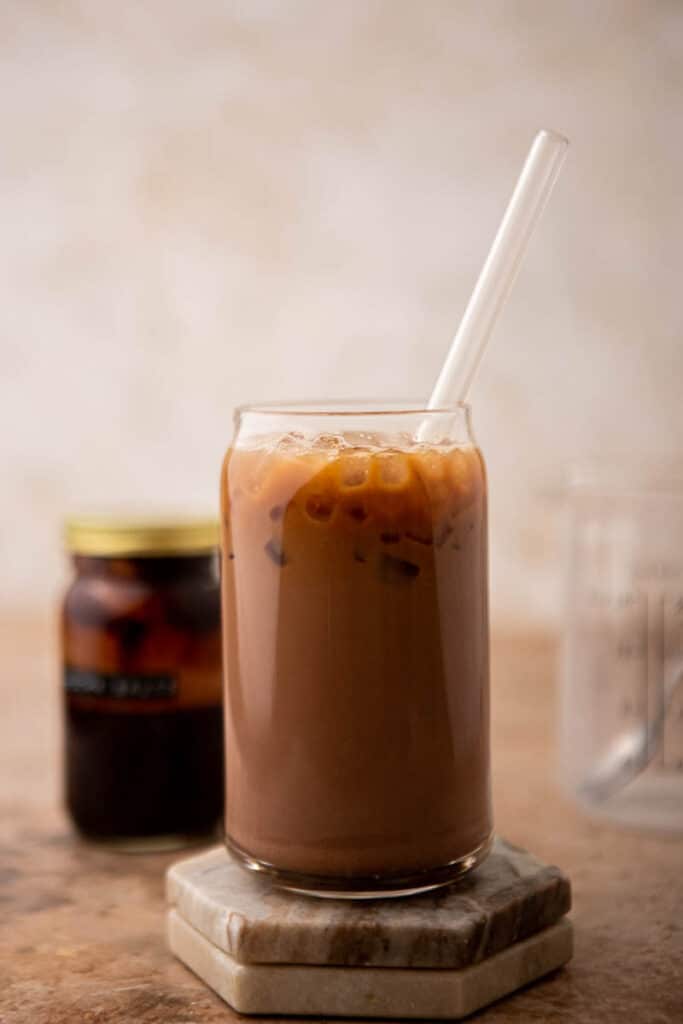 There is something so comforting about an iced mocha latte, it's pretty much as if chocolate milk and coffee had a baby. It is sweet, creamy, chocolatey and perfect if you need a break from hot coffee.
This is the best iced mocha latte recipe ever!
This recipe is made with an espresso shot, my homemade chocolate syrup, and some milk. If you don't have an espresso machine no worries, I got you covered. Just check the FAQ for all the tips and tricks to fix that issue.
Why you need to make this recipe!
Cost efficiency- Making your coffee drinks at home is a great way to save up on money. Sure grabbing a cup of joe from your favorite coffee shop here and it is great for your self-care but learning how to make your fave at home will also save you a ton of money in the long run.
Customizable- When you make your own iced coffee drinks at home you can add or remove whatever you like or don't like making it extra customizable to really fit your liking and preference.
Convenient- Making an iced mocha at home is convenient because you can make it whenever you want. You can even make a larger batch and store it in a mason jar in the fridge for later.
Healthier- I say you can make it healthier because you pretty much know exactly what goes into your cold coffee beverage as opposed to getting it from outside and not really being sure of what's inside.
Versatile- This recipe is versatile because it fives you a great iced mocha latte base and allows you to play around and tweak it to your liking. I made this with a mix of caramel sauce and mocha sauce with the same amount of milk and espresso and it turned out so well. I even had some friends and family request that drink specifically when they come over so let your imagination run wild and free with this one and play around with the ingredients that you have on hand.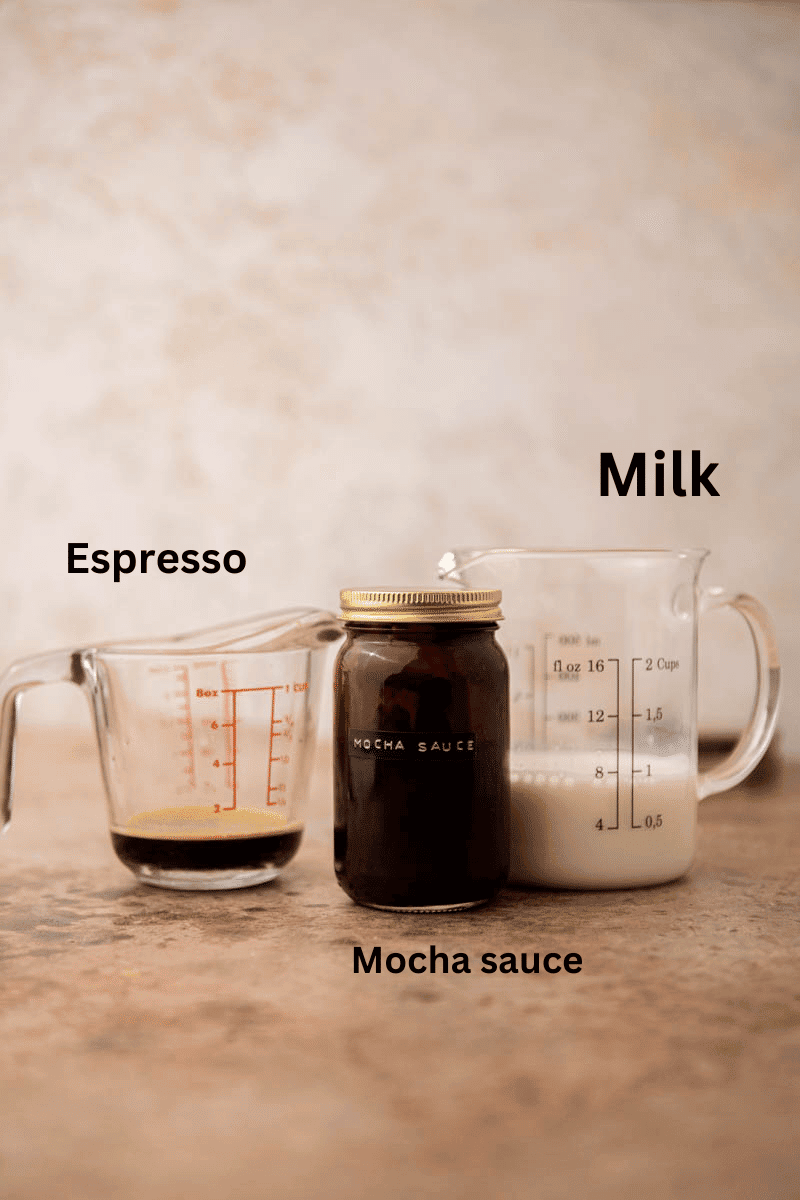 Ingredients for this mocha iced latte recipe
Here are the ingredients you will need to make this easy iced mocha recipe. Make sure to scroll down to the recipe card for the full detailed ingredient measurements.
Espresso- you can use a single shot or a double shot while brewing your espresso.
Chocolate syrup- For this ingredient, you can either use the storebought version which you should find at your local grocery store in the coffee and tea aisles or you can make my homemade from scratch Starbucks mocha sauce copycat for a lot less with simple ingredients that you probably already have on hand.
Milk- You can use any milk you'd like I used 2% milk in this recipe but you can also use a mixture of milk and half and half or milk and a splash of heavy cream for an even creamier beverage.
How to make the most delicious iced mocha
This is how you can make this easy and delicious chocolate iced latte. Make sure to scroll down to the recipe card for the full detailed instructions!
Brew your espresso then pour it into a tall glass.
Add the chocolate sauce in and stir to combine.
Top it with ice and your milk of choice.
Stir with a straw and enjoy.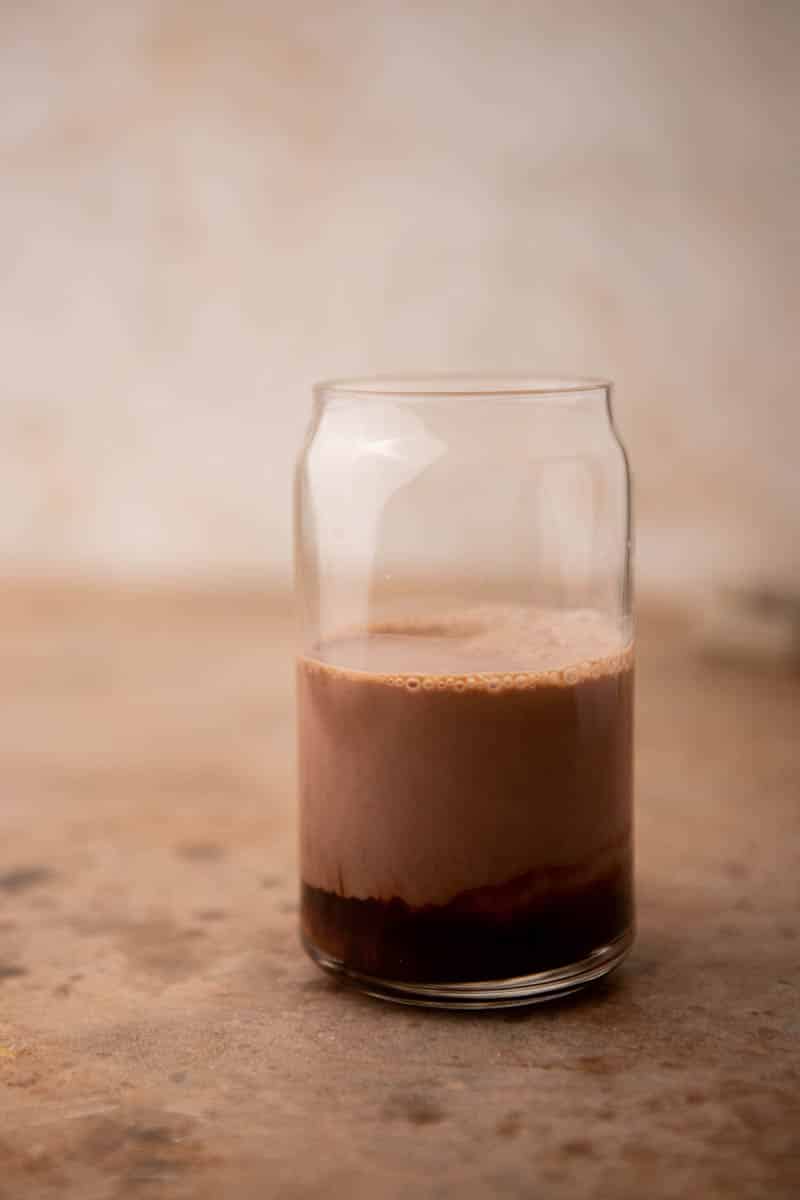 Ways to take your drink up a notch
Top it with whipped cream before serving for extra contrast.
Add chocolate drizzle on top.
Make it half caffeinated, by using 1 shot of caffeinated espresso and one shot of decaf.
Sweeten it a little more with maple syrup of simple syrup.
Add coffee ice cubes instead of regular ice cubes for a stronger coffee drink.
Swirl fudge sauce around the glass to make it look gorgeous.
Frequently asked questions – FAQ
How to store leftover iced mocha latte?
It is best to enjoy your drink fresh but if you have any leftovers you can remove the ice and store it in an air-tight container in the fridge for up to 2 days. Add ice back to it before enjoying it again.
How can I make this a skinny iced mocha latte?
To make this drink skinny you can use nonfat milk and sugar-free chocolate sauce or mocha sauce instead of the regular items I used in this recipe. Making your own homemade chocolate syrup will allow you to tweak out the sugar in the drink as well.
Can I use cold brew coffee for this recipe?
You can but technically it would just be a cold brew mocha and not a latte. A latte or a mocha latte is made up of espresso, milk, and chocolate sauce. The main difference would be the type of coffee used. If you want to make a cold brew mocha drink check out my recipe for it!
Is this similar to the Starbucks iced mocha latte?
Absolutely. I use my homemade Starbucks mocha sauce so you'll get a pretty close drink to your favorite Starbucks drink with this recipe.
What can I do if I don't have an espresso machine?
If you don't have an espresso machine you can always use instant coffee with a little hot water to mimic the espresso or use an Italian espresso maker which is a simple $10 espresso maker that you can use on the stovetop.
Can I make this iced mocha latte vegan?
Absolutely. If you are using my mocha sauce you'll notice that it doesn't have any dairy and for the. milk use whoever non-dairy milk you like. some of my favorites are:
Oat milk
Almond milk
Coconut milk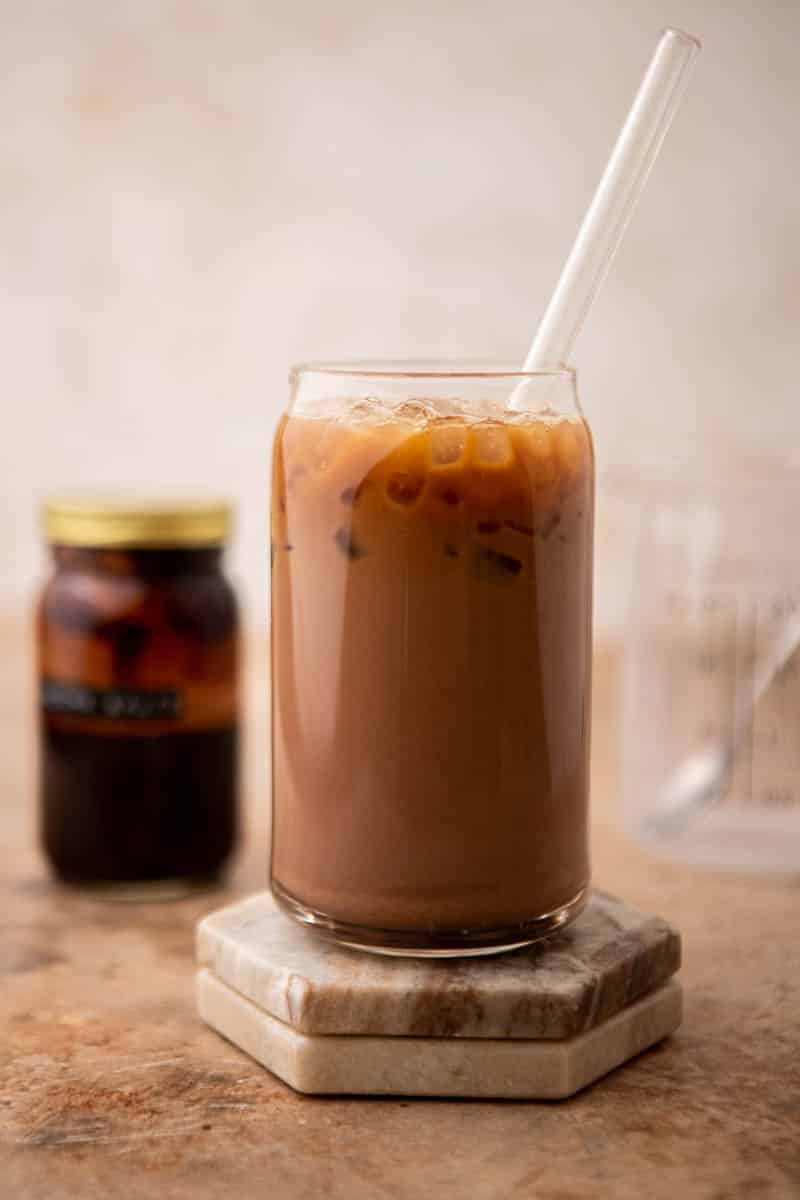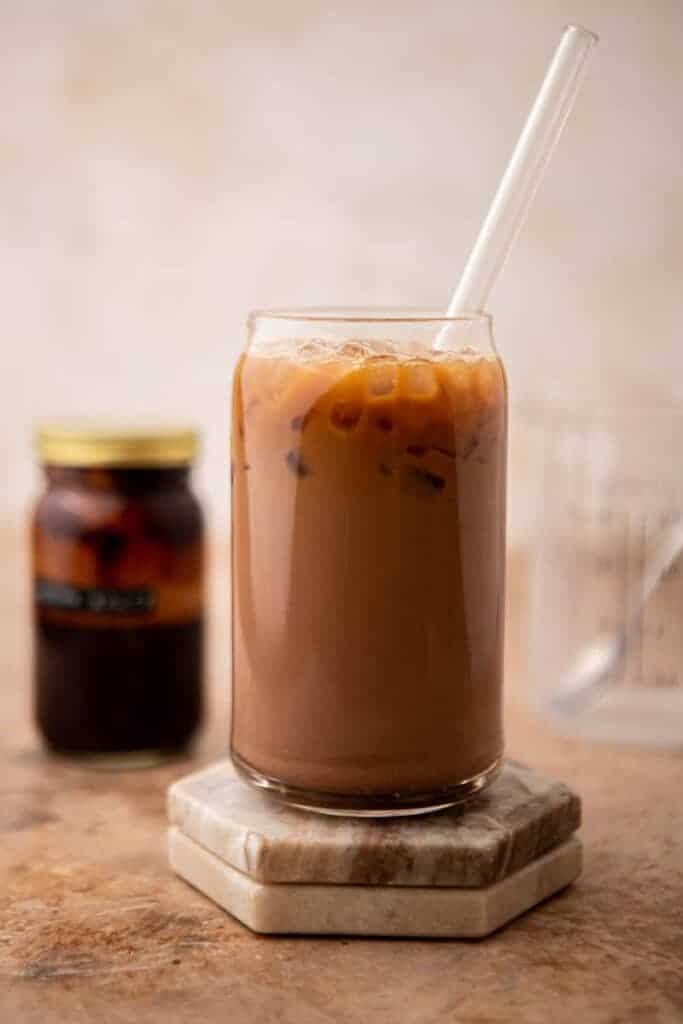 Iced mocha latte recipe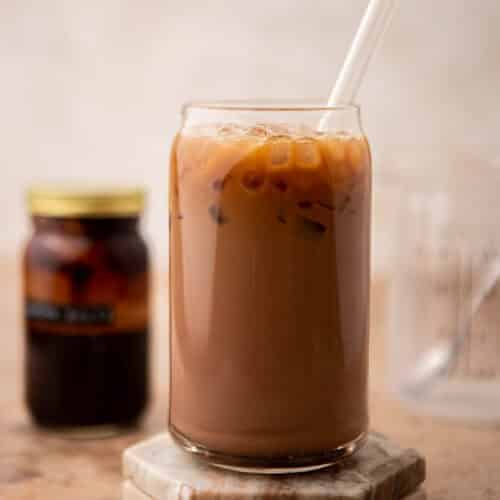 The best iced mocha latte recipe
This easy iced mocha latte recipe is the best way to take you coffee game up a notch this summer.
Ingredients
1-2

shots espresso

depending on how strong you like your drink

3

tablespoon

chocolate syrup

Add more if you want it sweeter and more chocolatey.

6-8

oz

milk

of choice
Instructions
Brew your espresso, pour it in a glass then top that with the chocolate sauce. Stir to combine

1-2 shots espresso,

3 tablespoon chocolate syrup

Add in some ice then top with milk, give it a good stir and enjoy as is or with shipped cream on top and a drizzle of extra chocolate sauce.
Nutrition
Calories:
225
Calories
Carbohydrates:
47
g
Protein:
7
g
Fat:
1
g
Saturated Fat:
0.4
g
Polyunsaturated Fat:
0.03
g
Monounsaturated Fat:
0.2
g
Cholesterol:
5
mg
Sodium:
113
mg
Potassium:
420
mg
Fiber:
2
g
Sugar:
38
g
Vitamin A:
347
IU
Vitamin C:
0.1
mg
Calcium:
233
mg
Iron:
1
mg

If you enjoyed this iced mocha latte recipe make sure to pin it for later!