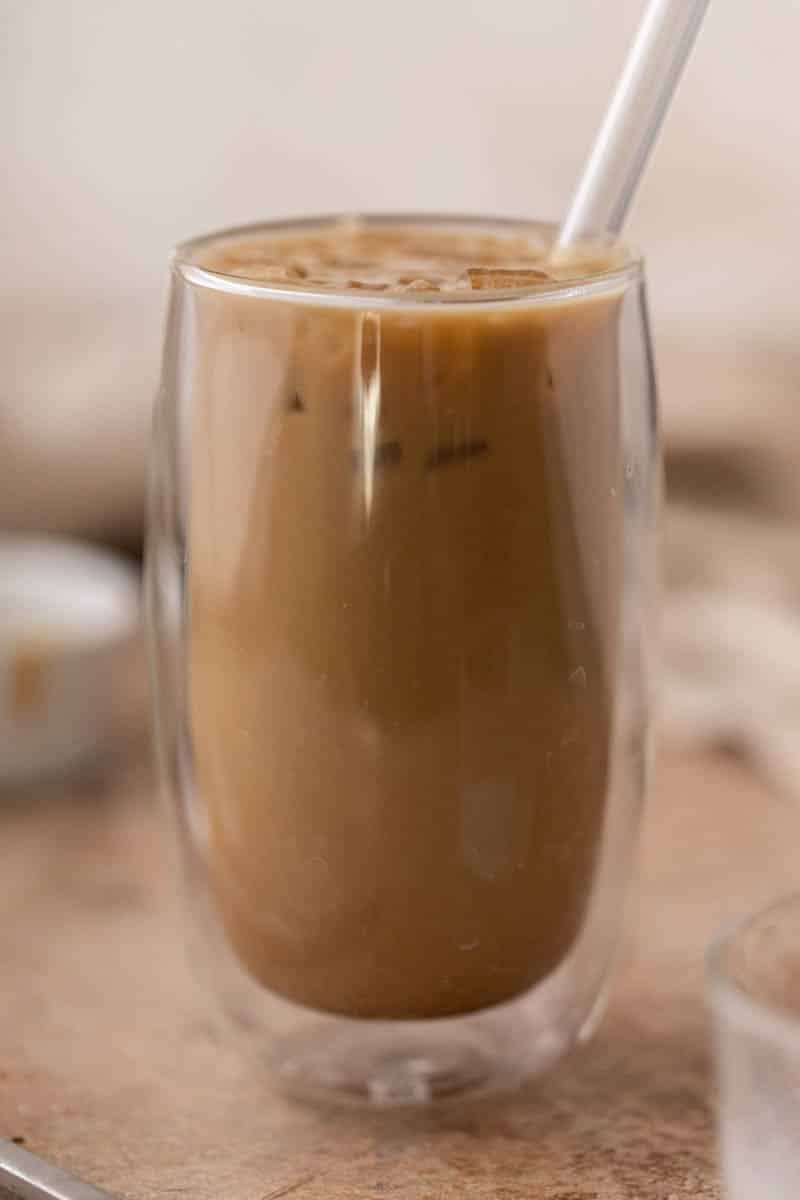 There is something about a chilled drink on a hot summer day that you can grab through McDonal'ds drive that just hits the spot every time. One day I was craving this coffee drink but had no energy to go out and grab some.
I mean going out meant getting dressed, getting ready, driving, and talking to people. After 2020 I think we all lost a little bit of our ability to be social and deal with crowds so I decided that what a better time to try and make it at home.
It was actually sugar easy to recreate the iconic Mcdonald's iced caramel coffee because I already had all of the ingredients at home (hint hint, you might too!) So I brewed my coffee and waited for it to cool down a bit then threw it all together for one of the best drinks ever.
This is the best mcdonalds iced coffee recipe with caramel!
This caramel iced latte recipe is made using flavored syrup, caramel sauce, ice cubes, and half and half it is similar to a caramel frappe but isn't blended yielding a smooth and refreshing beverage.
Plus it's one of the best ways to save money, especially in this economy. Using your own ingredients will make this cost a whole lot less than a dollar or whatever they are charging for it nowadays.
So skip the local coffee shop or in this case the local McDonald's and let's have some fun creating delicious copycat recipes together at home with minimal ingredients that you can grab at the nearest grocery store.
Why do you need to make this recipe?
It is one of Mcdonald's most popular drinks and it's so simple.
This recipe can be made with ingredients you probably already have at home.
It has a rich caramel flavor and will be the perfect pick-me-up in the most delicious way.
This drink recipe will help you avoid long lines at the drive-through.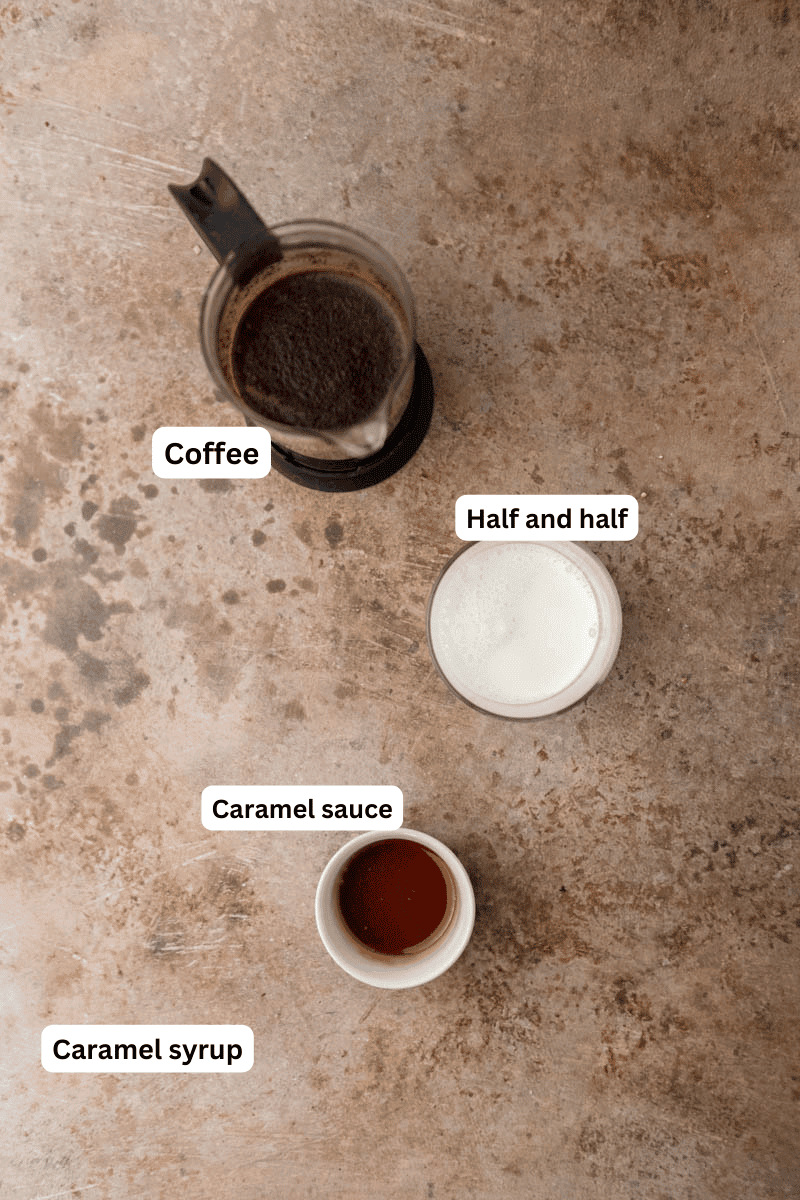 Ingredients for this McDonald's caramel iced coffee recipe
Here are the basic ingredients you will need to make this. Make sure to scroll down to the recipe card for the full detailed ingredient measurements.
Hot brewed coffee- You can use whatever coffee you prefer but make sure to use high quality
Caramel sauce– You can use homemade caramel sauce or store-bought caramel.
Half and half- This is what we are using instead of creamer, you can also uce whole milk, a splash of heavy cream, or any type of milk you like.
Caramel syrup – This is optional but the sweet caramel syrup will help sweeten the drink a tad bit more.
How to make this homemade iced caramel coffee in no time
This is how you can make this easy coffee drink at home. Make sure to scroll down to the recipe card for the full detailed instructions!
Brew your pot of coffee and allow it to cool down slightly.
To a tall glass add in the caramel sauce I used my own caramel sauce but you can use storebought, and top it off with brewed coffee.
Top it with ice, half and half, and a splash of caramel syrup if you want the drink to be sweeter. (you can add as much or as little half and half as you'd like, this is what is so great about this recipe. Super easy to customize)
Stir with a straw and enjoy your homemade iced coffee.
You can also top your drink with whipped cream and an additional drizzle of caramel if you would like.
Frequently asked questions – FAQ
Can I make this drink dairy free or vegan-friendly?
You sure can. There are a few things you can do to make like changing the milk and the caramel sauce.
What dairy-free milk or creamer can I use to make this dairy-free?
Soy milk
Almond milk
Cashew milk
Coconut milk
Oat milk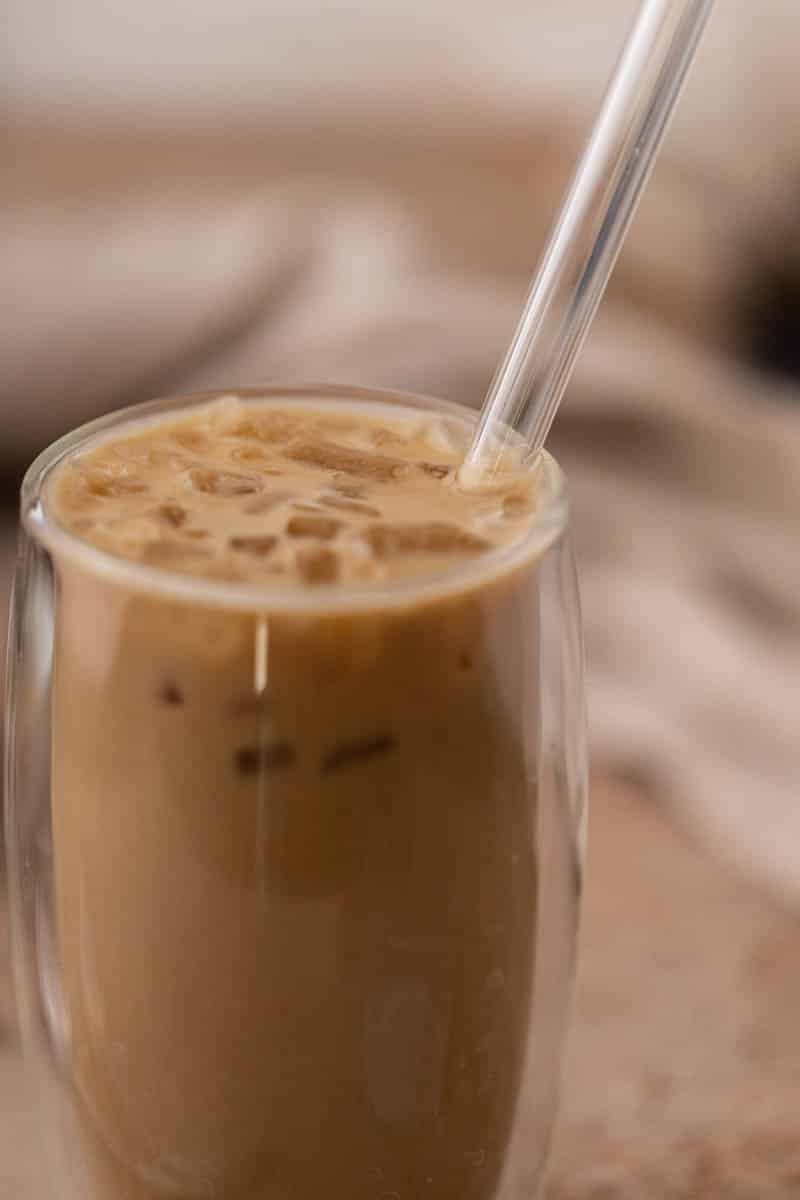 What if I don't have caramel syrup?
If you don't have caramel syrup you can use simple syrup instead to help sweeten it a little bit more. You could also use vanilla syrup of sugar-free french vanilla syrup to sweeten it as well but this would reduce the amount of caramel flavor that is in this coffee.
Can I use espresso in my Mcdonald's coffee?
The Mcdonald's iced coffee is made with coffee as opposed to espresso but if you have an espresso machine and want to use it in your caramel latte then by all means go ahead.
You will have to adjust the amount of dairy you add to the drink.
Making this drink with espresso will be more similar to an iced caramel americano with a splash of milk or half and half instead of a latte.
Can I use cold brew for this?
You sure can but again the final product will not be exactly the same as the iced caramel latte drink from Mcdonald's.
Instead, it will have a stronger coffee flavor with a splash of milk.
Using cold brew will make the drink less acidic so if you prefer that then by all means use cold brew instead.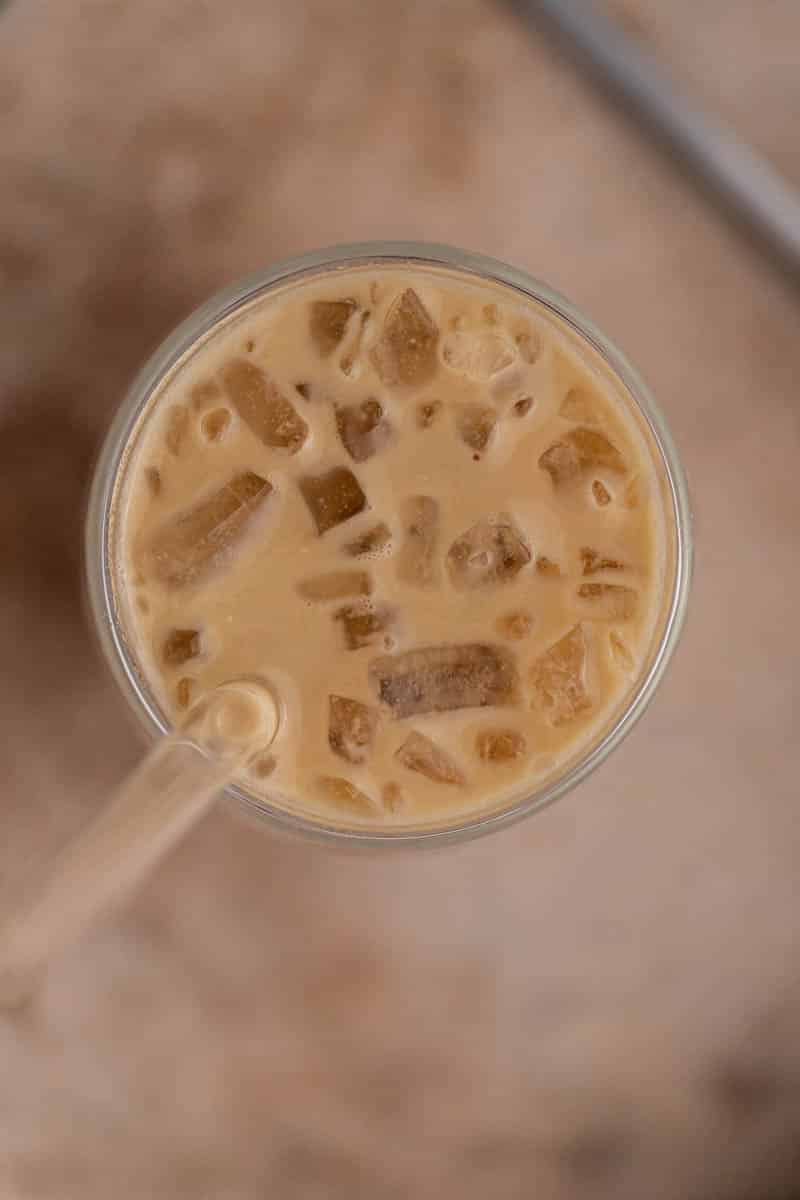 How much caffeine is in this Mcdonald's iced coffee recipe?
The amount of caffeine in this drink will depend on how much coffee you use in it. In this recipe, we used ¾ cup hot brewed coffee so the caffeine content will be at around 70-80mg of caffeine. Personally, I think it is the perfect serving size to get a little kick out and a jolt of energy to start the day.
Can I add chocolate syrup to this drink?
Absolutely, this is a great base recipe that you can tweak to your liking.
Adding a little mocha sauce to the caramel iced latte from Mcdonald's will definitely take it up a notch and make it taste like one of the best treats you've ever had.
I mean who doesn't love chocolate and caramel together? Add coffee to that and you got yourself a party.
What to enjoy with a caramel iced coffee?
There are a few things that go so well with this caramel iced coffee recipe, some of my favorites and your soon to be favorites are:
Bakery-style blueberry muffins
Chocolate chip cookies
Oreo brownies
Crumbl sugar cookie with pink icing
Frequently asked questions about McDonald's iced caramel coffee
Does Mcdonald's serve iced coffee all day?
They sure do! You can go at any time and grab yourself the most refreshing coffees out there!
How much caffeine is in Mcdonald's iced coffee?
Their iced coffee has a good amount of caffeine depending on the size. For a small size, you'll get about 4mg of caffeine, a medium is at 133mg of caffeine, and a large one would be at 200mg of caffeine. That's why I absolutely love having their coffee as a pre-workout because you know it will wake you up and give you all the energy necessary to get through the day.
Is the McCafe brand coffee the same as the coffee used at the actual Mcdonald's locations?
Kind of? It is very similar to the coffee that Mcdonald's uses but it is not exactly the same. If you want make a pretty close drink to the one that you get at your favorite chain restaurant then definitely use that instead of any other coffee but I personally didn't notice too much of a difference.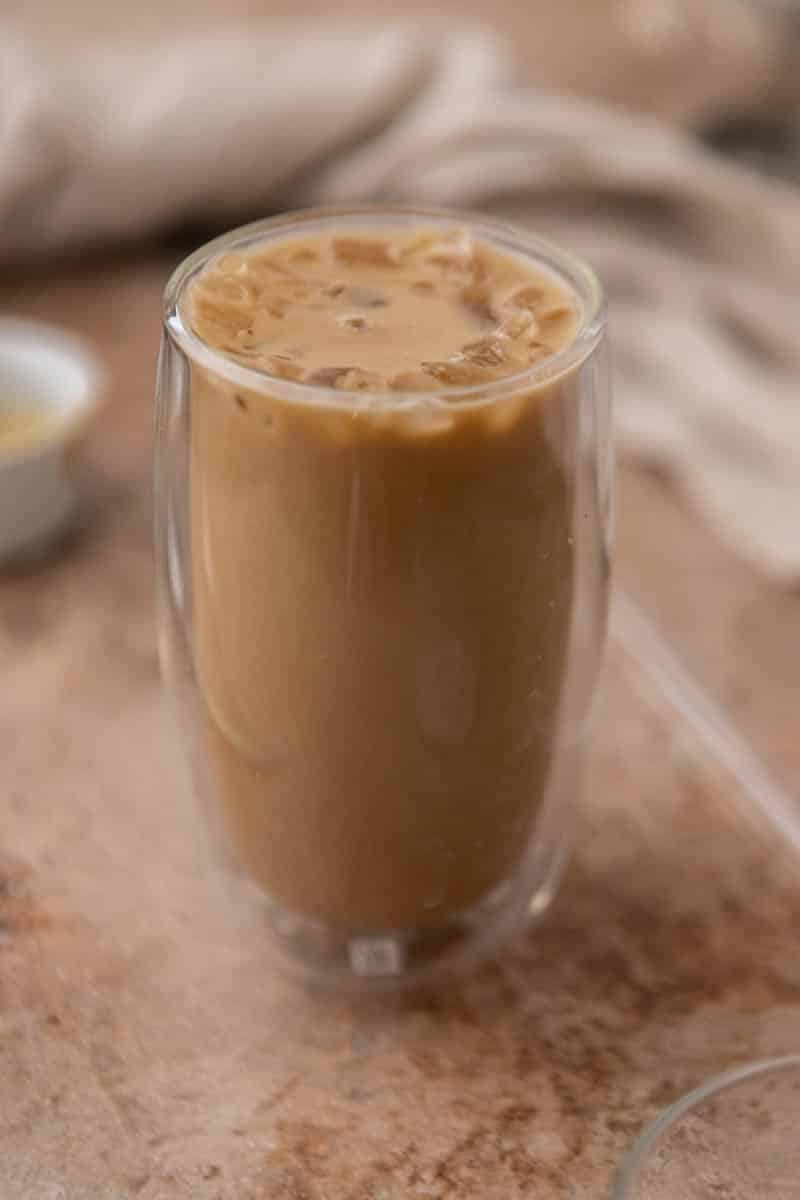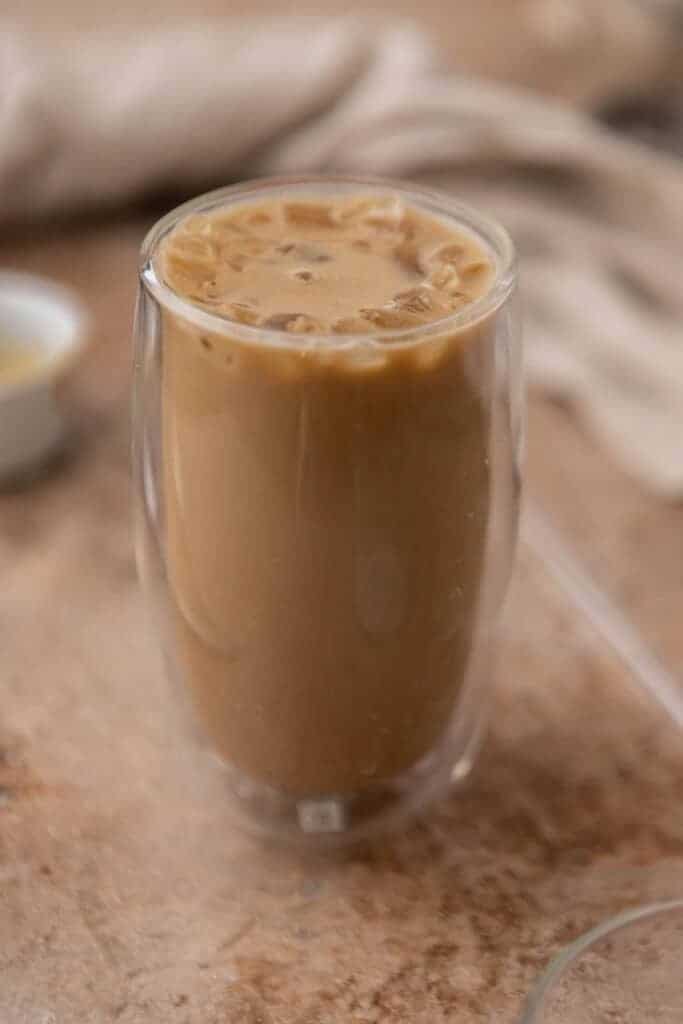 Mcdonald's iced caramel coffee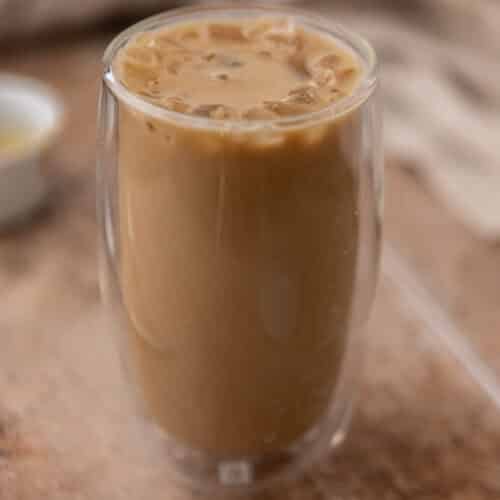 Easy McDonald's caramel iced coffee
This Easy McDonald's caramel iced coffee is a simple way to make your favorite chain restaurant coffee at home.
Ingredients
¾

cup

coffee

¼

cup

half and half

2-3

tablespoon

caramel sauce

If you don't have caramel sauce, use extra caramel syrup.

1-2

tablespoon

caramel syrup

optional to add more sweetness.
Instructions
Brew your hot coffee as per usual. You want to have about ¾ cup of coffee for this recipe.

Mix the caramel sauce into the warm coffee then allow it to cool down to room temperature. You can place it on an ice bath to speed up the process.

2-3 tablespoon caramel sauce

Once chilled, add ice to a cup, the room temperature coffee, and the caramel syrup. Stir and enjoy.

¼ cup half and half,

1-2 tablespoon caramel syrup
Nutrition
Calories:
212
Calories
Carbohydrates:
38
g
Protein:
3
g
Fat:
7
g
Saturated Fat:
4
g
Polyunsaturated Fat:
0.3
g
Monounsaturated Fat:
2
g
Cholesterol:
21
mg
Sodium:
209
mg
Potassium:
193
mg
Sugar:
25
g
Vitamin A:
250
IU
Vitamin C:
1
mg
Calcium:
88
mg
Iron:
0.1
mg

Shop this recipe
This post may contain affiliate links, meaning that at no cost to you I will get a small percentage of every purchase you make!
If you enjoyed this Mcdonald's caramel iced coffee recipe make sure to pin it for later!