These healthy chickpea pumpkin blondies are perfect for this season. They have the right balance between chocolate, pumpkin, and chickpeas and I wouldn't want it any other way… Get ready for the best gluten-free pumpkin chickpeas of your life.
In case you can't tell, I am completely obsessed with blondies. No matter what kind… Just give me all the blondies please and I will be happy!
So this time, since we are literally in the midst of it all, I wanted to bring you a nice and healthy pumpkin treat!!
It is made using chickpeas instead of regular flour, lots of pumpkin and pumpkin pie spices, as well as honey instead of regular sugar! It is pretty healthy and if you want to make extra healthy you could omit the white chocolate.
But if you're going to have one or two every day, I would keep the white chocolate because it makes for a nice and enjoyable little treat 🙂
What you will need for these Chickpea Pumpkin Blondies
Chickpeas – This will be the base of the recipe so low sodium drained chickpeas would work best here.
Pumpkin puree – This is what will make all that fall magic happen.
Peanut butter – This will help bring everything together and maintain the texture of the blondies.
honey – A healthier sweetener alternative for healthier blondies.
pumpkin pie spice – This another ingredient that will make these blondies taste like fall!
baking powder and baking soda – levening agents that any blondie needs!
White chocolate– Make sure that you are using the best of the best when it comes to the white chocolate in this recipe.
How to make these chickpea blondies
For this recipe, I wanted to do something a little easier. So easy that all you need to do is throw everything in a food processor, pulsate until smooth and them bake!
The hardest part will be waiting for these to come out of the oven and cool down before you can enjoy them!
IF YOU MADE SOMETHING FROM LIFESTYLEOFAFOODIE, I WOULD LOVE TO SEE ALL YOUR CREATIONS AND KNOW HOW EVERYTHING TURNED OUT! SO DON'T FORGET TO LEAVE A COMMENT BELOW AND FOLLOW ALONG WITH ME ON INSTAGRAM, PINTEREST, AND FACEBOOK.

Chickpea Pumpkin Blondies
Healthy Gluten-free pumpkin spice blondies
These delicious guilt free pumpkin blondies will be the star at your next thanksgiving get together! Complete melt in your mouth deliciousness!
Equipment
10X10 baking pan

food processor
Instructions
Start by preheating the oven to 350. Lightly spray a 10X10-inch baking pan*** with baking spray and line with parchment paper and set aside.

In a food processor, add in the chickpeas, peanut butter, honey, baking powder, baking soda, and pumpkin pie spices and blend until you get a smooth mixture. Mix in the white chocolate chips, then transfer to the lined baking sheet.

Bake for 23 minutes or until the corners get a little darker and the center is set. Remove from the oven and let it cool for 30 minutes. Slice it into 16 squares, dust with some powdered sugar and enjoy
Notes
*** For this recipe you could also use an 8X8inch pan just make sure to adjust your baking time to 30 minutes instead of 23 minutes. You will end up with a thicker blondie!
More seasonal recipes you will fall absolutely in love with!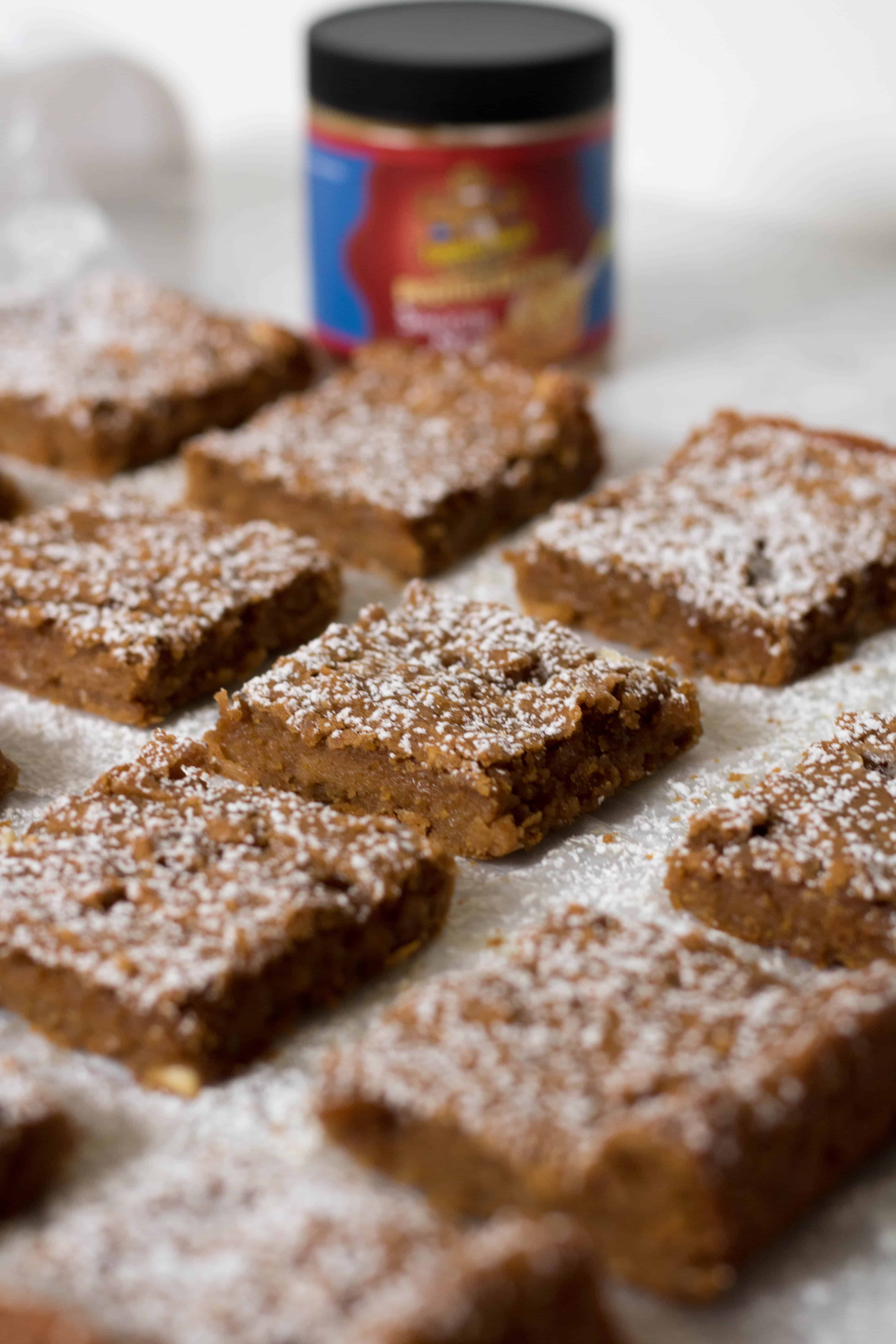 Products that I love
This article may contain some affiliate links, meaning, at no additional cost to you, I will earn a commission if you click through and make a purchase

If you enjoyed this Healthy Chickpea Pumpkin blondie recipe make sure to pin it for later!