These Easy Quinoa Pop Krispie Treats are far from your average ones! They are made using popped quinoa, marshmallows, and butter. The nuttiness of the popped quinoa balances the sweetness of these treats to create the perfect afternoon snack!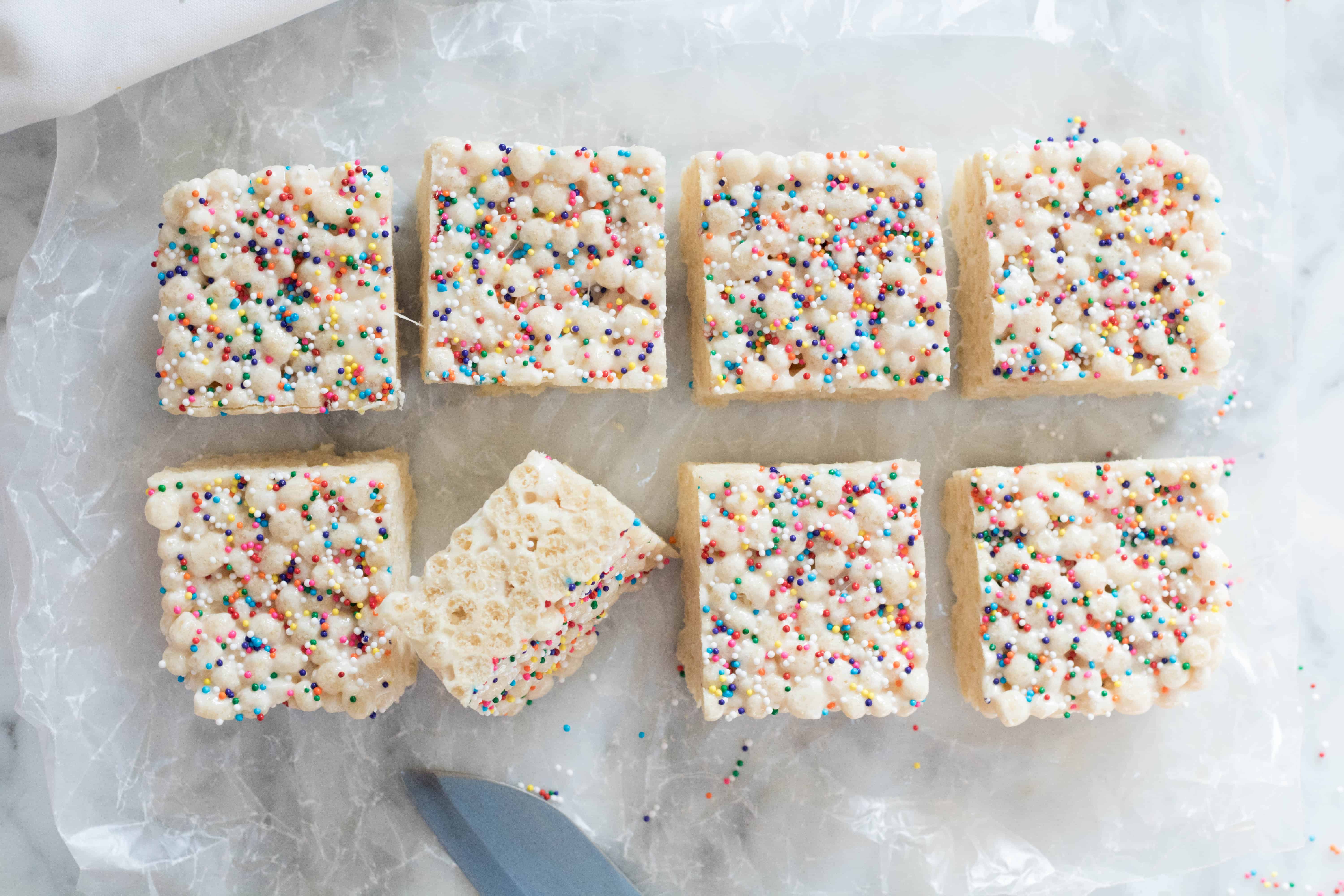 Have you ever just had an unbearable craving for sprinkles… or anything sprinkles I should say?? Yesterday, as I was reading this amazing book; Don't sweat the small stuff, I couldn't help but imagine a beautiful stack of something sweet and colorful.
So I took it upon myself to go ahead and make a dessert. Mind you it was already 3:30pm. So I knew that to make something and photograph it, it had to be quick because my natural light window was coming to an end!
I checked my pantry for things I could use and one thing stood out! I had quinoa pops… yay!! I've been meaning to make something with them but was not sure when. I also had marshmallows from the time I made these amazing S'mores cookies (I will make sure to post them for you guys very soon!)
What are quinoa pops or quinoa puffs
Quinoa pops are pretty much what the name entails! Quinoa that has been popped or puffed. During this process the quinoa becomes slightly larger and gets a totally different texture.
It often becomes light and airy with a nice and crisp outside. The popped quinoa still has a nice earthy and nutty flavor, which works perfectly in balancing the sweetness of this recipe.
The only difference when using these quinoa pops instead of rice krispies is that these are slightly less crispy, don't get me wrong they are still crispy enough to make this recipe totally amazing!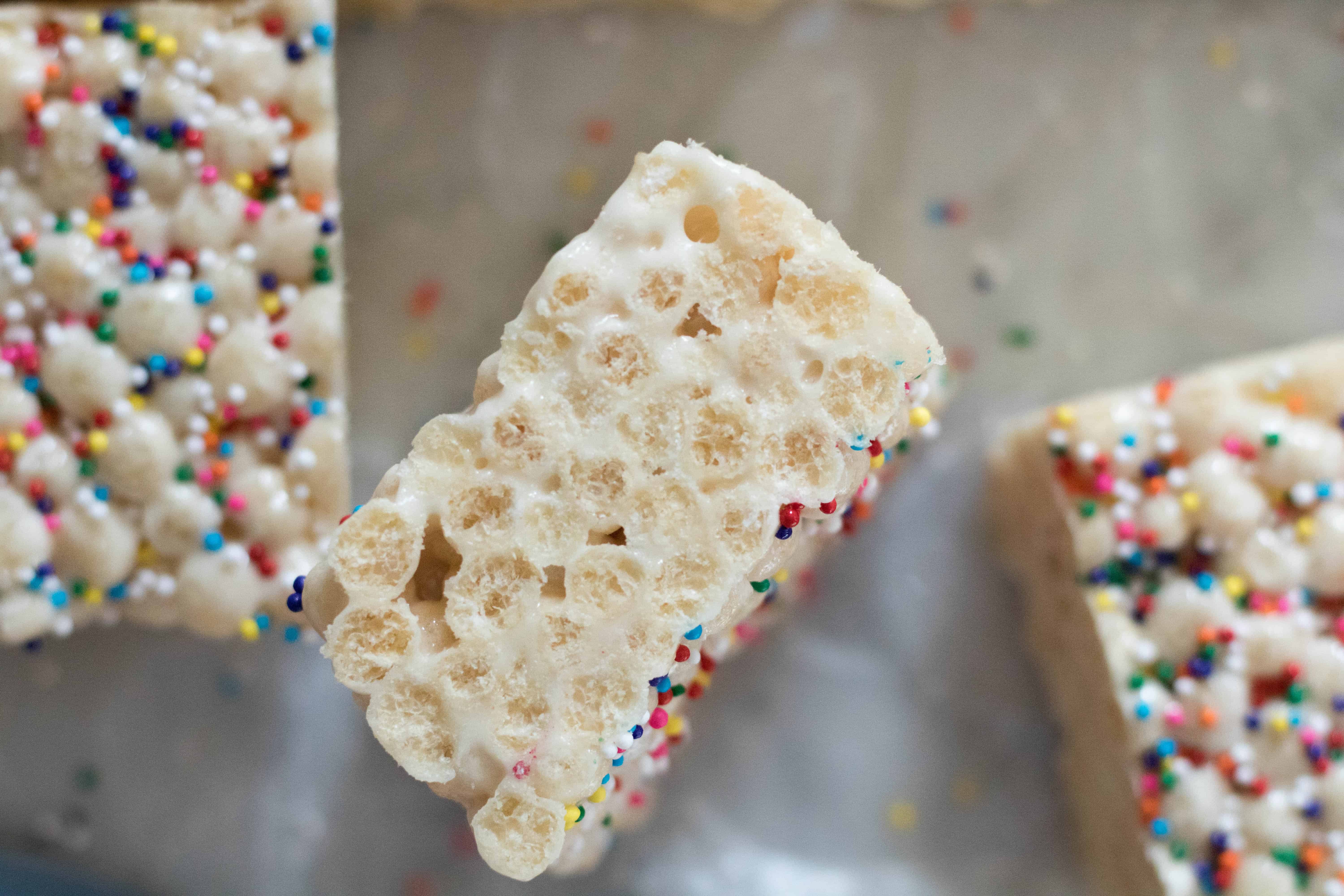 What are the benefits of using these quinoa pops for the quinoa pop krispy treats?
If you check out the kapok naturals website, it says that these quinoa pops are
a low glycemic complex carbohydrate
Has only 120 calories per ⅓ cup
Is a complete source of protein, which also contains all the essential amino acids. Perfect option for vegetarians and vegans. This recipe is not suited for either since I used regular marshmallows but you could use vegetarian or vegan marshmallow and it will be perfect.
This product is also Gluten-Free !! To make this a gluten-free treat, check that your marshmallow is also gluten free.
How to make these quinoa pop krispy treats
These quinoa treats are extremely easy to make and will come together in less than 10 minutes.
After preparing the baking pan, start by melting your butter and marshmallow, making sure to frequently stir everything with a rubber spatula.
Add in the quinoa pops when everything is melted and stir around to coat them in the marshmallow mixture. Transfer to the prepared baking pan, flatten and add the sprinkles on top. You could add as little or as much as you'd like here!
Let the quinoa kripsy treats cool down before cutting. This will take anywhere form 20 minutes to an hour depending on how cold it is where you are.
If you are impatient like me, you could pop them in the freezer for 5-10 minutes instead. Slice into 8 equal squares and enjoy!
IF YOU MADE SOMETHING FROM LIFESTYLEOFAFOODIE, I WOULD LOVE TO SEE ALL YOUR CREATIONS AND KNOW HOW EVERYTHING TURNED OUT! SO DON'T FORGET TO LEAVE A COMMENT BELOW AND FOLLOW ALONG WITH ME ON INSTAGRAM, PINTEREST, AND FACEBOOK.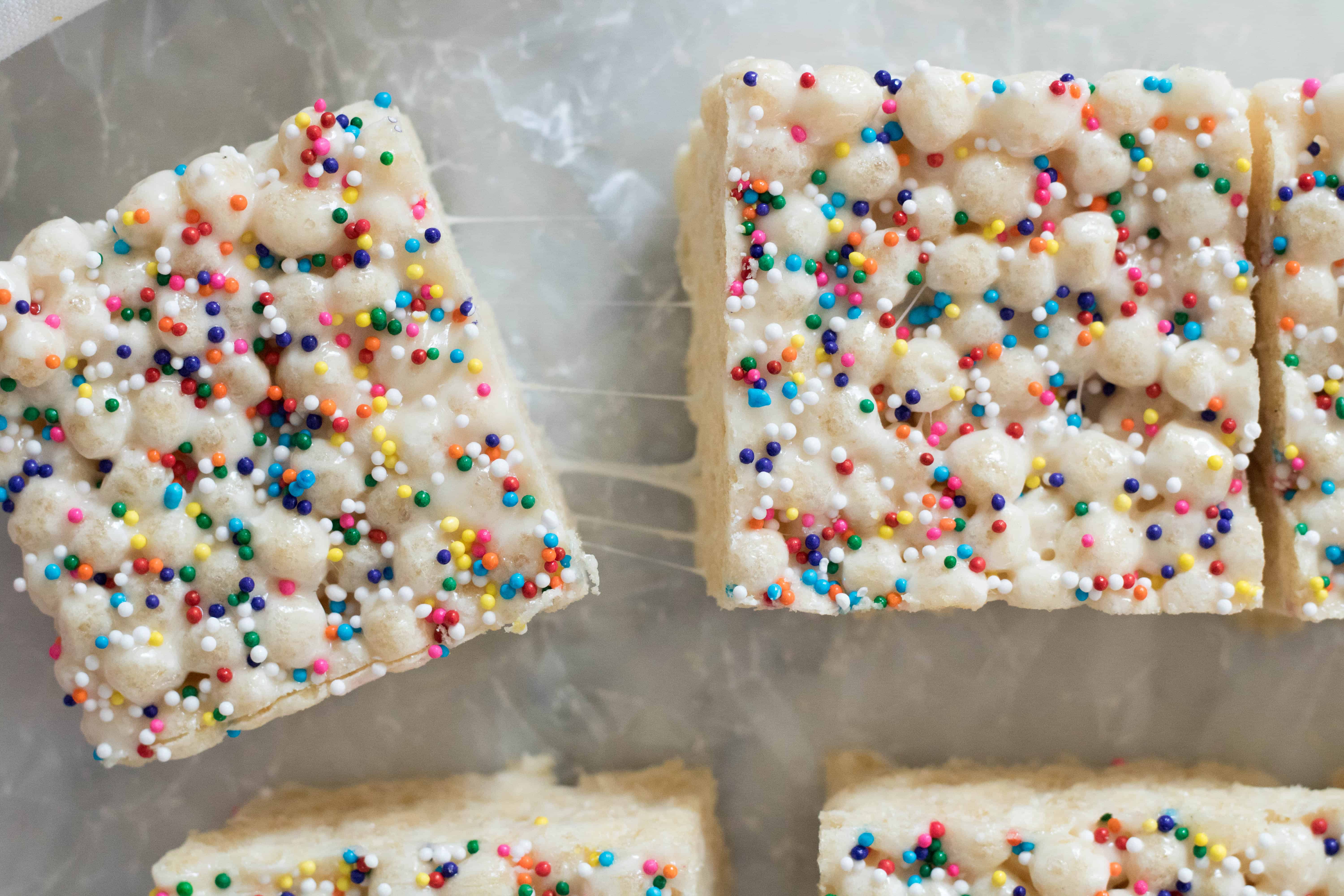 Easy Quinoa Pop krispy Treats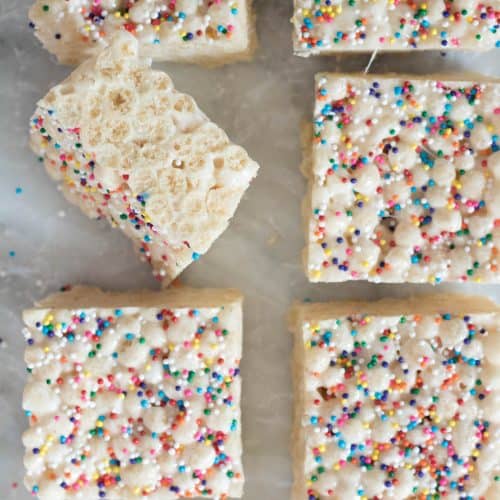 Quinoa pop krispie treats
These quinoa pop Krispie treats are the perfect homemade treat. They are so easy to make and have a nice earthy taste to them.
Ingredients
5

oz

mini marshmallows

1

tablespoon

butter

2.5

cups

quinoa pops
Instructions
Start by coating an 8 by 4 baking pan with cooking spray and set aside.

In a large pan, melt the butter over low heat. When that is melted add in the marshmallows and continue stirring using a rubber spatula. When everything is melted add in the quinoa pops and stir vigorously, until everything is coated.

Pour the quinoa pop mixture to the prepared baking pan, press it with the rubber spatula to flatten the top and add the sprinkles evenly throughout the top of the quinoa pop Krispy treats.

Let it cool down completely before slicing it with a serrated knife into 8 equal pieces.
Notes
To store these, place them in an airtight container to avoid them getting stale.  They will last for up to 3 days.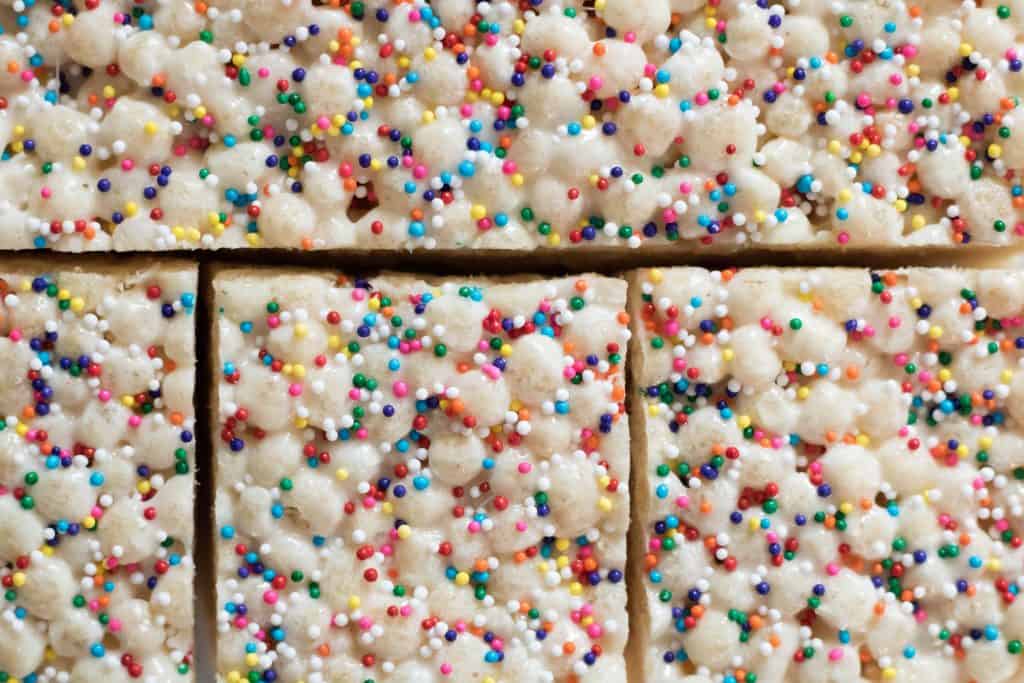 Substitutions for these quinoa pop krispy treats
There are a couple of easy substitutions that you could make to have this recipe fit your needs;
marshmallow – You would not be using anything else other than marshmallow but you could use a vegan marshmallow. These Dandies marshmallows will do the trick. These Dandies marshmallows are also gluten-free so what a great way to knock two birds with one stone!
Butter – If you are going for a dairy free product, yo could substitute the butter with either vegan butter or coconut oil.
Sprinkles – When it comes to sprinkles, you could totally omit them or use some that you prefer the most!

More recipe you will love
PRODUCTS THAT I LOVE FOR THIS RECIPE
This article may contain some affiliate links, meaning, at no additional cost to you, I will earn a commission if you click through and make a purchase
Other recipe you will love!
If you enjoyed reading this recipe, make sure to pin it for next time!